Ticket prices to Crimea.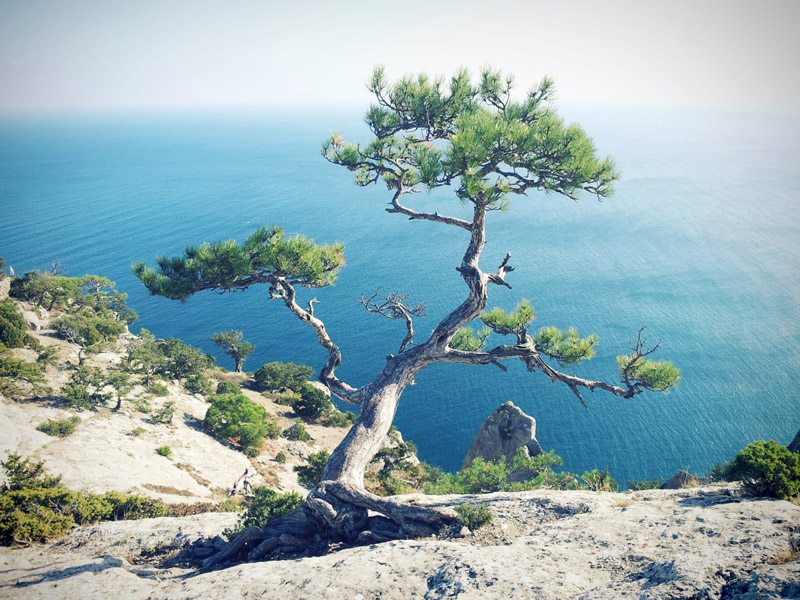 An overview of the current prices of airline tickets to Crimea. How much are plane tickets? When is the cheapest time to fly to the Crimea? We compare ticket prices in different months of 2022.
– Cheap tickets – cheap hotels – last minute tours
Below we've listed the current airfare prices to Crimea for each of the months of 2022. All tickets for flights from Moscow (round-trip, direct flights). For comparison, we specify last year's prices.
The cheapest tickets to Simferopol are always from Moscow. Also cheap tickets (6000-7500 rubles) are from the southern cities: Sochi, Rostov-on-Don, Krasnodar, Volgograd. Slightly more expensive to fly from St. Petersburg, Samara, Ulyanovsk, Voronezh, Ufa, Kazan and Chelyabinsk: the price of the cheapest tickets to the Crimea from these cities – 7500-9000 rubles for a round trip flight.
We advise you to buy tickets for the summer in advance, because the prices are going up.
Good luck finding tickets!
When shall we fly?
Ticket prices to the Crimea for Spring 2022
Tickets for March
The cheapest way to fly to the Crimea in 2022 is in spring, specifically in March. 3980 rubles – for a round trip flight! These prices are offered by Red Wings, but other airlines are a little more expensive. Inexpensive tickets are available for almost any date. Even on March holidays you can get them for only 4500 rubles.
The price of tickets to the Crimea in March last year: from 3800 rubles.
Tickets for April
In April, the prices of air tickets to the Crimea go up, as the holiday season is approaching. Minimum ticket price for April 2022 is 6000 rubles (Vim Airlines, Aeroflot, Red Wings, etc.).
Ticket prices to the Crimea in April last year: from 5200 rubles.
Tickets for May
Mid-May is the beginning of the beach season in the Crimea. However, you can still find attractive prices on airline tickets – from 6000 rubles for a round trip flight by Nordwind.
Relatively inexpensive tickets are also available for May holidays. You can fly to the Crimea for a short vacation at this time from 7,800 rubles.
The prices for tickets to the Crimea in May last year: from 5500 rubles. The cheapest tickets for May holidays cost from 7300 rubles.
Before you fly read our article about Crimean springtime – see the weather and things to do there. Also take a look at our inspiring video about spring in the Demerdzhi Mountains – the Crimean mountain scenery is absolutely gorgeous:
Ticket prices to the Crimea for summer 2022
June tickets
Ticket prices in June 2022 are not at all March, but adequate for the holiday season by the sea. In the first half of the month the cost of tickets to the Crimea starts from 7700 rubles (Nordwind with luggage), in the second half – from 8500 rubles (also Nordwind with luggage). Before your flight read our article about summer Crimea – find out what the weather is like there and what you can do.
Ticket price to the Crimea in June last year: from 7000 rubles.
Tickets for July
July is the peak season in the Crimea, so flight prices are at their highest. The cheapest tickets are from Aeroflot at the beginning of the month – from 9350 rubles. In July 2022 there are inexpensive tickets from airline Nordavia – you can buy tickets from Moscow to the Crimea from 11000-13000 rubles (with luggage). With other airlines prices start from 13000 rubles.
Ticket price to the Crimea in July last year: from 9500 rubles.
Tickets for August
August, like July, is a peak season. But at the same time closer to September 1, the majority of tourists are coming back home, so the scatter of prices of air tickets to the Crimea in August is the strongest.
It is cheaper to fly to the peninsula in the second half of the month and return in early September. On these dates you can buy tickets from Moscow from 9800 rubles (with luggage). More expensive are the tickets for the return in the last days of August – from 12500 rubles.
However for the first half of August you won't find such cheap tickets to the Crimea – their prices start from 14000 rubles.
For travelers and lovers of long vacation: tickets to the Crimea with a departure in August, and return in October you can buy only from 6700 rubles, with a return in September – from 8800 rubles.
Ticket price to Crimea in August last year: from 8300 rubles.
Ticket prices for Crimea in Autumn 2022
Tickets for September
September is the velvet season and one of the most pleasant (in our opinion) months for a vacation in the Crimea. The heat goes down, the vacation season is over, vacationers are back to work or study – respectively, the prices for tickets, hotels and food go down. Good news!
In September 2022 tickets to the Crimea cost from 9800 rubles. You can fly quite cheaply at the end of the month with a return in early October – tickets cost from 7800 rubles.
Ticket prices to the Crimea in September last year: from 7800 rubles.
Tickets for October
In October tickets to the Crimea become cheaper. The best price is now offered by Nordwind – 7300 rubles.
Ticket price to the Crimea in October last year: from 5500 rubles.
Tickets for November
November is not the most popular month for tourists to vacation on the peninsula, nevertheless it has its charm, which attracts few tourists. Tickets from Moscow to the Crimea in November 2022 cost almost the same as in October – 7,800 rubles (a/c Globus).
The price of tickets to the Crimea in November last year: from 5500 rubles.
How to plan the best autumn vacations in the Crimea? Take a look at our article.
Useful articles on the Crimea:
Winter 2022-2023
Experienced travelers always plan their summer vacation in advance and book flights and hotels now (absolutely correct tactic). But the pinnacle of strategic travel planning is to book your New Year's vacation almost a year in advance! Yes, now is the time to do it, because on peak dates the cost of airfare will always rise inversely proportional to the time left before it happens.
For example, now you can buy tickets from Moscow to Simferopol for New Year – 2023 for only 9,000 rubles! Don't miss this moment, the cost of the flight will not always be so low.
My experience of buying airline tickets to the Crimea – how I caught cheap tickets on Aviasales
Today I'd like to cover in a nutshell the elements of my epic struggle to get an economical flight price with Russian airlines. Despite the fact that this battle was comparable to fighting windmills, nevertheless I and you can make some conclusions and lessons for yourselves.
My main life principles "never hang up," "Baba Yaga vs. But, still, in some disciplines, such as "buy cheap tickets from Aeroflot" or "get out of the Crimea, if the whole world is against it," I am, unfortunately, not on a horse.
Well, I'm not going to rant, but skip ahead to the facts, key points, and thoughts that have accumulated in my head as I lick my wounds from the battle.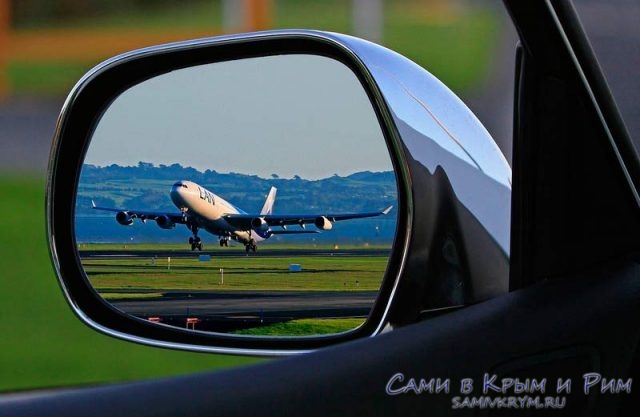 How I bought cheap tickets to Turkey
So, in the dawn on February 18 I got on the Internet and, as promised by the creators of the Aviasales site in a few clicks bought the cheapest tickets to Istanbul from the airline of Azerbaijan Airlines. In the battle I did not have time to let half of the methods I described in this and this article on how to find cheap tickets.
Yes they were tickets without luggage, and yes it was a connecting flight from Moscow to Baku to Istanbul. But!
The departure and arrival times were good.
I have never been to Baku.
5,500 rubles for the ticket against 12,000 rubles on average is a success!
After buying tickets from Moscow to Turkey, I started looking for cheap tickets from Simferopol to Moscow and back. Since it was necessary to combine both flights more or less comfortably I had to sweat, drink liters of coffee, and stare at the constantly refreshing pages of the browser in search of the ideal solution.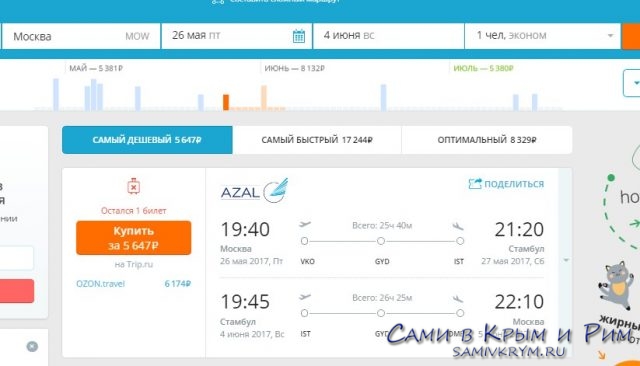 Flight Simferopol – Moscow – Simferopol and where are these prices
I had to give up on airline tickets in both directions at once. Neither the price, nor the departure time, nor the name of the Moscow airport did not coincide with my idea of a comfortable and inexpensive flight.
I decided to use the tools of my favorite website Aviasales, which I described in detail here. And now the miracle has happened! God's light shone on the shrouded in darkness and 2750 rubles, I bought tickets Simferopol – Moscow from S7 Airlines on May 25. Without luggage, but with a human departure time.
The hardest part was left – buying Moscow – Simferopol tickets for the beginning of June. I considered the dates June 6 and 7. Nothing interesting for the foreseeable future.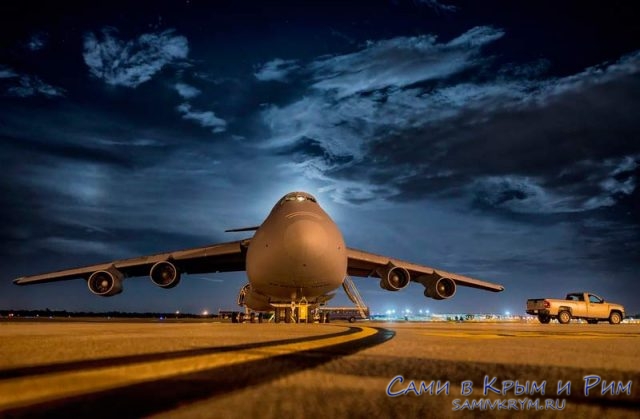 The epic battle and a detailed analysis of the prices
So, 3 months before departure the best I could find were the tickets for the same 2750 rubles, again without baggage and with a depressing departure time: 23:45, 02:15 and 5:45.
To my mind, it's a mockery of people and union members.
From experience I know that in Europe at night all airports are in shade and only international terminals with departures outside the Eurozone are operational. For example to Moscow, Beijing or Los Angeles.
I had to sign up for Aviasales.ru notifications and look for wind in the field, and wait for the weather.
The price of tickets from S7 quickly jumped to 4,965 rubles . Red Wings and Vim Airlines also flashed in the arena . But we were not satisfied with the price, the availability of luggage, and the departure time.
We don't live in Madagascar, I thought, and continued to wait and monitor the prices. Personally I thought that not all companies announced their flights and about to enter the market with interesting proposals.
In the middle of March, Pegas Fly stepped in. 5000 rubles for a place with 23 kg baggage, but with a flight out of Sheremetyevo. Yes, and departures are also at 23:00 and 05:00. Doesn't fit.
April passed without any bursts of activity. The future did not bode well.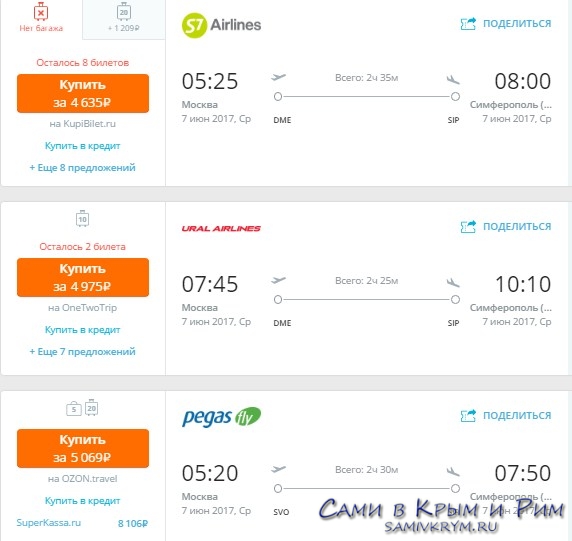 Ha ha, I thought. No one will buy tickets from you and you'll all cut prices right away. That's when I'll buy cheaper tickets.
But the fixed price of 4600-5000 rubles clearly loomed before my eyes and did not think to go down.
As a result, at the beginning of May I couldn't bear the pressure, so I bought tickets from Ural Airlines for 5,500 rubles. This is not what I wanted, but there is a flight from Domodedovo, there is luggage, and the flight time of 8:30 a.m. better fits the term "human.
Moscow – Baku – Istanbul – Baku – Moscow – 15000 rubles for three people.
Simferopol – Moscow – Simferopol – 25000 rubles for three people.

Notifications from Aviasales or what I saw
So, the Moscow-Simferopol flight is the most uncomfortable route in any trip of a Crimean resident in the season. If you can still find half-empty charters with discounted prices on the way back, you can't fly to the Crimea for cheap. 5,000 rubles for a ticket for a seat with no luggage is the best there is.
For 3000 rubles I could have bought the same ticket, but with a night departure time and only 3 months before departure.
Aviasales kept sending me offers, but the closer the departure date came, the more ridiculous they became. It felt like it was some kind of scam.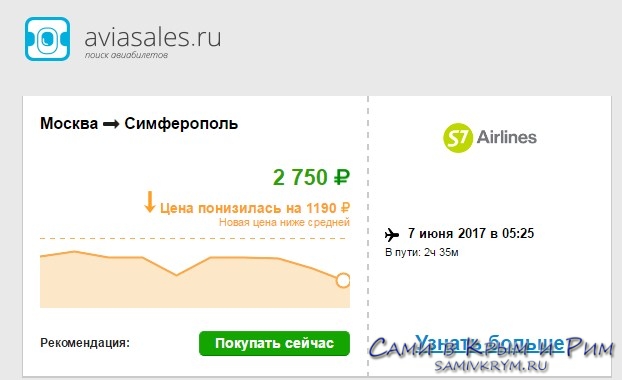 When I clicked on the link about the availability of a cheap ticket I got a string in response: this ticket has already been bought, but we have others. And the same prices that I already see in passive browsing.
Sometimes worse, the price was confirmed and even the site where the ticket could be bought was listed. Pay attention to these 2 pictures and find ten one but very important differences.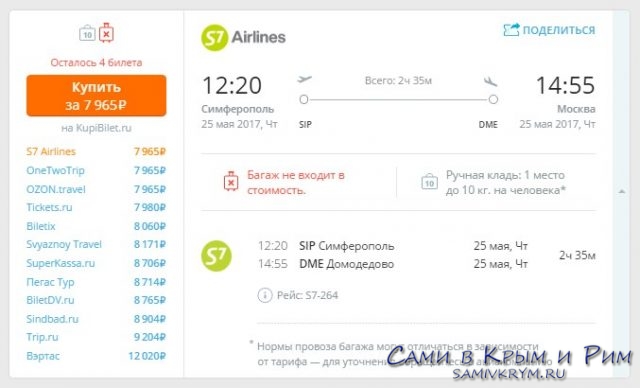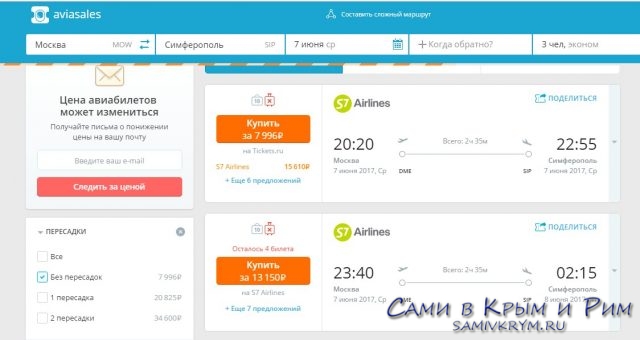 The next price offer is from the official site with a fare twice as high. It is. After going to Tickets.ru we find the entry "this ticket no longer exists" .
That is, in addition to the real information Aviasales sometimes swallows all sorts of spam or errors sites, which, well, at least for me, and failed to use in their favor.
And look at what started to happen on June 7th. I purposely left the notifications on, even after purchasing the tickets, so as to trace the trend for the future.

Conclusions and my solutions.
The Simferopol-Moscow route from late May to early September should be carefully considered along with the main flight from Moscow. The options of taking tickets to Mexico and somehow getting to Moscow during the season don't work.
If you've seen 3 months' worth of ticket prices in a search engine, there's no point in hoping for them to get cheaper (again, in the summer season). Based on my analysis, I can tell you that prices will only go up and at best briefly fall back to the starting values they were in 3 months.
Some of the tickets that look like "oh, it's just a holiday or something" are either errors in the system or are in a single copy. They won't work for the family.
Well, the main answer to the question of what to do with the Crimean tickets for themselves a gave this answer:
As early as possible, but only after all the airlines have thrown their offers online, make your choice decisively.
There is no point in waiting for the grace. Just not on this destination. My understanding is that our airlines would rather cancel a flight and merge passengers with another airline, but by no means discount their originally announced prices.
Only Aeroflot and Russia can afford such a thing, and only during the off-season.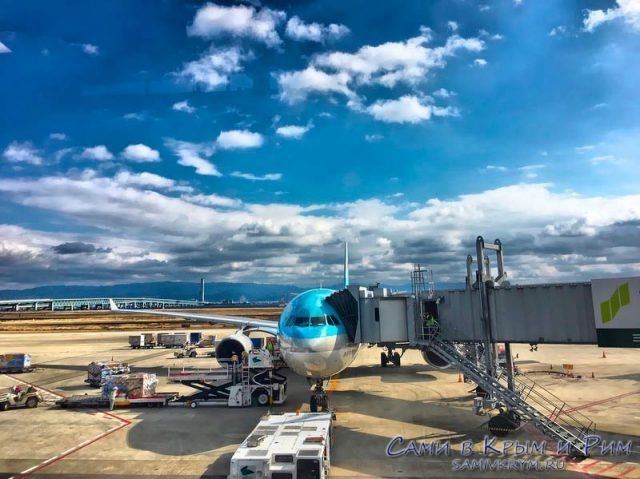 Useful hint
And finally, a piece of advice. Learn to fly without baggage. Of course, after returning from Turkey, this advice does not work and only Chukcha can return from Istanbul empty-handed. But the world trend is that soon you will have to pay extra for luggage on any airline. And we are talking about 2,000 rubles per bag. Add to this 500 rubles for packaging and up to half an hour of lost time waiting for luggage.
Some things are easier to buy on the spot, than to carry all your stuff on your hump. Expensive and inefficient! More about preparing for a flight in the Crimea, or anywhere else, I described in this article.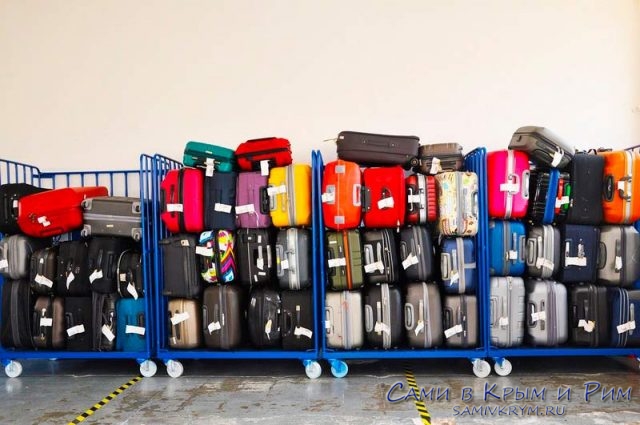 Friends, if you are seriously thinking about the Crimean voyage, the sea of useful information you will find in our guides. Well, for those who are sitting at home and crave virtual travel, read about my recent visits to Sri Lanka, Nepal, and Turkey.
And some hard-hitting articles for an evening tete-a-tete with the computer: