Akihabara Guide



Bright, bustling, mysterious and wonderful, there's no place in the world like Akihabara. The home of otaku culture is rife with adventure, there are so many places to explore that you might not have time for everything. So where do you start?
Start planning your holiday in Japan in the Akihabara district with this article! We've put together a list of fun things to do here and a list of foods to try, as well as some handy itineraries to help you plan your trip and maximize your time (and enjoyment).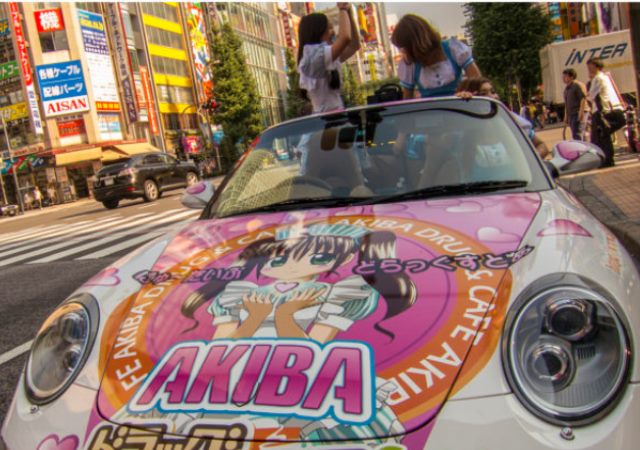 How to get there?
Chances are you'll be passing through one of the JR lines (Yamanote, Keihin-Tohoku, and Sobu) or the Tokyo Metro Hibiya line. The Hyperdia website is really handy for finding the cheapest and fastest route. The Google Maps app is also great.
If you take the JR line, just get off at the Electric Town exit. From the Tokyo Metro Hibiya line, go up to the District Gate exit of Akihabara Station, walk past Yodobashi Camera to the Electric Town exit of Akihabara Station.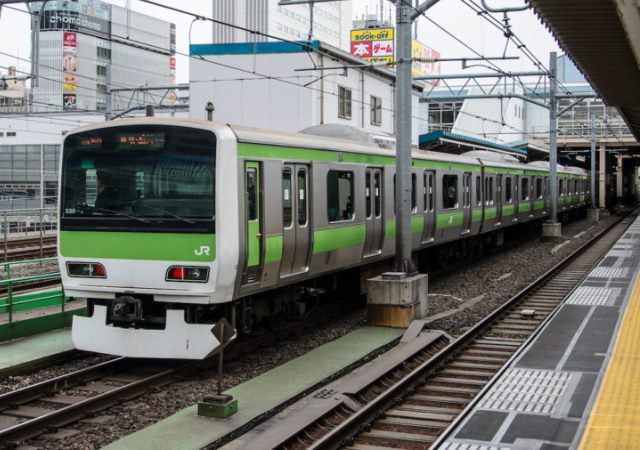 What to do in Akihabara?
You can cover most of the sights during the day if you don't linger too long at each place, however, this is much easier said than done, as you can easily spend half a day at Yodobashi Camera.
It's best to have a general plan, but don't be afraid to throw a few items off your list to spend more time at a place you like. After all, it's all about having fun, not checking off the sights on the list.
Interesting fact about Akihabara!
About half of the otaku are women, but many of them won't admit it. So they usually walk alone and often disguise themselves by wearing surgical masks, sunglasses or even wigs.
If you have purchased a tour to Japan and only have half a day or a few hours, we suggest choosing no more than 2-3 places that appeal to your inner otaku and allow you to fully enjoy it all.
Don't forget to bring your passport to take advantage of purchases over 10,000 yen tax-free at most stores. Here's a short guide to help you decide what to do in Akihabara and make for a memorable trip to Japan.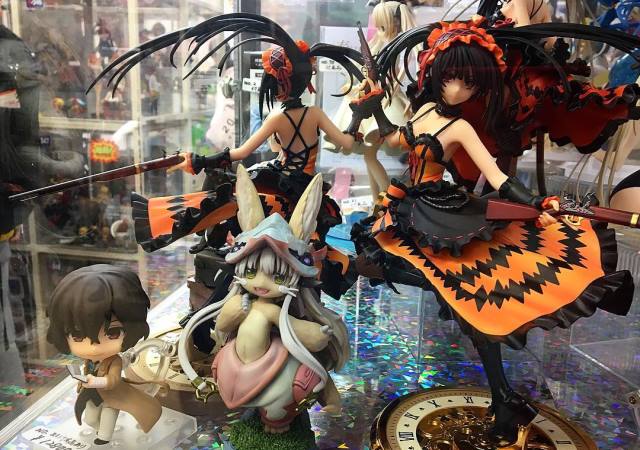 Radio Kaikan
This is where it all started – Radio Kaikan, which opened in 1962, was the first and only multi-story building in Akihabara, selling many Japanese their first televisions, washing machines and refrigerators.
It eventually became an otaku paradise, selling video games, manga, figurines, dolls and models. One of its most popular tenants was the original Kaiyodo flagship store, which started the anime figurine revolution by selling Evangelion figurines in the '90s.
The building was torn down and rebuilt after the big earthquake in 2011, and while it has lost much of its original charm, it is still a great place for all your anime-related needs, especially if you have a busy schedule.
Almost everything you can find in stores elsewhere, you'll probably find at Radio Kaikan. So if you only have time to visit one place, this is it.
The opening hours are 10:00-20:00.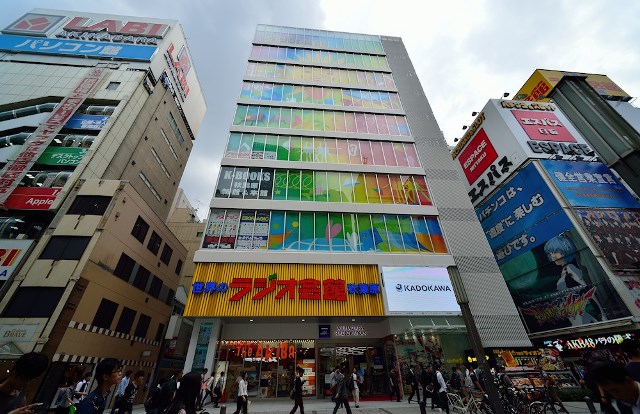 M's.
Located on a corner near the Electric Town exit, M's is one of Akihabara's most famous landmarks with its big green sign. Inside you'll find a full assortment of adult merchandise, from sexy costume sets to adult DVDs on every topic you can imagine (and many more you can't even imagine!), it also sells the latest devices for. personal relaxation system.
If that sounds a little ticklish, don't worry – it's not. The facilities here are bright, the floors are clean, and the groceries are neatly laid out. Most of the people who come here are young couples and giggly visitors. If you're a girl, you can get up to a 30% discount on the clothes you choose if you're going to wear them and pose for a Polaroid picture that will hang on the wall. But even if you don't want to buy anything, there's plenty to see in the store. Show your passport to the cashier to get 8% off most items.
Opening hours: 10 a.m. to 11 p.m.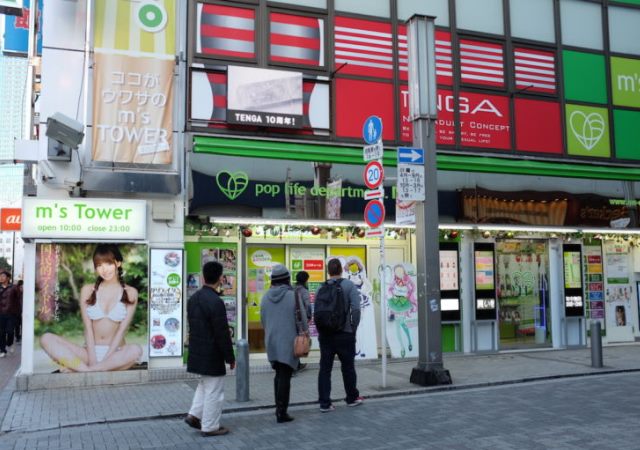 Maidreamin Maido Cafe.
This is the most popular maido-café chain in Akihabara. Here you will be offered delicious food, energetic dance performances, and you get a chance to treat yourself.
It's not the cheapest establishment, but it's definitely one of the most unique and interesting things about Akihabara. We were there last year with our friends Chris, Charles, Rachel and June, and it was total unbridled fun! I don't think I could ever come to grips with contemplating Chris in a maid costume)
A tour to Japan will become more vivid and rich after visiting such an institution.
Opening hours: 11:30-23:00 (weekdays), 10:30-23:00 (weekends and holidays).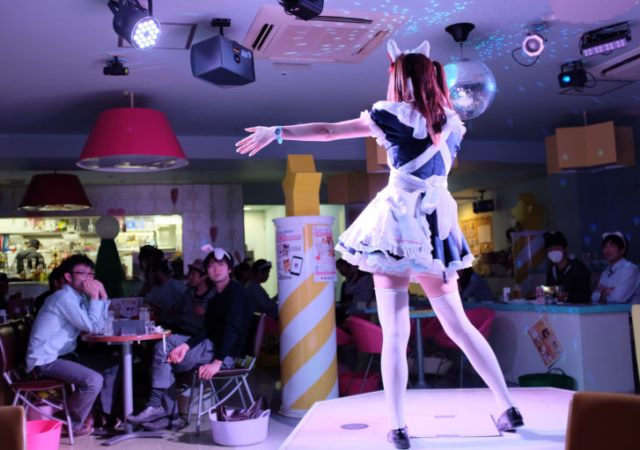 Kotobukiya
The main store in Akihabara was located on the first floor of Radio Kaikan, but after it was closed for renovations, Kotobukiya moved into its own multi-storey building.
From Final Fantasy plush toys and Love Live posters to an entire floor dedicated to Star Wars, there's a lot of great stuff to buy here. Check out the discount garbage can at the front of the store – I bought a full Naruto cosplay set here a couple of years ago for only 2,000 yen, 80% off the original price!
The opening hours are 10:00-20:00.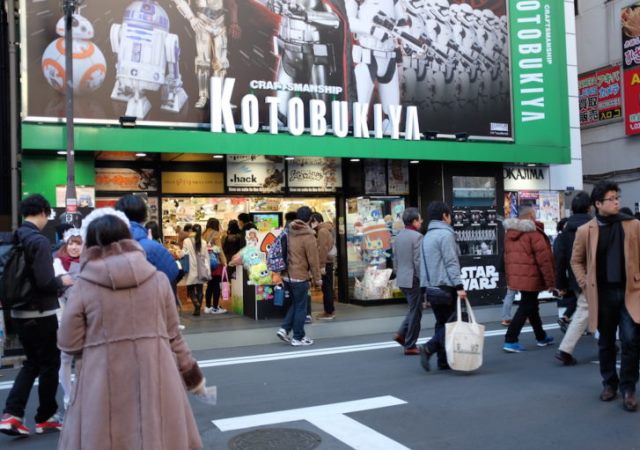 Super Potato.
If you grew up playing video games in the 80s and 90s, this store will shock you. There are tons of classic and obscure games from the past, some of which are played on demo consoles placed around the store. If you're a fan of games, it's worth buying a tour to Japan and visiting this store.
The opening hours are 10:00-20:00.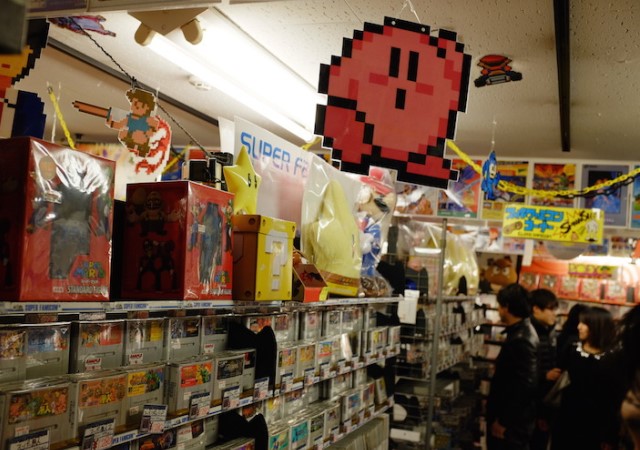 Mandarake
You'll see this store while strolling along Chuo Dori – it's a big black building a little further away from Super Potato. Inside, they sell games, anime, and manga-related merchandise, from classics to current favorites.
The store sells a lot of used merchandise, manga, figurines, original animation and some really rare and interesting items. It's a great place to buy souvenirs for your otaku friends.
Opening Hours: 24:00-20:00.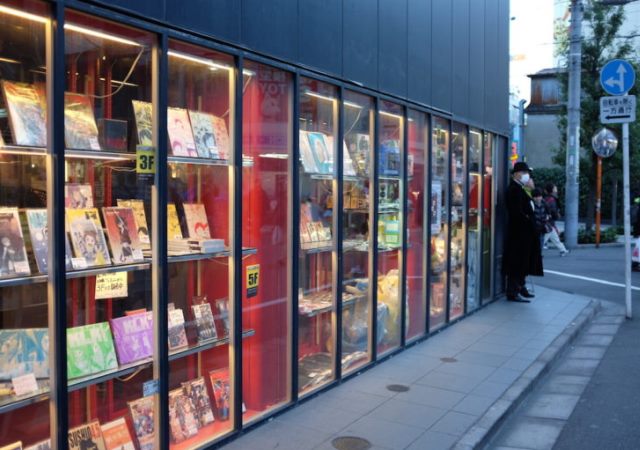 Don Quijote.
This extremely popular discount store offers shelves with tens of thousands of products, from cosplay items to food, electronics and furniture, all at low prices.
In addition to the nice discounts, Don Quijote is famous for being the home of the maiden cafe @home and, moreover, is home to the extremely popular J-Pop band AKB48, which still performs regularly at the 8th Floor Theater.
Opening time: 10:00-5:00.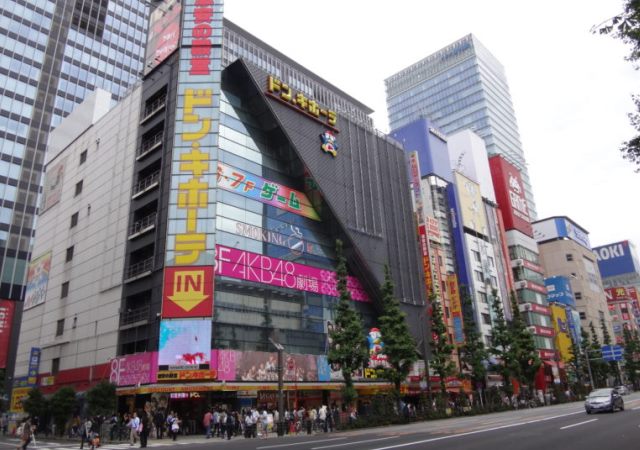 Gachapon Hall.
These little toys encased in transparent balloons for 200-300 yen are so cute. From Pikachu figurines to bottle shorts, there's a souvenir for every taste. There is something mesmerizing about waiting for your figurine from the machine.
Opening hours: 11:00-20:00 (Monday-Thursday), 11:00-22:00 (Friday, Saturday and Eve holidays), 11:00-19:00 (Sunday, holidays).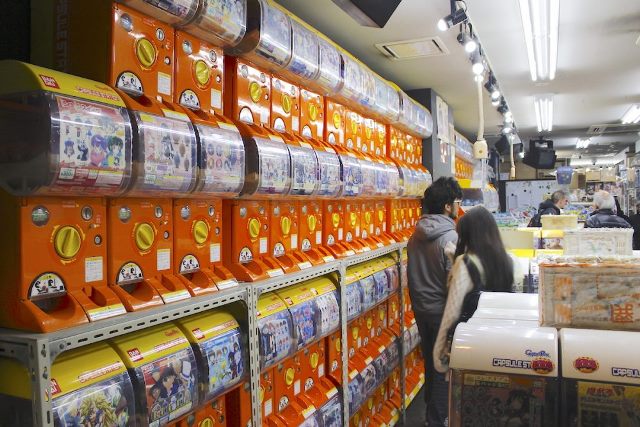 Taito Game Station.
Tired of looking at anime merchandise and want a change of pace? Move over to the big red building along Chuo Dori and try your hand at the toy arcades (or UFO catchers, as they call them here)! Some say they're scammers, but we don't think so. If you have some skill, you stand a good chance of getting that super-cute plush Gudetama.
Look for prizes (usually plush ones) with ears that you can hook with an iron hand and pull out. Also, if you haven't already, you should try the puricura booths! They're cheap, fun, and will leave a wonderful memory of your trip to Japan.
Hours of operation: 10:00am-12:00pm.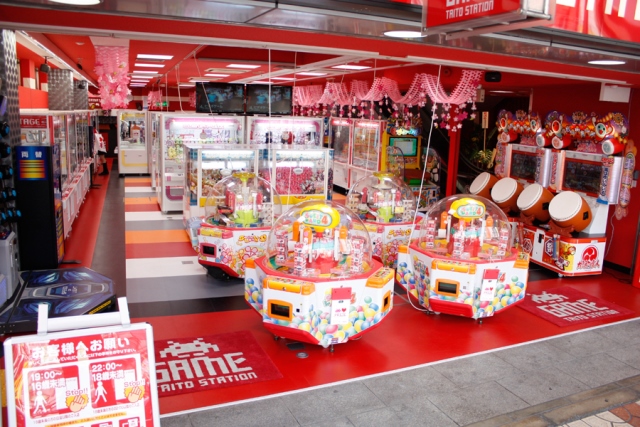 Gundam Cafe.
We haven't been here before, but if you're a Gundam fan, this is the place for you! The themed food looks pretty cool, and they have a take-out section near the entrance that sells hot snacks like Gundam shaped taiyaki, in case you don't have time to look inside.
Hours of operation: 10:00-22:30pm.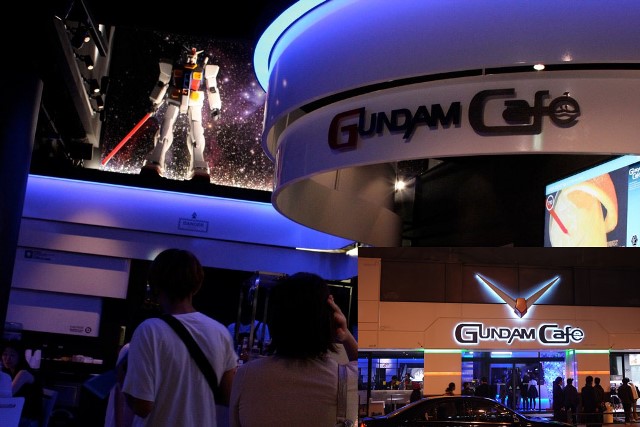 Yodobashi Camera.
Once you enter the giant Yodobashi Camera mall, say goodbye to the rest of your day. It's huge – entire floors of cameras, appliances, phone and computer accessories, toys, games and even prestige watches, all of which will seriously test your resolve not to take your credit card out of your wallet.
Although this mall is one of the most popular places in Akihabara, you can find similar ones in almost every major area of Tokyo, so if you're visiting Akihabara and you're short on time, don't be afraid to miss this place – you can make up for it in another area of the Japanese capital.
Opening hours are 9:30-22:00.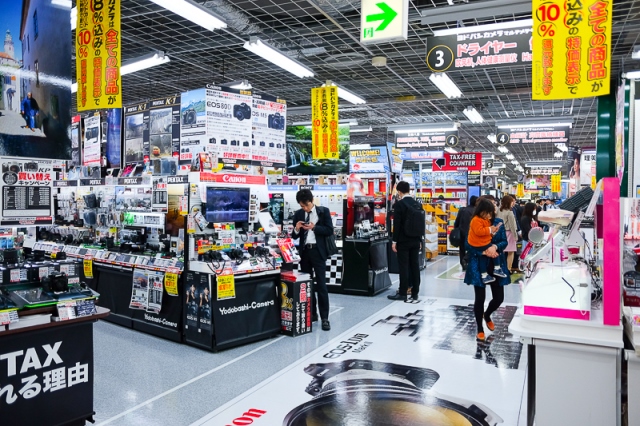 Where to eat?
Walking and shopping are good for whetting your appetite. If you don't plan to visit a mainstream cafe, there are small cafes and restaurants on each block, and most are decent. Many of them also have menus in English.
But if you want to save energy for something to eat, we recommend the newly renovated Akiba Ichi in the UDX building next to Akihabara Station. There are three floors of reasonably priced restaurants there. Look for it to the right of the Electric Town entrance of Akihabara Station, up the pedestrian bridge.
We also recommend the new YY Gourmet on the 8th floor of Yodobashi Camera. One of our favorite teishoku stores, Obon de Gohan, is also located here, along with many other excellent restaurants and cafes.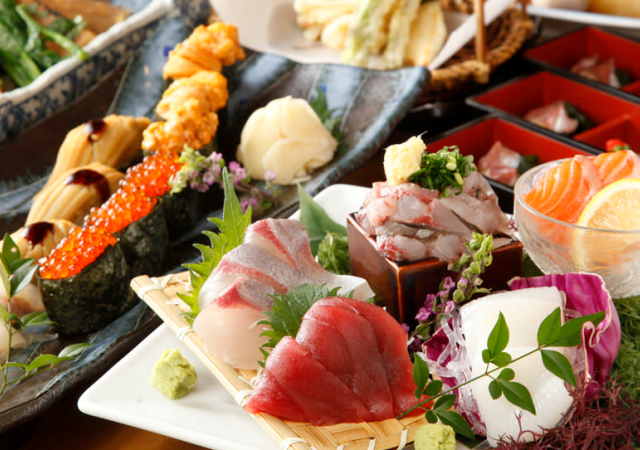 Where to stay.
Akihabara is one of the best base locations for your trip to Tokyo. The neighborhood is within walking distance of all the popular spots such as Shibuya, Shinjuku, Ginza, Tsukiji, Asakusa, Odaiba, Tokyo Disneyland and Disney Sea, and close to Haneda Airport. And, of course, staying here will save you time and spend it exploring the area rather than sitting on the train.
If you don't know where to stay in Akihabara, here are some of our favorite hotels in the area. They are all very close to the station and have great rooms that rent at reasonable prices.
Remm Akihabara
The hotel is right outside the Central Gate exit of Akihabara Station. Besides the fantastic location, we love the hotel's minimalist interior design and beautifully decorated rooms. The top floors have great views of the city at night and there is free Wi-Fi. Prices are in the mid-range and depend on the level of comfort.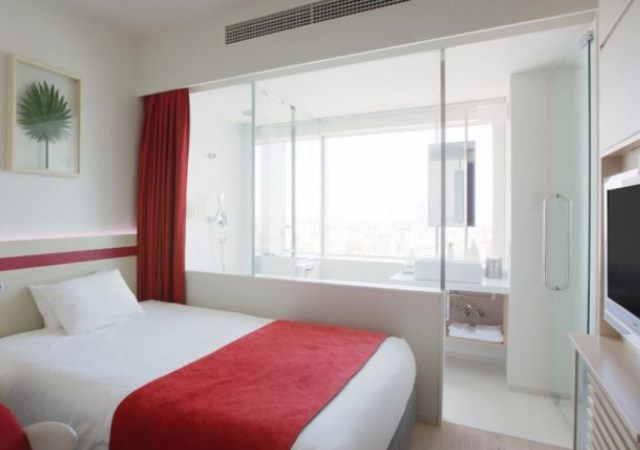 Akihabara Washington Hotel
The Akihabara Washington Hotel is right across the street from the Remm. Like most hotels in Japan, the rooms are relatively small, but they are clean, comfortable, and conveniently located. A great fallback option if the Remm is fully booked (as it often is).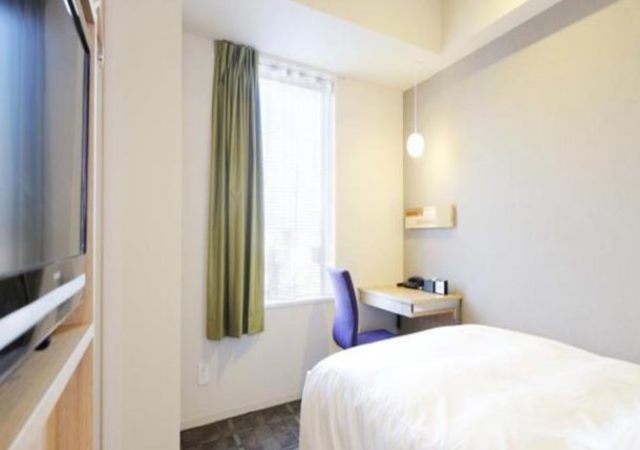 APA Hotel Akihabara Ekimae
Another good option near the station is the APA Hotel Akihabara Ekimae, which means "in front of the station." There is 24-hour reception and free Wi-Fi in all rooms.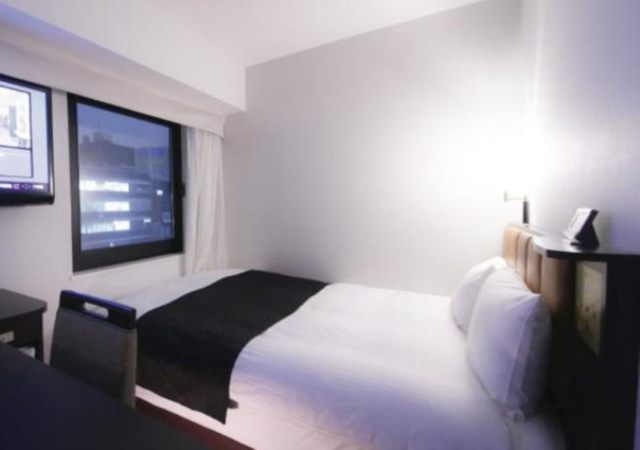 Many people like to stay in Ueno when they are in Tokyo. It is only a few stops from Akihabara and has many inexpensive hotels overlooking the picturesque Ueno Park, which is home to the Ueno Zoo and the Tokyo Art Museum. Ueno station is a major rail hub and is very convenient for trips around the city and to the airport.
Hotel Sardonyx Ueno
Hotel Sardonyx Ueno opened in July 2016 after a complete renovation, so everything here is nice and new. The hotel is located between Okachimati and Ueno stations on the JR Yamanote line, and there is plenty of good food and shopping nearby. It is suitable for those who want to go on a tour to Japan inexpensively.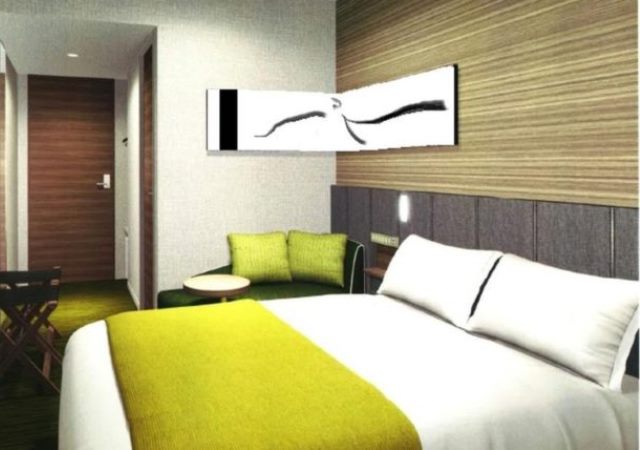 Tokyo Ueno Hotel.
Although it's a little further from Ueno Station (8-10 minute walk), Tokyo Ueno Hotel is relatively cheap and the bathrooms here are larger than usual Japanese standards. A great choice if your budget is tight, but you still want convenient access to the main rail hub.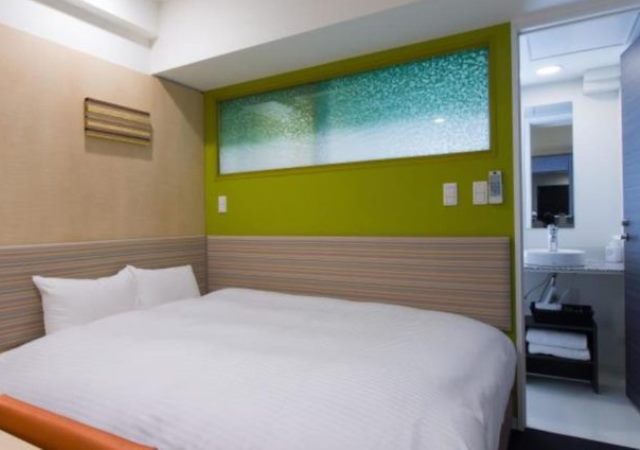 Akihabara Routes.
All routes start at the Electric Town exit of Akihabara Station. After many visits to Akihabara, we have found that these are the optimal routes, covering the most popular attractions, allowing you to make the most of your allotted time. You will essentially make a loop around Chuo Dori and return to the train station.
You can start at any time, but keep in mind that most places in Akihabara away from F&B stores close around 8pm, so the earlier you start, the better.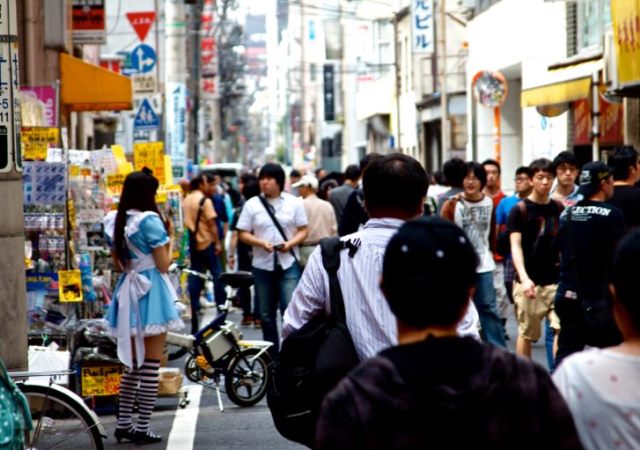 2-3 hours.
– M's (skip it if you're taking the kids with you or if sex paraphernalia isn't your thing)
Half day
– M's (skip it if you're taking the kids with you or if sex paraphernalia isn't your thing)
– Snack at Maid Cafe or Gundam Café
All Day.
– M's (skip it if you're taking the kids with you or if sex paraphernalia isn't your thing)
– Grab a bite to eat at Maid Cafe or Gundam Cafe
– Taito Game Station.
We've tried to include some of the most interesting and popular places in Akihabara in this guide, but they're really just the tip of the iceberg. There are hundreds of interesting little stores out on tiny back alleys, waiting to be found by travelers who have bought tours to Japan. If you have the time, we recommend you go beyond the tourist trail!
visa to Japan for Ukraine, Kazakhstan and Belarus | tours in Japan | tours to Japan
Akihabara: Tokyo, Chiyode Special District
As usual, when I was going to Japan I asked my friends, relatives and acquaintances what to bring with me. I remembered that my niece wanted to buy a laptop, preferably a good build. Immediately the Akihabara district of Tokyo came to mind. Why Akihabara? I'll tell you.
Japan, flights and gifts
For all my flights on the same airline I have had the opportunity to carry an extra 20 kg of luggage for free, which is often quite useful, since I have many relatives and friends and the burden of gift orders sometimes comes out quite heavy.
But thanks to flight bonuses it's easy. This is how the airline thanks its passengers for their loyalty. Additionally, after every fifth or sixth flight, depending on the accumulated flight miles, there is an opportunity to fly for free.
A very nice expression of gratitude from the airline for choosing only its planes. And since its planes don't fall out of the sky either, it's even more than nice. In addition, the airline has joined the global airline alliance and now all these "nice little things" apply to other airline leaders like Kantas or Lufthansa.
And much more. In a word – they know how to work. Just don't jinx it. But enough about that, so as not to think that I'm not doing my publicity for the flight organization. So I will not even mention the name of the airline!
So my niece Irina asked to bring her not too fancy, but reliable as an automatic Kalashnikov, used laptop for 200 American dollars. With her we are friends, and I gladly volunteered to fulfill her request.
Irina is well versed in technology, travels a lot and often uses a computer, so I wanted not to miscalculate with the choice. First I searched on Japanese internet auctions. Some things were available for the required amount.
But I wanted to hold the item in my hands, to have a closer look, and to try it on. Besides, being a responsible and fond person, I decided to widen the search area, and to survey the local stores first, and then at the very end of the search to "check shot" visit Akihabara or simply Akiba.
Of course I noticed some interesting variants in the stores too, such that it would be possible to go further without any effort and buy the things I'm interested in. But for me Akiba is the kind of place that doesn't require unnecessary reasons to visit it again. What is Akihabara? Don't you know? Akihabara is a computer and electronics heaven where you can find everything!
The History of Tokyo's Akihabara
In the period called Edo in Japanese history, which lasted about three hundred years before the beginning of the modernization period in 1860, the area was called Aoi and was inhabited by poor samurai. In 1870, a temple in honor of Akiba, the Buddhist god of fire protection, was erected here.
Soon the entire area began to be called by the name of the temple with the addition of Hara, that is, the plain. The name was then transformed into a more lyrical Akihabara, that is, the Valley of Autumn Leaves.
In 1890 a railway station was built here and the name took on its official meaning. Soon there is a local vegetable market because of the convenience of the location, the computer had not yet been invented.
During the war, the area was bombed by American aircraft. After the war, a spontaneous market appeared at one of the sites where former military men gathered to sell radio equipment. There was no TV in those days and radio was very popular.
In the '70s, the first record stores appeared here and people began to reach for vinyl records. Then computers came on the scene and people immediately grabbed hold of that industry, which further predetermined the development of the neighborhood. Akiba is a huge circle of stores and stores selling everything imaginable in the field of electrical engineering.
It is impossible not to say that the number of fans of anime today has already surpassed the number of visitors to Akiba, who have other interests. But still find you need a laptop, a camera or any other similar product is possible without any problems. But before we get to the story about buying a laptop, I can't help but say a couple of words about the popular maid cafes in Akiba.
Maid Café in Akihabara: is it worth visiting?
Maid cafes or cafes with maids are nothing but catering establishments where you are served by Japanese girls dressed as maids. They will treat you as their "master. And the main rule of the relationship between visitors and maids is that you should not try to get acquainted with them and touch them. By the way, the photos with the maids are paid extra.
As with any themed cafe in Japan, it is clearly overpriced. This is why I do not recommend it to people planning a budget trip – an economical trip. Keep in mind also that Japan is quite an expensive country in itself.
Most of the Made cafes are supposed to visit only for an hour, unless of course you intend to pay extra for a further stay in the institution. The fee for the table itself is about 500-600 yen plus quite expensive food and drinks.
The maids are happy to chat with you while you are in the cafe, sing you a song if it turns out to be your birthday, and you'll generally be delighted with them.
I've encountered many opinions that the food at Maid Caffes, like other similarly themed cafes, isn't any special. You pay more for the experience than you do for a delicious meal. As a rule, such places are not empty, including at the expense of tourists.
Whether to visit or not Made Café is up to you, once in terms of personal impressions, you probably can. But do not count on anything more than what I described above.
Buying a laptop in Akihab
How to get to Akihabara. It's actually simple – take the subway. I go down to the subway. Find the Hibiya line and after five minutes I'm at the subway station called Akihabara. There are homeless people lying on the floor at the subway exit.
Once upon a time, I naively believed that there were no homeless people in Japan. That everyone here, if not rich, was at least well-to-do. What a second economy in the world! But in reality, I saw a lot of homeless people. Most of them, however, are sympathetic because of their neat appearance. And not all of them are broken people or lowlifes. Some, I realized, were homeless on principle. But about that some other time.
Exit from Akihabara Station
I've been to Akihabara more than once, so I get off the subway the closest to the block. By the way, the Japanese subway is a very complex communication system with many lines with frequent interchanges in the form of surface railway stations and bus stations and many exits.
The exit from the station is a small square. A group of young people are waving the Uighur national flag and chanting political slogans. Someone listens to them and tosses a coin.
The girls who carry ads come up and offer a handy fan, or a small pack of tissues with the logos and addresses of the advertised stores. Such nice little things. Some handed out just flyers with advertisements, but we don't need that kind of stuff, so we don't stop and quickly walk by.
I'm very fond of technology, electronics, various household and not quite household appliances, and so I immediately get excited and go into all the stores in a row. It's one thing to go into an electronics store somewhere in Moscow or another city.
In Akihabara, it's much more exciting. Mountains of computer software, home appliances, computers, games, parts, various anime things and even electronic gadgets for toilets – voshlets. By the way, I'll be sure to write more about them soon. It's also full of game stores and clubs!
Thousands of stores both new and used. I think I could wander around here all day and not feel tired. Electronic hollers tell you about the assortment, and you can often hear them in Russian too.
Many stores display their wares right at the entrances, while live callers shout out "Irrasheimase," with the accent on the last syllable and the intonation stretching upwards. Which means a motivational, welcoming, inviting combination. In the Russian language there is obviously no analogue. It carries a combination of three expressions at once: "Don't pass by!", "We are happy to serve you!", and "Welcome!".
After about two hours I found a second hand laptop for 180 USD with a very decent configuration and the right parameters. The Japanese assistant was very smart and unobtrusive, and clearly explained to me all the details, advantages and disadvantages of this or that model. I studied Japanese for a reason!
While searching I could not resist the temptation to buy a good modern model of Canon compact camera. The camera looked like new and I paid only a hundred dollars for it, which seemed almost for nothing.
By the way many Japanese sellers of second-hand cameras are very cautious and say they don't know how they will behave in the future. But my experience shows that in the future the equipment behaves without problems. Even this time I was not mistaken. My niece Irina was also happy with the purchase and so far has not been disappointed.