Traveller reviews about holidays in Bulgaria.
Even during my stay in Cyprus, I came across the fact that on many tourist sites the information is not updated, sometimes several years pass, and the old data cloud the head of future tourists. The Temple of Cyril and Methodius.
Around mid-September, water parks in Bulgaria are closed. We managed literally on the penultimate day to visit the biggest water park in Sunny Beach. On the same day during the evening walk we stumbled.
In many Russian cities there are steam trains, on which children ride. In Sunny Beach trains were adapted for tourist needs, adults, along with children ride them.
We took a walk and bathed in Cacao Beach, looked for an unusual restaurant "Fregat", looked at the chapels.
If in Sunny Beach the horse-drawn carriages are concentrated in the center of the city, in Sozopol they are near the bus stop. This is quite understandable: 1). In the old town of Sozopol they are forbidden to enter.
Gone are the romantic sword fencing, romantic rides in horse-drawn carriages, which have remained only in the form of sports or entertainment. In many countries of the world is practiced one of the entertainments offered to tourists, this is a walk through the streets of the resort town in a horse-drawn carriage.
The municipality of Nessebar consists of 3 towns and 11 villages. Towns: Nessebar, Sveti Vlas, Obzor. Villages: Banya, Gyulevitsa, Emona, Koznitsa, Kosharitsa, Orizare, Panitsovo, Priseltsi, Ravda, Rakovskovo, Tankovo. Note: Sunny Beach is formally part of Nessebar. Bus service.
We will walk along the southern coast of Sozopol, we will see the ruins of temples, which went underground, we will learn a little about the local vampires.
During the trip to Sozopol we visited the museum "South Fortress Wall". We found it interesting. Paganism and Christianity, the world of antiquity and more modern times all fit into one museum space. Located on two levels.
We walked through the center of the city and enjoyed the new experience. For Irina it was her first foreign trip and everything was new to her. I was filled with impressions, as it always happens during my trips. I don't understand.
When it comes to medieval castles, what country do you picture first? Hot Spain, temperamental Italy, spicy France? I bet Bulgaria doesn't make that top. And in vain, there is here too.
Reviews by Month
Popular Destinations
Country information
Weather in Bulgaria
This catalog contains reviews of Bulgaria, a sunny country located in the eastern part of the Balkan Peninsula. Travelers who have returned from a trip to Bulgaria share their impressions of what they have seen, heard and eaten. There are also photo albums in the feed – with colorful and lively photos, complete with detailed or brief commentary. Another type of reviews are tips on a specific issue: how to get to a particular place, what you need to get a visa, how to rent a car, etc.
Reading reviews of holidays in Bulgaria, always keep in mind that all people look at the same object differently, have their own point of view. In this regard, we advise to read several materials to get a complete picture.
The stories of the tourists registered on the website mention not only the nature, beaches and sights of Bulgaria, but also the infrastructure, entertainment, excursions, peculiarities of the catering and service industries. As a rule, you can find a lot of useful recommendations in the materials.
In the reviews of tourists about Bulgaria is also a lot of points related to food. What is the famous local cuisine, how much it costs and what a dish looks like, where they eat thoroughly, and where they just pour beer – about this and other things tourists mention in their stories.
Bulgaria is famous for its resorts. The most famous and most visited are: the largest resort Golden Sands, another – Sunny Beach and its suburbs St. Vlas and Nessebar, Burgas in the south-east, as well as Varna. We can not ignore the capital of Bulgaria, Sofia.
It is worth to read hotel reviews in Bulgaria. Tourists stay in hotels, guest houses, apartments, villas and hostels and describe their experiences. Former guests tell what they liked during the holidays, and what caused dissatisfaction and even resentment. Among the positives usually: convenient transport accessibility, cleanliness, proximity to the sea, if we are talking about the resort, responsive staff). Negative aspects: noise, irresponsibility and rudeness of staff, rare cleaning.
In addition to attractions and hotels tourists are concerned about another important point – the weather conditions. When in Bulgaria the bathing season starts and when it ends. Read more about rest in the off-season, the temperature of each month and other things related to the climate in the section "Weather in Bulgaria. Tourist reviews can be filtered by the month of interest.
What tourists think about Bulgaria
Take a look at the reviews of tourists about Bulgaria, a friendly European country by the Black Sea. Pros and cons of vacationing in Bulgarian resorts in 2022.
Reviews about the weather in Bulgaria
Tourists come to Bulgaria all year round. In winter – to go skiing, and in summer – for a beach holiday. The swimming season begins in late May and lasts until late September.
Holidays in June are popular with parents with children and older travelers. According to reviews of tourists, in Bulgaria in June there is no strong heat, and the sea is already warm. July and August are the peak of the tourist season. Resorts are filled to capacity. Prices for accommodation and entertainment are the highest of the year. Find out what the weather in Bulgaria is like.
Reviews of tourists about rest in Bulgaria in September are the most positive. The velvet season is visited by families with babies and all those who are contraindicated to the summer heat for health reasons.
From October begins the off-season period. The daytime temperature is +17. +18 ° C, and the temperature of the sea water +18. +19°С. It begins to rain. Tourists who come to Bulgaria in October like the bright colors of the fall foliage and the opportunity to go on excursions without the heat.
Svetlana: "I like to vacation in Bulgaria in May. The first cherries, strawberries and of course the sea! Only our compatriots bathe at this time. The water is cool, but nobody is forbidden to sunbathe and walk along the beach.
Ekaterina: "In July the weather is wonderful +28. +29°С. It rained for two days, but there was a light warm breeze. Water temperature +24 ° C.".
Elena: "In September there was no heat, the water was warm. It rained the whole week until lunch. In the afternoon we went to the sea to bathe and sunbathe.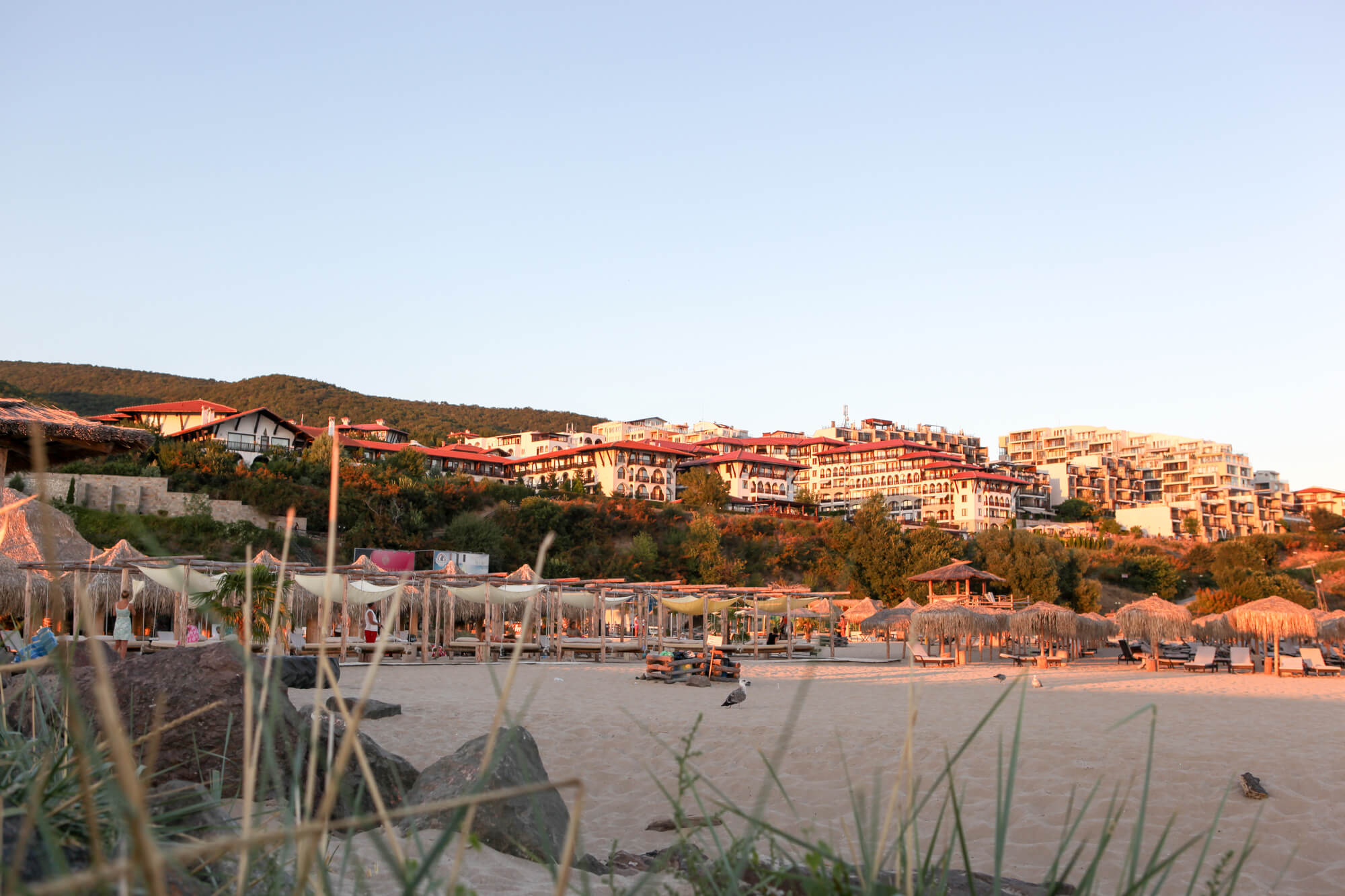 The beach in St. Vlas. Photo: nenovbrothers / Depositphotos.com.
Tourist reviews of hotels in Bulgaria
Bulgarian hotels are biased. Many believe that the level of service in this country is prehistoric, but this is not so. In recent years, the hotel base at the seaside resorts of Bulgaria has changed greatly. There appeared not bad 4-5* hotels.
According to tourists, for families with children suitable budget apart-hotels. Large tourist complexes like the resorts of Elenite and Dune are well-reviewed. They have comfortable 3-5* hotels, water parks and all the necessary infrastructure for a good holiday by the sea.
To have a successful vacation in Bulgaria in 2022, study the reviews of tourists about the hotels.
Elvira: "We come to the Moonlight Hotel 5* for the 4th year in a row. I really like the location, the discos are not loud, and the food is of high quality."
Anna: "Aquamarine Hotel 4* broke all my stereotypes that service in Bulgaria is a relic of Soviet times. The staff was super, we said goodbye like family.
Svetlana Yakovlevna: "The area of Royal Sun Apartments 3* – just a song, two pools + for children. We will stay here again soon after our return visit.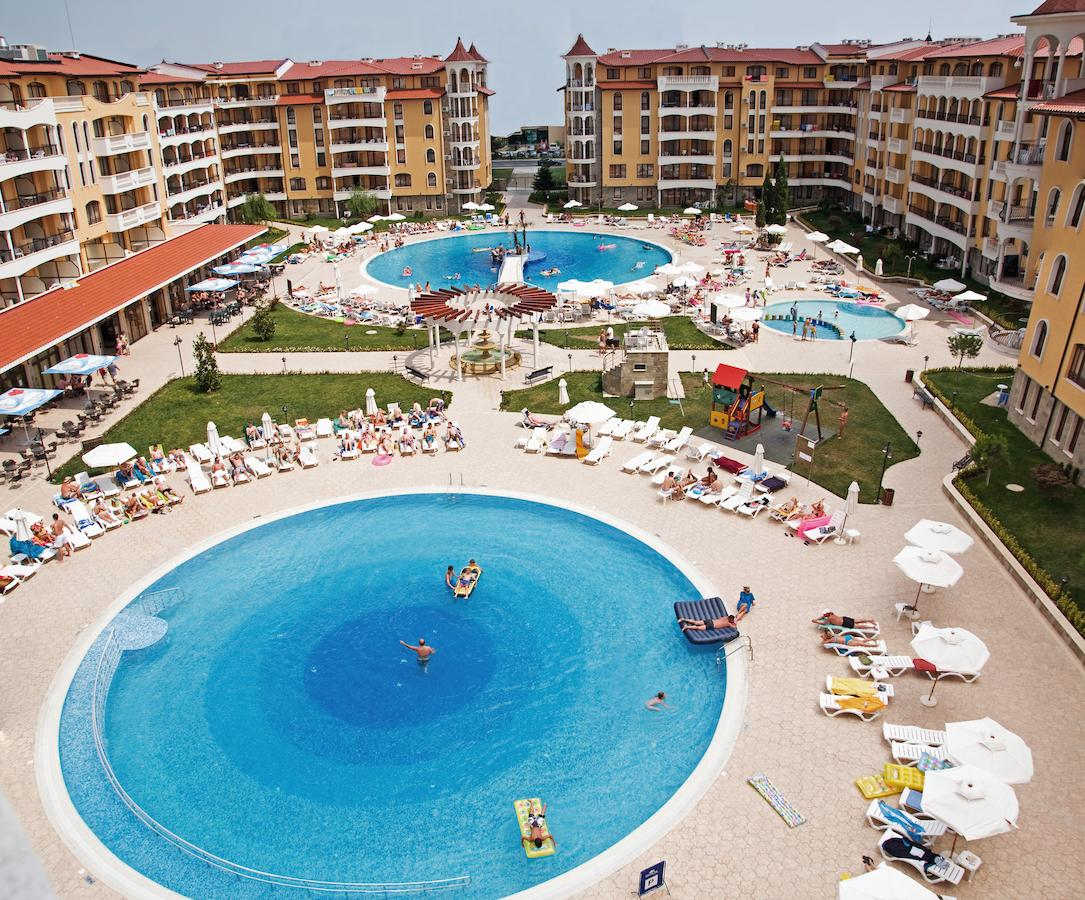 PMG Royal Sun Apartments (Photo: booking.com / PMG Royal Sun Apartments)
Reviews about the beaches and the sea in Bulgaria
The Bulgarian coast stretches for 378 km. To the north of the Balkan Mountains are Golden Sands, Albena and Varna, to the south are the resort areas of Burgas, Sunny Beach, Nesebar and Sozopol. Most beaches are sandy, the entrance to the sea is gentle, so they are good for recreation with children.
According to reviews of tourists, the sea in major cities of Bulgaria is polluted. The clear sea water is at the resorts Golden Sands, Sunny Beach, Albena, Lozenets, Kiten and St. Konstantin and Elena.
The beaches are good. There is sand everywhere, where you can lie down and won't have a backache like from pebbles.
Julia-chizl: "In the morning, the bottom is not yet disturbed by bathers. In the clear water you can see crabs and hermit crabs.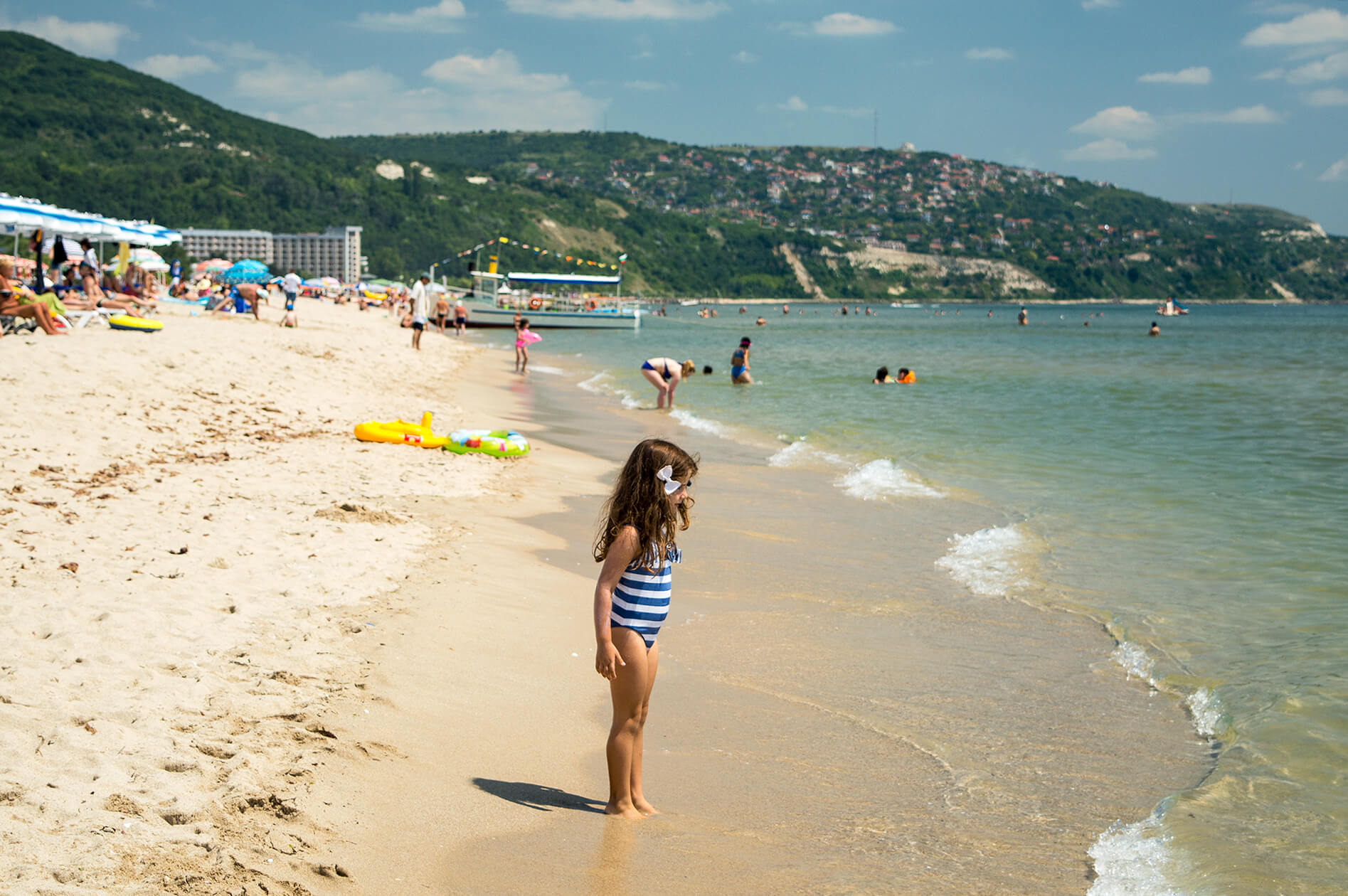 Beach in Albena, Bulgaria (Photo: Balcon del Mundo / flickr.com / License CC BY-SA 2.0)
Sunny Beach: Tourist reviews
According to tourist reviews, Sunny Beach is ideal for families with children and youth holidays in Bulgaria. On the most famous seaside resort of the country there are hotels for all tastes and wallets. They all stand on the shore of a shallow bay. Its 7 km of sandy beaches are blessed with a Blue Flag for cleanliness.
Morraa: "All sorts of activities are abundant, from bars and discos to quite innocent children's entertainment. The town of the museum Nessebar is nearby, where you can get by steam train or by bus.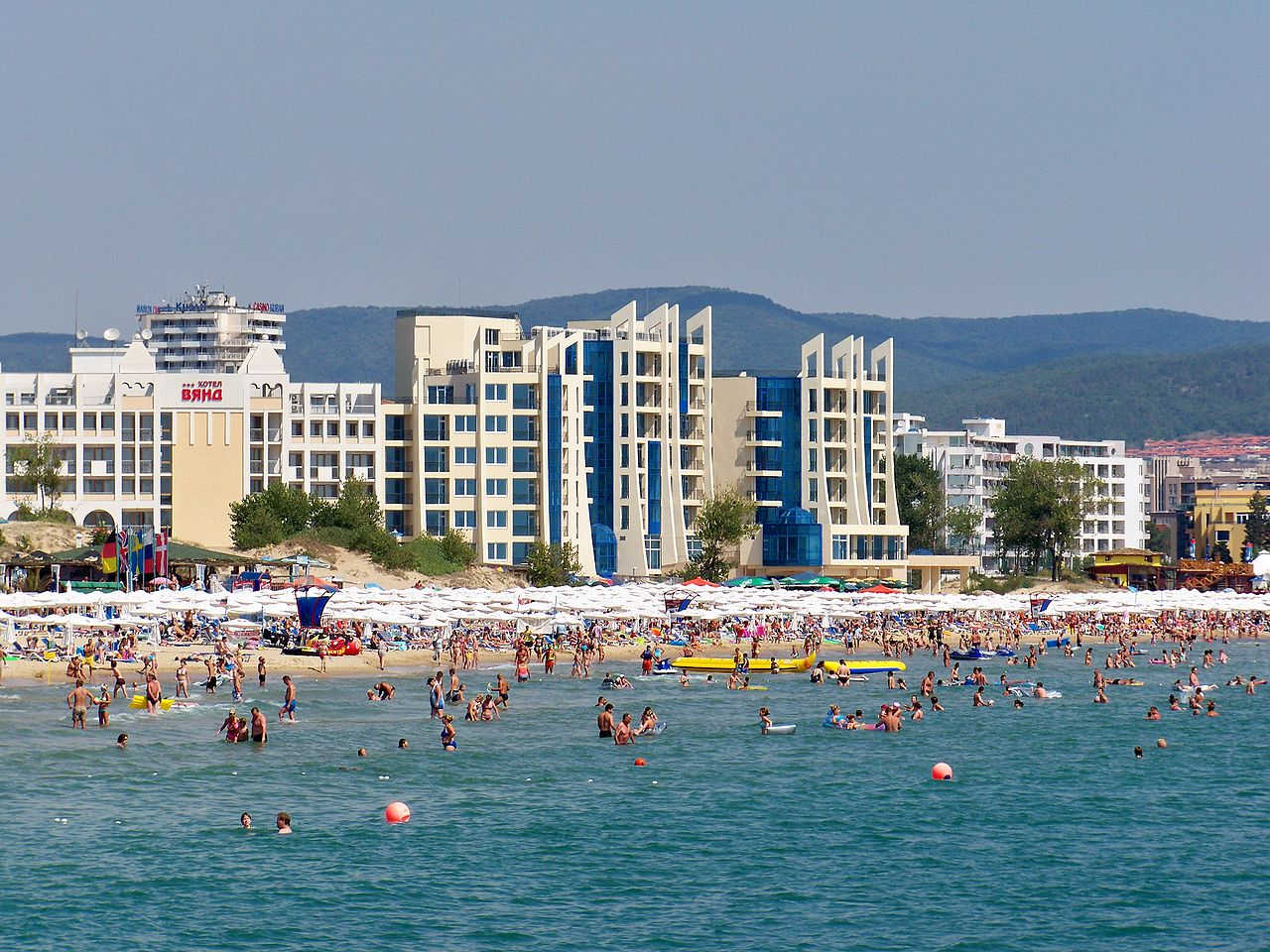 Sunny Beach (Photo: wikimedia.org / Infobgv)
Burgas: tourist reviews
One of the largest tourist centers in Bulgaria is located on the shores of the Burgas Bay. There are many natural and historical attractions in and around the city. According to tourist reviews, Burgas is a budget resort in Bulgaria. It likes the fans of good sandy beaches, outdoor activities, water sports and excursions.
Vera Ivanova: "In such a big city there is something to do apart from seaside rest. At least paragliding."
Sanyazv: "For tourists is a very nice city. I didn't want to leave it at all. It has its own atmosphere."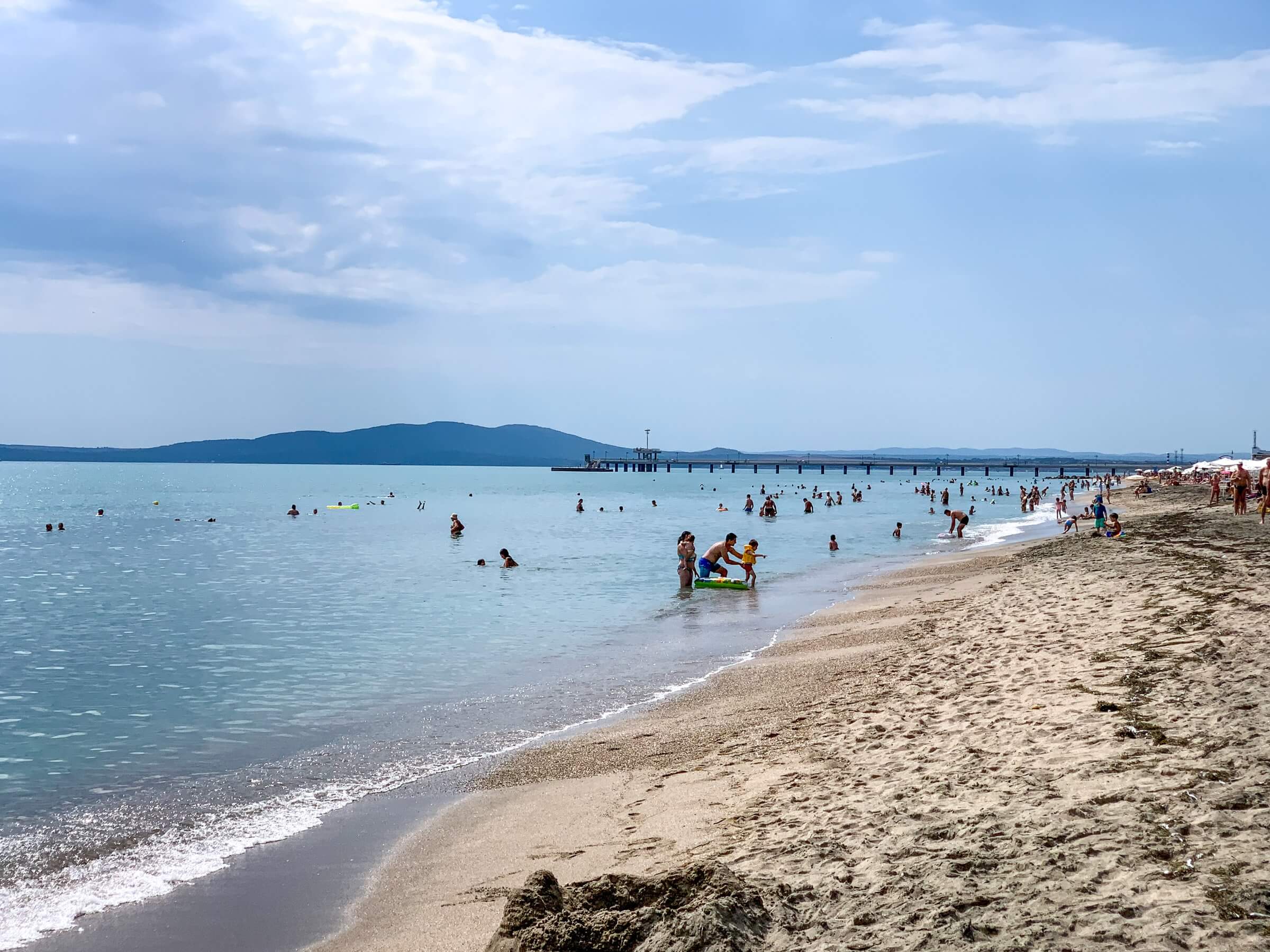 Old beach in Burgas. Photo: haltakov / unsplash.com.
Pomorie: reviews by tourists
Balneological center is famous for its quiet atmosphere, healing mud and salt lakes. According to tourist reviews, holidays in Pomorie will suit those who like to combine swimming in the sea with treatment. The resort has many 4-5* hotels.
Lemiel: "The quay is wide, there are a lot of boats and the sea has a stunningly beautiful turquoise color. I can see at once that the town is built up with elite housing.
lalunalizza: "The useful properties of fresh mud do not last more than 20 hours. So beware of buying mud from hand."
Pomeranian Bay (Photo: wikimedia.org / Pz.IStP)
Golden Sands: tourist reviews
The resort is famous for the clean sea, the national park, cozy hotels, spa centers, sea attractions and vibrant nightlife. The coast here is a long strip of sandy beaches. The sea is clean and the entrance to the water is gentle. According to the reviews of tourists, active people and parents with children like to rest in Golden Sands.
Esmeron: "The classic vacation in Bulgaria. The resort is small, stretched along the coast. Everything here has a spirit of nostalgia for the USSR. The time seems to have stopped.
Latailes: "On the territory of resort Golden Sands there are steam trains. It's inexpensive and convenient to ride them".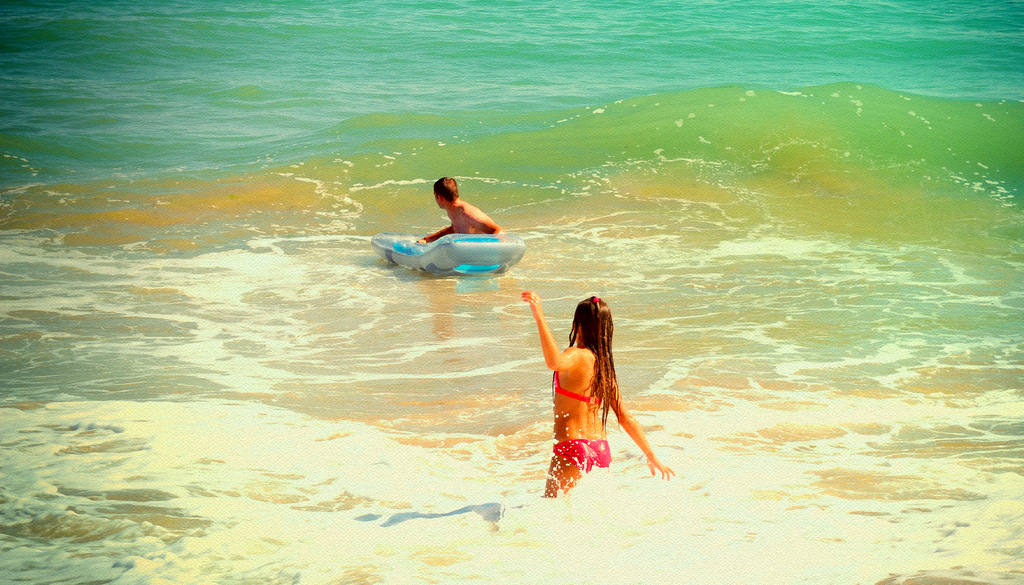 On the beach at Golden Sands (Photo: Radoslav Minchev / flickr.com)
Nessebar: tourist reviews
One of the oldest towns in Europe is located 37 kilometers north of Burgas. According to tourist reviews, the beach in Nessebar is the most picturesque in Bulgaria. The wide beach with pure golden sand is a Blue Flag award. The resort is chosen by connoisseurs of sightseeing tourism, lovers of diving and windsurfing.
The streets of the Old Nessebar are narrow and pretty. A lot of flowers, cozy wooden platbands, slender brick facades – all this brings a couple of hundred years ago".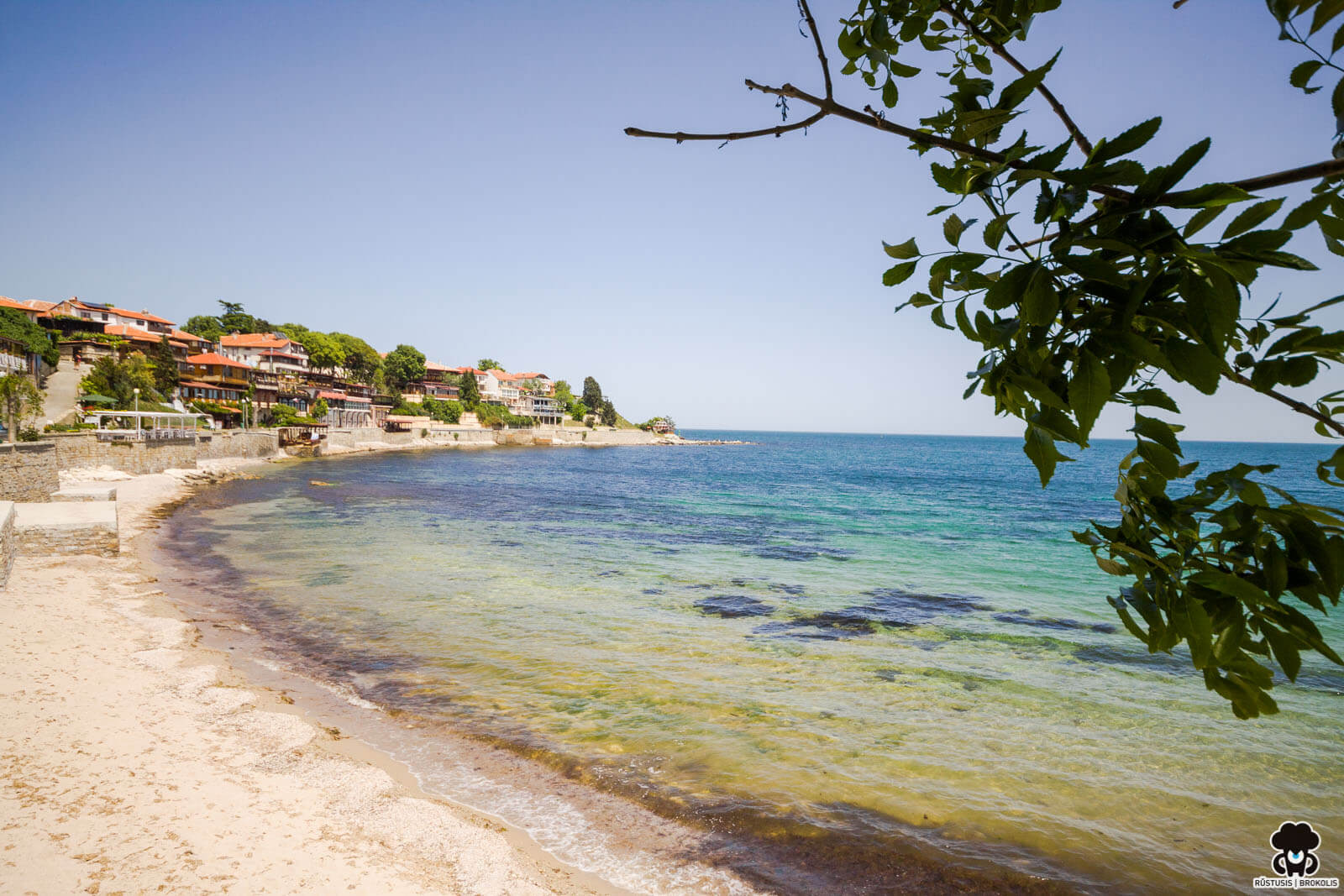 The old town of Nessebar (Photo: Scowl Broccoli / flickr.com)
Tourist reviews of excursions in Bulgaria
Search for interesting excursions on Tripster. Individual and group, without crowds of tourists and in Russian.
Guided tours in Russian are offered at all resorts in Bulgaria. Popular tours to Sofia, Varna, Plovdiv, Burgas, Nessebar, mountain nature reserve Strandzha, on ancient temples and monasteries. Sightseeing bus tours cost from 50€.
To rest in Bulgaria in 2022 to leave a pleasant experience, read the reviews of tourists about the excursions and make your choice.
Sergey : "The excursion was excellent and revealed a lot of new things about both Sofia and Bulgaria in general". More about the tour →
Andrey : "We felt like in a fairy tale! The air in Strandja is clean. It's nice to be here after a noisy city." More about the tour →
Alla : "The route is well thought out and interesting. Very beautiful views – colorful rocks and the blue sea, impregnable walls of the fortress and the mysterious garden of Balchik. All this will stay in memory for a long time. More about the tour →
Reviews about the entertainment
According to reviews of tourists, the coastal resorts of Bulgaria are liked by lovers of active recreation. They enjoy diving, windsurfing, yachting and sea fishing. Those who like trekking can go hiking in the picturesque Rhodope Mountains. Horseback riding and bicycle tours are popular in Bulgaria.
If you come with a child, relax on the beaches, water parks and go on a boat ride. In the resorts are open attractions for children, and in Sunny Beach – a large amusement park. There is a dolphinarium and a zoo in Varna, and from July to September there is a spectacular sand sculpture festival in Burgas.
Svetlanas: "The Action Aquapark area is big and we were impressed with it. There are a lot of slides and pools with different effects.
YuliaStepanov: "The dolphinarium in Varna is small, half an hour performance. The kids were delighted. After that it is good to walk around – the dolphinarium is located in a nice park.
Action Aquapark in Sunny Beach. Photo: bortnikau / Depositphotos.com.
Pluses and minuses of a holiday in Bulgaria
In reviews of Bulgaria 2021 tourists write that they were pleasantly surprised by the quality of recreation. Most reviews are positive. Many would like to return to their favorite resorts and recommend them to their friends.
The pros of vacationing in Bulgaria in 2022:
Short flight time.
Large selection of hotels.
Good health resorts.
The Black Sea is cleaner than in Krasnodar Krai.
Wide sandy beaches.
Many entertainments for children.
Great opportunities for recreation and sightseeing tourism.
Almost no language barrier.
Oksana Bakinskaya: "Russian is well understood here and probably because of that you do not realize that you are abroad.
Cons:
Russians need a visa.
Prices for vacations are inflated.
Service in hotels leaves much to be desired.
After the storm, there are jellyfish and algae near the shore.
Infrastructure on many beaches is not developed.
Berry45: "The beaches are quite clean, but showers, toilets and cafes leave much to be desired.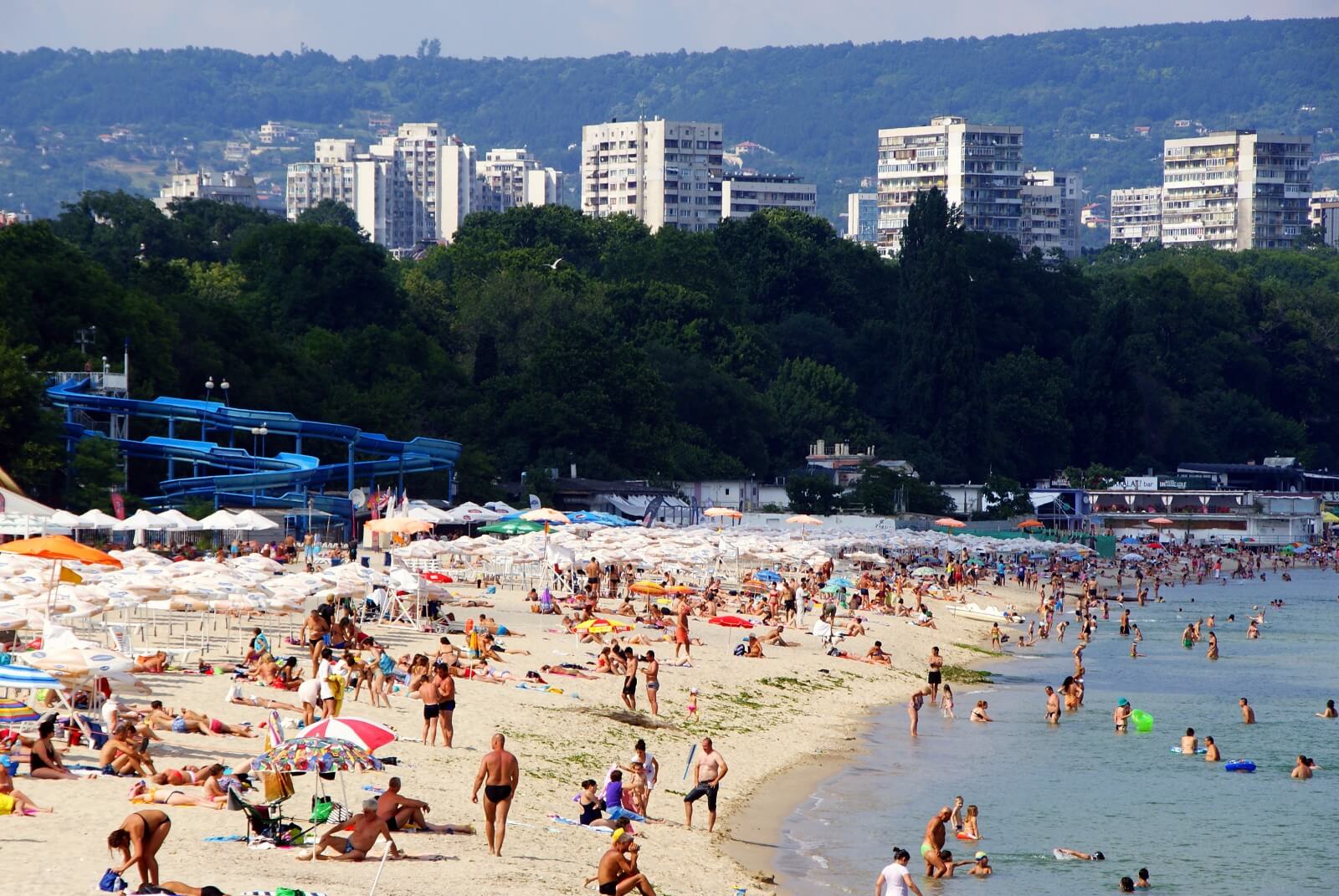 Beach in Varna (Photo: Złota Bułgaria / flickr.com)
The nuances of a vacation in Bulgaria and tips for tourists
"Stars are given not only to Bulgarian hotels, but also to the camping sites, motels and apartments. Private hotels, apartments and motels cannot have more than 3*. The limit for campings and country houses for rent is 1-2*.
Small private 3* hotels have good service. It's a family business, so the food there is homemade and customers are taken care of. Large Bulgarian 3* hotels, especially those that were built a long time ago, are like 2* hotels. Except for a budget accommodation do not expect anything special.
All inclusive Bulgarian style doesn't provide round the clock service.
In large supermarkets there are departments with ready-made meals. This is very convenient for anyone who wants to eat cheaper. Beef in stores and markets is difficult to find – Bulgarians prefer pork.
Vrednaya Wika: "Most often "all-inclusive" is valid from 10 am to 22-23 pm. Then alcoholic drinks, and sometimes non-alcoholic, for a fee.