How to go to Turkey by car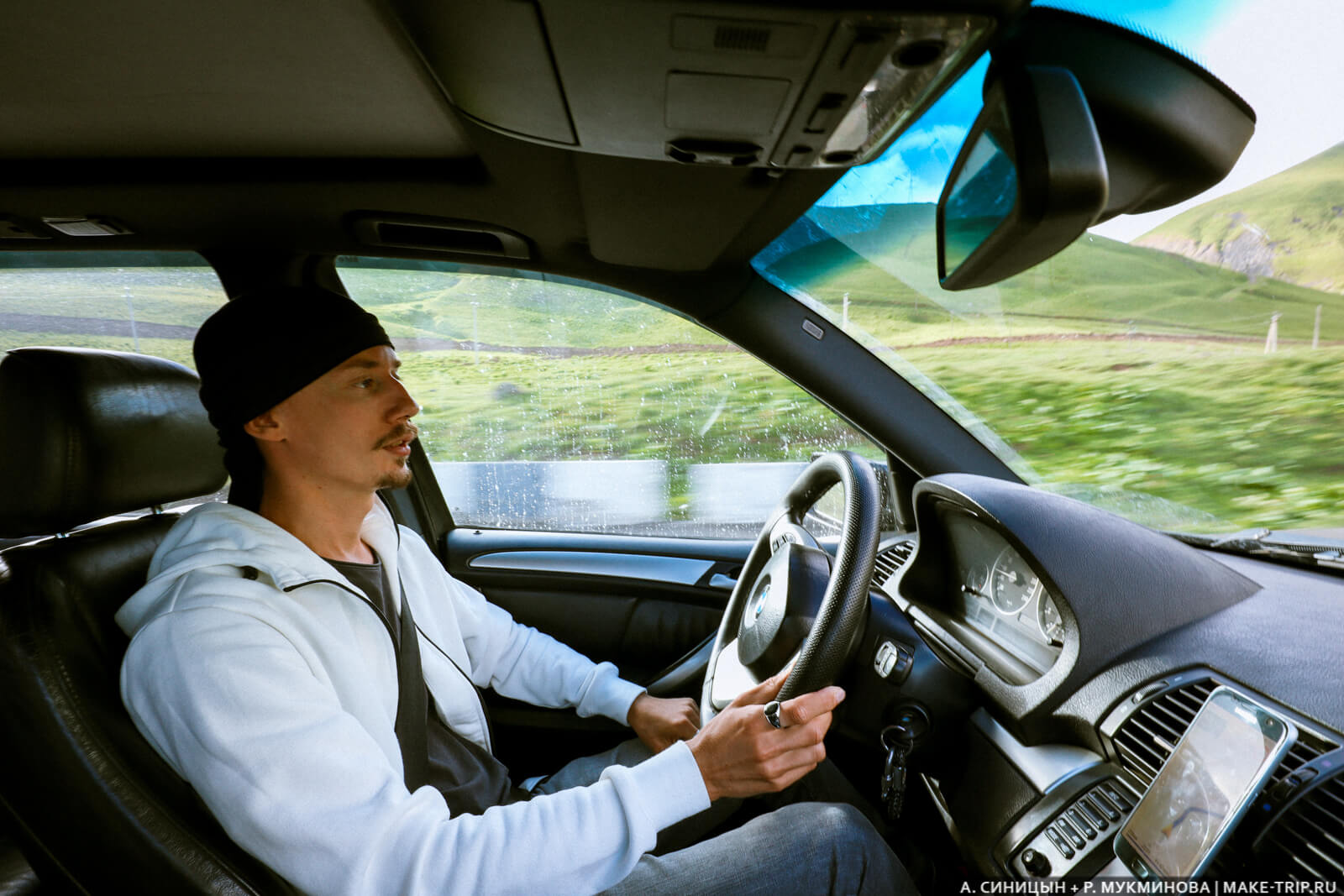 Learn how to travel to Turkey by car. The situation in 2022, the distances, documents and nuances of the border.
Hooray, the Russians finally got the opportunity to freely travel by car to Georgia and Turkey! This format of travel is especially important in 2022, because of the high cost of airfare. And in general, traveling to Turkey by car is becoming more and more popular. The reasons are obvious: in the high season it will almost certainly be cheaper than flying, it is not so far away, you can for one trip swim in the Mediterranean and Black Seas, to see the ruins of ancient cities and ancient fortresses. On top of everything else, you will visit Georgia or Bulgaria, depending on the chosen itinerary, which also makes the trip more interesting. Such a pleasant picture spoil only possible difficulties of crossing borders and fatigue from the long road. Let's see what to expect from such a trip.
Contents:
Our experience
We travel a lot by car and we love road trips. We haven't driven straight from Russia to Turkey yet, but we have traveled almost all parts of this route individually. Last year we drove 3000 km through Turkey and 1000 km through Georgia, and also many times we went to the south of Russia, including Vladikavkaz. We also have experience of crossing the border at Upper Lars, although by transfer. In short, we know almost the entire route from Central Russia to the Turkish resorts from our personal experience, which we received in parts. In addition, we are constantly monitoring the news and studying the latest reviews of tourists. I will be happy to share my knowledge with you.
Came to Cappadocia by car. Photo from our June 2021 Georgia road trip. Me, our rented old BMW X5 and the beautiful Georgian Military Road.
Is it possible to leave the Russian Federation by car now?
In the summer of 2022, Russia finally lifted restrictions on overland travel to Georgia and other neighboring countries. These restrictions had been in place for two years because of the pandemic. Now it is safe to drive your car to Turkey!
The land border between Turkey and Georgia has been open since the spring of 2021.
As of July 2022, both countries have completely removed covid entry requirements: tests and vaccinations are not required.
Important: Since March 2022, Russians can no longer use Visa and Mastercard cards abroad. But, fortunately, the MIR payment system works in Turkey. Get a Tinkoff Black card of this payment system and easily withdraw money from ATMs in Turkey, which work with the "MIR": Ziraat Bankası, Vakıfbank, Iş Bankası and DenizBank. You can also pay with your card for your purchases if the terminal belongs to one of these banks. The Black card is now available on special offer; the first year will be free of charge. Learn more about withdrawing money without fees in Turkey.
Is it worth to go
Because of the difficulties with air travel and high prices in 2022, a trip to Turkey by car looks like a good solution. This is especially true for a large family, a group of friends and those who go for a long period of time. But you need to be prepared for a long road, overnight stays on the way and possible delays at the borders. If these points confuse you, consider flying to Turkey and renting a car there for travel. Learn more about renting a car in Turkey – in the article I detailed our experience with tips and cautions. You can rent a car profitably now at Localrent.com. Read also about independent holidays in Turkey.
Attitude to Russians
As noted by tourists who traveled this route in 2022, the attitude of Georgians and Turks to Russians in most cases is good: the locals are friendly and helpful. There are no problems with crossing the border either.
How much does a car trip cost?
Costs in 2022 to travel from Moscow to Turkey, excluding food and hotels:
Gasoline – $300 (one way)
Car insurance for Georgia – $25
Car insurance for Turkey – $50
Toll roads – 62$
Total: approximately $440 one-way and $740 round-trip.
Travel to Turkey via Georgia
The most popular option for traveling by car to Turkey is via Georgia. It is easier and faster than going through Bulgaria (however, this alternative is considered irrelevant in 2022).
How much to drive: 3700 km is the distance from Moscow to Antalya on the shortest route without a detour. This distance can be covered in 4-5 days with the consideration of two borders. The road to Turkey from the cities in the south of Russia will be about a thousand kilometers and one day less.
How long it takes to get to the Turkish border via Georgia (not including traffic jams and time to cross the Russian-Georgian border):
| | | |
| --- | --- | --- |
| Point of departure | Distance in km to the Sarpi checkpoint | Travel time |
| Moscow | 2300 | 1,5-2 days |
| Krasnodar | 1150 | 20 hours |
| Stavropol | 900 | 15 hours |
| St. Petersburg | 3000 | 2-3 days |
| Rostov-on-Don | 1250 | 20 hours |
| Voronezh | 1800 | 1,5-2 days |
| Samara | 2150 | 1,5-2 days |
| Kazan | 2400 | 2-3 days |
| Yekaterinburg | 3100 | 2-3 days |
| Nizhny Novgorod | 2300 | 1,5-2 days |
Travel time, of course, is approximate: everyone drives differently, and the situation on the roads varies.
These distances already include 500 km through the whole Georgia from the checkpoint "Upper Lars" to "Sarpi". The Georgian Military Road will take you at least 3-4 hours, not counting stops: there are serpentines, traffic jams, slow moving trucks, and broken asphalt. So be ready! On the other hand, from Tbilisi to Batumi you go fast enough along an excellent road (although in some places the Chinese are building a new road, so traffic jams are hard to avoid). By the way, just a side note: Georgian cameras can't read Russian license plates yet.
Keep in mind that the way from Sarpi checkpoint to Antalya is 1400 km, that is about a day and a half. But the Black Sea resorts of Turkey are much closer.
When traveling through Georgia to Turkey, be sure to see the main Georgian sights along the way. This is very convenient to do by car. On the Georgian Military Road, check out the magnificent Trinity Church in Gergeti, the Arch of Friendship, and numerous viewing platforms. If you have a free day, stop in Tbilisi and walk around the Old Town. Keep in mind that there is always a lot of traffic in the capital. In Gori you can go to the Stalin house-museum, it is quite interesting, and the ancient cave town Uplistsikhe. Although you can skip the latter if you go to Cappadocia – it is about the same, but even cooler. In Kutaisi you can not go, it is not too interesting. It is better to spend time on the best beaches in Georgia, because on the way to Turkey you will pass all the major resorts: Ureki, Kobuleti, Batumi and others. Learn more about vacationing by the sea in Georgia.
The Georgian Military Road, which you will drive on your way to Turkey. The beauty is unbelievable! The queue of trucks, waiting their turn to cross the border at the Upper Lars checkpoint. In summer there are queues of cars and buses – take this into account.
Border crossing and documents
Russian-Georgian border
The only possible place to cross the border between Russia and Georgia is the "Upper Lars" checkpoint. Passing through Abkhazia and South Ossetia is impossible.
At the border you need passports for driver and passengers, driver's license and STS. International insurance policy Green Card is not necessary for entering the territory of Georgia (the country is not a member of this international association), but it will be necessary when crossing the Turkish border. However, you must obtain a local insurance policy like our MTPL to enter Georgia by car. You can buy insurance on the official website (in Russian). The insurance for a passenger car for 15 days costs 30 lari (≈ $10). You can also buy the policy at the Georgian side of the border right after the checkpoint and pay in any currency, even rubles.
You are also advised to buy medical insurance for Georgia and Turkey, covering covider treatment. You can best buy it at Compari.ru or Cherehapa.
In summer there may be lines at the Russian-Georgian border – you'd better stock up on food, water and patience. In low season it takes 1-2 hours, and delays occur only on the Russian side. According to tourists' reviews, the car is inspected quickly and without much nagging. The inspection of a car by border guards and passport control takes only 15-20 minutes. I confirm this information: we crossed the border in June 2021, when it was minimally busy because of the pandemic, but even so on the Russian side of the line was about an hour and a half. According to the feedback of tourists in June 2022, passing both borders by car now takes only an hour and a half.
The Georgian side at the Upper Lars checkpoint. We crossed the border on the Georgian side in minutes, without queues or other delays.
Georgia-Turkey border.
To enter Turkey by car from Georgia in 2022 you must go through the checkpoint "Sarpi" (by the sea) or through "Vale" checkpoint, which is located in the Adigeni district of Georgia. The road through the checkpoint "Sarpi" is more popular, and there are often queues that last for hours. The road through the Vale checkpoint is free. According to feedback from June 2022, it takes only one hour to pass the border at "Sarpi.
Both border checkpoints are open 24 hours a day. Border guards check documents and inspect cars everywhere. According to the customs rules tourists are allowed to bring into Turkey duty free up to 600 cigarettes, 1 liter of alcohol over 22% or 2 liters of less strong alcoholic beverages, as well as chocolate, coffee and tea weighing up to 1 kg.
Border checkpoints are less busy at night. If you want to cross the border in the daytime, prepare for queues.
Russian is understood at the border between Russia and Georgia, but you have to communicate in English when crossing the border with Turkey.
In Georgia, fuel costs more than in Russia and Turkey, so fill up a full tank beforehand.
Neither Georgia nor Turkey require an international driver's license. A regular Russian driver's license, where the information is duplicated in the Latin alphabet, will suffice.
After crossing the border between Georgia and Turkey, I advise you to devote a day or two to the Black Sea resorts and the "Turkish Alps. We plan to go there next time. If you're headed to Antalya or another southern resort, make sure you stop by Cappadocia. Our guides will tell you what to see in the region, how to fly in hot air balloons, and where best to stay. If you're going to Aegean resorts, stop by Pamukkale on the way.
Travel videos to Turkey
From these videos you will learn the peculiarities of crossing the borders between Russia, Georgia and Turkey and other important nuances: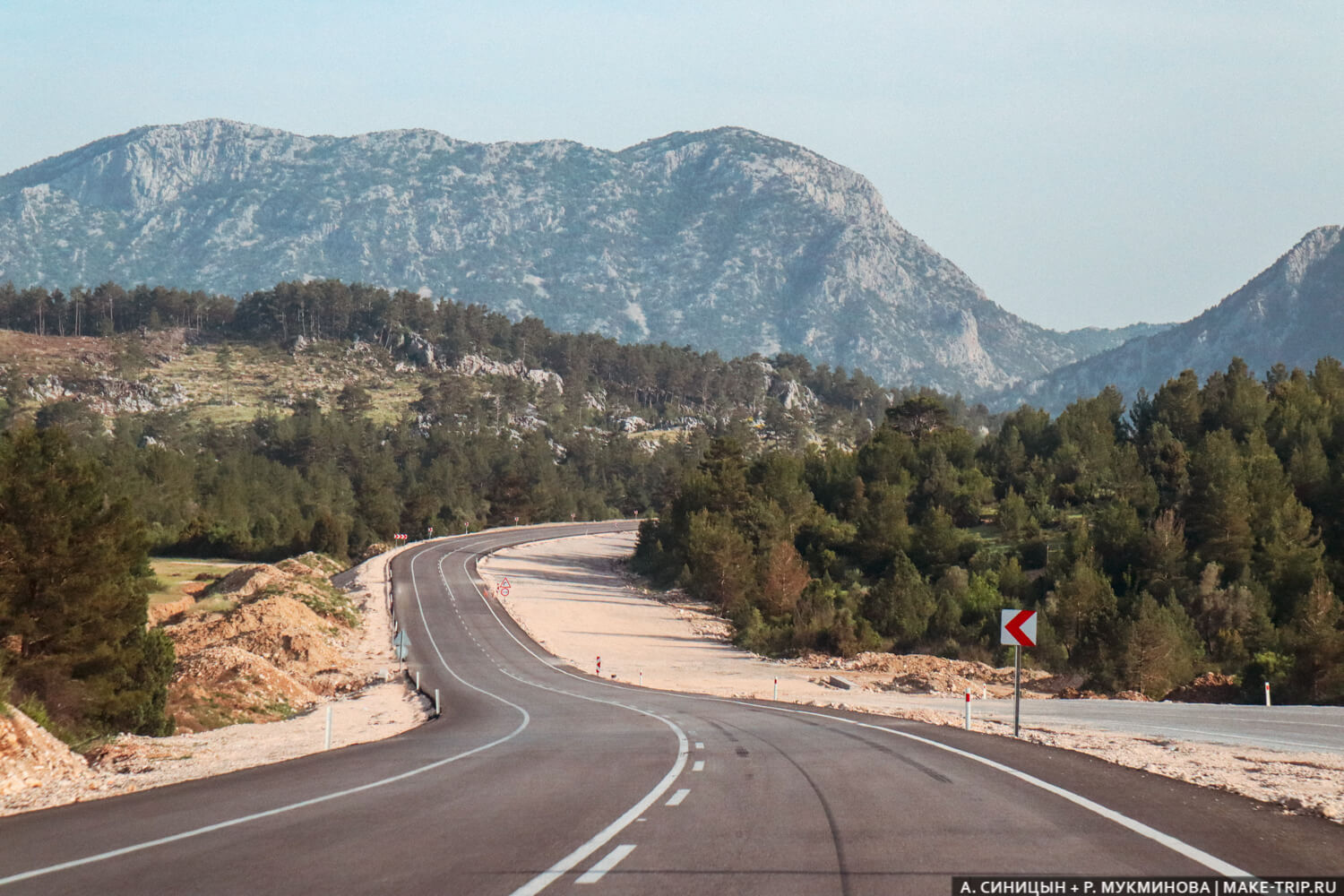 What a pleasure to drive on the Turkish roads! Not only are they good in terms of quality, but they are damn beautiful. This is a stretch of highway on the way from Cappadocia to Antalya.
The way to Turkey via Ukraine and Bulgaria
Some tourists bypass the Black Sea from the west. Compared with the road through Georgia, the way to Turkey by car through Bulgaria is more complicated and expensive. This is because of the numerous borders and the need to obtain visas for Romania and Bulgaria. However, if you already have a multiple Schengen visa, the borders are open for you.
The shortest road by car to Turkey passes through the territory of Ukraine, Romania and Bulgaria. Do you want to bypass the territory of Ukraine? Go through Belarus, Poland, Slovakia, Hungary, Romania (or Serbia) and Bulgaria. Learn more about driving to Bulgaria.
How much to drive: 3100 km is the shortest route from Moscow to Antalya via Ukraine, Romania and Bulgaria.
Sochi-Trabzon ferry
Until recently, there was a ferry to Trabzon from Sochi. In 2018 the ferry crossing was suspended. In 2022 the ferry is still not running. Nevertheless, it can be opened at any time. So we give full information about this way to get to Turkey by car.
Taking the ferry removes many of the problems that come with traveling through transit countries, but it also has its downsides. A ferry ticket costs 4,000-5,000 ₽ per person, carrying a passenger car from 13,500 ₽, an SUV from 16,500 ₽, and a minibus from 20,000 ₽. You can buy ferry tickets the day before departure from 10:00 am to 6:00 pm and from 9:00 am on the day of departure. Experienced tourists advise arriving at the port 7 hours before the ferry sails.
The journey by sea takes from 12 to 18 hours. The big disadvantage is that passengers are not in separate cabins all the time, but on the common deck. The ticket price includes food, but it is clearly not enough. The food sold on the ferry is triple the price, so most vacationers take their own food and drink on the road.
Map of routes to Turkey by car
Is it worth to go to Turkey by car?
The reasons for :
The trip will be cheaper than flying by plane, if the family or the company travels.
A car trip is more intense and interesting than an airplane trip. Thanks to the car in one trip you can see many sights and beautiful places. You will visit not only Turkish resorts, but also see Georgia, northern and central Turkey, Cappadocia.
The car allows you to get to places where public transport and tours do not go.
The roads in Turkey are of excellent quality, driving is a pleasure. And the fact that the opposite lanes are almost everywhere separated, travel becomes safer. The Turkish police is very adequate and loyal to the tourists.
The arguments against :
It's a hell of a long drive. The distance from Moscow to Antalya is 3700 km. It will take at least 4 days to travel one way.
There are queues at the border, especially Russian-Georgian. Sometimes you can lose a whole day there.
Some roads in Georgia are very tired and even killed.
Gasoline and diesel in Georgia is very expensive, in Turkey it is a little cheaper, but still more expensive than in Russia.
You'll have to splurge on car insurance.
Which outweighs the pluses or minuses – you decide for yourself. Personally, I am going to go to Turkey with my car one day, but first I want to change my UAZ Patriot for a foreign car. So for now we fly to Turkey and Georgia, rent a car there through the service Localrent.com and enjoy the trip. You should also think about such an option.
From Russia to Turkey by Car: What You Need to Know Before Travelling in 2022
Tickets get more expensive, flights are postponed or canceled, it is almost impossible to plan something in advance, but you want to relax on the warm Mediterranean Sea, bask on the sandy beaches and just see what is now happening abroad in Russia.
Turkey today is one of the few countries where Russian tourists can go without a visa, but do not forget about another advantage: the Turkish coast can be reached by car. And if you have time to spare – it's not as difficult to do as it seems at first glance.
Road by car from Moscow
The easiest and most convenient route from Moscow to Turkey is through Georgia. The distance to the southern resorts of Antalya, Kemer, Belek and Alanya is about 2,700 kilometers.
On May 17, the land border between Russia and Georgia, which had been closed due to the coronavirus pandemic, was reopened. For the past two years, it was only possible to enter Georgia by land for very compelling reasons, such as for medical treatment, study or work. So today there are more travel opportunities.
You can start your way to Turkey from Moscow by the M4-Don directly to Rostov-on-Don, and then take the Kavkaz highway through Pyatigorsk and Mineralnye Vody. After Vladikavkaz and the passage of the checkpoint Upper Lars, will be one of the most picturesque parts of the route – Georgian Military Road. Then it is necessary to drive through the whole of Georgia to the town of Akhaltsikhe, where there is already a checkpoint to enter Turkey.
There is also another route through Ukraine and Bulgaria, but for well-known reasons it is currently unavailable. You can bypass Ukraine via Belarus, but it will take more time, plus Russians need a visa to cross the Bulgarian and Romanian borders.
How to get to Turkey by ferry from Sochi
Until 2018, it was possible to reach Turkey by ferry "Sochi – Trabzon". Unfortunately, at the moment maritime service does not work and it is not known when it will be launched again.
Not only tourists are inconvenienced by the lack of opportunity to get to Turkey by ferry, many businessmen express their concern that they cannot deliver their goods by water. That's why the issue of restarting the ferry is quite acute today.
We can not say how much the ticket will cost, in case ferries will again run between Turkey and Sochi, but in 2018 the fare was on average 5,000 rubles, carrying a passenger car cost 13,500 rubles. Travel time is 12-18 hours, depending on the weather.
From Novorossiysk there is currently a ferry to Istanbul, served by FESCO. The company's site has only information about the transportation of oversized cargo.
Also Russian company JSC "Infotek Baltika" announced the opening of a ferry line between Istanbul and Novorossiysk at the end of 2022.
Pros and cons of trip to Turkey by car
Of course, the main plus is that your adventure begins as soon as you slam the car door. The route to Turkey takes you through some stunningly beautiful places. You can include visits to Russian, Turkish and Georgian cities in your trip plan, see the sights, swim in the Black Sea on the way, and taste the local cuisine.
A trip by car can come out cheaper if you share the cost with friends. Plus you are not tied to a specific schedule and can change the route at your discretion.
Of the minuses – it's still a long way and the passage of the two borders. And both are exhausting, some tourists say that at the checkpoint in Georgia they stood for almost a day, so you must be prepared for this.
Petrol in Georgia is more expensive than in Russia, in June 2022 a liter of fuel cost 82 rubles.
Feedback from adventurers
So far there are not many people who take up such adventure, but over time, more and more Russians are likely to choose this way of traveling.
In the few reviews you can usually find admiration for the views and nature on the way, the opportunity to use different routes, to meet new people.
There are, of course, comments about crossing the Russian-Georgian border, which can take a long time. Some recommend arriving at the checkpoint at night to avoid the queues, but this way you will miss the main beauties along the Military-Georgian Road.
Frequently Asked Questions
It is mandatory to have your passport, driver's license and car registration certificate. Since 2018, you also need insurance for cars with foreign license plates. You can buy it directly on the spot or on the website in advance www.tpl.ge/ru. The cost is 30 lari (589 rubles) for 15 days, 50 lari (981 rubles) for 30 days.
In Russia you can stay in Rostov-on-Don and Vladikavkaz and in Georgia in Batumi, Gori, Borjomi and Sivas.
In Turkey there are many paid parking lots, the cost is approximately 40 rubles per hour, depending on the place. It's not usually paid through a machine – you have to pay the money to the inspector, who will come to you if the parking lot is paid. You can park for free for the first 15 minutes.
Recommendations
If you want to get to an all-inclusive hotel quickly and just sunbathe on the beach, enjoying a relaxing vacation, car travel is unlikely to suit you. But for those who want to not just swim in the sea in summer, but also to visit different cities and countries in one trip – a trip to Turkey by car will be a real adventure.