Holidays in the UAE in April
Collected reviews of tourists on vacation in the UAE in April. What the weather is like in the spring and how to go. Are there sandstorms. Resorts where you can rest inexpensively in 2022, and the nuances of travel with children.
Content:
Air temperature.
According to reviews from tourists who have been to the UAE in April, the Arab resorts have wonderful weather in mid-spring. Daytime temperatures range from +32 ° C and above. At night the thermometer column goes down to +20 ° C. Because of the big difference in temperature, you will get a break from the heat, will be able to go on excursions and take a walk by the sea.
Because of the climatic characteristics of the resorts on the Persian Gulf is 2-3 ° C hotter than the coast of the Gulf of Oman. Everywhere you can get a good tan. The sun is very hot in April, so choose morning and early evening hours for sunbathing. Be sure to use a cream with a high degree of protection!
Sasha Pokolodny: "We thought it would be much hotter. We were lucky – it was maximum +35 ° C during the day, and sometimes the sky was covered with light clouds. In the first 2 days we managed to get burnt".
Chart of April air temperatures by day and night:
| | | |
| --- | --- | --- |
| When | t daytime | t at night |
| Beginning of April | +28°С | +25°С |
| Middle of April | +31°С | +26°С |
| End of April | +34°С | +27°С |
Water temperature
In April in the Arab Emirates, a great beach holiday. The sea is warm. The average water temperature in Dubai is +27°C, and in Fujairah it's +21. +23°С. Bathing is very comfortable even for the most heat-loving people!
Vladimir and Kristina: "The beaches are mostly paid. It's clean everywhere. The water is warm, and the entrance to the sea is gradual."
Eugene: "You can escape the heat in the shade or in the water. The sea perfectly cools. We bathed from morning to evening, and only after sunset we walked around the city."
Table of water temperature in April:
| | |
| --- | --- |
| When | water t |
| Beginning of April | +25°С |
| Middle of April | +26°С |
| End of April | +28°С |
Dress for the weather
April in the UAE has warm weather. During the day is comfortable in beachwear. In the evenings, especially in the resorts on the Omani coast, you may need pants, a sweatshirt or a fleece.
In choosing clothing for a trip to the Emirates be sure to consider the Arabian traditions. Dubai is European-oriented and the dress code is relaxed here. In more conservative Sharjah, tourists outside the hotel area try to stick to the local rules. Men wear long pants, a T-shirt or a shirt with short sleeves. Women wear clothes that cover their shoulders and knees.
Alyona: "The first thing we wanted to do was to take a dip in the warm sea. However, we found the weather very cool. We had to take out of luggage not a swimsuit, but a warm cardigan! It turned out that there had been a sandstorm the previous few days.
Beach in Sharjah (Photo: sophiemachin / flickr.com)
Precipitation and Hurricanes
The UAE is in an arid climate zone. In April, the chance of rain is minimal. According to long-standing statistics, there is only one day with rain per month, and then it rains for an hour or two. You don't need an umbrella! There are no hurricane winds, so storms at sea – a rarity.
The weather in the UAE is influenced by the Arabian Desert and from time to time in April there are sandstorms. There is no need to worry in advance; the hotel staff will warn guests about the coming storms in advance. Sandstorms lasts 1-3 days, and tourists wait it out indoors.
Katerina: "We were very lucky with the weather. All day sunshine. We spent half a day on the beach, the water temperature was very comfortable for swimming. It never rained.
Prices for tours in the UAE in April 2022
April – month of high season, so the holiday in the UAE is expensive. It is relatively inexpensive to fly to Dubai and Fujairah, a little more expensive in Sharjah and Ras Al Khaimah.
See how much tours to different UAE resorts cost in April 2022. These prices are for a tour from Moscow for two people.
Attention! Not all emirates are still open for tourists, so some of these prices may not be current. Check the links.
| | |
| --- | --- |
| Resort | Example |
| Sharjah | Find tour → |
| Fujairah | Find tour → |
| Dubai | Find tour → |
| Abu Dhabi | Find tour → |
| Ajman | Find tour → |
| Ras Al-Khaim | Find tour → |
| Umm Al Qaiwain | Find tour → |
Holidays with children in April
April – one of the most successful months for holidays in the UAE with children. The air temperature is high, but there is no blazing heat. The sea is wonderfully warmed up for bathing the youngest tourists. The mild subtropical climate, fresh sea air and warm sand are excellent conditions for recovery after the long and cold winter.
Go to the water parks, entertainment centers, and dolphinariums with the kids. With older children, go on a trip to the desert, visit an interesting museum, ride camels and watch falconry.
Sveta: "The sea is transparent, without the salty smell of the sea. It's perfect for a kid. For two days there were big waves and it was impossible to swim.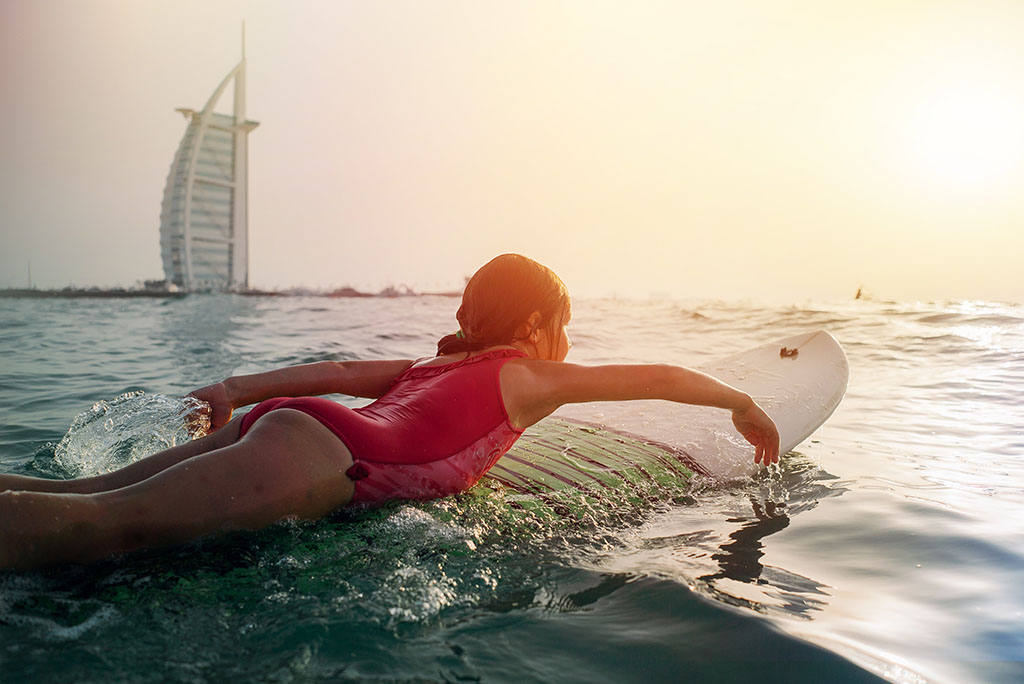 Dubai (Photo: unsplash.com / @chrumo)
Is it worth to vacation in April in the UAE?
In reviews, tourists are very satisfied with holidays in the UAE in April, some even consider mid-spring the best time to go. Vacation in April will suit fans of beach holidays and families with children. Also the weather is good for shopping, active tourism and excursions. Visit ancient mosques and take a boat trip. If you like a cooler climate, opt for Fujairah or any other resort on the Gulf of Oman.
In mid-spring the humidity reaches 50-60%. Because of this the heat is not as strong as in summer. Weather in the UAE in April likes the elderly travelers and tourists who suffer from metabolic disorders, heart and respiratory diseases.
Holidays in the Arab Emirates in April are appreciated by diving enthusiasts. In the hot summer, the water is turbid because of the abundance of plankton. Before that happens, divers dive near Dubai, Fujairah and the Musandam Peninsula. The local schools have mostly English-speaking staff and a high level of service.
Early in the month you can catch the Abu Dhabi International Shopping Festival. In Dubai in April there is a spectacular exhibition of Arabian horses International Horse Fair. In the west, in Al Gharbia, there is the traditional water sports festival.
Eugene and Alice: "Dubai leaves so many impressions that you don't have time to realize everything at once. We stayed there for 10 days and we didn't manage to visit all the attractions, so we strongly decided to come back next year.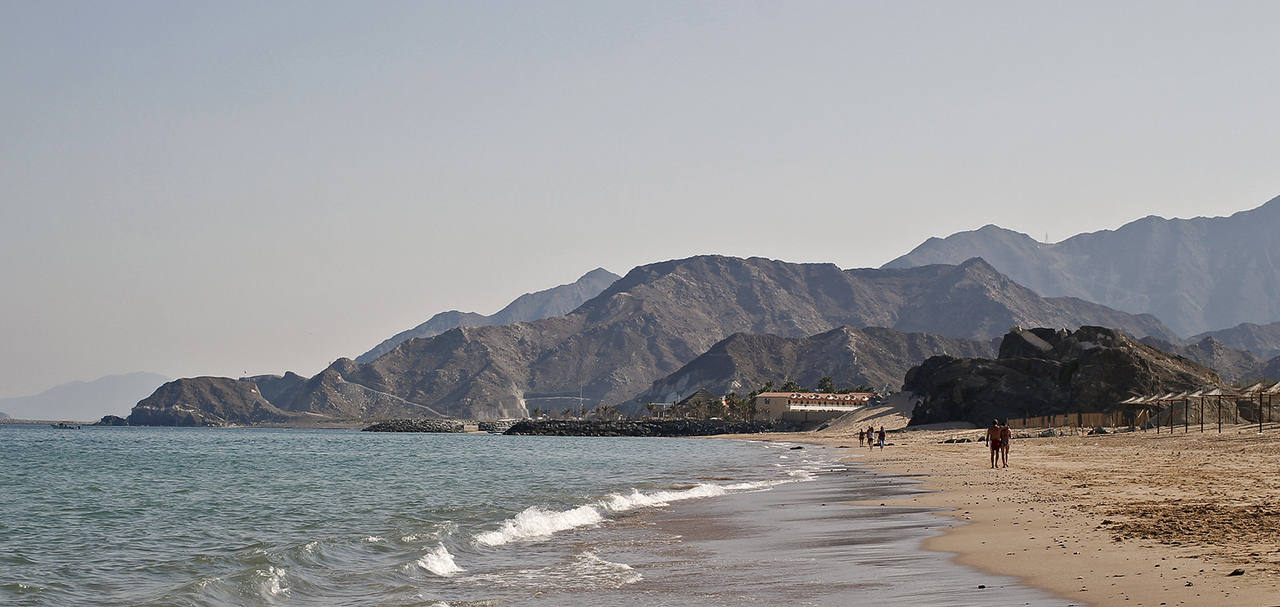 Al Aqah Beach in Fujairah (Photo: _ _steven.kemp_ _ / flickr.com)
Holidays in Dubai in April – 2022
Spring and fall are the best times to visit the UAE. In March the sea water is still cool, but in May it's a hell of a scorcher in Arabia. So April is the golden mean for a great holiday in the UAE.
What awaits us in April in Dubai? The sea is warm and you can swim and sunbathe without fear of becoming red as a cancer in 5 minutes. A lot of tourists: it seems that the locals are very difficult to meet here.
With each day the temperature rises, the midday heat is best spent in the shade or under air conditioning. You can go shopping. Water parks, dolphinariums, theme parks, exhibitions are working.
It is necessary to have a PCR-test done 48 hours beforehand, the second PCR-test on arrival is free (self-isolation until the result is received – usually less than 12 hours), to install the application on the smartphone COVID-19 DXB.
Children under 12 years of age do not need the tests.
Tours are sold on Travelata and Level.travel.
Separately, airline tickets to Dubai can be found on Aviasales .
You'll need reliable travel insurance from Cherehapa or Tripinsurance.
Tours to Dubai in April – 2022
Dubai is one of the few destinations with a short flight (5 hours from Moscow), where in April it is warm and you can swim . The demand for rest increases, and with it the prices grow. All the leading tour operators Sunmar, Tui, Anex Tour and Biblio Globus offer tours to Dubai in April. The downside is that all the more or less budget hotels are located far from the sea, and all the good ones are too expensive.
Holidays in Dubai in April can follow two scenarios: 1) expensive and 2) very expensive . The budget hotels are located far from the beach and you should spend at least an hour on the way to the sea. One such area is Deira. There are lots of small hotels, a metro station, lots of Indian eateries, supermarkets, shopping malls. Tours to Deira cost from ₽89,000 for two people. Popular hotels in Deira: Orchid 3*, Al Jawhara Metro 2*, OYO 157 Al Khaima 1* .
Other inexpensive hotels are also far from the sea – Holiday Inn Express Dubai Jumeirah 3* (prices for two from 90,745 ₽), Occidental IMPZ Hotel 4* (prices from 84,388 ₽).
A much more expensive option is tours to 1-2 line hotels. There aren't many of them in Dubai, and the prices are obscenely biting. A week's tour for two people with a flight from Moscow costs from 140.000 ₽. For such a price you can buy a tour to a hotel in the Jebel Ali area, for example JA Beach Hotel 5* or Jumeirah – Dukes Dubai 5* .
In the modern area of Dubai Marina, the price of tours for two people is 160.000 ₽ (Dubai Marine Beach Resort & Spa 5*), on the artificial island of Palm Jumeirah (place of rest of millionaires) – from 150.000 ₽ (Aloft Palm Jumeirah 4*). If you add "all inclusive". If you don't want to pay extra money for a package deal, you can get a package deal from 200.000 ₽ (Sofitel Dubai Jumeirah Beach 5*).
If you do not want to pay outrageous money, then there is only one option – to go on vacation in Sharjah. There are new modern hotels, shopping malls, stores and cafes. The beaches in Sharjah, in our fastidious opinion, are even better than in Dubai: the sand is whiter, the water is cleaner and there are less people. There is no border between Sharjah and Dubai, you can only see it on the map. The two neighboring cities have grown so big that they are side by side. If you really want to visit Dubai, then from Sharjah in half an hour you can drive to La Mera or Jumeirah.
Tours in April in Dubai, Sharjah, Fujairah from Travelate
To buy a tour profitably, there are Travelat promo codes, use them when buying to get an instant discount. We closely monitor the relevance and regularly update this section.
AFIN300travelinka – 300 roubles on any tour worth 20.000 roubles and more.
AFIN500travelinka – 500 rubles on any tour, the cost of 40.000 rub.
AF600MOBtravelinka – 600 rubles. on any tour worth 50.000 rub. and more in the mobile app Travelata for iOS and Travelata for Android.
AF1000travelinka – 1000 rub. on tours or hotels from 60 000 rub.
UTAF2000travelinka – 2000 rub. on tours to Turkey, the cost from 100.000 rub.
EAF2000travelinka – 2000 rubles for a tour to Egypt, worth from 100.000 rubles.
***The cost of the tour is taken into account without the fuel fee.

The author of the article in Dubai

Air temperature in Dubai in April

In Dubai in April, the temperature starts to rise sharply. The average daily temperature in Dubai in April is +26 °C. But this is like an average hospital temperature. The difference in daytime and nighttime temperatures is huge. Up to +32 °C during the day at the beginning of the month, up to +36 °C at the end of the month, at night +19+23 °C .

The next month in May, the average daily temperature will already be +31 ° C, it will become unbearably hot.

The humidity in April in Dubai also increases, which means that the heat becomes more difficult to bear . It's cloudy and dry with almost no precipitation. In a month there is only 7-10mm of rainfall. It only rains once a month. It's not even a downpour, it's just "mushroom rain". The sky suddenly gets dark, big drops of rain fall, then 30 minutes later, the sun shines again. People don't even leave the beach.

The only thing that is always there in Dubai is the wind. Its speed in April ranges from 1 m/s to 7 m/s, sometimes reaching 10 m/s.

The daylight hours in Dubai in April increases, it becomes 10 hours (although in March it was 9 hours). The only thing that can spoil the rest – a strong sandstorm, but they do not happen in Dubai every year. At this time blows a strong wind from the desert from Saudi Arabia.

Water Temperature in Dubai in April

April in Dubai is one of the best months for beach holidays. Although tourists start swimming as early as March, the water is still very invigorating at this time. The temperature is only +21°C, brrrrrr. In April in Dubai Gulf warms up to +25 ° C, and you can already swim comfortably, not afraid to come out of the water with blue lips.

If that does not seem enough, the water in the Gulf of Oman in the UAE resort of Fujairah is even warmer at +27 ° C. It's a 2-hour drive from Dubai (106 km).

The comfortable season in Dubai is short. Already in May it will be unbearably hot during the day. In summer it is better not to go to the UAE. In the fall, the temperature will be comfortable again only in October and November.

What to do in Dubai in April

If the hotel and the beach are bored, in April it is worth a ride in Dubai or the neighboring emirates. And there's an upside here – it's cheaper to visit many places with a tour.

You can start with a sightseeing tour of Dubai. If you go on your own, by subway or cab, look at the JBR district, Palm Jumeirah Island, Madinat Jumeirah, the areas of Boxpark and City Walk, the golden frame of Dubai, the old city of Deira, Dubai Mall and Burj Khalifa, then only for transportation you will spend more money than $ 45 (the cost of guided tours).

For those who like activity you can take a safari tour of the Arabian desert. Drive a car on the sands, ride camels and have dinner with an authentic atmosphere.

Dubai in April: reviews

Reviews of tourists about holidays in Dubai in April on the Internet are positive. People on the forums note that the weather is comfortable, with tanning and swimming in the sea there are no problems .

In Dubai, a large number of entertainment, with children there is always something to do, it's also a plus. You can swim with dolphins at Aquaventure Water Park, visit the Wild Wadi Water Park, MotionGate Park, the zoo and hot springs Al Ain. Other ideas for outdoor activities can be found in the article ⇒ Top 30 attractions for children in Dubai .

The emirate is home to the largest shopping mall in the world and hundreds of smaller ones. Shopping activities not only help to get a buzz from shopping, but also as a way of spending time does not let you get bored in the heat of the day.

Compared to other emirates, Dubai is the most modern. There are fewer restrictions, and tourists can even drink alcohol (no other emirate allows this).

According to reviews of tourists, it is in Dubai where all the life in the UAE, partying, best entertainment and shopping are concentrated. The Dubai Metro is definitely worth a trip, especially to Dubai Marina, take a streetcar and get to JBR (Jumeirah Beach Residence). You will get an excellent beach and the area, which is nice and well maintained, with a marina.

There are more Europeans here than anywhere else.

The only thing that can be frustrating is the prices. Everything in the JBR is expensive, even a beach chair costs 100 dirhams (1800 rubles), not to mention food and entertainment. But there is a red sightseeing bus City Tour, worth at least a ride on it and see all this beauty.

City Tour Bus in Dubai.

We also love the new beach at La Mer, nice and clean with palm trees and greenery and absolutely free. A great alternative to Jumeirah beach. The weather is hot during the day, you have to walk in the morning and evening. There is no need to tell about the fountains, Dubai Mall and Burj Khalifa, everyone must see it. Read more here ⇒ What to see in Dubai in 3 days.

Pros and cons of Dubai in April

To summarize, what are the pros and cons of vacationing in Dubai in April?

The rules of entry are not as simple as, for example, in Turkey or Egypt. You need to take two PCR tests and download the app on your phone.

So, Dubai in April 2022 is the high holiday season. Is it worth to go here? Definitely yes! While in Europe the beach season has not yet started, in Asia it is ending, in the UAE you can already swim and sunbathe. The only thing that can upset you is the prices. But it is everywhere so where the high season, and there is an increase in the cost of travel. Tours to Dubai in April reach their annual peak, but this is not surprising. Demand is high, so the destination is always in demand.

Abu Dhabi Ajman

Um Al Quwain Fujairah Sharjah

– The website from the creators of Aviasales compares hotel prices on different booking sites, showing the best deals. They work around the world. – The Russian equivalent of AirBnb, the largest database of private rentals from owners: apartments, rooms, boathouses, cottages, guest houses. Work in all cities of Russia and Abkhazia. – Car rental, cool service, but presented not in all countries. The most popular: Russia (Crimea, Sochi, Krasnodar, Kaliningrad), Turkey, Montenegro, Georgia, Cyprus, Greece, Bulgaria, UAE. (Promo code for a 5% discount – travel5) – Airport transfers all over the world. They meet with a sign, drive quickly, offer water and child seats for free.
The easiest way is in Belarus from MTBank (plus currency deposits at 6%),
In Kazakhstan – there is a regular (for all) and VIP with a gold card (only for residents of Moscow or those who are willing to come),
In Kyrgyzstan from KICB Bank – the most expensive in terms of processing costs.
1 comment.
Were in Dubai in March, burned very badly. You should take sun cream – you should protect your face especially as it is always in full view. During the day from 12 to 15 it is better to hide in the shade. Dubai of course is amazing with luxury and scale, I fell in love with Dubai.