Getting a visa to Latvia: what documents are needed, application form, photo
Russians visit Latvia more often than the other Baltic States. This is due to the fact that about a quarter of the inhabitants of this country are Russians and there are no problems with the language of communication. Moreover, Latvian authorities are actively trying to return Russian tourists to maintain tourism industry.
Most often in Latvia, Russian citizens come to Latvia to admire the Old Riga or relax on the clean beaches of Jurmala. More sophisticated travelers choose unique medieval streets and festivals of Kuldiga, mysterious Cesis complex with the ruins of the castle of the Livonian Order, the beauty of Turaida Museum Reserve. Besides in recent years, "green tourism" is more and more popular. The visitors are offered acquaintance with the rural life, visits to national parks, gastronomic, hiking and bicycle tours. The republic is also popular for medical tourism which is promoted by moderate climate and high level of sanatoriums and clinics.
Russians come to Latvia not only for rest and treatment. There is a small number of Russian students and employees, the number of property owners is growing.
Do I need a visa for Russians to Latvia in 2022?
Whatever the reason for visiting Latvia, Russians need a visa to cross the border legally.
Main types of visas
Russian citizens can apply for a Schengen visa, a national Latvian visa, a residence permit. Schengen visa is intended for short-term visits. The Category A visa is issued for transit through the Schengen countries and applies only to the airport area. A Schengen visa C is required for visiting Latvia. It allows you to stay in the republic and other Schengen countries to 90 days in six months (180 days). C visa can be single, double and multiple entry. The maximum period for which a Schengen visa to Latvia is issued is 5 years.
For long-term (more than 90 days) stay in Latvia Russians must obtain a temporary residence permit. Grounds for obtaining it are family reunification, studies, real estate ownership, work contract, scientific cooperation, investments and other reasons. It is interesting that after receiving the decision on granting a residence permit, you must still apply for a long-term Latvian visa category D.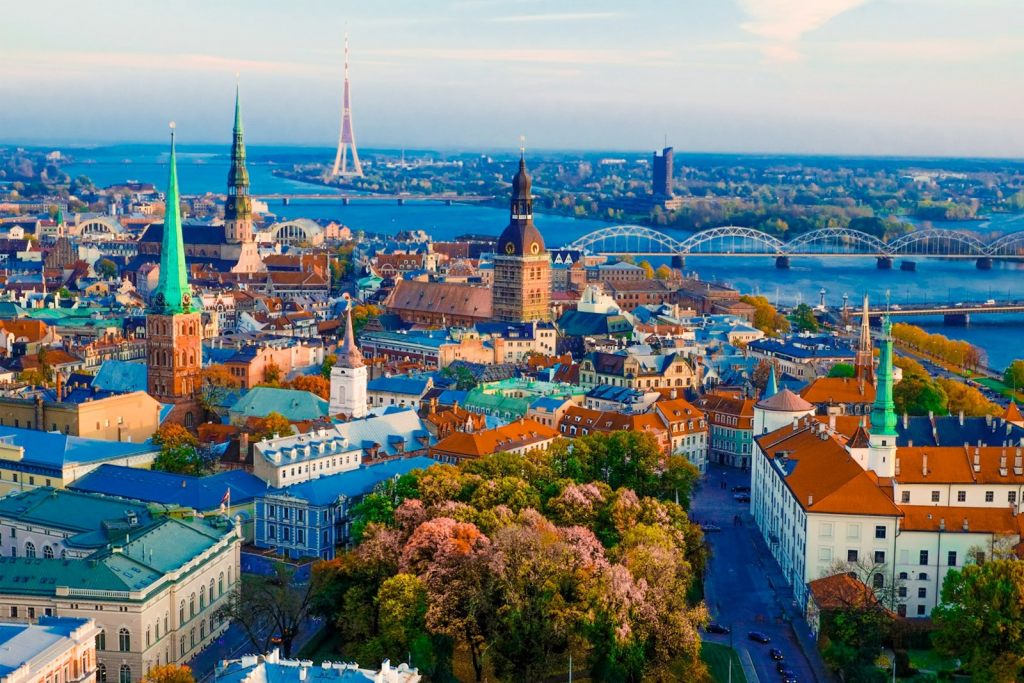 Riga, Latvia
How much will a visa to Latvia cost in 2022?
When calculating the cost of the Latvian visa, you need to clearly define the purpose of the trip and how to submit the documents. This will affect the amount of the consular fee and the availability of additional service charge.
The consular fee for a Latvian visa for Russians is:
35 € for Schengen visa;
60 € for national visa;
70 € for accelerated processing of Schengen visa documents;
85,37 € for multiple entry national visa;
130-560 € for a temporary residence permit.
Latvian legislation provides for the possibility to extend a Schengen visa, if its holder can provide proof of the need to stay in the country longer than permitted. Depending on the seriousness of the evidence, the extension can be done free of charge or for 30 €.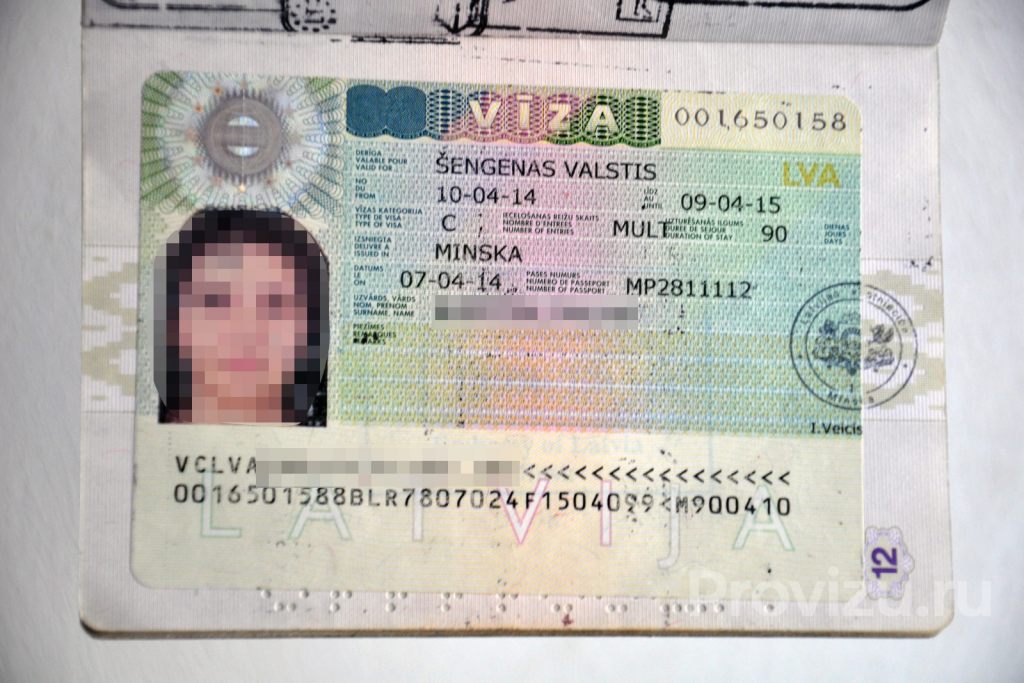 Schengen visa for Latvia
PONY EXPRESS service charge:
20 € in Moscow;
25 € in St. Petersburg;
30 € at its regional offices.
In the visa centers the fees can be paid in rubles at the exchange rate. Latvian embassy and consulates accept euros, and since 2015 only through bank cards.
How to make a visa to Latvia on your own?
Since September 1, 2017, Latvia announced that it suspends the accreditation of travel agencies. Diplomats took this step because 95% of applicants apply for visas personally. A large number of visa centers and transparent application conditions allow Russians to get a visa to Latvia without any problems on their own.
Through the visa center
Officially the documents for the embassy of Latvia in Russia are accepted by PONY EXPRESS logistics company. In its offices you can submit documents for a Schengen visa in an ordinary and urgent procedure.
The visa centers operate without making an appointment. At first, an employee conducts a superficial check of the documents and gives you an e-queue coupon. The officer will offer translation of the application form into English (600 rubles) or express photo (250 rubles) if necessary. The documents are accepted and biometric data is submitted in the electronic queue. After that, the consular and service fees, and additional services are paid.
Complete set of documents and the consular fee shall be submitted to the Embassy/Consulate of Latvia, where the visa is issued. After the decision is taken, the passport with visa (less often it is rejected) is returned to the visa application center and is delivered to the applicant.
Via consulate
At the diplomatic missions of Latvia they accept applications for any type of visas. However, you may apply for a Schengen visa only after making an appointment online or calling at the embassy/consulate. Ethnic Lithuanians and Latvians, children/spouses of Latvian citizens and non-citizens are accepted without an appointment. Also those who travel because of serious illness or death of relatives will be accepted without an appointment. In connection with the requirement to submit biometric data for visas to the Schengen countries, the diplomatic mission must personally present adults and children over the age of 12.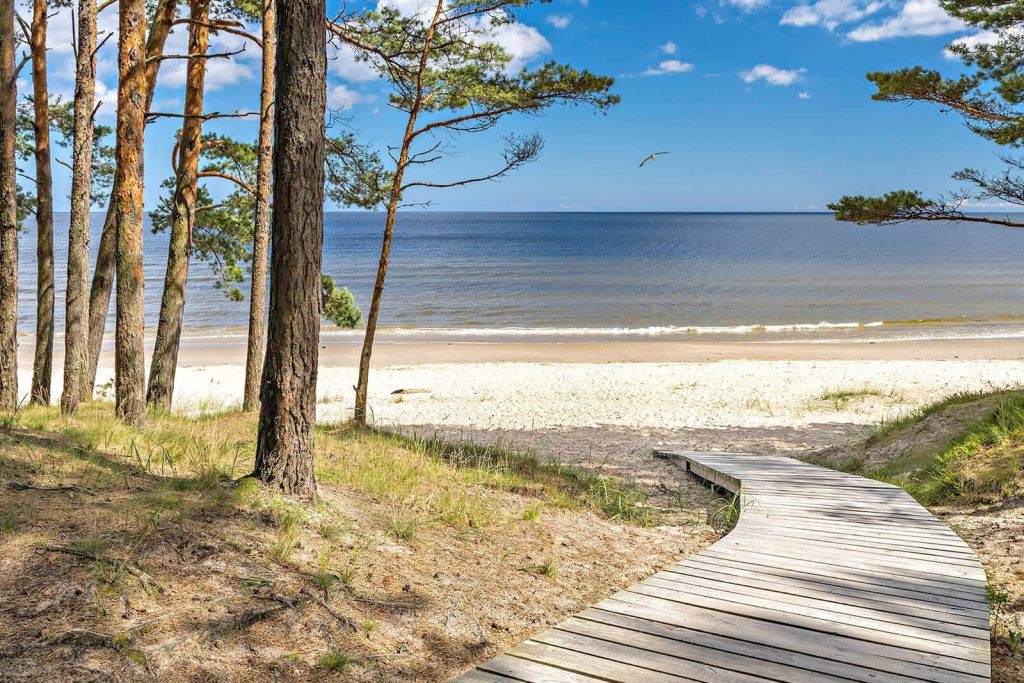 Latvia
Visa application form for Latvia
The Latvian diplomatic missions require applicants for Schengen visas to complete an online application form. The service allows you to save the entered data and edit it. You can use the sample on the embassy's website. In order to fill in the questionnaire for a national visa, you must download the form and then fill it out.
Ready form for any visa must be printed out before visiting the embassy/consulate/visa center and signed. Parents or guardians are responsible for signing the form for minors.
Documents for visa to Latvia: list from 2022
List of documents for obtaining temporary residence permit and national visa D coincides with the list of documents agreed by the Schengen countries. Only the amount of medical insurance differs. If the Schengen visa is sufficient for the 30 thousand euros, the long-term visa requires a policy for 42.6 thousand euros.
For reception of any visa it is necessary to provide:
;
regular passport;
filled in form of standard pattern;
photo; .
It is also necessary to provide proof of financial means in the form of sponsor letter from the inviting party, bank statement for 3 months, confirmation of regular income (pay slip). Besides documents for visa application must contain proof of purpose of the trip.
Photo for visa to Latvia
Latvian visa application package must contain 45×35 mm color photographs without white corners. Clear, undamaged photos not older than 6 months are accepted. Applicant's picture must be with natural expression of face, in casual clothes on white/light grey background.
Generally the requirements for the Latvian visa are the same as in the Schengen Agreement, but have some peculiarities. So it is especially stipulated, that it is not allowed to be photographed with outer clothing and with exposed upper torso. Lighting must be uniform, any lighting effects are not allowed.
Also, the requirements specify the main allowable dimensions:
6±3 mm between the pupils of the eyes;
15±2 mm from the chin to the midline of the eyes;
6±2 mm from the top of the head to the top of the picture.
It is hard to believe that visa officers with a ruler measure all the distances. However, it is better not to risk getting a visa and immediately prepare a photo, which fully meets the requirements of the Latvians.
Visa Documents for Children
In the package of documents for visa for children under 14 years old the internal passport is replaced by the birth certificate. The parents' passport is accepted, if the child is inserted into it and has his photo pasted. From 14 years of age, a minor must have his own passport.
A separate passport must also be issued to a child who is travelling to a Schengen Member State accompanied by a third party. His package of documents must also contain a notarial authorization of both parents for the departure of the minor, indicating the data of the person responsible for the child in Schengen.
Additional documents for different types of visas
To confirm the purpose of the trip, the applicant may provide:
for tourist trips reservation or payment for hotel, private accommodation, round-trip tickets, car documents;
Invitation from a private person to visit relatives and friends;
a written invitation or proof of enrollment from an educational institution for students and schoolchildren;
document about the existence of a grave and proof of kinship for visiting burial sites;
Extract from the land register for owners of real estate.
How long does it take to get a visa to Latvia?
You can apply for a Latvian visa from 15 days to 3 months before the trip. On average it takes 10 working days to review the documents. If the visa officer has any questions the period of consideration may be prolonged up to one month to clarify, provide additional data. Urgent processing of Schengen documents for 70 € may take 3 days.
The decision to issue a temporary residence permit for Latvian diplomats takes from 5 to 90 days. The period depends on the grounds for its issuance and the amount of state fee to be paid by the applicant.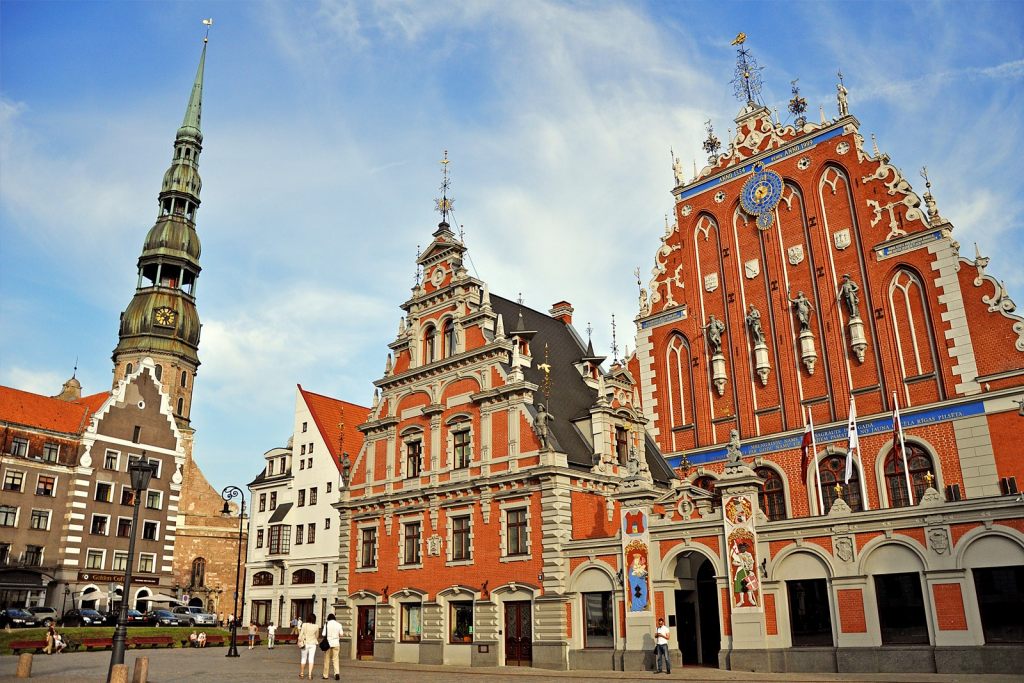 Riga, Latvia
Latvian embassies, consulates, visa centers in Russia
Latvian Embassy in Moscow
Address: Chaplygina str. 3 Moscow, 105062
Reception of documents: 9:00 – 12:00
Visa issuance: 15:00 – 15:30
Tel: 8-800-250-49-36 (application for visa), (495) 232 97 43 (Consular Department for consultations from 10 to 12)
Chancery of the Consular Department of the Embassy of Latvia in Kaliningrad
Address: Engelsa Str, 52a Kaliningrad, 236010
Reception of documents: 10:00 – 11:00
Visa issuance: 15:00 – 15:30
Tel.: (401) 256 55 01
Consulate General of Latvia in Saint-Petersburg
Address: Vasilevsky Island, 10 line, 11 Saint-Petersburg, 199178
Reception of documents: 9:30 – 12:30
Visa issuance: 14:00 – 15:00
Tel.: (812) 336 34 54
Consulate in Pskov
Address: 25 Narodnaya St., Pskov, 180016
Reception of documents: 9:00 – 13:00
Visa issuance: 15:00 – 16:00
Tel: (811) 272 53 90
Latvian visa centers
At the beginning of 2018, more than 70 offices owned by PONY EXPRESS are accepting documents for Latvian diplomatic missions. This is the largest network of visa centers of an EU country in Russia. However, not all offices accept biometric data.
There are large PONY EXPRESS visa centers in:
;
St. Petersburg on Prospekt Moskovsky, 60/129, lit;
Novosibirsk on Prospekt Krasny, 5. 56;
Vladivostok, 21 Pogranichnaya str.
Information about other Latvian Exhibition Centers is available on the PONY EXPRESS website.
Be sure to watch the Eagle and Tails video about Riga, the capital of Latvia:
How to get a visa to Latvia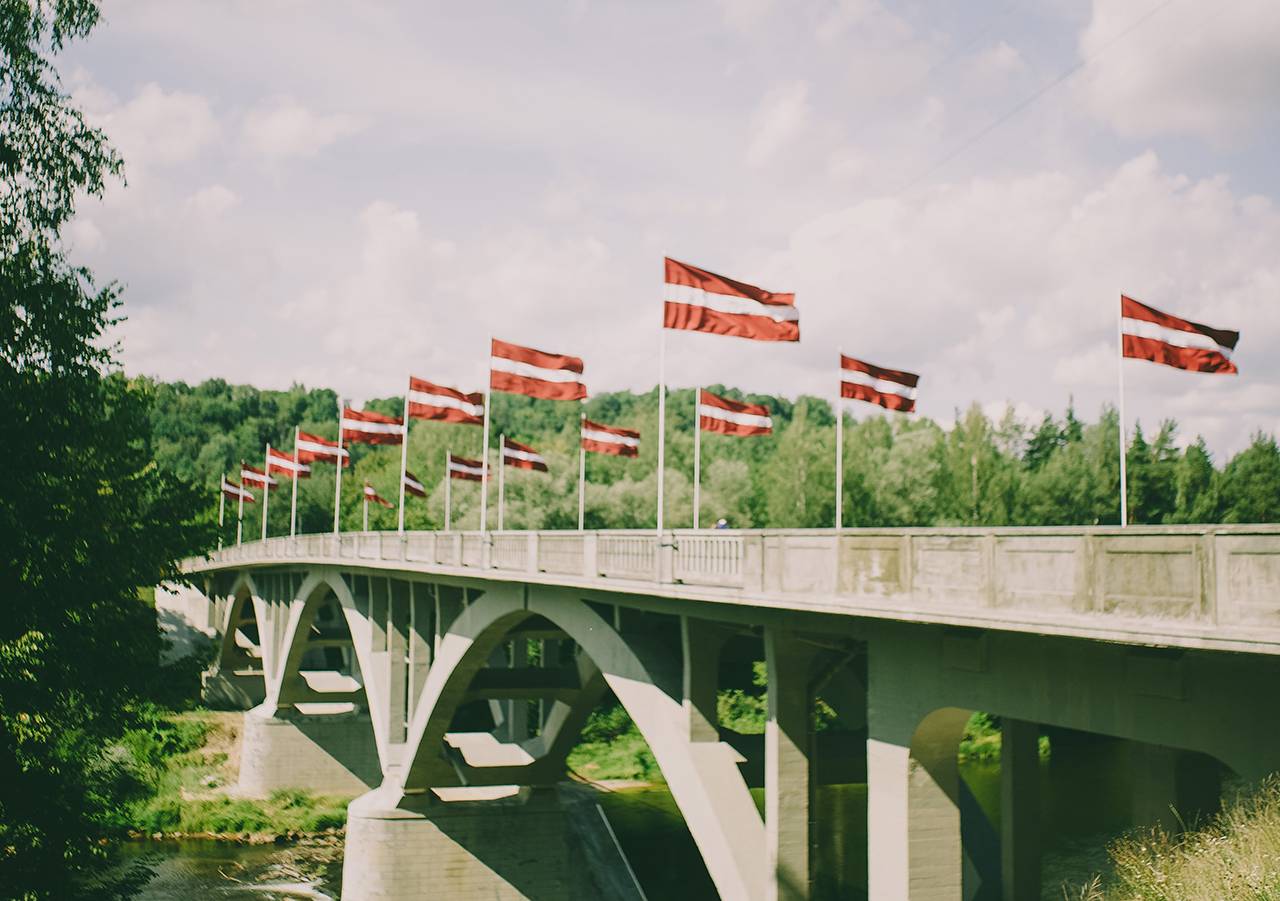 For those who are going to the Baltics, here is a step-by-step guide on how to get a visa to Latvia in 2022. Package of documents, consular and service fees, peculiarities of registration and reasons for refusals.
Latvia does not yet accept tourists from Russia, but some successfully make their way through other European countries. Take a look at the list of open countries. For convenience, we give pre-pandemic prices for travel and flights. Information about visas and flights may not be up to date now, check with official resources.
A Schengen visa is required for a tourist trip to the Schengen Area. It can be issued for 5 days up to 5 years. Consular departments of embassies, visa application centers and Pony Express offices can arrange visas for travellers to Latvia.
Content:
Step 1: Book Tickets
Recently, the visa is given only for the paid tickets in both directions. We do not advise drawing documents on photoshop! Reservations are easily checked, and the offender is put in the SIS database with a ban on visiting Schengen countries.
Where can I find cheap tickets? Use the Aviasales search engine – it compares prices of all airlines. Learn the secrets of finding cheap airline tickets.
Step 2: Book accommodation
Book hotels and apartments on Bucking. When booking, include the names of all guests in Latin alphabetical order. Canceled bookings are not acceptable! Check out our selection of accommodations: 9 apartments in Riga from 16€.
ElSo: "From June 2019 you need to provide proof of Paid accommodation and tickets, confirmed reservations will not fly in this case.
Step 3: Make copies of your passports
Check your passport. It must be valid for at least 3 months after leaving the Schengen area and have two blank pages. Make a copy of the spread with your photo and data and, if available, the page with closed visas to Schengen countries.
Photocopy the completed pages from your civilian passport. When photocopying, place two spreads per sheet. Make copies on both sides of the page.
Step 4: Buy Insurance
Everyone who wants to get a visa needs to buy insurance with coverage of 30 thousand euros or more. You can do this in advance on Cherehap or CompariRu services, or directly at the visa center, but it will be more expensive that way.
Step 5: Get a certificate from work
Get a certificate from your organization on letterhead with a stamp and the signatures of the director and chief accountant. Make sure it shows your position, the date you started work, your salary for six to 12 months, and information about paid leave.
Individual entrepreneurs need a copy of taxpayer identification number, certificate of registration of IE, three months' bank statement from IE, and 2NDFL/3NDFL certificate or an extract from the tax inspection register. Pensioners – copy of pension certificate, and students – certificate from school or university with the signature of the director (dean).
If you are not officially employed, prepare a letter from a sponsor who is willing to pay for your trip. Enclose proof of affinity and the sponsor's employment certificate of income.
Step 6: Get a bank reference
The financial guarantee of your upcoming trip is a 3-month bank statement with a "wet" stamp on your account. You must have at least 14 euros for each day of your planned trip. Instead of a bank statement, you may attach a photocopy of the front side of your bank card and a check from an ATM with the balance.
Step 7: Take a Photo
Applicants are asked to submit 2 45mm by 35mm color photographs for their Latvian visa application. The photo must be taken on a white or light background without a corner or frame, and the face must occupy at least 70-80% of the photo. Take your picture in advance or directly at the visa center. It costs 300 rubles to have your picture taken at the photo booth.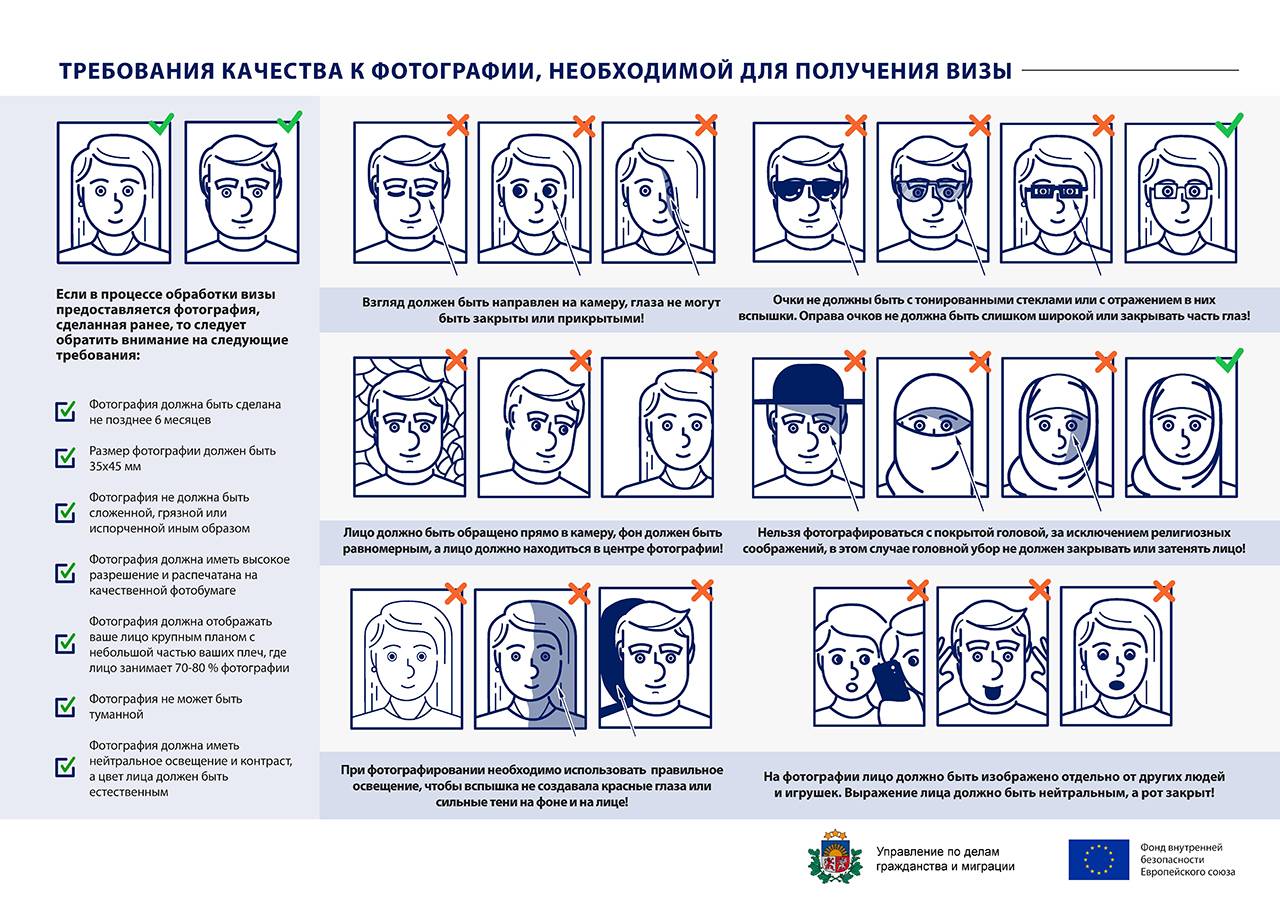 Quality requirements for the photo
Step 8: Fill out the form
Fill out the questionnaire on the embassy website. Write in capital Latin letters. Be careful and enter accurate information from your prepared documents.
If you were born in the USSR, write in item 6. If you are a self-employed person, write INDIVIDUAL ENTREPRENEUR in item 19, retired persons write RETIRED, unemployed persons write UNEMPLOYED, and housewives write HOUSEWIFE.
Those having difficulties can fill in the application with the help of the visa center employee. Such service costs 650 rubles. If you notice any inaccuracies in the completed questionnaire, please have it corrected by the visa officer.
The questionnaire on the website of the embassy
Step 9: Make an appointment
You may apply not earlier than 90 days before you start your trip. In Moscow, the embassy on Chaplygina Street, 3, records by phone. Depending on the season, the line stretches from 1-2 weeks to 2 months. The visa centers accept documents without appointment on weekdays.
There are consular departments in Kaliningrad and Pskov. In Yekaterinburg the consulate of Hungary issues visas to Latvia. Pony Express has application points in 56 Russian cities. In St. Petersburg applications are processed in the visa center on Zastavskaya St., 2-22.
The Moscow visa center is located in Nizhny Susalny Lane, 5, building 9, a 10 minute walk from the metro station "Kurskaya". Tourists praise the staff for their efficient work and the ability to always find out the information you need by calling the call center. The disadvantages are that they accept documents only on weekdays, and sometimes you have to wait in line for a long time.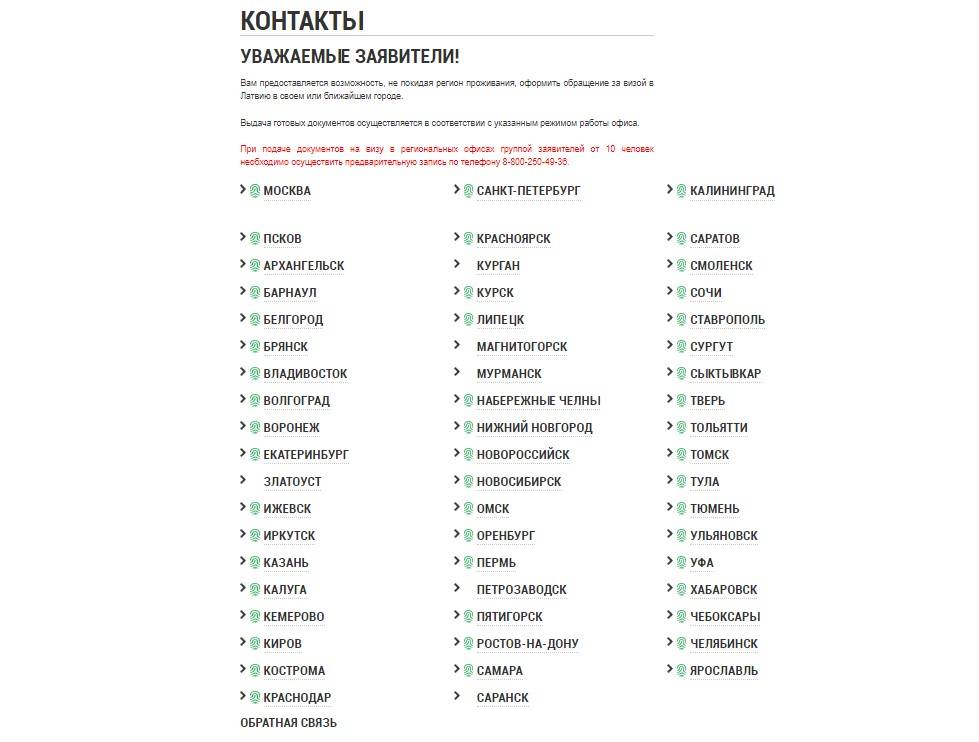 Pickup points of Pony Express
Step 10: Submit your documents and biometrics
When you arrive at the visa center, take a ticket for the electronic queue. Put your documents in a certain order to make it easier for the operator. A memo on how to do this is given at the entrance.
When your number appears on the screen, go to the window and give the paperwork to the employee. If you have not passed biometrics before, get fingerprinted and go to the cashier.
How much do I have to pay for a visa to Latvia? A regular visa for Russians costs 35 euros, an express visa that takes three days – 70 euros. The service fee for the services of the visa center is 20-30 euros. The payment is made in cash or by card in rubles at the exchange rate.
Together with the receipt you get a bill with which you come to get your passport. For an additional fee you can order SMS-notification of the passport readiness and its delivery to the specified address by courier.
Anton: "I applied to the Moscow embassy for myself and my children. It was the first time I applied for a visa to Latvia, before that I had been on several Schengen trips. We were given visas for two years".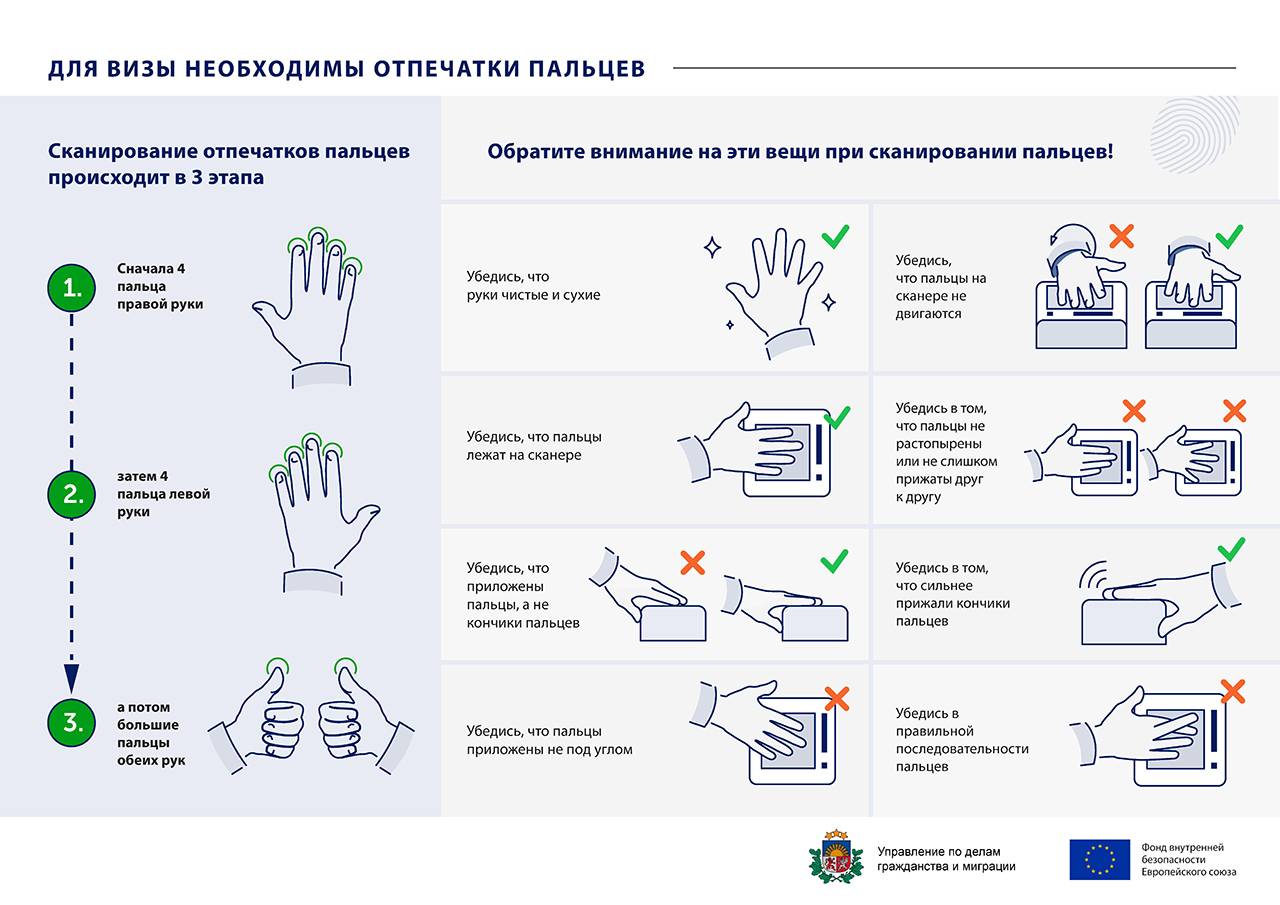 How to pass biometrics
Step 11: Get Visa
It takes anywhere from 5-10 business days to process a submitted application. It's easy to track readiness by the invoice number online. The passports are issued at the same place where you submit the documents.
Eugene U: "Visas to Latvia are easy enough, and having the Latvian "multikruk" in hand, you can already travel on to Europe.
Popular sightseeing tours in Riga:
– 15€ – 50€ – 100€ – 50€ – 35-45€
Visa refusals to Latvia
The Republic of Latvia is among the loyal countries, where it is easiest to get a Schengen multivisa. The percentage of negative decisions is not high – less than 1%.
Reasons for visa refusal in Latvia:
incomplete application form;
inaccurate information;
not enough money for the trip;
Absence of insurance;
no paid tickets and accommodation reservations;
the applicant is on the list of undesirable persons.
If the rejection list is stamped C1 – violations are minimal. You need to fill in the form correctly or bring the missing documents. A C2 stamp means that you are summoned for an interview with the consul in order to clarify your personal data. Together with the C3 stamp you will receive a letter stating the reasons for refusal and a list of documents to be resubmitted for the visa. Very rarely applicants are given a C4 stamp – an indefinite ban on entry into the Schengen countries.
Refusal is not a sentence! You can apply for the Latvian visa again the very next day. The main thing is to eliminate mistakes!