When to visit Kemer.
We tell you when it is better to go to Kemer. Weather and seasons by month: water and air temperature, precipitation and climate features. Reviews tourists weather in the southernmost resort of the Anatolian coast of Turkey.
Search for last minute tours on Level.Travel and Travelata services – they will find the best deals among different tour operators. Do you want to save your money? Find our 7 rules for buying tours online.
When to visit Kemer.
The beach season in Kemer lasts from early May to the end of October. The biggest influx of holidaymakers is in July and August. For excursions and hiking the second half of March, April and November are suitable.
During the summer months on the Turkish Riviera is very hot, so parents with young children and older tourists choose the velvet season – September and October. Least tourists are at the resort from December to February. In the off-season tours in Kemer are inexpensive.
Weather in Kemer by month
January
Water and air temperature. In mid-winter on the Anatolian coast is relatively cool. The air temperature is +12 … +14 ° C during the day and +5 … +6 ° C at night. The water in the Mediterranean Sea is cool for swimming +17 … +18 ° C.
Weather conditions. Because of the monsoon climate, winter in Kemer is cooler than in Antalya, but we are not talking about snow. There are a lot of sunny days – 14, the rainfall is also enough. It rains every other day or two, and 180-200 mm of precipitation falls in January.
Feedback from tourists. Despite the gloomy weather reports, tourists are happy with their holidays in Kemer in January. Short rains do not interfere with enjoying the views of the sea and the spurs of the Toros mountains. Sometimes it gets warmer up to +18 ° C, and holidaymakers walk around in light clothing.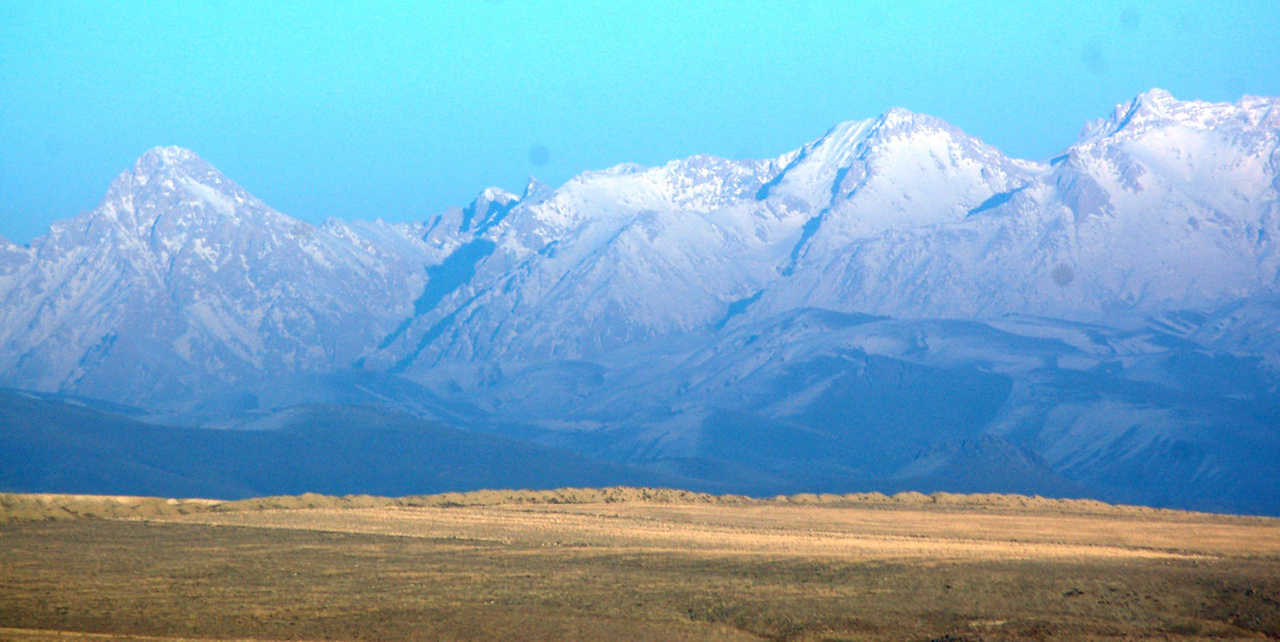 The Toros mountains (Photo: twiga_swala / flickr.com)
February
Water and air temperature. In February, the air warms up to +14°C, and the sea water +16 … +17°C. The beach season in Kemer will not begin for another 3 months!
Weather conditions. The warm sunny days are 15, the rest of the time it is cloudy in the sky. Precipitation is twice less than in January – 85 mm.
Tourist reviews. Is it worth to go to Kemer in February? The mild Turkish winter is suitable for promenades and excursions. Tourists buy cheap vouchers and come to the resort in winter to improve their health in thalassotherapy centers and thermal springs.
Water and air temperature. Kemer is located in the south of the Anatolian coast, so the spring begins early here. The air temperature is +17 … +19 ° C, and the sea +16 … +17 ° C.
Weather conditions. The sun shines a lot in March with the amount of precipitation not exceeding 80 mm. The nights are still cold +7°C. For evening walks you can't do without warm clothes!
What tourists say. Warm weather and blooming trees attract more tourists to Turkey. At the end of March, during the vacations, parents with schoolchildren like to vacation in Kemer. Prices are still low, and for relatively little money you can enjoy a high level of service.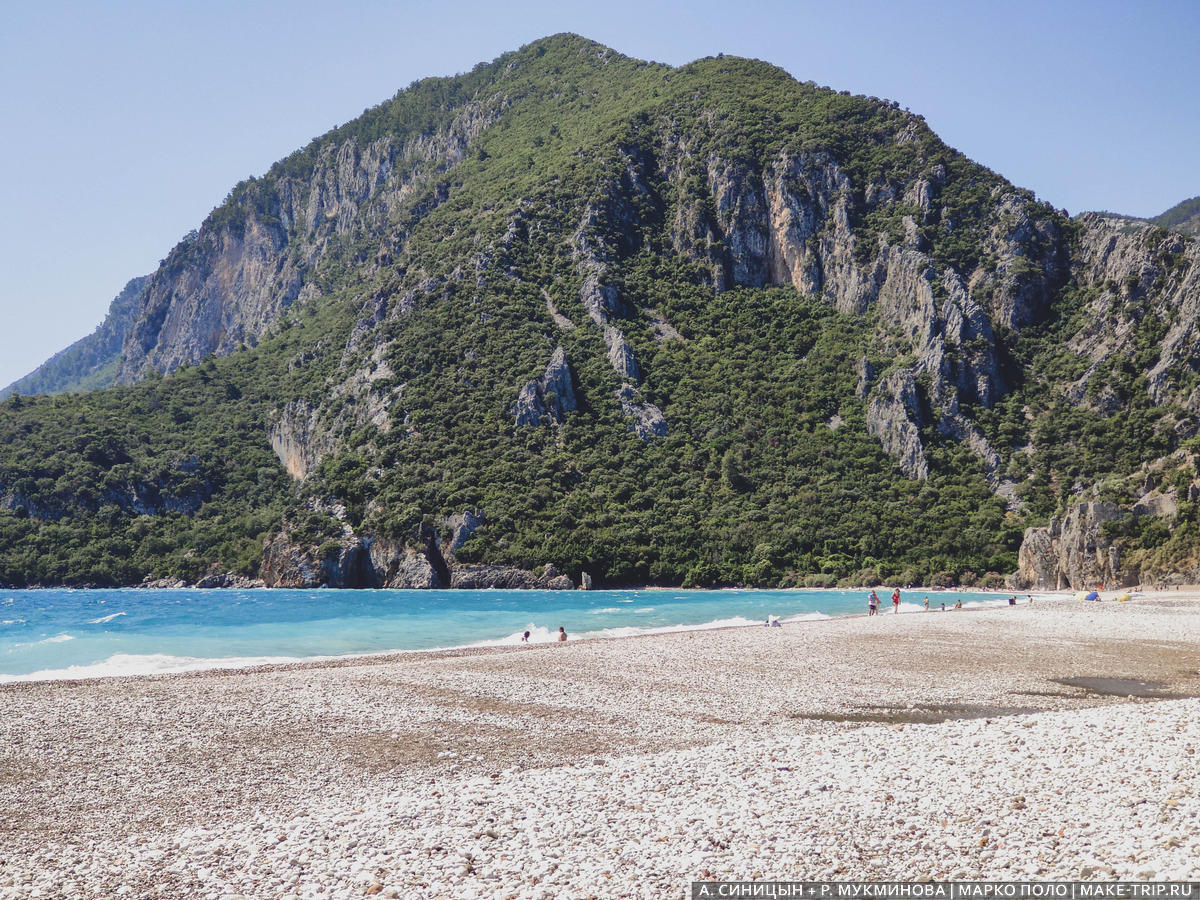 The beaches of Cirali and Olympos in Kemer. It is essentially one long pebble-sand beach.
April .
Water and air temperature. In mid-spring, the air in Kemer warms up to +19 … +21 ° C and the sea water up to +18 ° C
Weather conditions. In April Turkey is in all its glory! Orange groves are in bloom and it is very sunny. It rains for 3-5 days but the amount of rainfall does not exceed 45 mm.
Tourist reviews. Bathing season in Kemer has not yet started, but there are already a lot of holidaymakers. According to reviews of tourists, in April it is good to sunbathe, walk near the sea, do diving, ride yachts and go on excursions.
Water and air temperature. In May, it gets warmer by 3-5°C in Kemer. The air temperature is +25 … +27 ° C and the water +20 ° C.
Weather conditions. May in the south of Turkey is pleasant with sunshine and warmth. The rains are rare. At night the thermometer dips to 13 … +15 ° C. Take warm clothes!
What tourists say. In Kemer the beach season starts! At the beginning of the month it is still cool to swim. If you want to come to the resort with the kids, wait until the end of May, when the water warms up to +21 ° C and above.
Water and air temperature. In early summer it's quite hot +30 ° C. The water is heated to +24 ° C.
Weather conditions. In June there are 26 clear days. The amount of precipitation is reduced to 15-20 mm. To avoid getting burnt, use a cream with a high degree of protection!
Tourist feedback. Are you choosing when it's better to rest in Kemer in summer? Come in June before the unbearable heat! According to reviews, the June weather is ideal for beach activities, trips to the mountains, excursions and boat trips.
Comparison of resorts:
Water and Air Temperatures. July in Turkey pleases only those who can easily withstand the intense heat. The air temperature is +33 ° C and the sea +26 ° C. You will never want to get out of the water!
Weather conditions. The weather is sunny. No cloudy days at all. Very little rainfall – 6 to 11 mm per month.
What tourists say. Hot weather is good only for beach holidays. To engage in active tourism and travel excursions under the scorching sun is hard. We do not advise to come to Kemer in July with small children, tourists at the age and all who suffers from cardiovascular illnesses!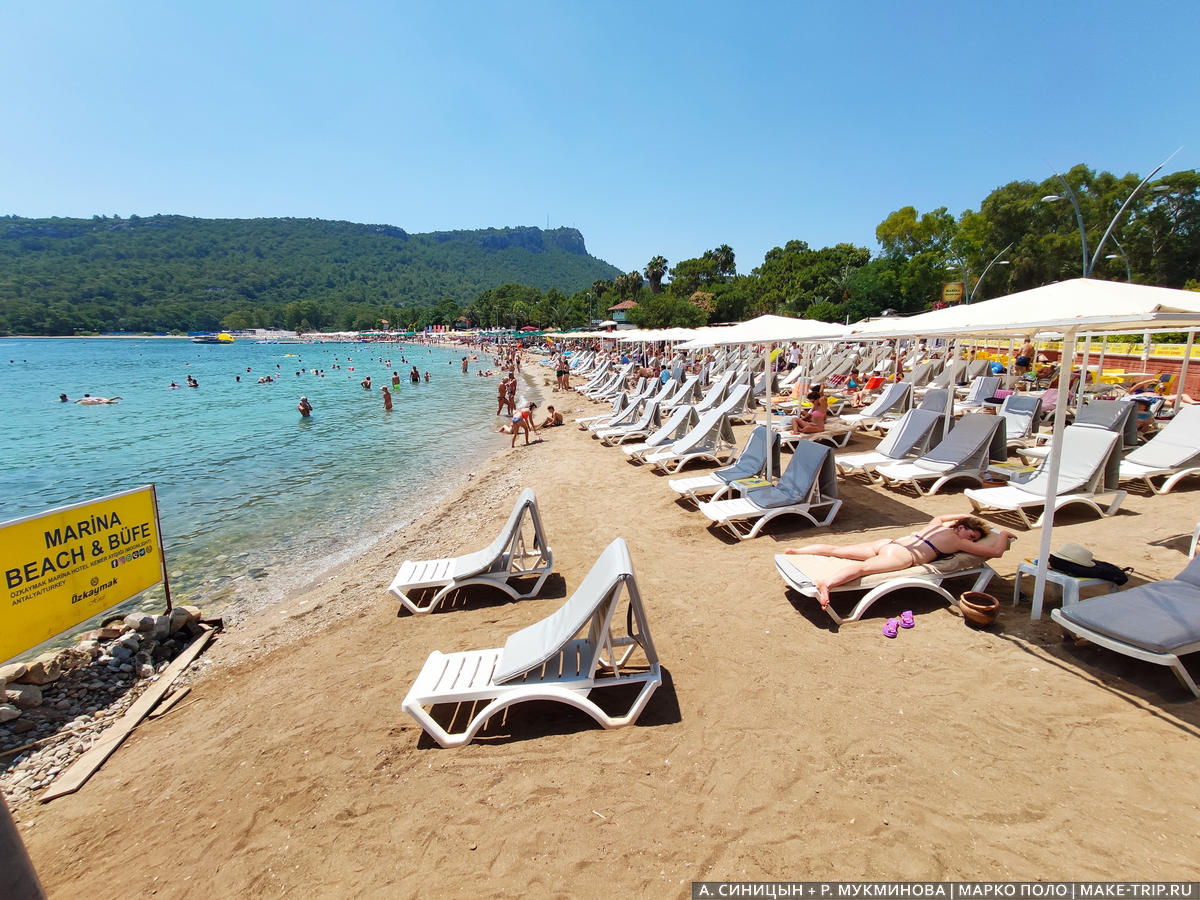 Moonlight Park beach is sandy. With sun beds, umbrellas, bars and cafes.
August
Water and air temperature. August is hot. The average air temperature is +33 ° C. Sometimes the thermometer rises to +40 ° C. The sea is very warm +28 ° C.
Weather conditions. The resort is hot and stuffy. All the days are sunny, and it may not rain at all.
Tourist reviews. The beach season in Kemer is in full swing, but the water is almost not refreshing. In August, there are a lot of tourists, and prices for trips are high. If you plan to vacation in Turkey, choose resorts on the shores of the Aegean Sea, where it is a little cooler.
September
Water and air temperature. In early September, it is still hot – up to +35 ° C, but in the second half of the month the air temperature drops to +28 … +30 ° C. The sea water is still warm +26 ° C.
Weather conditions. Tourists enjoy sunny weather. Rains are still scarce – 15-25 mm of rain per month. Sometimes there are short thunderstorms and storms.
Feedback from tourists. September is the month when it is better to vacation in Kemer with preschoolers. In addition to families with children, in the fall to the resort tend to get older tourists and all those who, for various reasons, could not rest in the summer.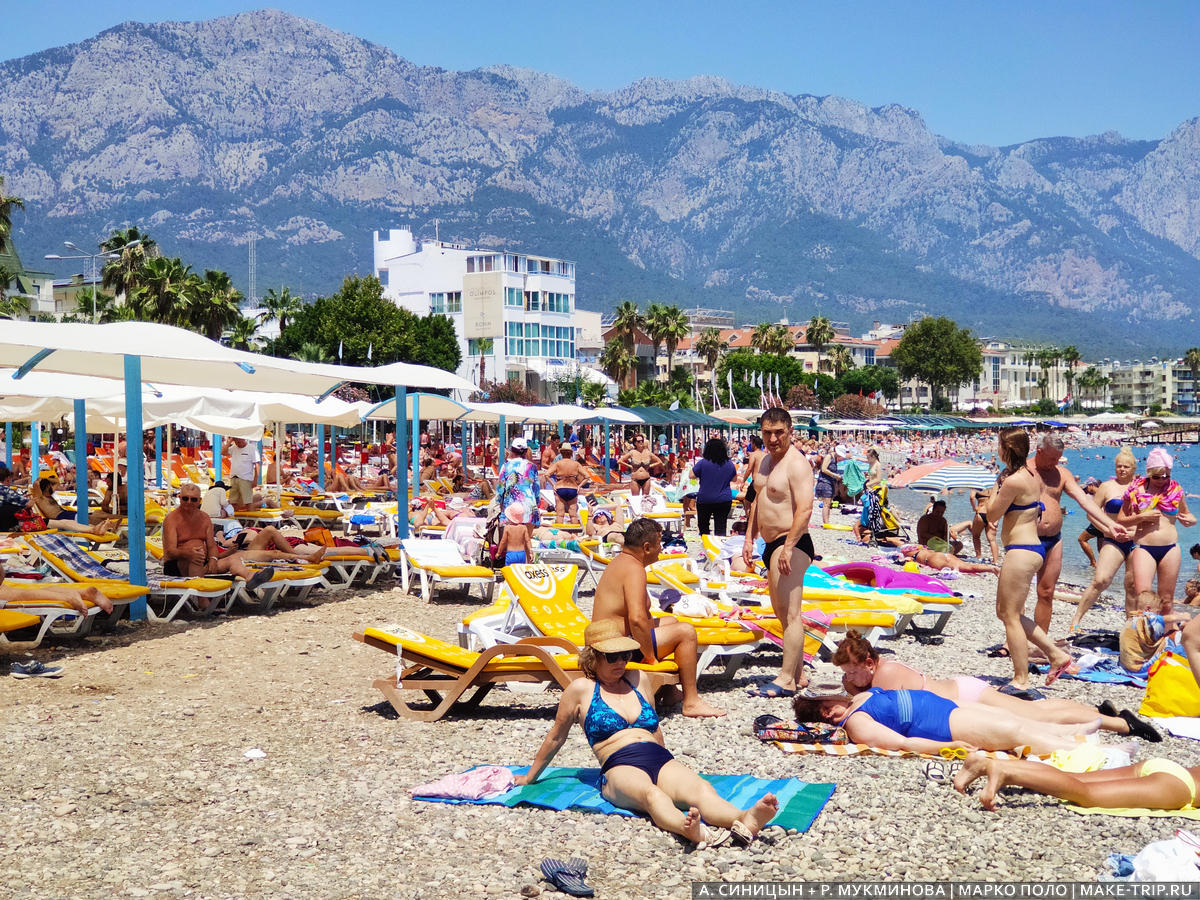 City pebble beach in Kemer.
October .
Water and air temperature. October in Kemer is as good as September. The air is warm up to +25 … +27 ° C, and the sea up to +24 ° C.
Weather conditions. The heat comes to naught, and it becomes fresh and comfortable. Sunny days – 27. The rains are more frequent.
Tourist reviews. The velvet season in Kemer is happy for everyone! Until the end of the month there are many tourists on the beaches. In October, it is pleasant to swim in the sea, sunbathe, get acquainted with the historical and natural monuments of Turkey, scuba dive and surf.
November
Water and air temperature. When Russia is in deep autumn with rain and snow, Kemer is still warm. The air temperature is +17 … +21 ° C during the day and +9 … +11 ° C at night. Water in the sea cools down to +21°C.
Weather conditions. November has 22 sunny days. During the month, the rainfall is 65-75 mm.
Tourist reviews. Is it worth going to Kemer in November? At the end of autumn, the resort can still sunbathe. The sea is comfortable, but it is chilly to get out of the water for a fresh breeze, so the beaches are empty. The cool weather is suitable for walks and long excursions.
In Olympos (Kemer) is shady and secluded – you can spend many pleasant hours.
December
Water and air temperature. The air cools down to +16°C, and the sea water to +19°C.
Weather conditions. In December there are 16 sunny and 6 rainy days. The amount of precipitation increases to 115-125 mm. Because of the proximity of the mountains, the resort has a special microclimate. The rainy season in Kemer is not as pronounced as in other parts of the Anatolian coast.
Tourist feedback. The Turkish winter is mild. Locals walk around in jackets and freeze, and the Russians on weatherless days flaunt around the resort in clothes with short sleeves. In the second half of the month tourists go to Turkey to celebrate Christmas and New Year. If you want to relax in Kemer in late December, book accommodation in advance!
When is the best time to travel to Kemer?
Kemer is a rapidly growing resort, occupying the southernmost part of the Anatolian coast. Lined with dense pine forests it stretches between the majestic Taros mountains on one side, approaching the resort from the west, and the crystal sea on the other. Find out on Tour Calendar why May, early June and the first half of autumn are the best times to visit Kemer.
Kemer is a relatively new resort on the tourist map, but it already attracts tens of thousands of tourists
Tourist season in Kemer
The history of Kemer as an attractive tourist destination began 15 years ago, when it is literally in front of his eyes from an unremarkable village into a popular place on the Turkish Riviera. Those who are looking for a relaxing holiday surrounded by picturesque scenery come here. There are wide sandy and pebbly beaches, washed by the strikingly blue waters of the bay, a huge selection of stores, bars and restaurants, and a great climate. Today Kemer is a thriving and confident resort area, where the tourist season lasts from April to October.
High Season
There is a special influx of tourists in Kemer during the summer months, especially in July and August. It is quite hot weather when the temperature of the sea reaches its maximum. This is a great time for both classic "sealift" recreation and active sports such as diving, snorkeling, surfing, jet skiing and so on. The nightlife in high season is very active and includes both regular discos and traditional oriental nights with belly dancing and traditional music concerts. In July and August in Kemer is quite crowded, but because of the large number of hotels of impressive size, it is not felt at all. Among the vacationers are mainly Germans, Belgians, British, Russians and Ukrainians.
Low season
The decline in tourist activity occurs in November, most people return home – the beach and velvet season has long since come to an end. The low season will last until April. Nevertheless, hotels here continue to operate in the winter. And to say that they are empty is impossible, because often contrary to all forecasts are very warm days. Many travel agencies arrange good sales of their packages, and as a result both airfare and a week of staying in a 5 * hotel on the system "All Inclusive" costs mere pennies. In addition, SPA-services, which are provided in every Turkish hotel, will cost much cheaper in the low season.
Beach season in Kemer
Beach season in Kemer begins in early May, when the sea water temperature warms up to 20 ° C. In the middle of the month it reaches 21 ° C – 22 ° C, and with this opens the swimming season. On the beaches rest people of different age categories, among which there are a large number of couples with small children. In July and August, that is, at the height of summer, the water in the Mediterranean Sea is more like fresh milk – from 27 ° C to 29 ° C, and sometimes as much as 30 ° C. In fact, such water is not refreshing in the midday heat, when the temperature is just "off the scale". The weather is more comfortable in September, and the temperature of the sea drops to 26 ° C – 27 ° C. In October, you swim until the last days of the month, after which the season closes.
Velvet season
The unbearable heat is over, the sun is less invasive and the beaches are less crowded. The velvet season is one of the most beautiful periods not only in Kemer, but in all of Turkey. It begins with the first month of autumn. This is really a very advantageous time when all the same resort options are available as in summer, only under more favorable conditions. The temperature of the sea water is about 26 ° C. October is the second month of the Velvet season, when the weather tames its heat by about 5 °C, but it's still warm and very nice, unless it gets a little cooler in the evenings. At the end of October from the beaches disappear last sun beds, which will appear again only in May.
The best time for excursions
There are many interesting natural beauties lurking around Kemer, pick the best time to visit them and you will be very happy!
Despite the fact that Kemer is a thriving modern resort, there are many interesting attractions. For example, an ethnographic park "Yoryuk", which clearly demonstrates the peculiarities of life of nomadic Turkmen tribes. Children will love the reptile park "Eco-Park" and the entertainment complex "Moonlight", which has a dolphinarium. From Kemer it is easy to go on excursions to the neighboring Antalya, the ancient city of Phaselis or Olympos. In general, you will not get bored. The main task to be solved is to choose the most suitable time for excursions so that the weather or something else does not cross out all your plans. In fact, everything is quite simple: in April, May, in the second half of September and in October there is every opportunity for unhindered sightseeing, both from the weather and from the tourist infrastructure.
Time for holidays and festivals
The summer in Kemer is full of music concerts, dance festivals and various festivals. Every year there are new events that are announced just before the opening of the tourist season. Among the regular events are the "International Days of the Sea", when mass diving takes place and the art festival "Phaselis". The "World Rally Championship" as well as the "Altyn Nar" entertainment carnival with a tourist bias takes place near Kemer.
The climate in Kemer
Located right at the foot of the Taurus Mountains, on the banks of the Bay of Antalya, Kemer enjoys a Mediterranean type of climate with a distinct monsoon character. This means hotter, less humid summers but cooler winters than in neighboring Antalya.
Kemer in spring
Spring in Kemer is a gorgeous time that comes to the resort in March with temperatures hovering around 17 °C to 18 °C. This is a slightly rainy month but by April the weather is almost summer-like. The citrus trees are finishing blooming and the steep hilltops are once again drowned in green and bright colors of fresh flowers. The mountain air is clean and fresh, and it seems that all life around picks up the cheerful mood that hovers here and charges it to everyone who comes here. Spring – it's time to travel around the neighborhood and natural attractions, and just beautiful places. You can not come to Kemer, and do not climb on a cable car to the highest peak of Southern Turkey – Mount Tahtali, which offers an amazing panoramic view of the Mediterranean Sea and many beautiful bays with azure waters. In May, when there is a sudden jump in temperature, the bathing season opens. This is not actually the end of spring, but the very beginning of summer.
Weather in March
Weather in April
Weather in May
Average temperature
+12
+16
+19
Daytime temperature
+17
+21
+25
Nighttime temperature
+7
+10
+13
Water temperature
+16
+18
+20
Rain
10 days
7 days
6 days
Kemer in Summer
Summers in Kemer tend to be sunny and sultry. It's not uncommon for the predicted daytime temperatures of 30 °C – 33 °C to cross that mark, reaching all 37 °C – 40 °C. During daylight hours, when the sun is at its most active, avoid spending too much time outdoors, and use quality sunscreens with a high UV factor. Bathing in the Mediterranean Sea, which gets as warm as 26°C to 29°C in July and August, should not be considered an effective way to cool off. Air conditioning in restaurants, cafes and hotels is probably the only saving option. In the evening the air cools down a bit, this is the time of discos and parties in nightclubs.
June Weather
July Weather
August Weather
Average temperature
+24
+27
+27
Daytime temperature
+30
+33
+33
Nighttime temperature
+18
+21
+20
Water temperature
+24
+26
+28
Rain
3 days
6 days
6 days
Kemer in Autumn
Do you want a more relaxing holiday? Head to Kemer in early autumn, which absorbed all the best climatic "qualities" of summer, leaving behind the most unacceptable for a comfortable holiday "features". It is a particularly splendid time for leisurely strolls along the elegant harbor, with snow-white yachts gently rocking in the turquoise waters. Numerous bars and restaurants lined up along the waterfront, beckoning with the aromatic scents of delicious food. Children and adults will love the local water park, the line at which is not as long as in summer. Day trips to neighboring towns and villages also no one cancelled. In October and November, light rains begin to fall, but the weather is still sunny and warm, except that the nights are getting cool.
Weather in September
Weather in October
Weather in November
Average temperature
+24
+19
+15
Daytime temperature
+30
+25
+20
Nighttime temperature
+17
+13
+9
Water temperature
+26
+24
+21
Rain
4 days
6 days
8 days
Kemer in winter
In winter, the temperature in Kemer drops sharply to 14 °C – 16 °C during the day. It is considered a rather rainy time, and there is not much to do in Kemer. But this is just a summary of the weather forecast. In reality the picture, described by many tourists holidaying in Kemer in winter, is quite different and rosier. It does rain – in two days, and every other day. However they are of short duration, after which the weather is mostly cloudy, and sometimes very sunny and clear. Secondly, this winter sun is not as safe as it may seem, so going to Kemer in winter, do not be lazy to throw in your suitcase sunscreen, sunglasses and light sports clothes. You can get burnt on a sunny January day. Sometimes the temperature reaches as much as 19 degrees Celsius. At this time to distinguish "our" from the "Turks" (not only judging by appearance) is very simple – locals wear jackets, and Russians – in T-shirts and light pants. Some particularly intrepid individuals are seen swimming in the sea. But to repeat their feat is not worth – you can catch a cold. At night the air cools to 5 ° C – 7 ° C. At this time the mountain peaks are always covered with snow.
Weather in December
January Weather
February Weather
Average temperature
+12
+10
+10
Daytime temperature
+16
+14
+14
Nighttime temperature
+7
+5
+5
Water temperature
+19
+17
+16
Rain
13 days
13 days
12 days
What are the prices for holidays in Kemer?
To find out the current prices for holidays in Kemer you can on the leading sites for the selection of bargain tours, excursions and airline tickets.
Remember, you can buy tours to Kemer cheaper on Travelata.ru – searching tours of hundreds of tour operators! Use our promotional codes AF2000turcalendar for additional discount of 2000 rubles (tours from 100r), AF1500turcalendar 1500 rubles (from 80r), and AF1000turcalendar 1000 rubles (from 60r)!
If you want to avoid high prices and large influx of tourists and very hot weather, Tour-Calendar recommends to go to Kemer in late spring, early summer and in the second half of September and October. Have a safe journey and happy holidays in Kemer!