What to bring from Italy – the prices of gifts and souvenirs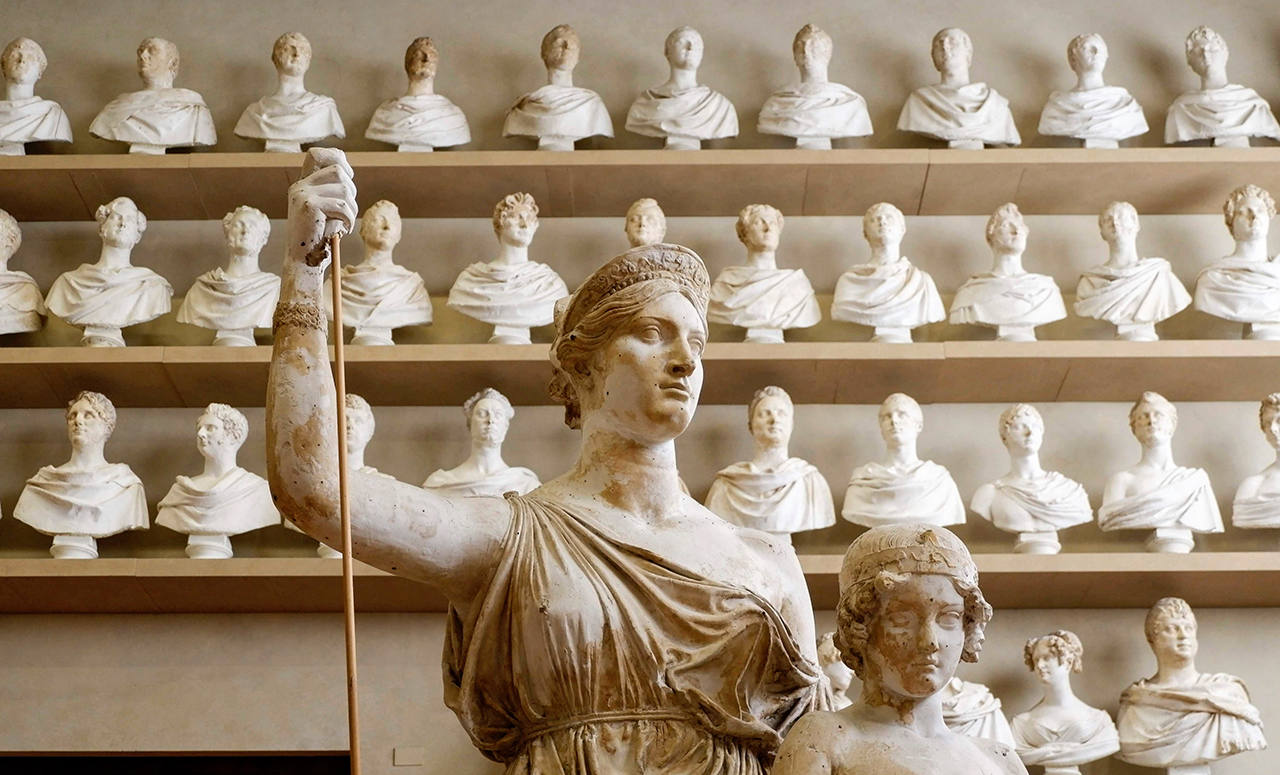 Are you going on a trip to the Apennine peninsula? We tell you what to bring from Italy. How much do popular souvenirs and gifts cost. Tips on how to choose and where to buy cheaper.
Look for author's interesting tours on Sputnik and Tripster sites. Individual and group, without crowds of tourists and in Russian.
Content:
Pinocchio's Doll.
Sunny Italy is considered the birthplace of puppet theater. If you do not know what to bring from Italy as a gift for children, buy a funny figure of Pinocchio. Stores have tablet, glove puppets and funny marionette puppets made of different materials.
Price . Toys cost from 2€.
Tip . Every resort sells dolls in national costumes. Different regions of Italy have their own puppet characters. In Naples, the character of the Italian comedy Pulcinella is popular, and in Sicily – Pupi puppets.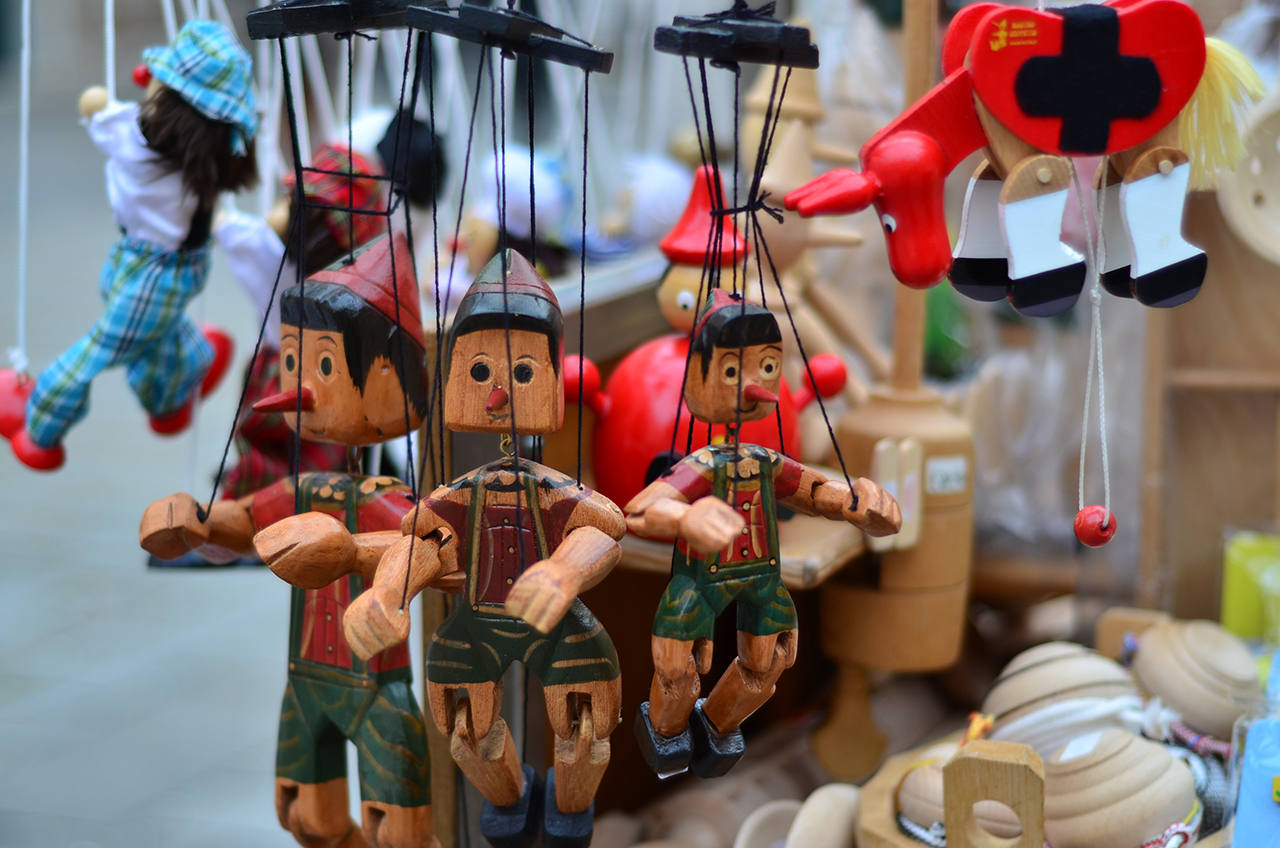 Pinocchio puppets (Photo: pxhere.com)
Porcelain
What to bring back from Rome? Italians are skilled artisans. It's easy to find beautiful porcelain products in Rome – plates, vases, tea sets and entire sets. Tourists like statuettes that replicate the famous monuments of the eternal city.
Prices . Porcelain pieces cost from 3€.
Tip . Do you want to have an original piece in your home? Check out any of the designer tableware stores. They are handmade and painted, so they don't come cheap.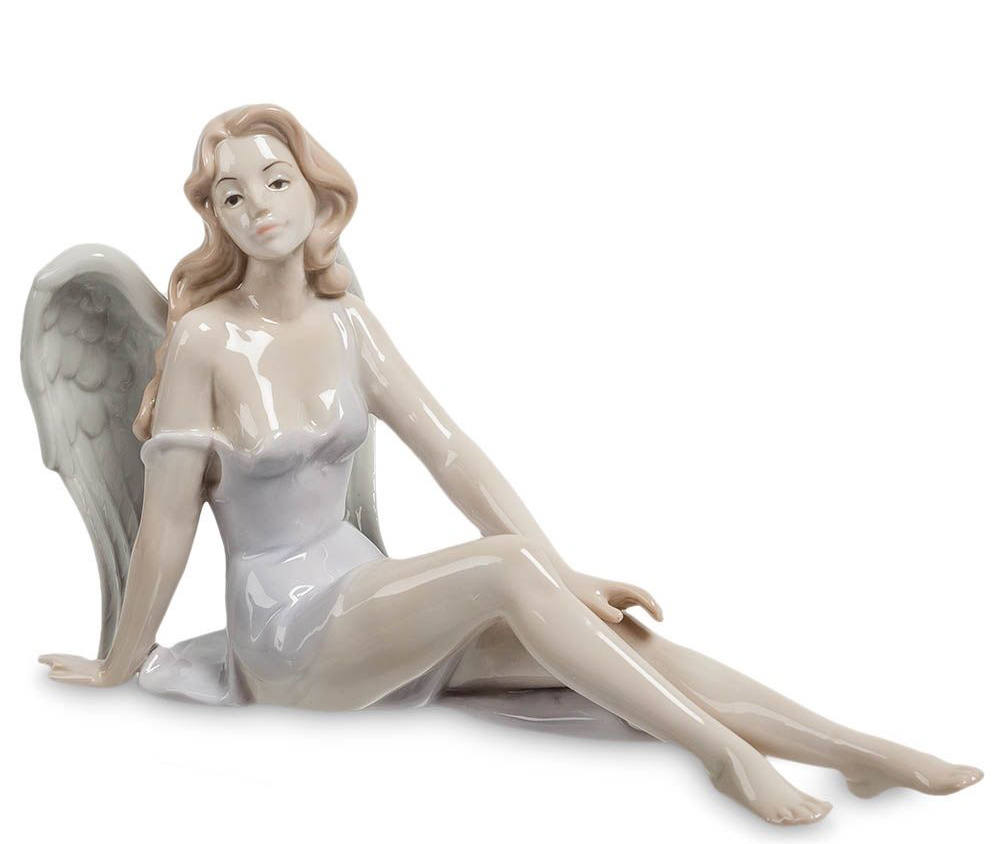 Porcelain statuettes by Pavone (Photo: ozon.ru)
Olive oil
Italian olive oil is famous for its amazing quality. It is used in cooking and home cosmetics. Take Olio extravergine extra virgin olive oil. If you don't want to risk it with glass bottles, buy olive oil in tin cans.
Price . 1 liter costs 4-5€.
Tip . Inexpensive oil of excellent taste is sold in farms that are located in the suburbs of Italian resorts.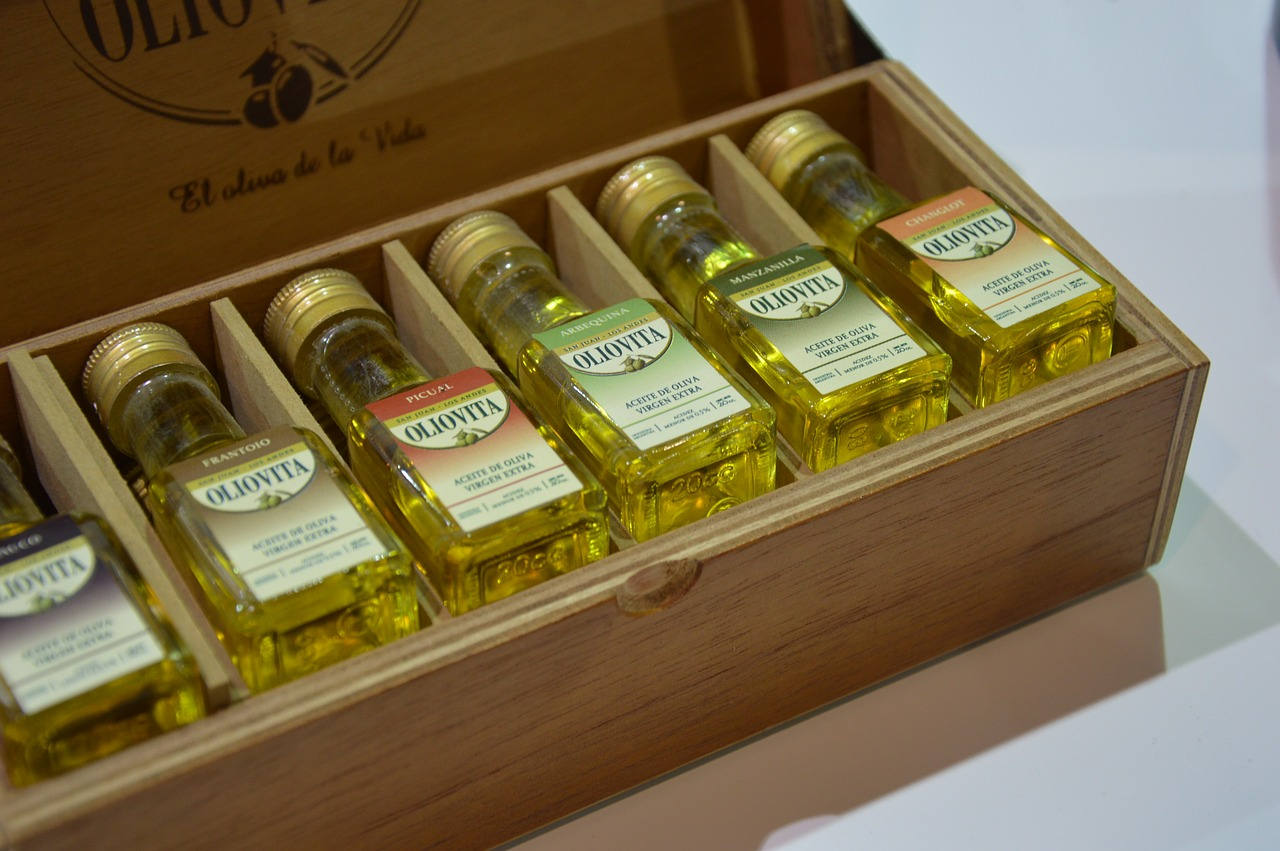 The labels on the bottle molite a freddo , estratto a freddo or spremuto a freddo mean that the oil is cold-pressed (Photo: pxhere.com)
Chocolate
What can we bring back from Italy for sweet tooth? Italians make excellent chocolate. Popular with tourists are chocolate products Modica , Venchi , Perugina , Amedei Tuscany and Ferrero . Pick up bars, bars, truffles and chocolate sets. You can't have too much of the sweet life!
Price . Chocolate bars cost 1-3€ each.
Tip . Surprise someone you love with Perugina Baci chocolates. Each one is wrapped in a wrapper with sayings about love written by Italian philosophers and poets.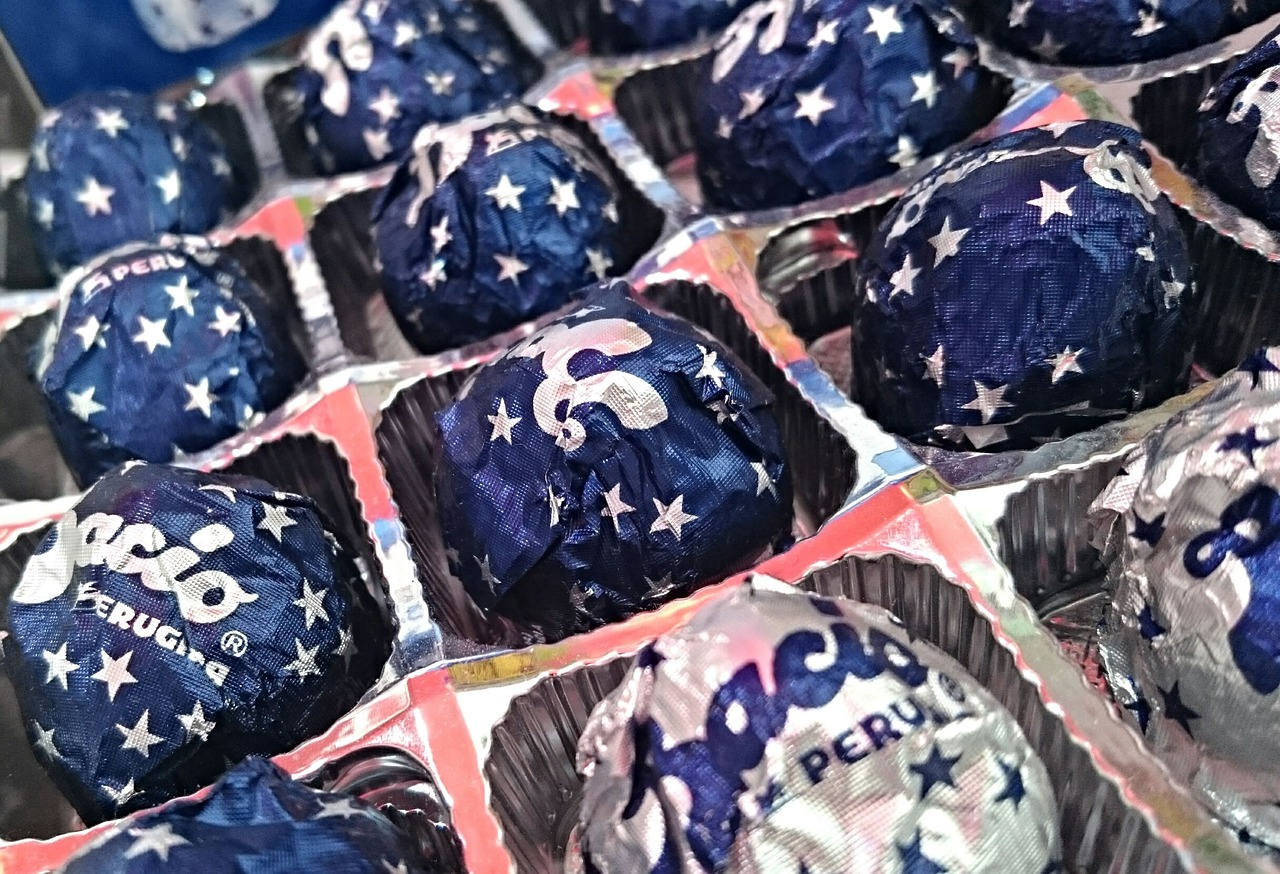 Perugina Baci candies (Photo: tom69green / pixabay.com)
Balsamic Vinegar.
If you like Italian cuisine, bring home a bottle of balsamic vinegar. With it, you can cook as delicious as the Italians themselves. The cost depends on the age of maturation – from 1 year to 100 years. The Extra Old label says the vinegar has been aged in oak barrels for at least 25 years.
Price . Famous chefs use the bite at 80€. Italian housewives and tourists buy bottles in supermarkets for 4€.
Tip . What to bring back from Italy for a woman who loves to cook? Take quality balsamic vinegar from the ancient city of Modena, in the Emilia-Romagna region. The wonderful product is called Aceto Balsamico di Modena and the price is 10€ for a 0,25l bottle, dark brown in color, with a strong grape aroma and a pleasant tart taste.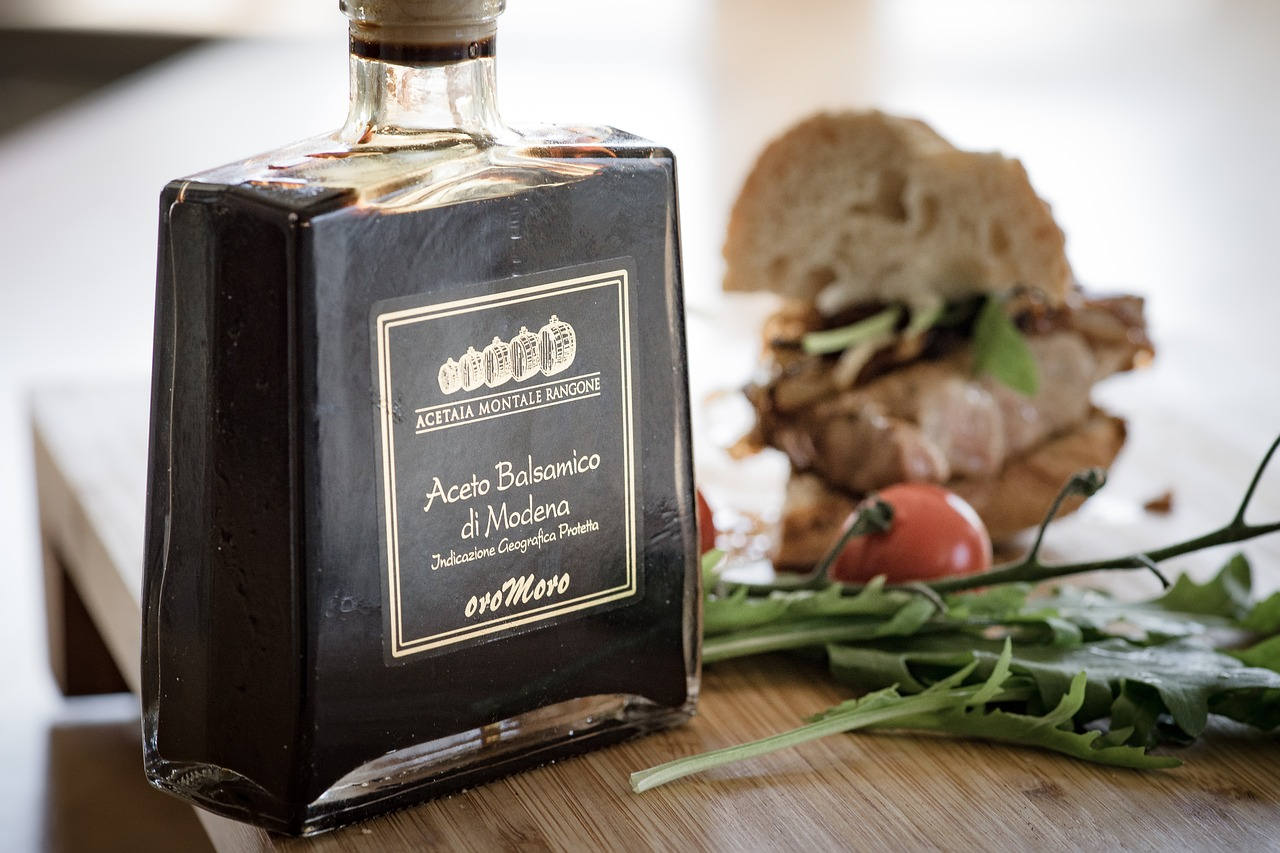 Aceto Balsamico di Modena (Photo: axalant / pixabay.com)
Pasta
Thinking about what to bring as a memento of your trip to Italy? A great choice is the famous Italian pasta. The country makes more than 300 kinds of dried pasta made from durum wheat – semola di grana duro. Such is best because it has a long shelf life. Italians prefer the brands Barilla and De Cecco .
Price . A 0.5 kg package costs 0.4-1€.
Tip . Pasta from Italy is sold in Russian supermarkets, so look for the original types that we do not have. Get colored pastas with cuttlefish ink, beet juice, tomatoes and spinach.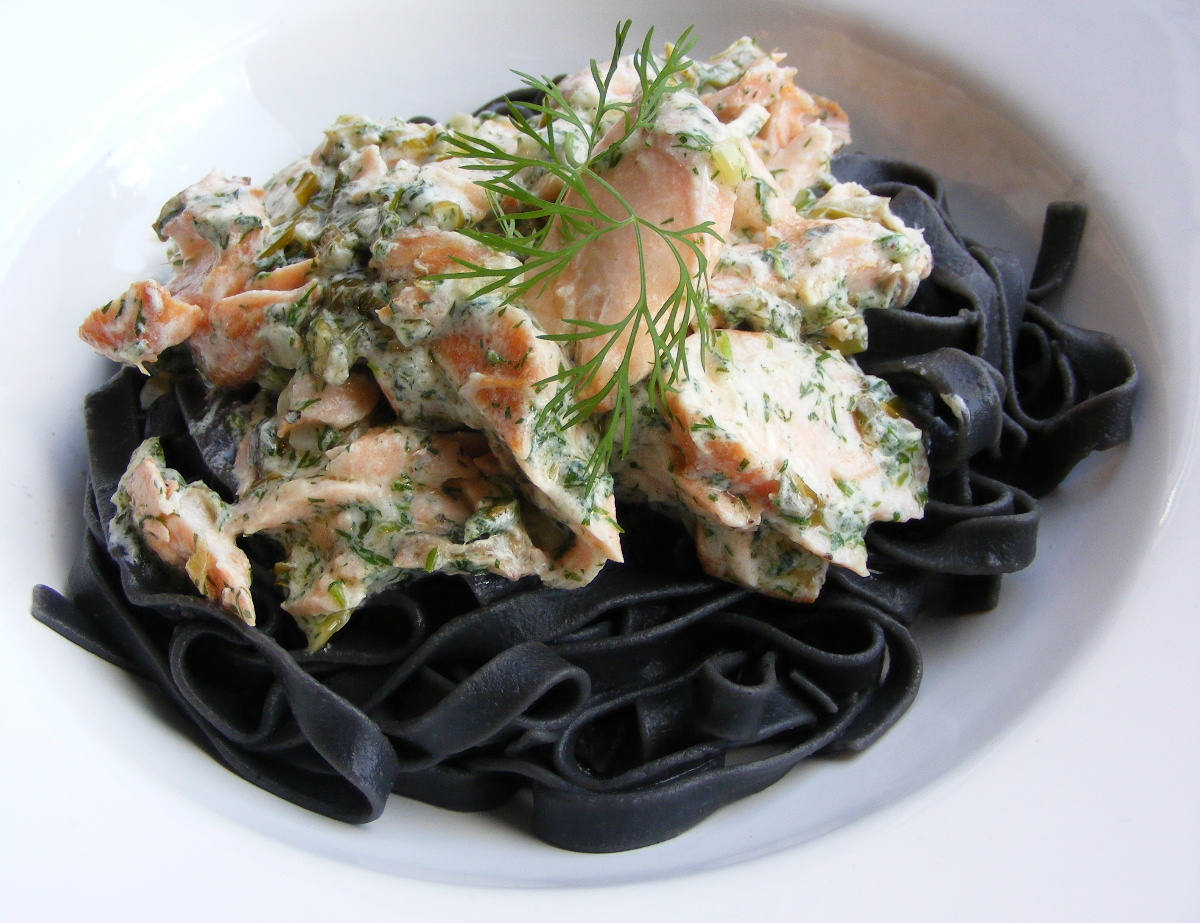 Hot-smoked salmon pasta (Photo: wikimedia.ru / FotoosVanRobin)
True foodies know what foods to bring back from Italy. Italian cheeses are the most delicious and exquisite treat you can think of. What kind of cheeses to take? Feel free to buy sheep cheese – pecorino. Take home mozzarella, especially Mozzarella di Bufala .
A great choice is parmesan. The product of Northern Italy has special qualities. It matures from one to three years, is low in fat and high in lactose. Connoisseurs like gorgonzola – blue cheese with mold, protected by a special mark of quality. It matures in cylindrical forms weighing 6-13 kg each.
Price . 1 kg of cheese costs 7-20€.
Tip . Buy sealed packages with maximum shelf life, so that the cheese does not spoil on the way home.
Long-aged pecorino is hard and has a crumbly texture and a nutty aftertaste (Photo: wikimedia.ru / MOs810)
What to take back from Italy for a connoisseur of luxury drinks? Real Italian wine, of course! It never tastes bad! When choosing a wine be guided by the region where you are staying and your own preferences. Keep in mind that there are wines on sale in different packaging – 0.25 l, 0.5 l, 0.75 l, 1 l, 2 l and 3 l.
Prices . A bottle of 0,75 l of table wine – Vino da tavola – will cost 2-4 €. Wines of elite varieties cost 15-50 €. There is no upper price limit.
Tip . Italian wineries sell wines cheaper than stores in cities and resorts.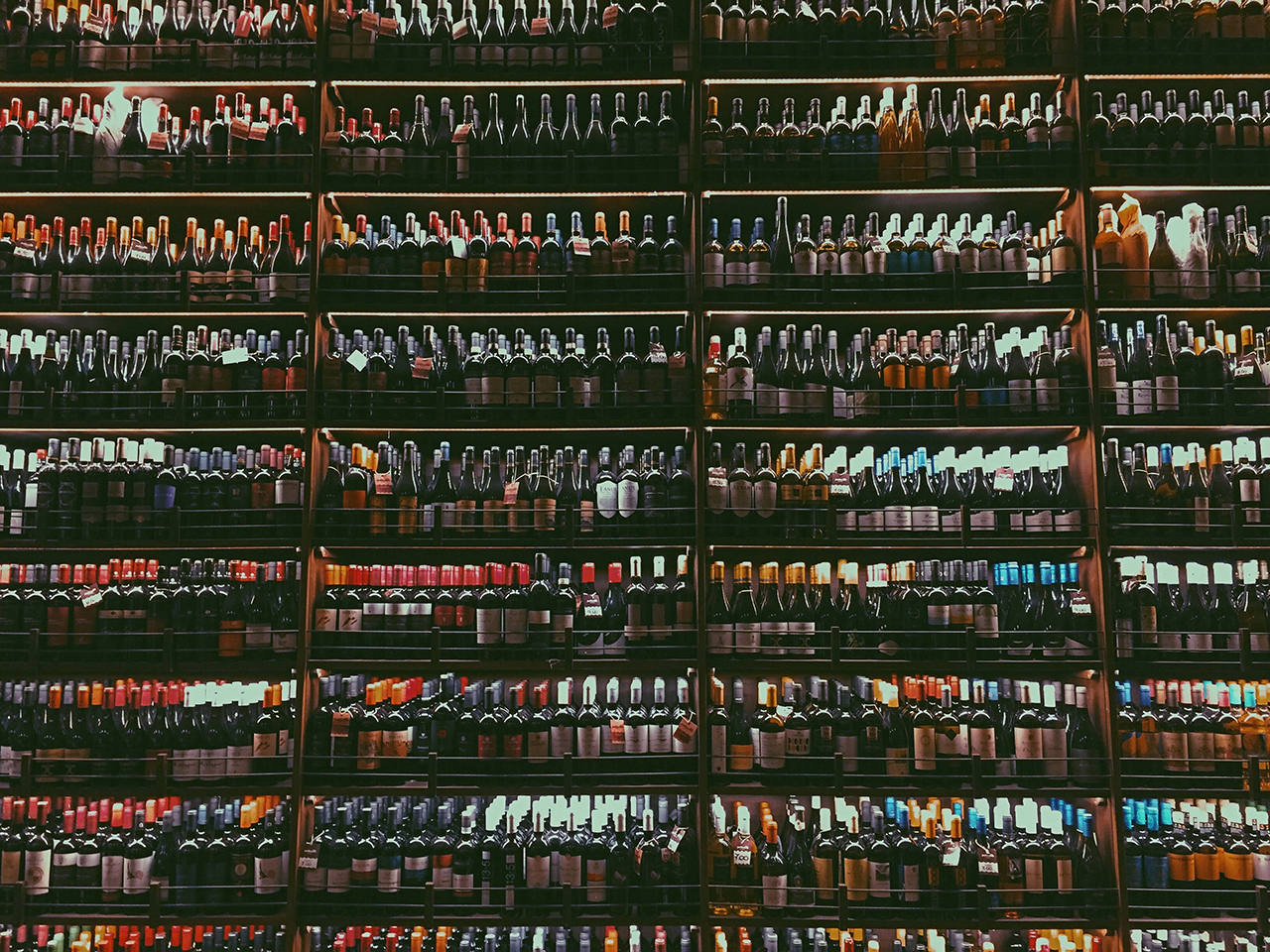 Wine shelf in a store in Sicily (Photo: unsplash.com / @brandyturner)
Limoncello Liqueur.
A popular liqueur made from lemon zest, sugar and alcohol, it is drunk as an aperitif and added to various cocktails. Italians are convinced that Limoncello promotes proper digestion.
Prices . Bottles of 0.7 liters cost 8-22€.
Tip . Wondering what to bring back from Italy as a gift for friends and colleagues? Pick up the tiny 20-50 ml bottles of Limoncello that they sell here for 2€.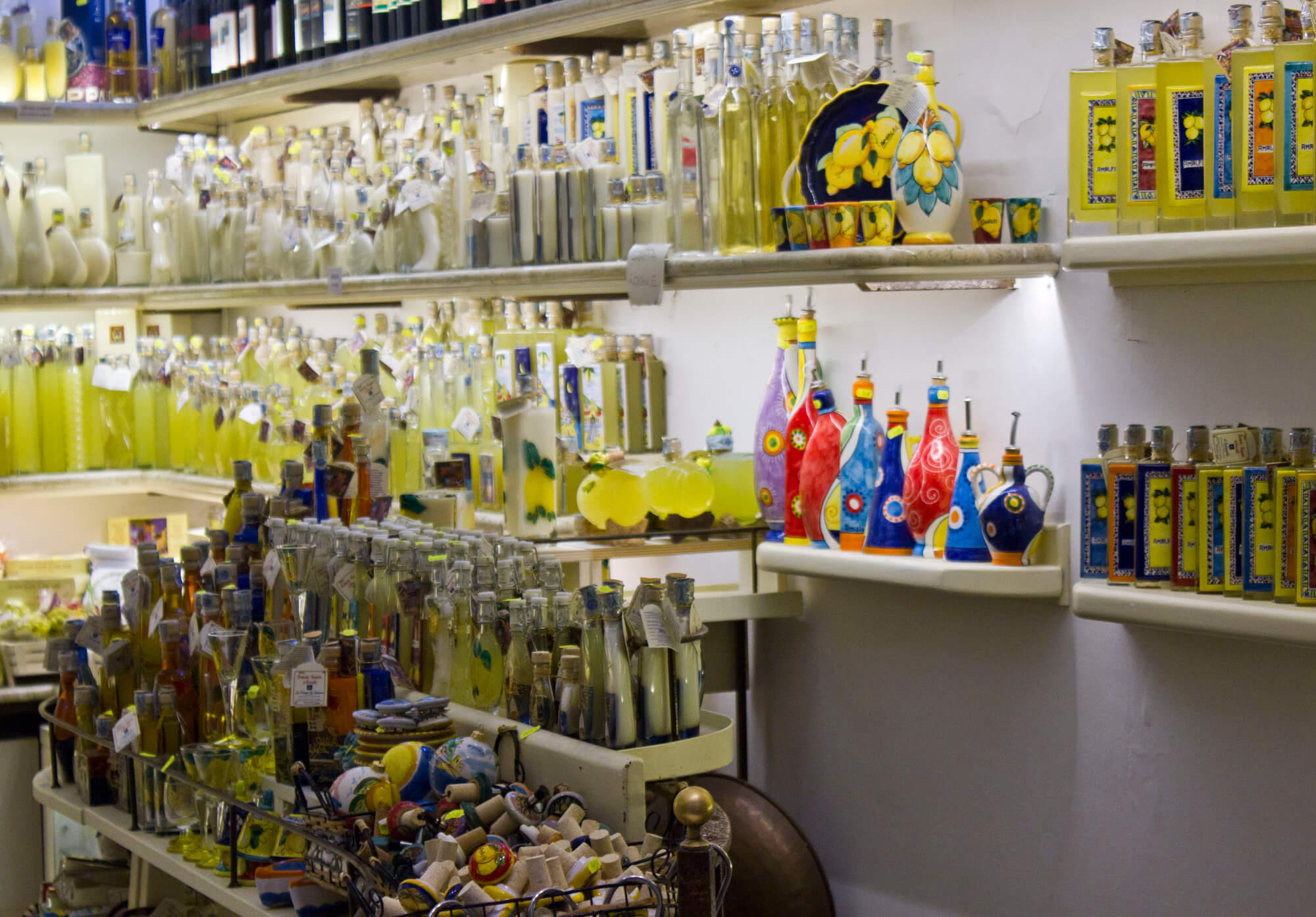 Pick up the tiny 20-50 ml bottles of Limoncello they sell here for 2€. Store in Amalfi. Photo: greta6 / Depositphotos.com.
What else can you get from Italy
Olive oil-based cosmetics – 3€.
Venetian carnival masks – from 10€.
Murano glassware from 15€.
Copies of the statue of David – from 1 €.
Florentine paper products from 3€.
Mother-of-pearl trinkets from Bologna – € 5-10.
Italian sausages, 1kg – 9-20€.
Lavazza coffee, 250g – 2,5€.
Pesto sauce – 3€.
Martini and Cinzano vermouths, 1 liter bottle – from 7€.
Italian soccer team paraphernalia from 2€.
Souvenirs of car manufacturers – from 1 €.
Religious souvenirs – 1-5€.
Lava crafts – 2-10€.
What you can't take out of Italy
There are no bans on quantity of the goods you can take out of the country. It is only prohibited to take out of Italy works of art, archaeological valuables, and items older than 100 years. If such things are in your luggage you will need a permit issued by the Ministry of Fine Arts.
There are restrictions on importing goods from Italy to Russia. You may import up to 3L of alcohol and up to 5kg of animal products such as cheese and deli meats tax-free. For more volume and weight you'll have to pay extra charge.
Souvenirs from Italy – what to bring as a gift?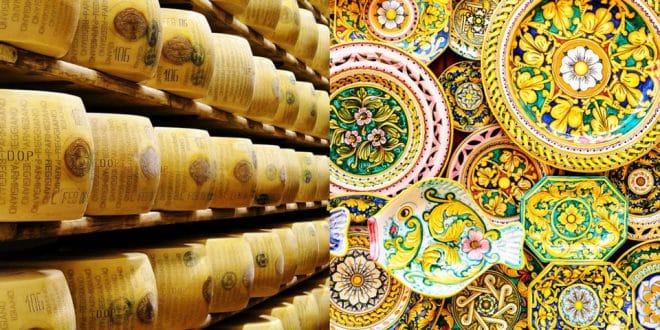 What can be brought as a gift from Italy, besides the banal magnets and plates? Italy for me is, of course, the most delicious and high-quality products in the world, which are excellent souvenirs.
I present you my personal rating of original gifts.
Be sure to look at labels and quality categories when choosing products. Here is a detailed article about IGT, IGP, and DOC standards.
A 250 gram slice of Parmigiano Reggiano, weighing about 7 euros, is a sign of attention and a great proven gift that most of my friends are delighted with. I love this cheese myself and enjoy filling my suitcase with it when I travel.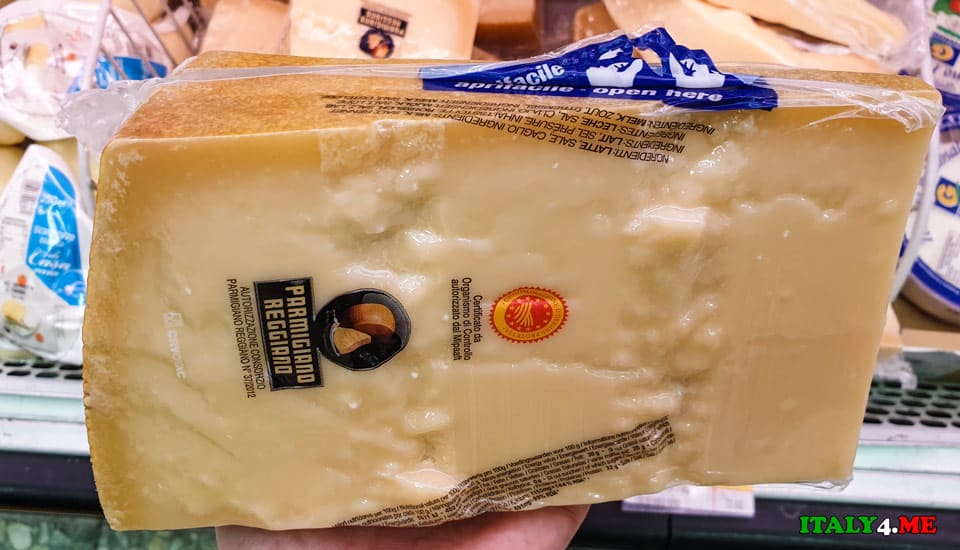 Parmesan comes in different flavors and prices depend on the ageing – most often found in grocery stores from 12 to 36 months, but sometimes you can find 48 or even 60 months. If your friends have never been to Italy, they'll be happy with a basic 12-month Parmesan, too. My favorite is the 24-month-old.
In any Italian grocery store, you'll find over 20 cheeses to choose from, and in large supermarkets, you'll find as many as 100 kinds of cheese! To get your bearings in all the variety of Italian cheeses, check out our special guide.
In Turin, Milan, Genoa, Rome, Bologna and Florence there are huge Eataly supermarkets specializing only in Italian delicacies.
Alcohol
I rarely bring wine from Italy to my friends as it takes lots of space in a suitcase, and we drink quite a lot and 1-2 bottles is no use at all. Plus, because of the flight a good wine can spoil.
But still, if there is a special occasion or a good friend with whom "just give me an excuse", then I take a bottle of good vintage grappa. I would advise to buy it in specialized stores (enoteka). A bottle of good-quality grappa costs from 25 euros, on average about 40 euros, but there are more expensive versions.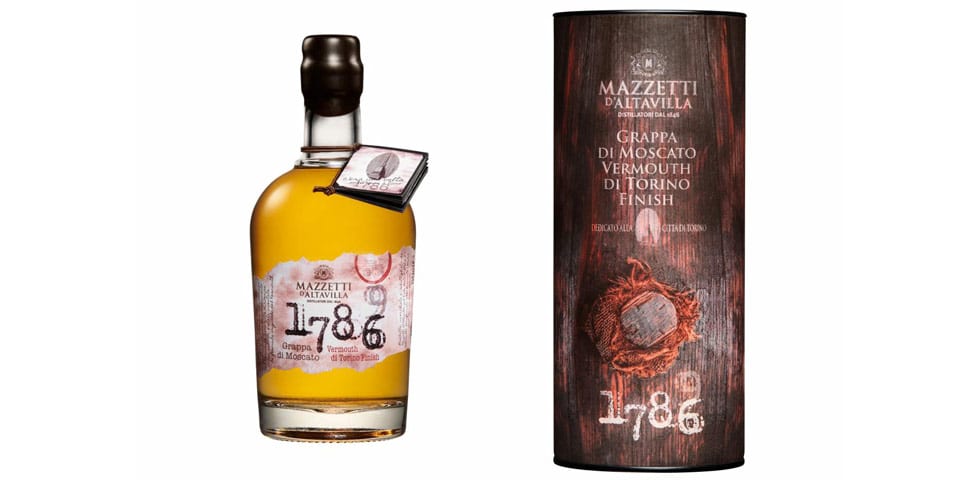 In Rome – Enoteca Trastevere | Bernabei dal 1933, address is Via di S. Francesco a Ripa, 48, 00153. Website: www.bernabei.it
In Milan: Grappa Store Milano, Via Marghera, 14, 20149. Website: www.mazzetti.it
If you buy grappa in a supermarket, never buy it cheaper than 10 euro, be careful of your health.
Pesto sauce
Pesto is one of my favorite pasta sauces and many friends love it too.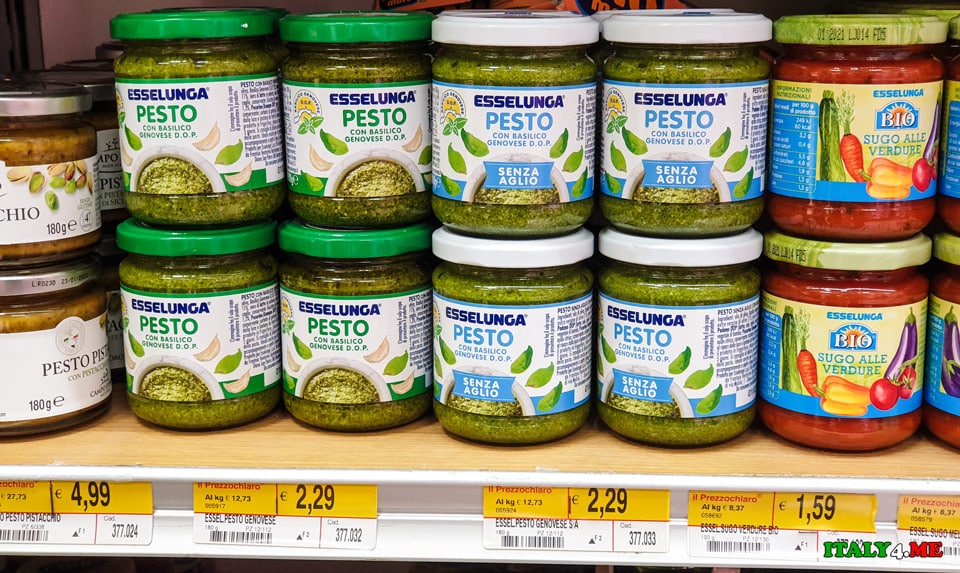 A jar of 160-180 grams costs 2-3 euros. I take as much as I can take away.
Prosciutto and sausages.
What can be tastier than a real Parma ham (Prosciutto di Parma), which you can buy in any supermarket?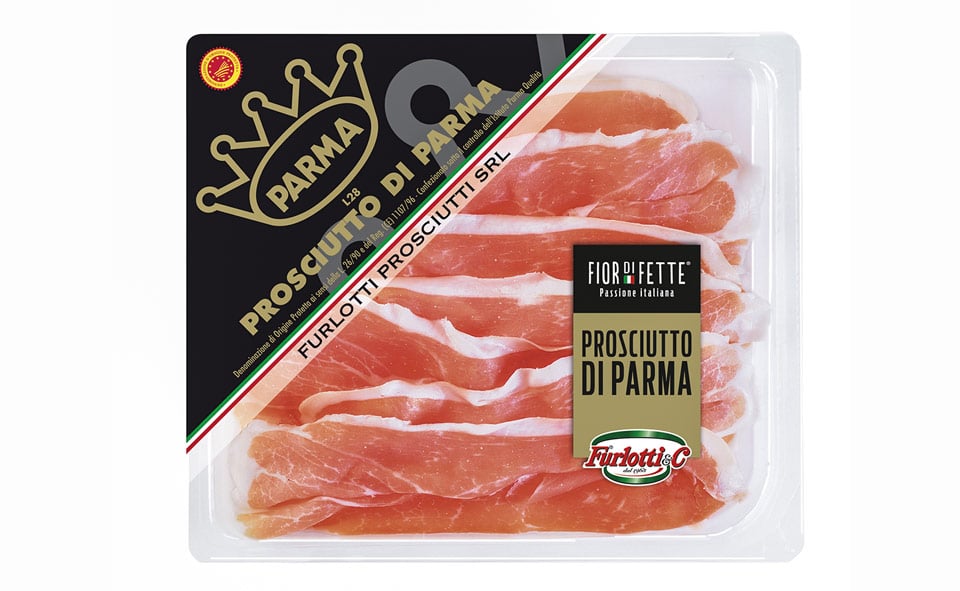 It costs from 20 to 35 euros per kg. I advise to buy it in the meat department, to be sliced in front of you. Just tell the butcher: "Vorrei trecento grammi di prosciutto. Può metterlo sotto vuoto per favore?" (300 grams of prosciutto in a vacuum please).
I usually buy 3-4 packages of 250-300 grams.
When you come to Rome for the first time, I advise you to take a practical Italian language lesson with Leonardo. In 2 hours you will learn how to pronounce the most important words correctly, you will walk through local supermarkets, bars and restaurants, you will feel much more confident in Italy and you will get invaluable advice from a native Roman.
Balsamic Vinegar.
For foodies, a bottle of balsamic vinegar would be a great gift. Just don't buy the cheapest one for 3 euros.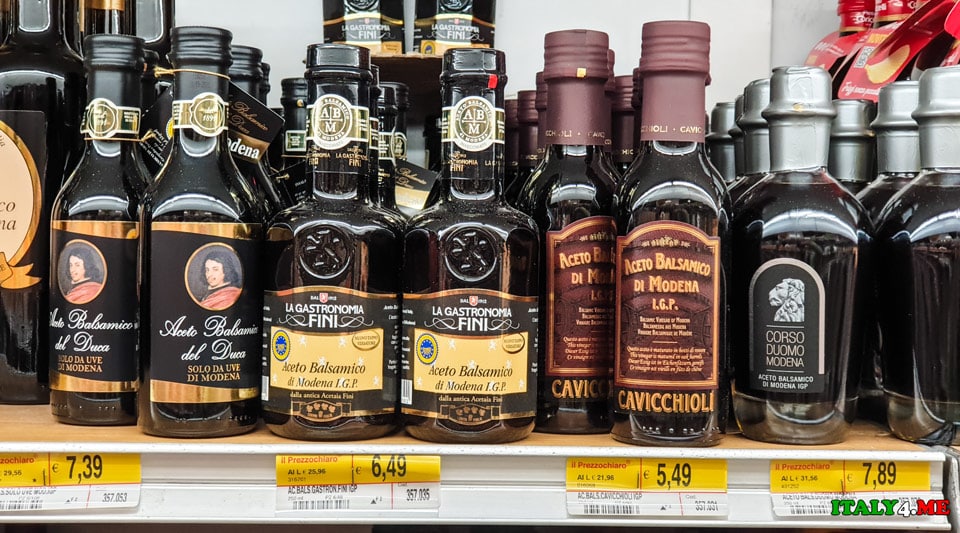 A bottle of 500ml of genuine Modena balsamic of IGP quality from Emilia-Romagna should cost about 7 euros.
Olive oil
I seldom bring friends olive oil because of the weight, but still sometimes I dare to do such a feat.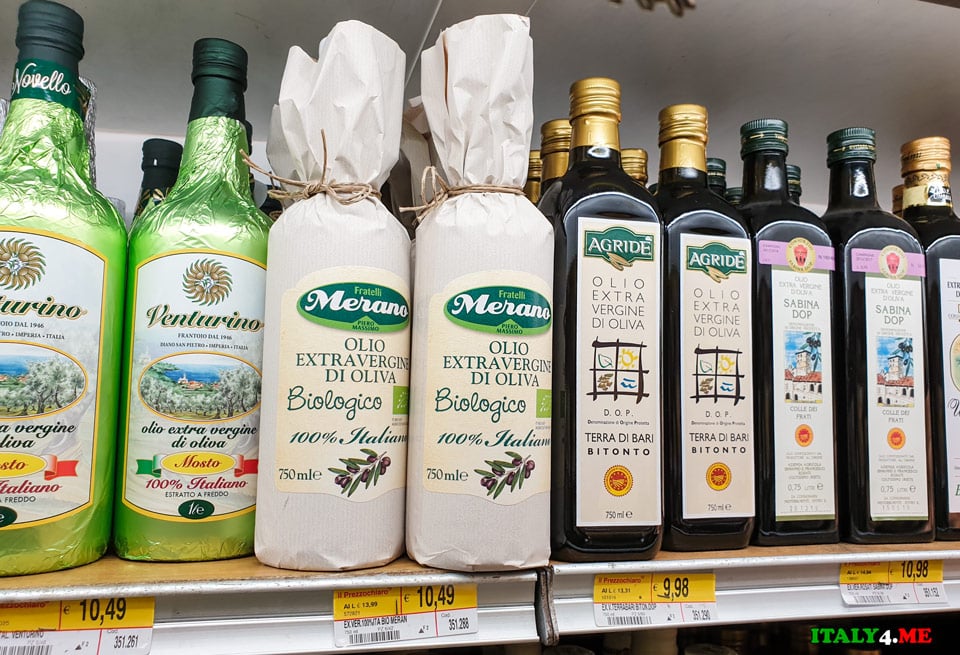 The cost of a liter of quality olive oil in the supermarket starts at 10 euros per liter. Do not buy any oil cheaper, because below this price good and useful product does not happen.
What, other than food?
If I did not live in Italy permanently, perhaps my view on souvenirs was different. Trying to look at the issue through the eyes of a first time tourist in Italy and combining my experience and that of the readers is the following list of interesting souvenirs:
To send a postcard to yourself, family and friends. In our digital age such a sign of attention delivered by traditional mail is a very original gift. On my author tour of the Vatican at dawn, we make sure to send postcards from the dome of St. Peter's Cathedral. The postcard is stamped with the Vatican Post Office.
Buy a magnet with the landmark. Surprisingly, but the fact is that so many people still collect them and cover their fridges. Magnetic, as a gift, is more likely to suit your parents or grandmothers – my mother certainly will not refuse them.
Antiques and small trinket souvenirs. Sometimes at Italian flea markets you can buy quite original things for little money. Books, records, magazines, women's jewelry. In Rome, I advise to visit the Sunday flea market Porta Portese. In Milan, the antique market comes on the last Sunday of the month in the area of Navigli.
Every region of Italy has its own special traditional souvenirs. For example, from Sicily I would recommend bringing traditional pottery, almond cookies, marzipans, dried tomatoes, capers; from Venice – Murano glass and masks.
To a teenager
If a teenager is into history, a great gift would be a book called Rome Restored. Sold in newsstands and specialized souvenir stores at museums, it costs 14 euros.

The book shows the main sights of ancient Rome – the Colosseum, the Forums, the Pantheon, the Angel's Castle in the format of 2000 years ago and today. A picture of the landmark is superimposed over a picture restored by archaeologists – very interesting to compare. The images are accompanied by informative annotations.
I and my fellow guides use the same book on sightseeing tours for visualization. Many of our clients then buy it for their children.
If a teenage child is indifferent to history, bring him a souvenir from the Ferrari Store. There are brand stores in Bologna, Turin, Milan, Venice, Naples and Rome.
Usually they are located in the city center, for example, in Rome there is such a store next to the Pantheon in Piazza della Minerva. Take a Ferrari T-shirt for €45, a jacket from €110, a cap €35, a watch €60.
What do you usually bring from Italy? Share your ideas and experiences in the comments.