Top souvenirs from the Czech Republic, or what to bring home
Gastronomic souvenirs from Prague (beer, Becherovka, cheese, sausages, Slivovica, Platelka, Fernet Stok and chocolate) is easier and cheaper to buy in the hypermarkets Tesco, Billa, Albert.
If you want to buy lots of souvenirs, go to Havel Market: you'll find magnets and beer mugs, marionettes and Karlovy Vary tokens, miniature Orloj clocks and ceramic Prague houses. But not only things made in the Czech Republic are sold here. You can also find goods from China. The quality is of the same quality.
In the tourist information center on Panská Street (Panská, 6) you can buy cosmetics and jewelry with pomegranate or Vltavín, crystal and bijouterie Preciosa, moles and Koh-i-Noor pencils: all in one place, the consultants speak Russian, but a bit more expensive than in brand stores. In the Palladium Shopping Center. , "Kotva" , "Quadrio" , "New Smihov" and others can also buy all the souvenirs and gifts at once – there are many different departments, from toys to clothing and shoes.
On this map markers are marked shopping centers and market where you can buy various souvenirs in Prague.
The map is loading. Please wait.
And one more important thing! If you're going on a tour of castles and cities of the Czech Republic, then do not hurry to buy souvenirs in Prague. In the capital is usually more expensive. In Karlovy Vary take Becherovka, waffles, porcelain "drinkers" with spouts for mineral water, cosmetics Vřídlo, Ryor, Aquila and others with mineral salts and thermal water (it's cheaper). In Český Krumlov and Turnov buy jewelry with pomegranates and Vltavín.
Drinks from the Czech Republic
Beer and beer accessories
Beer is the leader among Czech souvenirs. There is a huge variety of brands of Czech beer. Velkopopovický Kozel, Staropramen, Krušovice, Pilsner Urquell – these beer brands can also be found in Russia, but brewed in the Czech Republic differs in taste from the one made in our country. You can easily buy this beer in a supermarket (see Shops in Prague, their types and location map), for example in Alberta (Albert). It usually costs 25-30 crowns (on specials – from 10 crowns, and if you look, even from 4 crowns). Bernard, Budweiser Budvar, Ferdinand, Gambrinus, Svijany – these beers are found in larger hypermarkets like Tesco, or in breweries, beer museums, beer shops or bars. Try different brands and varieties, choose what you like, and then buy for souvenirs.
Beer paraphernalia – glasses and volumetric mugs, bottle openers and coasters – can be bought in beer houses and breweries: some of them have souvenir shops, such as in the bar U Medvidku (the souvenir shop is on the 2nd floor). But in general, these beer souvenirs can be found everywhere, for example, at the oldest market in Havel. But the beer passport is a souvenir for yourself and you should take it at the beginning of the trip. In it you can collect stamps of beer houses you've visited, and note which beer you've tasted. You can buy a beer passport in the brewery of the Strahov Monastery (there is definitely one), in souvenir shops and information centers.
Beer mugs at Havel Market.
Becherovka is a Czech strong liqueur (20-40 degrees) infused with herbs. It is produced in Karlovy Vary in the mineral water, and popularly called the "13th source" of the spa.
There are 4 types of Becherovka.
Original (classic, 38 degrees). The recipe of the original Becherovka is more than 210 years.
KV 14 (red aperitif, 40 degrees). It includes red wine, and the amount of sugar is much less.
Cordial (cordial, 35 degrees). Becherovka with white wine and lime flower.
Lemond (lemon, 20 degrees). Liqueur with the juice and zest of citrus fruits.
Buy Becherovka in Prague is best in supermarkets: Tesco, Albert and Billa. If you are going to Karlovy Vary, for example with a tour (see Tours of castles and cities of the Czech Republic), then postpone this purchase until your trip. There's a specialty store next to the Becherovka Museum (address: T.G.Masaryka 57). Here you can buy not only all 4 kinds of liquor, but also gift sets of mini-bottles with different flavors, as well as special stacks for Becherovka. By the way, the museum has a bar, where it is useful to have a tasting first to understand which of the four types of liquor you like best.
Becherovka in Prague.
Czech wine is unknown in Russia. You can try it only in the Czech Republic, because the wine is produced in small quantities here and it is not exported.
Choosing between red and white, choose white. There are more white varieties of grapes in Bohemia, and high-quality white wine is easier to buy. Among the reds there are simple "sweet compotes" to accompany meat for dinner.
Among the white wines, try:
Veltlínské Zelené
Palava
Sauvignon
Moravsky Muskat
Ryzlink vlašský
Ryzlink rynsky
Rulandské šedé
Rulandské bílé
Among the reds you can try the following wines. But don't expect anything special from them.
To buy Czech wine in Prague is cheaper in conventional hypermarkets (Tesco, Billa, Albert), but the choice is often small. If you can not find what you want in the stores, go to the wine shops: there you can first taste the wine in the bar, and then buy a souvenir.
The map is loading. Please wait.
Vinárna Bokovka. Address: Dlouha 37 (Stare Mesto).
Flavours. Address: Zahrebska, 29 (near Wenceslas Square).
Vinograf. Address: Mishenska 68/8 (Malá Strana District).
VinVin. Address: Taboritska 23 (Žižkov district).
Absinthe is a strong alcoholic drink (55-85%), mostly green, but also colorless or brown. The most important component of absinthe is the herbs anise, fennel and bitter wormwood (the latter's essential oils contain large quantities of thujone). Because of it absinthe is considered a hallucinogenic drink: however, it is not scientifically proved.
To buy quality absinthe , you need to be able to distinguish it from liqueurs and tinctures, which are often sold under the guise of this drink in the Czech Republic. The simplest, but not the iron rule: if the label on the bottle says "absinthe" (with the letter "e" at the end), then this is the right absinthe and you can buy it, but if it says "absinth" (without the letter "e"), then this is a fake and do not take it.
Good Czech absinthe in the Czech Republic is produced under the brands St. Antoine, La Grenouille, L'Ancienne, Absinthe Toulouse-Lautrec, Oliva Absinthe.
You can buy real absinthe in Prague at Absinthe Bar & Shop (Jilska 7, Stare Mesto) and Green Devil's Absinth Bar & Shop (Tyn 637/7, behind Týn Church, Stare Mesto).
Herbal liqueurs and alcoholic tinctures are often sold under the guise of absinthe in the Czech Republic.
Slivovice is a plum brandy with an alcoholic strength of 42 to 72%. The best version of the drink with strength of 52% (this is well matured plum brandy, and it is not diluted with water). It can be clear or have a yellowish tint, which appears during many years of aging in oak barrels.
The most popular brands are R. Jelínek, Žufánek and Božkov.
In addition to plum, from the juice of fruits and berries in the Czech Republic make also Hruškovice (from pears), Jablkovice (from apples), Meruňkovice (from apricots), Kdoule (from quinces) and other drinks.
You can buy Plumovitsa in stores and supermarkets. In addition, there are discounts, and you can buy alcoholic souvenirs at a lower price.
Fernet Stock is another herbal liqueur with an alcoholic strength of 40 degrees. A truly Czech souvenir because it is the most popular strong alcohol in the country. In sales it surpasses even the famous Becherovka. Its composition includes 14 herbs from around the world, which are soaked in alcohol for 2-3 months, and then it matures in oak barrels for more than six months.
In addition to traditional Fernet , Czechs also produce Fernet Stock Citrus. This is a less strong version of the liquor (30 degrees) with the addition of lemon.
The best place to buy Fernet in Prague is in large supermarkets, such as Tesco.
Mugs with the popular Czech Krotik.
Mineral water from Karlovy Vary
The most famous mineral water from Karlovy Vary is called Mattoni. It can be carbonated and still, with the addition of fruit juice (Mattoni Schorle) and with an increased dose of fructose and glucose (Mattoni Active). You can recognize Mattoni on the store shelves by the bright symbol of the brand – a red eagle spreading its wings. And the plant in Karlovy Vary produces magnesium mineral water Magnesia and mineral water Aquila, which is valued for the fact that it is much faster removes harmful toxins from the body (because it has significantly less sodium).
Buy Karlovy Vary mineral water in Prague you can in various large hypermarkets and pharmacies. You can buy it in Karlovy Vary, especially if you are going there on a tour (see Tours of castles and cities of the Czech Republic ). As a gift I would advise to add a beautiful burette – a flat porcelain mug with a spout. The fact is that the acids and minerals in it destroy tooth enamel, giving it a yellow tint. But if you drink water from a spout, it minimizes contact with your teeth.
Cheese is one of the best gastronomic souvenirs from the Czech Republic. There are many different varieties of it.
The only original Czech cheese is olomoucké cheeses or tvarůžky. This is a soft cheese with a pungent unpleasant smell: it resembles the smell of sweat and worn socks, but disappears after frying. The traditional form of tvarůžky is rings with holes. By the way, fans of this cheese are advised not to eat it right out of the fridge: it needs to rest for an hour or two in heat, so that it becomes as tender as possible.
Other moldy Czech cheeses are also interesting. Hermelín is similar to the French Camembert. Its most common types are: King of Cheeses (Král Sýrů) and Sedlčanský (Sedlčanský). In the Czech Republic hermelin is fried and pickled. There are also Niva, Brie, Plesnivec, Geramont with one type of mold and Vltavín with two types of mold (green inside and white outside). It is true that the smell of moldy cheeses is very specific and can scare away. But if you still decide to try them, they can be a good snack for white wine and beer.
Souvenirs in the Jewish Quarter.
You can buy cheese in the Czech Republic in any supermarket.
How to transport: soft cheeses wrap in an extra layer of foil or pack in an airtight container with a latch (it is better to take it in advance from home). Soft cheeses in the baggage, because in the heat in the hand luggage cheese can melt and go bad, and not too pleasant smell will attract attention.
Specialty meats, Czech sausages, and fish
Meat delicacies in the Czech Republic are many, and all of them are delicious. It is best to carry them in a vacuum pack. Pay special attention to Lovencký salám (Hunting sausage) and Pražská hams (Pražská šunka) – these products for their exceptional quality are included in the European list of Czech delicacies.
You can also buy smoked pork knuckle – a variant of veep's knee in a vacuum. And hot-smoked mackerel – this fish is also very appetizing. However, it seems that in Czech Republic you can buy any kind of sausages, frankfurters and wieners – everything will please meat gourmets.
It is best to buy meat "souvenirs" in Prague in large hypermarkets. There is a bigger choice and the prices can be lower. Only take into account that you can bring no more than 5 kg of cheese and meat products to Russia.
Oplatky (Oplatky) – thin round wafers with a seal, different diameters and with different fillings. Let me tell you right away: the taste is not everyone's favorite, so first take one packet for a test and only then, if you like it, buy it as a souvenir. In Czech Republic zlatkas are produced in two spas – in Lázeňské oplatky (Mariánské Lázně) and Karlovarské oplatky (Karlovarské Vary). The latter are the most famous and popular.
They are packaged in beautiful boxes of 5 to 10 wafers, each in a separate plastic or foil bag. The cheapest place to buy them is in Karlovy Vary. In Prague or duty-free would be more expensive. But if you do buy them in the capital, look for them in supermarkets, not in souvenir shops.
A souvenir store.
Czech sweets and chocolate
There are plenty of sweets and desserts in the Czech Republic. But it is better to try trdelník, strudel and poppy seed cake on the spot and take various chocolate bars and waffles as a souvenir from Prague. They are inexpensive and will delight children and all lovers of sweets. I, for example, brought home a whole bag of Czech goodies for my daughters.
Chocolate bars and chocolate bars are made in the Czech Republic by the Orion factory. Try the little Lentilky candy bars, the "twins" of the familiar M&M's, which have been produced here for over 100 years. Or one of the oldest Czech chocolate bars, Kofila, which is also almost 100 years old. Or the large chocolate bar Studentska Pecet – those who like Alpen Gold will love it. For those who like Bounty, get Koko, and for Milky Way lovers get Deli.
Tasty Czech wafers are Fidorka and Tatranky. They are produced by the company Opavia. Fidorka are chocolate-coated round wafers, and Tatranky are long rectangular wafers. They are also glazed and come in nut, chocolate or peanut fillings.
You can buy a variety of sweets in any hypermarket: Tesco, Albert, Billa or Lidl.
If you do not care whether the chocolate is Czech or any other, I recommend a visit to the Prague Chocolate Museum (address: Celetná, 15). It is a branch of Belgian museum for sweet-tooth people and has a store with Belgian chocolate. But the prices are touristy!
Candies and sweets are sold in Prague and in beautiful gift boxes.
Natural and hop cosmetics
Cosmetics from the Czech Republic is a high-quality and inexpensive souvenir. It is natural and useful. The two main advantages of Czech cosmetics are as follows.
Own cosmetic components. Czech Republic has its own hops and beer, its own mineral water and salts, its own grapes (which means its own grape oils and seeds), medicinal herbs and even its own hemp.
Lack of advertising. This cosmetics is practically not advertised, so it is cheaper compared to the untwisted Western European brands.
Popular brands: Manufaktura, RYOR, Dermacol, Vřídlo, Aquila, FAON, Beer Spa and others.
You can buy cosmetics in Prague in brand stores of famous brands: For example, Manufaktura is located at Celetná, 12; Mostecká, 17; For example, Manufaktura at Celetná 12; Mostecká, 17; Karlova 26; RIOR at Národní třída 25; Dermakol at Palladium, Palladium, 2nd floor (Náměstí republiky 1, Praha 1), Quadrio (Spálená 2121/22, Praha 1); Chodov, Chodov, ground floor (Roztylská 2321/19, Praha 4).
Also you can buy Czech cosmetics in usual supermarkets (for example in Tesco) and in the tourist information center at Panská 6, Praha 1 (it will be a little bit more expensive, but the choice is sufficient and there are Russian-speaking employees).
What to bring from Prague (Czech Republic) – prices of gifts and souvenirs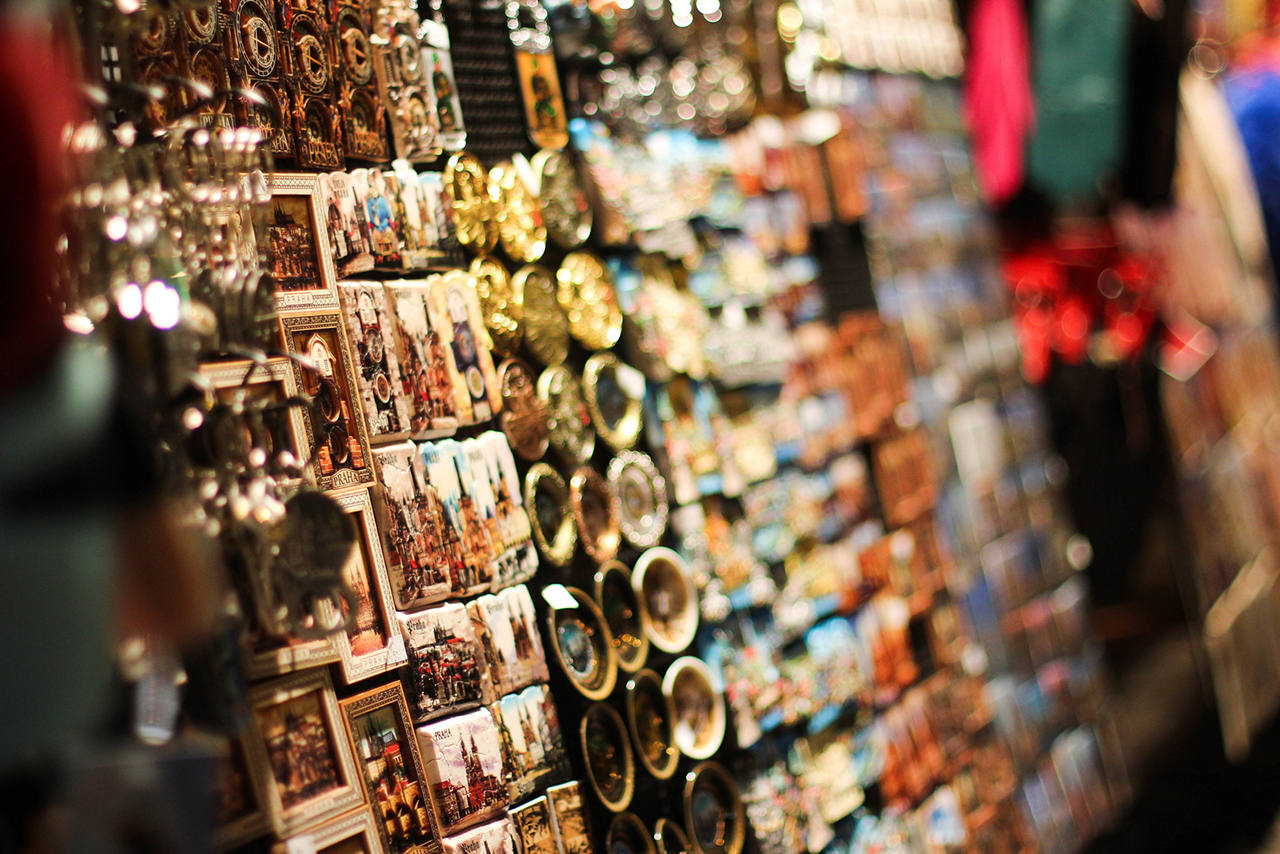 Do you want to leave a nice memory of your trip to the Czech Republic? We tell you what to bring from Prague. Prices for souvenirs and gifts. Tips and reviews of tourists, what is better to choose and where to buy profitably.
Search for interesting excursions in Prague on Sputnik8 and Tripster sites. Individual and group, without crowds of tourists and in Russian.
Exchange rate: 1 CZK ≈ 3 RUB.
Content:
Bohemian Glass and Czech Crystal
The Czech brand of crystal and glass products. If you haven't decided what to bring from Prague, look no further than Bohemia Crystal stores. You'll discover a wonderful world of elegance and perfection. You can find artistic crystal articles and refined utilitarian objects like ashtrays, wine glasses, shot glasses, vases, plates, napkin holders and trays.
Price . Glass and crystal souvenirs are expensive. A small item costs from 100 CZK, a set of crystal tableware for 6 people from 1000 CZK.
Tip . You can buy beautiful Czech crystal in stores with the Moser sign .
Crystal in Bohemia Crystal store (Photo: smannyrock / flickr.com) Bohemia Crystal store in Malá Strana district, Prague (Photo: wikimedia.org / Tiia Monto)
Czech Beer
What to bring back from the Czech Republic as a gift for an alcohol lover? The most popular product in Prague is beer. Czechs have been brewing beer since the Middle Ages and have excelled at it. They have carried their passion for beer through the ages.
Live beer is sold in restaurants and pubs. A 0.5 liter mug costs 25-50 CZK. Such beer is very high quality and tasty, but it is not suitable for transportation. Tourists buy factory beer. Czechs don't like to add impurities to the drink, so it's rare to see beer flavored with cherries, bananas and other berries and fruits on sale.
What kind of beer to bring back from the Czech Republic? Connoisseurs praise "Staropramen" Gambrinus and Radegast. Popular light beer "Pilsner Urquell" and dark beer "Velkopopovický Kozel". The latter is made especially for ladies and leaves a nice coffee-chocolate aftertaste.
Price . Beer in 0.33 l cans costs 10-35 CZK. A 0.5 l glass bottle is 15-30 CZK. Light beer is a little cheaper than dark beer.
Tip . It is easier to take canned beer on the road. It weighs less and won't break on the way.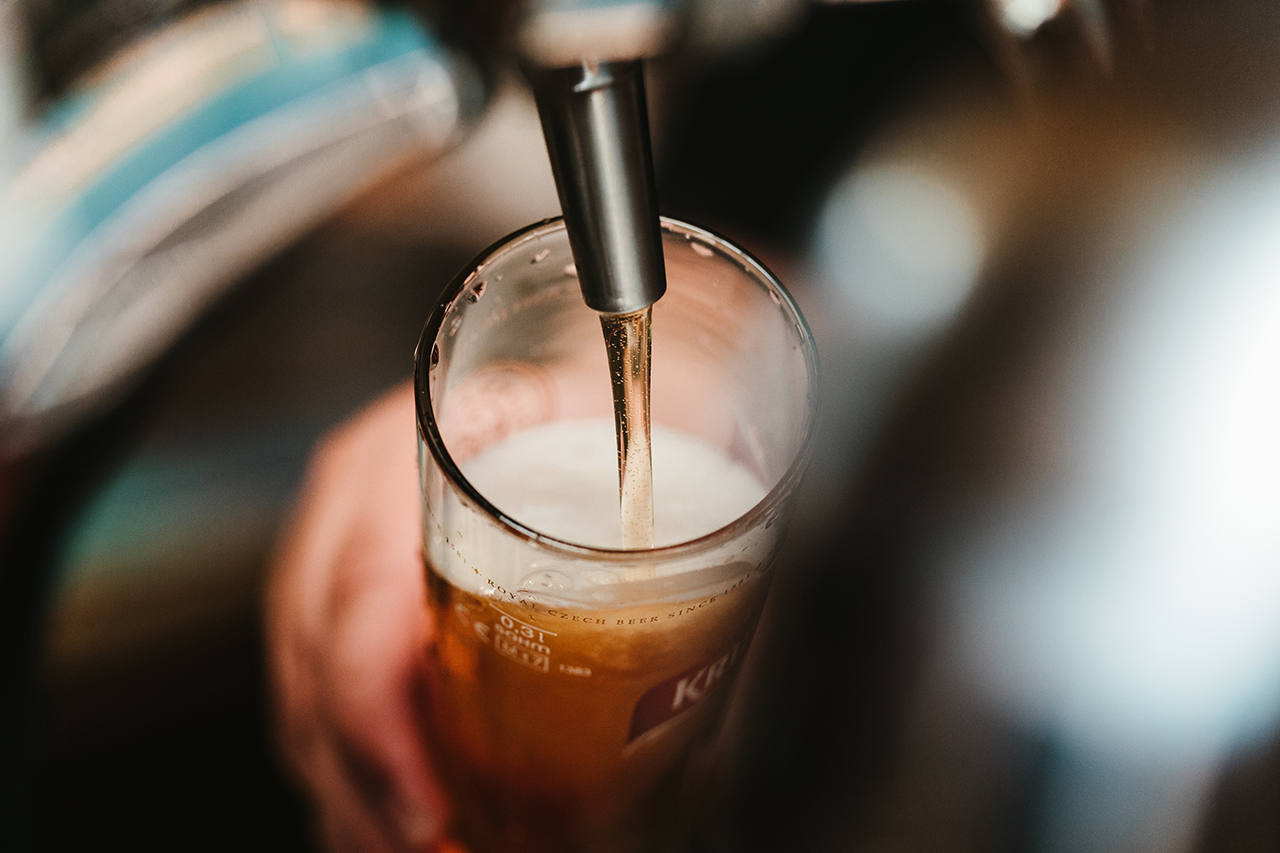 Try the Czech varieties of Krušovice: Desítka, Krušovická 12°, Mušketýr and Malvaz, which are not available in Russia. (Photo: unsplash.com / @benceboros)
Beer cosmetics
Prague has a great selection of beer cosmetics. It is popular with both Czechs and tourists. The most popular brands are Manufaktura, Botanicus and Aquila. There are skin care products for face, body and hair, which are specially produced in the form of souvenir beer bottles.
What to bring from the Czech Republic as a gift for a woman? Take shampoo, face mask, gel, hair balm, salt or bubble bath that are made with beer. The original beauty products can be tried in special beer SPA. Here you will literally bathe in beer and then moisturize your skin with beer ointments.
Price . A bottle, tube or jar costs from 35 to 200 CZK. Higher-priced beer cosmetics are made according to special recipes and are produced in small batches.
Tip . Good products are sold at Veer Shop chain stores. If you find yourself in Karlovy Vary, check out FAON .
Becherovka Liqueur
The original gift that you can bring from the Czech Republic to a lover of unusual alcohol is a tasty liqueur "Becherovka". The liquor has a strength of 38%. It is infused with medicinal herbs and is considered an excellent remedy for improving digestion. "Becherovka is made in Karlovy Vary and sold throughout the country. It is drunk in its pure form or added to tea or coffee.
There is a Becherovka museum in the homeland of the liquor. Tourists are told that the drink was invented in 1807 by the pharmacist Josef Becher. For the new liquor apothecary used the tincture of his English friend, doctor Christian Frobrig. Through various experiments Becher succeeded in giving the liquor a pleasant herbal taste.
At first, the drink was sold as stomach drops, or bitters. It was called Carlsbad English Bitter in honor of the inventor of the drops, Froebrigg. In the early 19th century, Becher's son Jan turned the drink into a popular liquor. Today the "Becherovka" is sold in 35 countries around the world.
Price . A bottle costs 135-140 CZK.
Tip . There are four types of Becherovka on sale. In addition to the original liqueur, they sell a lemon liqueur with a strength of 20%, the Cordial variety with lime blossom and white wine with a strength of 35% and a bitter liqueur KV 14 with a strength of 40%.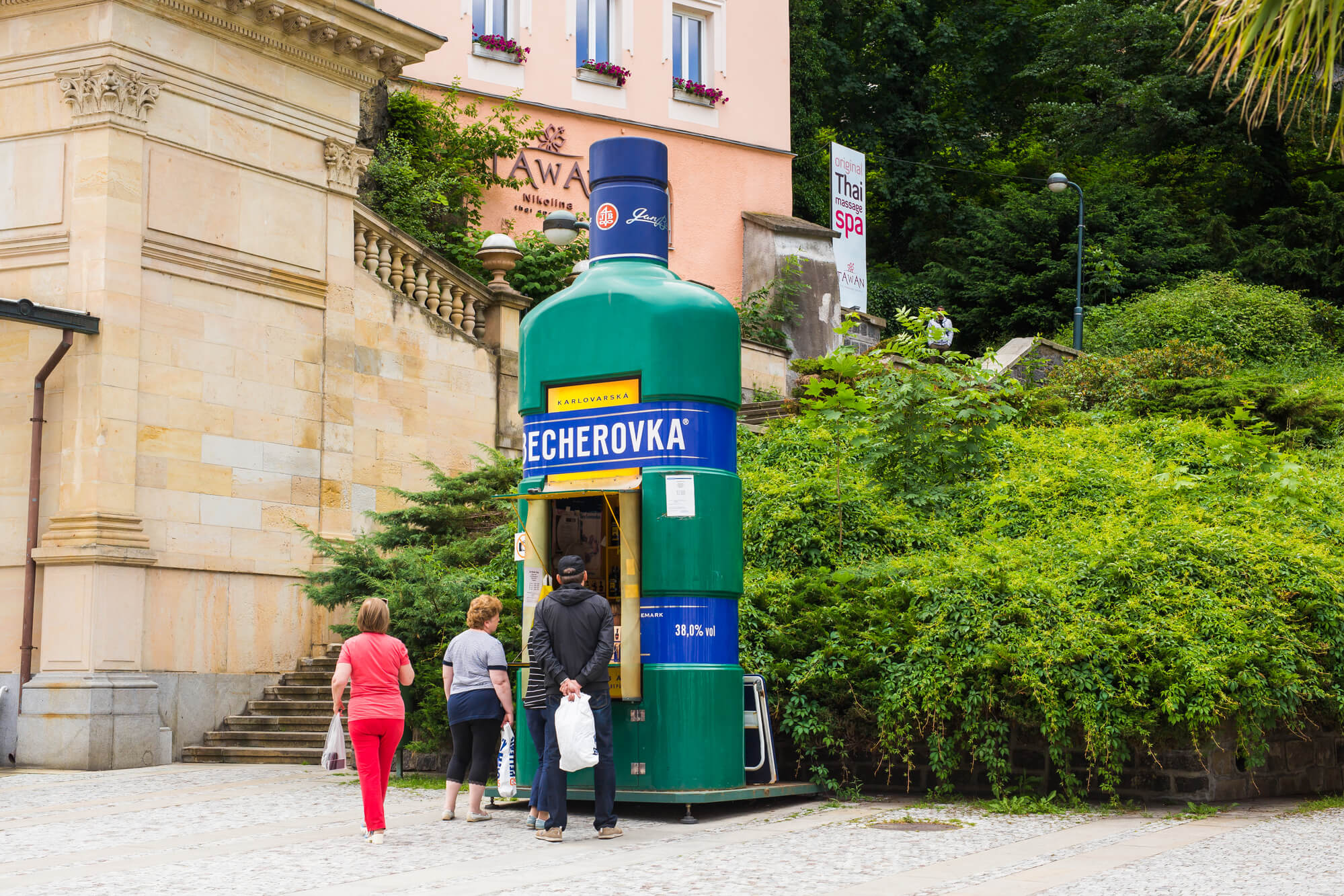 A booth selling Becherovka in Karlovy Vary. Photo: frantic00 / Depositphotos.com.
Other Czech spirits
Even if you're completely indifferent to alcohol, spirits from the Czech Republic might appeal to your friends. What to bring home from Prague?
Check out the tasty Fernet Stock liqueur. It's infused with chamomile, saffron and cardamom, tastes less bitter than Becherovka, and is very easy to drink.
A great solution is to buy Plumovica . Czech fruit brandy is made from ripe plums. It has an amazing taste and aroma.
A good gift to take back from Prague is absinthes made in the Czech Republic. Green liquor is infused with wormwood, red – with pomegranate fruit and black – with wormwood and black acacia. All have a strength of 70 percent and higher. Good Czech absinthes are La Grenouille, St. Antoine, L'Ancienne, Cami Toulouse Lautrec.
Connoisseurs of good wines will be pleased if you're smart enough to bring a bottle of Moravian wine from Prague. Not sure what to choose? Stop by any of Prague's wineries and try one!
Price . A bottle of ordinary Moravian wine costs from 35 CZK. Ordinary plum wine is 150-400 CZK, gift-wrapped plum wine aged 5-6 years is 700-1000 CZK.
Tip . Buy absinthe at Absinthe House in Prague. , Green Devil's Absinthe Bar & Shop and Absinthe time . These are bar stores that offer a large selection of original absinthes and any of them can be tasted.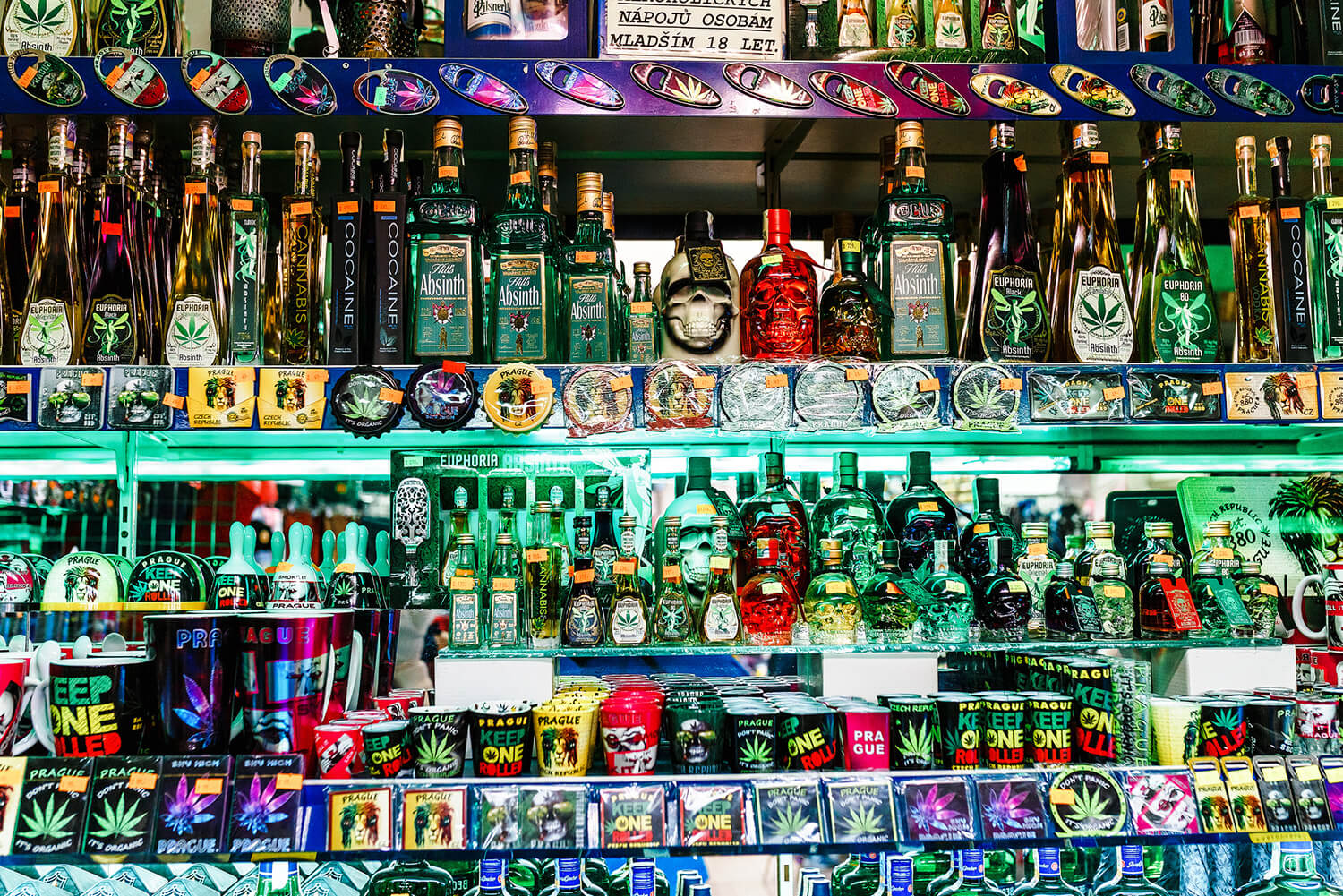 Shelves of absinthe in the gift store. Photo: frantic00 / Depositphotos.com.
Hermelin Cheese.
Czechs love cheeses. They are used to snack on wine and beer. Cheeses are baked and used in traditional Czech dishes. If you haven't decided what to bring back from Prague, check out hermelin. This white cheese with a mold is very similar to Camembert.
Hermelin is sold in packages that show the royal mantle with a portrait of a smiling king. The fact is that the word "hermelin" translates as "ermine". In the past, the cheese was considered royal, and only rich Czechs could afford it. Today, the tasty delicacy is sold in all grocery stores in the country.
Price . A package of cheese weighing 80-150 grams costs 20-25 CZK.
Tip . If you want to bring different cheeses from Prague, buy Vltavin , Gerarnont , Plesnivec and Niva . Large selection of cheeses in the supermarkets Tesco and Albert .
What to see in Prague: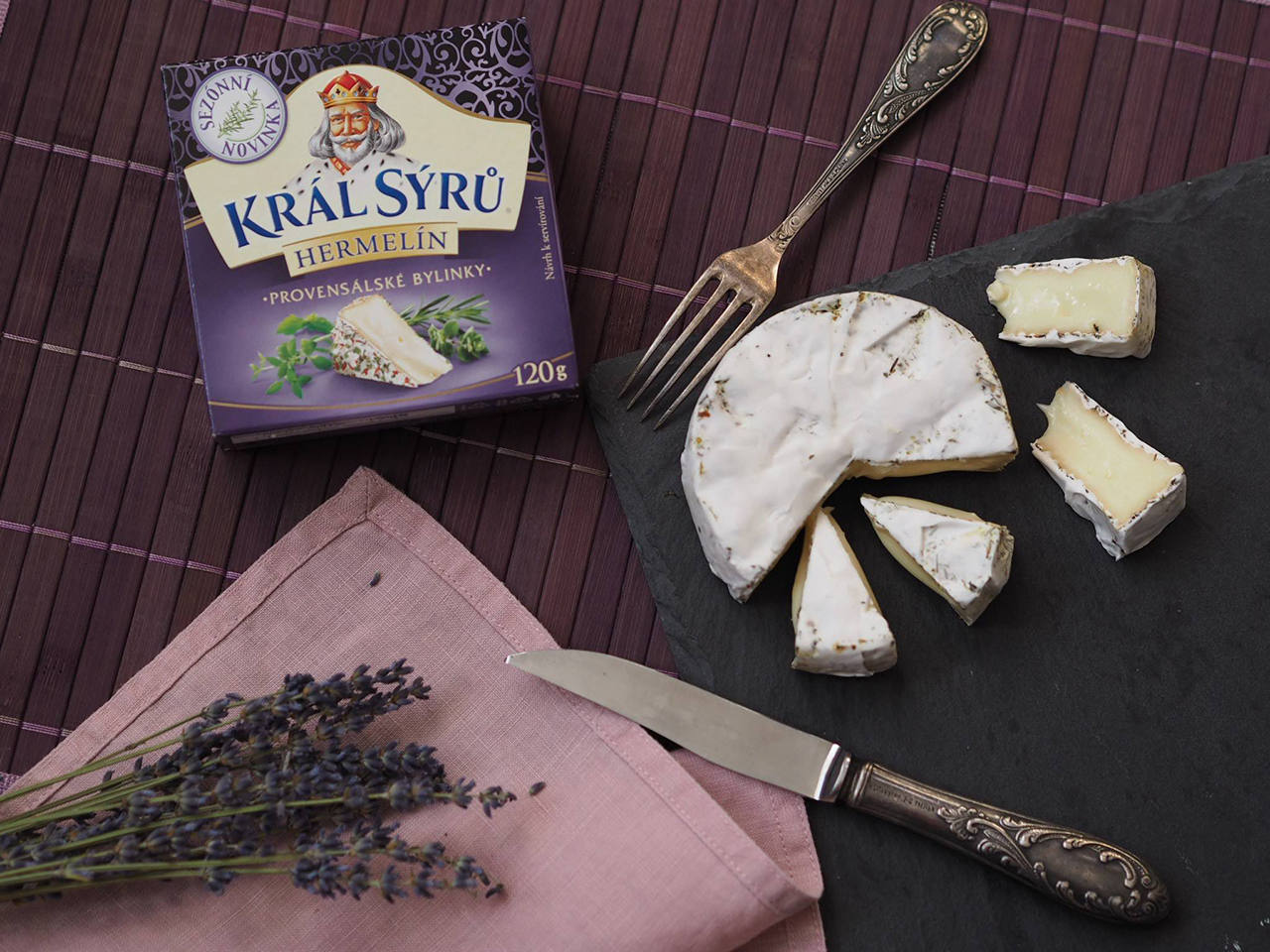 Hermelin with Provencal herbs (Photo: facebook.com/Kralsyru)
Czech waffles
What to bring back from the Czech Republic as a gift for sweet lovers? As a nice souvenir for a sweet tooth, tourists bring tasty and light wafers. In Czech they are called zaplatki. Popular "Karlovy Vary wafers" began to be made back in the 18th century. Today the thin round waffles have different fillings. They are filled with white and milk chocolate, lemon, nuts, almonds, nougat and coconut.
Price . Depending on the size and filling, waffles cost 20 to 40 CZK.
Tip . At chain supermarkets, the prices of wafers are slightly lower.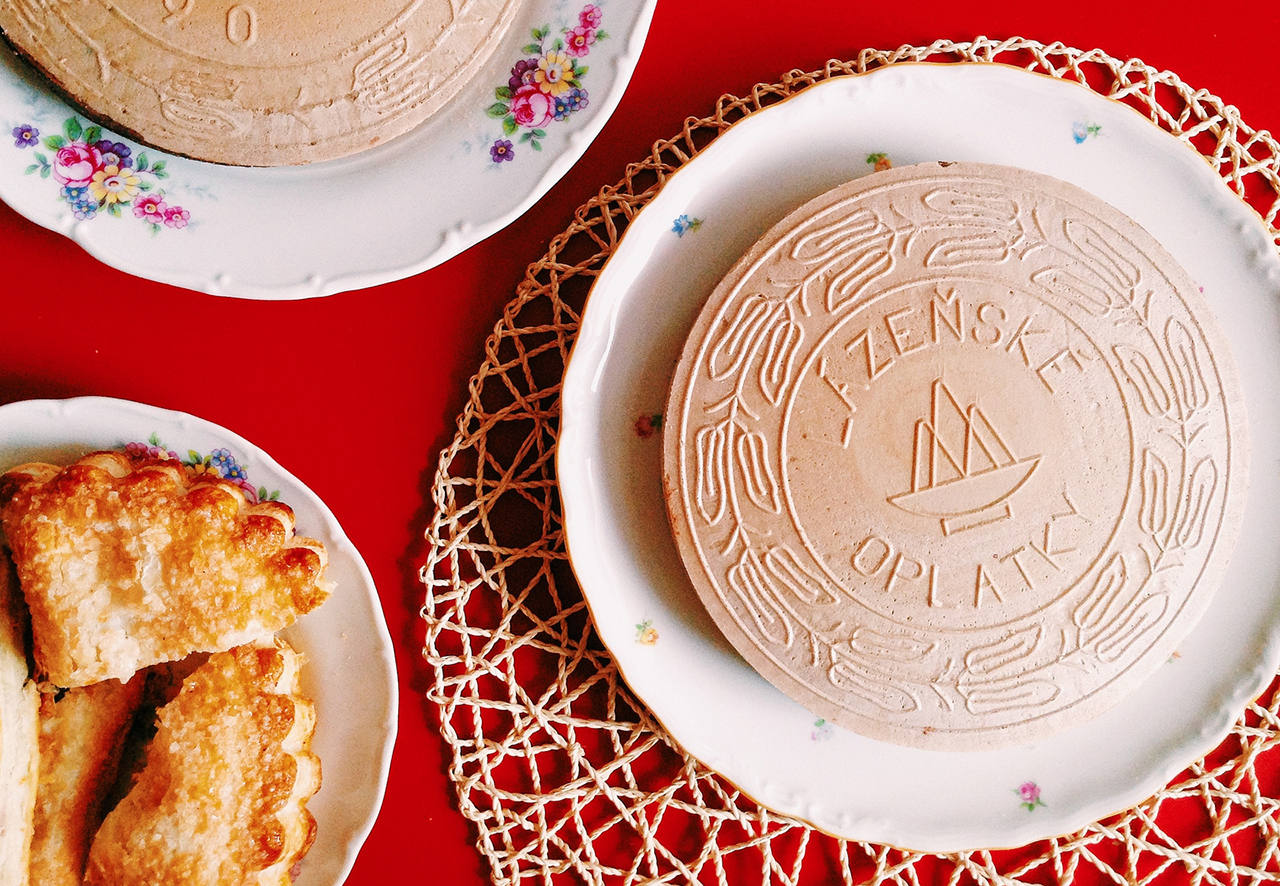 Karlovy Vary prodlatki (Photo: i eat ѕtars / flickr.com)
What else can you take from Prague?
Czech pomegranate jewelry – from 250 to 3,000 CZK.
Czech wood and plaster puppets – 250-600 CZK.
Koh-i-Noor pencils – 20-40 CZK for a plain pencil, and 200-300 CZK for a set of 10 pencils.
Wooden toys from Detoa – from 300-700 CZK.
Statuettes, toys and cartoon characters, the Czech mole Mole – from 20 CZK.
Tablecloths and napkins from 100 CZK.
Czech ceramics from 50 CZK.
Prague porcelain houses – 50-60 CZK.
Mattoni and Kyselka mineral water – 15 CZK.
What to bring back from Prague: souvenirs and gifts
What can't be taken out of the Czech Republic
It is forbidden to take out of the Czech Republic historical and cultural values. If you want to bring from Prague crystal and Czech glass, get a certificate from the seller. Such prudence will save you from possible problems with customs.
It is forbidden to export ammunition and any kind of weapons from the Czech Republic. Alcoholic beverages are allowed to take out in any quantity, but only 3 liters of strong alcohol will be allowed to take into Russia duty free.