Except smelt: what souvenirs to bring from Petersburg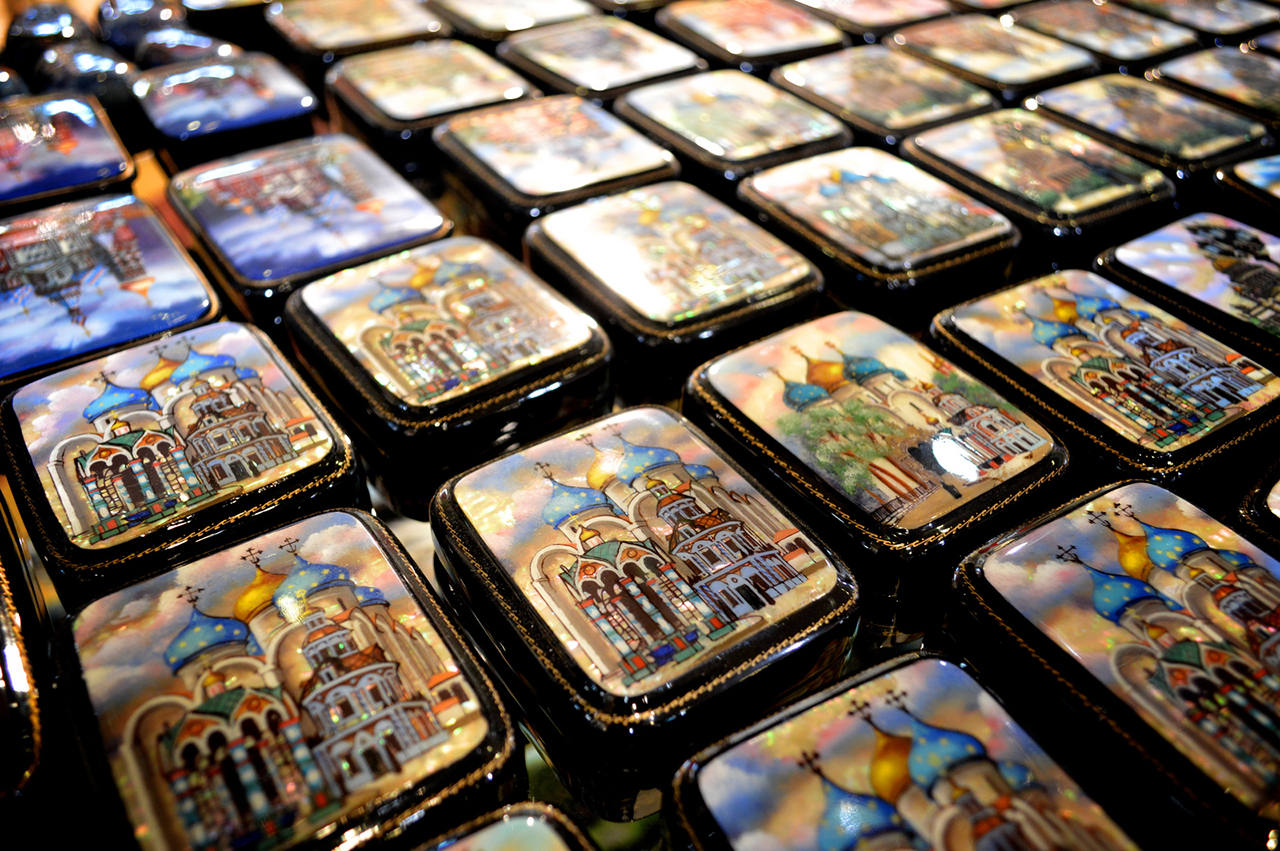 Here is what to bring back from Petersburg: from smelt and candies to paintings and watches. What kind of souvenirs and gifts do tourists choose? Prices and tips, where it is more profitable to shop.
Contents:
St. Petersburg cosmetics
What to bring from St. Petersburg as a gift for women? The city produces a lot of useful and quality beauty products – creams, masks, scrubs, soaps, bath salts, shampoos and foams. All that, without which it is difficult to imagine life of modern man.
Tourists like the creams with calendula, cloudberry and carrot, as well as cosmetics with original names. How about "Balm for Kisses", "Sugar Scrub for Sweet Dreams" or "Cream for Urgent Rejuvenation"? Most St. Petersburg manufacturers produce organic cosmetics made from herbs, flowers and beneficial bee products.
Price . The cheapest products cost 30-40 rubles, the original soap in the form of a translucent ball – 190 rubles.
Tip . In St. Petersburg, there are many cosmetic stores, so you do not have to look for the right product for a long time. Pay attention to high-quality cosmetics from Laboratorium, Element, Mood and the workshop "11 am".
Store perfume and cosmetics at Pulkovo airport. Photo: teamtime / Depositphotos.com.
Rocket Clock
Very "Pitersky" watches are produced at the Peterhof watch factory. They have been made since the time of Yuri Gagarin, which is why they were called "Rocket". The factory produces watches of classic and modern design for men and women.
Price . The cheapest watches cost 7300 rubles, running models – from 45,000 rubles.
Tip . Go shopping in the store on the first floor of the department store Au Pont Rouge ("At the Red Bridge"). It is located at 73 Moika Embankment.
A review of "Rocket" watch
Paintings
No, not the ones for sale at the Summer Garden and Nevsky. But at the Erarta Museum of Contemporary Art. This is not only an original and beautiful souvenir to bring back from St. Petersburg, but also an investment – what if in a few years the author of your painting becomes a fashionable artist?
Price . Original paintings cost from 8000 rubles. Reproductions – from 3000 rubles.
Advice . Order a painting or reproduction at the private museum of contemporary art "Erarta". It is located on Vasilevsky Island and is open any day except Tuesday from 10:00 to 22:00.
Souvenirs of naval subjects
What can you take back from St. Petersburg for a sea lover? The city's history is closely associated with the development of the national navy. Tourists mostly bring pennants, flags, badges and vest. Many buy officers' caps, tankards, souvenir ship's market bells and exquisitely made ships in glass bottles.
Price . A summer tunic costs 400 rubles, and a winter one from 750 rubles.
Tip . A good selection of naval souvenirs in the store vest on Shkapina Street, 9-11. He works seven days a week from 10:00 to 21:00.
St. Petersburg smelt
What tasty souvenirs can you bring from St. Petersburg? Local fishermen and lovers of fish cuisine greatly appreciate smelt. It is sold near the subway, in supermarkets, markets and cafes. There are so many fans of St. Petersburg smelt that restaurants and stores are named after it. Freshly caught silverfish smells like cucumber, and dried and smoked is great with beer.
Price . 1 kg of freshly frozen smelt costs 200-700 rubles. For long-term transportation dried smelt is suitable. Packages weighing 100 grams are sold for 85-100 rubles.
Tip . A convenient solution – order smelt with delivery in St. Petersburg in the online store. Sellers can be easily found online by hashtag # smelt.
Fried smelt. Photo: Shebeko / Depositphotos.com.
Peter's chocolate and candy
Not sure what souvenirs to bring from St. Petersburg as a gift for a sweet tooth? Buy delicious chocolates! St. Petersburg stores have bars, the wrappers of which are drawn on the sights of the city. These are Admiralteysky, Summer Garden, St. Petersburg, and Vernisage chocolates.
Many people like the "St. Petersburg Nights" chocolates. Well-selling "Evening Petersburg", "Leningrad", "Bronze Horseman", "Nevsky Prospect", "Kazansky Cathedral", "Petersburg Nights", "Portrait of Goncharova", "Portrait of Pushkin", "Russian Museum" and "North Aurora" gift sets of chocolates.
Price . Ordinary tiles cost 60-80 rubles, and tiles with views of St. Petersburg cost 150-200 rubles.
Tip . To bring high-quality chocolate from St. Petersburg, go to the brand stores of the Krupskaya confectionery factory. They work in different parts of the city, for example, on Sadovaya Street, 9, Vosstaniya Street, 15, and Zagorodny Avenue, 64. There is a large assortment and the lowest prices.
In the store "Eliseevsky" sells handmade marzipan candies. Photo: SvetlanaSF / Depositphotos.com.
Marzipans
What can you bring from St. Petersburg for children? A great choice is delicious marzipans. Once upon a time, the delicate sweetness was very expensive and enchanted kings and empresses. Today, various places in St. Petersburg sell exquisite marzipan figurines, bars, hearts and candies.
Price . A marzipan heart costs 75 rubles, a figurine – 110-150 rubles, and gift sets – from 300 rubles.
Tip . There are many stores where marzipan is sold. Look in the shopping malls "Bolshoi Gostiny Dvor", "June", "Continent" and "Mercury". We recommend going to "Shop of the merchants Eliseyev" near the metro station "Gostiny Dvor" and to the brand store "Marzipan dvor" on Lensoveta Street, 97A.
Marzipan candies in the form of fruit. Photo: lunamarina / Depositphotos.com.
What else can you bring from St. Petersburg
Peter's cakes association "North" – 50-70 rubles.
Cognac "Bronze Horseman" and "Grad Petrov", 0, 5 l – 880-1120 rubles.
Catherine's Necklace" ladies' sparkling wine, 0.75 l – 380 rubles.
Souvenir "Air of St. Petersburg," the most common air, sealed in jars in 2003 – 300 rubles.
Commemorative coins minted by the Mint – from 30 to 500 rubles and up.
Peter's porcelain – from 1200 rubles.
Zenit sports club paraphernalia 100-700 rubles.
Tips for tourists
Do not hurry to buy in souvenir stores of the city. The same products, but at lower prices can easily be found in supermarkets and general stores in St. Petersburg.
Want to save money? Many shopping centers hold promotions every day. Sales at reduced prices begin closer to the evening and last until the end of the day.
If you like chocolate, go for sweet figurines and candy in the Chocolate Museum at 18 Zhukovsky Street or 17 Nevsky Prospect. A chocolate car costs 300 rubles, a box – 190 rubles, an angel with a heart – 340 rubles, a poodle Artemon – 300 rubles.
Are you deciding what book souvenirs to bring from St. Petersburg? You'd better buy books, postcards and city guides in a chain store "Bookwed". Prices here are 10-15% lower than in the House of Books on Nevsky Prospect, 28.
If you like vintage souvenirs, visit the largest flea market in St. Petersburg – Udelka. Near the Udelnaya metro station they sell cheap vinyl records, icons, old dolls, cigarette cases and author's ceramics.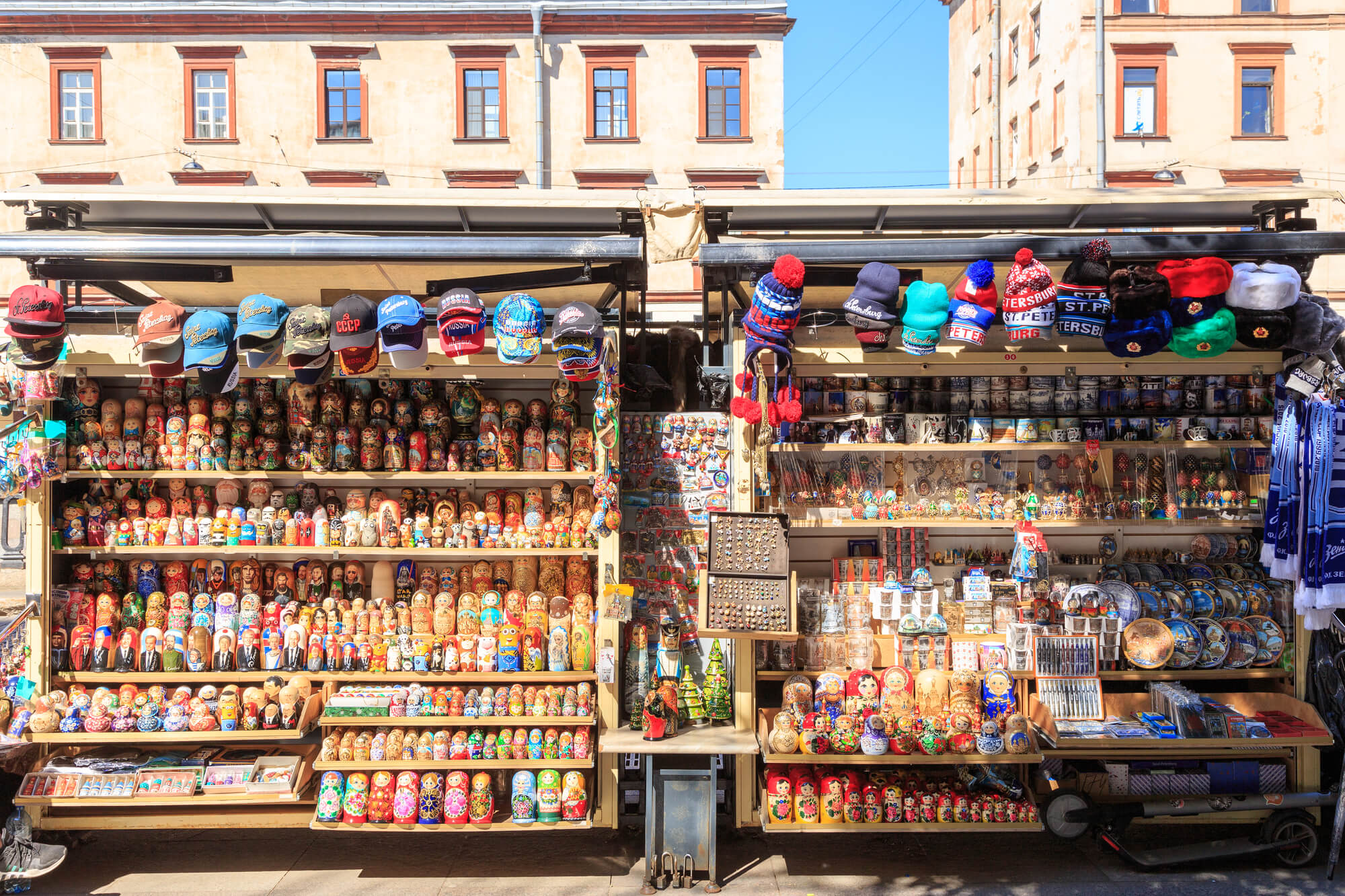 Souvenir trade on the canal embankment Griboyedov. Photo: MaykovNikita / Depositphotos.com.
Shopping in St. Petersburg: classic and modern
Most often tourists take from St. Petersburg magnets or postcards with drawbridges, miniature copies of the Bronze Horseman and all kinds of statuettes made of granite. Recently souvenir figurines "porebrik" and soccer paraphernalia are becoming increasingly popular. However, you should take a step further and turn off from Nevsky Prospect. Immediately you see that in St. Petersburg there is a huge selection of not only traditional, but also original souvenirs for every taste and purse.
What can you bring from St. Petersburg? We have prepared an up-to-date guide to modern shopping in St. Petersburg. There are gifts and souvenirs for everyone!
Clothing and Accessories
Sales in St. Petersburg are held in two stages. In winter they begin after the New Year and last approximately till the end of January. Summer sales usually start closer to mid-July and end in August. In-season sales take place, but they are local.
Shopping malls
For active shopping in Petersburg, it is best to go to the largest and most popular shopping centers. The stores in them are about the same, so it is probably not worth spending time shopping in each of them.
The top 10 largest, most popular and conveniently located shopping centers in St. Petersburg:
Gallery (m. "Ploshchad Vosstaniya")
City Mall (m. "Pionerskaya")
Continent (m. "Zvezdnaya")
Grand Canyon (m. "Prospekt Prosveshchenie")
Peak (m. "Sennaya Ploshchad")
Leto (Pulkovskoe shosse)
Piterland (m. Begovaya)
Nevsky Center (m. "Ploshchad Vosstaniya")
Rio (m. "Buharestskaya")
MEGA (m. "Dybenko" and m. "Parnas")
There is a large water park in the mall Piterland, which is worth visiting for those, who travel with children. The MEGA mall will have to take a bus from the metro to get to it. But you can go shopping in IKEA (in St. Petersburg there are two of them, and both of them are located in MEGA). And the best boutiques, of course, are waiting for you on Nevsky Prospect.
If you want to buy shoes in St. Petersburg, stop by one of the shopping complexes "Platforma" (they are almost near every metro station). There are shoe stores and in shopping malls, but the choice is greater. Well, those who like to save money should go to one of the main outlets of St. Petersburg – shopping mall "Rumba" (near the metro station "Kirovsky plant"). There are a lot of stock stores and always low prices.
Read more about outlet stores in St. Petersburg here.
In case of rain
Jokes about Petersburg's weather are an excuse to buy an original and useful souvenir in St. Petersburg. Umbrellas with views of the city are always more active than others. For girls you can bring from St. Petersburg an accessory with the "cats of St. Petersburg" – bright, beautiful and original. And for men – a classic cane or an umbrella with the emblem of Zenit (unless, of course, he is a fan of the other team). Inexpensive and useful souvenir from St. Petersburg – a raincoat. Not a normal one, of course, but one with a view of St. Isaac's Cathedral or with Zenit's logos.
In St. Petersburg there's a large selection of brightly colored raincoats and rubber boots. Most of them, like umbrellas, are sold in souvenir shops. We would advise you to look for them in shopping malls. And something you can buy in regular supermarkets.
Ornaments
Jewelry on Nevsky Prospect in St. Petersburg is sold for the sake of Chinese tourists, who are brought into the stores by buses. We are talking about accessories made of amber and gold. Men, if you want to bring your wife a gift from St. Petersburg, you'd better go to the jewelry salons – don't buy amber. The good thing is that there are so many of them around the city that you won't have any problems finding them (on Nevsky, again, go by).
For author and original jewelry in the youth style you can look into the stores "Thank You" or small shops in shopping centers.
Badges
Stop by the store Waf-Waf (near metro station "Sadovaya") for interesting wooden badges. Even the famous Alice Freindlich ordered them for her guests for her 80th birthday. The store has a large selection of fun and cute accessories, but the typical St. Petersburg theme is also common – that's why we recommend it.
In the bookstores "Bukvoed" and "Dom Knigi" you can also buy interesting souvenirs – bronze badges from Kaya Studio. With Anna Akhmatova, Sergey Bodrov, Fyodor Dostoevsky and other famous personalities. It is an excellent unusual gift from St. Petersburg!
Souvenirs
Near almost every tourist attraction in St. Petersburg and the suburbs (like Peterhof, Pushkin, Pavlovsk, Kronstadt, etc.) sell souvenirs. No less of them on the embankments (in good weather) and on Nevsky Prospect. Prices in such shops are always inflated.
Many souvenirs (like magnets, postcards, notebooks, t-shirts) can be purchased in conventional super- and hypermarkets. Drop in for shopping at Lenta, Okay or Karusel – you'll find something for sure. And then there's an excellent selection of St. Petersburg goods at the book chain "Bukvoyed".
New Year's Eve
If you're going to St. Petersburg for New Year, be sure to stop by the Christmas market at Pionerskaya Square near the Theatre of Young People (Zvenigorodskaya metro station). There is a large selection of souvenirs not only from all over Russia, but also from Finland, the Baltics and all over the world. A good selection of Christmas goods and in shopping malls (many of them organize fairs in the lobbies).
The most interesting New Year's souvenirs from St. Petersburg – gingerbread in the form of major attractions and Christmas decorations. They cost, by the way, quite inexpensive.
"Zenit
Zenit St. Petersburg fans should definitely visit the club's stores on Nevsky Prospect or at Petrovsky Stadium. Or buy souvenirs in the Gazprom Arena stalls. For the moment they are open only on match days, but soon a museum will be opened at the stadium, so it will be easier to buy them.
Men from St. Petersburg may get original watches with the Zenit emblem as a gift (electronic ones are cheaper, the classic Pobeda ones are more expensive). In addition, the brand stores have a huge selection of clothes, soccer gear, tableware of all kinds, merchandise for fans, stationery and much more. Female fans from St. Petersburg can take as a souvenir a teddy bear wearing a Zenit scarf (from 700 rubles). And a child – a ball (from 400 rubles), cars (from 200 rubles), dolls (from 600 rubles) or puzzles and coloring books (from 100 rubles).
Fans of hockey SKA from St. Petersburg can bring souvenirs with the team attributes. You can buy them at stores on Nevsky Prospect (next to "Admiralteyskaya" metro station), in Galereya shopping mall and Pulkovo airport. The latter option is not too profitable – the prices are about 15-20% higher than in the city.
SKA souvenirs are brought from St. Petersburg as a gift for men, women and children. You can buy uniforms, stuffed toys, original stationery, dishes, sweets – the choice is very large.
They even wanted to name the St. Petersburg airport after Sergei Shnurov. No matter how you feel about him, but Shnur's name is inextricably linked with St. Petersburg, so souvenirs with him are very popular. True fans can look for Shnurovs clothes, with the sale of which in St. Petersburg somehow failed (but in souvenir stores something remains). But to buy T-shirts with the inscription "Leningrad" in St. Petersburg is not a problem.
Also at the Erarta Museum of Contemporary Art you can order a reproduction of Sergei Shnurov's painting "Shirt". This original souvenir will cost you no less than 3 thousand rubles.
Postcards
No, you don't need to buy a set of 10 postcards for 300 rubles on Palace Square or in Peterhof. Forget about the souvenir shops and go to the bookstore "Bookvoed". There is a bookstore near almost every metro station. Buy the original postcards with the inscriptions "Peter: one city – one love", "In any emergency, fly to Peter", "How to move to Peter: come, fall in love, stay" and others. There are also many pictures with illustrations by modern artists, which perfectly convey the atmosphere of the city.
These gifts look more modern, unconventional and will surely please friends and family. Lovers of traditional souvenirs from St. Petersburg is quite possible to bring and ordinary postcards with views of the city. But still better to buy them in a bookstore: the choice is greater, the prices are lower.
Books, notebooks
While walking along Nevsky Prospect, stop by the "House of Books" (or "Singer's House") store. On the top floor, have a coffee, admire the views of the Kazan Cathedral, in front of which the store is located, and then go shopping for souvenirs. Art lovers can bring a guide to the museums and galleries of St. Petersburg – it's a great gift.
For yourself as a useful traditional souvenir buy a map of unusual routes in St. Petersburg and a notebook (funny or with beautiful views of the city). And take a book of Dostoevsky, since you came to St. Petersburg. As a gift to children from St. Petersburg, you can bring puzzles with the main sights of the city. Or so-called children's guides with beautiful bright pictures.
As a gift to both men and women from St. Petersburg we advise to bring a good watch – it's quite a traditional souvenir. We are talking about accessories of the legendary factory "Rocket" (it is located in Peterhof), because today they are relevant again. There are watches of the old model, and there are very modern with an interesting design. The prices start from 100 euros. The official store of "Rocket" is called Au Pont Rouge and is located at 73, Moika River Embankment.
Porcelain
The goods of the Imperial Porcelain Factory (aka Leningrad Porcelain Factory) are just what you can buy in St. Petersburg, and almost none in other cities. As a souvenir you can take home a small statuette, or as a gift for your mother or girlfriend – a cup of the finest work. And collectors will love the sets.
Buy porcelain in St. Petersburg is best of all in brand stores of the plant. On Nevsky Prospect, there are three of them at once, and another one is in the SEC "Sennaya" (near the namesake metro station).
Paints
If you have creative people in your life, bring them an unusual, useful gift from St. Petersburg – professional paints. The most popular are "White Nights", "Master Class" and Decola. You can find them in professional and even regular bookstores. The best choice is in the "Artist's Lab" on Nevsky.
Coins
Another non-standard souvenir from St. Petersburg – coins minted by the Mint. It is located in Petropavlovka. Nearby there is a souvenir store, which will delight every numismatist. Collectors can buy albums and immediately put their trophies in them, and ordinary tourists – just beautiful commemorative coins.
Cosmetics
Women from St. Petersburg can bring a cream from the brand "Nevskaya Cosmetics", reviews of which are always positive. We understand that a gift for 30-40 rubles (which is how much it costs in St. Petersburg supermarkets) will not look too solid, so it is better to buy such products for yourself. The best reviews of creams with calendula, ginseng, cloudberry and carrot.
Men, do not take such a gift to your wife from St. Petersburg – better go to "L'Etoile" or "Rive Gauche" and buy perfume.
Air
We understand how this sounds, but… If you want to buy something in St. Petersburg that you certainly don't have in other cities, take a can of "Air of St. Petersburg." They were released in 2003 for the 300th anniversary of the city. In general the souvenir is useless, and costs 300 rubles. But it looks very unusual. So if magnets with the Copper Horseman and the swing bridges bored you – take air.
Food and drinks
For groceries in St. Petersburg go to Lenta, Okay, Karusel, Magnit, Pyaterochka, Perekrestok, and 7Ya chain stores. If you want to bring home from St. Petersburg Finnish products, look into the hypermarkets Prisma. Remember that many stores have discount cards, and without them promotions do not always work.
Chocolate
Many tourists ask: what delicious things you can bring from St. Petersburg, so that it was "Petersburg"? The answer: buy chocolate!
Walking through the souvenir shops, you will not once see beautiful chocolates with views of St. Petersburg on the packaging. They may cost 200 rubles or more, but as a rule they taste no better than cheap confectionery bars. It would be much more reasonable to go to the supermarket and buy any product from the Krupskaya factory.
A bar of "Osobogo" costs on average 60-80 rubles – it's the chocolate that St. Petersburgers eat themselves and take as gifts to friends from other cities and countries. The same brand also has sweets called "St. Petersburg Nights" and "Leningradskie". And there are also delicious chocolate bars with views of St. Petersburg on the packaging.
By the way, this is a great idea for an original and delicious gift from St. Petersburg, which you can bring for friends in Belarus or, for example, Moscow. That, but such a selection of St. Petersburg chocolate is definitely not there.
Chocolate figures
There's a popular store of tasty souvenirs in St. Petersburg, the Chocolate Museum (near the Gostiny Dvor metro station and a little further along Nevsky Street – closer to Admiralteyskaya). There's a huge selection of beautiful figurines, including some with recognizable symbols of St. Petersburg. The prices at the "Chocolate Museum" are quite democratic and start at 100 rubles for a little figurine.
Frankly speaking, these gastronomic souvenirs don't taste too good. However, a rare recipient dares to eat such beauty – especially if it repeats the best sights of St. Petersburg.
Marzipan
Many tourists praise "Shop of the merchants Eliseyev" (m. "Gostiny Dvor"): it is so beautiful that it looks like a museum shop. It's not going to be able to buy cheap souvenirs here – it's significantly more expensive than other places in town. However, a marzipan figurine will be affordable even for a budget tourist – the prices start from about 150 rubles.
The Grondard brand offers equally delicious and beautiful marzipan. Buy sets in the form of fruit or funny figurines. And if you go to Tallinn, bring a classic marzipan bar from St. Petersburg – let the locals compare tastes. The fact is that Estonia is famous for the production of this sweet. There are Grondard brand stores in several malls of St. Petersburg (department store "Bolshoi Gostiny Dvor", shopping mall "June", shopping mall "Mercury" and others). Well, you can also find some in supermarkets.
Cakes
Of the products in St. Petersburg there is something else tasty, which is worth bringing as a gift to your sweet tooth acquaintances. However, this is only possible if you can't travel far. We are talking about pastries. In St. Petersburg there are two main producers of sweets – "Nevskie Berega" and "Sever". Take the ones with a talking name: "Leningradsky", "Petrogradsky", "On the Banks of the Neva" and others.
Buy these products in St. Petersburg can be found in brand stores of factories (you can also drink coffee there) or in regular supermarkets.
Smelt
We know that you can bring this product from St. Petersburg only in the neighboring city and only on personal transport (and even that's not a fact), but still can not keep silent. After all smelt is, perhaps, the main thing to buy from food in St. Petersburg.
In April the city is saturated with its flavor: fish is sold in cafes, in stores and even on trays near the subway. Be sure to buy some to try. If you can't take it home, you can at least eat it on the spot. The more so because you can't buy this gastronomic souvenir anywhere else but in St. Petersburg – smelt is not available in other cities.
By the way, smelt goes well with traditional dark or wheat "Vasileostrovskoe". If you want, you can take home a bottle of draught beer. Look for it in hypermarkets (price per liter – 120-140 rubles). Well if you like fresh smelt, buy dried as well. Not as fragrant, but still St. Petersburg-style.
Alcohol
As a gift for connoisseurs of strong alcohol from St. Petersburg bring cognac factory "Dagvino". The most popular and budget option is a bottle of "The Bronze Horseman". A little more expensive is "Grad Petrov", and there are also elite varieties. For cognac it is better to go to a supermarket or specialized store – in souvenir shops the prices are overpriced by 2-3 times.
Another traditional alcohol from St. Petersburg is the production of the factory "Sparkling Wines". Among them are the famous "Lev Golitsyn", "Catherine's Necklace" (it is an excellent gift from St. Petersburg for women) and, of course, "St. Petersburg. For men you can bring the cognac "Amber Coast" or "Bestuzhev" – reviews of this traditional St. Petersburg alcohol are excellent.
And one more thing. For connoisseurs of luxury shopping we advise to take a walk through the best boutiques and stores of St. Petersburg in the company of an experienced guide. He will advise where to go shopping. Together you will visit "Stockmann", the largest Chanel boutique and the oldest department store in the city. You can read more about shopping tours in St. Petersburg here.
If you want a "real St. Petersburg" shopping, go for a walk in the secret showrooms of St. Petersburg, accompanied by a guide. Expensive or budget, modern or classic, popular or unique – the expert will tell about all the non-standard stores of the Northern capital.
We hope that you will find our tips for shopping in St. Petersburg useful. We wish you a pleasant and profitable shopping experience! Do you have anything to add? Write in comments!