Where to eat cheap in Kazan – review with prices, tips and recommendations
(!) Be sure to read the rules for visiting Kazan during coronavirus before you travel.
When planning my trip to Kazan I did not know how much I should budget for food. And despite the fact that we rented an apartment with a kitchen that we could cook in, the question still arose: where to eat in Kazan, and inexpensive and tasty. Very much we wanted to try the local Tatar cuisine, and to rest from cooking. In this article I am sharing places I ate with Mishuta myself, my impressions of the food and the prices.
ARTICLE CONTENT
Where to eat in Kazan city center – Top 5
The largest concentration of a variety of establishments for all tastes and wallets is on Bauman Street. It is close to both the Kremlin and Tukaya Square and neighboring streets. In general, it is easy to reach almost any part of the historical district of Kazan to Bauman street where you can eat not only fast food.
1. Good Dining Kazan
Perhaps one of the most famous budget establishments in Kazan. Many people already know about it, but, oddly enough, we stumbled on the Good Dining Room by chance and never regretted it. Moreover, later we went here with my son quite often. This canteen is pleasant not only for its prices but also for a wide choice of tasty home-made dishes, including Tatar ones.
Address of Dobroi Stolovaya: 21 Bauman str. 2nd floor
Working hours of the Dobroi Stolovaya in Kazan are from 7:30 to 21:00 on weekdays and from 9:00 to 21:00 on weekends. It should be noted that by the opening people are already gathering in line, but for breakfast there is a discount.
Good canteen menu and prices:
Salads: from 9 rubles per 100g serving // The cheapest for 9 rubles. – cabbage salad, the most expensive seaweed salad with chicken is 30 rubles, Olivier – 18 rubles, herring under a fur coat – 23 rubles.
Soups: 13 to 45 rubles per 250g serving.
Garnishes: from 9RUR to 22RUR per a serving of 200g // For 9RUR we'll serve spaghetti, for 22RUR – green beans. – Green beans, side dish with rice costs 12 rubles.
Second course: from 17 to 50 rubles // You can take chicken cutlet for 17 rubles and baked chicken breast with tomatoes for 39 rubles.
Pastry: from 5 to 35 RUR // the most expensive are Tatar dishes Eelsh with chicken and Empochmak which cost 30-35 RUR.
Sauces: from 1 to 8 rubles // ketchup and mayonnaise are 3 rubles each, you can take garlic and cheese sauces for 8 rubles.
Drinks: from 7 to 15 rubles // a glass of juice costs 15 rubles, and you can have a cup of tea for 7 rubles.
Of course, it's not the whole range of offered dishes, the more so that variation varies daily, but at least the price spread is understandable, I think. Incredibly cheap, though the quality of the food does not suffer at all. Amazing but true!
Because of sanctions Booking.com, Agoda and other foreign sites are gone
Now you have to use only Russian hotel databases to book accommodation. We use service Hotelukwhich searches for rooms in all available hotels around the world, and also helps to find the best price by comparing the costs in different reservations systems. The benefit sometimes reaches 1-2 thousand rubles per day. Try it yourself and compare!
2. House of Tea
One of the most traditional places in the city, where you can inexpensively taste delicious Tatar dishes. There are a lot of positive reviews about the House of Tea on the web, so I could not pass by this place. There is some comfort inside, it does not look like a canteen, but I was not particularly impressed with the food, I expected more according to the reviews. However, everything is fresh and the prices are also very affordable.
Address of the cafe House of Tea: Bauman Street, 64.
Mode of operation of the House of Tea in Kazan on Monday-Saturday from 9.00 to 20.00, on Sunday – from 9.00 to 18.00.
Tea House menu and prices:
Salads: from 40 rubles to 120 rubles per 100-120g serving // The cheapest one is crab stick salad, the most expensive is Caesar salad.
Soups: from 70 RUR to 120 RUR per serving 200-250 g // The cheapest soup is borscht, the most expensive is olesh (national Tatar soup).
Garnishes: from 20 RUR to 60 RUR per 150g serving // For 20 RUR you'll order pasta as a side dish, for 56 RUR you'll order french fries for 2. – French fries and mashed potatoes will cost 38 rubles.
Second dishes: from 90 to 150 rubles // Beef meatballs cost 89 rubles, and the most expensive will be pot roast beef – for 146 rubles; only salmon steak for 333 rubles changes the price.
Pastry: from 20RUR to 50RUR // chak-chak is 23RUR, gubadia is 50RUR, I wrote about these and other Tatar desserts in my article What to eat in Kazan.
Sauces: 10-15 rubles.
Drinks: from 30 to 70 rubles 3.
3. Cafe Skazka
Family cafe, working since 1970 and touchingly preserving its culinary traditions. Especially popular here is ice-cream, loved by children and adults alike. But there are also full-fledged fish and meat dishes.
Address of the family cafe "Fairy Tale": Bauman Street, 58.
Cafe "Fairy Tale" in Kazan is open daily from 10:00 to midnight, seven days a week.
Prices in "Fairy Tale":
Breakfasts – from 110 rubles (every day from 10 am to 12 pm).
National dishes – from 150 rubles.
Signature pastries – from 50 rbl.
Ice-cream – from 60 rubles.
Salads – from 230 rubles.
Italian pasta – from 280 rubles
Steaks – from 640 rubles
4. Evening Cafe
Nice summer cafe downhill from Peter and Paul Cathedral. I heard from my friends that I had bad luck with the waiter, who turned out to be very sluggish. Our experience was good – we liked the service and the food very much. But what makes this café special is its soulful atmosphere. Fountains, a beautiful terrace, greenery and comfort everywhere.
Address of the cafe: Musa Jalil street, 14a (at the intersection with Bauman Street).
A cafe Evening in Kazan is open daily from 12:00 to midnight, and on Fridays and Saturdays until 02:00 at night.
Cafe Evening menu and prices:
Salads: 130-200 rubles per 150-200 g serving.
Soups: 90-160 rubles per serving 200-300 g // The most expensive dish was hodgepodge, and the most delicious was goulash soup for 130 rubles.
Garnishes: 60-90 rubles per 150g serving // Prices are given for rice, vegetables and potatoes, but spaghetti in different Italian variations cost 170 rubles // the lowest price for a dish I've ever eaten before.
Dishes: starting from 150-280 rubles per serving // Choice of main courses is quite big – from sea tongue to pork with pineapple, and even more "mundane" dishes
Pastries: 40-50 rubles // These prices are for Tatar pastries and sweets, but the menu also has different pancakes for 60-80 rubles.
5. V. Klyuchnikov Cafe (updated in 2021: closed)
Small and cozy pancake house cafe. Located on Boumana Street, not far from Tukey Square. Prices are very reasonable, the atmosphere is favorable for a hearty get-together. By the way, the waiters we met a bit slow, maybe only we were lucky, but I advise to go here just to sit to rest, to take your time and enjoy the food served. We liked the food very much.
Address of the cafe House of Tea: Bauman Street, 45.
The Klyuchnikov Café in Kazan is open from 11.00 to 23.00 daily. But for 2021, unfortunately, the cafe was closed. I leave the data about it in the article for now (in case they open another one), but I will add some more inexpensive restaurants in Kazan instead. ↓↓↓
V.Klyuchnikov Pancake House menu and prices:
Salads: from 40 rubles to 70 rubles per 100g serving // The cheapest is cabbage salad for 40 rubles, the most expensive for 70 rubles. – Greek salad.
Soups: from 60RR to 100RR for a 250g serving // there's Tartar soup with noodles – tokmach for 70RR, and 100RR for delicious solyanka.
Garnishes: from 30 rubles to 50 rubles per 150g serving // you can find a huge choice of side dishes, especially pea porridge which was a real surprise as you don't often see it in other places.
Second dish: from 50 to 150 rubles per serving // you can buy one pigeon or manty for 50 rubles :), but you can buy pikeperch and humpback salmon with vegetables for 150 rubles, the price for the rest of hot dishes varies in the given range.
Pastry: 20 to 50 rubles // Tatar pastry is represented here in the same popular assortment as in other places – elesh, echpochmak, smetannik, bekken, etc.
Pancakes: from 60 to 230 RUR // The cafe is especially famous for its pancakes that you can taste to any taste, the most expensive at 230 RUR is certainly pancake with red caviar.
Shawarma: from 120 to 160 rubles // Shawarma is cooked on coals and has chicken and beef.
All above mentioned places were tested in 2021 and successfully work (except temporarily closed cafe V.Klyuchnikov). But before the new vacation season I want to add some more great places.
6. Pelmenia
The menu includes delicious dumplings, manty, dumplings, hinkali and ravioli. You can choose from meat dishes and vegetarian ones. Average bill: 300 rubles. Address: 9/11 Baumana str. Open daily from 11:00 to 23:00.
7. Khanuma
A cafe with a terrace in a charming courtyard right in the center of Kazan. The cafe is located on Bauman Street, but to the pedestrian "artery" you can hear only the aromas of cooked goodies. So when you sit at a table, there is no sense of the mass of tourist crowds, on the contrary, it is a very private area. A distinctive feature of "Khanuma" is the buffet and the availability of halal dishes. Average bill: 380 rubles. Address: 68 Baumana str. Open daily from 8:00 to 21:00.
8. Tyubetey
There is a network of cafes with Tatar fast food around Kazan. The restaurants have a nice corporate style, homemade delicious pastries and colorful national costumes of employees. In "Tyubetei" you can eat a variety of Tatar dishes. Average bill 250 rubles. Address: 21 Kremlevskaya street, open daily from 8:00 to 22:00.
Also don't forget about the restaurants that I mentioned in my previous articles about Kazan:
5 restaurants in Kazan with panoramic views;
Restaurants on the Kremlin embankment.
Restaurants in Kazan on a map of the city
On this map I have marked the restaurants in Kazan that I recommend from my experience. Inexpensive establishments are marked with raspberry tags with a spoon and knife icon.
I also marked green marks for restaurants with Tatar cuisine, and blue marks for the best panoramic views of the city. Clicking on any of the tags loads information about each place.
Gubadia, kystybiy and chak-chak: where to eat in Kazan for a delicious, inexpensive meal
I really love Tatar food! It itself is a landmark of the city. We share with you cafes, diners and restaurants where you can eat in Kazan inexpensively and yet deliciously. Go to one of them and be sure to try gubadiya and manti.
Contents:
Diners
In the center of Kazan, it's easy to find a place to eat good and inexpensive. We ate at several canteens and cafes – everywhere was good.
"The Good Canteen had an unassuming interior, but it was so cheap! We thought there were no such prices. You can get a good meal here from about 100 rubles per person! They have a website with prices and menus. We checked it out – it's really cheap and tasty! One of the places is at Bauman Street, 21, 2nd floor. Opening hours are from 7:30 to 21:00 (9 a.m. on weekends). At lunch and dinner there are so many people who want to eat that the queue piles up on the stairs, so you should come at other times or go to a less popular diner – there are a few of them in the city.
Cafe "House of Tea" ("Chay yorty") is one of the cheapest, tastiest and truly legendary places in the city, where you can get acquainted with the Tatar cuisine. It would be more correct to call it a canteen, judging by the interior and the average check of 200 rubles. "House of Tea" has proved itself since Soviet times and is very popular among tourists and Kazan citizens themselves. We love this place very much! We recommend to try there gubadiya, kystybiy, manty and meat with cranberry sauce – we liked it. Address: 64 Bauman str. Opening hours: from 9:00 to 20:00, on Sundays – until 18:00. Just do not come during rush hours, so as not to stand in a queue.
"Navruz is another inexpensive canteen; however, it is located not in the center, but near the Northern Railway Station. Tasty, varied menu, low prices. The address is 205 Dekabristov St.
Discount on tours in Kazan . When we travel, we buy excursions on the Tripster site – there is a huge selection and real reviews of tourists, so it is easy to choose a good guide and an interesting program. Plus, you'll get a ₽500 discount on your first tour by registering at this link.
Guide Map . For your convenience we've made an author's guide to Kazan in the form of an offline map for smartphones. Download our guide if you need to have all the marks and descriptions of Kazan sights at your fingertips, but don't have the time or desire to copy this information manually. This convenience will cost you 200 ₽.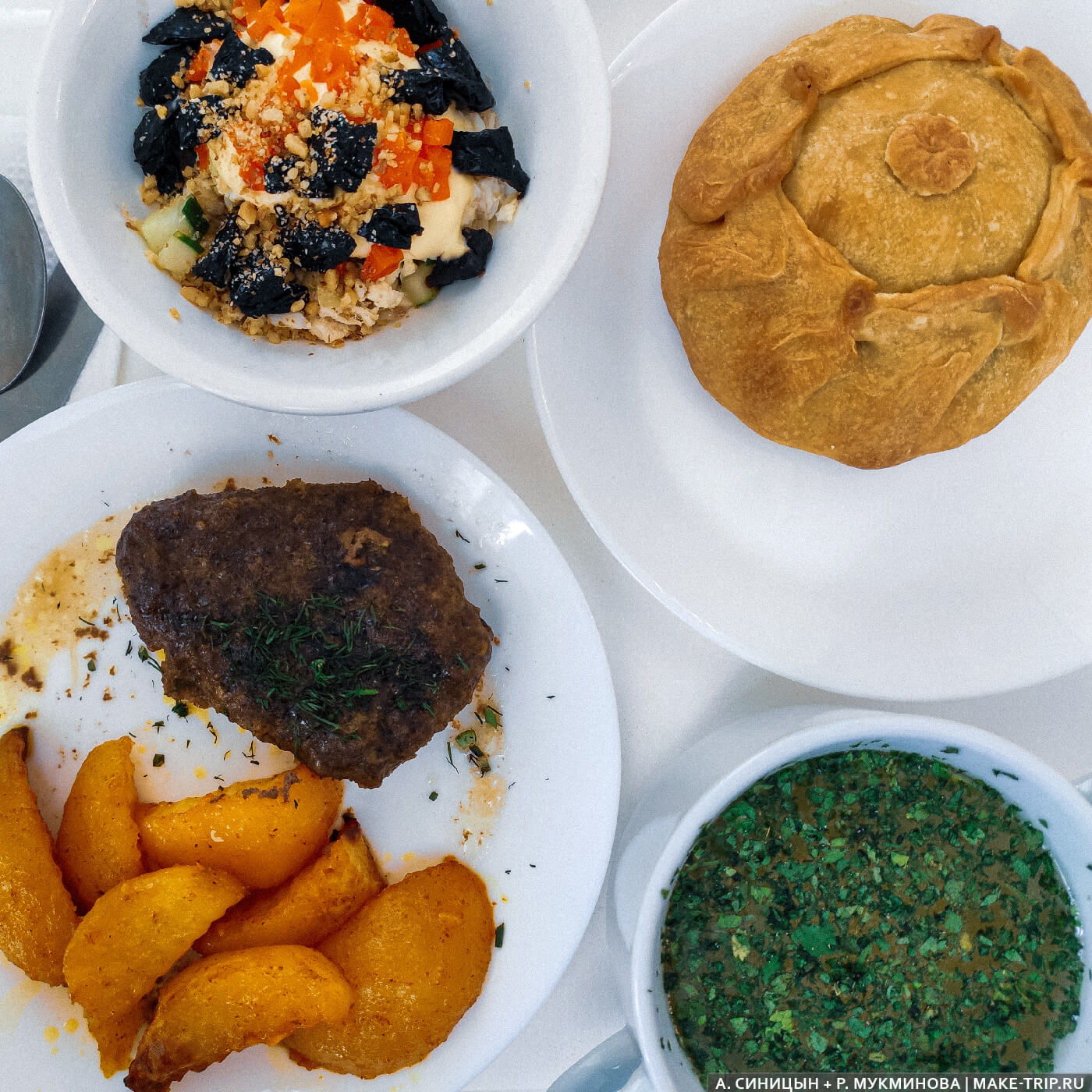 At the "House of Tea" we have a hearty meal for about 400-500 rubles for two.
You can eat tasty and inexpensive national cuisine (and not only) in Kazan in cafes. We have chosen a few with an average bill of 400-500 rubles.
"Chak-Chak" is located in the center of the city. It has Tatar and European cuisine. Address: Bauman street, 7/10. Hours: 9:00 to 21:00.
"Bilyar" is a network of restaurants and cafes of Tatar cuisine. According to tourists' reviews, this is the place where you can taste the real lamb salad and salted lamb in the Kazakh style. Address of one of the restaurants: Butlerova street, 31. Working hours: from 10:00 to 23:00.
Bar "Salt" is a trendy place where mostly local regulars come. Nice interior and music, there are concerts. You can sit inside as well as on the summer terrace. The menu, however, is not national cuisine, but everything is very good. Breakfasts are 250-280 rubles and lunches are 230-290 rubles. You can order complexes at any time! We took a steak dinner and a beef dinner. Address: Profsoyuznaya street, 22 (2 steps from Bauman). Hours of operation: Mon – Thu from 11:00 to 3:00, on weekends – from 1:00 am until morning. Check everything on their website. Minus of this place – in reviews complain about random face control with janitor syndrome, but this applies only to parties.
Choo Doo is a mono-café with exclusively Dagestani cuisine, exotic! This is if you are suddenly tired of Tatar dishes, want to try something unusual or, like us, love Caucasian cuisine. Nice minimalist interior with traditional elements like carpets and capes on the sofas. The menu is simple and the prices are low. We ordered khinkal, kurze with potatoes and lemonade and the price was 450 rubles for two people. Address: Pushkin Street, 29/4, the common entrance to Boroda Bar. Opening hours: from 9:00 till 22:00.
"Foshnaya is a tiny noodle place for those who like Vietnamese food. Here pho bo costs 250 rubles, wok 300 rubles and Vietnamese coffee 100 rubles. You can also buy Vietnamese goods there. Unfortunately, when we went there you could only take food on the spot because of the pandemic, so we went somewhere else. The address is 26 Profsoyuznaya Street. Opening hours: from 12:00 to 0:00.
Wok&Go helped us out when it turned out that we couldn't get into "Good Dining Room" and "House of Tea" because of the huge lines. A wok here costs about 150-200 rubles, bargain drink sets for 350-400 rubles. The address is Astronomicheskaya street, 13/30. Just next door to Bauman!
"Gallery of World Cuisine is a complex of four areas. The cuisine is different, as the name suggests. Address: Butlerova Street, 43.
Govinda's – a vegetarian menu, as well as handmade sweets combined with ginger tea. Delicious and high quality food. Address: 79, Chistopolskaya Street. Business hours: from 12:00 to 20:00.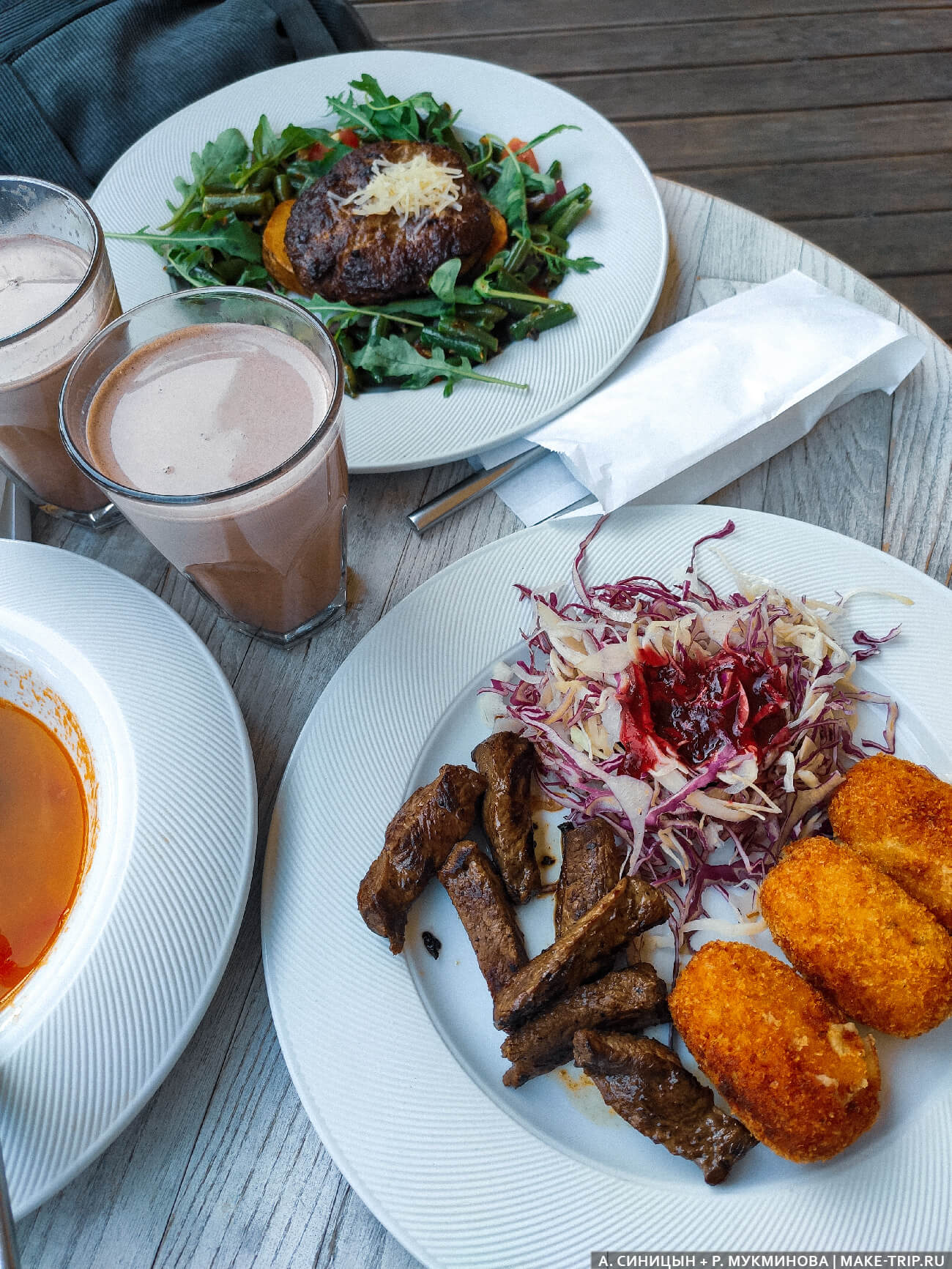 In the bar "Salt" you can not only drink a beer or a cocktail, but also have a delicious meal. Two whole lunches at our place cost about 600 roubles.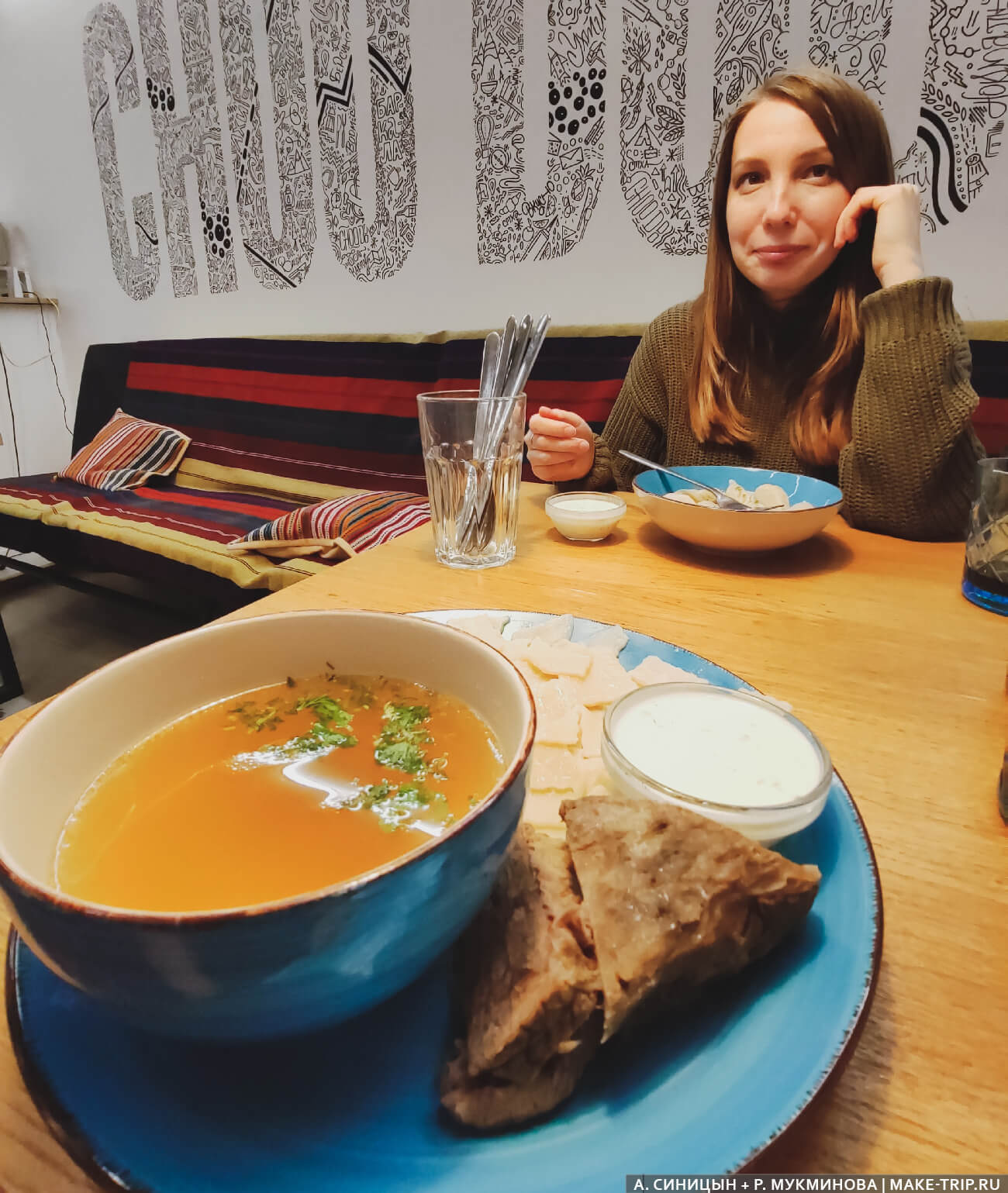 Choo Doo is a mono-café with exclusively Dagestani cuisine, exotic! We advise to come if you want to try something new or if you like Caucasian cuisine.
Restaurants
Kazan is full of restaurants where you can eat national Tatar cuisine in a more luxurious setting. We have selected the best with an average check of 1000-1500 rubles .
"Uryuk" – in this restaurant in the center of Kazan you can eat dishes of Uzbek, European and Russian cuisine. It is cozy and tasty. Our friends have dined here. They say it's a bit pricey but worth it! Address: 36 Bauman str. Opening hours: from 12:00 to 00:00, Fri-Sat – to 6:00.
"Marusovka" is a restaurant with a cozy summer veranda. It is located in the Actor's House. In the 1880s Marusovka was an apartment complex, where noisy parties were held, and Maxim Gorky called it "a strange and merry slum". Now you can taste quinoa with sun-dried tomatoes, risotto with porcini mushrooms and tenderloin of young bullock with a view of Lyadsky Garden. Address: Shchapova 37.
"Sultanate" is a two-story oriental palace with 800 seats. The menu is about 30 pages long and includes not only Tatar, but also Azerbaijani, Uzbek and Russian cuisine. Address: 35/98 N. Nazarbayev Street. Works around the clock.
"Shelter of the Bachelor" – is considered one of the most popular restaurants in the city. Most visitors like European and Japanese cuisine. Address: 27a Chernyshevsky street. Opening hours: from 11:00 to 00:00 (on Saturdays – until 2 am).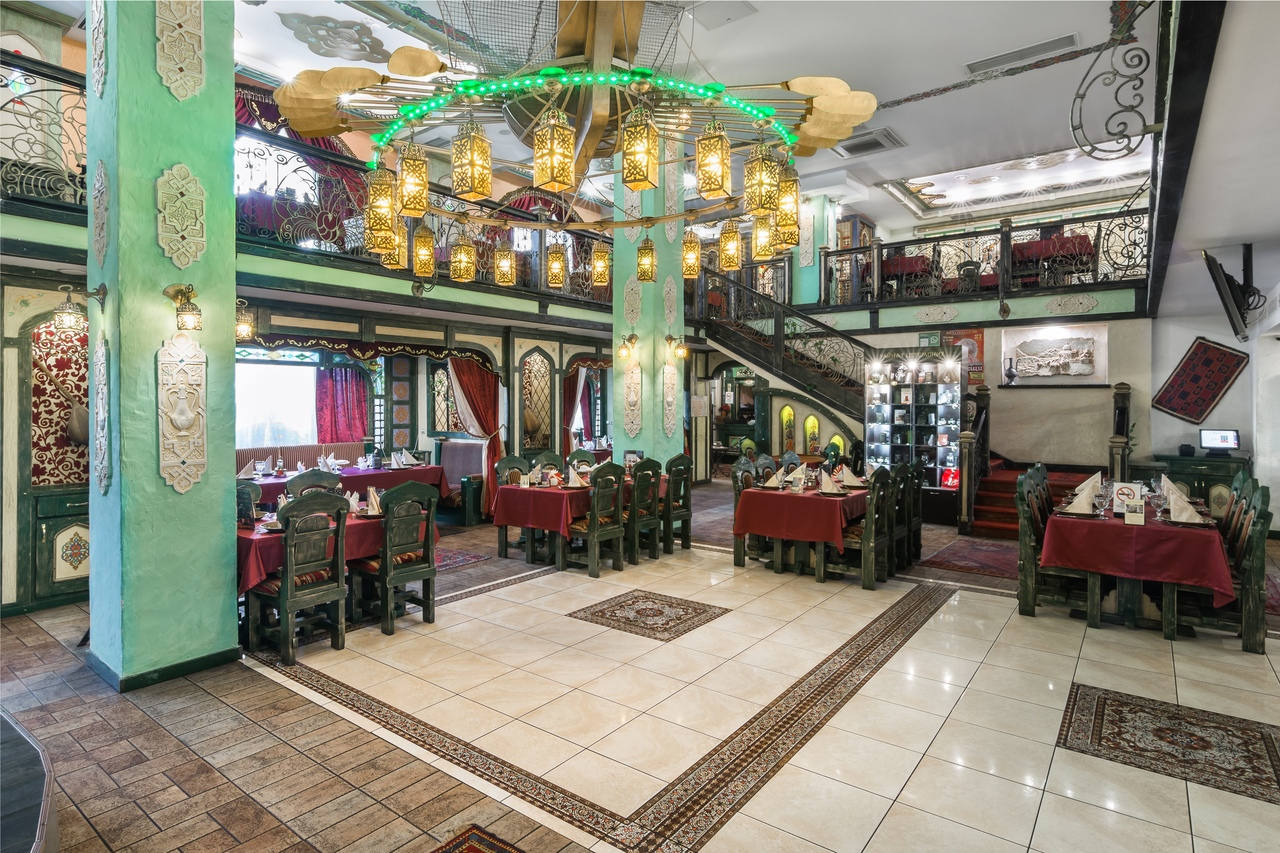 Quick snack
"Zhar-Svezhar is a good bakery with a wide assortment. We took a gubadia there, it's good. There is delivery.
"Tyubetei" – a chain of fast food restaurants, which was advised by our subscribers "VKontakte. There is delivery.
"Lakomka" – a café-confectionary that sells cakes, buns, chak-chak and cakes. You can order to order. Prices are just fabulous! Address: 50/8 Karla Marksa.
Great coffee
Exactly excellent, not from a vending machine! If, like us, you like to savor real freshly brewed coffee from Kenya, Papua or Burundi, rather than coffee grounds, you're in luck – Kazan baristas know their business. There are many good places here with their own or guest roasting: Neft, Caffeine, Skuratov Coffee, Divan Coffee, Houdini, Surf Coffee, Pesky (they brew coffee in jeeps on the sand).
Food Delivery
When we were too lazy to go out in the evening, we used Yandex.Food to order home delivery. Impressed by Yokoso rolls – amazingly delicious and hearty sets at reasonable prices (from 555 to 1200 rubles). Site: yokoso.su.
I didn't like the delivery from "Behetle": mediocre pilaf, unremarkable kystybiy, and absolutely unpalatable solyanka, moreover, everything was brought cold. But the gubadiya was excellent. We concluded that it is better to buy desserts and pastries there. Tourists praise it for the chak-chak.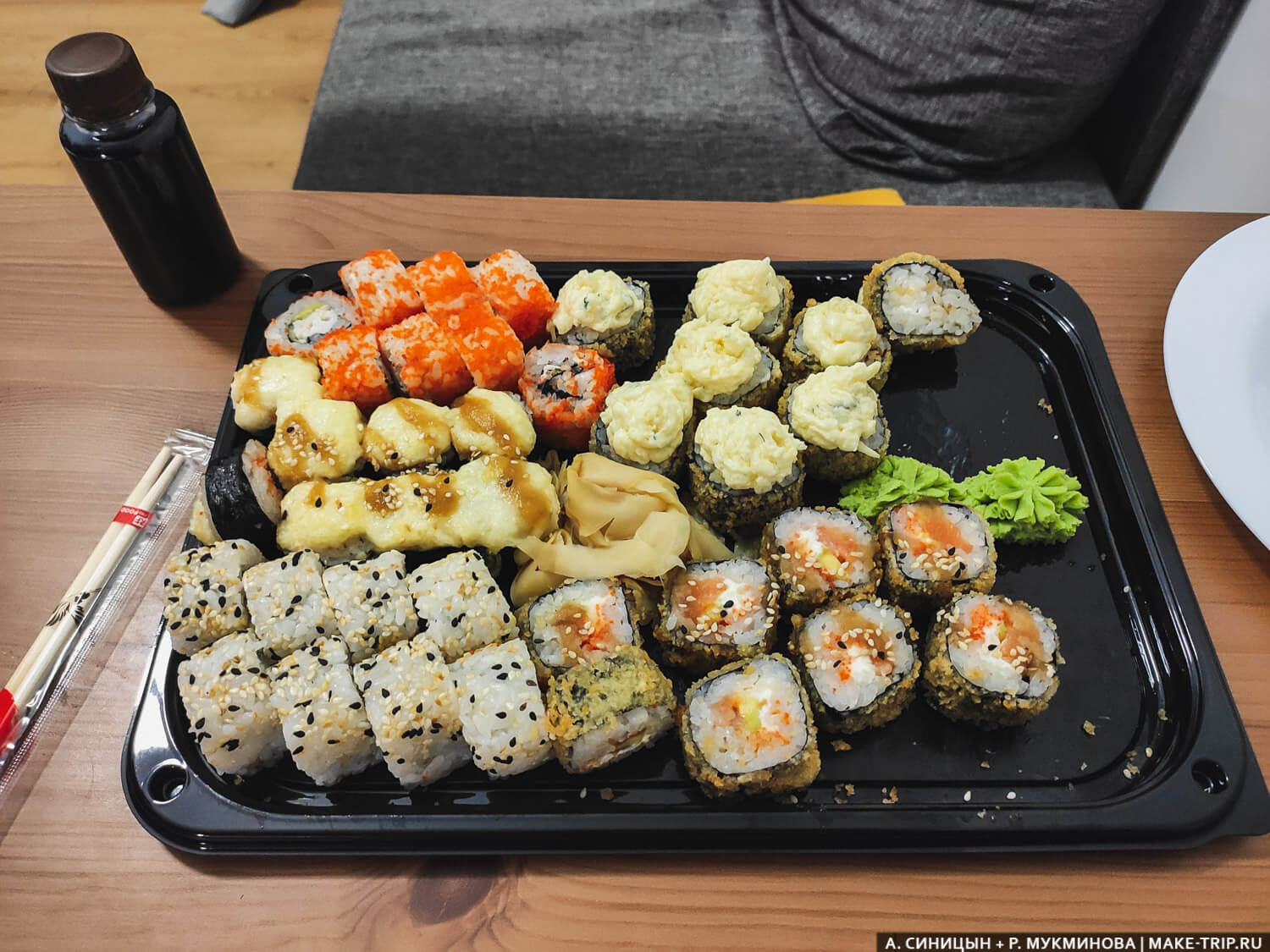 If you are too lazy to look for food, delivery helps. We ordered delicious rolls at Yokoso.
What to try in Kazan
We believe that to be in Kazan and not try at least some of the national dishes is akin to a crime. Tatar cuisine is very, very tasty and hearty! In addition, you can have a quick, inexpensive and tasty snack while walking around Kazan.
Tokmach is a traditional noodle soup based on beef or chicken broth with the addition of vegetables, fodder and in some cases milk.
Beshbarmak – once it was prepared by nomads, and today wives for their husbands who are tired after work. The peculiarity is that the ingredients are cooked separately and combined only a few minutes before serving.
Belyash is cooked in boiling oil and turns out very fatty. The filling can be different. Usually it is meat or fish, with potatoes added. The pie is fatty, so it is not much to eat.
Echpochmak is a triangular-shaped pie made of yeast dough with a filling of meat, potatoes and onions. Not greasy!
Kystybyi is an old Tatar dish, my favorite. It is a fried flatbread stuffed with mashed potatoes.
Chak-chak is a sweet symbol of Kazan. The treat is molded from honey and balls or strips of dough. It can be stored for a very long time, so it is sold as a souvenir.
Talkysh-kaleve are small cakes in the shape of a cone. They are made of flour, butter, and honey. They are reminiscent of the taste of a mixture of shortbread cookies and halva.
Gubadia is a cake filled with rice, raisins, and kort cheese. The sweetness is just the bomb! It has an unforgettable taste, but it is specific and not everyone likes it. Gubadia is rich and fatty, don't get carried away if you're losing weight
Buy chak-chak, talkysh-kaleve and all kinds of lukums and sherbets at "Bekhetle", "Pokrovskie bakeries" and "Katyk" cooking chain.
Find out what to bring from Kazan as a gift for friends and relatives.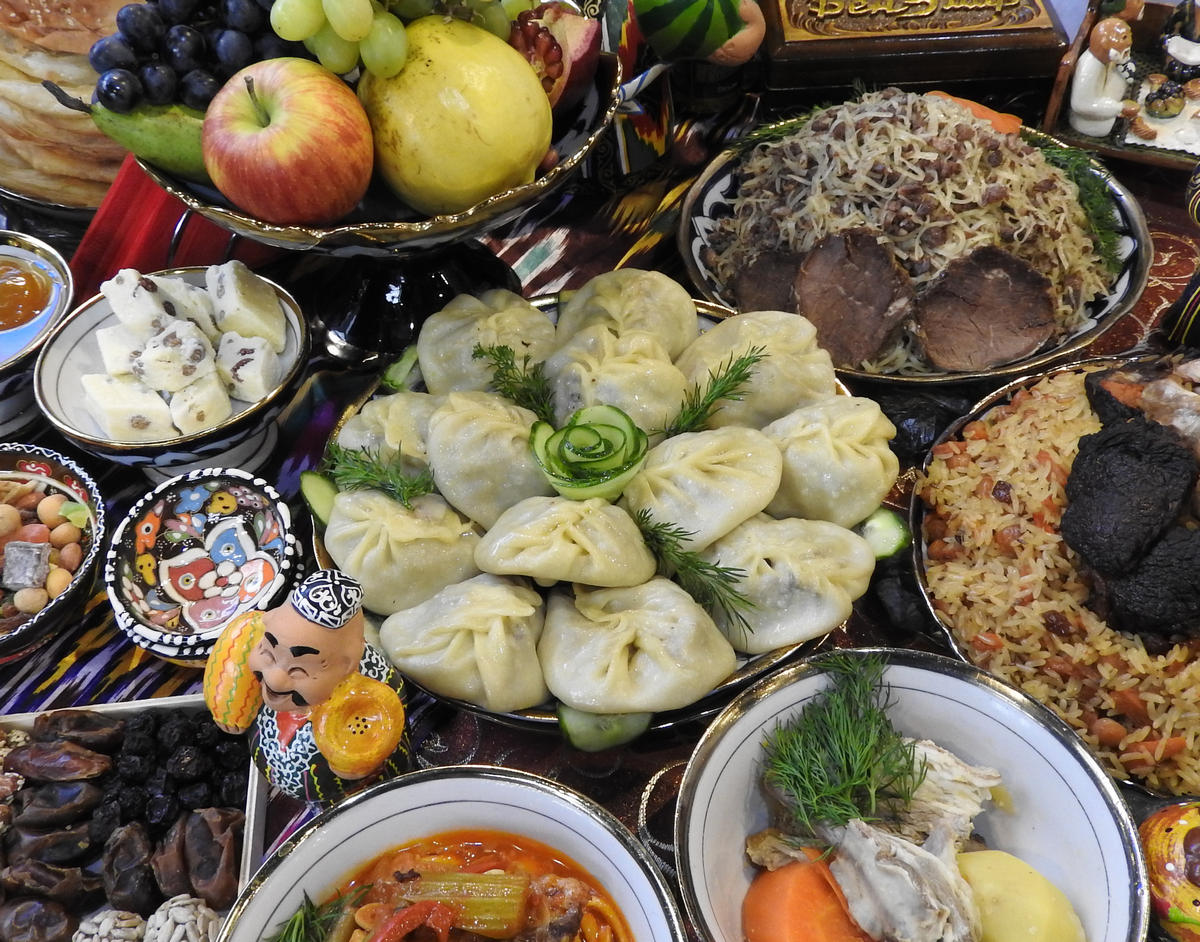 Photo: Aidar254 / commons.wikimedia.org.