Where to eat well and cheaply in Vienna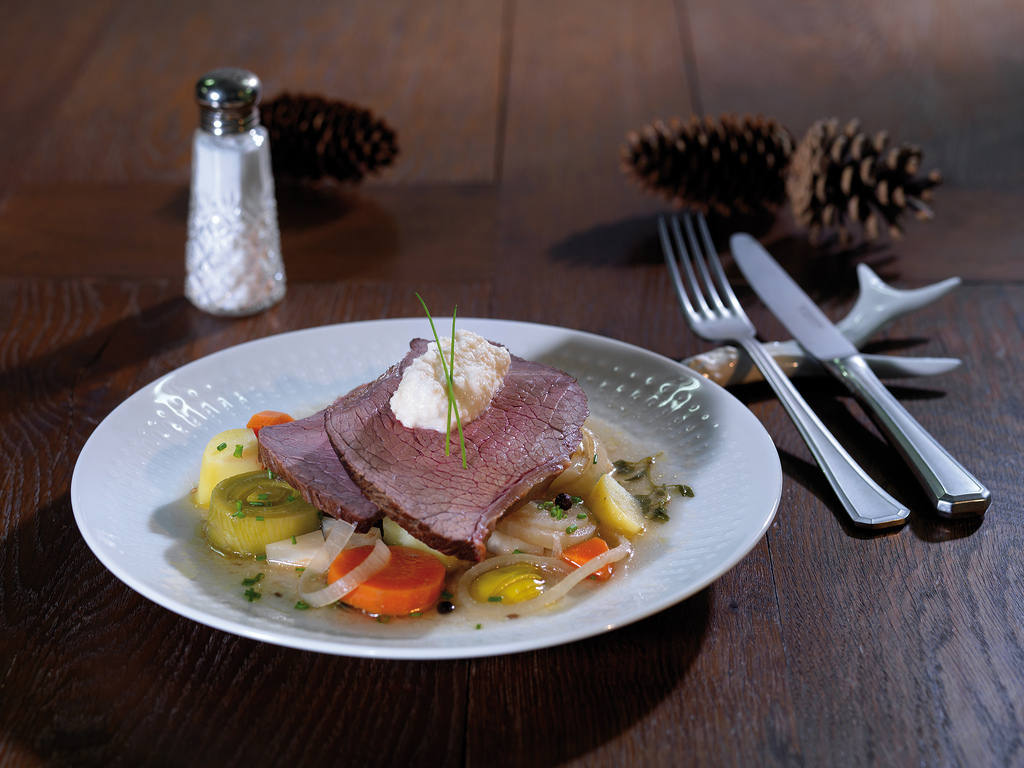 How and where to eat in Vienna if you want to try local specialties but save money? We tell you how to eat out deliciously and inexpensively and provide up-to-date prices, tips and addresses of budget restaurants.
Food prices in Vienna are about as high as in other European capitals. But be in the Austrian capital and not try the famous local cuisine is impossible. We hope that our tips will help you with planning your trip.
Where to find cheap tickets? Use the search engines Aviasales and Skyscanner – they compare prices of all airlines. Learn the secrets of finding cheap airline tickets.
Look for discounted hotels on Skyscanner Hotels. Here are the top hotel search rules.
Content:
What to try in Vienna
Austrian cuisine is varied and nutritious, and many have centuries of history of creation. Meat lovers, candy aficionados and vegetarians alike will find delicious food in Vienna. What dishes and drinks are worth a try in Vienna?
Nourishing and tasty sausages and sausages on the grill – you can eat them in a restaurant as well as in the street.
Schnitzel (Wiener Schnitzel) is the most famous Austrian meat dish. The tender veal is beaten to a thin layer and sprinkled with breadcrumbs and then served with a salad and lemon wedges. You can eat delicious schnitzels in the restaurants Die Metzgerei (Linzerstrasse 179), Sixta Restaurant (Schoenbrunner Strasse 21) and ef16 Restaurant Weinbar (Fleischmarkt 16).
Chicken Viennese (Backhendl) is a food with a 300-year history. Originally it was a dish of aristocrats, but now it is quite common. It is quite a caloric meal: chicken meat is rubbed with salt, lemon and pepper, breaded in flour, egg and breadcrumbs and fried in butter.
Tafelspitz (Tafelspitz) – boiled beef with broth and vegetables, first and second course "in one", the meat is stewed on low heat for several hours. Tafelspitz served with potatoes, green onion sauce, apple horseradish and vegetables, it is a very hearty dish.
Kaiserschmarrn is a "Kaiser omelet" with sugar, flour, milk, eggs, cinnamon and raisins. According to legend, the Austrian emperor Franz Joseph I. loved this dish.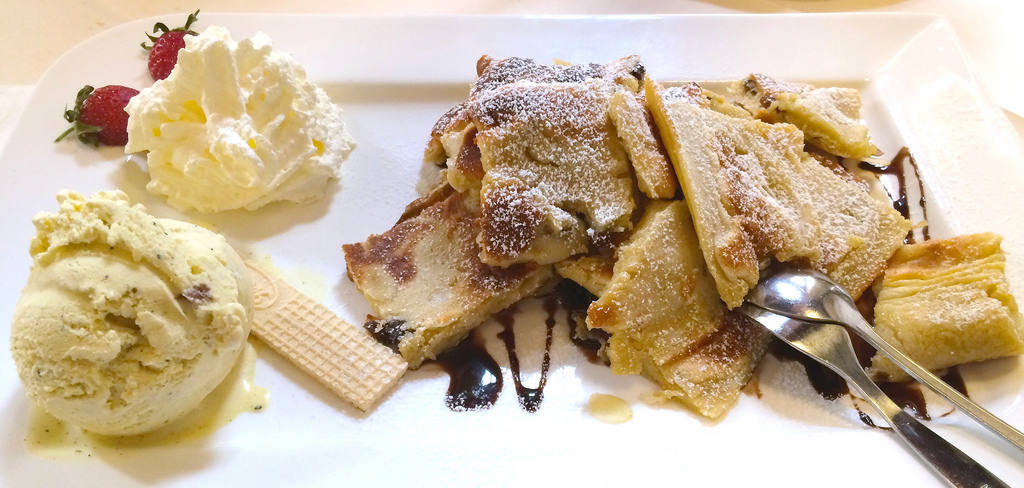 (Photo: Hellebardius / flickr.com / License CC BY-NC-ND 2.0)
Apple strudel , but there are other options, such as sausage or potato strudel.
Sachertorte is a famous Austrian cake made of chocolate sponge cake with apricot confit in a chocolate glaze. The original version can only be tasted at the Sacher Hotel near the Vienna State Opera building, and the recipe is a closely guarded secret. The dessert was created by pastry chef Franz Sacher in the 19th century.
(Photo: _chris_st / flickr.com / CC BY-NC 2.0 license)
Vienna's famous Manner-Schnitten (Manner-Schnitten) wafers in pink foil with an image of St. Stephen's Cathedral.
Mozart (Mozartkugeln) with marzipan filling.
Salzburger Nockerln (Salzburger Nockerln) – a dessert of eggs, flour and sugar, oven-baked vanilla soufflé. The dish was created in the 17th century.
Alcohol . There are about 350 types of beer, the most famous brands are Gösser, Ottakringer, Eggenberg and Stiegl. In addition to the foamy beverage, try the unaged Sturm wine or mulled wine.
Viennese coffee and, in particular, mélange, an espresso-based drink with foamed milk and whipped cream.
Look for interesting tours on Sputnik and Tripster. Individual and group, without crowds of tourists and in Russian.
Food prices in Vienna's restaurants and cafes
Food prices in Vienna are predominantly high, but you can eat quite inexpensive and tasty if you want to. On average, an inexpensive dinner for two costs €19 and a dinner at a mid-priced restaurant for two with alcohol – €43.
Portions in restaurants are traditionally large, so you will not go hungry. Vegetarian dishes are also on the menu. If you don't know the name of the dish and you don't know German, ask for the English menu or ask the waiter about the ingredients.
Here are approximate prices in Vienna's restaurants and cafes:
Wienerschnitzel with potato salad – 15€;
Boiled wiener beef – 16€;
Cabbage stew with meat and potatoes – 11€
Beef goulash with potatoes and parsley – 11€
Grilled beef entrecote – 22€
Grilled seafood – €20-40 per serving;
Grilled fish and potatoes – 11-13€;
Local beer (0,5 l) – 3,8 €
Imported beer (0,33 l) – 4 €
A bottle of wine – 4-9 €, a serving from 2,5 €;
Cappuccino – 3,1 €;
Coca-cola (0,33 l) – 2,4 €;
water (0,33 l) – 1,7 €
croissant – 1€;
cake – 3 €.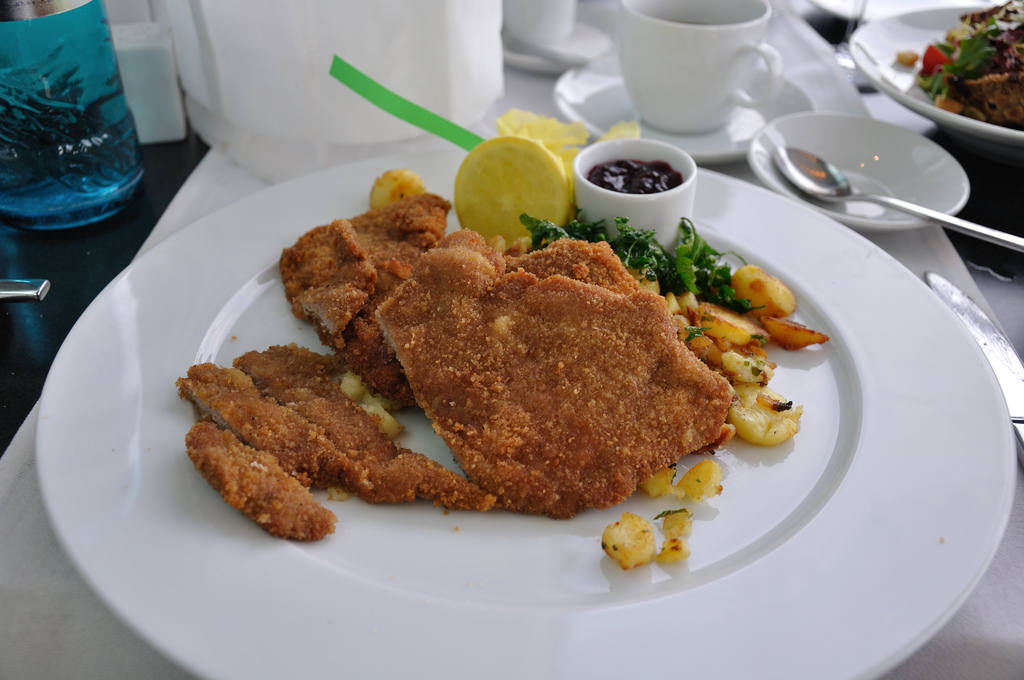 (Photo: vxla / flickr.com / CC BY 2.0 license)
For comparison, here are the prices in tourist restaurants and in more inexpensive places.
In a restaurant in the center:
schnitzel – 15-25€;
tafelspitz – 20 €;
goulash – 15€;
Salad – 4,7-7,5 €.
In inexpensive restaurants away from the tourist spots:
schnitzel – 7,5€;
goulash – 7€; goulash – 7€;
meat dish – 11 €;
Salad 7-8 €;
Desserts: 3 – 5 €.
At a cheap buffet-style café lunch costs €7, a slice of pizza €3, a glass of wine from €2. Big Mac and Coke with fries at McDonald's costs 7 €.
Coffee at a Viennese coffee shop starts at 3 €, a croissant or other dessert at 2 €. The Zacher Café, which makes a cake according to an original recipe, charges around 8,3€ per slice, while the whole cake costs between 24 and 34€.
How to eat well and cheaply
The farther away from the tourist spots you eat, the more chances you have to save on food. Some restaurants offer all-inclusive lunches at certain times and it's a good way to save money.
If your budget is still limited, street food such as sausages and kebabs are a good option.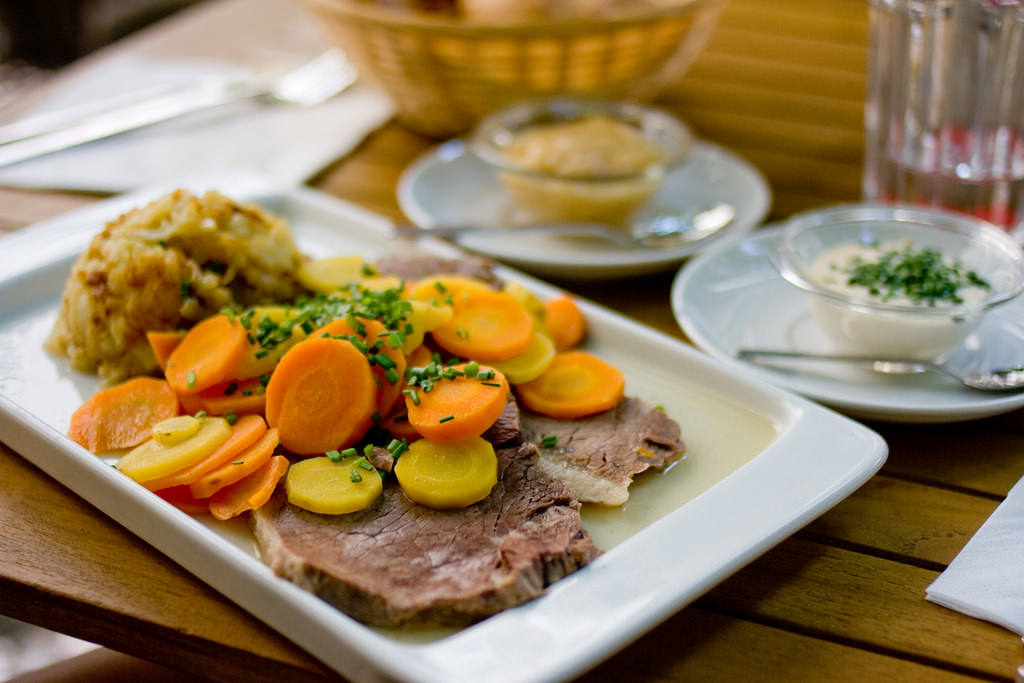 (Photo: kadluba / flickr.com / CC BY-SA 2.0 license)
How much does street food cost in Vienna:
Viennese grilled sausages – 10-15€;
pastries – 3€;
pizza – 2-3€;
Noodle boxes with vegetables, meat and sauce or rice with vegetables and chicken – 4-5€;
ice cream – 2-3€;
Kebab, hot dog, hamburger – € 3-4;
Japanese rolls (6 pieces) – 3 €
Drinks (0,5 l) – 2 €.
But don't get carried away with the fast food, either: The best option is to alternate between restaurants and cafes and food from kiosks, so you will appreciate the Austrian cuisine from different sides. If you are traveling with children, street food is probably not suitable for you.
In this case, a good option to save money is to buy products in stores and cook your own food.
Prices for food in supermarkets in Vienna:
milk (1 liter) – 1€;
A loaf of fresh white bread (500 g) € 1.7
Eggs (12 eggs) – 3 €;
Local cheese (1 kg) – 11 €
chicken breasts (1 kg) – 10 €
apples (1 kg) – 2,3 €
Bananas (1 kg) – 1,8 €
oranges (1 kg) – 2,2 €
tomatoes (1 kg) – 2,2 €
potatoes (1 kg) – 1,5 €
lettuce (1 piece) – 1,2€;
Water (1,5 l) – 0,6 €
A bottle of medium-priced wine – 6€;
Local beer (0,5 l) – 1€
Imported beer (0,33 l) – 1,6 €;
A pack of Marlboro cigarettes – 5€.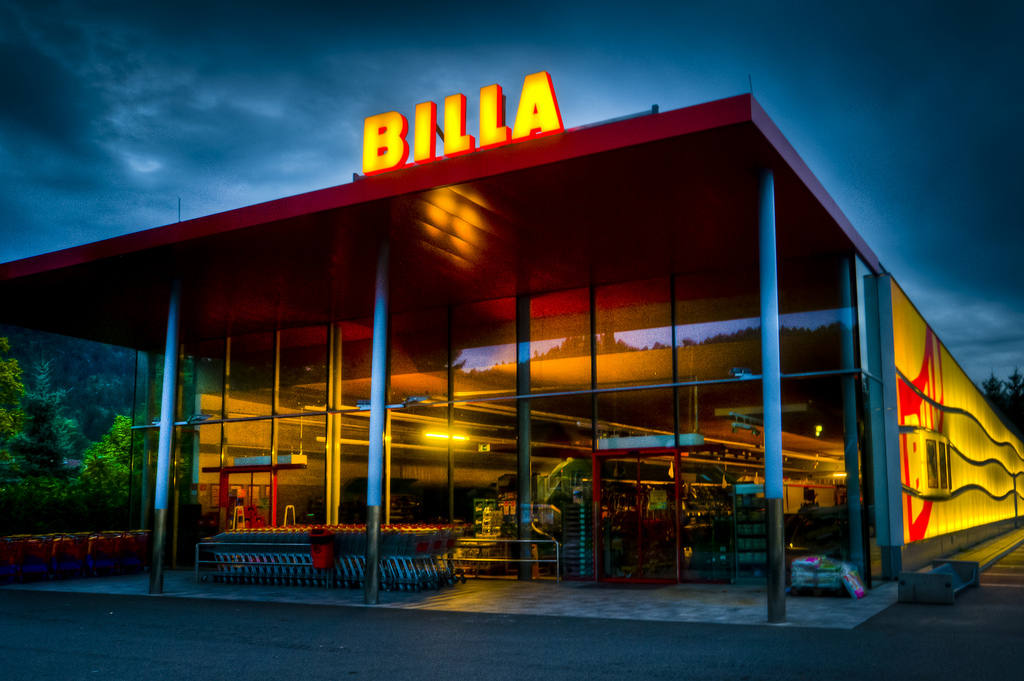 (Photo: franzj / flickr.com / CC BY-NC-ND 2.0 license)
Where to eat cheap and delicious food in Vienna
We've found a few places with good reviews that offer a variety of European dishes at inexpensive prices.
Die Metzgerei on Linzerstrasse 179
Average bill: 6-33,2 €.
The restaurant where the dishes of Austrian and Central European cuisine are served. The food is suitable for children, vegetarians and those who do not use gluten.
The restaurant is open Tuesday through Saturday from 11:00 till 23:00.
Restaurant Lebenbauer on Teinfaltstrasse 3
Average bill is 10,2-25,6€.
You will be offered to try local dishes or cuisine that combines elements of culinary traditions of different countries. There are vegetarian and gluten-free dishes. The restaurant is suitable for families with children or romantic meetings and is open from 11:00 to 15:00 and from 17:30 to 22:30 on weekdays.
3 Cafe Restaurant Leto on Schwertgasse 3
Average bill is 5,9-26,4€.
At this cafe you will try European and Mediterranean cuisine such as Greek dishes. The food is suitable for vegetarians and there is a pub and bar.
Open Mondays to Saturdays 11:30 to 23:00.
4 Sixta Restaurant at Schoenbrunner Strasse 21.
This restaurant offers local and central european cuisine. The food is suitable for children and vegetarians. The place is open from 18:00 till midnight on all days except Monday.
5. Vinothek W-Einkehr on Laurenzerberg 1
Average bill is 3,4-17,9€.
Try here Austrian cuisine and local drinks. The bar is open from 15:00 to 22:00 from Tuesday to Saturday.
If you choose budget establishments or meals at street kiosks, you will spend on average from 10€ per day per person for food and water in Vienna. An average meal will cost 25€ per day.
Where to eat cheap in Vienna: The top 9 budget places to eat in the capital
Vienna, being the epicenter of international tourism in Europe, is literally dotted with a variety of cafes, bars and restaurants. The choice of establishments is so huge that without having prepared in advance, you can simply get lost in the capital's gastronomic paradise. Therefore, before visiting the city, it is important to study information about restaurants and menus in advance, as well as read reviews. Of course, most travelers are concerned about the question of where to eat in Vienna tasty and at the same time cheap. The main city of Austria is famous for its high prices, but despite this fact, in the capital you can still find budget places with quality cuisine. In this article we will talk about them.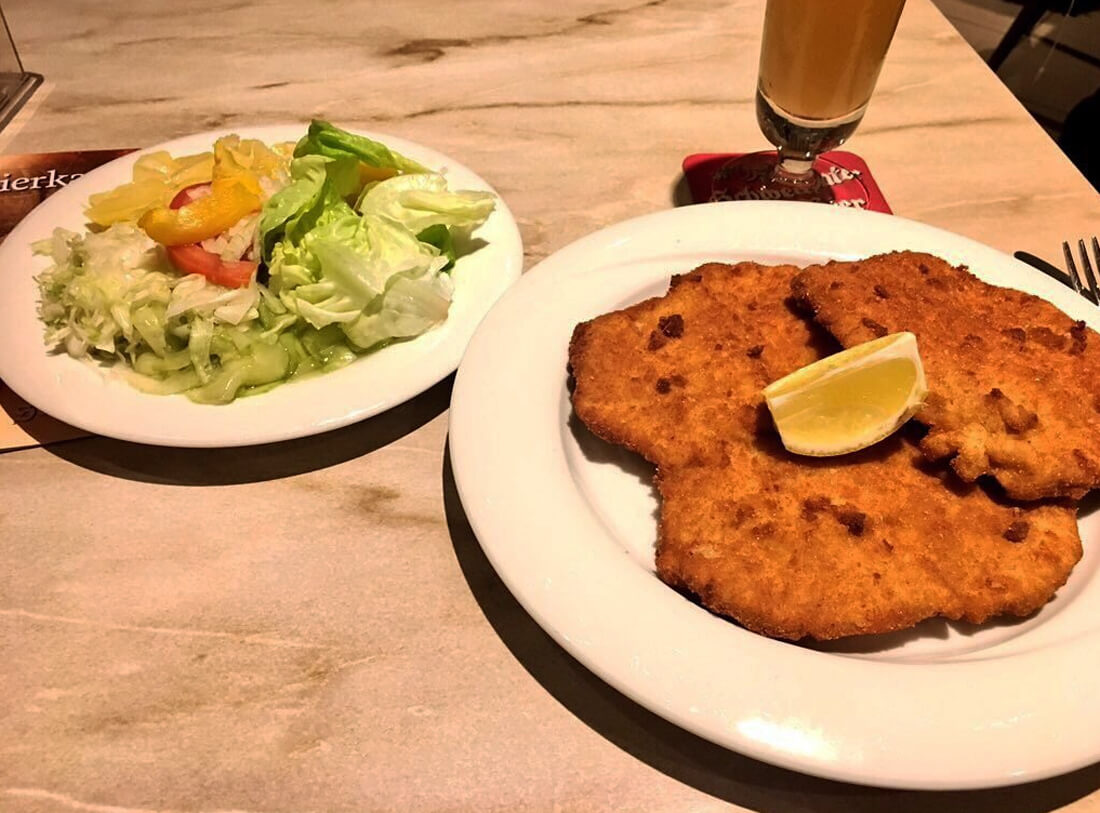 Schachtelwirt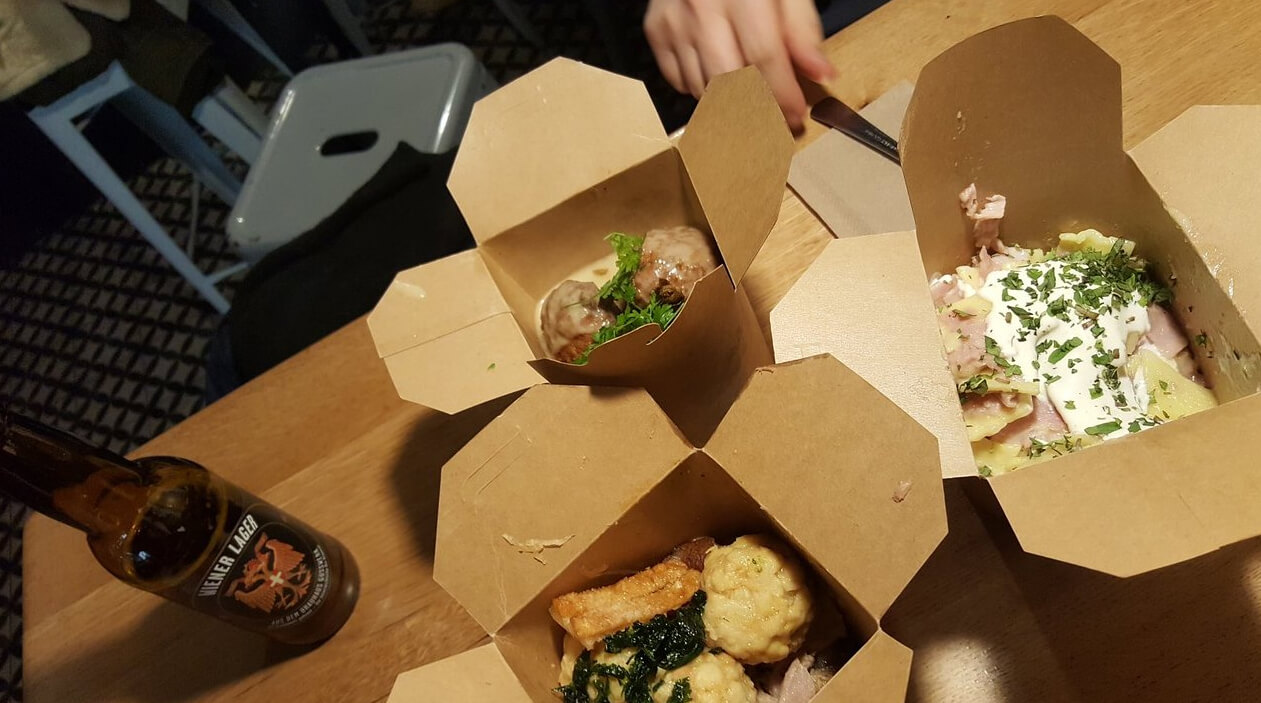 If you are looking for an inexpensive place to eat in Vienna, Schachtelwirt might be the place for you. It is a small eatery with five tables, where most customers buy take-out. The menu is not extensive: it changes every week and usually offers no more than five or six dishes. The beef and pork are the first things you should try here but keep in mind that although the food here is quite good, it is mostly fatty and calorie-dense. Vegetarians will find salads and desserts on the menu. On average, a meal for two in this café with meat dishes costs 20 €, which is inexpensive for Vienna.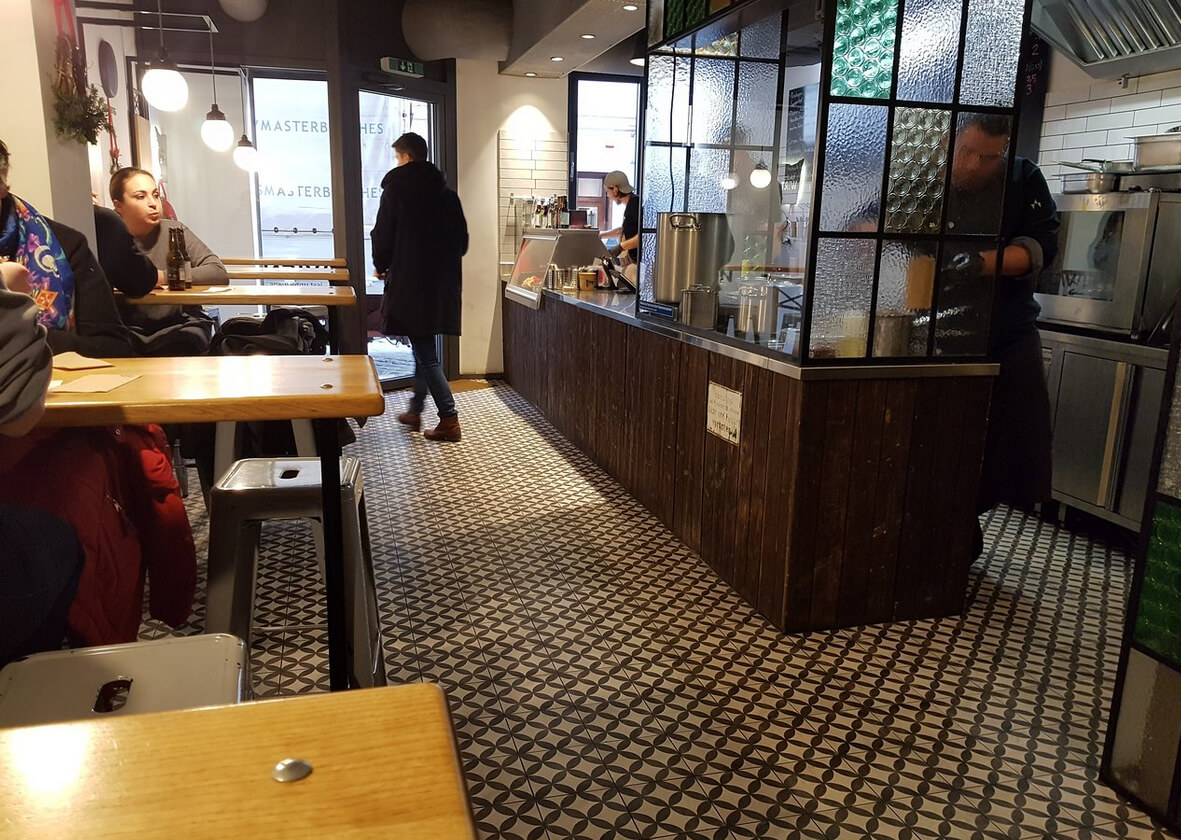 This place is characterized by creative serving of food, which makes it popular with locals and tourists. The fast-food workers are friendly and approachable and speak good English. All dishes are prepared right in front of your eyes. The downside of the eatery is its small space: be prepared to sit at the table with strangers. But you always have the option to take your food with you in a box and eat in a cozier corner. Overall, Schachtelwirt is an inexpensive, pleasant place to grab a delicious meal.
Address: Judengasse 5, 1010 Vienna.
Opening hours: Monday 12:00 to 15:00, Tuesday to Friday 11:30 to 21:00, Saturday 12:00 to 22:00, Sunday closed.
Vienna Sausage
Vienna is known for the juicy sausages that became the popular snack long time ago. This institution specializes on serving hot dogs in different dressings and sauces. Especially delicious here is the sausage with cheese and bacon. For a dense meal, one portion is quite enough. The cafe also sells delicious bottled beer. You can eat here very cheaply: for example, two hot dogs with drinks for two will cost on average 11 €.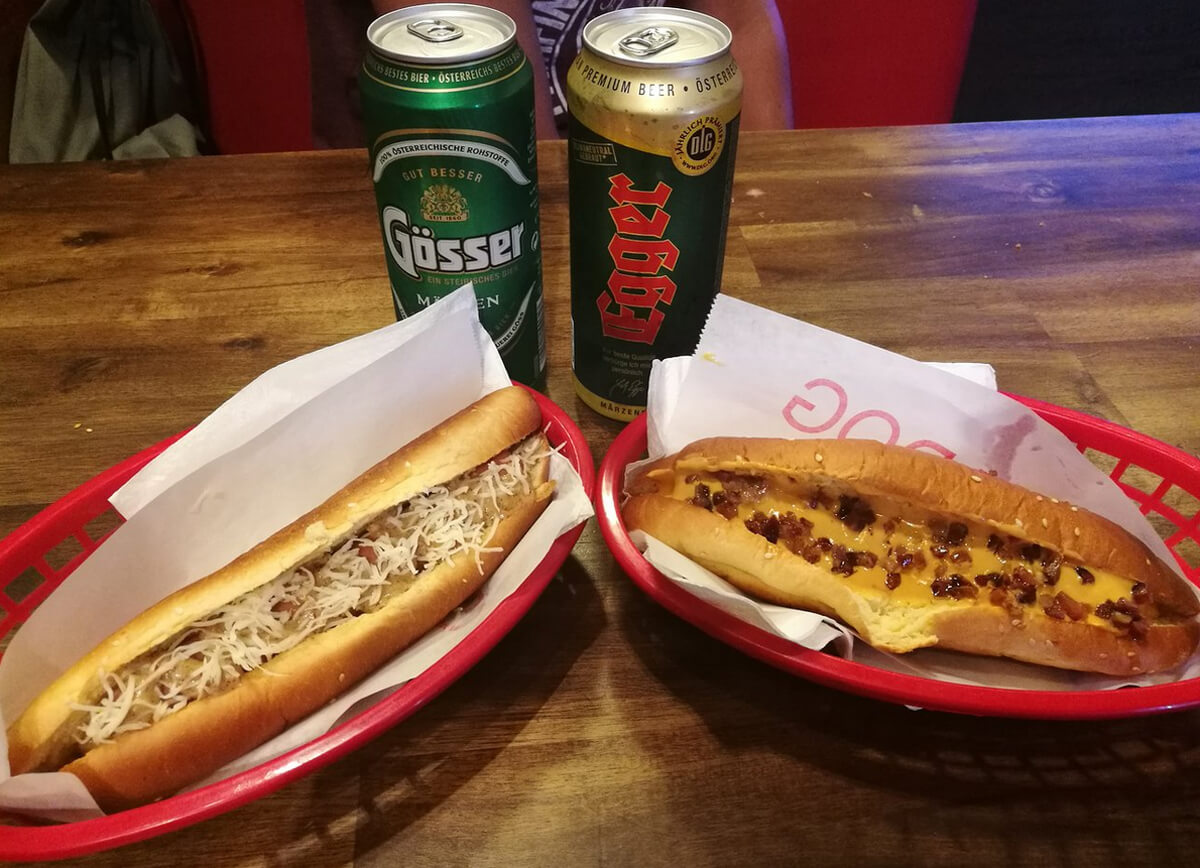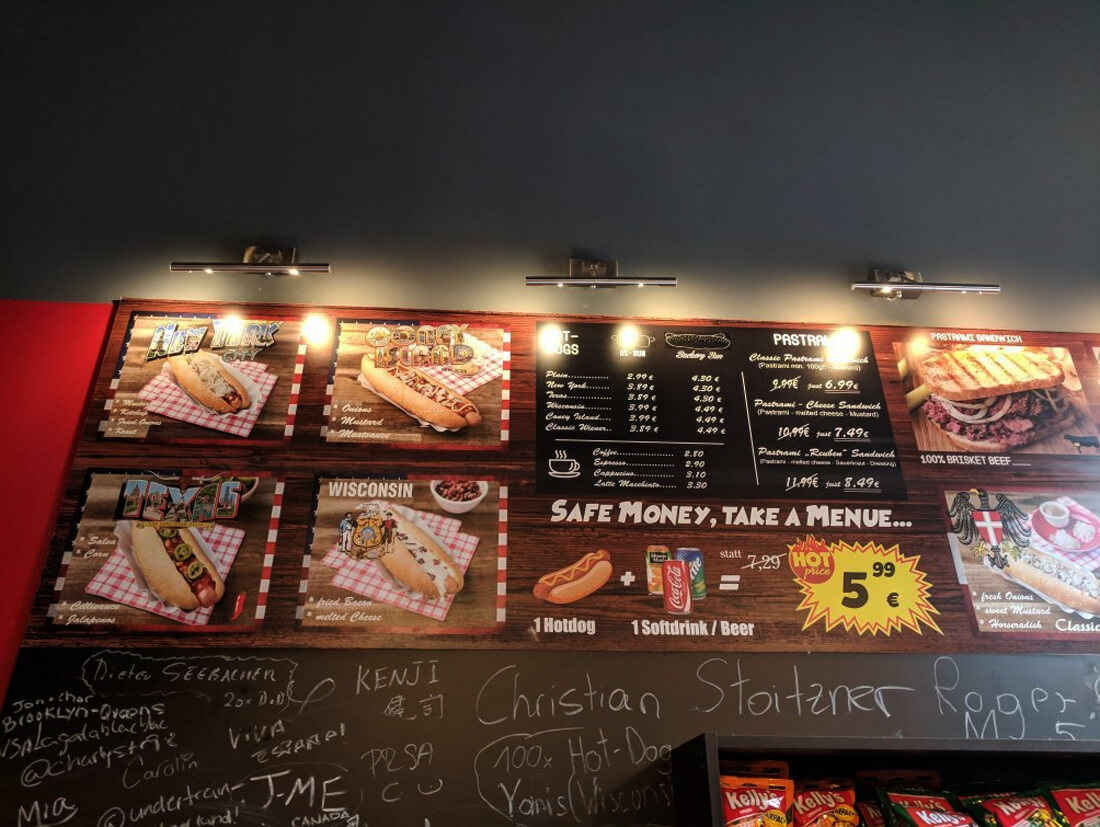 There are three tables inside the snack bar and an equipped area outside. The staff is very polite, always ready to tell in detail about the assortment and help to make a choice. Of the disadvantages of the institution can be noted the lack of restrooms. In general Vienna Sausage is good for a fast and inexpensive lunch.
Address: Schottenring 1, 1010 Vienna.
Opening time: every day from 11:30 till 15:00 and from 17:00 till 21:00. Saturday and Sunday are days off.
Gasthaus Elsner
It is the cozy little institution near the center of Vienna where you can eat tasty food. In the menu you can find traditional Austrian dishes and beer and wine lists. You can always see a lot of locals in the cafe that speaks about the proper status of the place. The food there is really delicious: the chicken schnitzel served with potato salad is especially tender. For desserts you should try the apple strudel and Sacher cake. It is possible to eat there inexpensively: the average bill for two makes up about 20 €.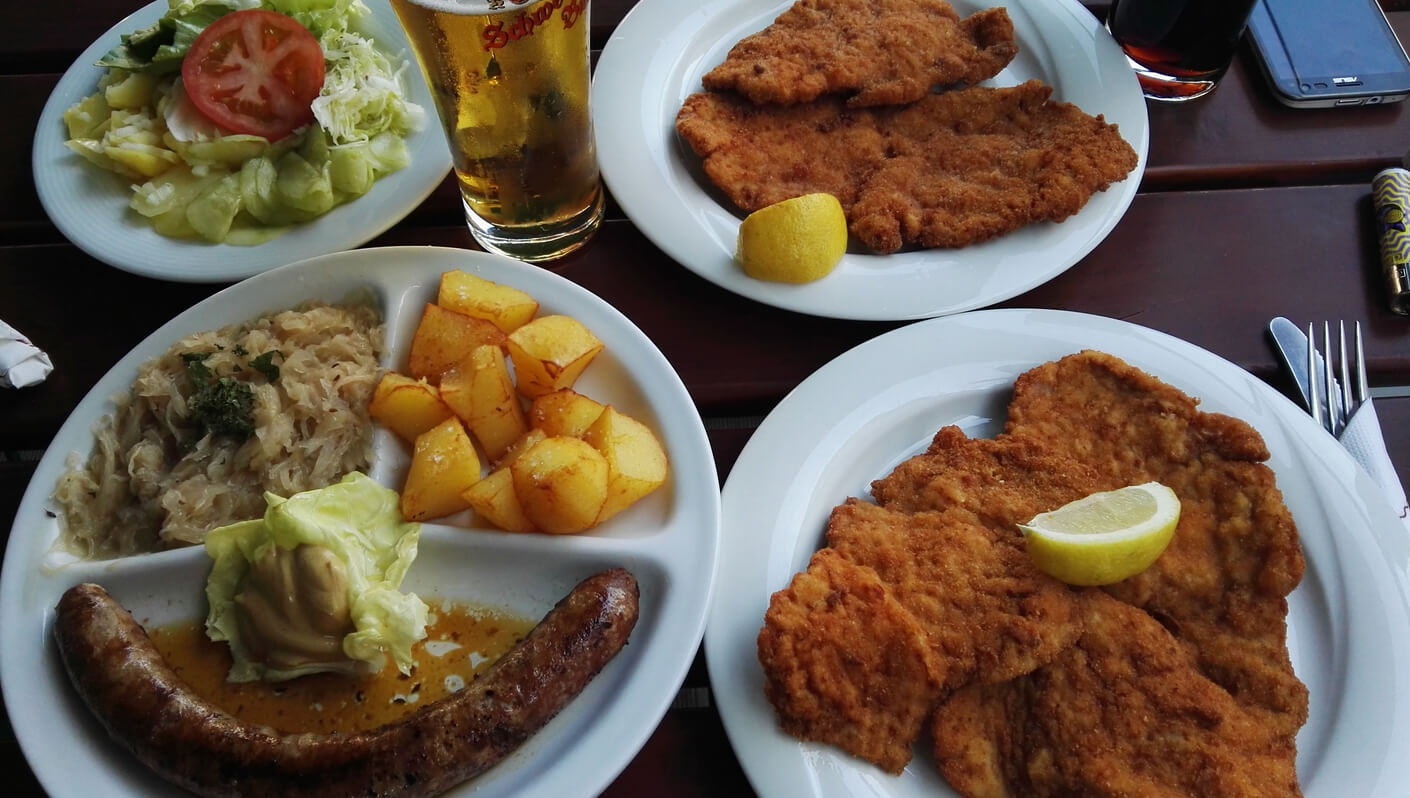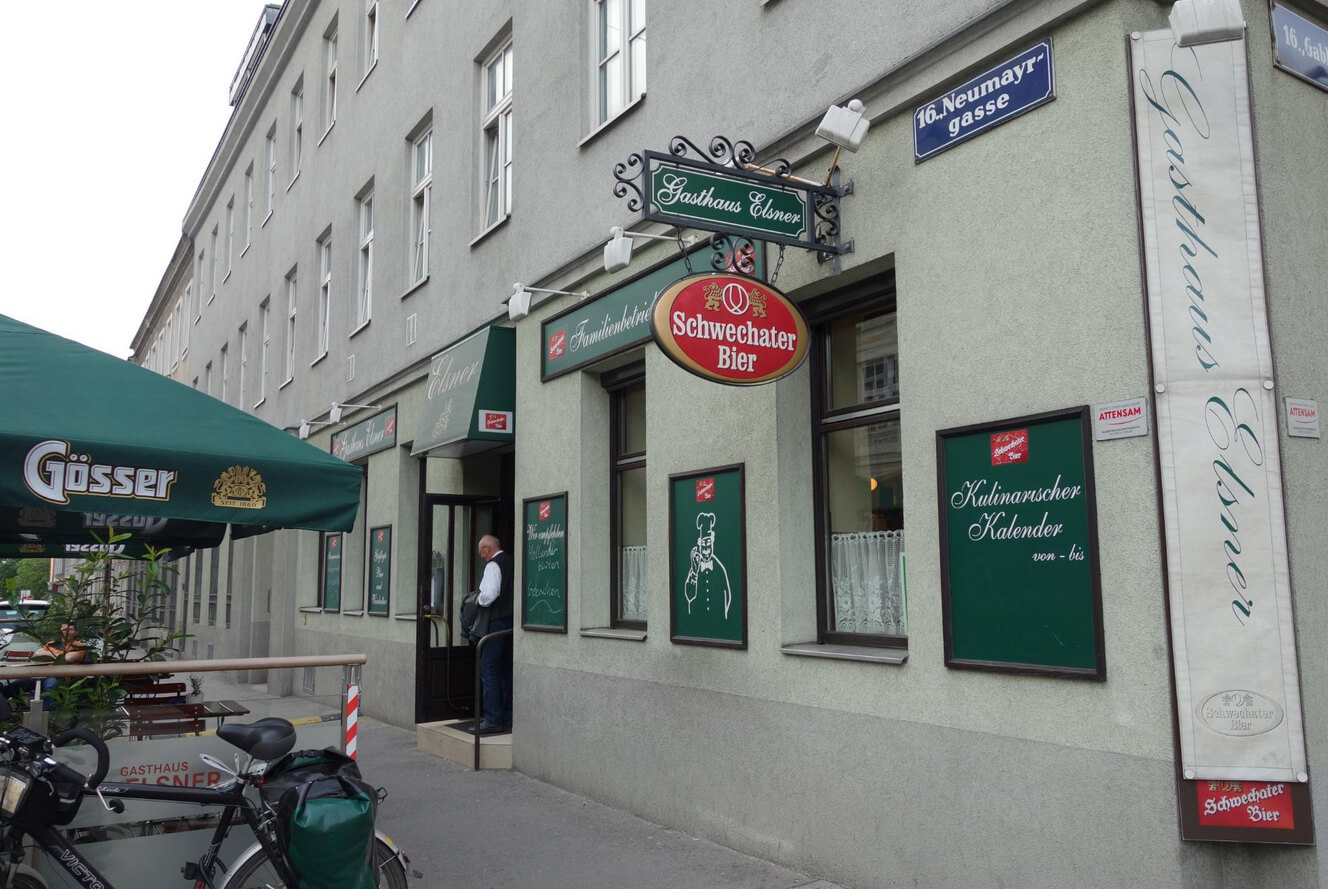 The place has a calm and cozy atmosphere, where you can hear soft and pleasant music. The waiters are rather helpful and speak English well and bring orders quickly. Tourists who have been here note the incredible size of portions, which is not typical of most restaurants in Vienna. In general if you are looking for a cheap cafe with tasty national cuisine where you can immerse yourself in a true Viennese flavor, Gasthaus Elsner will suit you ideally.
Address: Neumayrgasse 2, 1160 Vienna.
Opening hours: Every day from 10:00 to 22:00. Saturday and Sunday are days off.
Kolar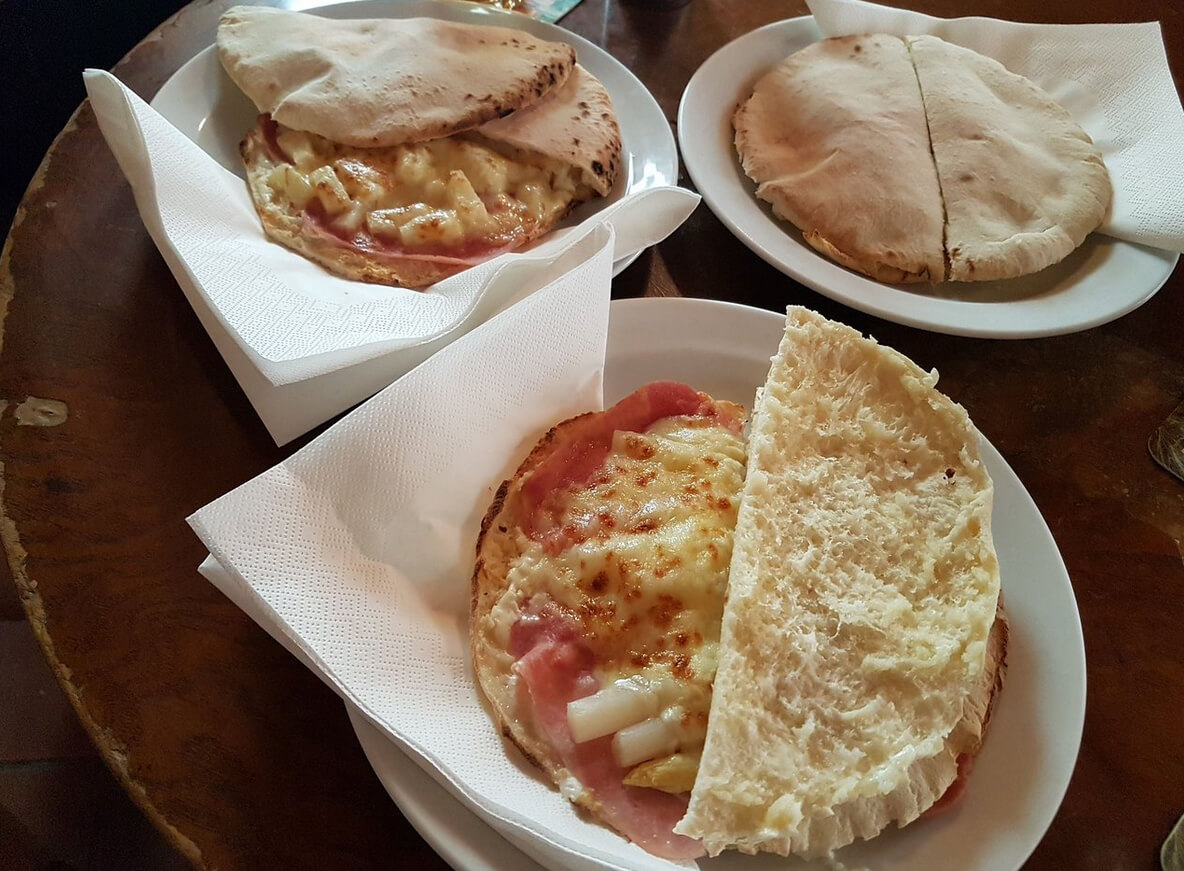 It is a pleasant place situated in the walls of the old house where you can eat cheap and delicious. The place specializes in making tortillas with different fillings: onions, mushrooms, olives, etc. Garlic and sour cream flatbreads are especially delicious here. The menu offers a wide selection of alcoholic beverages, including beer, wine and mulled wine. Visitors to the cafe recommend ordering the local dark beer. This is an inexpensive eatery, where for 2 servings of scones with two glasses of beer you will leave from 15 to 20 €.
At Kolar you will be greeted by friendly waiters, most of whom speak English. The cafe is notable for quality and fast service. It is located in the center of Vienna, is quite spacious and has a large number of tables. If you are hungry when walking through the city and you want to have tasty and inexpensive meal in the center, this option is definitely recommended to visit.
Address: Kleeblattgasse 5, 1010 Vienna.
Opening time: Monday to Saturday from 11:00 till 01:00, on Sunday from 15:00 till 00:00.
Swing Kitchen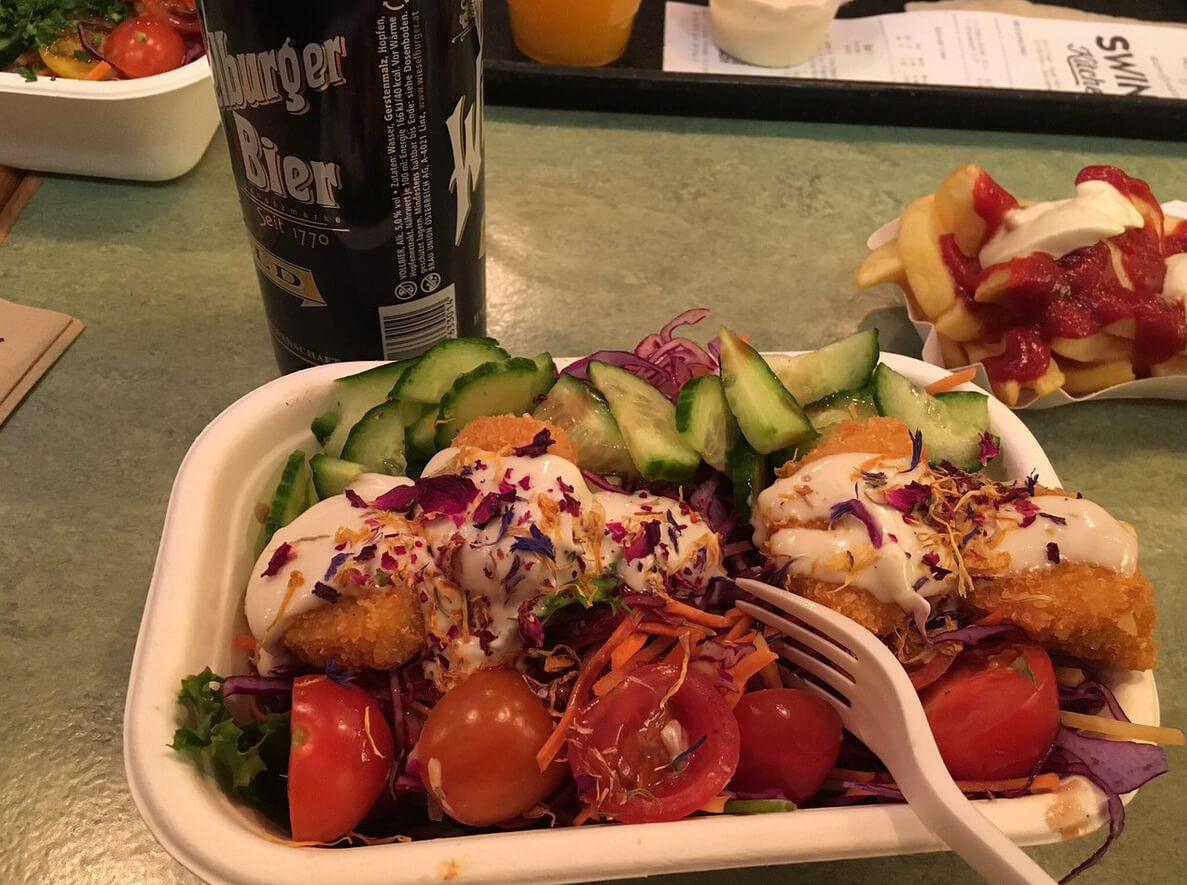 If you are interested where to eat budget in Vienna, you should consider this restaurant. Its distinctive peculiarity consists in the menu: all dishes served here are strictly vegetarian, but very tasty. The restaurant is owned by a family couple (convinced vegans) that offers their visitors healthy homemade food. Among the presented dishes you will find cheap burgers, salads and desserts. Portions are quite large and hearty. The first thing to try here is the chili burger and cheeseburger. And for dessert, be sure to order the donuts and cheesecake. At this inexpensive restaurant you will pay from 12 to 20 € for a meal for two.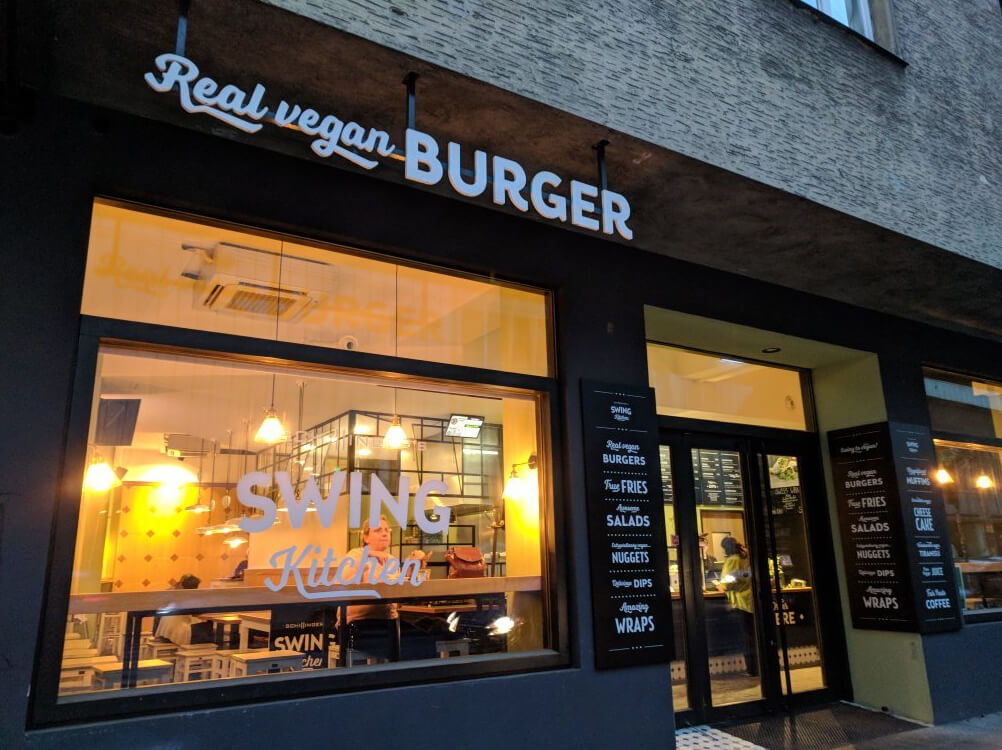 The staff is friendly and helpful. At the cash register you can ask for the menu in English. Despite the vegan bias of the place, visitors assure that the local food will be to the taste of non-vegans as well. All in all, this is a great place to eat tasty and inexpensive.
Address: Operngasse 24, 1040 Vienna.
Open daily from 11:00 to 22:00.
Zanoni & Zanoni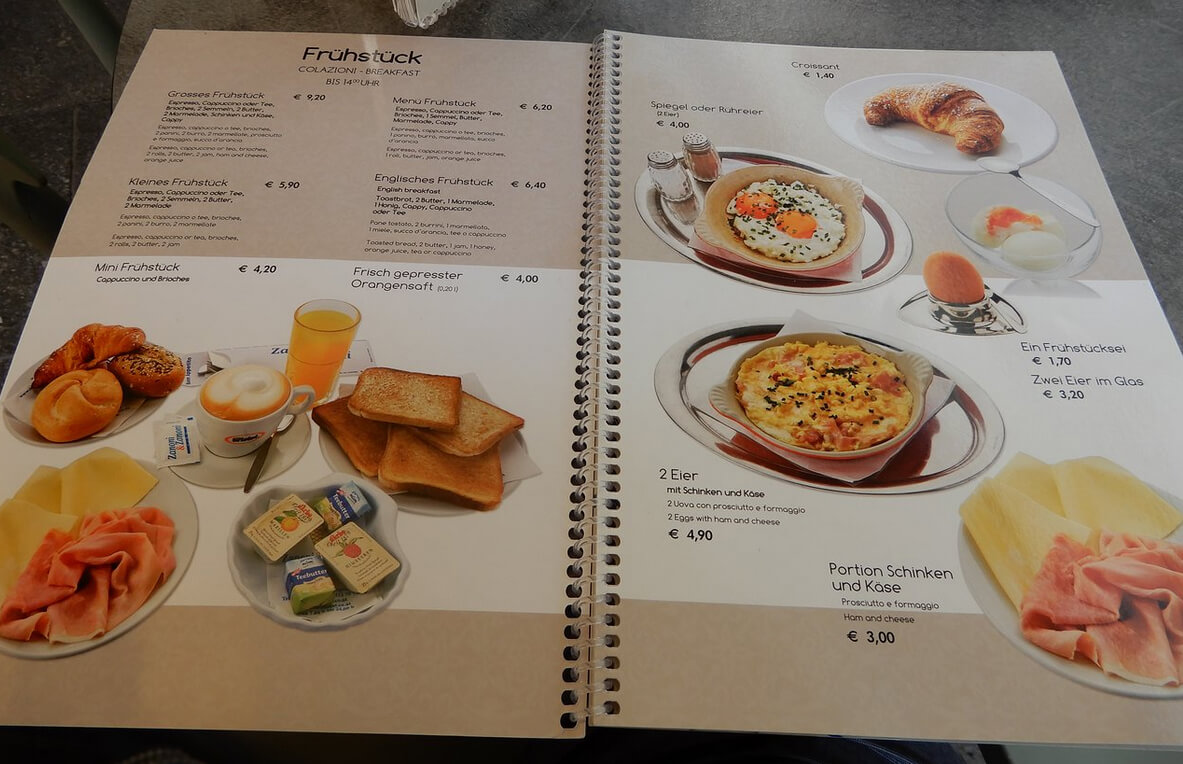 This is another miniature snackbar in Vienna where you can eat cheap. Though this institution positions itself as an ice-cream cafe, its menu includes many other dishes such as sandwiches, salads and desserts. It offers about 20 kinds of ice cream, tasty and inexpensive. Among other desserts we recommend you to try the cake Sacher, but strudel is not worth ordering: its taste is pretty bland. Among drinks we recommend you to try the hot chocolate with cream. You can also have a nice and cheap breakfast at Zanoni. Average bill for two people comes to 10 -18 €, which is not expensive by Viennese standards.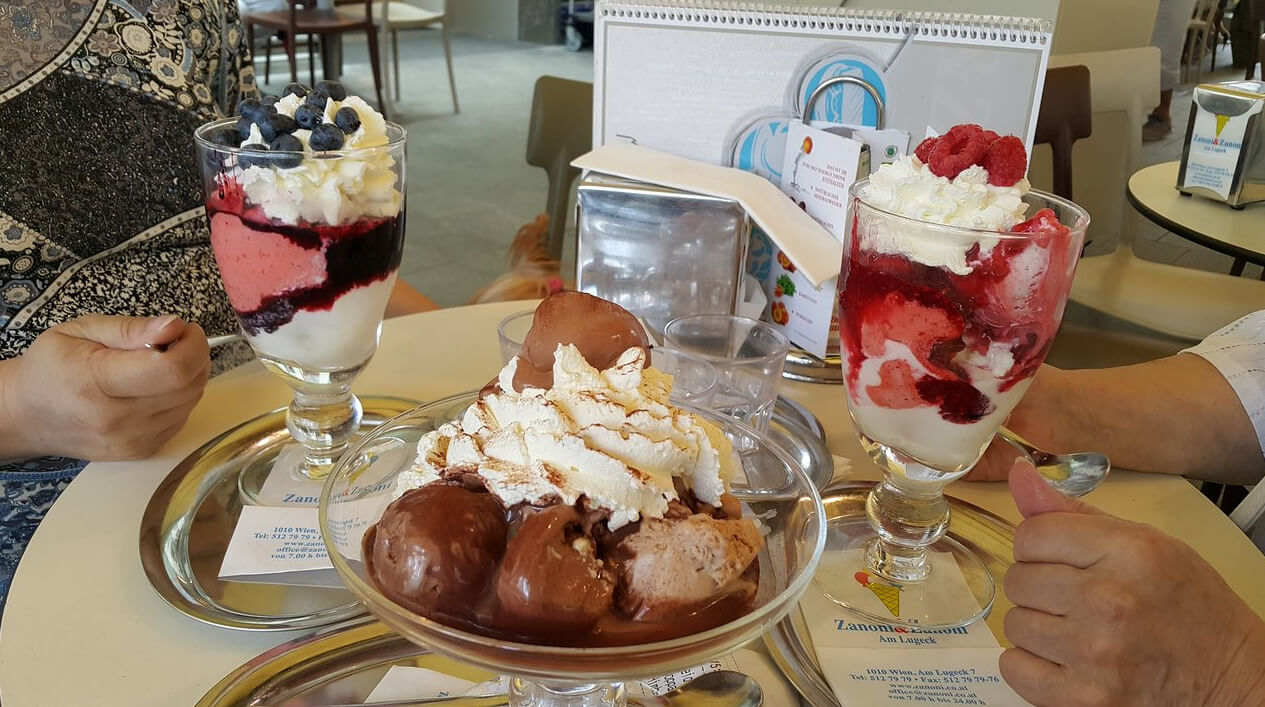 The cafe is notable for its fast and high-quality service, the waiters are friendly and always ready to help visitors. There is free Wi-Fi on the premises. However, many guests note that this place is worth visiting only for the desserts and ice cream. Some do not recommend ordering coffee here, because they find it bland and unpalatable. To eat here you hardly can, as this variant is more suitable for a sweet break during the walk through Vienna.
Address: Lugeck 7, 1010 Vienna.
Opening hours: daily from 07:00 to 00:00.
Bitzinger Wurstelstand Albertina.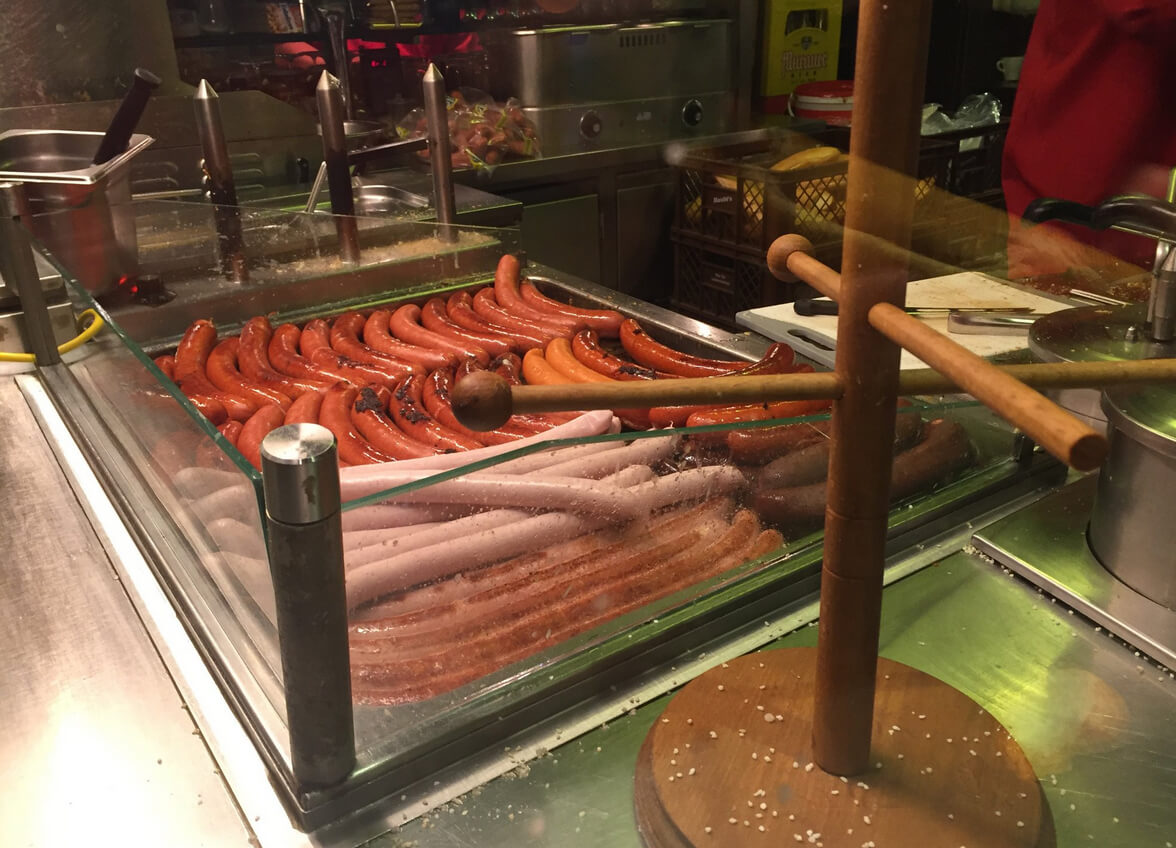 What can be more pleasant than a snack with Vienna sausages in the midst of the capital's elegant monuments? And it is an opportunity that no tourist wants to miss out on, which is why there are always long lines lined up at the Bitzinger stand selling cheap hot dogs. Here you can order both sausages in a bun, glazed with different sauces, and individually sliced sausages. The portions are large and hearty, tasty and inexpensive. You can also find refreshing and warming mulled wine in the shop. A meal for two is quite possible here for only 10 €, which is very cheap for such an expensive city like Vienna.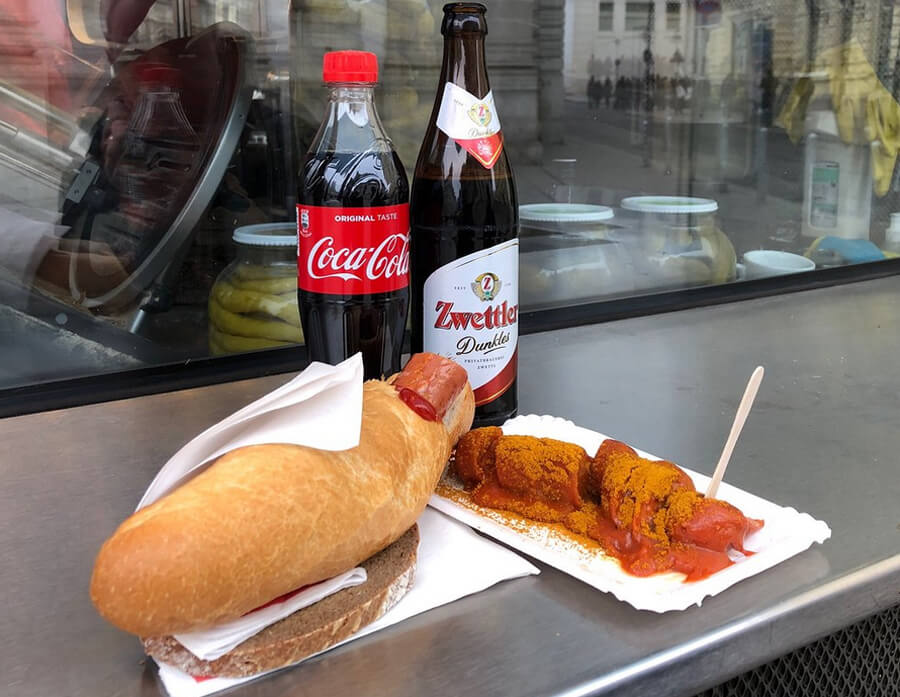 The staff know a few words of Russian and are more than willing to treat their customers to a spicy pickle. There is an area with tables around the snack bar. This is a great option for those who want a quick bite of cheap street food. But there are also negative opinions among tourists about the place: in particular, people are dissatisfied with the poor quality of the sausages.
Address: Albertinaplatz 1, 1010 Vienna.
Open daily from 08:00 to 04:00.
Knoedel Manufaktur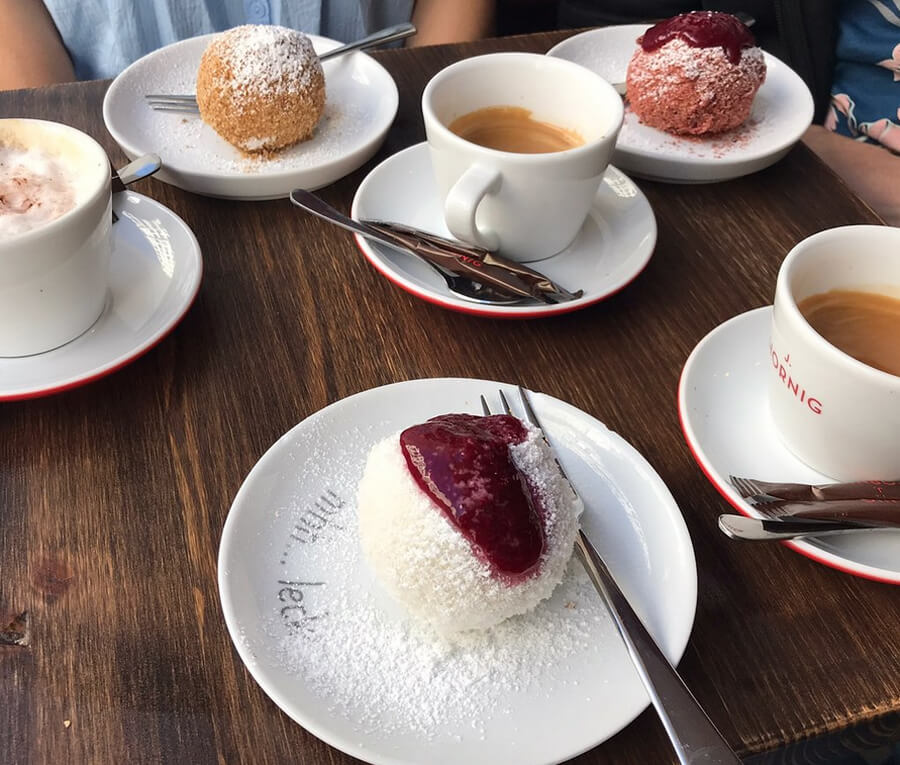 If you love original desserts and looking for a place in Vienna where you can eat tasty and inexpensive you should visit Knoedel Manufaktur. The cafe specializes in dumplings, which are served in different variations. Many tourists note that this institution prepares the most delicious desserts in Vienna. Be sure to try the cake called "Mozart" with a strong black coffee. On average you can eat here for 10-15 € for two, which is quite cheap for the center of Vienna.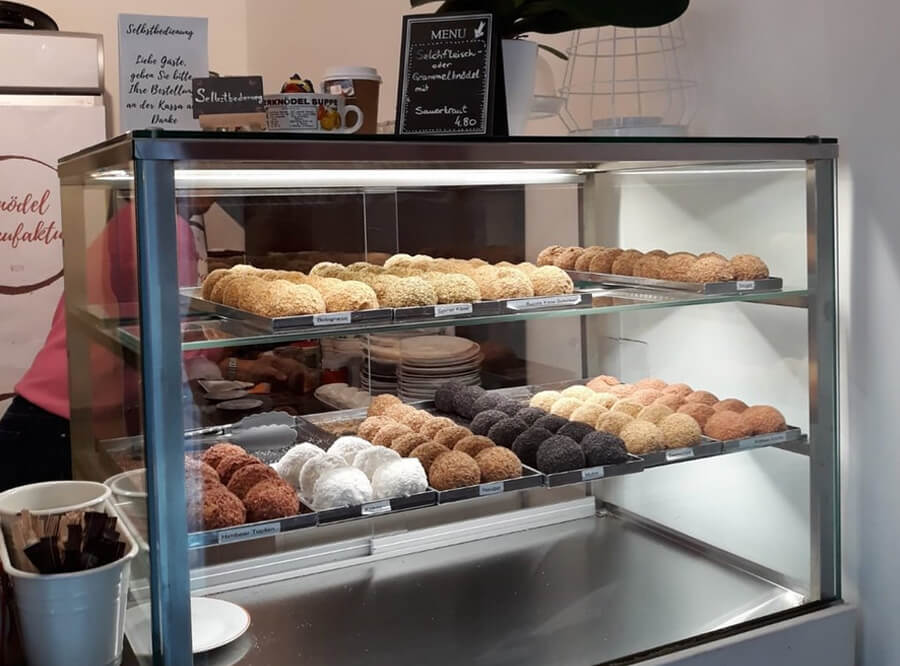 All the desserts are made by hand, they are always fresh and delicious. The staff is very friendly and willingly gives recommendations to visit the sights of Vienna. Fans of the sweet tooth will definitely appreciate it.
Address: Josefstädter Str. 89, 1080 Vienna.
Opening hours: Monday to Friday 11:00 am to 8:00 pm, Saturday 12:00 pm to 6:00 pm, closed on Sunday.
Schnitzelwirt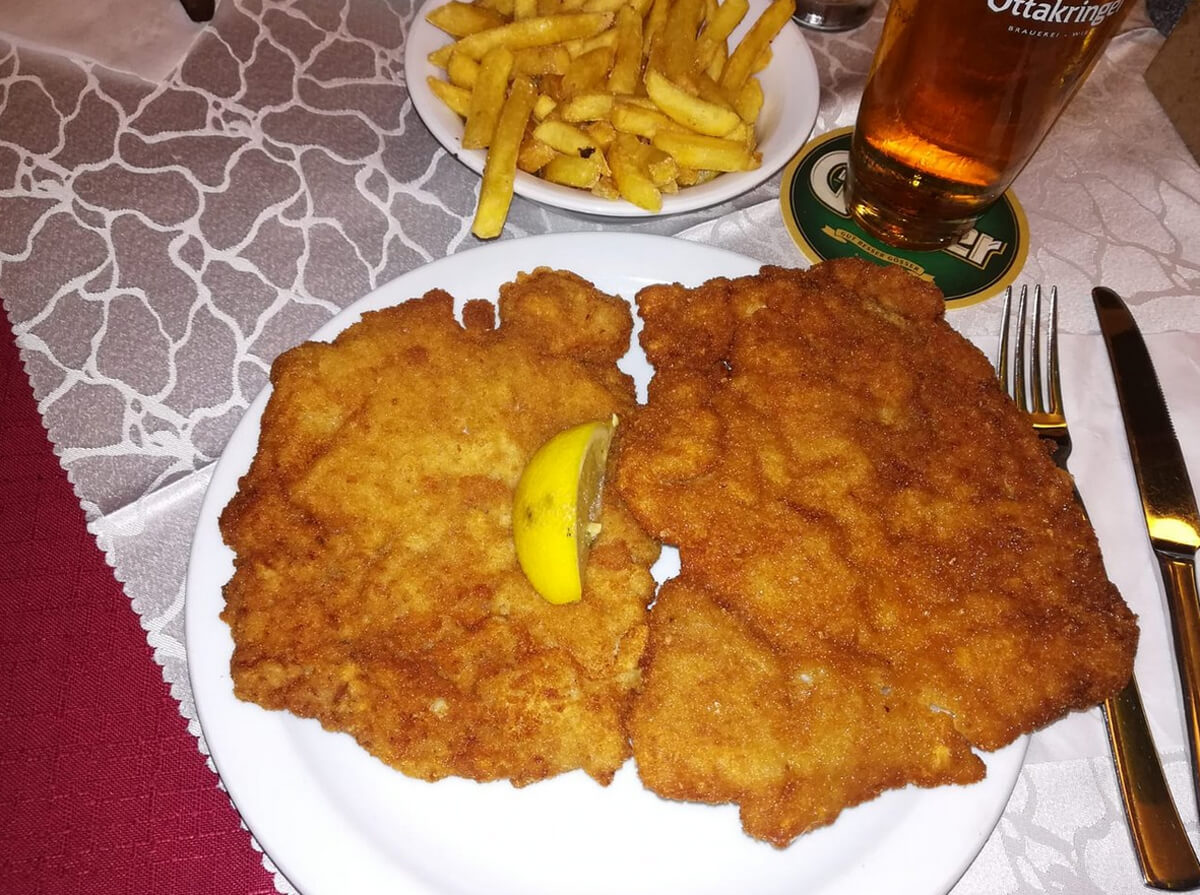 If you always dreamed to try the real schnitzel in Vienna, you are welcome to Schnitzelwirt. The restaurant is so popular that some visitors have to stand in a long queue to get in. In the menu of the restaurant there are various kinds of schnitzel, sausages and side dishes. And all of it is definitely a must-try. Portions here are huge, so you can order one dish for two. We advise you to also appreciate the local draft beer. It is really cheap: for two schnitzel with drinks you will pay not more than 30 €.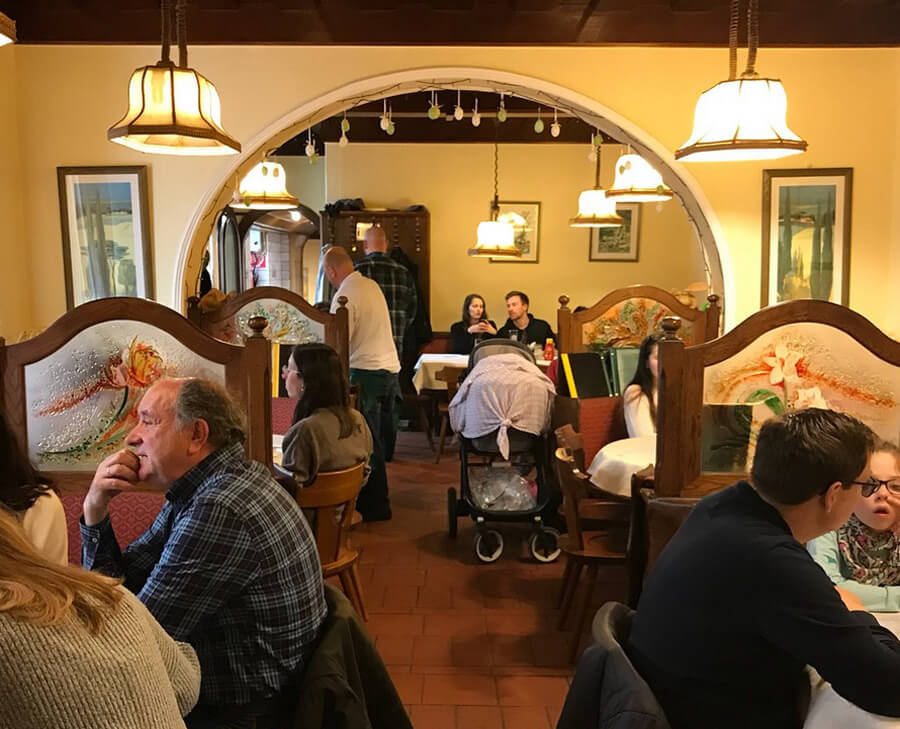 Although it is a tasty and inexpensive place, it has a significant drawback – a small room with very dense seating, causing discomfort to many people. Otherwise the restaurant is good and shows quality and prompt service.
Address: Neubaugasse 57-41, 1070 Vienna.
Opening time: every day from 11:00 till 22:00, Sunday is a day off.
Conclusion
Now you know where to eat in Vienna cheap and delicious, and according to your preferences you can choose a restaurant from the presented list. Be sure to pay attention to the opening hours of the institution and do not forget that many of them on weekends are closed.
Author: Catherine Unal
Stockholm is a city that not only delights with sights, but also quickly devastates…
Updated: 23 Nov, 2019 Istanbul, being one of the most visited cities in the world,…
Updated: 8 Feb, 2019 The Freud Museum in Vienna is one of the most…
Updated: 4 Mar, 2019 Vienna, the museum capital of Central Europe, focuses on…