Where to have a rest in Bulgaria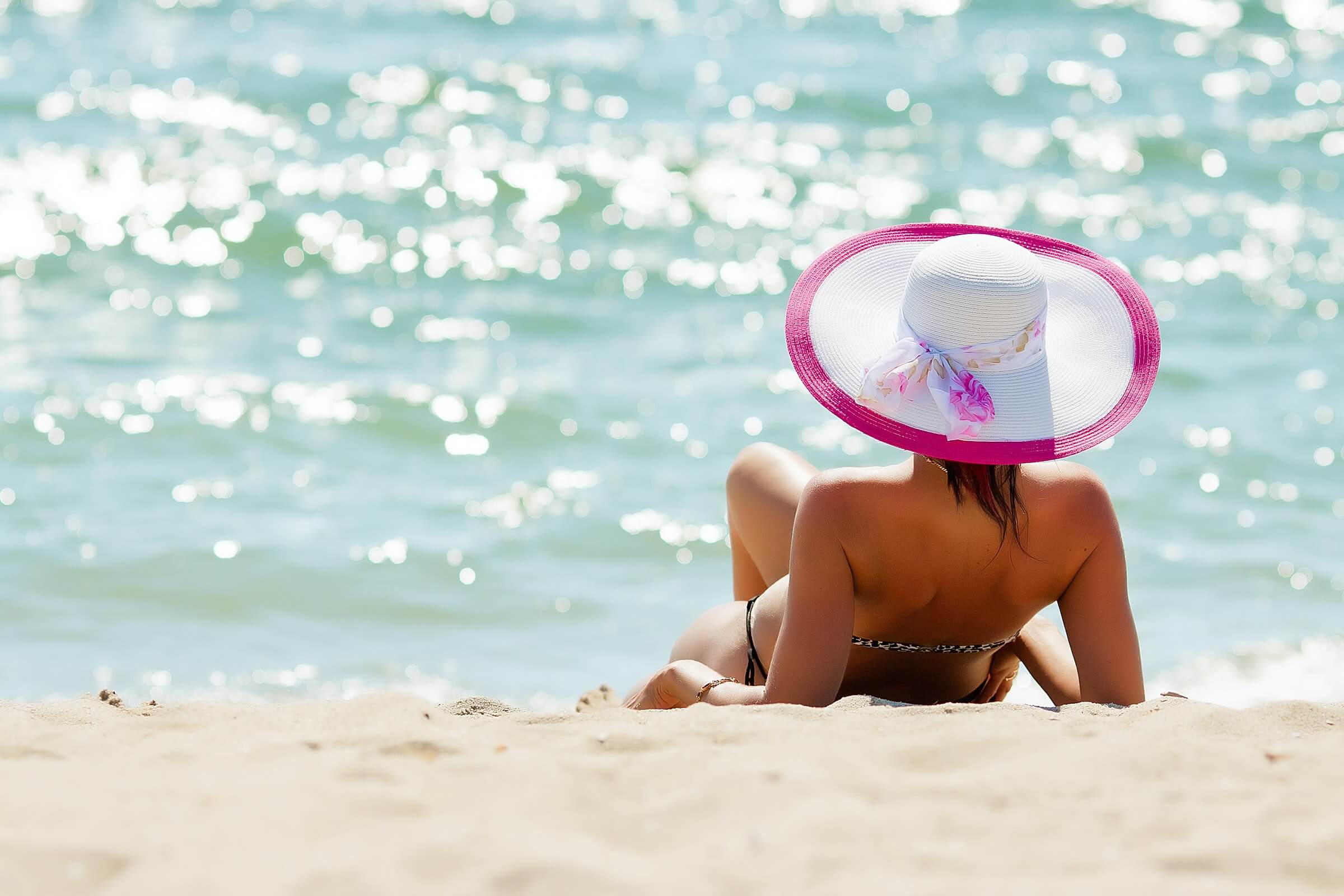 Bulgaria is picturesque rocky bays, gorgeous sandy and pebbly beaches. Learn about the 10 best sea resorts in Bulgaria, and choose a place to vacation!
Where to have a prestigious vacation
Tourists with a fat wallet and celebrities prefer to go to Sozopol, Nessebar, Sveti Vlas and Elenite. Prestigious resorts in Bulgaria offer fashionable hotels, yachts, equestrian clubs, and golf courses. The price level here is higher, and the service is better.
Where to have a reasonably priced rest
Number 1 resort for a budget holiday in Bulgaria is Burgas. In addition, budget tourists choose Sunny Beach, Varna, Golden Sands and Pomorie.
Where to go with kids
Resorts Sunny Beach, Albena, Burgas, Varna, Golden Sands, Sozopol and Pomorie offer the best vacation in Bulgaria with children. These towns and villages have excellent sandy beaches, gentle entrance to the water and entertainment for children.
Resorts for Young People
Where should people who like active rest, discos and night clubs go in Bulgaria? We advise Sunny Beach, Golden Sands, and St. Vlas. You won't get bored at the main party spots on the Black Sea coast!
Where are the best beaches?
Sunny Beach, Albena, Pomorie, Elenite and Sozopol are famous for a good beach vacation. At these resorts you can perfectly relax, get a comfortable tan and swim in the clear sea water.
Albena
This wonderful resort in the north of the Bulgarian Riviera is situated 30 km away from Varna. Albena is the green capital of Bulgaria, a place where the lovers of nature, silence and clean sea can have a rest. Beach lovers will love the long and wide strip of sandy beaches.
The family resort was established in 1969. Since then, over 30 hotels 2-5* were built in Albena. Those who come here on their own can rent an ordinary apartment.
The resort has no historical monuments. The main attraction is a natural reserve Baltata, on the territory of which there are hiking trails for tourists.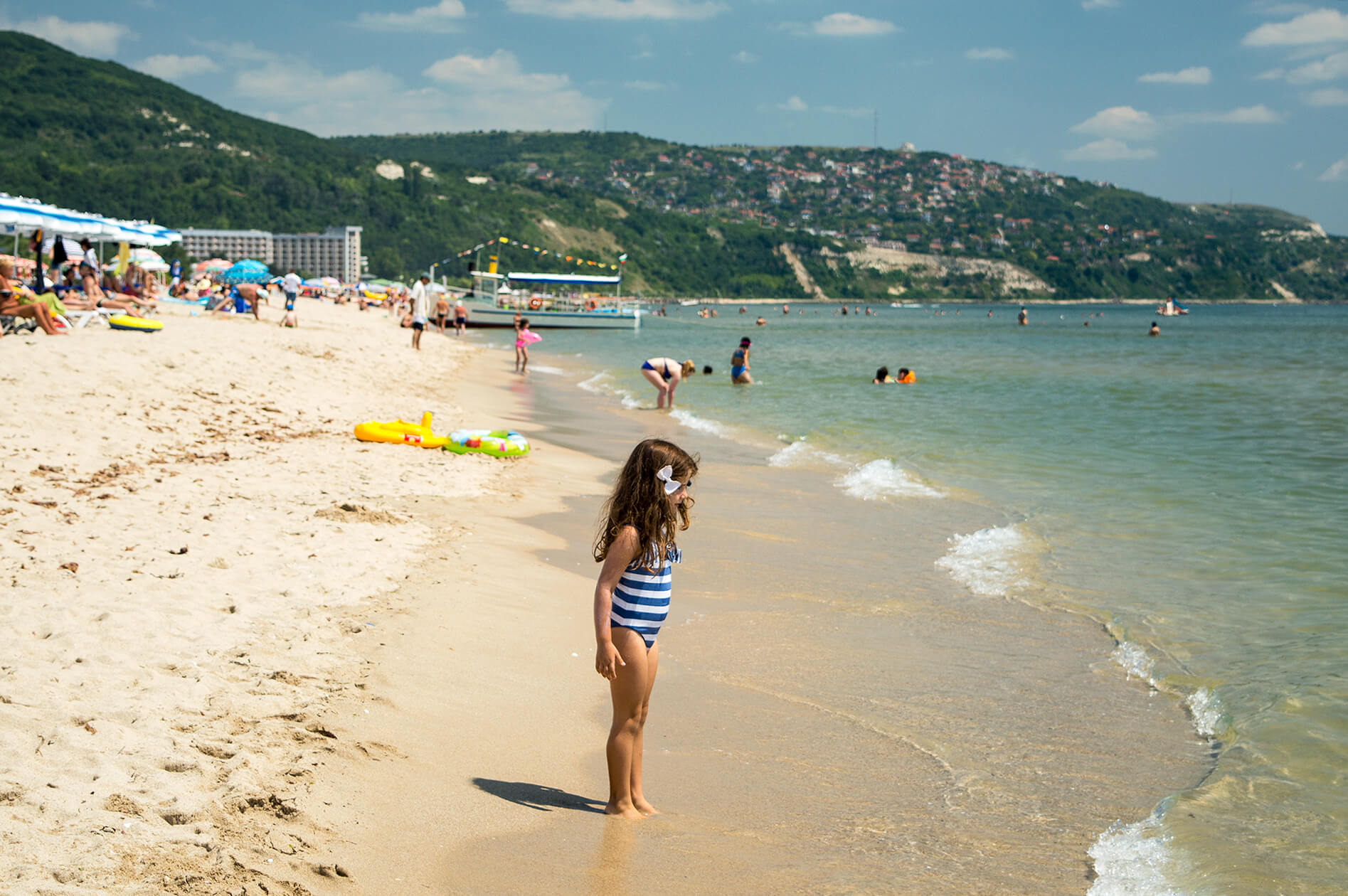 The beach in Albena. Photo: Balcon del Mundo / flickr.com / CC BY-SA 2.0.
Varna
Relaxing by the sea in Bulgaria is better in Varna, a colorful port city near the border with Romania. Visitors are attracted by the many kilometers of beaches with fine golden sand, reasonable prices, the healing mud of Varna Lake, water from mineral springs and many attractions. Take a walk through the picturesque Sea Garden, visit the archeological and naval museums!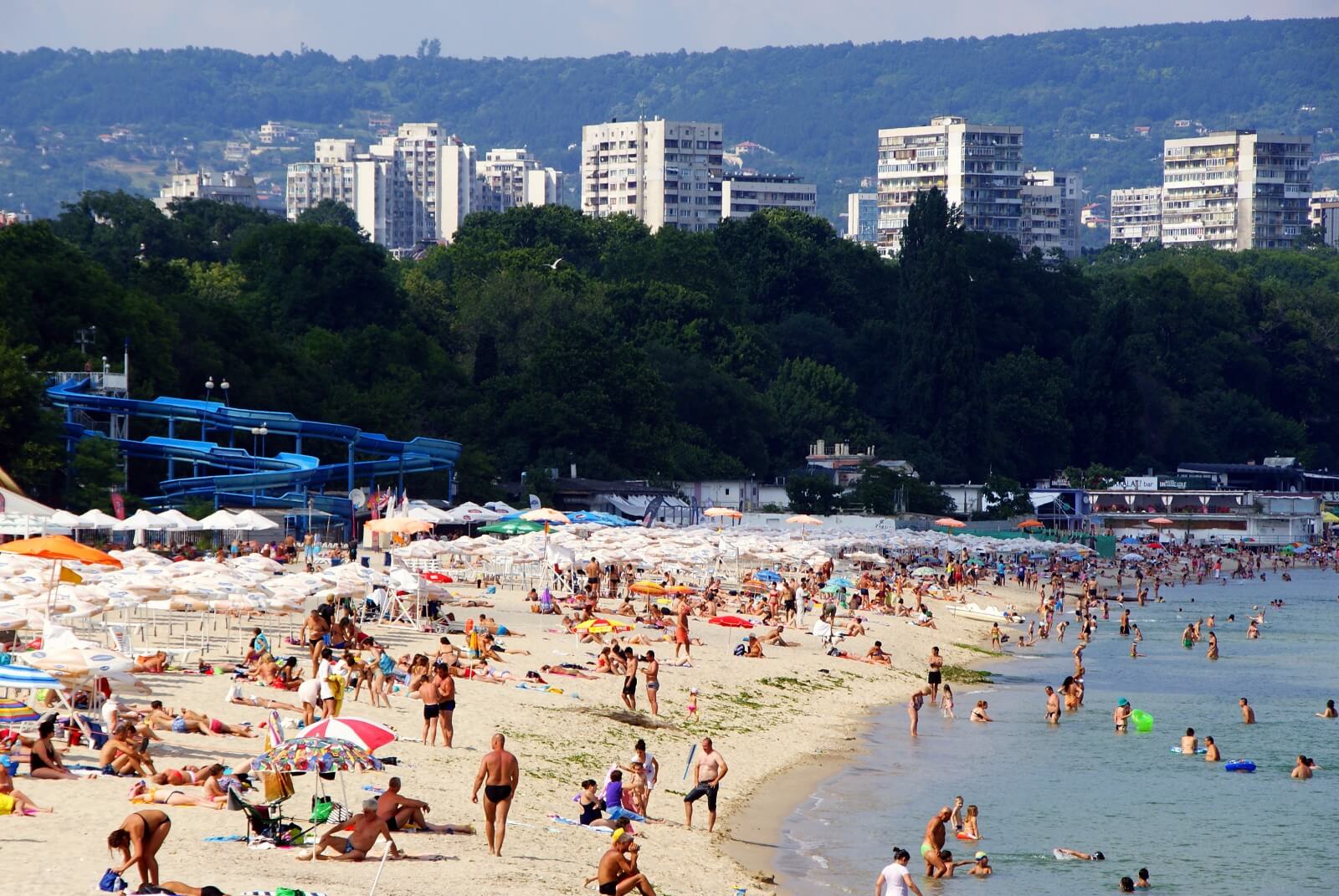 Beach in Varna. Photo: Złota Bułgaria / flickr.com.
Burgas
A major seaside resort in southeastern Bulgaria, it's best to vacation with toddlers and school-age children. Burgas has attractions, a mini-zoo and steam trains in the Sea Park. There are over 20 kilometers of bicycle paths, so it is called the most bicycle friendly city in Bulgaria.
Burgas is loved by tourists from Russia, and there are many Russian-speaking expats living here. Bulgarians easily understand Russian speech, and in restaurants you can always find menus in Russian. History lovers gladly go to museums, temples of the city, go on excursions, and fans of shopping do not miss the seasonal sales in the Bulgarian stores and malls.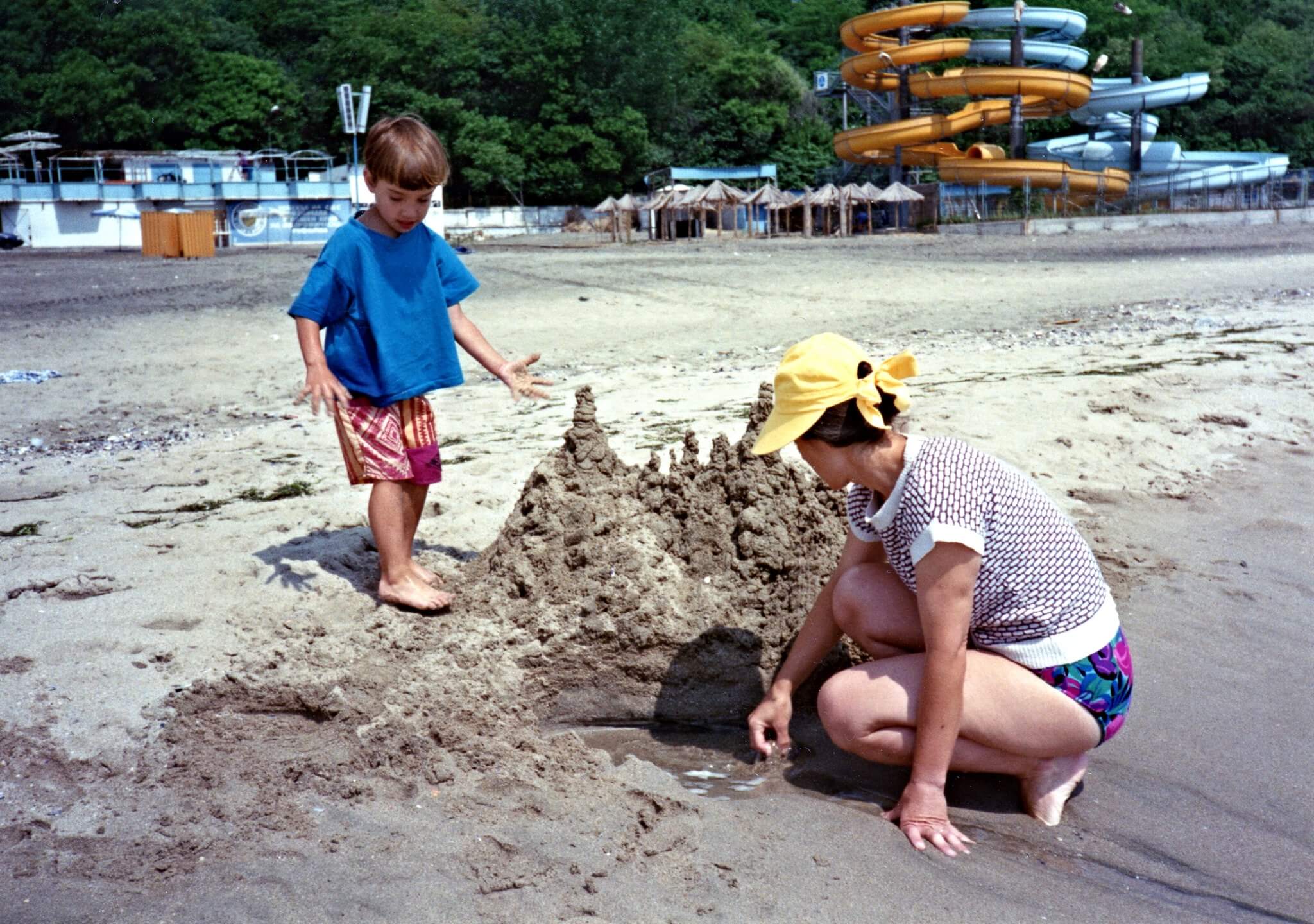 The beach in Burgas. Photo: ali eminov / wikimedia.org / CC BY-NC 2.0.
Sunny Beach
If you have not decided where to vacation in Bulgaria in the summer, choose the most popular Bulgarian resort – Sunny Beach. In recent years it has changed a lot. Many "Soviet" hotels have given way to modern 4-5* hotels.
Sunny Beach is loved for its good infrastructure and excellent beach vacation. On a wide sandy coast tourists are waiting for water park Action, a lot of entertainment for young people and interesting excursions to the old Bulgarian cities. There are few disadvantages of a vacation in Sunny Beach – in summer it's hectic and noisy, and in July and August there are jellyfish in the warmed shallow water.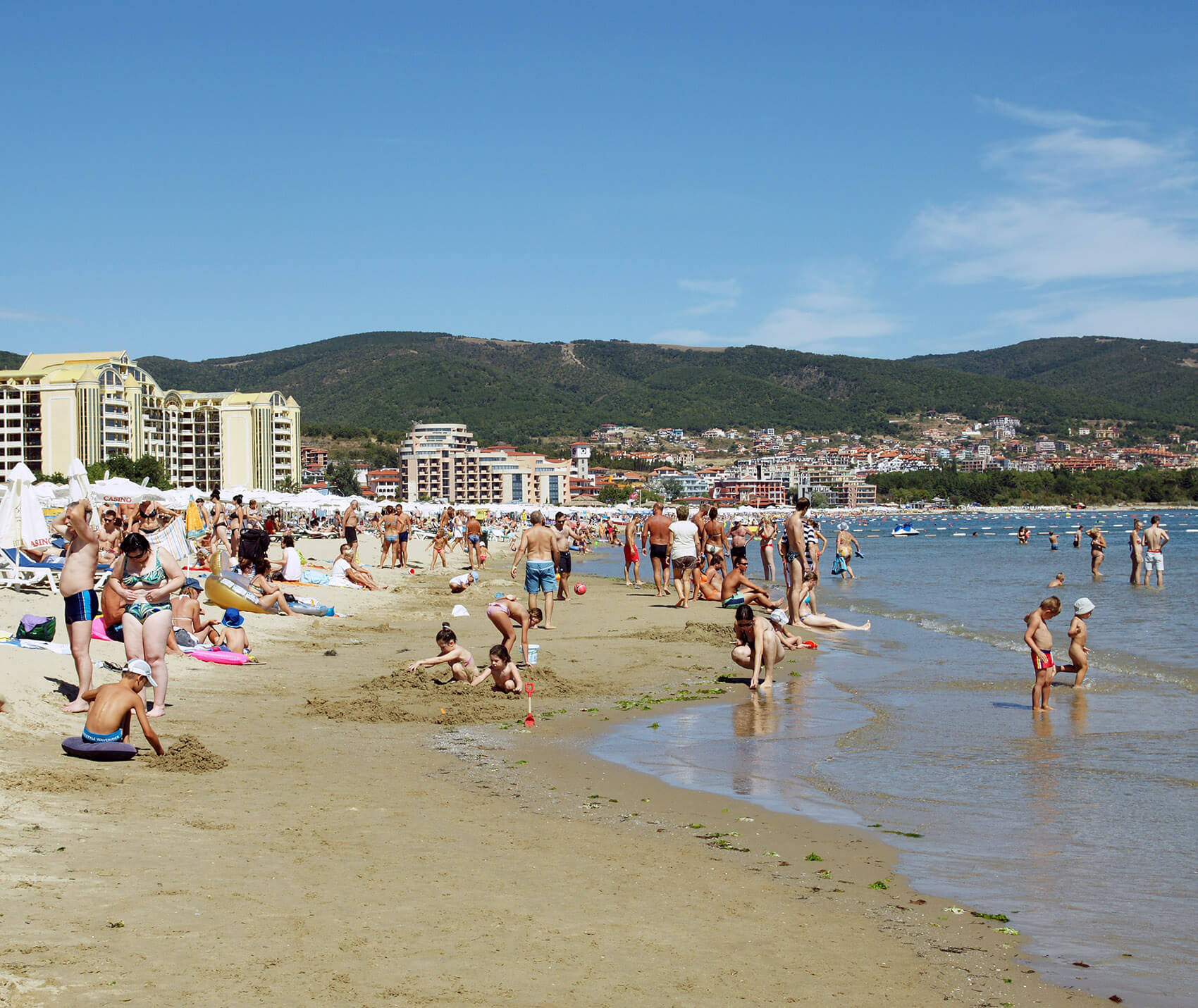 The beach in Sunny Beach. Photo: kallerna / wikimedia.org / CC BY-SA 4.0.
Golden Sands.
The popular resort is considered a budget holiday destination in Bulgaria. The sea water in Golden Sands is not the cleanest, but there are enough beaches and entertainment for fans of outdoor activities. Tourists enjoy water skiing, diving and windsurfing. The shallow sea is well warmed up in early summer, and this resort in Bulgaria can rest already in June.
Here willingly go parents with children, tourists who want to relax by the sea, improve their health in the balneological center and play in the casino. There are few sights – the chapel of St. John the Baptist and Aladzha monastery cut out in the rocks.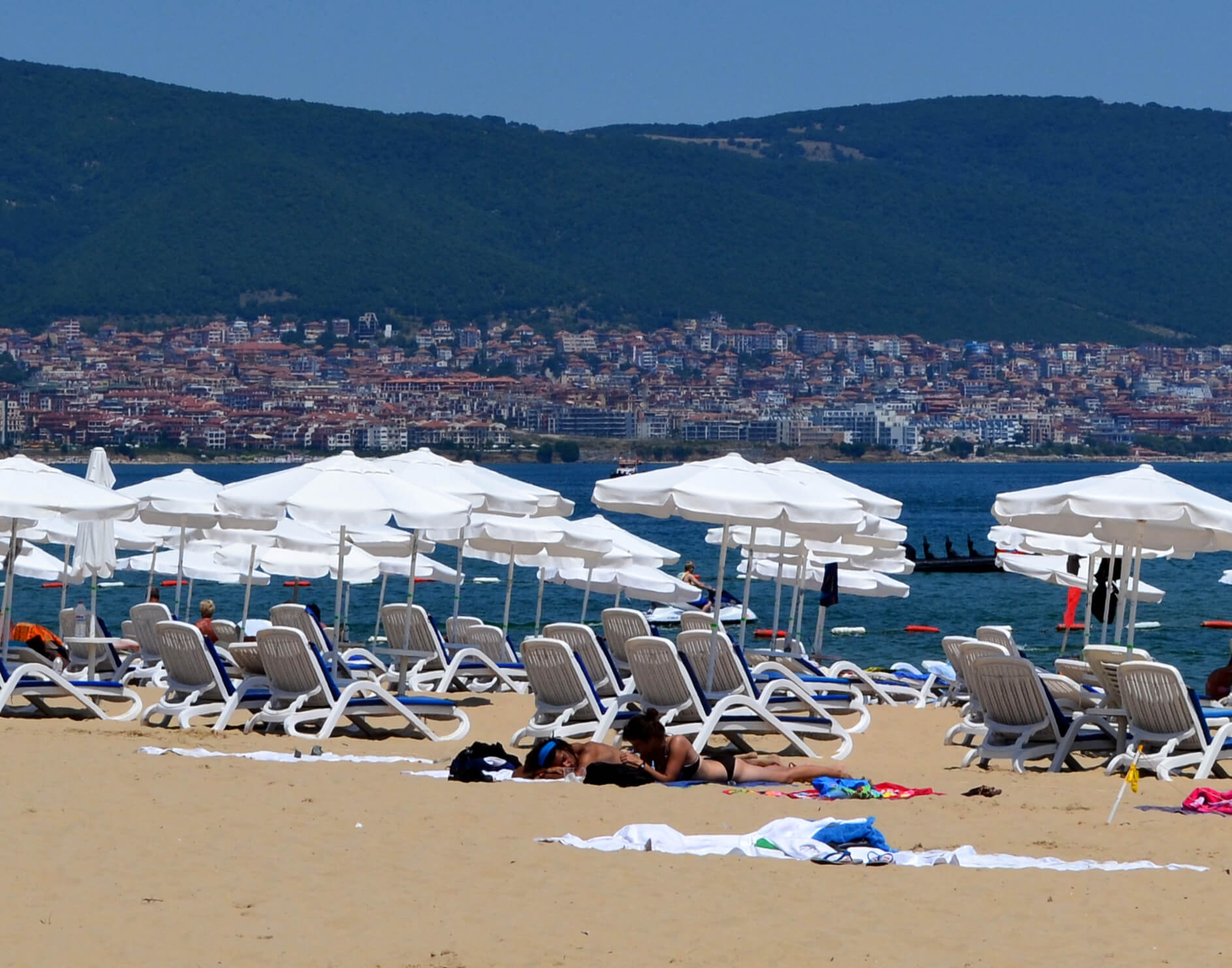 The beach at Golden Sands. Photo: Silar / wikimedia.org / CC BY-SA 4.0.
Sozopol
The small seaside town has a very old history. People lived here as early as the IV-III millennium BC. Now in this resort in Bulgaria is better to rest lovers of cognitive tourism and excursions. The historical part of Sozopol is a true architectural reserve!
In the picturesque port town you will find well maintained beaches, comfortable hotels, bars and restaurants, diving courses, boat tours and interesting bus tours. And there is a pleasant bonus – the prices of seafood and fish in Sozopol are lower than in other seaside towns!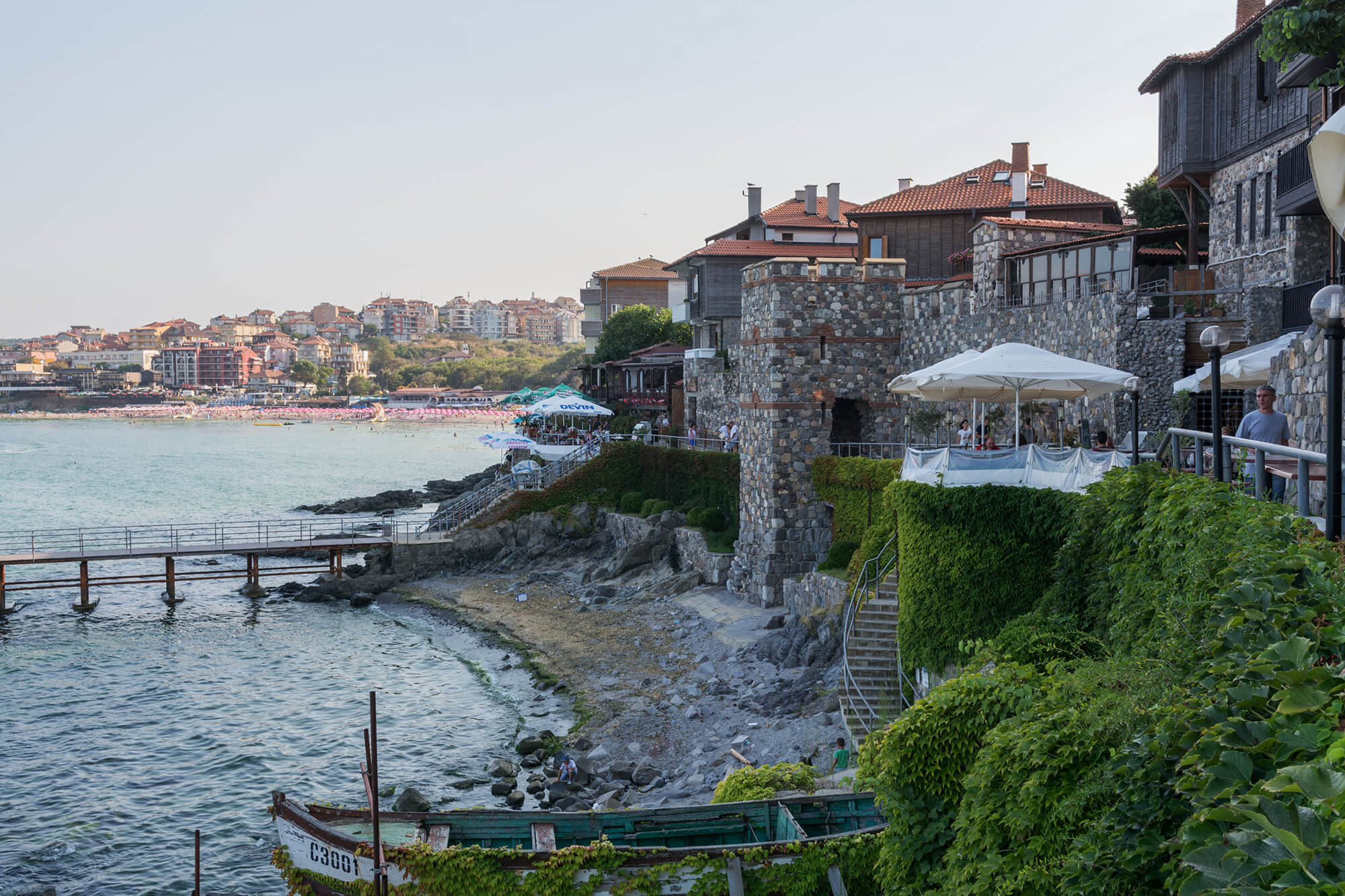 Sozopol. Photo: Nikolai Karaneschev / wikimedia.org / CC BY 3.0
Nessebar
Beautiful Nessebar is divided into two parts. The new town has comfortable hotels, restaurants, cafes and the Aqua Paradise water park, while the old town is listed as a UNESCO World Heritage Site. Tourists from all over Bulgaria come to Nessebar to walk along the cobblestone streets and admire the ancient temples.
On this Bulgarian resort it is good to rest with children, elderly tourists, fans of diving and windsurfing. In Nessebar you can choose from a wide range of luxurious hotels and hotels 2-3* with reasonable prices.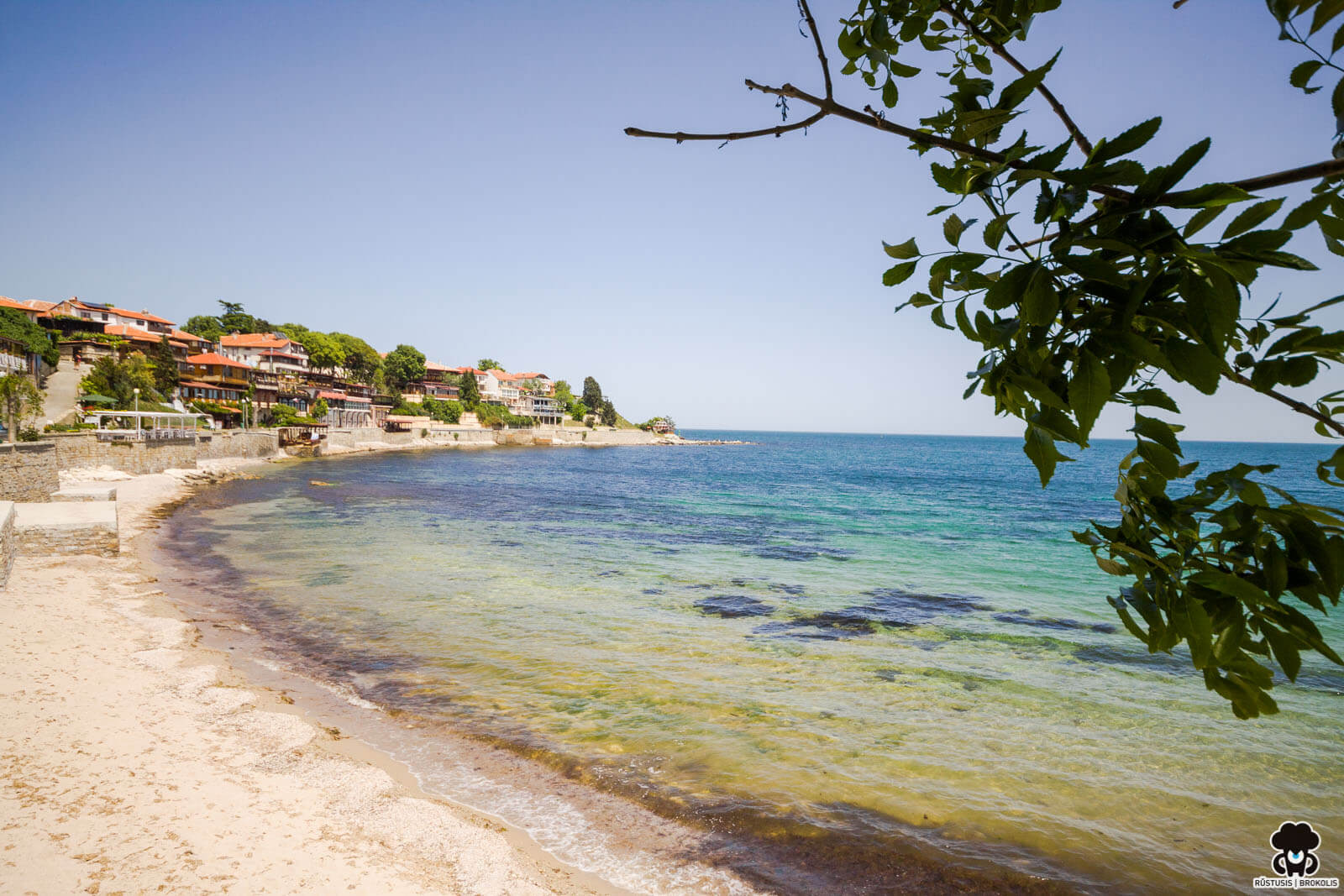 The old town of Nessebar. Photo: Scowl Broccoli / flickr.com / CC BY-NC-ND 2.0.
Pomorie
The small town on a narrow peninsula was founded by the Greeks in the 6th century BC. Today Pomorie is home to 14,000 people. Among the monuments remained are the monastery of St. George and the Thracian tomb. The sandy beaches of Pomorie were awarded the honorary Blue Flag, and from any hotel is not far to the sea.
The resort is popular with parents with children and older tourists. Healing mud from the salt lakes helps get rid of diseases of the joints, upper respiratory tract and nervous system. Pomorie is a place where it is nice to have a rest in Bulgaria in July. The narrow peninsula is constantly blown around by fresh sea breezes, so vacationers can easily endure the heat.
The beach in Pomorie. Photo: Pz.IStP / wikimedia.org.
Sveti Vlas
A small picturesque resort, called the Bulgarian St. Tropez, is part of the Nessebar municipality. St. Vlas has only 2700 inhabitants. The town is very neat – everywhere asphalt, paved sidewalks, there are stores and playgrounds.
The highlight of St. Vlas is a modern marina "Marina Dinevi". A local historical landmark is the new cathedral in honor of the patron saint of the town, St. Vlasius. The peaceful atmosphere and good infrastructure attract families with children to the resort.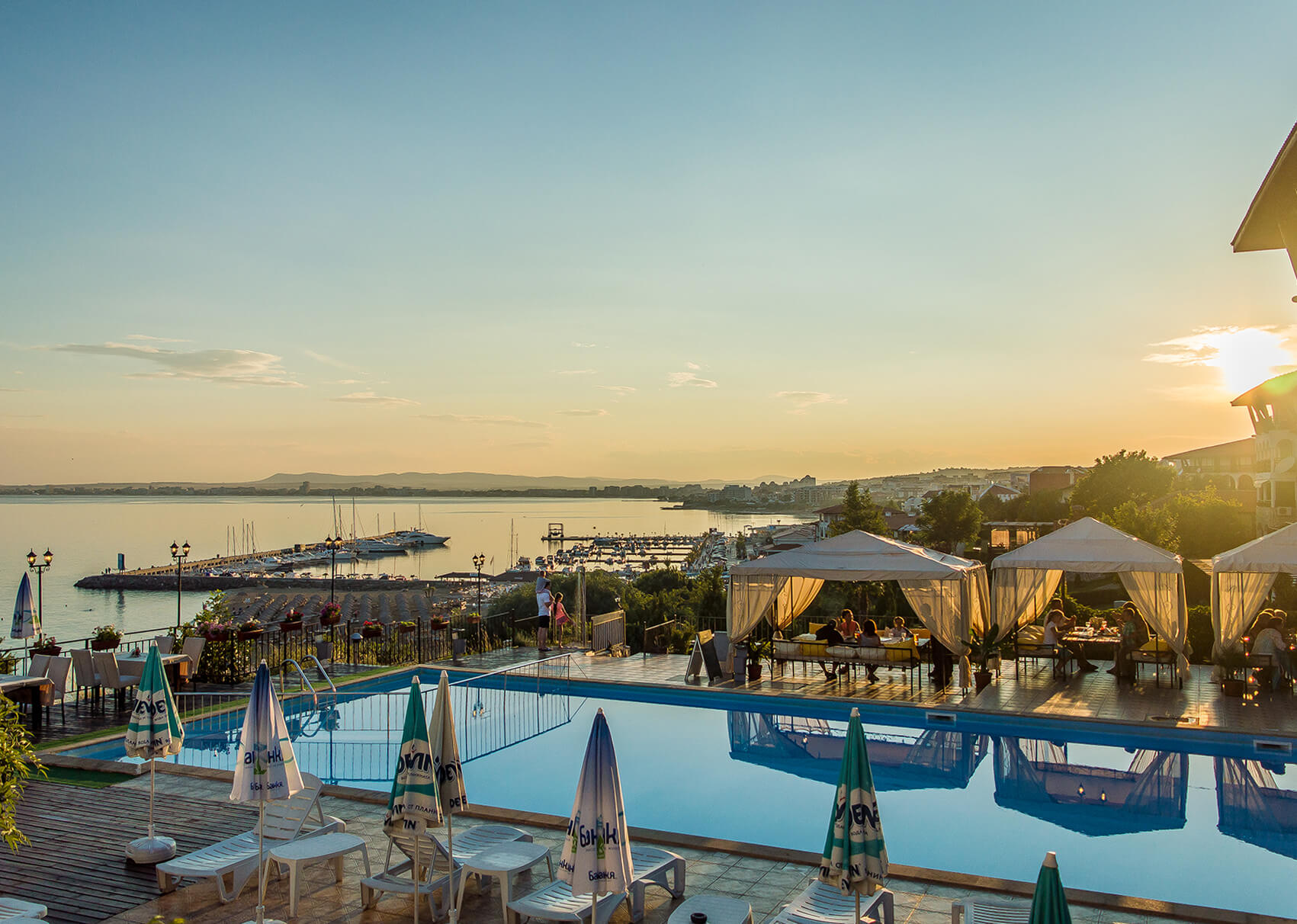 A view of the marina in St. Vlas. Photo: bdmundo.com / wikimedia.org / CC BY-SA 2.0.
Elenite
The resort complex near St. Vlas is famous for its gorgeous sandy beaches, comfortable hotels, a small water park and swimming pools. Elenite is good for families and tourists in age. The territory is closed, so there is no need to worry about security!
The sea resort is the best place to relax in Bulgaria in August. The Stara Planina mountain chain protects the coast from winds, creates special microclimate and softens the summer heat. The disadvantage of Elenite is that there are no sights and no public transportation.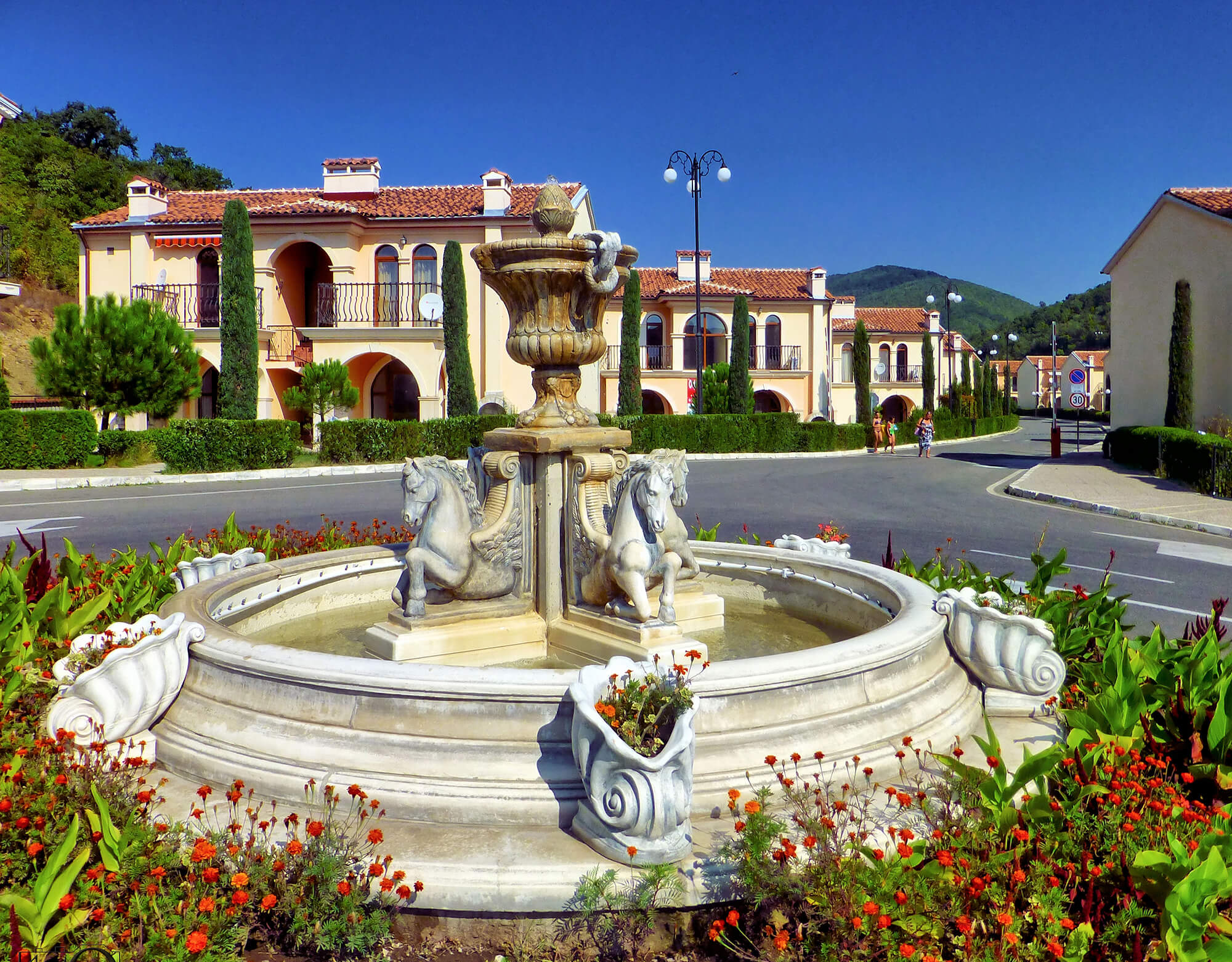 The resort is considered elite in Bulgaria. Photo: Mietek Ł / wikimedia.org / CC BY-SA 3.0.
Where to have a rest at the sea in Bulgaria – 10 resorts
How to get there: 34 km from Burgas airport. Why Sunny Beach: The most universal resort in Bulgaria – there is infrastructure for all ages, close to Neserb, gentle road to the sea (without steep descents and ascents). Reason to think: too many tourists, dense hotel development and lack of green spaces, few attractions.
If you do not know where to go to the sea with children, choose Sunny Beach. Even considering that Bulgaria is famous for children's recreation, Sunny Beach significantly stands out against the other resorts. Here everything is created for young travelers – fun attractions, exciting mini-voyages on the ship, exciting animation programs. There is also a large water park with a beautiful area for children.
Sunny Beach – the most universal resort in Bulgaria
However, young people in this resort will not get bored either. In Sunny Beach there are a lot of multi-format clubs and bars. And among hundreds of hotels there are options for every taste and budget – from modest apartments with kitchenettes to luxurious all-inclusive hotels. The beaches are typical for a Bulgarian resort – fine pleasant sand. The width of the beach line in Sunny Beach is small – 40 meters, but the length is impressive – about 10 km. Many areas are marked by the Blue Flag for purity. For children the local coast is ideal – very smooth sailing, there are almost no waves, and the mountain massif in the north blocks the cold winds.
What to see in Sunny Beach: The neighboring town of Neserb, one of the oldest in Europe, a real open-air museum.
From Sunny Beach to Neserba only 2 km
Golden Sands. A resort for young people in Bulgaria
How to get there: it is 25 km away from Varna International Airport. Why Golden Sands: A lot of entertainments, wide beach, developed infrastructure, mineral springs. Reason to ponder: too many tourists, noisy, high prices, few attractions.
The largest casino in the country, a couple of nudist beaches and even its own Red Light District! Golden Sands surprises in a mature way. For those who want more conventional entertainment – a few dozen nightclubs. And during the day the Aquapolis water park, which is built in Moorish-Mediterranean style and covers an area of 40 thousand square meters.
Golden Sands resort of the same name
But vacationing in Golden Sands is loved not only by young people – the resort is famous for its treatment program. In particular, mud and mineral springs. The village itself is located on the territory of a nature park and a walk through it is already an excursion with a botanical bias. From the historical sites in Golden Sands you can see the rock monastery Aladzha of the 14th century and the chapel of St. John the Baptist. But the main pride of the resort is the beach, which was awarded the Blue Flag. It has a width of 100 meters, stretches along the sea for 4 km and is naturally covered with fine golden sand. The entrance to the sea is not as comfortable as in Sunny Beach, for example, but is quite comfortable for teenagers and adult tourists. Most of all holidaymakers on the Central Beach. The same popular are Reviera and Mojito.
What to see in Golden Sands: On the city from the cafe, located in the local Eiffel Tower. And have a cup of coffee at the same time.
Bulgarian version of Eiffel Tower.
Dunes. The most respectable resort in Bulgaria
Getting there: 36 km from Burgas airport. Why Dunes: All-inclusive, excellent service, protected area. Reason to think: high prices, no public transport.
An unusual resort for Bulgaria, dominated by club hotels, and the vast majority of them are all-inclusive. High level of service and location on the territory of nature reserve attracts wealthy tourists. Therefore, the prices at the Dunes are reasonable.
Hotels in Dunes take good care of their beaches
The beach meets the general premium status. Five-kilometer strip of clean fine sand, shallow entrance to the sea and a Blue Flag. There are areas for wave lovers at the end of the main beach area. Dunes is an aquapark, amphitheater, where go show programs with live music, as well as cafes and clubs, but they are few. The main entertainment program is concentrated in hotels. And outside of them – fragrant pines, rare plants and wild beaches.
What to see in the Dunes: Ropotamo Reserve, which resembles a jungle. Watch the life of herons, swans, dolphins, hares, turtles and deer.
Ropotamo – the beauty of nature
Look for cheap flights on aggregators: UniTicket , Aviasales
Search hotels on YouTravel
Sozopol. Cheap resort in Bulgaria
How to get there: it is 30 km from Burgas airport. Why Sozopol: Low prices, beautiful ancient town, reasons to think: little entertainment, bad roads, unobtrusive service.
If the price is important, you are welcome to Sozopol. It's picturesque, bohemian and one of the cheapest resorts in Bulgaria. Creative intellectuals are attracted to Sozopol by its colorful views (even Angelina Jolie and Brad Pitt could not resist). Ancient city with beautiful old buildings and very atmospheric streets, its historical part is included in the UNESCO list.
In Sozopol on the beach there are enough places where you can put your own umbrella
Young people are interested here in the noisy and busy nightlife. Families with children – two stunning beaches with golden quartz sand, marked with the Blue Flag. The central beach is tiny, but it's in a bay and offers picturesque views of the tiled roofs of the Old Town. Harmani is more spacious and offers tourists all the standard beach activities. On the outskirts of town there are a couple of other almost wild beaches, where you can relax in silence and – if you're lucky – solitude.
What to see in Sozopol: the streets of the Old Town, medieval courtyards covered with ivy and grapes.
To see the old town of Sozopol tourists come from all resorts in Bulgaria
Find and book tours online on UniTicket and Aviasales .
Find tours around the world on Tripster and Sputnik8
Buy insurance and not to worry about your health at Kiwitaxi .
St. Constantine and Helena. Quiet and peaceful resort in Bulgaria
How to get there: 8 km from Varna airport. Why St Konstantin and Elena: Few tourists, quiet, proximity to airport, low prices, healing springs. Reason to think: no promenade, dirt on municipal beaches, almost no entertainment, poor sea access.
A resort with an unusual name will suit those who are looking for a quiet picturesque place in Bulgaria. Ponds with mineral water, pine forests, fragrant roses – St. Constantine and Elena is ideal for the people of age and all those who are tired of the frantic pace of the megapolis.
The descents into the sea at this resort are equipped with stairs.
But there are plenty of activities for kids: playgrounds and mini-pools in 5-star hotels, as well as in cheaper hotels. St. Constantine and Helena is often visited for therapeutic purposes. Quartz sand on the beach, thermal springs, air filled with the scents of pine trees – it's all commonly available. In addition, the resort has specialized balneological centers, where you can undergo a course treatment with thalassotherapy and mud. St. Konstantin and Elena is the oldest resort center in Bulgaria with more than a century of history. Now it is filled with modern hotels, but the entertainment life on the resort is almost non-existent. The main attraction is the beach, which stretches for 3.5 km and has a width of 80 meters. The beach line consists of bays and precipices with stairs to reach the sea. The best parts of the beach are in the north of the resort.
What to see in St. Constantine and Helena: The medieval chapel of Saints Constantine and Helena.
The Chapel of St. Konstantin and Elena is a remnant of the monastery on whose site the resort was built.