Where to stay in Kaliningrad – 10 options
Before we will start reviewing the best places to stay in Kaliningrad, just ask yourself: "What are you coming to Kaliningrad for? If it is a beach holiday during the season, then it is better to choose the seaside resorts of Svetlogorsk, Zelenogradsk, Pionersky, and Yantarny for accommodation.
They are located right on the shore of the Baltic Sea, these cities have equipped beaches and a good choice of hotels and apartments for rent. Here we have made a detailed analysis of which of the coastal cities of the Kaliningrad region is better to choose for a holiday.
In Kaliningrad there are no beaches, swimming locals go either to the above-listed places or to wild beaches on the coast.
If the main purpose of the trip is to get acquainted with the city and sightseeing tourism, then it's better to stay in Kaliningrad itself. Also choose Kaliningrad if you want to save money. In summer, accommodation at resorts by the sea is much more expensive than in the city. And you can get to the sea from Kaliningrad by high-speed train or by renting a car.
Where to book accommodation in Kaliningrad now
Western rental services Airbnb and Booking.com have left the Russian market. Here is a list of current Russian services for renting apartments and hotels in Kaliningrad:
– more than 3,000,000 hotels, resorts, campgrounds, hostels and apartment hotels – Russian reservation system – Russia's most popular site for apartment rentals – a service from the creators of Aviasales. Shows the best price for the same hotel in different reservation systems
Where to stay in Kaliningrad
So if you decided to stay in Kaliningrad, take a look at this map. On it we have marked three the most convenient (in our opinion) areas for a tourist to stay. The boundaries are rather arbitrary, so do not take them too literally. If the hotel or apartment you like is located closer to one of these areas, you will have an idea about it.
All three drawn figures converge approximately at one point – this is the city center, Victory Square and Northern Railway Station area. Tourists usually think that the city center is Kant's island, but that's not quite true. It is more of a tourist attraction center, but there is no business activity there. The map is interactive, you can zoom in on it. Here's a link to the map to open in a separate window.
In red you can see the Lower lake and Kant island area.
Blue – Upper lake area.
Green – Central Region
Lower lake and Kant island neighborhood
This is the most convenient area in terms of access to attractions. Everything is within walking distance: Kant's Island, the Cathedral, the World Ocean Museum, Victory Square, restaurants, and major shopping centers. Here is the only five-star hotel in Kaliningrad "Crystal House Suite Hotel & SPA".
The area has a large selection of apartments, but they are mainly located in the old stock (Khrushchev). The very center of Koenigsberg during the war was almost completely destroyed by aircraft. In the postwar years, built up with the typical Soviet buildings. So you can hardly feel the "spirit of Koenigsberg" here, but it will be most comfortable for you to explore the city on foot.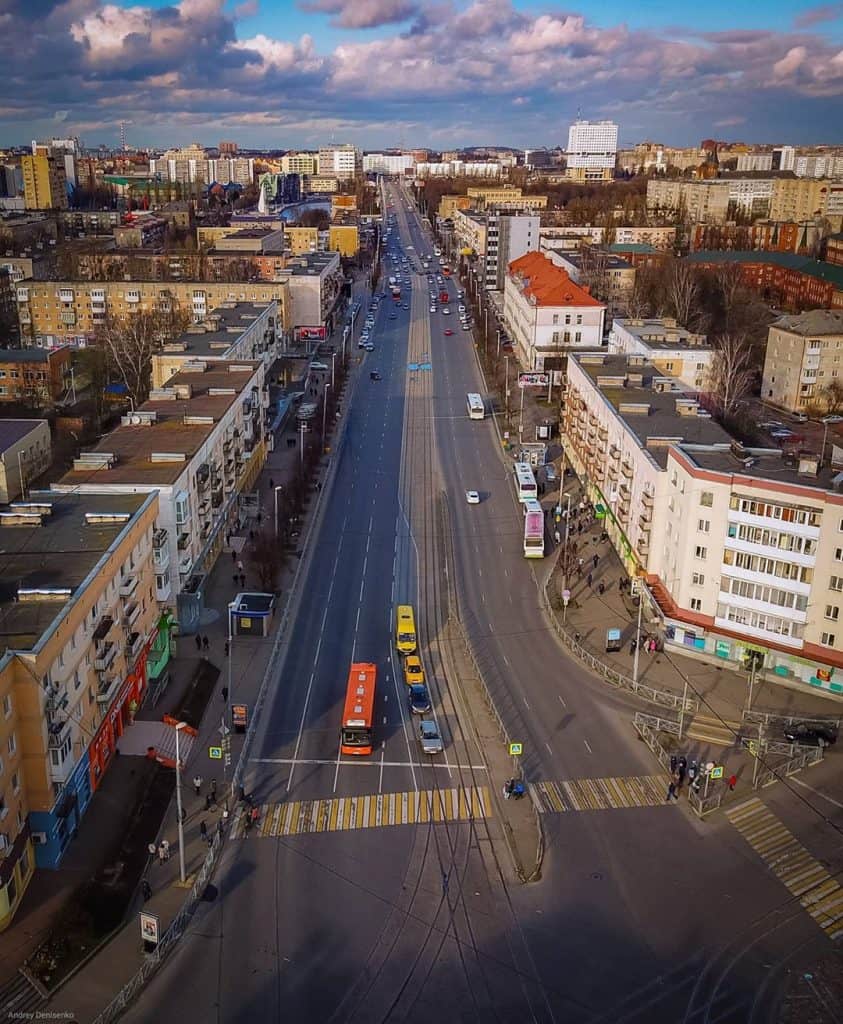 Leninsky Prospekt. Photo: Denisenko Andrey / Instagram
Upper Lake District
This area is a little farther from the center, but there are also plenty of interesting places here: the Amber Museum, Yunost Park, and the Wrangel Tower. And most importantly, the Verkhneye Lake itself is a favorite place for recreation and walks for Kaliningrad residents. Recently it was completely landscaped. There is a beautiful embankment, pedestrian and bicycle paths, and summer cafes with terraces.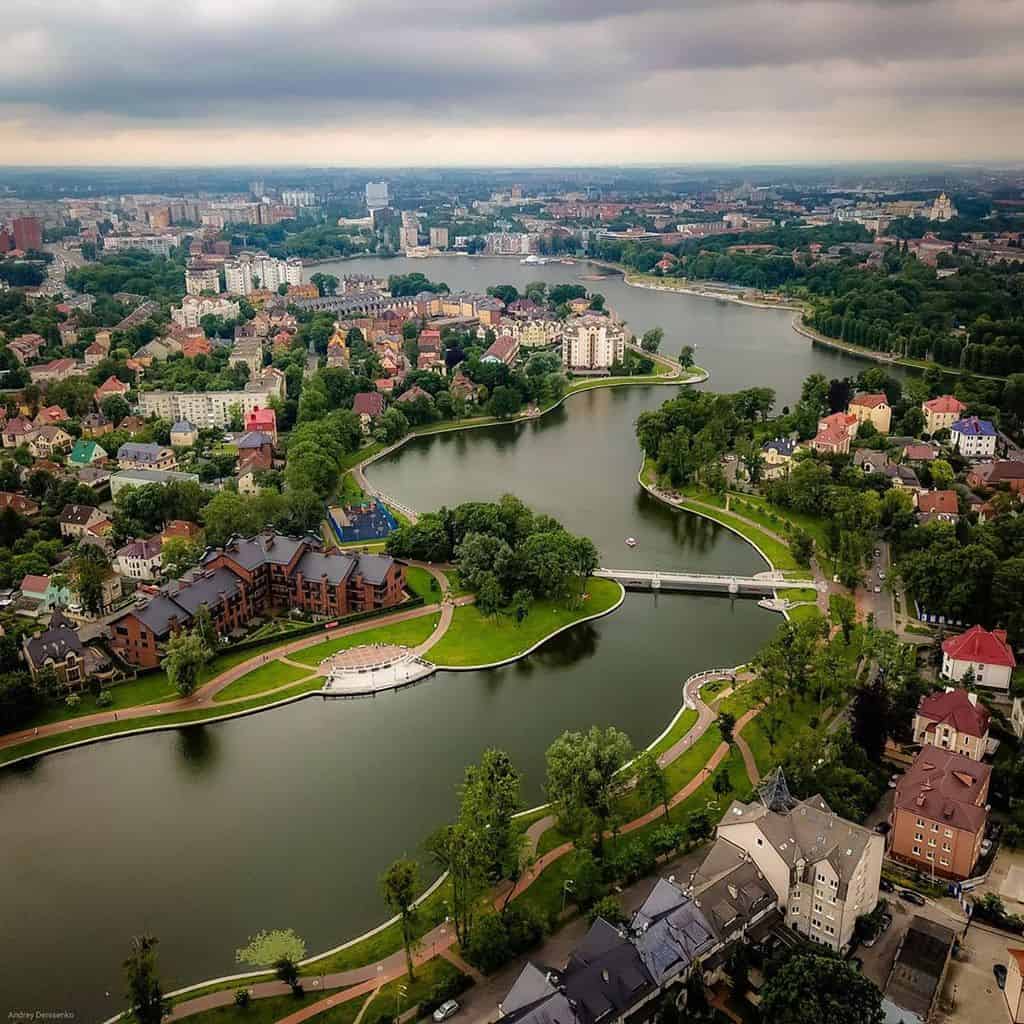 The upper lake. Photo: Denisenko Andrey / Instagram
The Upper Lake area has a large number of guest houses and villas with rooms and rooms for rent. And there is also one of the best city hotels "Mercure Kaliningrad".
In the area of Telman Street, just north of Lake Superior, there are old German mansions, some of which are also used as guest houses. In Königsberg this area was called Maraunenhof and was built up with private villas, but the villas here were more modest than in the Amalienau area, about which we will tell below. The area suffered during World War II, but still most of the German architecture survived.
Central district
This district is situated west of Victory Square, the central point of the city. From Victory Square begins Peace Avenue, one of the main streets of the city. The main attractions are located along it: the Kaliningrad Zoo, Central Park of Culture and Recreation, Poplavok Lake, as well as the historic district Amalienau. This is one of the few districts of Königsberg that survived World War II without major destruction
Amalienau is the former district of Königsberg (German: Amalienau ). The neighborhood was conceived as a "garden city", where low-rise buildings with an abundance of trees, often rare and flowering shrubs were planned. The district was planned unconventionally for a Prussian town, with many alleys, circular squares and winding streets. None of the streets of the neighborhood intersect at right angles. The construction often used many unusual details and decorations, unusual roof forms, fanciful half-timbered houses.
Here, in one of the houses built in 1912, is the Altes House museum-apartment, which recreates the environment of the family life of Gustav Grossmann, a merchant and grocery store owner.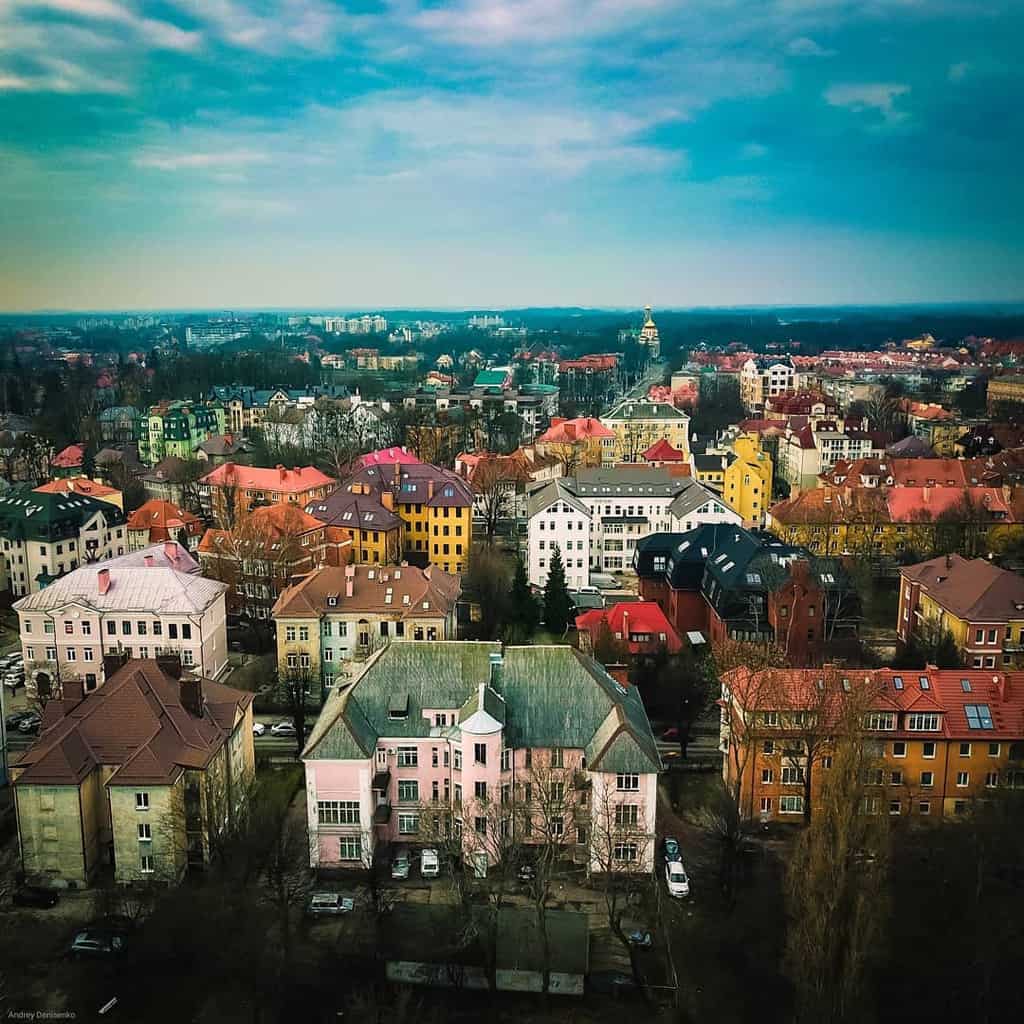 Central district. Photo: Denisenko Andrey / Instagram
The houses are in different condition, some quite deplorable. Therefore, you should not expect a coherent and well-preserved historical development here. But we recommend staying in this neighborhood for those who love walking, wandering through quiet, cozy streets. There is no bustle, but there is an abundance of greenery, atmosphere and history of Koenigsberg.
Read also – 13 best hotels in Kaliningrad in the areas listed above. All the pros, cons and subtleties of the location that may not be obvious to the tourist. And also – the most unusual hotels in Kaliningrad and the region. Learn how to spend a night in a knight's castle, lighthouse, or museum.
We hope we have answered the question where to stay in Kaliningrad. All three districts are suitable for a comfortable stay, the choice is yours. And here are prices for hotels and apartments in Kaliningrad on the map:
10 inexpensive hotels, hostels, and apartments in Kaliningrad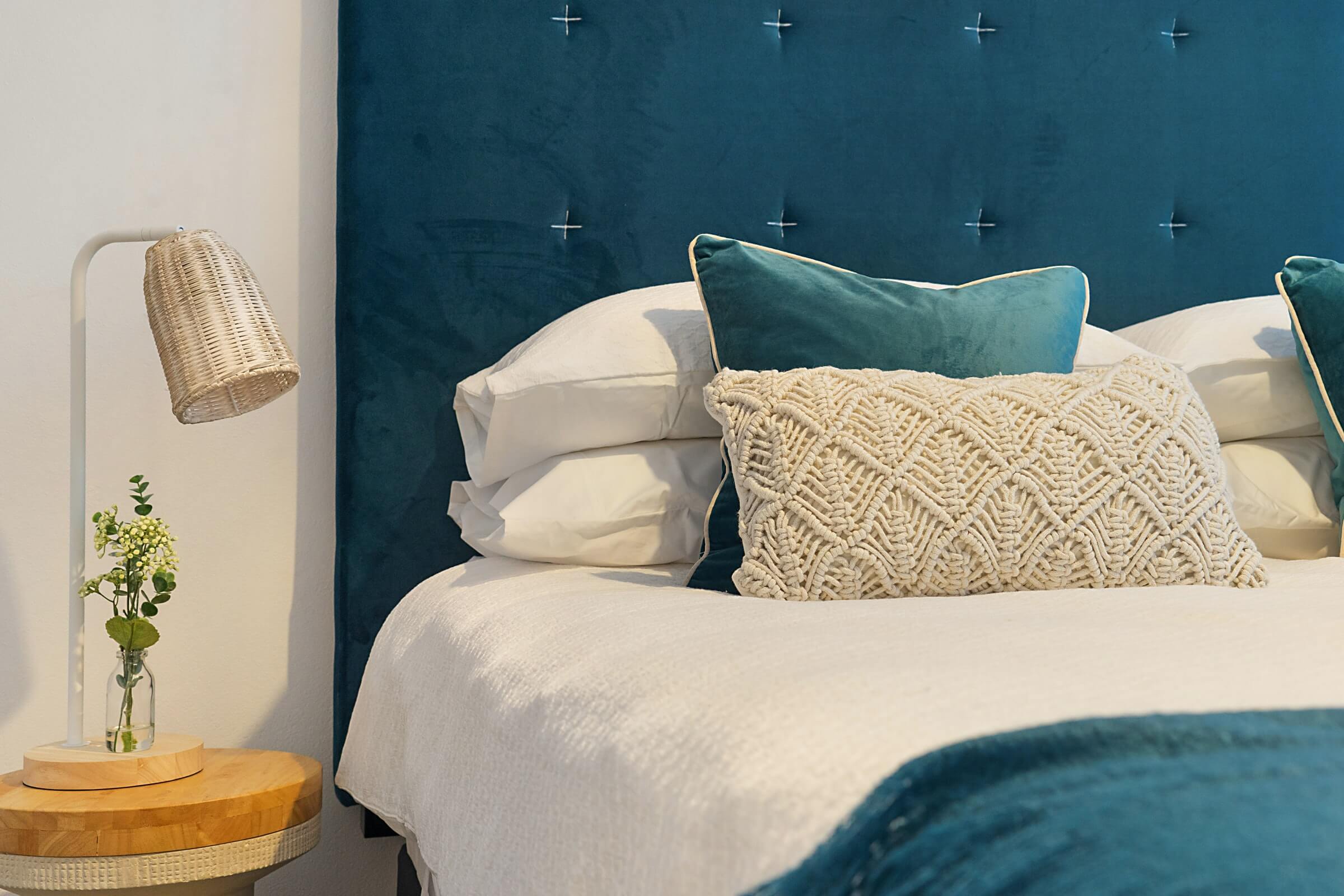 We've chosen inexpensive but good hotels, hostels, and apartments with great reviews. Find out where a tourist should stay in Kaliningrad and which area is better to stay in.
Tripster – tours in Kaliningrad
Content:
Which neighborhood is best to stay in
According to tourist reviews, it is better to stay in the Central district of Kaliningrad. It was less affected by the shelling and bombing of World War II. In the center there are many attractions and old buildings, which appeared when the city was still Koenigsberg.
If you want to stay in the most beautiful part of Kaliningrad, book accommodation in Amalienau. The imposing suburb is a veritable museum of architecture and history. There is plenty of greenery and hotels in old mansions. Economical tourists are advised to look for accommodation in Zelenogradsk or Svetlogorsk. Look for accommodation in Kaliningrad on Hotelluk.
Cheap hotels in Kaliningrad
Блюз 3* — трехэтажный отель вдали от шумных магистралей, рядом с зеленым Центральным парком. Прямо под окнами — тихий ухоженный дворик. Просторные номера обставлены современной мебелью. Кругом ковролин, поэтому шума и посторонних звуков не слышно. Гуляйте по окрестным улочкам и любуйтесь старыми немецкими домами! Этот отель — редкая находка для центра Калининграда! В 2022 году двухместный номер со всеми удобствами стоит от 2800 рублей за ночь, за завтрак дополнительно нужно платить 300 рублей. Проверить цену >>
Фридрихсхофф 3* — место, где лучше остановиться в Калининграде ценителям тишины и домашней обстановки. Аккуратный мини-отель расположен в зеленом районе, в 3 км от центра Калининграда. До сердца города добираться легко — в 300 м от отеля автобусная остановка. Вас ждет шикарный каминный зал. В столовой, где подают завтраки, установлен термопот, чтобы гости в любое удобное время могли выпить чаю или кофе. Рекомендуем номера с балконом, откуда видно цветущий палисадник. Номер на двоих стоит от 2700 рублей. Проверить цену >>
Золотая Бухта 3* — популярный у туристов недорогой отель. Номера оформлены в теплых золотистых тонах, поэтому даже пасмурная погода не испортит настроение! Постояльцы хвалят приветливый персонал и ресторан гостиницы. Отель находится в Московском районе Калининграда, рядом с Южным парком и Фридрихсбургскими воротами. За 10 минут вы дойдете пешком до Южного ж/д вокзала, а за 15 минут — до острова Канта. Двухместный номер стоит от 2700 рублей. Проверить цену >>
Ibis 3* — в этом отеле можно остановиться недалеко от центра Калининграда, на Московском проспекте, 52. До Кафедрального собора пешком 10 минут. В гостиницах сети Ibis не бывает полумрака, все номера и холлы отлично освещены. При отеле работает хороший ресторан, где готовят вкусные блюда интернациональной кухни. В высокий сезон номер на двоих стоит от 4000 рублей, а хороший завтрак — 600 рублей. Проверить цену >>
Hotel room in Kaliningrad. Photo: Ibis. Bathroom in a room. Photo: Ibis.
Cheap hostels in Kaliningrad
If you're looking for a cheap place to stay in Kaliningrad, choose a hostel – they offer cheap accommodation in shared rooms and a common kitchen, but you can usually book a double room. Hostels are convenient for spending a couple of nights or staying with friends. Look for hostels in Kaliningrad on Hotelluk.
Tolstoy Art — самый атмосферный хостел Калининграда. Оригинальное оформление начинается прямо с фасадов. Туристам нравится чистота — в хостеле ходят только в тапочках. На кухне есть удобная кашеварка и блинница. По вечерам гости собираются в уютной общей зоне. Прогуляйтесь до памятника Мюнхгаузену, живописной кирхи королевы Луизы и посмотрите за зверей в зоопарке! Кровать в общем номере стоит от 840 рублей, а великолепный завтрак с кофе — 200 рублей. Такие цены в Калининграде еще нужно поискать! Проверить цену >>
Хостел KD — место, где удобно остановиться в Калининграде тем, кто приехал на Северный ж/д вокзал города. Современный хостел хвалят за идеальную чистоту в комнатах и общественных зонах, а также просторную кухню с бесплатным кофе с утра. Внутри все сделано со вкусом и душой, настолько уютно, что вам не захочется выходить из дома! Через дорогу — большой торговый центр и множество дешевых кафе. Кровать в общем номере стоит всего от 540 рублей. Проверить цену >>
Photo: Tolstoy Art. Photo: Hostel KD.
Inexpensive apartments in Kaliningrad
For a trip with children and friends, city apartments are preferable to hotels. They are much more spacious than hotel rooms, and a kitchen and a washing machine are just indispensable for the trip! We have found some great deals on affordable apartments in Kaliningrad. Search for an apartment or a room in Kaliningrad on rentals.ru.
Тихая квартира в центре . У этой 1-комнатной квартиры в центре много отличных отзывов и высокий рейтинг. В отзывах гости отмечают, что она полностью укомплектована для комфортного отдыха — есть даже крупы и нитки с иголками. Цена летом 2022 года — от 3200 рублей в сутки за двоих. Проверить цену >>
Романтическая квартира . Эта квартира хороша для пары — в объявлении написано, что подсветка и красивые светильники создают приятную вечернюю атмосферу. Плюс она удобна с практической точки зрения: в ней всё есть, рядом находятся супермаркет Spar, кафе и остановка. Квартира вмещает до 4 человек. Цена летом 2022 года — от 2600 рублей. Проверить цену >>
Квартира близко к центру . Небольшая квартирка с удачным расположением — до Рыбной деревни всего 7-10 минут пешком. В отзывах гости особенно отмечают чистоту. Цена летом 2022 — от 2300 рублей. Проверить цену >>
Квартира в центре . 1-комнатная квартира в самом центре города! Удобна также для тех, кто хочет посетить другие города в области — рядом есть остановка, ж/д и автовокзал. Чисто, уютно, хозяйка хорошая. Квартира стоит от 2800 рублей в сутки. Проверить цену >>
Photo: Quiet apartment in the center of Kaliningrad on Supra.ru. Photo: Romantic apartment on Sudno.ru.