Where to stay in London: 5 wonderful places to stay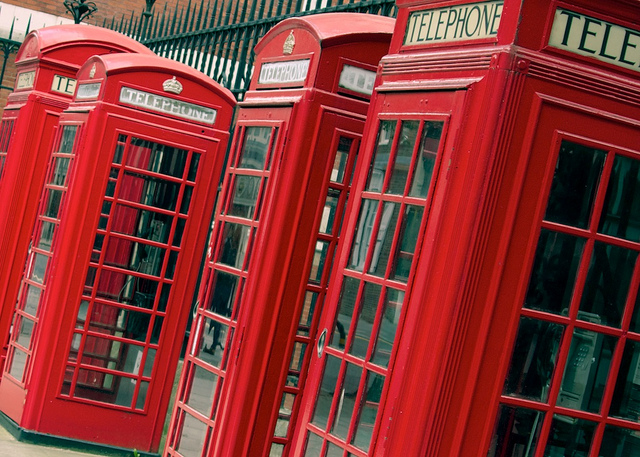 Deciding where to stay in London? Here's a sampling of five unusual and original houses that are worthy of a real traveler's attention.
How to look for low-cost accommodation in London
Airbnb.ru is a great helper for those who don't know where to stay in London for cheap. There you can find not only standard apartments, but also quite non-trivial housing: boats, apartments with a terrace, yachts, and even a house in a tree.
As a rule, accommodation found by travelers with the help of this service is much cheaper and more interesting than hotels. We also recommend that you read our review of airbnb coupons (here) – they will help you save a little money while traveling.
These prices and lodging options are current at the time of publication, and subject to change.
1. The Romantic Wagon in Old Windsor (P3,424)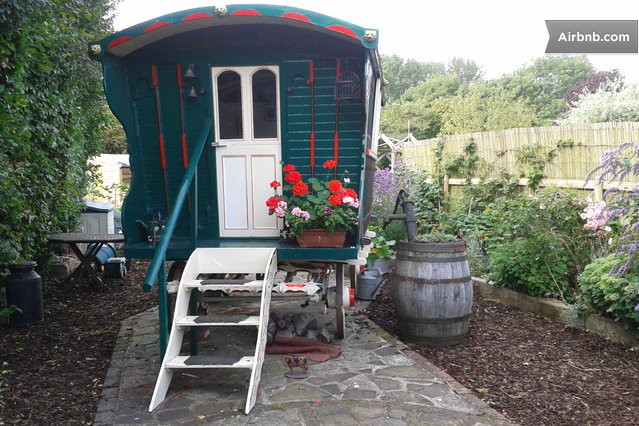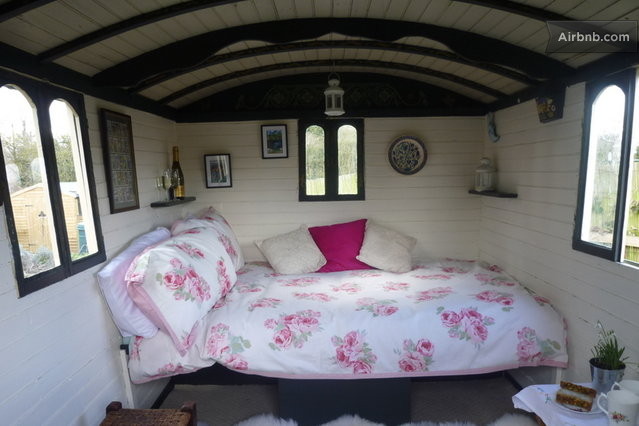 Spend an outdoor vacation in Old Windsor! The original late 19th-century wagon with its cozy interior will create the right atmosphere. You can cook in the camp kitchen outside, the restroom is also separate. The lighting is candles and lanterns, no heating, but you can make a fire near the trailer. Nearby there is a compost toilet and a shower.
The trailer sleeps two people, has a comfortable double bed. A great option for couples who want a romantic getaway but don't know where to stay in London.
Great location: only a mile and a half to Windsor and Castle, there are bus stops nearby, also nearby roads and railways. Two bikes are available.
Old Windsor has everything you need: stores, cafes, restaurants, etc.
2. House on the water (4,667 p.)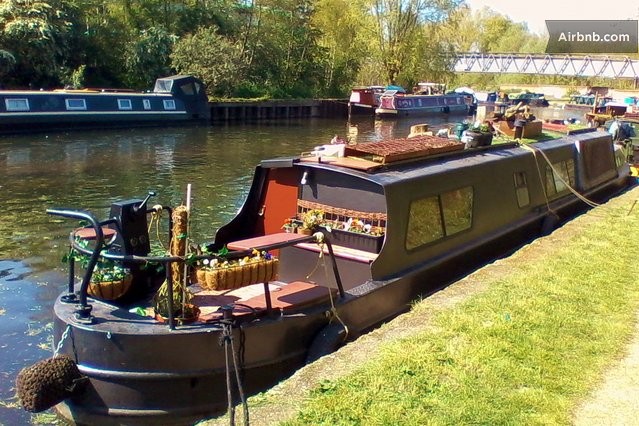 An amazing motorboat with a roof garden will appeal to water lovers. This is a unique opportunity to see London from a different angle and have a new experience!
The boat is mainly moored in popular areas such as Islington, Hackney and Tower Hamlets, so you'll have no problem sightseeing in London and museums, as well as visiting various cafes and restaurants.
The boat, thanks to its impressive size, accommodates a double and single bed, closet, TV, equipped kitchen and bathroom. There is a wood stove for heating, a kitchen stove and grill, a refrigerator – in general, everything for a comfortable stay.
The owner is also ready to give you a canal tour for an extra fee, if you arrange it with him in advance. Those who do not know where to stay in London, we advise to pay attention to this option.
3. Apartment in a Victorian House (4,418 p.)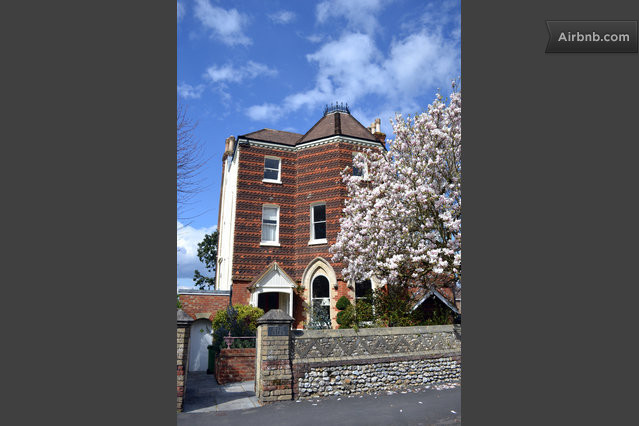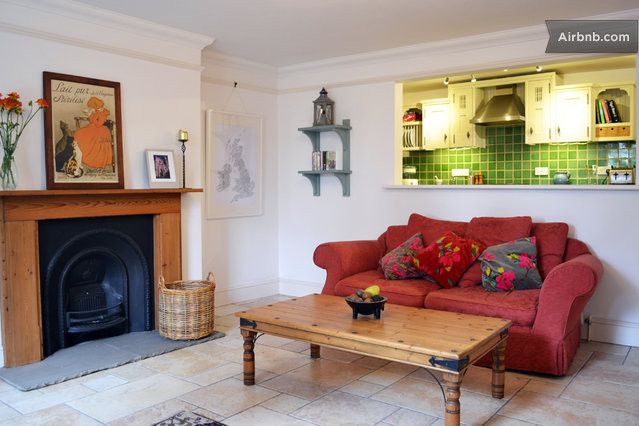 A spacious apartment in a Victorian house in Dorking. A 50 minute train ride takes you from quiet suburbia to the addictive hustle and bustle of London.
A beautiful and cozy apartment with a fireplace and a fully equipped kitchen will allow you to have the most enjoyable vacation. There is free Wi-Fi and parking.
4. A house with a pool table in Leterhead (4,970 p.)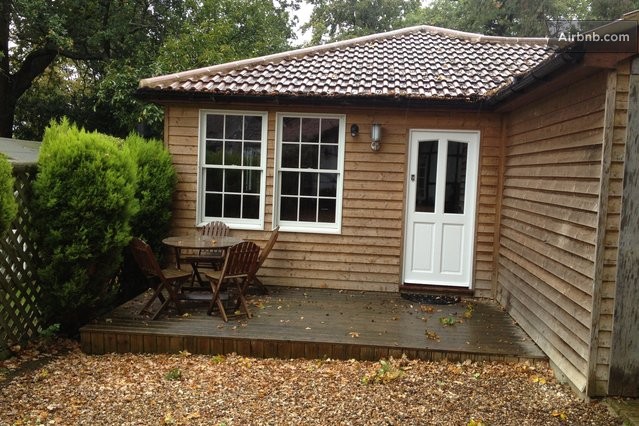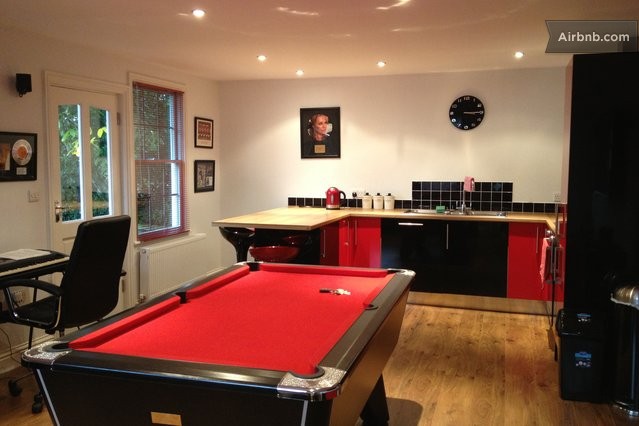 Nice house in Leterhead with free parking. It's only 35 minutes by train to London (Waterloo station).
Bright and modern finishes in red, white and black tones. Two black leather sofas in the living room, double bed in the bedroom. Bonus: there is a pool table and a synthesizer! A great option for an inexpensive stay in London.
5. The Village Idyll (P4,970)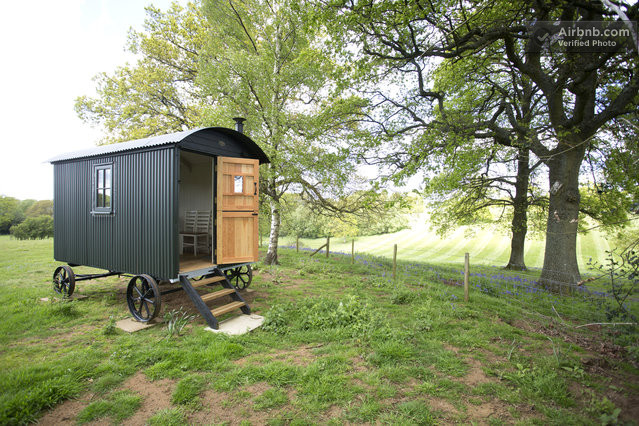 Enjoy the wonderful views of the Surrey Hills! A newly built cabin away from the hustle and bustle invites you to relax, and the beautiful views of the valley are a joy to behold. Built in the tradition of the Victorian era, the cabin boasts amenities such as a wood-burning stove with kettle, a double bed and two solar-powered plug sockets.
Next to the hut there is a toilet (compost toilet) and shower (hot water is always available). You can also cook outdoors, and a breakfast consisting of oatmeal, fruit juice, yogurt, homemade bread, cheese and cold meats is delivered to you every morning – all included in the price!
The carriage house is located on a farm in the Surrey Hills, an ideal location for hiking, biking, and horseback riding. The nearest bus stop is two miles away.
It's a real find for those who want to escape civilization for a while, as well as those who are wondering where best to stay in London.
Where to stay in London and the sights in these areas
Planning a trip on their own or through a travel agency, when choosing a hotel, everyone wonders in which area of London is better to stay.
In this article, when comparing places to stay, the area of the British capital will be conditionally divided into central, northern, western, southern and eastern parts.
In addition we will consider housing in the vicinity of major London railway stations: Victoria, Paddington, King's Cross, St Pancras. These places can be attractive because of the large number of inexpensive hotels there, low transfer costs and developed infrastructure.
The choice of a place to stay depends primarily on the financial capabilities of travelers. Everyone understands that hotels in the city center will cost much more expensive than those in hotels farther from the center. But even in Central London, there are more prestigious and expensive neighborhoods, such as Mayfair, and less attractive places.
In the diagram below, Central London is shaded in red, and the stations listed above are indicated by red rectangles.
London Sightseeing Diagram
1 Where to stay in central London, attractions
Choosing a hotel in the city center puts you within walking distance of popular attractions in the capital: Trafalgar Square, Piccadilly, Leicester Square, Covent Garden, Chinatown, and more. For shoppers, there are plenty of stylish stores on Oxford Street, Europe's busiest shopping street, and many small trendy stores in Soho and Covent Garden. These neighborhoods are also known for their dozens of theaters, cinemas, restaurants, nightclubs, and other entertainment venues.
This kind of flair may not suit every tourist, but Central London is also known for its quiet, respectable districts like Mayfair. So be careful not only of the quality of the hotel, but also of its location.
You can read more about city center districts and what to consider when booking a hotel in a separate article "Where to stay in Central London". There is a map with the location and prices of hotels, the main sights in the center, a detailed scheme and route to see them, and other useful information.
But for the majority of tourists it is more economical and rational to choose a hotel outside of Central London.
When tourists arrive for the first time, they try to visit different parts of the city, from the Greenwich Museums in the south to the sights of Camden Town in the north. There's something of interest in every area. With such a busy program, it takes 1-2 days to explore Central London, and you don't have to live in the center to do so.
In this case, the main recommendation is to choose a hotel no further than the 2nd transport zone and not far from the subway, so you do not spend a lot of time and money on travel. The distribution of subway stations by transport zones is indicated on the subway schemes.
Other features of living in different areas of the city will be described below.
2 Where to stay in North London, attractions
Here you will find good value for money hotels. A short distance from the city center, and, at the same time, easy transport accessibility of favorite tourist places determines the choice of these areas for accommodation.
Interesting attractions and nearby central St Pancras, King's Cross, and Euston Station also play a role. Eurostar trains arrive at St. Pancras Station and passengers, without wasting time and money on transfers, can go straight from the train to a hotel booked in the area. The proximity of the station is also convenient for those who plan to travel to the suburbs of London. For example, from St. Pancras station you can get to popular tourist towns of Canterbury and Dover.
You can read about St Pancras and King's Cross stations and where they take trains here. There you can also find station maps and a map of hotels in North London with prices.
Some of the most popular attractions in the north are:
The Sherlock Holmes Museum at 221b Baker Street, located near the subway station of the same name.
Sherlock Holmes Museum
The Madame Tussauds wax museum, which is close to the Sherlock Holmes Museum.
Audrey Hepburn at the Madame Tussauds.
Camden Town, home to the famous Camden Market.
Camden Gateway and Little Venice.
Another place the Abbey Road Crossing, the famous Abbey Road crossing where the Beatles were photographed for the cover of the Abbey Road music album, is not overgrown by popular footpaths.
3 Where to stay in South London, attractions
This part of the city includes the areas south of the River Thames. Of these, the most interesting to visit and stay in are Greenwich, Southwark and the Waterloo Station area. Greenwich has a number of curious sights related to the maritime history of England: the sailing ship "Cutty Sark", the National Maritime Museum. This includes the Greenwich Royal Observatory with its famous zero meridian and the Museum of Navigation and Astronomical Instruments.
On the grounds of Greenwich University, you can see the ancient Chapel of St. Peter and Paul and the famous Painted Hall, which some call the Sistine Chapel of England.
In Greenwich, on the banks of the Thames, there is a little-known monument to Peter the Great by Mikhail Shemyakin.
Monument to Peter the Great in Greenwich
For information on other places to visit, a map of Greenwich with sights, and a map with hotel locations and prices, click here.
A visit to Southwark, adjacent to the River Thames, is a great experience.
From London Bridge Tube station you can get to the tallest building in the city, The Shard (310 meters high), and from its observation deck you can admire the panorama.
About a hundred meters from the skyscraper is the Thames Embankment The Queen's Walk, to which the museum ship Cruiser Belfast is moored, and which offers a magnificent view of the Tower Bridge, the Tower fortress and the City of London.
View of the Tower and the Cruiser Belfast from the Thames Embankment
If you walk along the promenade to Tower Bridge, behind it begins the old cobbled Shad Thames Street, and it's as if you're transported to a 19th century setting. Here in Victorian times there was the city's largest warehouse complex, which has preserved its picturesque form to the present day.
Now the warehouses have been converted into living quarters overlooking the Thames, which only the very wealthy Londoners can buy.
Accommodation in hotels in the area is also not cheap. See hotel prices and location on the map below.
The Waterloo area should only be considered if you really need to live there. Prices here are quite high, which can be explained by the proximity to the city center.
Three hundred meters from the station is located Thames Embankment with the largest in Europe London Eye, not far from the London Aquarium and Westminster Bridge, crossing which you get to Central London.
London Eye
4 Where to stay in West London, points of interest
The western parts of the city are the most attractive for tourists for several reasons.
There are two main railway stations, through which many tourists enter the British capital. These are Paddington and Victoria railway stations.
Paddington Station is where trains arrive from Heathrow Airport, the main air hub of the city. At Victoria Station you can catch express trains from Gatwick Airport.
There is a wide range of hotels around the stations, including budget ones. They are easily accessible both on foot and by public transport, as several tube lines and many bus routes lead to the stations. There are many inexpensive cafes and fast food restaurants around.
From the stations leave by train to popular suburban towns. It is a great location for people who want to travel by train to other English cities.
Next to Victoria Station is the Victoria Coach Station. You can read how to get to it and where you can take buses from it here. The article includes a map of the bus station location and a map with hotels and their prices.
If you look at the sightseeing map at the beginning of the article, you can see that to the west of Central London lies several parks (Hyde Park, Green Park, St James's Park, etc.) and a number of famous landmarks, which also adds to the appeal of these places.
Within walking distance from Victoria Station is Buckingham Palace, which attracts many tourists with its colorful changing of the guard ceremony, the Palace of Westminster, where the British Parliament sits, Westminster Abbey, where the coronation and burial of British monarchs takes place.
Victoria Memorial in front of Buckingham Palace
South of Hyde Park, the sightseeing map shows London's famous museums: the Science Museum, the Natural History Museum, and the Victoria and Albert Museum. Not far from them is the Royal Albert Hall – one of the most prestigious concert venues in the world.
Hyde Park is flanked to the west by Kensington Gardens and Kensington Palace. Kensington Palace is now the official residence of the Duke and Duchess of Cambridge (Prince William and Catherine Middleton).
North of Hyde Park is Paddington Station and the Paddington area with a good selection of hotels. Their locations and prices are shown on the map below.
5 Where to stay in East London, attractions
The cost of living in East London is not always directly related to distance from the city center. For example, in Canary Wharf, which is located north of Greenwich, prices for accommodation are close to the level of central areas. Here is a business district with several skyscrapers, which is considered a major competitor for the City of London.
Hotels in the City Quarter, east of Central London, are good for business travelers, but not for the average tourist.
But if for some reason you want to live in the east of the city, you can find a reasonably priced hotel in Spitalfields, famous for the old Spitalfields Market. The area adjoins the City of London near Liverpool Station.
Famous landmarks in the eastern part of the city:
The famous Tower Castle and Tower Bridge over the River Thames, listed by tourists as a must-see.
Tower Bridge over the River Thames
St. Paul's Cathedral which has a nearby subway station of the same name.
The skyscrapers of the City of London (Mary Axe, Tower 42, Heron Tower and others).
Museum of London, London Town Hall, the London Stock Exchange and the Bank of England, also located with the City.
From more distant from the center we should mention the Emirates Air Line cable car, built across the River Thames for the London Summer Olympics in 2012. To ride in a cable car over the Thames, you must first go to North Greenwich subway station and then walk about a hundred meters to the Emirates Air Line station.
Emirates Air Line cable car
Next to the North Greenwich tube station an unusual domed structure catches your eye. This is a sports and entertainment complex The O2 Arena, which holds major sporting events and concerts of international superstars. On the O2 Arena website you can buy tickets and combine a tourist trip with a visit to a concert or an interesting sporting event.
On the second floor of Arena O2 there is a large outlet with famous brands offering goods with discounts of up to 70%.
This overview article only describes a small part of London's attractions. More information with maps and diagrams will be in the articles introducing specific places in the city, which are being prepared for publication. A number of the articles are already posted on the site:
The issue of lodging is far from the only one that needs to be decided before a trip. Equally relevant are the topics of obtaining a visa, going through airport procedures, taking public transportation, eating, visiting museums, and a number of others. Answers to many questions related to the trip are in the articles on these topics:
There are car rentals and cab services available for arriving tourists at London Airport.
In addition, the transfer to the hotel can be pre-booked, in Russian-speaking cab booking service Kiwi-taxi. Compared to finding a local cab, in addition to the traditional comfort, safety and reliability, this option has several other advantages:
driver with a nameplate will meet you at the arrivals area;
in the case of a delayed flight, the driver will monitor the time of arrival (no extra charge);
operators will speak to you in Russian, and a Russian-speaking driver will be usually provided;
it is possible to book child seats in advance;
there is an opportunity to choose any class of car (from 12) and a car for non-standard luggage;