Why we loved South Korea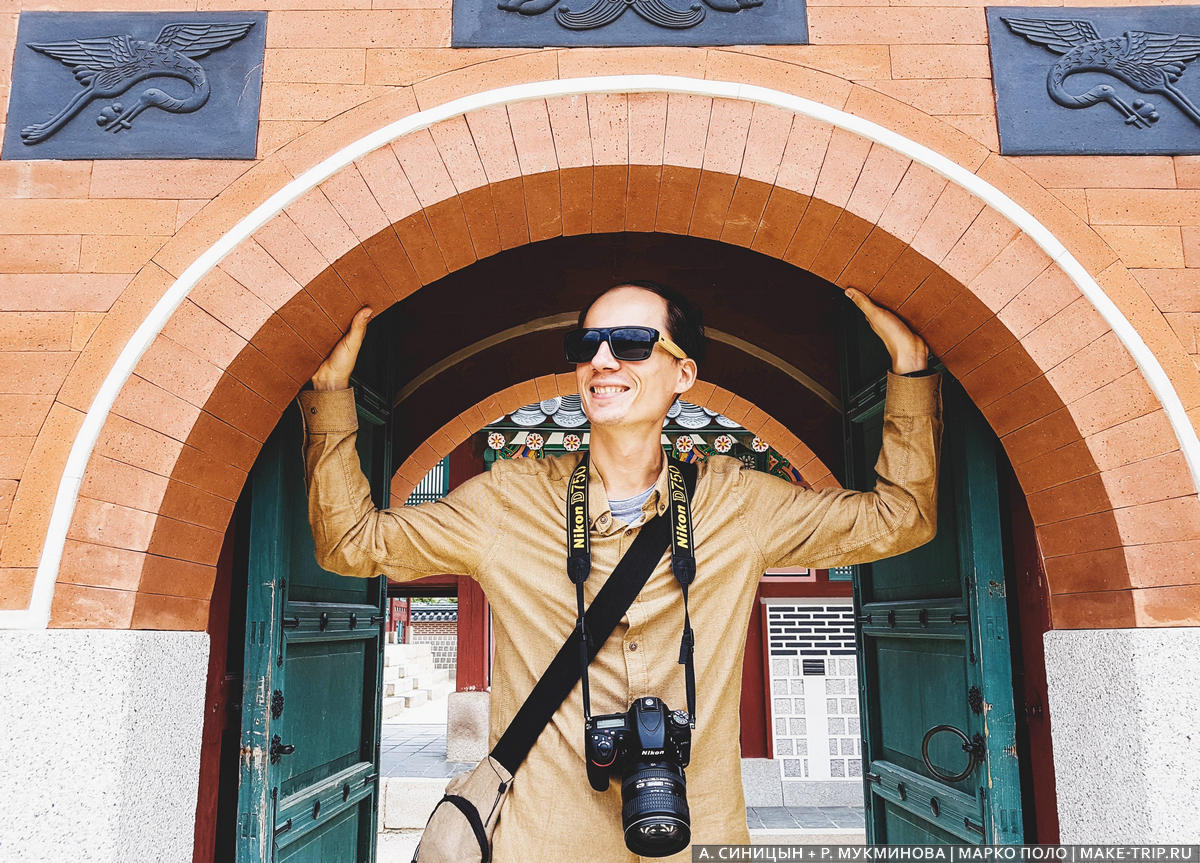 We recommend you to visit South Korea at least once! Learn why this country is good.
Love at first sight!
When you travel a lot, changing country after country, it's hard to be surprised and impressed. Many countries, especially in one region, are very similar in lifestyle, architecture, nature, urban space, food. So when you find something really new, very happy.
And here the long-awaited discovery for us was South Korea. Here is the Asia we love so much, but special.
Namsangol village (Namsangol) – open-air museum. A nice place, admission is free – we recommend a visit.
Why I liked Korea.
1) Climate. It's warm, but not as unbearably hot and humid as in Southeast Asia. Still, it's hard for us northerners to adjust to a tropical climate. The bright sun is cool, but try to walk in this heat – the energy evaporates as quickly as moisture from the body.
2) Comfort in everything, cleanliness, no unpleasant odors and cacophony of bibikaniya and roaring mopeds. A real relief after the noisy and barefoot southern Asia!
3) Nice, sweet, modest, unobtrusive people. There is no pushing, no cutting in line, and do not pull your sleeve with an appeal to buy some junk.
4) A sea of delicious and new food! The foodie has a lot to do here: unique cuisine, unexpected combinations, cafes and trays with food at every step, an abundance of seafood, good coffee, huge portions, and not so spicy dishes here.
And below I will tell separately about the capital of South Korea.
Ramen with dumplings in an inexpensive cafe. The guard at Gyeongbokgung Palace in Seoul. The changing of the guard is free to watch at 10:00 and 2:00 pm.
Why I loved Seoul.
I have only that word to describe Seoul.
It's a beautiful city that you want to live in! I never cease to wonder how such a huge metropolis and center of business life can be so cozy, quiet and peaceful. Wonderful!
So, this is what the city is like.
Its population is 10 million people, which is almost 20 percent of the population of the country. It forms the Seoul-Incheon agglomeration with 23.5 million people, the fourth largest in the world. Can you imagine what kind of anthill we're talking about? When you read these facts, you imagine a noisy, polluted city with endless traffic jams and crowded streets. But it's not like that.
I don't know where all the residents are, but the city streets are half-empty. Yes, at lunchtime white-collar workers pour out of offices into coffee shops and snack bars, and after work they drink merrily in bars and restaurants. But these phenomena are temporary and local; the rest of the time everything is quiet.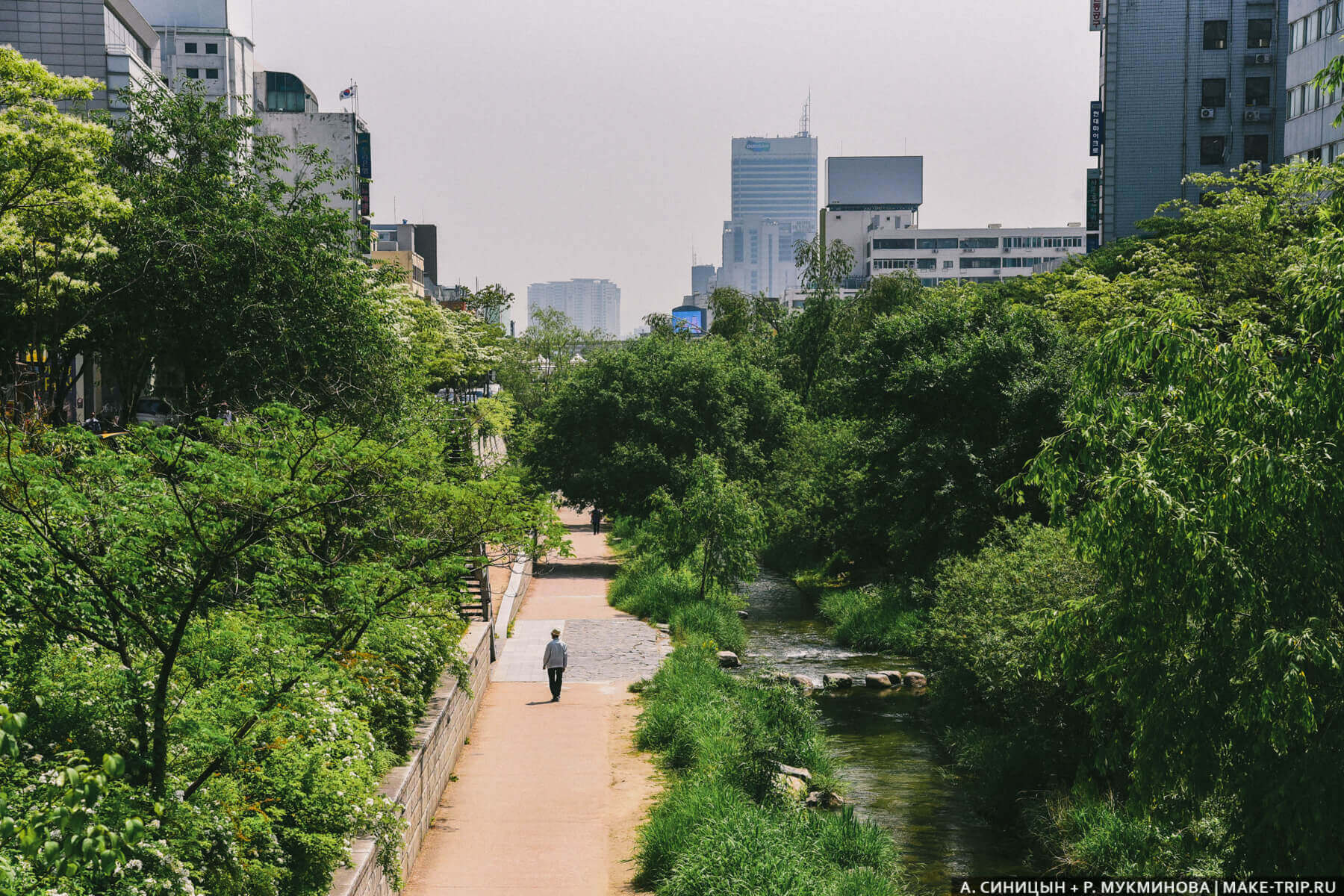 Cheonggyecheon Park is a brook park on the site of a former highway in Seoul.
✅ Seoul is nice because here:
★★ No exhaust fumes.
★ There is no crowding, hustle, and bustle in the streets. Koreans live in a calm and measured rhythm – good for them!
★ No traffic jams. During rush hour, there's a little congestion at intersections, but it's no big deal. Even in Perm (1 million people), things are much worse than in 23 times bigger Seoul.
★ There are no horrible souvenir shops full of magnets and other junk.
★ Not a single asocial element has been seen on the streets of Seoul.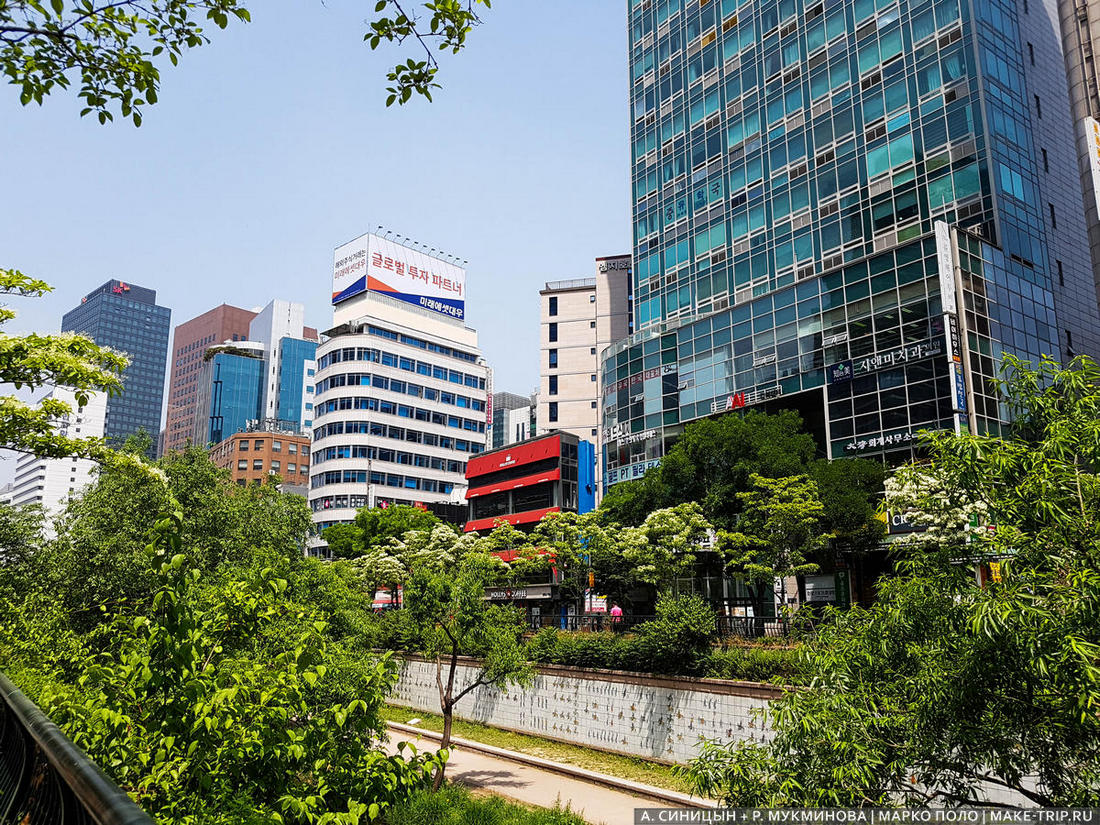 Seoul is a green and pleasant city.
✅ Seoul is comfortable because here:
★ Perfect tiles on the sidewalks, lots of crosswalks that sometimes even have large umbrellas for protection from rain and sun, bicycle paths, no garish advertising – in short, a paradise for Ilya Varlamov.
★ Delicious food on every corner. Food prices →
★ Perfect operation of public transport. Even during rush hour I didn't see a single bus where passengers had to stand.
★★ Clean and no unpleasant smells.
All in all, Korea is a pleasant and interesting country. I highly recommend a visit!
Koreans love and appreciate the beauty around them – you will see many beautiful houses in Seoul, especially in Bukchon village.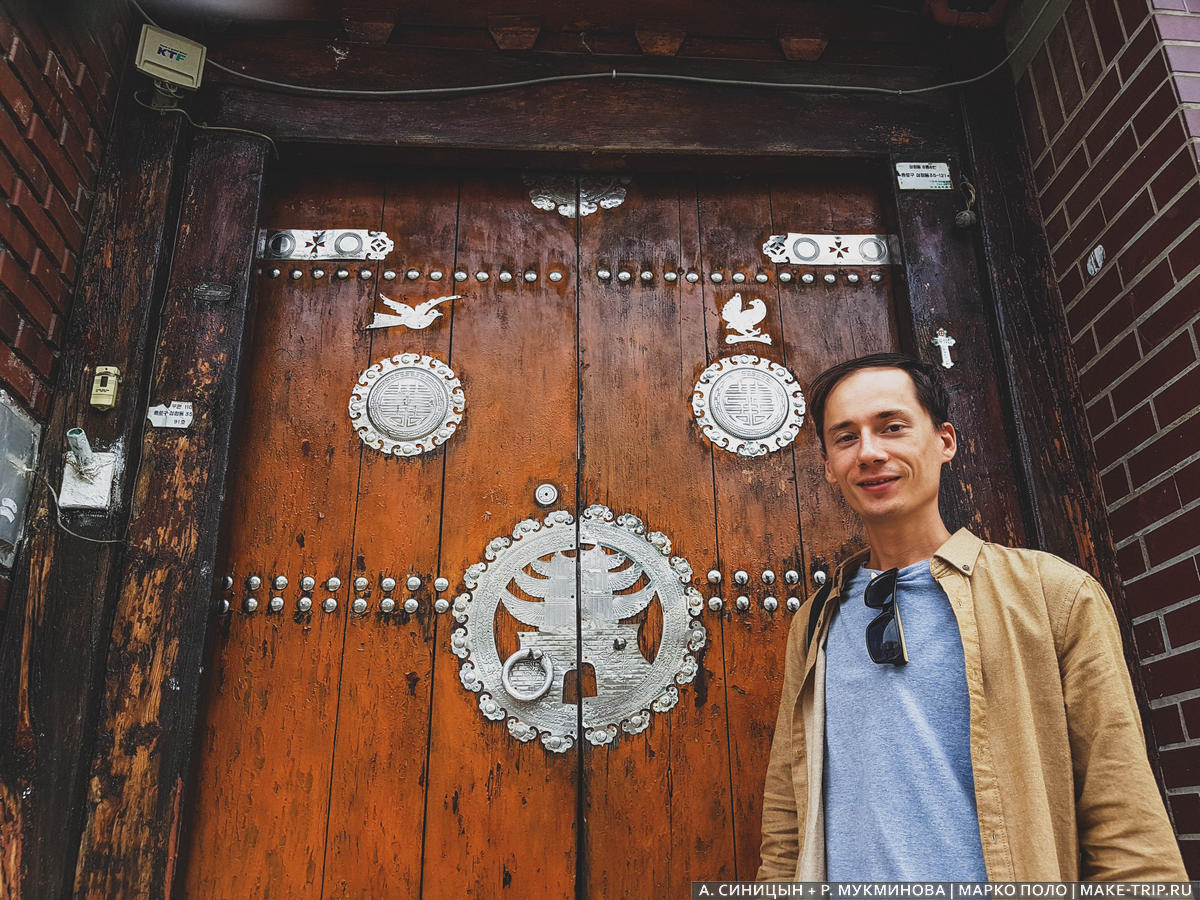 Why I love South Korea and what's interesting about it
There are many places and destinations around the world that are beautiful enough to take our breath away. These breathtaking places have included islands, beaches, historical sites, wonders of the world and more. Most of them have become tourist attractions for years to come because of their uniqueness and interesting destinations to visit. Among all these places, there is always one that will become a favorite vacation destination for every person who wishes to go. The same is true for me. I also have my favorite vacation destination and that is South Korea.
The first thing I can say about South Korea is its conditions. People who have been there probably know that the temperatures in that country can be extremely cold at certain times of the year depending on the season. This is the reason why most people who come to Korea for the first time can catch cold and get a fever because their bodies are not adapted to the cold weather. As for me, this may be one of the reasons why South Korea is my favorite vacation destination. I want to feel the real weather, where it is very cold, especially in winter, with my own body. Also, I have seen many pictures of the gorgeous scenery in Korea, and it is very beautiful when the sky looks so blue and you can see a flock of birds flying happily in the sky. South Korea is famous for its night markets, where you can find a variety of food, clothes, accessories, and more. Thus, I can enjoy the feeling of visiting night markets in Korea, which may be different from the conditions of night markets in Malaysia.
South Korea is also known for its delicacies, which are delicious and enjoyed not only by Koreans but also by foreigners. When I go to their night markets, I can't decide which snacks and foods I want to eat because of the abundance of options. From afar, I can smell the sweet and spicy aroma of a representative Korean snack-spicy rice cakes. It's a dish where the main ingredients are rice cakes made with red pepper paste, which has a spicy taste. This is one of my favorite Korean snacks, and I love it for its spiciness, sweetness, and saltiness. Not only that, there is one food that is considered a signature Korean dish, and I love it very much. It is called "Bibimbap," which means mixed rice. It is a bowl of rice served with lots of vegetables and meat. Perhaps I love it because it is a rice dish, and most people I know know know my love for rice and potatoes. It has been proven that there is a lot of good food in South Korea.
I think most people know the fact that South Korea is more fun and full of lights at night. You can see that there is almost no darkness around you as every area is lit up with beautiful and colorful lights. You can see many colors of lights as you walk down the street. It looks so bright and beautiful. Also, there is a place where tourists are sure to come to visit, especially couples. This is the Namsan Tower. This tower is a structure surrounded by colorful lights that light up at night every day. So the scenery from these lights is just amazing and beautiful. People can go up to the top floor to see Seoul on a larger scale. This place is popular among couples because there are love locks and love tiles where couples can place their signs and memories. There is also music playing at night, so you can listen to songs while admiring the view. There are many more interesting places to visit in South Korea once you arrive. Thus, this makes it my perfect and favorite vacation spot.
I wake up eating fresh vegetables for a dollar. Farmer's markets are everywhere. There may be trash, but the city cleans it up daily. There are safe bike and pedestrian trails with public exercise facilities everywhere. There are public parks, courts and racquetball courts – free and for the public – on every block. There are more than 100 places to eat in every walking direction for less than $10.
I don't meet races who can't even speak English well, being racist with Chinese jokes. I don't find myself around low iq, tactless, selfish people. Everyone is so nice, they have good manners, customer service is wonderful. I never thought the country could be so awesome.
Feeling nostalgic for a place can bring back many happy memories. I always need a place to escape to so I can enjoy the world as it is. South Korea is the only place where I can truly relax, to abstract myself from negative thoughts.
South Korea is one of the most homogeneous countries in the world with its own culture, language and customs that are different from other Asian countries. In South Korea, citizens value hard work, filial piety, and humility in their daily lives. South Koreans are a very proud people in which they take pride in their traditional culture and their financial success. South Koreans have certain etiquettes and manners that are highly regarded in their culture. As in Japan and China, bowing is the main custom of greeting someone. It is not only a form of greeting, but also a sign of respect that an individual shows to another.
Although many South Koreans do not express any religious preference, there are two major religions: South Korean citizens practice Christianity and Buddhism. Because South Korea is a homogeneous country, it has its own spoken language. There are also not many ethnic groups living in the country, with the exception of some Chinese migrant workers. South Korea's social structure revolves around the professional, family, and educational level of the individual. People who have obtained prestigious positions, graduated from a top-class university, or come from an influential family occupy a very high position in the social structure. People without a decent education tend to be at the bottom of the status pole. The education system in South Korea is similar to that of the United States.
In conclusion, South Korea is one of the most interesting places to go, and it really is my favorite place to vacation. It is a place full of fun and excitement, given not only to Koreans but also to tourists. In fact, there are other amazing places besides this one that can be anyone's favorite vacation spot depending on their preferences. As for me, South Korea is my preference based on the aspect of prices of goods, places I can visit and have fun, and what goods I can get in Korea. It is for these reasons that I like to go to South Korea for vacations.
Topic News To the Tourist of note Interesting facts about different countries Culture and traditions of countries Where to go for an inexpensive vacation
Prices for vacations in Korea