How we went on a $35 safari in Sri Lanka
National Geographic in Lankan: How we went on a safari looking for elephants, Ceylon leopard and a bear. We tell you about a safari in Yala Park and give you tips. Find out how the trip goes, what to expect and where best to buy a tour to avoid getting scammed.
The Yala National Park is the largest and most popular national park in Sri Lanka, with an area of about 100 hectares. It is located in the south of the island and is easy to visit. In the park go on safari to see wild animals in natural conditions. There are elephants, buffalo, wild boar, spotted deer, Ceylon leopard, bear cub, monitor lizards, monitor snakes, mongooses, peacocks, monkeys, crocodiles and a great variety of birds. Unusual luck to see a leopard and a bear, they are "hunted" by all the jeeps.
Exchange rate: 100 Sri Lankan rupees (LKR) ≈ 70 RUB.
Content:
How much does a safari in Yala Park cost.
A 7-hour tour should not cost more than 6,000 to 7,000 rupees (about $35) per person. An all-day safari is no more than 10-11 thousand rupees per person. Of these amounts, the park tickets alone cost about 3,500 rupees per person.
The price includes everything: tickets, some fees, breakfast, jeep with driver. If the price is too low, you may not be taken to the park at all, but driven around the area. If the price is too high – look in another hotel.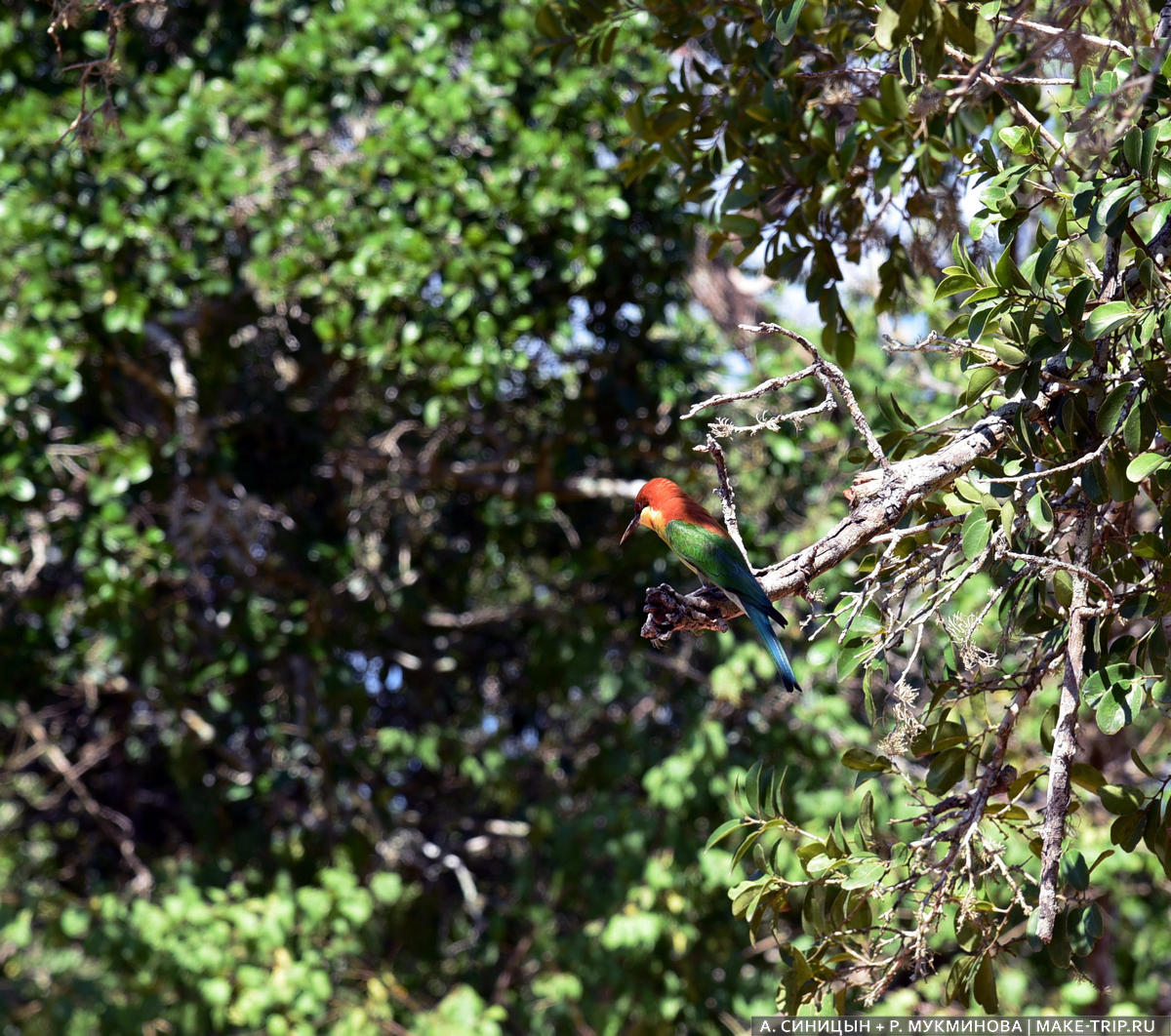 It is not easy for the untrained eye to find a bird among the foliage, even such a bright one!
Where to buy a safari tour in Yalu
You can buy a tour in different cities: Tissa, Kataragama, Mirissa, Hikkaduwa and other resorts. But from resorts far to go – you will have to stay up half the night to be in time for the opening of the park.
Mostly everyone comes to Tissamaharama (everyone just calls the town Tissa) or Kataragama for 1-2 nights because they are conveniently located relative to the park and other towns.
We stayed in Tissa. Every hotel there sells tours, but they will start steaming them in about a couple of kilometers before town – right on the bus. A Lankan will sit you down, start talking from afar, and smoothly translate on safari. Of course, exactly his tour will be the most interesting and the cheapest! You have to fight back to such people right away.
The next step is to break through at the bus station through the locals, who immediately surround the foreigners. We do not advise to take tours from unverified sellers, because we read sad stories. A popular scam is to ride for full price only on the outskirts of the park.
We advise to take safari tours in hotels – it is more reliable. If there are any complaints, at least someone will be able to present them. A guy from the street, who will take the money for the tour, you will never see.
We stayed at La Safari Inn Tissamaharama and bought the tour at the trusted hotel – it was recommended to us by our acquaintances, we were happy with it too.
Look for hotels with discounts on Yandex.Travel (good cashback) or Hotelluk. Here are the main rules of hotel search.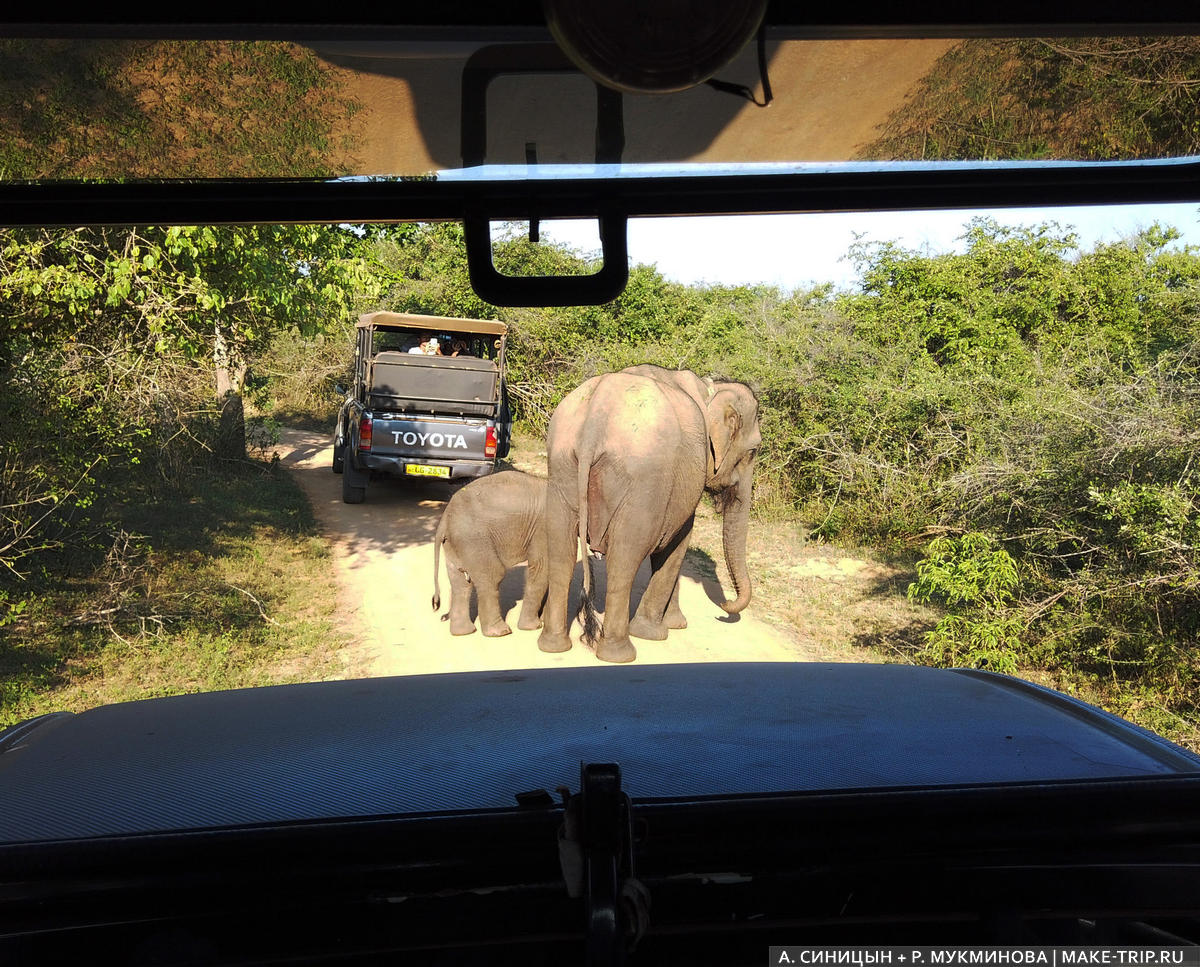 Driver, let the pedestrian pass! Elephants are not afraid of jeeps and take their time crossing the road. A common thing in the park.
How is the safari organized?
Here's how our safari went. We bought a 7-hour tour at our hotel for 6,500 rupees ($35) per person with everything included. At about 4:15 a.m. an open 6-seater jeep came to pick us up. A couple from Switzerland was already sitting there. On the way we took an Englishman from another hotel and drove to the park, which is about 24 km away.
At 5 a.m. we drove up to the first "post" where they issue coupons for the queue. There are a lot of cars. Then the second stop, where everyone waits for the park to open at 6 o'clock. During this time you can have a snack and go to the bathroom. Then again the line – already to the official gates to the park. Then the jeeps disperse each other in search of the leopard.
About the first 2-3 hours of the safari are the most saturated. It is not yet hot, and we saw almost all the animals. You feel like a long frog in the jeep, with its head turning 180 degrees – just have time to twist in different directions, looking for animals, birds and reptiles.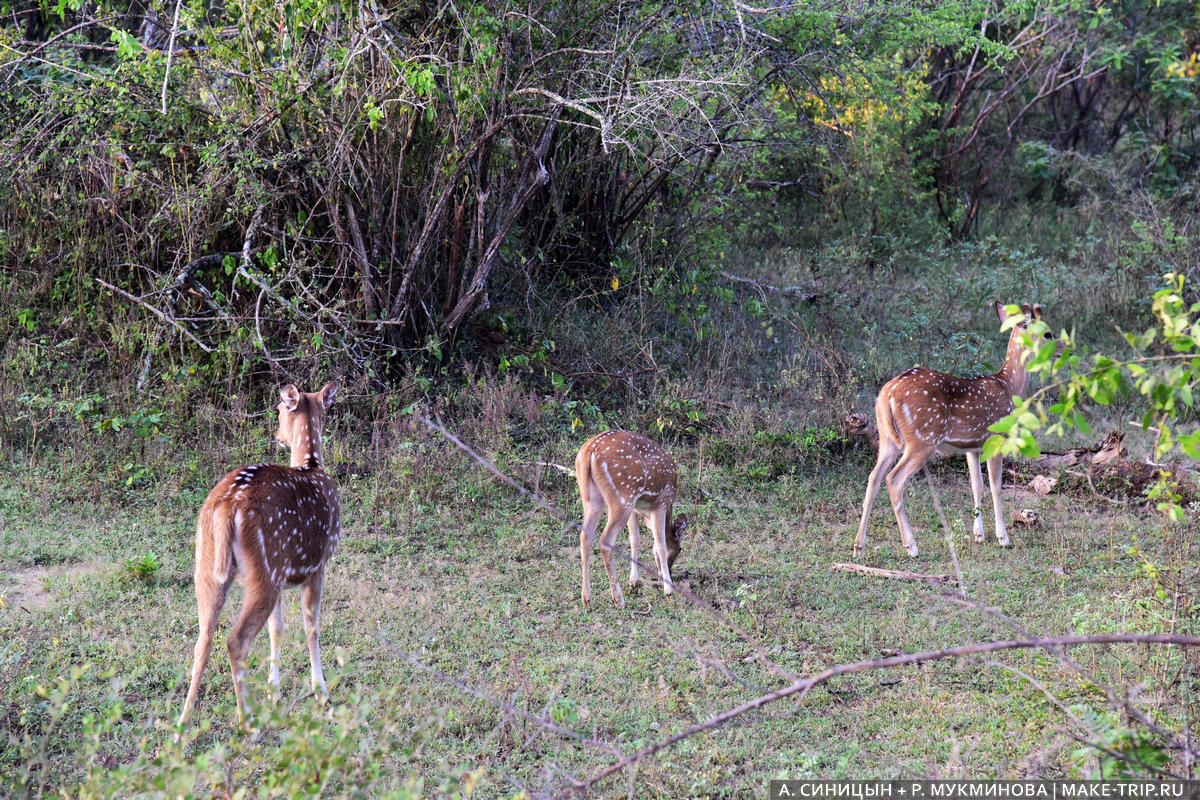 Spotted deer are timid and don't pose for long. There are quite a few of them in the park.
At about 8:30 we arrived at the oceanfront for breakfast – bananas, rotis and hoppers. There was a tsunami here in 2004, which the memorial reminds us of. There is a restroom, they give about half an hour to rest.
By 9 o'clock it got hot, and the animals amicably hid from the heat. Only empty landscapes, bushes, buffalo in the distance, birds, and peacocks and jungle roosters that had already become uninteresting by the end of the tour flashed by. Unfortunately, we did not find a leopard or a bear. We left the park at 10:30 and were back at the hotel by 11:30.
The drivers call each other to see who found what. They know where animals like to live. So if you find, for example, a leopard, you have just a few minutes to admire and photograph in peace and quiet. Then jeeps with tourists swoop in and that's it. The animals are used to the cars and do not pay attention to them.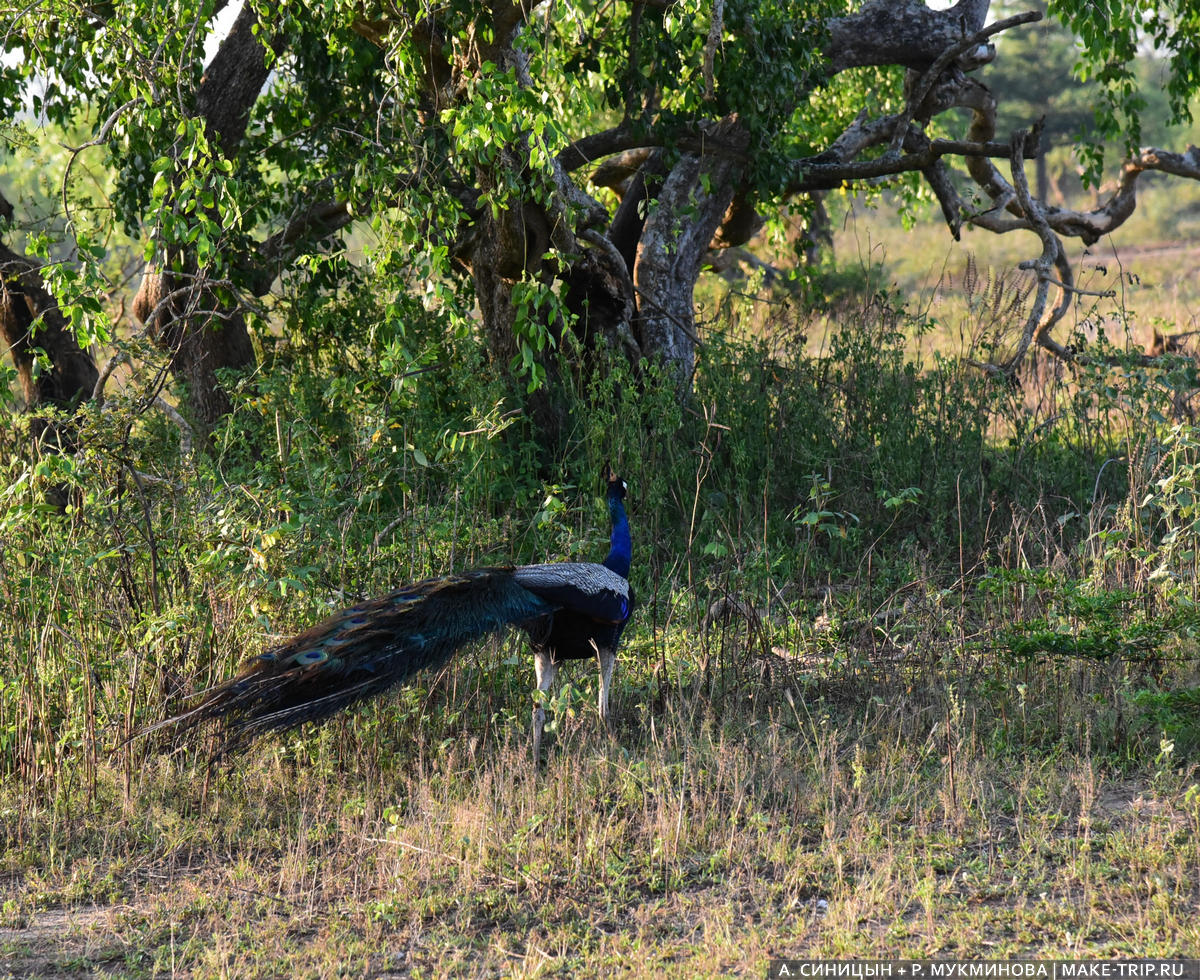 Proud peacocks feel at ease and strutting along the roads.
Yala Safari Review
On the whole, we liked the jeep safari in Yala Park, but we didn't get any extraordinary experience. Impressions are much brighter from unplanned encounters with animals in everyday life in Sri Lanka: from suddenly crawling out of the bushes varans, outlaw gangs of monkeys, skittish mongoose and chipmunks, colorful birds that look like heavenly or hummingbirds.
Most impressive in Yala are the elephants. We met them several times. Once a female with a cub crossed the road right in front of the jeep. Another time we were lucky enough to see a family of elephants taking a bath – a breathtaking sight. It was like being inside a BBC program.
Elephants at a watering hole – a delightful sight.
Too much of the coolest time on safari is spent looking for a leopard – it's certainly a thrill, but it's better spent on other animals. While you're looking for the leopard (and there's no guarantee you'll find one), the other animals scatter into hiding.
Reviews from other tourists about the safari in Yala Park are contradictory, but overall most are happy. Do not expect special exoticism, this is not Tanzania. But as a first experience of safari – very good.
DianaTsukana: "The overall impression is quite positive, but (!) You should be prepared for the fact that <. >If the animal does not want you to see him, then you will not see. <. >The leopard was waiting in the right place for about 20 jeeps.
svetuevina: "To say that we are delighted is almost nothing to say. Here we saw a huge number of animals (and at a distance of no more than 5-8 meters).
The park has picturesque nature. There is a jeep stop here – you can eat and go to the bathroom. There is also a memorial to the victims of the 2004 tsunami. Buffalo in the park we met most often.
Tips for safari in Sri Lanka
To avoid getting burnt, wear closed light clothing.
Headgear and sunglasses are also better to have.
Clothing and appliances get a lot of dust. Do not wear white clothing, and cover your equipment from dust.
It's best to take telephoto lenses and binoculars – the animals are mostly in the distance.
Get some sleep before the safari, because in the park you need to look carefully around to spot the animals.
The road is bumpy and drivers are racing. If you get carsick, take a pill. Many tourists complain about the jolting and quickly get tired of the trip.
Safari rules say you can't get out of the car except in the picnic area, drive off the road, make noise or litter.
There are also 5-hour and full-day safaris. According to reviews, a full day is very tiring.
Do not buy tours from unverified vendors.
In September or October (it happens differently), the park is closed, find out before you go.
Here is what kind of lens you should take on safari. These are the roads in Yala Park. Jeeps raise a lot of dust, so wear dark clothes and take care of equipment.
Sri Lanka – review
Sri Lanka by yourself – instructions and itinerary for almost the entire island! How we rested cool and cheap, not depending on tour operators! Detailed report and lots of photos of the amazing country + LEOPARD safari!
Hello everyone!
So want to tell you about the enchanting Sri Lanka and vacation there! Of course, independently – it's freer, cheaper and you can see the whole island, and it's definitely worth it! Well, let's do it!
Flights
We went in March, spontaneously bought the tickets with a capture of holiday dates – it's nice to meet the Women's Day in a warm place near the ocean! In the fly Dubai offer they cost about 21 rubles per person, with a short stopover in Dubai. The flight to Dubai was great, the connection did not upset us – we had time to drink coffee and remember Arabian flavor.
Visa for Sri Lanka.
A visa for Sri Lanka is required for RF citizens. If you buy it on arrival it costs $ 35, and when buying in Moscow $ 30. Well, why not save money? We bought it in advance. And everything was fine, until the arrival turned out that the visa, duh, duh. Well, they do not see it in the database (and the base there. well, as in the office of computer science 15 years ago:). And with English the Lankans are not very friendly: "No visa" and that's it. We bought it again for cash. And then the money was long returned from the bank Tinkoff – have returned after all.
At this point, all pre-purchased or booked for us ended. Which my companion found out right at the airport in the capital of Sri Lanka, Colombo. And as a man in the Army who likes to feel his hand on the pulse, he nearly had a heart attack. Or maybe it was just the heat – it was no less than 30 degrees Celsius in Colombo, after all.
Itinerary
There are crowds of cab drivers at the airport. And unlike in other countries where they are eager to take you to town, these would like to rip off a bigger bounty – and get a job for, say, a week. That is, you as a tourist rent a cab driver with a car for a certain period within the country, agree with him on the route – and he calls the price. You haggle (you can't do it without it!), ask the others how much it's going to cost and then take it. Usually a small advance payment (one-third to half – depending on how long you agreed), the rest – at the end of the trip, on the last day. Attention: The hotels of your cab driver does not concern you – he puts them in the quoted price, so do not be fooled by his "give me $20 for a room for the night" in the first evening. In my opinion, they generally have their own people / relatives / acquaintances everywhere – the accommodation they come out well, very cheap. In the photo tuk-tuk – for short trips, we had to rent a normal car with air conditioning, of course.
Having worked in advance through the forums and reports, gathering all the information Our route (including the railway crossing!) was as follows:
Colombo – Pinnavela – Anuradhapura – Sigiriya – Dambulla – Kandy – Peredeniya – Nuwara Eliya – Ella – Yala Safari Park – Hikkaduwa
Colombo is the capital of the island, the planes come and go here. There's not much to do there, we didn't stay long.
Pinnavela – an elephant nursery, we caught the elephants washing on the river and driving them through the streets – cool and impressive, worth a visit.
Anuradhapura is the ancient capital. Well, to be honest, we could have switched it off – we are not fans, as it turned out. It seems there is something to see – but compared to everything else in Sri Lanka is not memorable.
Sigiriya – a world heritage site, on a towering rocky plateau ruins of the palace and fortress complex. And it's all in gardens and ponds and stuff. Very impressed, it would be worth staying another day! And how we climbed up – my butt is rocking!)
Dambulla – cave Buddhist temple, nice and unusual to visit, dark and cool inside, lots and lots of Buddhas.
Kandy – here I got sick (oh, those air conditioners!) and so the city passed me by a bit. But I did visit a local hospital with travel insurance. Well, what can I say – do not get sick, especially in Sri Lanka:). Oh yes, I was prescribed there. tadam. paracetamol!)))
Peredeniya – a botanical garden, nice walk, clean and tidy, a lot of monkeys and flying foxes in the trees. And many local couples in love, and we also met a couple of weddings – colorful! And we met a scorpion on the ground too – since then, we started to watch our feet and not step on the grass barefoot.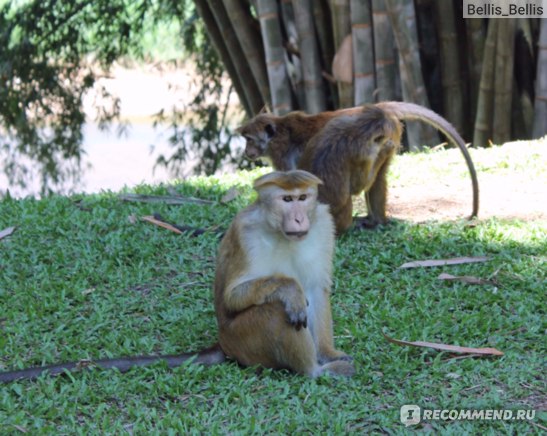 Nuwara Eliya – a highland resort in the middle of tea plantations. The views are amazing! And the temperature is not hot at all – we wore jackets, the highlands. They say there are excellent golf courses – but we couldn't try them.
Railway transfer from Nuwara Eliya to Ella – we sent our driver to meet us in Ella, and we did it by train – jungle around, authentic stops, everything is so exuberant and Sri Lankan. And the wind through the open windows, great! The train is very inexpensive, by the way.
On the outskirts of Ella we visited the waterfalls – they are huge, you can see a little bit of crumbs people on the photo there:
Yala park – there's a leopard safari and that's what everyone goes here for. Stopped right at the park, in the morning at 4 am a jeep came to pick us up and we were there alone (compared with other jeeps full of Chinese tourists:). You can drive into the park at sunrise and then – yoohoo, sahari begins! The driver drives and shows all sorts of wildlife – buffalo, elephants, crocodiles, peacocks and all-you-can-eat, but most importantly, find a cat raptor! It's not every day you get one, we were told. The drivers keep in touch with each other and share information. Here again we were lucky – we were one of the first to arrive, and we managed to take a picture of the leopard (it is in the end of the report!) Those who arrived at the back of the line were left speechless – or rather a glimpse of the animal in the forest. A good fast driver is very important, so we did not skimp on tips.
Hikkaduwa was the final point of our trip, we just drove along the coast and chose a place to relax by the sea. During our stay, the sea was rough and swimming in the usual sense was almost unreal. In all the photos of the water as if a white veil – it is a micro-splash from the waves create a "curtain of fog. But the beaches were huge and deserted, and we were pleased to walk on them ankle-deep in the advancing water.
Excursions
Our driver did not speak much English, or rather he spoke a lot, but it was such a peculiar English – we had a guide for ourselves. Fortunately, maps, guidebooks, etc. were available. And here we should say about.
Internet!
It was a good idea to buy a SIM card with internet access when you arrived at the airport – there were kiosks there, you couldn't go wrong. It's not expensive, has a lot of internet (I don't remember exactly how many gigs we took), works very well and is good all over the island – a must for an individual traveler.
Armed with a driver, the Internet and changing clothes right in the airport bathroom (why? even in "Heads & Tails" do it:), we bravely loaded into the car, turn on the air conditioning and rushed to adventure!
Every day we had a move, new places to walk, new experiences, and a new hotel for the night. I wanted to see as much as we could on the island!
Hotels
I booked all the hotels on the way in (literally in the car) on bookings. And I advise you to book. You arrive at the hotel – how much is it? They – 50 dollars. And on the boeking the same 40, you show the reservation and check in. Discounts without a reservation reluctantly give – it is clear, and where the tourist will especially go, lazy, tired for the day, and so will buy. Hotels were decent – shower, toilet, comfortable bed, cleanliness, breakfast. Sometimes we were not lucky with the air conditioner – it was blowing mercilessly and loudly, but otherwise they were all more than worth the money.
Meals
The food in Sri Lanka is for the lovers, which I was not. The whole trip suffered – eating rice with vegetables and chicken is just no strength! (The typical food in the near-tourist places). And the local food coming from the diner looked and smelled very strange and unpleasant. and unpleasantAnd the taste was not so good. Fruits saved. Yes, in expensive restaurants we did not go – may be tasty there, I do not know:)
Weather
Daytime, over 30 degrees, sunny and no rain. Winter in Ceylon is the dry and hot season.
How much was spent?
About 55 rubles per person including all-inclusive (airfare).
From the MASTER VISIT of our trip to Sri Lanka I would like to single out: Sigiriya, the mountain tea areas (and Nuwara Eliya for an overnight stay) and a safari in Yala Park. Very cool, unlike anything else, get a lot of impressions!
I advise you to go to this wonderful and original country – beautiful, affordable, a lot of attractions for all tastes, safe and have a place to swim. And we have not tried surfing and look at the whales!
In general, we will definitely be back!
I hope you found my review useful and enjoyable!