What is a must try in Turkey of food and drink?
List of the best restaurants in Side with beautiful views and delicious food
Turkish cuisine is a part of the heritage of the Ottoman Empire and embraces different culinary traditions: Arabian cooking and serving techniques; Balkan and Turkic nomadic cooking techniques; Caucasian cuisine; and Mediterranean motifs (particularly Greek). If you think about it, it's true, how many attributes can be found on the Turkish table from the original Greek cuisine (olives and olive oil, cheeses of different kinds, fish and seafood). Especially this feature is noticeable on the west coast of Turkey, as it is the closest to Greece.
If you are going to the resorts of Turkey, then do not even worry about the cuisine of this country. It is very diverse and even the most inveterate critic can find a lot of delicious and healthy (sometimes not very healthy) dishes. I always say that gastronomic tourism develops year after year, because food has always been and will always be one of the most important components of any tourist trip. The culture, nature and local attractions are, of course, wonderful, but the local cuisine somehow reinforces the overall impression of the country.
What is a must-try food in Turkey?
Sweets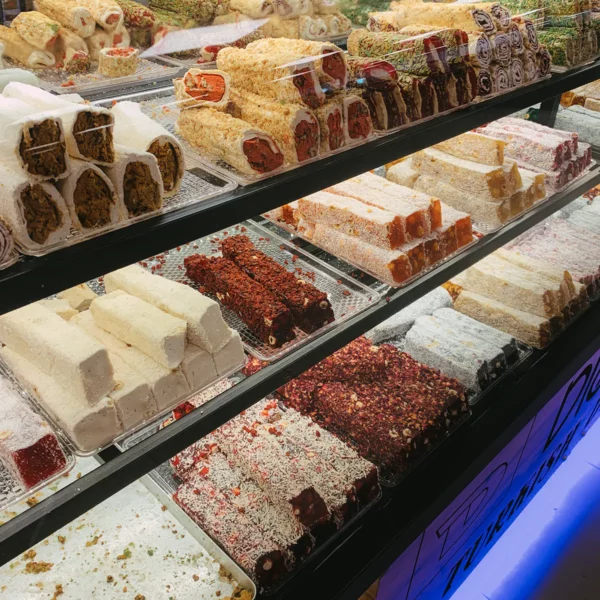 Turkey sweets
I can say with confidence that the most delicious sweets are from Turkey. Local pastry shops can drive anyone crazy, especially those with a sweet tooth. You simply must indulge yourself with Turkish halva, "cotton candy" (pishmaniye), rahat-lukum (pay attention to the weighted rolls), kunefe (warm dough with melted goat cheese inside), sugar toulumba and baklava.
Baklava is the star of Turkish sweets. Tender dough that just melts in your mouth, nut filling, sugar syrup and honey. Oh, how delicious it is! But in all this sweet pleasure there is one BUT – baklava is very filling, 2-3 pieces and you can not eat any more. And let me tell you, this is a real problem, because you want to try everything at once.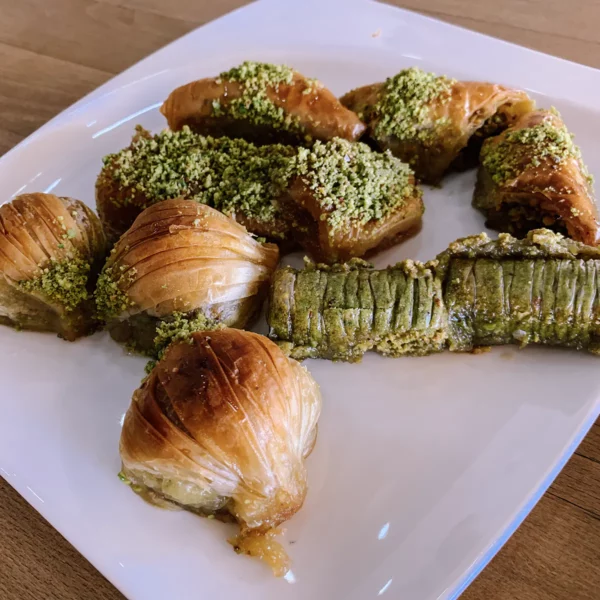 Baklava
By the way, delicious sweets from Turkey are always a great gift for family and friends. You can bring it both in hand luggage and in your luggage (nothing will happen to sweets). The only thing I would not recommend taking baklava from Turkey, because it is stored for only 10-15 days. And the best part is eating it freshly cooked.
Simit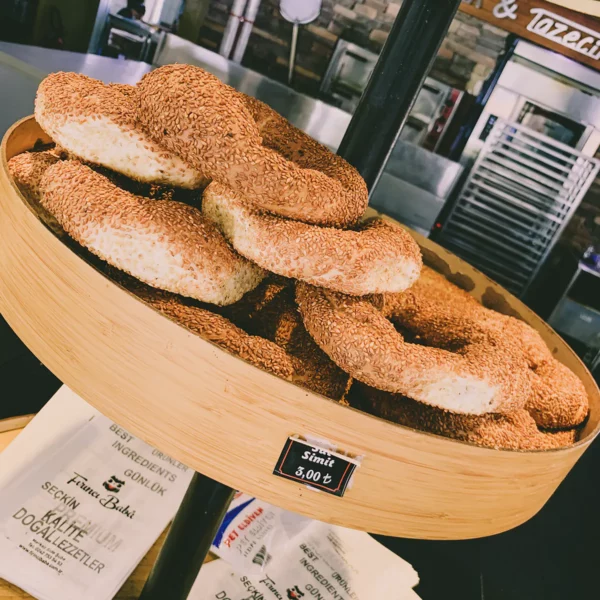 Simit
The champion among the most beautiful and famous bagels in the world. The flavor nuances can vary slightly from region to region: softer in Antalya, more plump in Istanbul, thin and crispy in Ankara. One thing remains constant: simit is a street favorite for locals and tourists alike (simit carts are on every corner of every city in Turkey). I like the classics best, but if you want to add flavor, you can always eat simit with Nutella, butter, cream cheese, ham and other toppings.
Turkish Ice Cream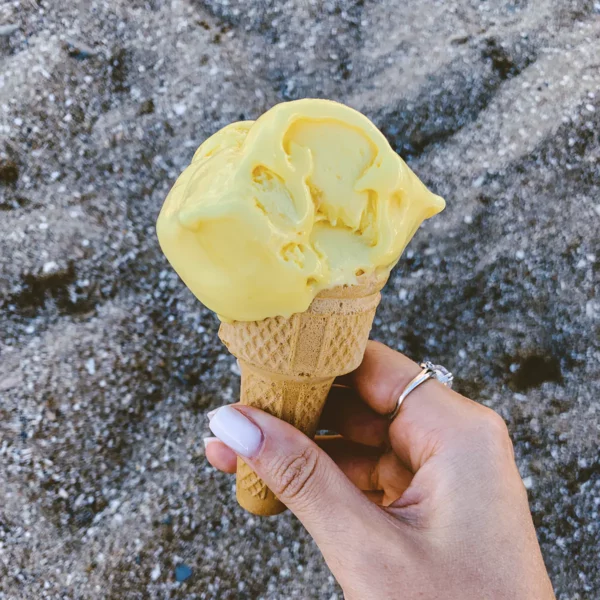 Turkish Ice Cream
Real Turkish ice cream has a special name – dondurma. It differs from the more familiar to us types in that it has a thick consistency and plasticity. It melts much more slowly. I recently learned that Turkish ice cream contains twice as much potassium, vitamins A and B, and calcium is 15% more. Don't forget to play a game with the vendors Let them tease you a little with long sticks with dondurm and you try to catch your ice cream (a fun game for adults and kids).
"Turkish breakfast" or Turkish breakfast.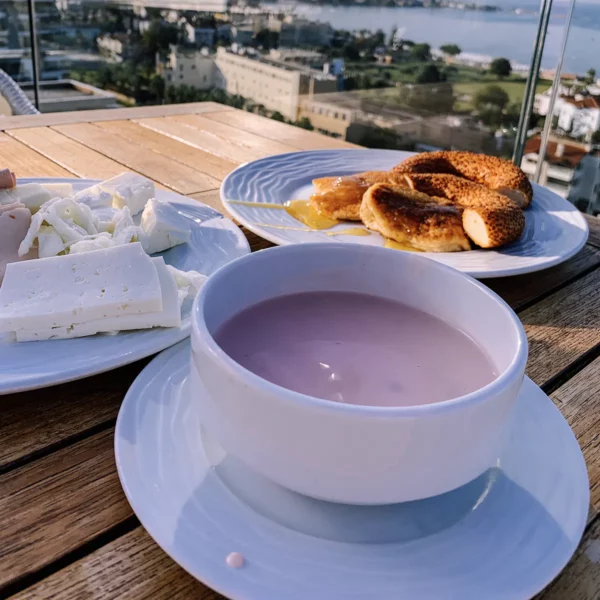 Turkish breakfast.
This is a separate kind of culinary art or, as it is more commonly called, "a real feast for the world": scrambled eggs, toast, cottage cheese, fruits and vegetables, fried sausages, honey and jam, several kinds of olives, yogurt, tea/coffee.
Kebab
A separate and important page in the book of national Turkish recipes. There are about two hundred varieties of kebabs (fried meat), but the real star is iskander kebab – thinly sliced lamb meat served with melted butter, sour cream and small pieces of flatbread in a tomato sauce. In Turkey, kebabs are made literally on every corner. Experiment and compare flavors.
Seafood
I will not focus on the seafood, the only thing I will say is always order fish and mussels in restaurants, they are almost everywhere perfectly cooked.
Fruits and vegetables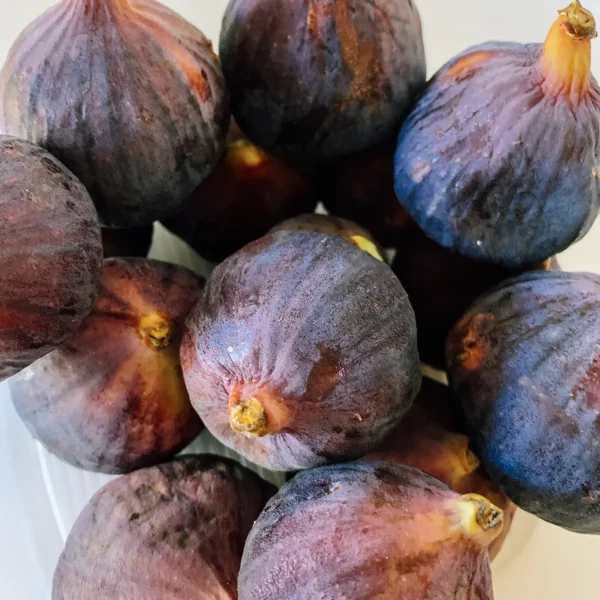 Fruits and vegetables
In the markets or local fruit shops you can buy a variety of fruits, ranging from watermelons / melons to strawberries. The main thing is not to forget about the seasonality of the fruit. The tastiest strawberries are in early summer, and figs are better to take in mid-autumn.
Now you know what to try in Turkey, every traveler must try!
What are the best drinks to try?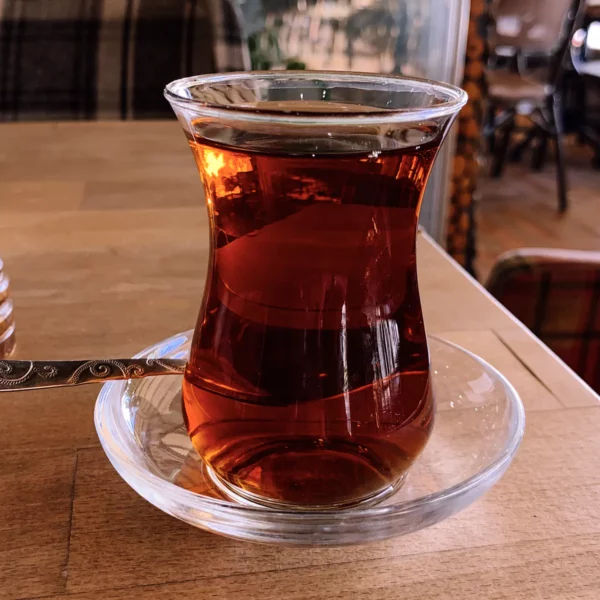 Tea in Turkey
Tea is made in a "double decker" teapot and drunk from elegant cups. As Turks say, tea can complete any meal but it should never be used to wash down other dishes. By the way, my advice to you is to order 2 or 3 cups at once, because one cup is always not enough. Turkish tea is really delicious.
Turkish coffee is always "to your liking". Some people really like it, some don't understand the taste at all. I'm probably more of the latter. Yes, the lush foam, rich flavor and spice, but Turkish coffee is not for me. Honestly, I don't understand its characteristics and flavor at all.
Freshly squeezed juices
Freshly squeezed juices.
A great source of many vitamins that are good for our bodies. Don't be afraid to order juices from local vendors as well, not just in cafes/restaurants. The vendor squeezes everything in front of you, but what they add in cafes/restaurants is unclear.
Restaurants in Side with beautiful view and delicious food
I have previously written about my autumn trip to Side and how this city of the Mediterranean coast has allowed me to reconsider my vacation in Turkey. I shared my general impressions, and also gave advice on specific must visit places in Side. Now I will share with you a list of the best restaurants, maybe someone will find it useful
Firinci Baba Side is a cozy local cafe with great breakfasts and the most delicious baklava. The waiters are very friendly, but barely speak English. Final rating: 5/5.
Zula is a boho restaurant with a beautiful view. However, there are not always seats in the evening and sometimes there are errors on the bill. Final score: 4/5.
Terrace Beach Restaurant is a favorite bar on the beach with live music in the evenings. It is here where you can taste the most delicious Turkish ice cream. For those who miss Italy – gelato is also available. During the day in the bar you can order different drinks, while getting free access to Wi-Fi. Final rating: 5/5.
Bardo Gelato is not bad Italian ice cream. This place is run by a family whose head went to Italy (Bologna) to study to get experience making ice cream. It's okay, but not "wow." I'm all for Turkish ice cream! Final score: 4/5
Side Orfoz Restaurant & Bar is a decent restaurant in a beautiful location. The serving and quality of food is amazing. Be sure to order the seafood. Final rating: 5/5.
Shared the places I've been to myself. Therefore, all scores are honest. You can pay the bill in the restaurant both in liras and in dollars/euros. However, you will get your change in the local currency. By the way, everywhere in Side the prices are in Euros, which is very strange. In any store and local shops no problems accept any kind of money.
If all the same you want to pay in lira, the most favorable rate in banks or in store Migros (you buy something – pay in dollars/euros – change get in lira).
Turkey is a paradise for gourmets. It has everything: sweets, meat, seafood, fresh fruits and vegetables, cheeses, olives. Try the local cuisine, compare different food locations and share your must visit places in the comments.
For me, Turkey has the most delicious sweets and the best cheeses that are as good as European ones.
8 Best Restaurants in Side
Cuisine in Side is traditionally Turkish, and since the city is on the coast, there are many seafood dishes. Learn about the best restaurants in the resort, as well as what tourists recommend to try and how much it costs to dine out for two.
Side Orfoz
One of the best restaurants in Side with a beautiful view of the sea is located on the peninsula, in the historic part of town. It offers seafood – octopus, lobster, shrimp and fish dishes. Tourists enjoy a large selection of local and imported wines and cocktails. For younger guests, there is a children's menu and a playground. Learn about vacations with kids in Side.
Average check . Meals range from 15 to 71 lira. Lunch for two will cost $18 to $25.
Address : Selimiye Mah, Liman Cad, Nar Sok, No:5
The tables in the restaurant. Photo: Side Orfoz.
Elia Restaurant & Lounge
The restaurant with a beautiful view of the coastline is a delight to visit after a stroll through the ancient ruins of Side. From the tables there is a panorama of the old port and the city, which was founded in the days of ancient Rome. Tourists like the lamb ribs, fried shrimp and seafood risotto.
Average check . Prices are high, with dishes ranging from 63 to 185 lire. Lunch for two will cost $40-60.
Address : Nar Sokak No: 4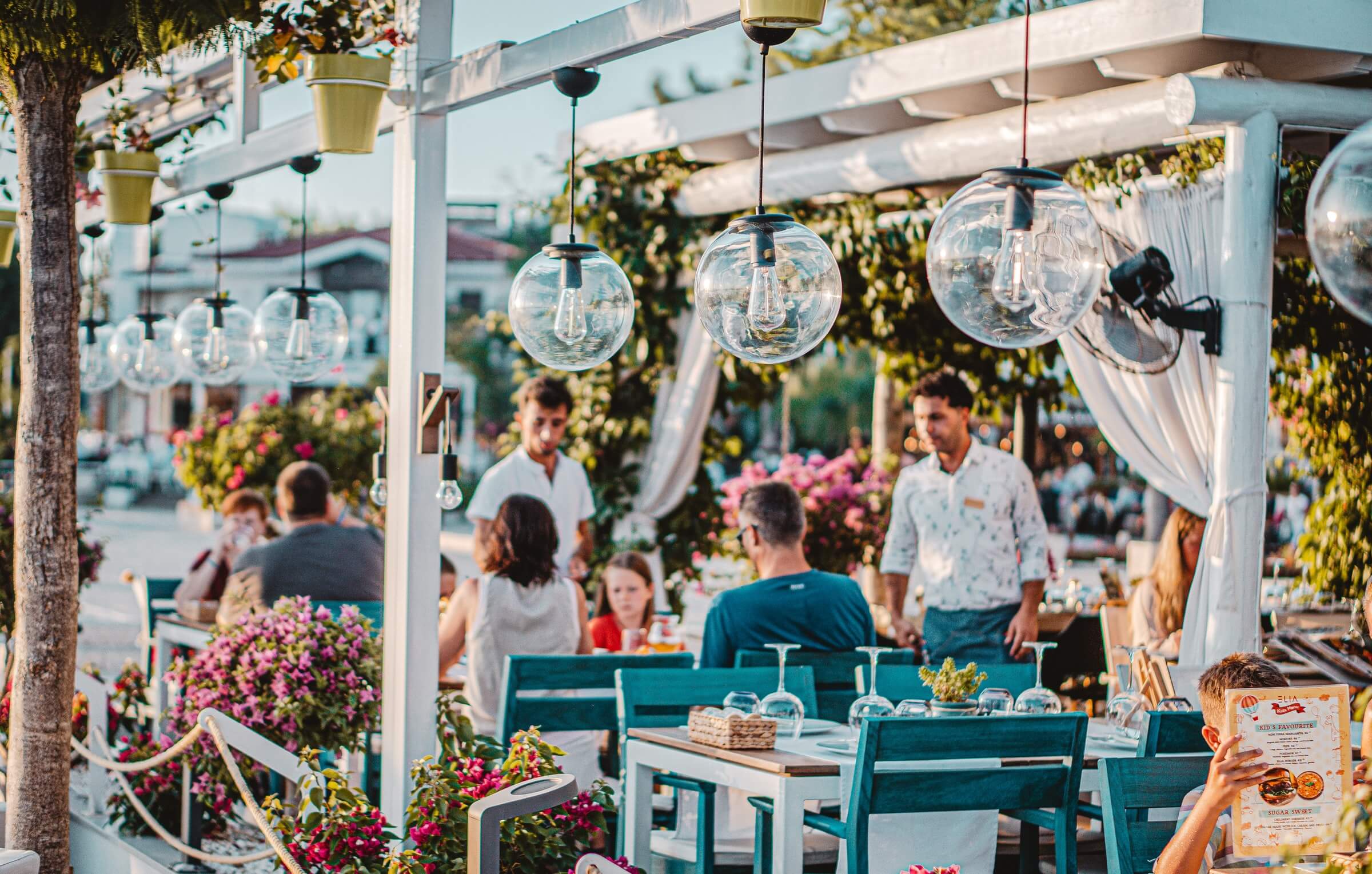 Elia Restaurant & Lounge opened in 2018. Photo : realbench / unsplash.com.
Coppa Beach Club & Lounge.
One of the best restaurants in Side is located in the resort area of Manavgat. A clean, sandy beach stretches nearby. After swimming in the sea it is nice to have a cold drink and a snack. The portions are huge – don't rush to order too many! Juice is 18 lira and beer is 28 lira.
Average bill . A lunch for two will cost you $20-$25.
Address: Ilica Mahallesi
The portions are enormous – so don't order too much! Photo: Coppa Beach Club.
Karma
A favorite of tourists, the restaurant is located in the bay, near the Old Town of Side. A great place which sets the mood for romance! You come here to watch the sunset and have fun at the disco. We suggest grabbing the avocado and pomegranate salad and a large plate of mussels, octopus, shrimp and calamari.
Average Check . Prices are above average. A dinner for two with wine will cost $45-$60.
Address: Turgut Reis Cad. No: 60 At The Harbour
Mussels. Photo: Karma. Tables in the restaurant. Photo: Karma.
Old Town Pub & Bistro
This steakhouse in Side city center lives by the motto "The best dishes from conventional products". The chefs here are excellent at lamb, Mediterranean salad, beef carpaccio, mushroom burgers, chicken with teriyaki sauce and steaks. The only downside, according to tourist reviews, is that the shrimp are very expensive, and the staff actively promotes them.
The average check . Lunch for two will cost $35-$55.
Address : Mah. Liman Cad, Side, Manavgat
Photo : Old Town Pub & Bistro.
Liman Restaurant Lounge Club
According to reviews from tourists, a good place for lunch and dinner in the old town of Side is Liman Restaurant. The meat here is good, and there is a rich children's menu. Many people come to this restaurant to eat perfectly cooked seafood. Turkish kebabs cost from 80 to 120 lira, and steaks from 110 lira to 220 lira.
The average check . Lunch for two will cost $35 to $30.
Address : Nar Sokak No: 27 LİMAN CADDESİ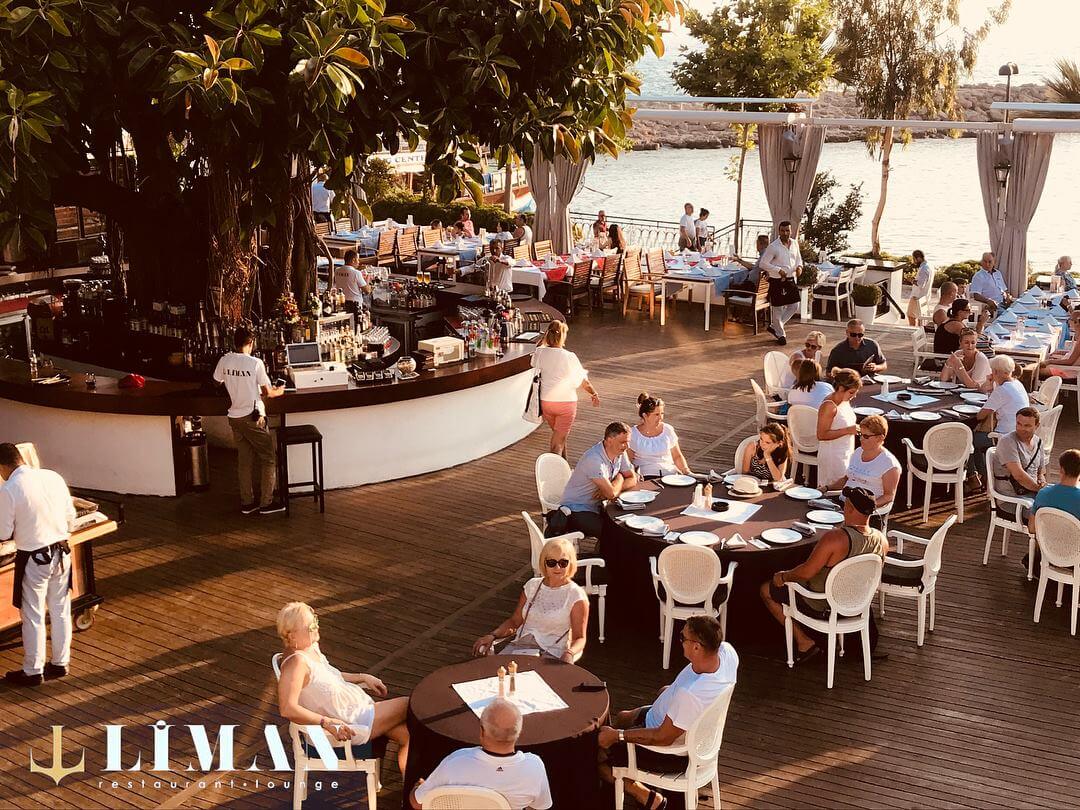 Photo: Liman Restaurant Lounge Club.
Lime Restaurant and Bar
This excellent restaurant in Manavgat offers a combination of relaxing on the beach and a delicious meal. Sun loungers and umbrellas belong to the restaurant, so you do not need to pay for them. Appreciate the tiger prawns with vegetables, fresh bread and olive sauce, and refreshing non-alcoholic cocktails!
Average Check . Lunch for two will cost $25-$30.
Address : Selimiye Mahallesi, Sarmasik Sokak No: 80/1
A view of the sea from the restaurant. Photo: Lime Restaurant and Bar. The beach next to the restaurant. Photo: Lime Restaurant and Bar.
Aphrodite Restaurant
Aphrodite Restaurant is located in the heart of the resort and offers a breathtaking view of the sea. The history of the restaurant dates back to 1970 and today it is one of the best restaurants in Side. Try the squid rings in batter and the fish baked in salt. Eat a delicious meal while admiring the passing sea ships and the promenade where tourists stroll!
Average Check . Lunch for two will cost $35-40.
Address : Selimiye Mahallesi Liman Caddesi No 170
Restaurant. Photo: Aphrodite Restaurant.