Rent an apartment in Paris
New Athens, that's the name of this part of Paris' 9th district. Between Montmartre and the Opera, 10 minutes from the Grand Boulevard. A 95 sq.m. 4-room apartment for 4 or 5 people. On the top floor of a 6 story building. Early 19th century building, with elevator, code and intercom.
Living room, American kitchen, 2 bedrooms, bathroom, WC. Functional and very bright apartment with great views.
The large living room, with visible wooden piles, a typical element of 19th century buildings, gives a special charm. Upholstered furniture, with a sofa and two armchairs, pictures, TV.
Bathroom
The bathroom is directly connected to bedroom 1 and is decorated with wood.
Bathroom
Separate WC with washbasin.
Bedroom 1
Bright and spacious bedroom of 35 m², visible wooden piles, wooden floor. Double bed, TV, 4 windows, one of which on the ceiling, with blinds adjustable by remote control.
Bedroom 2
A small bedroom, with a single bed, ideal for a child, and more.
Bedroom 3.
The third bedroom has a comfortable double bed.
Kitchen
The separate kitchen is fully equipped. The kitchen has 2 windows.
The area/environment
Very touristy area, with numerous restaurants, cafés, stores.
Metro: M 12 Saint Georges, M 2 12 Pigalle.
Thierry
Thierry
Charming two-room apartment in Paris with separate kitchen, large living room combined with dining room. A cozy bedroom. The bathroom is in marble. All windows overlook the quiet inner courtyard. The price includes bed linen, bath and kitchen towels.
Living Room
The spacious living room of 36 square meters is combined with the dining room and is furnished with a sofa, a table, armchairs. The floor is parquet.
Bedroom
The bedroom is furnished with a double bed, a chest of drawers.
Bathroom
The bathroom is equipped with a shower cabin and a sink. The bathroom is combined with a toilet.
Dining Room
Stylish dining room is combined with the living room and has a dining table for 4 people.
Kitchen
There is a separate kitchen with all necessities.
The area/environment
Perfect location! Everything necessary is close to the apartment: numerous grocery stores, cafes, restaurants, just five minutes from the famous Luxembourg Jardin, 10 minutes from the intersection of Vavin, with the famous Coupole et Dome, a favorite of E. Hemingway. Subway stops : Vavin and Notre Dame des Champs.
Lamballe
Furnished bright 2-room apartment for long term rent in a distinguished area of Paris in Avenue de Lamballe, near the Seine. Nice accommodation for a couple in a quiet part of town.
53 sq. m., 6th floor of a building, comfortably furnished, large windows.
The apartment consists of living/dining room (sofa, TV, coffee table, carpet, dining table, chairs); bedroom with double bed; kitchen; bathroom; WC.
The apartment is located in a very nice neighborhood of Paris' 16th arrondissement, a few minutes away from the Maison de la Radio and the Seine quay; near Trocadero and the Eiffel Tower.
Transportation. RER: Avenue du President Kennedy; Metro: Passy
Rue Scheffer
Pretty spacious 4-bedroom apartment with balcony in the 16th arrondissement of Paris on Rue Scheffer. Completely renovated in summer 2015, this apartment for long term rentals is an attractive family option in a good neighborhood near the Trocadéro.
Number of occupants – 5 people; area – 100 square meters; 7th floor of the building with elevator; elevator; concierge; parking.
Minimum lease term – 1 month.
Living room, dining room, equipped kitchen, bedroom, children's bedroom, bathroom, shower room, 2 toilets, hallway.
The apartment is located in one of the most prestigious and respectable districts of Paris within walking distance from the Trocadero; close to the Seine and the Eiffel Tower.
Molitor 2
Spacious, bright 4-bedroom apartment for long term rent in the 16th arrondissement of Paris on Rue Molitor. This comfortable furnished apartment with classic French design elements is a great accommodation option for a family in a quiet neighborhood.
Area – 130 square meters; 1st French floor of a building with concierge and elevator; excellent furnishing; parquet floor; large windows (from the side of the beautiful patio); fireplaces; number of tenants – up to 5 people.
Minimum rental period – 6 months.
The apartment consists of living room, dining room, two bedrooms, fully equipped kitchen, bathroom, shower room, hallway.
The apartment is located in a very quiet and comfortable quarter of Paris near the Bois de Boulogne, the Seine, the Parc André Citroën, the commune of Boulogne-Billancourt.
Metro: Michel-Ange – Molitor
Studio on Rue Mondovi
Nice little studio for long term rentals in the heart of Paris in Rue de Mondovi. Cozy apartment for a couple opposite the Tuileries Garden, a few minutes walk from the Louvre.
First French floor; pretty interior; quality furniture; large window.
Minimum lease term – 1 month.
The apartment consists of a living room with sofa, kitchen space, shower room with WC.
Regarding the location, if you want to live in the center of Paris, this studio fully satisfies this requirement. Near the house are the Tuileries Garden, the Louvre, the Seine, the Opera, the Galeries Lafayette, and many other famous attractions of the French capital. Masses of stores, cafes and restaurants.
Feuilles
A 2 room furnished apartment for long term residence in the Rue des Belles Feuilles, in the 16th arrondissement of Paris. Compact apartment for a couple or family with children in a prestigious part of town.
Area – 35 square meters; 1st floor of a building; basic set of furniture and home appliances; capacity – 3 people.
The apartment consists of living/dining room, kitchen, bedroom, bathroom, toilet.
The apartment is located in a quiet and comfortable neighborhood in Paris near Avenue Foch, Bois de Boulogne, and close to the Arc de Triomphe.
Metro: Victor Hugo
Caillou
A small and bright studio apartment.
The apartment offers a necessary set of furniture and home appliances for a comfortable stay in Paris.
Capacity – two people.
The apartment offers its occupants an excellent location close to the Champ de Mars and the Eiffel Tower.
How much does it cost to go to Paris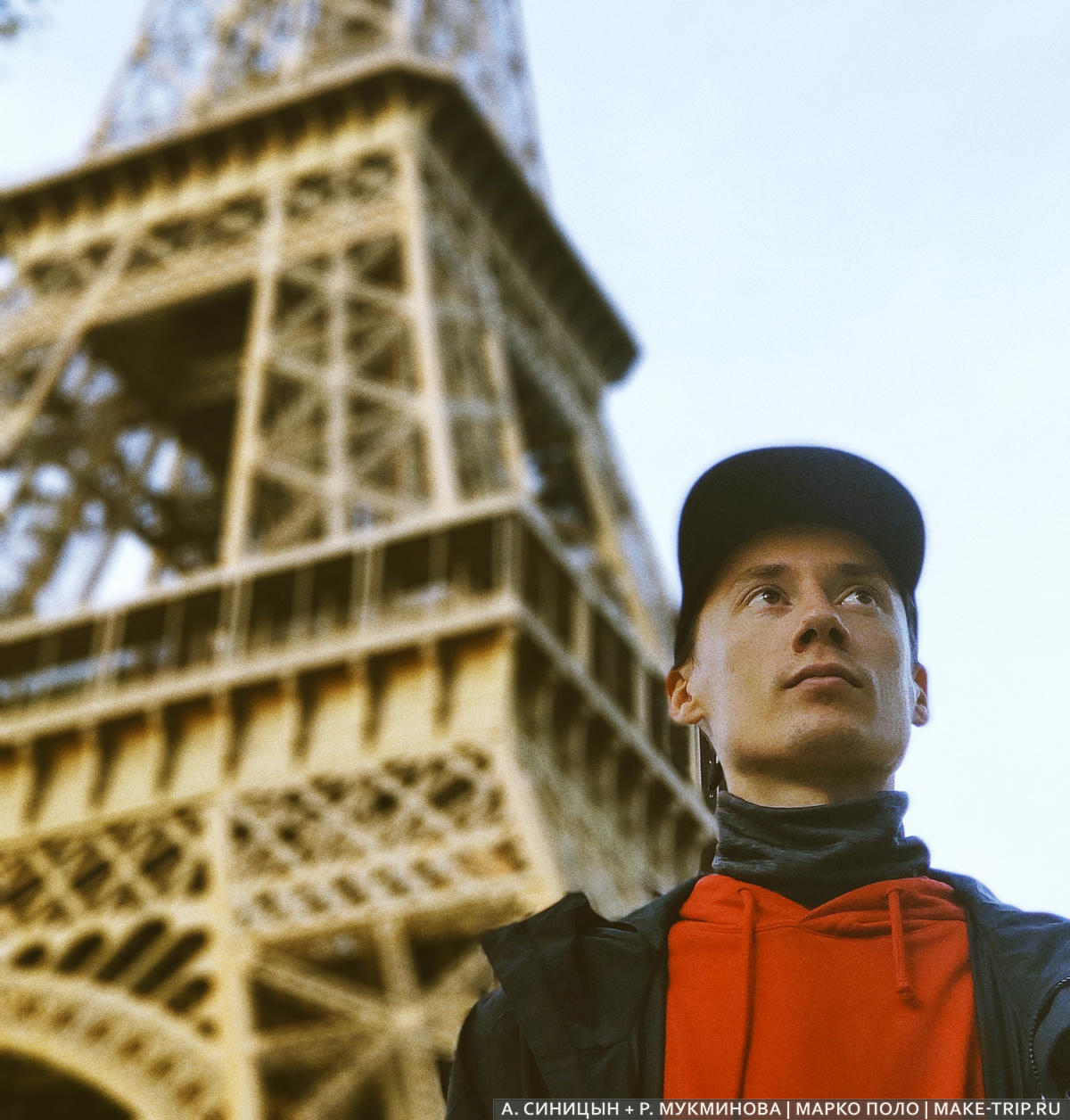 Find out how much it costs to travel to Paris in 2022! We spent as little as 650 euros for a trip for two. We share tips and share prices. We calculate the cost of a vacation to Paris for two for 3 and 7 days.
France welcomes tourists from Russia. For convenience, we give pre-dedicated prices for trips and flights. Information about visas and flights may not be up to date, please check official resources. Take a look at the list of open countries.
Contents:
How much does it cost to get to Paris?
Any trip to Paris begins with finding airfare. The prices for a round-trip flight are as follows:
Air France and Aeroflot direct flights Moscow-Paris – from 22,000 ₽.
One-connection flights – from 11,000 ₽.
Flights with two connections – from 8,000 ₽.
You'll save money if you visit several countries in one trip, because flights within Europe are very cheap. For example, I flew to Paris from Lisbon after vacationing in the Azores for only 30€. We also flew to Paris with a short layover in Belgrade – convenient and inexpensive.
Look for cheap tickets on the Aviasales search engine.
| | |
| --- | --- |
| Билеты из Москвы >> | From 8,000 ₽ |
| Билеты из СПб >> | from ₽ 9,000 |
| Билеты из Краснодара >> | From 13,500 ₽ |
| Билеты из Екатеринбурга >> | from 14,000 ₽ |
| Билеты из других городов >> | from 14,000 ₽ |
Tours in Paris
Few people go to Paris on a trip, but there are still offers. Look for the best deals on Travelate and Level.Travel – they compare prices from 120 popular tour operators.
You will see how much a tour to Paris for 7-8 nights from Moscow will cost:
Hotels 2-3* – from 60,000 ₽
Hotels 4* – from 80 000 ₽
5* hotels – from 130 000 ₽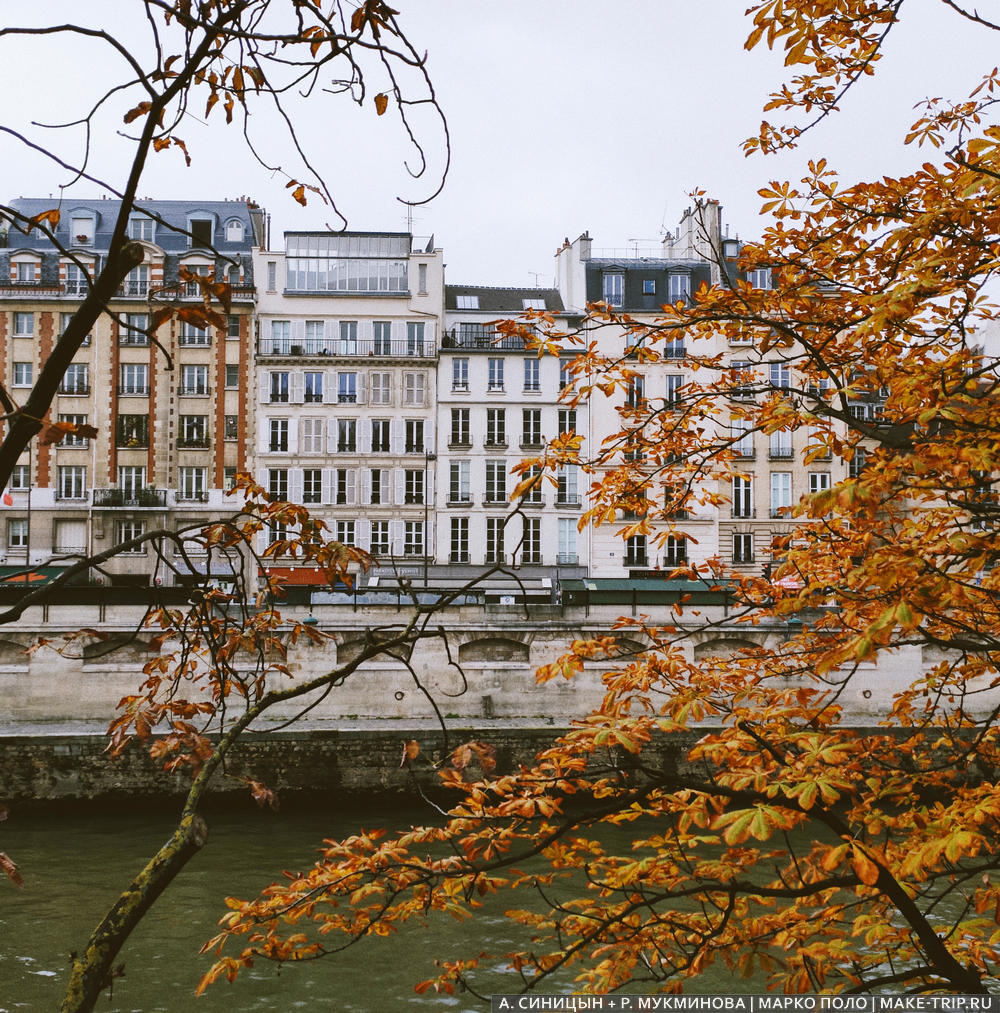 Enchanting fall in Paris!
Accommodation in Paris
Housing in the French capital is expensive! Get ready to splurge – most of the money when you travel to Paris on your own is spent on hotels. Here are some great tips for saving money:
Rent an apartment on Airbnb instead of a hotel-the choice is huge.
Choose an apartment on the suburbs instead of the city center – the subway is convenient, so you won't be lost.
Book your accommodation 3-4 months in advance.
Come in the fall, winter or early spring: both prices are lower and there are fewer tourists.
In summer, a standard double room in a budget hotel near the center (X district) costs 55 €-65, in the center of Paris – from 75 €. Room in 3* hotel in the center is more expensive – about 120 €. A hostel room starts at €20. Find hotels on Bookings and compare prices on Rumguru.
We rented a lovely apartment on the outskirts of Paris for only 50€ a night. That's very cheap! Montmartre is only 15 minutes walk and the metro is 5 minutes away.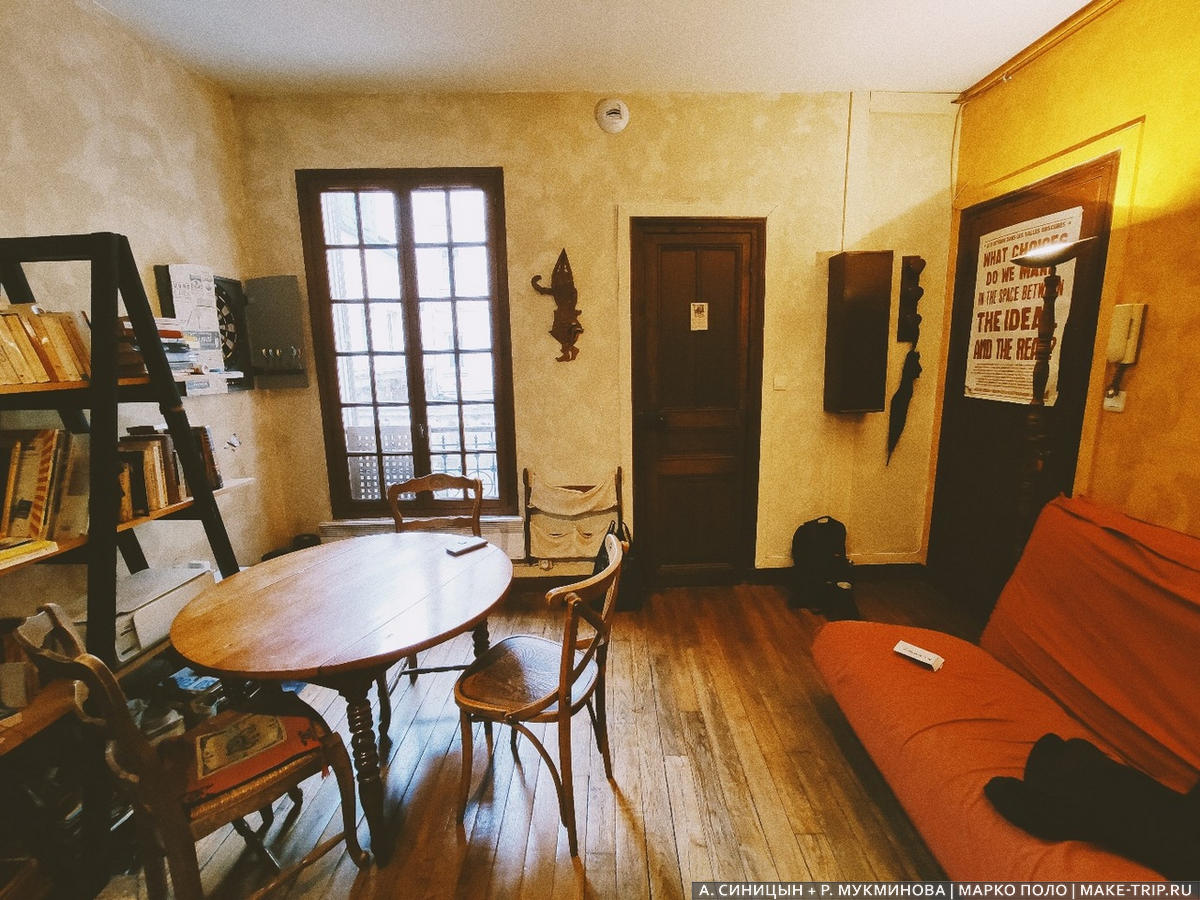 A cozy little apartment for 50 € in Paris.
Food in Paris
How much does it cost to eat in Paris? If you go to restaurants, the trip will be very expensive. But it is possible to save money, and without the slightest damage to the stomach.
During our 8 days in Paris, we spent an obscenely small amount on food – only €220 for two people. That is 14 € per day per person. How we did it:
We ate only business lunch (formule / menu) in cafes for 10€.
We often had Asian restaurants, where we ate 6-10 € a day.
We bought ready-made meals in supermarkets: 2-5€ per meal.
We bought fine French cheeses, wine, baguettes and also jamon and sweets for breakfast and dinner.
And in general, the prices in regular restaurants and cafes in 2022 are as follows:
Breakfast (croissant + coffee + juice) – from 5€.
Business lunch from 13 €, more often from 18 €.
Onion soup – from 7€.
A cup of coffee from 2,5 €.
Glass of wine or a glass of beer – from 5 €.
Ice cream scoop – from 2,5 €.
Macaroons from 2 €.
How much do groceries cost in Paris stores? Many products cost about 20-30% more than in Russia, but the quality is much higher. Wines, cheeses, grapes, meat, chicken, yoghurt cost about the same.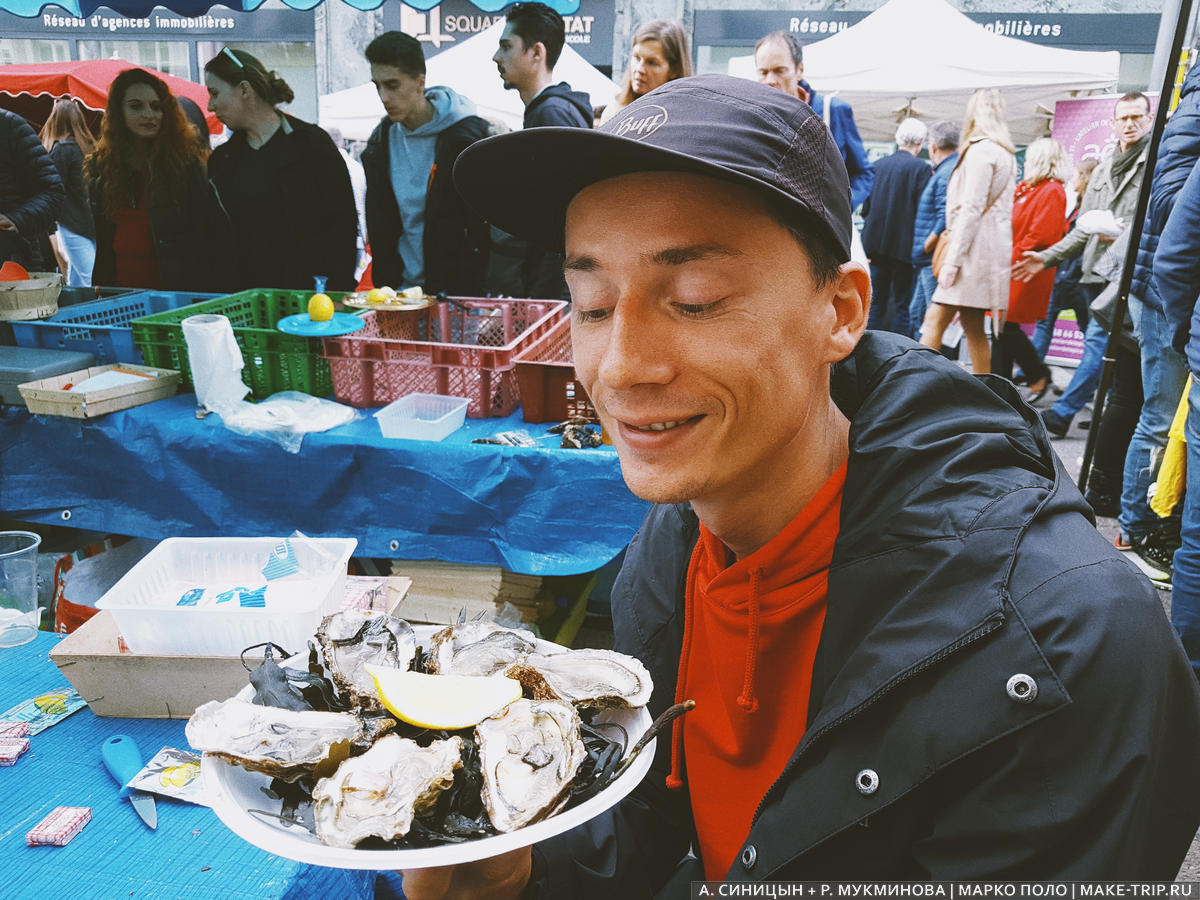 We found the cheapest oysters at fairs and markets – for only 35-70 ₽ piece. Very tasty!
Sightseeing
You'd be surprised, but we spent 0€ on sightseeing in Paris. Our first trip to Paris we decided to devote only to walking around the city – it's huge, so if you come even for 5-7 days, it's better not to waste time on museums. We walked around the city, exploring area by area, and visited a lot of free attractions: parks, gardens, cemeteries of Père Lachaise and Montparnasse, temples, observation decks. We are completely satisfied with such a program. Think about it, how interested are you in going to the Louvre or going to Versailles and spending a whole day on it? We didn't.
If you still want to go to museums, then we advise you to buy a Paris Pass, which includes free visits to about 60 museums, attractions, public transport in areas 1-3, various discounts and so on. Paris Pass for adults for 2 days costs 48 €, for 4 days – 62 €, for 6 days – 74 €. It is cheaper for teenagers and children. The card is advantageous if you plan to actively move around the center of Paris and visit many museums.
Prices for the main attractions in Paris in 2022:
Louvre – 17€
Grevin Museum – 24,5 €
Palace of Versailles – 20€ (27€ if the fountains are working)
Eiffel Tower – 25€ on the 3rd floor, 2nd floor – 16€
Arc de Triomphe – 12€
Catacombs – 29€ with audio guide
Center Pompidou – 14 €
Orsay museum – 14€
Disneyland (adult, daytime) – 49 €.
Tickets are cheaper for young people under 24 (sometimes under 26), some attractions are free for children under 14 or 18 years. Did you know that you can get into museums in Paris for free?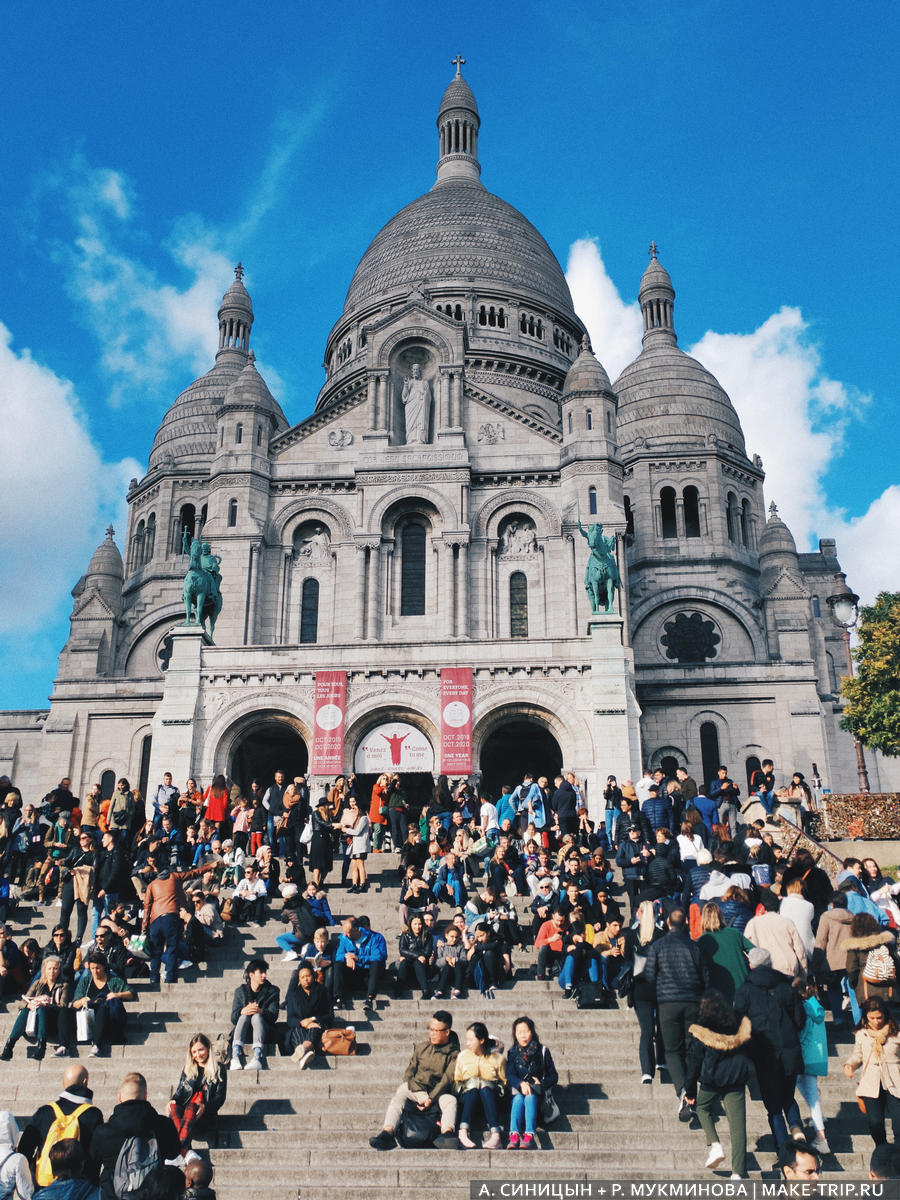 Admission to the Sacré Coeur is free, and to the observation deck is 7€.
Cost of Tours in Paris
Look for interesting tours in Paris on Tripster's website. Here are the most popular ones:
Cost of transportation.
We only took the metro and spent €40 for 8 days for two people. I think the best option is to buy a Carnet. Prices for transport in Paris are as follows:
Metro ticket – 1,9€.
A Metro ticket (10 metro or bus tickets) costs €14.9.
Metro passes for the metro for one day start at 7.5€.
Unlimited Paris Visite travel pass for zones 1-3 for 1 day – 11.65€.
Paris-Charles de Gaulle airport to the city center: from 6 € for a bus, 11.4 € for a train.
Orly Airport to the city center (streetcar and metro): 3.7€.
Airport cab from Charles de Gaulle airport to the center – from €50.
For a cab around Paris (minimum fare): €6.40.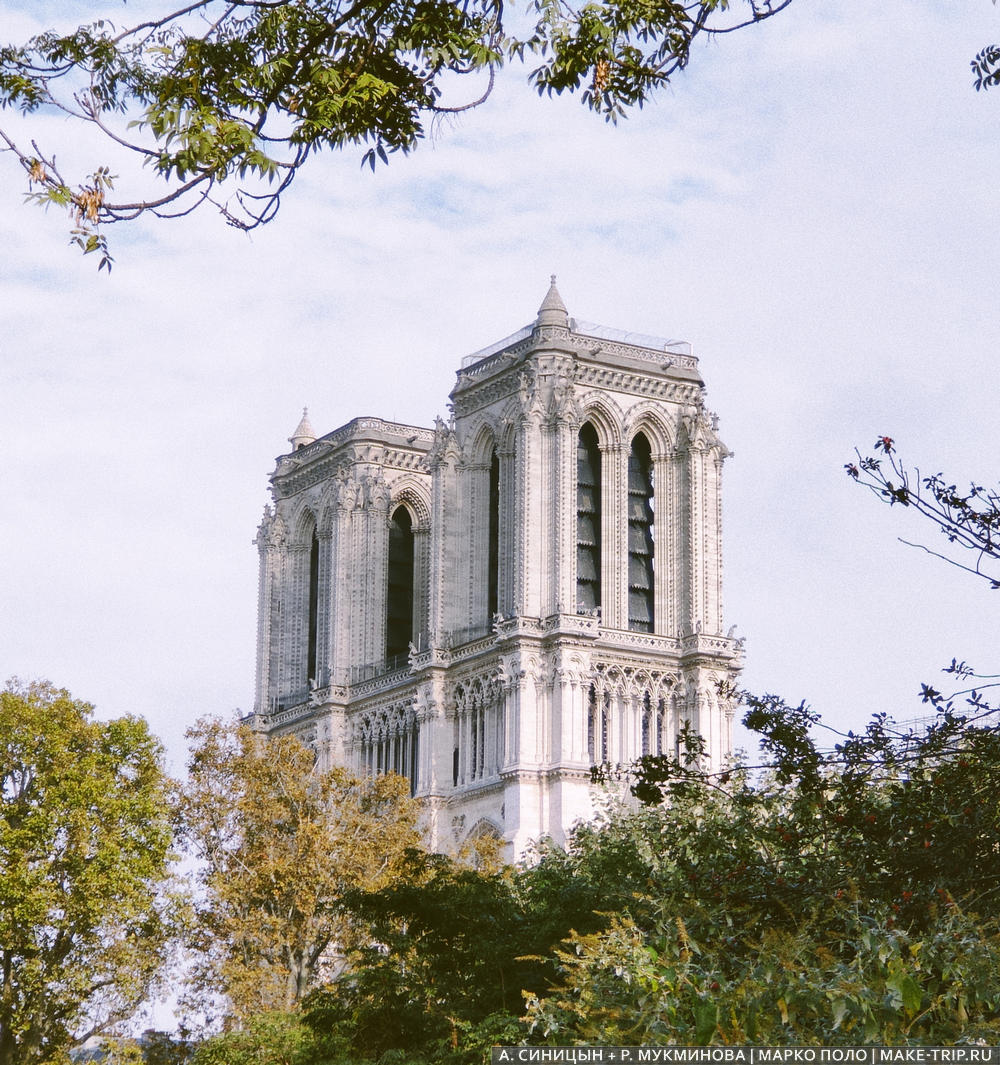 Notre Dame de Paris. Sadly, after a recent fire it was closed to the public and fenced off.
How much does it cost to visit Paris
Here's how much our trip to Paris for two people for 8 full days cost:
Apartment for 7 nights – 390€.
Prepared food, groceries, wine – 110€.
Cafes and restaurants – 110€.
Subway – 40 €.
Total for two: 650€ = 46,000 ₽. I think it was a pretty budget trip to Paris.
I don't count airfare, because we had a eurotrip and visited different countries. Also for the trip to Paris we had to get a visa – for two people it cost 150 €.
But we are atypical tourists. Let's calculate how much an independent trip to Paris for two people for 3 days and a week costs, including airfare and a couple of attractions. We're taking the minimum we can aim for:
3 days.
7 days.
Round trip tickets from Moscow
300 €
300 €
Apartment
150 €
350 €
Meals according to our tips
90 €
210 €
Eiffel Tower and Louvre
33 €
33 €
Visa
70 €
70 €
Total for two
643 €
963 €
Keep these calculations in mind when planning your trip to Paris. You will probably spend more: restaurants, excursions, and souvenirs are temptations and expenses.
Don't forget your insurance! Buy online at Compare.ru or Cherehapa. The cost – from 300 rubles for a week.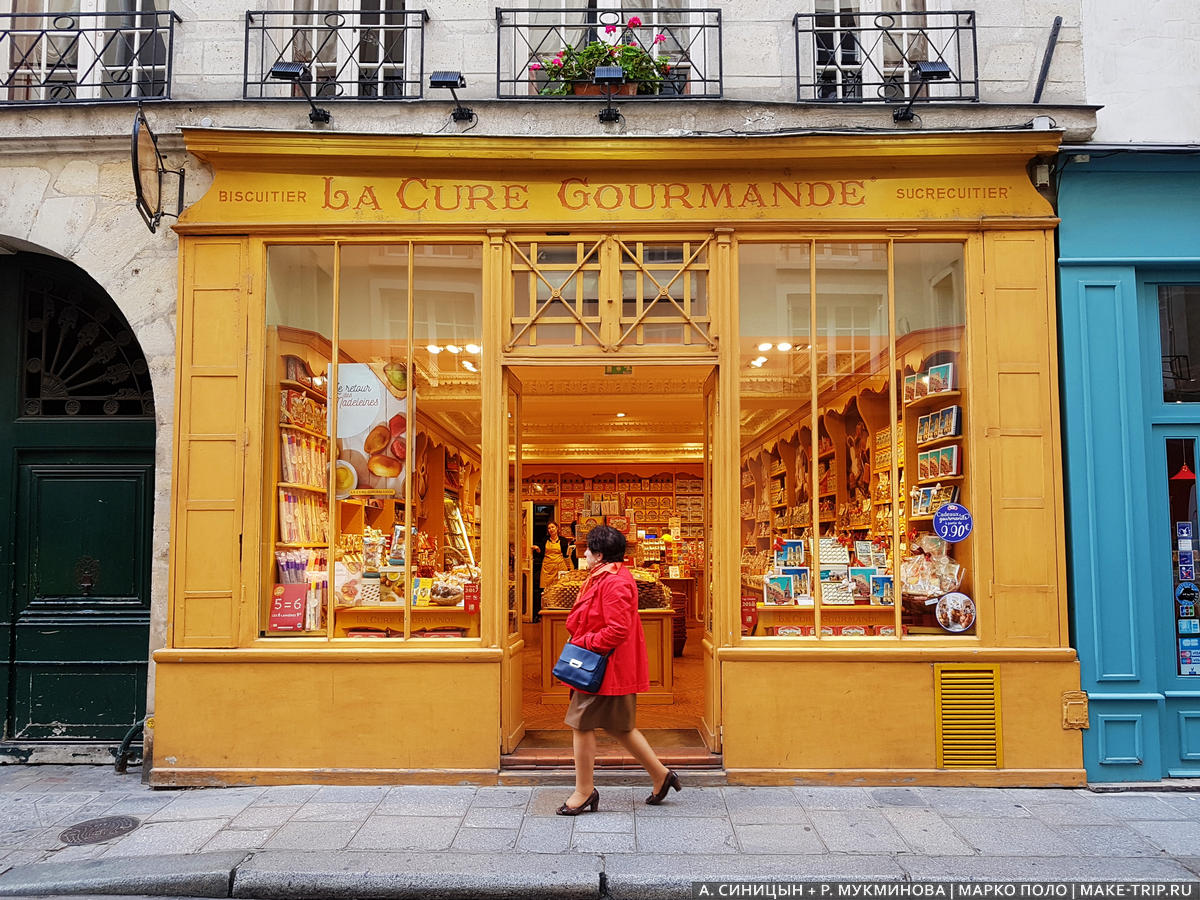 All the stores in Paris are very beautiful.