Where to stay in Altai with tents
The choice of destination and the length of the way to the tent camping depends on the desire, interests and capabilities of auto-travelers. The most popular tourist places are in the north of the Republic of Altai – in the Chemalsky area. Rest here can be called "semi-wild", as there are a lot of tourist bases, guest houses, camping sites and just places for tents here. Those who prefer cheerful company and not too much civilization stay between Katun and Chuisky Tract, and also along Chemalsky Tract. Those who like silence and relative, or even complete solitude, go further.
So, the most interesting directions in the Altai Mountains, where you can go by car with tents:
The banks of the Katun River – along the Chuysky and Chemalsky tract;
Seminsky pass;
Kur-Kechu;
Aktash;
Ulaganskiye lakes;
Chulyshman valley;
Kosh-Agach;
Teletskoe Lake.
There are several variants of recreation with a tent: camping sites, recreation centres, specially allocated sites for setting up tents, and absolutely "wild" variant of living far away from everyone. You are usually advised to put up the signs "Tent sites" on the roadside in the high season.
You will find different camping areas and camping sites along the Chuisky and Chemalsky routes.
You can meet different camping sites: with wagon-houses and conveniences, caravan parks with the fewest services (sinks, toilets, hot showers, electrical outlets) and "empty" glades. Almost all of them offer tent sites. Prices range from 100 roubles per day per person to 600 roubles per tent. Somewhere you'll have to pay extra for the parking lot.
Rest house Lazurnaya.
Where is it located: it is located between Cheremshanka and Manzherok.
Free of charge on the territory are provided:
wi-fi;
parking;
barbecue area;
shower.
Price: you have to pay 150 rubles per person for a place for a tent.
Leisure Camp Chechek
Where is it located: it is a couple of kilometers from Manzherok.
Price: The owners offer a camping spot for 200 rubles, with access to a hot shower, WC and kitchen. Barbecue area and charcoal are paid separately.
If you turn off from the Chuysky Tract toward Chemal near Ust-Sema Village, you may find several camping sites located along the right bank of the Katun River.
Batyr Caravan Park
Where is it located: it is 5 km away from the Chuisky Tract.
You can pitch your tent here for 400 rubles, and next to the covered gazebo. On the territory there is a summer kitchen, a shower, a toilet and access to the sandy beach.
You can rent a sauna for 700 roubles per hour.
Raft Premier" camping site
Where is it located: it is located behind the village Cheposh. There is a glade in a pine forest near the shore of the Katun river where you can pitch your tents. There are wash basins and toilets, hot showers, and electrical outlets under small sheds.
The cost of the camping site is 500 rubles per day per tent.
Rublevka Caravan Park
Where is it located: with beautiful views of the mountain spurs and the Katun valley, it occupies a large area near the village of Elekmonar.
The recreation area is fenced, free public gazebo with electrical outlets, sinks, toilets, showers, and firewood are available.
The camping site costs 600 roubles for a tent.
Tourist base "Three Sisters"
Where is it located: it is behind Chemal, not far from the Chemal hydroelectric power station.
There is an area for tents under the shade of a pine forest, one place costs 300 rubles. For an additional fee you can rent a barbecue, get a bundle of firewood, take a steam bath, rent mountain bikes.
U Mihalych's Camping Site
Where is it located: it is on a bend of Katun river, to the south-west of Three Sisters.
You can pitch your tent here for 200 rubles, and you'll also have to pay the same amount for the parking lot.
You can camping behind the Seminskoe Pass and the Chike-Taman Pass.
Those who are dreaming of a quieter rest would be better to go along the Chuysky tract for the Chike-Taman Pass. There is a camping site "Shishiga-2" 1.5 km from Kupchegen and 6 km to the tract Kur-Kechu and Ilgumensky rapids on the Katun river. At the end of the secondary road there is a camping site Kordon Kur-Kechu. It provides tent sites for 300 rubles per day and car entrance for 100 rubles (rent of a pergola, hot shower, firewood – all for a fee).
There's another camping site called "Altai", situated near the place where the river of the same name flows into Katun, in Maly Yaloman village. You're allowed to set up your tents there. But it is better to drive along the river Chuya confluence with Katun and make a turn towards Inegen village at 713th km of Chuysky Tract. The road to the newly opened Ak-Maral tourist camp leads through two bridges. Here you rent a place for tents for 300 rubles a day, there is a common kitchen area, toilets, parking and a bathhouse for extra charge.
About 6-7 kilometers away from Aktash along Chuisky Trakt there is a camping site "Krasny Lis" and "Malenkiy Rai". where you can put up with your own tent. The cost of a place with a fireplace is 500 rubles per day. Nearby is the Geyser Lake.
You can stay at the camping site Yasnaya Polyana not far from the Kuray village (3 km). You can pitch a tent there for 100 rubles per person and get free kitchen, parking lot, gazebo and place for campfire. There is a mini base "Kochkor" a couple of kilometers closer to the village. Guests will have to pay 200 rubles per day for camping there. There is Silagor camping base in Kurai itself with parking lot, free wi-fi network, kitchen, and a place for a tent for 150 rubles a day.
From Aktash to the Chulyshman Valley
In the opinion of many auto-travelers, the best places in Gorny Altai, where you can go by car with a tent, are in Aktash and on the way to the Katu-Yaryk pass. Here you can find the most beautiful Ulaganskiye lakes, where you can pitch a tent.
Zeleny Kolobok (Green Kolobok) eco-base
Located in Aktash. There's a stable cell phone connection and wi-fi, electricity and a summer kitchen. Free showers, parking, and space for a campfire are available to those who've paid for a tent. Plus, you'll have to pay extra for laundry, firewood, and a sauna.
The camping costs 150-200 roubles per person, depending on the season.
Camping site Igistu Kol.
It is located on the shore of the lake with the same name, 30 kilometers away from the Chuisky highway. There is a common kitchen and outdoor toilets. Wi-fi and twenty-four-hour electricity is provided only for houses, cellular service is poor, but the nature is picturesque, and you can fish to plenty.
The camping site costs 100 rubles for each guest.
Leisure Camp Kurkure
Where is it: it hides in a valley of the river Chulyshman – in the region of mountains and waterfalls. You are recommended to drive a four-wheel drive car down here, otherwise you will have to ask for help to get back to the Katu-Yaryk pass, and a tow will not be cheap.
The cost of tent space is 150 rubles per day. Electricity is supplied by the generator only in the evening.
Camping Stone Mushrooms
It's located in a picturesque place of the river valley, 1.5 kilometers down the river Chulcha flows into the Chulyshman. You can pitch a tent here for 100 rubles per day per person. There is a parking lot, cell phone service from MTS in some places, 5 km to the village where you can buy food.

Lake Teletskoe
You can find Yuzhny Bereg at the southern shore of the lake. You can pitch your tent here for 300 rubles per day. This sum includes a place for the fire and free parking.
The Northern shore of the Teletskoye Lake is strewn with well-appointed camping sites and estates, so the fans of "wild" recreation would better not go there.
Free camping sites
You can camp for free in every corner of Gorny Altai. But you have to take all safety precautions and regulations about visiting protected areas and nature parks. At a choice of a place it is recommended to be guided by own sensations and liked landscapes.
First it is recommended to stop, get out of the car, walk around the area and look around. It will not be superfluous to try to find out if this piece of land has an owner or tenant (somewhere there may be a warning sign). As a rule, ownerless and accessible to stopping places can be found by traces of campfires and, unfortunately, by litter.
The most common places campers with tents call:
A site on the left bank of the Katun (after Dubrovka crossing over the Aisky bridge and turning to "Biryuzovaya Katun");
a glade on the right bank of the Katun river (not reaching Manzherok, the exit to "Lazurny");
the Patmos island area (Chemal village);
the shore of the Katun river behind Chemal;
the place where Bolshoy Yaloman flows into the Katun river (near the Yalomanskiy settlement);
unfinished Aktashskaya hydroelectric power station on the Chuya river (799 km of the Chuya road);
viewing platform at the Achiksky repeater (only by off-road vehicle);
the banks of the Chuya river along the Chuysky tract from Chui-Oozy to Kosh-Agach (you can choose from many places);
the banks of Bolshoy Ilgumen beyond the Chike-Taman pass.
In fact, free stopping places in popular tourist areas of the Altai Mountains are not clean. There are no tenants here, so there is no one to clean up the trash. Volunteers do this only at the end or beginning of the season. So do not leave any garbage behind and take away your garbage, used containers, bags and paper. It won't be hard to take your trash to the nearest container by car.
Safety of vacations by a "savage" car in the Altai Mountains
You shouldn't pitch your tent in the "wild" areas, as the landlord or the people pretending to be the owners can appear all of a sudden. Surely there will be proceedings and extortion of money. To avoid unpleasant situations, it is better to stay within the boundaries of the bases, with prior permission of the administration. You can book a place in advance on the official sites or take it after arrival at the point. However, in the latter case, you must take into account that the areas for tents usually have a limited number of seats and in the season may be occupied.
Free parking is better to choose in the corners, loved by tourists. In the company of other autotravelers to spend the night will be much safer and quieter.
But for those who dare to make a real "wild" holiday, we can give some advice:
Put your tent in a secluded place at least 10 km away from populated areas and highways;
don't make noise and don't build fires – a compact gas burner is enough;
keep self-defense means with you and in your tent;
don't communicate with drunks and don't offer locals to have a drink or two with you, don't show them alcohol and don't even say the word "alcohol";
if uninvited guests ask to vacate the territory, and even more so if they threaten and demand money, do not engage in a debate, but rather pay and get away from the place.
In any case remember that you are the guest of Altai people, not they come to your house. So don't quarrel and behave decently, don't desecrate sacred for them places, dress simply, not attracting attention to yourself. In addition, do not demonstrate your gadgets, especially expensive ones, do not leave valuables and cars unattended (at best they will pour petrol or break windows).
While travelling by car with a tent in the Altai Mountains you shouldn't think that you are sure to meet some unpleasant situations. You just know that such situations can happen. The Altai people are mostly peaceful and hospitable, they just love their land and take a negative attitude towards those who destroy their natural treasures.
Useful hints
If you are going by car with tents to Altai Mountains be sure to get acquainted with the weather forecast beforehand. If you have a lot of rainy days during the trip, you should either decide not to visit the camping site or to postpone it to a more suitable time, or you should plan your stops only at the bases, in ales or in cottages, rented by tourists.
It is very important to take with you on a trip a quality tent, made of material that provides high water resistance, windproof and durable. It will be heavy or light, it does not matter, as it will be transported by car, not their own shoulders. Another thing is if you plan to leave the car at parking lots and then go hiking with overnight stays. Then it is recommended to choose a tent as light as possible, but not to the detriment of the other qualities mentioned above.
On the territory of the mountain republic even in the summer months there is a big difference between day and night temperatures. In August after the sunset the thermometer column may fall to +7-10 degrees. Warm sleeping bags, blankets, inflatable mattresses and sleeping mats – special mats made of polyurethane foam (the thicker the better) – are sure to help you during your hiking in the Altai Mountains. The latter as a moisture- and heat-insulating layer are placed under the bottom of the tent or directly under the sleeping bags. Such a set can easily fit in the trunk of a car.
Don't forget to take all the necessary medication and first aid means with you – painkillers, antipyretic, antihistamines, antiseptic, against burns, motion sickness, and diarrhea. Do not rely on the car kit, it will have to be updated and replenished. Be sure to buy anti-mosquito products – fumigators with plates, creams or sprays, ointments to relieve itching. In small Mountain Altai villages there are no pharmacies and doctors on duty, and in "wild" places there is not even a cell phone. Learn what to do when biting snakes and bees, as well as how to remove a tick. Make a checklist and put it in the glove compartment of your car. In case of emergencies, you'll have to rely only on yourself.
In the Altai Mountains you should be wary of ticks, so you must be vaccinated against tick-borne encephalitis before a trip. To limit insects' access to your body, you should wear tight-fitting clothing that covers your arms and legs, a hat, and rubber boots.
Roads and gas stations
The Chuisky path is well paved, but the other roads are not. At best, they are dotted with broken asphalt patches or packed dirt, and at worst, only four-wheel drive off-roaders or trucks can take them. Mountain routes are serpentines with steep turns, so an experienced driver should be behind the wheel.
Along the Chuisky Tract you can regularly find gas stations, but the closer you get to the Mongolian border, the rarer they are. It is recommended to fill a full tank of gasoline at every opportunity, especially if you plan to turn onto a secondary road. In large villages gas stations are usually present.
Accommodation in Altai Mountains: mountain shelters, hotels and camping.
We are sharing our experience of staying in Altai Mountains. Where you can stay, what are the prices at the rest bases, are there hotels, what are the living conditions, and where to look for places for a tent. Prices and tips.
Before the trip we knew almost nothing about accommodation in Altai and went almost at random, without booking anything in advance. We will tell you about the prices in the region, what to expect from the camp sites and hotels, and where we lived. We will also give a list of the best campgrounds and hotels in the Altai Mountains, according to tourist reviews.
Our Trip . We spent a month and a half traveling through the Altai Mountains by car and visited all the most interesting places from Manzherok to the Mongolian border. We share our experience with you in a series of articles about rest in the Altai Mountains.
Island and Yandex.Travel – search for hotels, recreation centers and guest houses.
Content:
Two different Altai.
Let's make it clear: there are tourist Altai (about 100 km along Katun river to Chemal and north of Teletskoye lake; conventionally – to Seminskiy pass) and, let's say, wild Altai. The tourist one has a developed infrastructure and all benefits of civilization with its disadvantages. But there are comfortable recreation bases at every step.
In the wild – you know: in tourist camps conveniences are almost always on the street, but the beauty and solitude. We several times stayed in aila, a cone-shaped national dwelling of Altai people. Bases and hotels are rare, so we advise you to choose in advance where you are going to spend the night.
We spent most of our trip outside the Semin Pass, trying to stay in tents, if the weather allowed. We camped only at the camping sites.
This ail is the national dwelling of the Altai people. We spent about a week in this hive on the Aru-Kem wilderness area in the Uch-Enmek National Park.
Recreation camps in the Altai Mountains
The banks of the Katun River in the touristy Altai Mountains are almost entirely built up with rest camps. They are usually nice log cottages in the pine forest. Prices depend on the type of accommodation and start at about 1000-1500 rubles for a double room. Parking is guarded (sometimes for a fee), the area is fenced. There are barbecues, campfire sites and pavilions.
Accommodation in tents on the territory of the base is not always possible, please specify. The cost of approximately 100 rubles per person. Separate fee for bathing (from 600 rubles per hour), shower (from 50 rubles / person).
In summer, especially for weekends, we faced the fact that many bases are empty. If you want to live cheaper, we advise to book in advance on the service Ostrovok and Yandex.Puteshestvo. If you are willing to pay more, in principle, you can not book. We didn't book anything in advance, because we were constantly moving and we didn't have a clear plan for the trip. We just stopped at the ones we saw on the way, or looked on the map in the mobile app MAPS.ME.
The camping sites in non-touristy Altai are strikingly different – there is no glitz and glamour, no amenities. Tent sites cost from 100 rubles/person, or from 200 rubles per tent. The facilities are outside, and there's usually no electricity on site.
Recreation bases, where we stayed:
Эко-база "Зеленый колобок" в Акташе — от 500 руб./чел. Жили в домике с отоплением. Отличные мягкие матрасы. Есть Wi-Fi, стиральная машина, общая летняя кухня (есть все необходимое), баня, душ и царские туалеты с унитазами с мягкими сидушками! После недели в тайге это просто роскошь. Летом аншлаг, лучше бронировать заранее. Там же потом ставили палатку. Забронировать >>
Aru-Kem Wildlife Refuge in Uch-Enmek reserve – accommodation in aila, 400 rubles/person, shower, 50 rubles per person.
Visit center of Uch-Enmek reserve – 400 rubles/person.
Accommodation at Dzhumalin springs is possible in small houses with bunkhouses and burzhuyka. The price is 200 rubles per person. Bathing in the bathtubs (200 rubles/person) and firewood (150 per bundle) are paid additionally. Mice in the lodges – free of charge and in abundance.
Look at the prices for lodging in the Mountain Altai for two people:
Lodging
Price, rubles.
Example
A place for a tent
150-300
A room in a guest house
from 1000
Cedar bank
Hut or cottage
from 1200
Thurman
Room in the resort complex 3 stars
from 2200
Hotel Manzherok
Semi Suite with excellent reviews
from 4000
Ark
4 star hotel with a pool
from 4,500
Lesotel
Comfortable tent in the glamping
from 6700
Saikol Kamain
Chalet near Teletskoye lake
from 7000
Chalet O&K
Our cottage on the Dzhumalin springs. The conditions at Dzhumalin Keys are Spartan, but very nice and quiet.
Hotels in Altai Mountains
There aren't many hotels in Gorny Altai – there are many more recreation bases. There are enough hotels in the Chemalsky District, on the shores of Katun, Lake Aya, on Lake Teletskoye. The closer you are to the border with Mongolia, the fewer accommodations and the worse the conditions are.
The hotels almost everywhere cost between 400 and 600 rubles per person.
The hotels we stayed at:
"Kok-Boru" in Ongudai – from 500 rubles/person. Toilet, shower and refrigerator are shared, there is a cheap canteen. Boiler with hot water.
Hotel Zarya in Kosh-Agach – from 400 rubles/person. Facilities on the floor, shared kitchen, Wi-Fi.
"Tashanta in Ulagan – from 200 rubles/person. Such a low price because of the toilet in the street and absence of a shower. And also because it's in the middle of nowhere.
Also can recommend private guest house in Chagan-Uzun (at the entrance to the right of the bridge you'll see a billboard with the phone).
Ail at Aru-Kem bandon, where we were staying.
Rest in tents in the Altai Mountains.
When we were going on the trip, we thought that the Altai Mountains were one solid place for a tent. Then we read tips, reviews, horror stories of tourists and decided: it's better to put the tents in the protected areas of tourist camps (or tent cities) or very far from roads and villages.
About this we wrote in the article about safety in Altai – there you will learn why it's better to stick to these rules.
Should you stay in tents in the Altai Mountains as a wilderness campers or choose between camping sites and hotels? We recommend to combine! It will bring variety and help to save money on accommodation. The prices at the bases for "tent campers" are usually either from 100 roubles/person or from 200 roubles per tent.
Since the weather is changeable, keep an eye on the forecast. In hotels and bases of rest check up in bad weather or when you are bored on comfort. We once had to live in a tent for several days on the shore of Katun, when it rained. It's not much fun: humidity is high, things almost don't dry, it's dank.
Advice: choose tents with high water resistance. Take warmer sleeping bags – in August the temperature at night was up to +9°C, and up to +5°C at an altitude of 2,000 meters, we were freezing badly. Put a tourist mat or air mattress under your sleeping bag if you have a car.
Where we had a rest in the Mountain Altai in tents (and prices for places):
Green Kolobok eco-base in Aktash – from 150 rubles/person. Places for a tent are flat, on the bank of a stream. They mow the lawn. There's a place to stretch ropes and dry clothes. You can use the shower for free. Good restrooms. There's a summer kitchen, with a Wi-Fi connection. Laundry for 150 rubles. Bathhouse 800 rubles/hour. M-52″ dining room nearby.
Igistu-kol" near the lake in the taiga on the way to Katu-Yaryk. The cost of living in a tent – 100 rubles per person. The conditions are nearly wild: you can wash yourself in the lake (for free) or in the bathhouse (700 rubles per hour). You can get electricity only from the generator for those, who stay at the lodge. It's necessary to go to the special point near the road for communication.
Katun' shore, nameless private area in Izvestkovoye settlement. 80 rubles/person. There is no electricity, you can wash yourself in the river or in the bathhouse.
The tourists are sharing in their reviews the checked out places where you can pitch tents and have a rest for free in Altai Mountains. I checked these places, but we haven't placed our tents there, so, please, check them by yourselves:
In the area behind the abandoned hydroelectric power station on the Chuya, right behind the Mena base.
There is a big glade on the left shore of Katun behind Inegen.
Behind Chemal on the glade near Ostrov.
On the Biya river, not reaching Artybash, there are several exits to the river.
There are many places behind Chike-Taman pass on the B. Ilgumen river bank, and also on the Chuya river up to Kosh-Agach. It is worth simply to go and to look closely to places.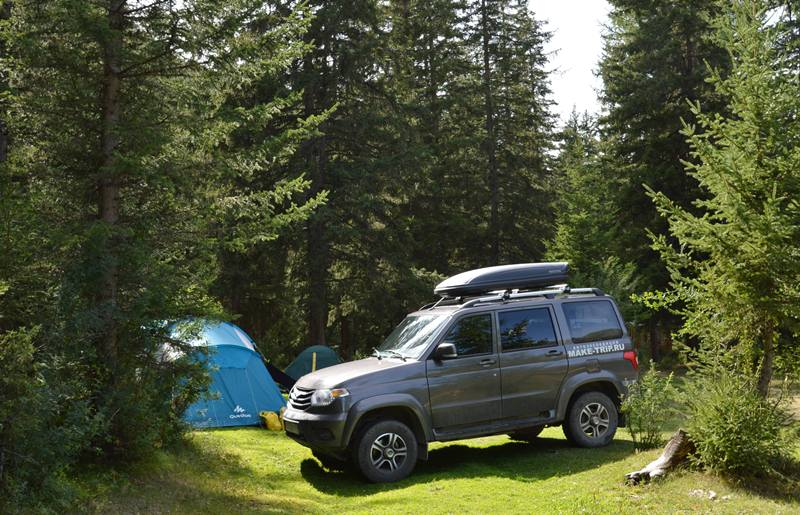 We lived in the "Green Colobok" base both in the cabins and pitched tents on the territory.
All photos: MAKE-TRIP.RU | Alexey Sinitsyn, Renata Mukminova, Dilyara Hasanova.