How to get from Schiphol Airport to Amsterdam city center. Photo guide.

After the standard passport control and baggage claim procedure you arrive at the main lobby of Amsterdam Airport Schiphol. So how do I get from the airport to Amsterdam city center? There are a number of ways to do so.
Download our app for Apple and Android to get all the important information about the city even offline.
The train is the easiest and fastest way of all forms of public transport. Modern trains, which are equipped with a board with all stations and have the Internet, will take you to the center of Amsterdam in 30 minutes. You can buy a train ticket in advance at this link, so you do not have to deal with the Dutch machines at the station. Also note that vending machines do not accept all types of cards, so if you have not bought a ticket in advance, have some change ready.
You can buy tickets by yourself or at the ticket office (Train tickets & Service), which is located near the Meeting Point in the center of the hall. Trains go from Schiphol Airport to different cities in Holland, including to the central station of Amsterdam. If you live in another area, you'll need to switch to a streetcar or bus, which require a separate ticket, in which case sometimes easier and cheaper to order a cab in advance (you can do it by clicking here). Moreover, you will be met by a Russian-speaking driver at the airport and taken to the hotel.
How to buy train tickets from Schiphol Airport to Amsterdam
At the ticket office you will be told which track you should take and in what time the train will arrive. You can pay in cash or by card. It is important to note that a fee of 0.50 cents per ticket is charged.
Buy a ticket on your own is also not difficult. In the very center of the hall there are special yellow machines where you can buy tickets.
You can choose the language Dutch or English. There are four buttons on the screen, to buy a ticket to Amsterdam you need to select the first button on the left (I want to go to Amsterdam).
After pressing the button, different types of tickets will appear on the screen. The simplest and most standard One -Way ti sket ticket (one-way ticket, the topmost button) is suitable if you come to Amsterdam for a few days. If you have a day or a few hours to visit the capital, we recommend buying a Day Return ticket (second button on top), with it you can go to the city and return to the airport).
In addition to the tickets themselves, you can go first class 1 or 2, we advise you to buy tickets in second class, it's cheaper and not inferior to the first class. It's not far to go.
After choosing the class in which you'll travel, select valid today, which means that the trip will take place today.
Select the number of tickets you need, the final step is to pay for the tickets, which is carried out in several ways. The machine accepts all types of cards, but you should know that if you pay by visa-card you will be charged a 0.50 cents tax; it is also possible to pay by cash, but only coins are accepted (the last button on the right).
After payment, you will receive a ticket in the form of a white and yellow card. It is necessary to activate it by passing the ticket through the special scanners that are scattered around the hall.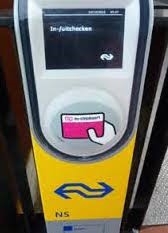 Now you can go to Amsterdam.
To find out the train schedule, we recommend installing an application on your phone (9292.NS). The free software calculates the route and indicates the time and platform number of your train.
You can ask for help at the ticket office or look at the schedule, but it does not take into account train cancellations and delays, so always double-check on the display, which is right on the platform.
How often do trains run from the airport to Amsterdam
During the day, trains leave every 15 minutes, at night from 1 a.m. to 5 every hour. Conductors are active on the trains, so we strongly advise you to buy tickets, the penalty for a stowaway is 35 euros.
You can also get to Amsterdam by bus, but we don't advise you to use this mode of transport as it takes longer, is more expensive, and you have to get from the southern part of Amsterdam to the center by other public transport.
You can take a cab for an average cost of 50 euros, and the time depends on traffic congestion.
Amsterdam Airport (Schiphol): How to get there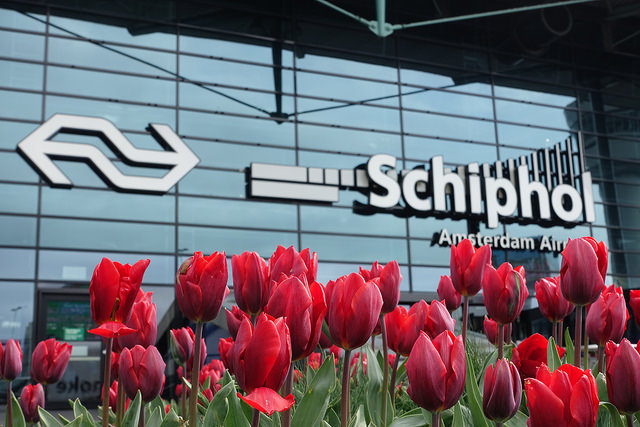 Explain how you can get from Amsterdam Airport to the city by train, bus and cab: schedules, prices, stops, useful links.
Schiphol (AMS) is one of the best airports in Europe, a title it has received for 15 consecutive years, which is impressive. It hosts airlines such as KML, Transavia and Martinair and is also used by low-cost airlines like easyJet.
It's a very interesting airport: in addition to numerous cafes and stores, it hosts expositions, has a shopping center Schiphol Plaza and – most surprisingly – a registry office and a morgue. Official website: www.schiphol.nl.
The airport is situated 17 km from the city and is connected with it by railroad, also accessible by bus. Below you will find a detailed description of all the ways to get from Amsterdam Airport to the city center and suburbs.
Fly often? Install the handy Aviasails app on your smartphone to quickly find cheap airline tickets on Android or iPhone. Also read the instructions on how to search for cheap airline tickets and how to get to Amsterdam.
Look for interesting excursions on Sputnik and Tripster. Individual and group, without crowds of tourists and in Russian.
How to get from Amsterdam Airport to the city
Buses
From Schiphol, numerous buses from carriers Schiphol Sternet, Zuidtangent and Interliner run daily to the city and suburbs. All buses stop at the Schiphol Plaza shopping center, directly in front of the arrivals and departures halls.
To get from the airport to downtown Amsterdam you can take bus number 197 (Amsterdam Airport Express), which leaves every 15 minutes from about 5 am to 00:30. The bus goes through the Museumplein, Rijksmuseum and Leidseplein. One way ticket costs 5 euros. At night, the N97 bus runs on the same route, every hour from 1:27 to 4:27.
There are buses 310 to Amsterdam-South, 69 to Sloterdijk, 300 to Amstelveen and Amsterdam Bijlmer ArenA, 365 to Leiden and 361 to Noordwijk.
More information about routes and timetables can be found at www.connexxion.nl or at the Connexxion desk in Schiphol Plaza. For public transport you can buy a special OV-card and top it up, or you can buy single tickets.
For those passing through the city – what to see in Amsterdam in 1, 2 and 3 days? An itinerary article about the main sights, how to get to them and the prices of admission tickets.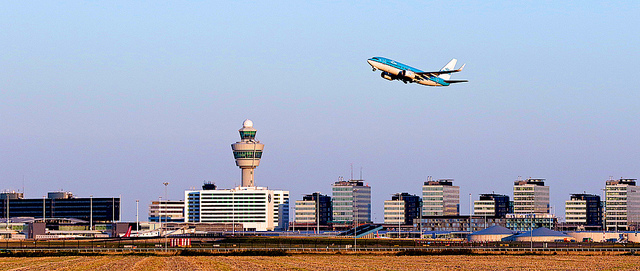 (Photo: poederbach / flickr.com / CC BY-NC 2.0 license)
Where to stay in Amsterdam? Look for hotels on the well-known search engine Roomguru – it compares the prices of the most different booking systems and finds the best.
Cab to Amsterdam from the airport
You can easily find cabs at Schiphol Airport – Schiphol TravelTaxi is an easy way to get from the airport to Amsterdam in comfort. Alternatively, you can book a cab in advance at Kiwi Taxi's website and they will meet you with a sign, help you load your luggage and take you straight to your hotel. Kiwi Taxi service is also convenient because you can choose the desired class of car and its capacity.
Bus shuttles
You can also take the Schiphol Hotel Shuttle from Amsterdam Airport. They run from 6 am to 9:30 pm and take tourists to their hotels. The buses stop (blue company minibuses) right in front of the terminal, at platform A7. The cost is about 17 euros. For details, go to www.schipholhotelshuttle.nl. In addition, some hotels have their own shuttle service – find out in advance.
Trains
Get from the airport to Amsterdam is possible by both domestic and international trains. This is the most convenient way – without traffic jams, with comfort, and inexpensive. The railway station is located under the airport terminal.
Domestic trains connect Schiphol with the center of Amsterdam and other cities in the Netherlands. Travel time ranges from 15 minutes (center) to 2 hours and 40 minutes (Maastricht). The train goes to The Hague, Haarlem and Utrecht in 30, 40 and 50 minutes respectively, to Rotterdam and Eindhoven in 1 and 1.5 hours.
The cost of the ticket to the central station is 4.10 euros . Travel time is about 17 minutes. Trains run frequently both during the day and at night. You can buy train tickets at special yellow NS vending machines or at the NS Dutch Railways desk in Schiphol Plaza or on the official website (there you can also see the schedule).
You can also get to Schiphol Airport from neighboring countries – for example, at the station stop trains from Germany, Belgium and France. Tickets from Berlin cost from 59 euros in the 2nd class. Travel time is about 6.5 hours. Travel from Brussels to Amsterdam costs from 29 Euro and takes 2-3 hours. International train timetables and tickets online are available here. Tickets are also sold at the NS Hispeed desk in Schiphol Plaza shopping center.
Read our report on trains in the Netherlands: ticket prices and how to buy them.
Rent a car at the airport
Perhaps the most comfortable way to travel is to rent a car. You can do this at the airport upon arrival or in advance on the Rentalcars.com website. You can rent a car before you fly out, which is very convenient.