Bali holidays with children
On the island, there are few sandy beaches and many steep banks. The average tourist with a child does not rush there, but we found suitable resorts for holidays with children in Bali. We tell you about the best beaches and hotels in 2022. Important nuances and tips for vacationers.
Not so long ago, the little-known island of Bali was a relaxing place for hippies, but now it's a global exotic resort. Its unique location between two seas, ancient culture and scenic nature attract millions of tourists to the island every year, including those with children.
Content: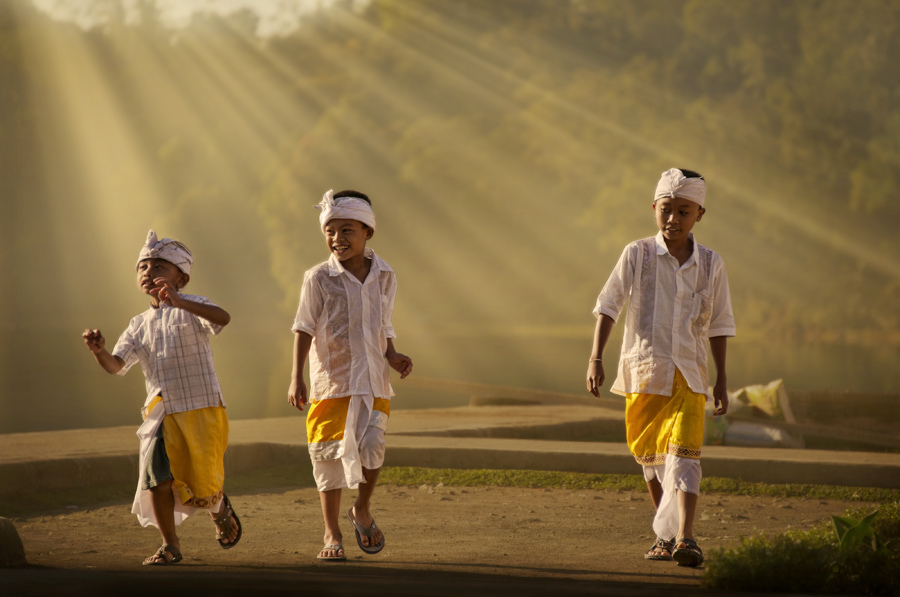 (Photo: alex_hanoko / flickr.com / CC BY-ND 2.0 license)
The nuances of vacationing in Bali with a child
Lodging. Bali has a good hotel base and a wide range of private accommodation, all of which can be booked online. If you are planning a vacation with children for more than 3 weeks, it is better to rent a house or villa. Houses are offered different levels of comfort and value, but they are all equipped with a kitchen, and if you want you can hire a housekeeper and even a babysitter.
Food: The island has inexpensive pizzerias and Chinese restaurants, the local dishes can be ordered rice with vegetables or chicken noodle soup – usually, these dishes are eaten by children with pleasure. The supermarkets offer all kinds of food, fresh fruits and seafood are a must, as are our usual French cheeses and crusty baguettes.
(Photo: Thomas Depenbusch (Depi) / flickr.com / CC BY 2.0 license)
Renting transportation. How is it to vacation on an island and not see the surrounding area? After all, all the most interesting things are outside the resort. Transport in Bali is easy to rent. But driving on the island is not easy, given the volume of traffic and traffic jams. But there are so many beautiful places to show the kids! In addition, it is quite affordable.
Some parents vacationing in Bali with children, rent a bike – and just put the child in front or between them, as the locals. This is not safe. It is better to rent a car. Find a rental car at Rentalcars.com – it compares prices from popular car rental services. Choose a make and then specify where you want to rent the car and where you'll return it.
Beaches. There are few good "kids' beaches" – clean, shallow and safe – in Bali. The ocean is often rough, there are strong tides, because of which you have to choose between them to swim. At low tide, you can not swim, but you can wander and watch the scurrying fish and crawling crabs.
Entertainment. When beach pleasures bored, you can look around a little: a trip to Waterboom Water Park in Kuta, visit the elephant park in Taro, the turtle farm and the famous Monkey Forest. If your child is at least 6 years old, you can enroll them in a children's surf school. Explore the best Bali excursions.
When to go
The island is warm all year round, but December through March is the rainy season, and from mid-April through November, the weather is dry and comfortable. The daytime temperature is +28. +30 ° C during the day, and +22. +24 ° C, the average water temperature is +28 ° C. Most rainfall occurs during the winter months from December to the end of February.
Have not yet planned your vacation? Read about the weather by month on the island and about celebrating New Year in Bali.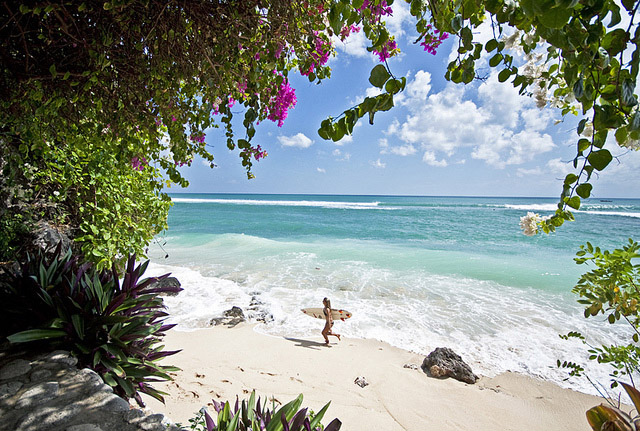 (Photo: Sunova Surfboards / flickr.com / CC BY-NC-ND 2.0 license)
The best beaches for children in Bali
Наибольшее число курортов, подходящих для семейного отдыха, сосредоточено на юге Бали. Нуса-Дуа считается туристической резервацией с приличными песчаными пляжами и роскошными отелями — это самый популярный курорт для отдыха с детьми. Отдых на Нуса-Пенида >>
Kuta and Jimbaran are quite crowded for a family vacation, and the water is not the most clear. However, these resorts are suitable for the first surfing lessons in children's surf schools, and in Jimbaran there are also excellent seafood restaurants right on the ocean. Tourists are not advised to stay in Kuta with children, as the waves are strong, the beach is dirty, and the place itself is noisy and partying.
The resort of Uluwatu is famous for its temple and the beach of the same name. This is a very popular surfing spot, but at low tide here is good for swimming in shallow water with clean sand and scurrying crabs. In addition, there are a few cozy cafes, where you can sit and watch the sunset.
There is also a beach Dreamland near Ubud. The place is great, but suitable for swimming only between low tide and high tide.
According to reviews, the best place to relax and bathe with children in Bali is Virgin Beach, or White Sand Beach (aka Pantai Pasir Putih). It is located next to the village of Chandidasa, where you can stay. You can swim only on the left side of the beach, where there is no coral. There are sun loungers and a cafe. Admission is 10 thousand rupees. The beach is chambery and natural, there is no infrastructure. Known for the white sand and quiet lagoon.
(Photo: Ryo / flickr.com / License CC BY-NC-ND 2.0)
Best hotels in Bali for vacations with children – 2022
Independent travelers are advised to look for hotels on the service Rumguru. It will help you find the lowest price. Not sure how to use it? Read our tips on how to book a hotel inexpensive.
Search for Last Minute Deals at Level.Travel and Travellata which compare prices from 120 popular tour operators. Want to save? Check out our 7 rules for buying tours online.
(Photo: dronepicr / flickr.com / CC BY 2.0 license)
Holidays in Bali with children: tourist reviews
If you are afraid of acclimatization and the change of food and water, it is better to rent a house with a kitchen. Some even bring their own products, although such actions make sense if your child – well, a very big fan of buckwheat.
Particular discomfort causes high humidity, which is poorly healed scratches and abrasions. Even ordinary mosquito bites, scratched by a baby, turn into something terrifying. Therefore, repellents and a minimum supply of pharmaceuticals take with them.
When vacationing with children in Bali, use creams with maximum UV protection and carry a bottle of water, because so much sun leads to burns and rapid loss of water. The big problem is that babies don't tolerate long trips around the island during excursions. Either refuse such trips around the island, or choose cloudy days.
Read tourist reviews of Bali before you go.
Luckily, there's no malaria on the island, but there are general safety and hygiene rules. The ocean poses a danger – the whip currents are treacherous and can drag a person away. Serious problems represent corals, they can deeply wound. When swimming wear special slippers on his feet and generally very carefully to the choice of beach. Do not let a child in thickets of grass – there may be poisonous insects or reptiles.
Temperature changes and time zone change – all this affects the health of children, body temperature may rise or malaise. As a rule, such conditions are temporary and pass in 1-2 days, but it's better before a trip to Bali to take out insurance, because on the island of medical services are not cheap.
See how to apply for a visa to Indonesia if you are flying for more than a month. Afraid of big expenses? Find out how much a Bali vacation costs and how to fly with minimal costs on your own. You can also read our articles about holidays with children in the Dominican Republic, Sri Lanka, or the Maldives.
Anton Ptushkin's film about Bali.
A well-known blogger and presenter understands the phenomenon of the popularity of the island of Bali, talks about surfing, beaches and hotels. Check it out!
Family-friendly hotels and homes in the Bali region
Select dates to see current prices and deals on family hotels in Bali region
Check information on travel restrictions. Only travel for a specific purpose may be permitted, in particular travel for tourism purposes may be prohibited. Learn more
Family Hotel Finder for Popular Destinations
Inspiring Destinations for your Trip – Find a Family Hotel
460 Family Hotels
94 family hotels
Seminyak
443 family hotels
Nusa Penida
58 family hotels
Denpasar
10 family hotels
Nusa Dua
83 family hotels
Sanur
111 family hotels
Changu
274 family hotels
Jimbaran
117 family hotels
Uluwatu
109 family hotels
Nusa Lembongan
95 family hotels
Lovina
76 family hotels
81 family hotels
Legian
92 family hotels
Singaraja
14 family hotels
1 family hotels in the Bali region
Check out our selection of great family hotels in the Bali region
All Filters
Rated by Reviews
To see current rates and specials, please enter the dates. Select dates
Radisson Blu Bali Uluwatu
Featuring a restaurant, outdoor pool, fitness center and free private parking, Radisson Blu Bali Uluwatu is 200 metres from Bingin Beach in Uluwatu. Excellent breakfast! Clean rooms. Friendly staff. The pool area is well maintained.
Hotel Indigo Bali Seminyak Beach, an IHG Hotel
Indigo Bali Seminyak Beach Resort is located in the trendy beachfront resort of Seminyak. Beautiful lobby, stunning grounds and very friendly staff. I found the room a little tight for the 3 of us, so would have booked something bigger had I known. But the rooms are beautiful. Loved the artworks and modern display and curation. Architecturally very cool! It is a very beautiful hotel for sure. Great location on the beach. Had a fabulous massage at the Spa. Will be back for sure.
Amnaya Resort Kuta
Kartika Plaza, Kuta
Amnaya Resort Kuta, with an outdoor swimming pool, à la carte restaurant, fitness center, a lush garden and comfortable rooms with free Wi-Fi, is located in the city. Real 4 stars, well done.
Courtyard by Marriott Bali Seminyak Resort – CHSE
The Courtyard by Marriott Bali Seminyak Resort is a luxurious 5-minute walk from Seminyak beach. Perfect location, beautiful property and great courteous staff. One morning I had to leave early and was quickly finishing the breakfast and the restaurant manager came and asked me if I was not enjoying the buffet and then asked me if I could get something to go. The pool bar is also really good. Chicken satey and frozen mojito(not on the menu) is a must try. Spa was amazing too!
NEANO ESCAPE
NEANO ESCAPE is located in Manggis, 1 km from Buitane Beach. It features a restaurant, free private parking, an outdoor pool and a fitness center. A true hidden gem in the northeast Bali. Still a very virgin area and this hotel is absolutely perfect to enjoy a more relaxing vibe of Bali. Staff, rooms, meals, everything was just perfect. Highly recommend.
Amnaya Resort Nusa Dua
Tanjung Benoa, Nusa Dua
Amnaya Resort Nusa Dua is located in Nusa Dua. Amenities include a restaurant, an outdoor pool, a bar and a garden. Family rooms can be booked. The staff were super friendly, kind, and attentive. The room was superb! It was clean and fresh. The amenities were also great! The restaurant attached to the hotel is also very delicious. There are also lots of restaurants around the area. And a lot of water sports activities too.
The Breezy Volcano
The Breezy Volcano is located in the Kubupenlokan area, 2.1 km from Mount Batur. It features a restaurant, free private parking, a garden and a terrace. Clean, comfortable and breath stopping view house was incredible. Staff is great and will help you with everything.
Tira Vilagna Suites & Spa
Tira Vilagna Suites Spa is located in Kintamani with a restaurant and bar. It features a garden and a terrace. It offers a 24-hour front desk and in-room food and beverage delivery. amazing architecture and views
Moson Villa Legian
Located in Seminyak, 1.3 km from Double-Six Beach, MOSON LEGIAN is the resort. It features a restaurant, bar and garden. Guests can use the concierge service and relax on the terrace. Like the villa, warm staff, breakfast was amazing. everything was perfect.
GK Bali Resort
Located in Tegallalang Village, 1.2 km from the namesake rice terraces, GK Bali Resort features a bar, restaurant and outdoor pool with free private parking. One of the best locations I have ever been to! A calm and soothing environment among the rice terraces, perfect enough to take a swim or just sit back with a drink while enjoying the view The room was simple amazing! Their staff was super kind, always available to help and highly flexible in service. Would love to go and stay here again without any doubts!
Bali – most booked family hotels this month
Bintang Bali Resort
Family Hotel in Kuta
Popular with guests booking family hotels in the Bali region
Grandmas Plus Hotel Airport
Family Hotel in Kuta
Popular with guests booking family hotels in the Bali region
Amnaya Resort Kuta
Family Hotel in Kuta
Popular with guests booking family hotels in the Bali region
Grandmas Plus Hotel Seminyak
Family Hotel in Seminyak
Popular with guests booking family hotels in the Bali region
The Jayakarta Bali Beach Resort
Family Hotel in Legian
Popular with guests booking family hotels in the Bali region
Hilton Garden Inn Bali Ngurah Rai Airport
Family Hotel in Kuta
Popular with guests booking family hotels in the Bali region
Family-friendly hotels that travelers to Bali have liked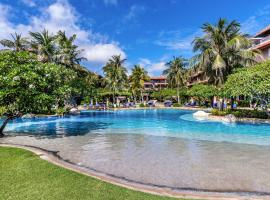 Hotel Nikko Bali Benoa Beach
Family Hotel – Nusa Dua
8.3 Very Good 244 reviews
Good hotel for a family vacation. Rooms are large and comfortable, good mattresses, clean linen, tidy. Linen is clean and everything is changed. Breakfast is good.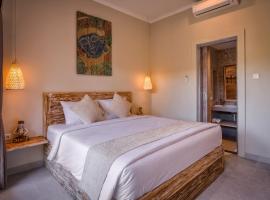 Kubu Dimel Homestay
Family Hotel – Nusa Dua
9.2 Excellent 63 reviews
Nice, family run hotel. Small but very well maintained grounds. Rooms are clean and the furniture is new. The staff were polite and helpful. The breakfasts are extensive and not too big a choice, but you won't go hungry.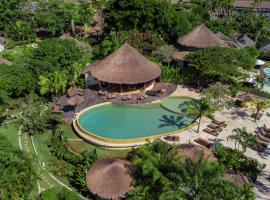 La Joya Balangan Resort.
Family Hotel – Jimbaran
8.6 Terrific 398 reviews
This is not the first time we vacationed in La Joya. As always, everything is perfect. Cleanliness, comfort, nature – all at the highest level. The feeling of home. Clean and beautiful pool, good breakfasts to choose from, near the ocean – everything you need for a family vacation. And most importantly, the peace and solitude in their small, but so comfortable villa with its own patio, surrounded by lush vegetation. We would like to come back again.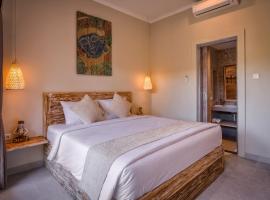 Kubu Dimel Homestay
Family Hotel – Nusa Dua
9.2 Excellent 63 reviews
Lovely place with a green and cozy area. There is a cafe with very nice prices. The hotel is very well located, has a wide swimming pool and a lot of restaurants. Hotel is new, clean, very well located near the beach, various cafes, restaurants, and shopping malls. The staff were on hand to help and we had no reservations. It was a lovely family hotel, we stayed for 4 nights and were really happy with everything. We had a flight late at night and after checking out they let us leave our bags at reception so we didn't have to lug them around.)