The best hotels in Antalya with a good beach
Hello! The Turkish coast is famous for a variety of beaches for all tastes – from small rocky, hidden in picturesque bays, to wide with fine golden sand. Personally I prefer the latter – you can easily run from a beach chair into the sea, not thinking that you can not prevent inadvertently stick a stone in the leg. And it's nicer with kids on a sandy beach, where they can build fancy castles while you're enjoying a cocktail. To make it easier for you to navigate in the variety of Turkish hotels, I carefully studied a bunch of options and chose the best hotels in Antalya with a sandy beach. About a comfortable entrance to the sea, too, have not forgotten.
IC Hotels Residence 5 stars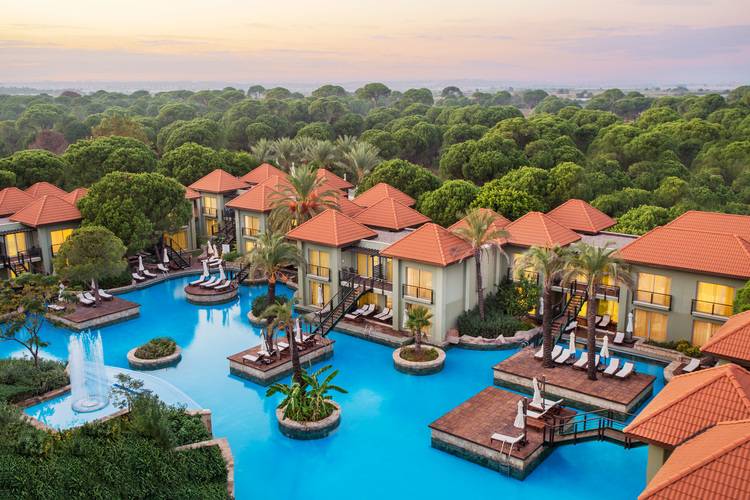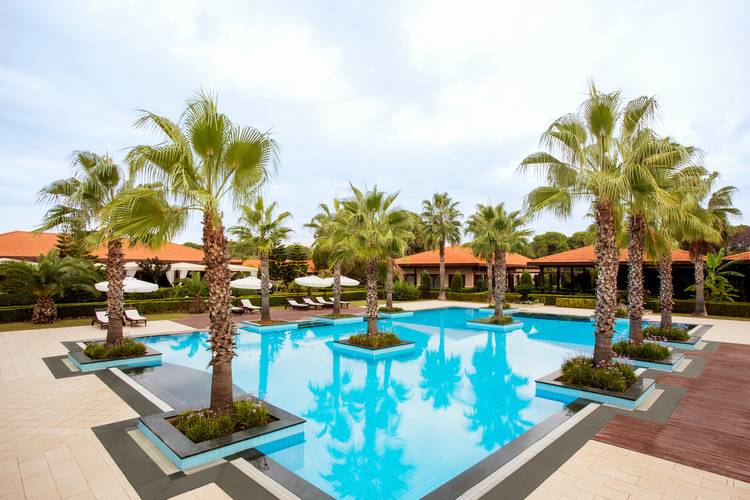 IC Hotels Residence
IC Residence is a boutique hotel designed in the style of South-East Asia. It offers exclusive VIP services, ensuring comfort and privacy.
450 m to the sea, first line, sand with gravel, private beach
Air conditioning
2016 – renovation date
Waterpark
Children's pool
Kids menu
Bath / Sauna / Hammam
Nanny
Heated Pool
Pool
Massage
Bar
Indoor Pool
This luxurious boutique hotel with its own beach and VIP services is located in a large park in Kundu, 23 km from the center of Antalya. The journey (15 km) from the airport takes only 20 minutes. You will definitely love the welcome on arrival – the staff welcomes their guests with champagne and Turkish sweets!
The grounds of the hotel are luxurious and very green! There are 70 hectares of private villas with pools, bars and restaurants. What a pleasure to walk along the stone paths among palm trees, flowering and coniferous trees! It's peaceful and tranquil. The hotel has an excellent spa center, but I should warn you that you have to pay to visit it. IC Hotels Residence offers you free access to some of the facilities of the neighboring IC Green Palace hotel: water park, tennis courts, mini-golf ground, gym and squash room.
Beach: it is our own with fine golden sand. Going into the sea shallow, with a gradual set of depth. Pebbles at the bottom rarely occur, which is especially comfortable for children. The coast is very well-kept, the staff constantly monitors the cleanliness. Wooden deck chairs with straw umbrellas are located at a large distance from each other, so you do not create a sense of crowd, you can quietly enjoy the private rest. There is a bar-restaurant on the beach where you can order drinks and snacks for free. I must warn you that some villas are 450m from the beach, but don't let this scare you, there are beggars to take you to the beach if you wish.
Food : According to guest reviews, delicious! Ordering dishes in the main restaurant is on the menu, but there is also a general buffet. The food is always in abundance – many kinds of meat, fish, salads, cheeses, greens, fruits. The dishes are European and Turkish, moderately spicy. The hotel operates on an "ultra all inclusive" system, the restaurant and bars serve quality foreign alcohol. Dinners are accompanied by live music.
Cons: I did not find any. But if you are a fan of active entertainment, I advise you to consider another hotel – IC Hotels Residence has almost no animation.
Pros: gorgeous green area, high level of service, careful room cleaning, Russian speaking staff, good Wi-Fi signal. Free individual transfer from/to the airport.
To sum up: IC Hotels Residence is a paradise for romantic holidays with the best beach! Here you are sure to feel the full pleasure of your vacation!
The 7 Great Beaches of Antalya
We will tell you in detail about the main beaches and the best hotels on the coast. Take your pick!
Content:
What are the beaches in Antalya.
Did you know that more than 160 beaches in the province have been awarded the prestigious Blue Flag award? Serious level! The beaches of Turkey's main resort are really good and mostly sandy and pebbly.
The beaches of Antalya are comfortable, because there is all the necessary infrastructure, cleaners, cafes and hotels. It is easy to get to them by bus. Almost all the beaches are free – come and relax with your towel. But if you need more comfort, at any beach you can rent a set of a sun umbrella and a deck chair.
and Travelata – here we buy tours – here we book hotels
Konyaalti beach
This is one of the most popular beaches in Antalya. It is very picturesque because it is surrounded by mountains in the west and a romantic haze. Konyaalti beach is impressive in size: it stretches for 10 km and reaches a width of 50 meters. Covered with a mixture of sand and finely rounded pebbles.
According to comments by tourists, Konyaalti beach is very clean, comfortable and comfortable. It was awarded the "Blue Flag". There are cabins for changing, showers, toilets, cafes and Wi-Fi, lifeguards. The beach is public and the entrance is free for everyone. You can rest on your own towel.
However, the beach has disadvantages. The descent into the water is quite steep, and we saw how people had a hard time getting out of the water. Also, in some places the bottom is covered with stones and there are waves, so go into the water in beach shoes. All of this is not safe for small children to swim, so I don't really understand why it is considered a family beach. Perhaps because of the proximity of entertainment – Aqualand water park with an oceanarium. In general, with children is better to rest on the beach Lara. Learn about holidays in Turkey with children.
To get to the beach you can take buses number 5, 36, 61, KL08, KC06. From Kaleici you can take an old streetcar "Nostalgie" to the terminal stop Müze and walk to the beach for 15 minutes.
Do you like Konyaalti beach? For a great vacation, come to these all-inclusive 1st line hotels:
View of Konyaalti Beach from the observation deck. This drone photo shows that the depth starts sharply and the strip of shallow water is narrow.
Beach in Lara (Lara).
The sandy beach of Lara is considered the best in Antalya. It can not be called a scenic, but it has clean sand and shallow entrance to the water, which is especially enjoyed by parents with small children and older people. Learn about the best sandy beaches in Turkey.
The beach in Lara is free, and you can rest on your towel, unless it is the territory of a closed beach club.
In general, Lara consists of many small beaches, but they are almost the same. The most popular part of Lara is the closest kilometer to the city, where all the entertainment is concentrated. Further stretch hotel beaches.
From the center of Antalya to Lara can be taken by bus number 38 or dolmushas № 18, 30, 77.
Do you like Lara beach? For a great vacation, come to these all-inclusive 1st line hotels:
Kundu Beaches
Farther along Lara's beaches stretches the fast-growing Kundu neighborhood. There used to be only new buildings for locals, but then many big all-inclusive themed hotels sprang up. We just happened to be staying in this area, at a hotel with a water park, the Aska Lara Resort & Spa 5*. Kundu is pretty deserted, all the entertainment is only on the hotel grounds.
Kundu has nice wide beaches with fine golden sand. At the entrance to the sea there are areas of fine pebbles, but it is easy to walk barefoot. The beaches mostly belong to hotels, but there are also public areas.
The road to Kundu takes 20 minutes from central Antalya and 30 minutes from the airport. Since the resort is located on the highway between Antalya and Alanya, many shuttle buses and dolmushas pass through it.
Do you like Kundu Beach? For a great vacation, come to these all-inclusive 1st line hotels:
The beach at our hotel Aska Lara Resort & Spa 5* in Kundu. The beach of our hotel Aska Lara Resort & Spa 5* in Kundu.
Mermerli beach
I liked the little sandy beach of Mermerli at first sight. It is very cinematic and cozy with clear water. The beach is located behind Mermerli restaurant, next to the old Antalya Marina. The entrance costs 40 liras and has to be paid at the restaurant. There are wooden stairs leading down to the beach. Learn about the best restaurants in Antalya.
On Mermerli beach, the sun beds are not on the sand, but on pontoons and a concrete slab, because during high tide, the beach floods. All the necessary infrastructure is there. An ideal place to cool off after a long walk around Kaleici! You can come with children too – the entrance to the sea is gentle.
Mermerli beach. See the transparency of Mermerli beach. Mermerli beach.
Adalar beach
Adalar is one of the most beautiful beaches in Antalya. A hidden treasure of the old city, as they call it tourists. It is located in a rocky part of the Antalya coast, and you have to go down the stairs to the beach. It is a small beach club, so the entrance is paid – 30 lira for the whole day. There is all the necessary infrastructure, but the sun beds are few. In the cafe the prices are acceptable.
According to the reviews of tourists, this is a good place for snorkeling: a lot of stones, fish and underwater tunnels. Please note: the beach is pontoon, surrounded by rocks, and in the sea you need to go down the stairs.
The panorama of Adalar beach
Topcham beach
Topcham is one of the best beaches in Antalya. It gets rave reviews from tourists and locals alike, who like to spend their holidays and picnics on the sandy-pebbly beach. Topcham is very picturesque: it is surrounded by mountains and a national park, and Sicham Island peeks out from the water not far from the shore. It is a nice place for a peaceful family vacation!
The beach is pebbly and sandy, so it's better to have shoes for swimming. The water entrance is shallow, so you can swim with children. In the water can be stones, be careful.
Infrastructure is minimal, but there are: showers, toilets, changing rooms, picnic tables. According to reviews, there is a cafe, but most locals and tourists bring their own food and drinks for the picnic.
Toppçam is 17 km from the center of Antalya. The beach is easily accessible by shuttle buses and dolmushas. The nearest hotels are only on Konyaalti Beach.
Topcam Beach Panorama
Map of beaches in Antalya
Videos of the best beaches in Antalya
First photo: Steven Tan (maethlin) / flickr.com / CC BY-NC-ND 2.0 license. Stock photos: depositphotos.com.