Biblio Globus – customer reviews
Russian tour operator Biblio Globus gives people the opportunity to see the whole world, admire its beauty, feel the tastes and smells of different countries, understand and feel the people who inhabit these countries, their language, music and traditions. We allow people to disconnect from everyday problems and soar above the hustle and bustle by traveling around the world. Each country and each city evokes its own unique emotions, which can be experienced only by visiting them. You can surf the web, or look through country guides, but the turquoise color of the sea or the azure blue sky can be imagined only by being at the sea under the same sky. There are many amazing places on Earth that take your breath away! We offer you travels to different countries – romantic, beautiful, informative, exciting, exotic, religious – different. At our site you will find interesting information about the countries of the world, their national features, traditions, sights and culture. Besides you can order the tours you like, book hotels and buy tickets to any place in the world. It is possible to choose the most favorable offer in terms of price/quality ratio. The pages of the site offer you to share reviews about your trip, hotels and tour operators, to learn the opinion and read the stories of other tourists about their travels.
Good afternoon, I stayed with my daughter in Hurghada from May 5 to 12, 2022 at the Makadi Palas Hotel 5*. I read different reviews about the hotel and want to leave my feedback. The hotel area is very large and nice. There are many restaurants and bars on the territory. The beach is sandy, no problems with sun loungers, there are two bars on the beach (paid and free). The staff are friendly, helpful and unobtrusive. We had a trip to Hurghada with my daughter (trip so-so for 3), it was free, a bonus of a trip to Luxor and Bon Voyage (boat trip). Luxor is fantastic. It is unlike anything else. Very impressed. We went to Luxor with a guide Mohammed. He is an Egyptologist, has a good command of Russian, correctly and competently constructed sentences, and knows how to express the thought to convey it. He is very grateful for the large amount of information and for the fact that throughout the trip generously shared his knowledge with us. (I think all the guides are competent and knowledgeable in their field. shared with holidaymakers about the trip, all were satisfied). Bon voyage, a boat ride, was also very enjoyable. It was fun, delicious, friendly and magical. The guide, a young cheerful guy, lighter Adam. Also at 5 knows Russian, throughout the trip everyone was in a great mood. The boat is large, with an occupancy rate of 30%. Service and staff attitudes, top marks. Guys, our thanks for such a beautiful day! And I want to thank our hotel guide Muhammed (biblioglobus guide). He will solve any question, is very pughty, speaks languages well, is very kind and attentive to everyone. Muhammad, you are a very nice young PEOPLE! Always stay like that. Good luck to you everywhere and in everything and let you find and meet only pleasant and positive people in life too!
I would like to express great appreciation to the guide in Phuket, which accompanied from the hotel to the airport in Phuket (Babenko Natalia).The guide made a very pleasant impression, friendly, helped to understand the difficult situation, accompanied at the airport and helped communicate with airport staff. But the unpleasant impression was left by our guide in Phuket (Kirill). Holiday time January-February 2020.
We took into account all our wishes and suggestions, good rooms, next to the hotel, and the most important is the excursion program. We would like to say a huge thanks to our guide Anastasia Kovaleva!
Many thanks for the rest. In particular guides Natalia sightseeing tour of Prague 25.10. 2019. To Alexander two excursions 26.10.2019 Vienna and 28.10.2019 Saxon Switzerland. And also to Irina 29.10.2019 Dresden. All the guides are extremely polite and patient.
We bought a tour to Cyprus. I will write right away that we had no problems with the tour (tickets, flight, hotel). But we were faced with an indifferent and disinterested employee, in the face of the hotel guide Alyona, with the theft of expensive glasses from the bag during the excursion and the fact that the excursions were "not worth it. Personally, I have no desire to use the services of this tour. operator. I will tell you more. On the second day of our holiday, we met with the hotel guide Alyona. I did not like her very much. With us, tourists came up to her and asked for help with their problem – settling. In response, she said something unhappy like: "And that you can not come up yourself? Well, okay, let's do it. She said this with such a face that the poor woman, without waiting for her, went to the reception themselves. She told us about the excursions. My husband decided to buy three tours: a cruise, the Heart of Cyprus and the real Cyprus. We bought them. After the first excursion we regretted 100 times. The first excursion was supposed to be a mini cruise at sunset on a four-deck liner and fascinating Dancing Fountains Show. The bus did not arrive at the appointed time, was late by 15-20 minutes. On the road were about an hour, collected all the tourists from other hotels, waiting for the late and lost. During this time, the guide Anna told only organizational points, no stories about Cyprus, features, interesting facts. The speech was confused, probably the girl had very little experience. We arrived at the place, we were loaded on a boat and taken to the liner. The liner was a three-deck and old. What followed was champagne, local wine, dried up snacks, swimming in the Blue Lagoon, frantic "Who's over 50" dancing. Not great for us, but people loved it. Nothing particularly educational or unusual. Yes, the sunset and the sea are fun. Then, when the dancing of drunken Russian pensioners was over, we were brought to the ground, loaded on a bus and taken to the Dancing Fountains Show. Before we got off the bus, we were going to take everything, but our guide assured us that we could leave the unnecessary things on the bus, nothing would happen to them. We went to this Show. I did not like it, but taste and color as they say. Went back to the bus and found that our bag was gone (we left it under the seats). We started to find out, the driver is standing and did not understand what he was talking about. The guide asks him no English, and then he suddenly (how could he forget about it and immediately not say? for me a big question), that came the mechanic to fix something there in the car and they put our bag in the baggage compartment, which is (by the way) in the floor. Why?!!! Why wouldn't they have put it on the adjacent seats or luggage racks! We, too, were a lugger, we didn't even check the contents thoroughly, we took a quick peek, and that was it. We were transferred to another bus and taken to the hotels. When we arrived at the hotel, we disassembled the bag and discovered it was missing. In my bag there were not expensive glasses in a box, and 100 euros, which we had negligently left in the internal pocket of the bag (but they were lying next to the napkins, unnoticed). We immediately wrote to the guide about our loss. She replied that she would find out. The next day she wrote that they had conducted an internal investigation and our missing bag was not found. She accused us that we did not immediately report the loss (although we reported immediately when we arrived at the hotel. before we just did not look), and in general, they never had (and here again!) And their staff are proven and honest.
I wrote to her to check on the driver and the mechanic, to which I got the answer that they had already conducted an investigation and no one had seen our glasses or found them (she didn't even remember the money). Yes, that's how someone found them in our bag. Ahh, she also sent us to the police, to write a statement. In general, we found no support, no sympathy, no apology, no regrets. I'm afraid to imagine what would have happened if something more serious had happened. Our mood was very badly damaged. To be honest, I wanted to cancel all the other excursions, but still there was hope for a sensible outcome of the situation. The conversation with Alyona was not over. Moreover, she did not want to meet with us and listen to us to discuss the situation, although the hotel came almost every day. Nothing. This was the first time I have ever encountered such an attitude! Maybe so should be, but then I do not understand the point of guides. On the second tour we went the day after the first. The tour was literally "taken out" by guide Larissa. Told us a lot of interesting things about Cyprus all the way. The route was uninteresting, the bay of Aphrodite – a dump (thanks to people, of course, but why take tourists there?!). In short, from the third tour we refused. We wrote to this Alyona, she replied that we left our ticket at the reception (again, she did not even want to meet in person) and the money will be returned within 3 banking days. The money was returned to us on time. That was the end of our communication with her. Therefore. what can I say as a result! Will I use the services of this tour operator? No! And in general, we decided for ourselves that more excursions will not go. It is better to take the car and go everywhere by yourself. It goes without saying that no one would have returned our theft, no one would have confessed to it. It is clear that not all guides are like Alyona. But. no, Biblio-Globus for me forever in the black list. But if you do use their services, do not leave valuables unattended on excursions, do not trust people, do not rely on their decency, do not rely on the help and support guides.
Biblio Globus – reviews of the tour operator 2022
Biblio Globus / atorus.ru
Biblio Globus seems to be the most talked about tour operator in the country. Millions of tourists fly their tours every year. Someone likes it for the shock-price hot tours and direct charters from the regions. But at the same time reviews of tour operator Biblioglobus are replete with negative intonations. Let's look into it and tell you our point of view, because we are not the first year in travel.
Content
What is Biblio Globus tour operator known for?
Tour operator Biblio Globus has been working since 1994, starting its activity as a small tour operator. The main and basic direction of Biblio Globus at the time was Cyprus. Gradually the list of destinations expanded, there were tours to Thailand, Tunisia, Egypt, Turkey. Biblio Globus began to cooperate with Transaero airline, which allowed buying blocks of seats on the flights at favorable prices. Low prices became the main competitive advantage, which allowed gaining the status of the largest tour operator in the country.
Biblio-Globus / atorus.ru
In 2014 the management of Biblio Globus decided to develop tours in Russia , signed contracts with large hotels Azimut, Bridge, Imeretinsky, Gorky Gorod, Bogatyr and Velvet Seasons, former Olympic venues in Sochi, and began to successfully fill a huge room stock thanks to a system of dynamic education on their tours. Since that time the era of profitable tours to Sochi begins, when in the off-season a room in the above hotels sometimes costs less than 100 rubles per night (we confirm, these are real prices ).
In 2015, Biblio Globus survived the bankruptcy of its strategic partner, Transaero Airlines, and proved that it is not considered the largest tour operator in the country for nothing. The tour operator's new main airline was Aeroflot's subsidiary, Rossiya Airlines. In 2017, the tour operator took over its first accommodation facility, the Azimut Hotel in Sochi, with a huge room stock (about 3,000 rooms), now renamed Sochi Park Hotel . Biblio Globus independently created the tourist infrastructure on the vast territory of the hotel and turned it into a year-round resort.
In 2019 Biblio Globus built a large-scale camping "Olenevka Village" in Crimea, and in 2021 a similar project in Abkhazia Tamysh Village, in the plans a huge sanatorium in Crimea (Saki town) and resort Raushen in Svetlogorsk, Kaliningrad region.
In 2021, 3/4 of the share of tour operator Biblio Globus was bought by Sheremetyevo airport, there are rumors that later this share will be sold to Aeroflot.
In 2022, after the imposition of serious sanctions against Russia, Biblio Globus was the first tour operator to start selling tours to foreign destinations – Egypt and Turkey on its own charter flights of Red Wings.
In May 2022 the tour operator became an official partner of Aeroflot. Immediately it received guaranteed blocks of seats on direct flights to Sri Lanka and the Maldives at a reduced price – thanks to this Biblio Globus tours again beat all other tour operators in price.
Why tourists choose Biblio Globus tours:
A tour operator with solid experience , which has proven more than once that it can survive even the collapse of a strategic partner. Biblio Globus is one of the leaders of tour operators rating.
A good choice of directions, own exclusive hotels on the Black Sea coast.
Flexible pricing. We write every day about hot tours, and most of them are from Biblio Globus. Such records of prices (tours at the price of a flight and even tours cheaper than the flight) can hardly be repeated by any other tour operator.
Regional charter programs. The majority of direct charter flights (and accordingly tours with flights on these flights) from regions to Sochi, Anapa and Crimea is launched exactly by Biblio Globus. Mostly for the summer (but sometimes in the off-season), often launching foreign destinations for the regions. (Consider just staying in a hotel for the required number of nights) are cheaper than booking the same hotel on Bookings.
The main tour operator in Cyprus . The important advantage is the timing of processing electronic pro-visa. During tourist season it is made out Biblio Globus within 10-15 minutes! This allows you to book last minute tours without worrying about not having time to issue a visa.
❤ We recommend searching for tours with all tour operators . Yes, tours from Biblio Globus attract a good price, but another tour operator's tour on your dates may be cheaper! So be sure to check prices on Travelata .
We usually book through this online agency, because it is convenient and without any surcharges.
And there are additional discounts on promo codes: AFU300Lucky – 300 rub discount on a tour of 20 thousand AFU500Lucky – 500 rub discount on a tour of 40 thousand AF1000Lucky – 1000 rub discount on a tour of 60 thousand AF2000Lucky – 2000 rub discount on a tour to Turkey from 100 thousand AFE2000Lucky – 2000 rub discount on a tour to Egypt of 100 thousand
Reviews for tours from Biblioglobus
What do tourists mention in their reviews about Biblio Globus? Let's start with the positives:
1 ✅ Almost everyone notes favorable prices on tours . Who manages to catch a hot tour, they brag about their luck.
We flew in 2018 tour to Sochi for a week in November for 15 000 rubles for three people. There is nothing to complain about – departures on time, transfers were, hotel and room modern. The trip to Sochi was on time, transfers were on time, the hotel and room were modern, of course there were only minor things – queues at the check-in and cheap medical insurance as a part of the tour (the child got ill, we were told by the insurance company on the indicated phone and eventually were told to go to a regular clinic ourselves, although there were two private medical centers near our hotel).
2 ✅ Instant confirmation of tours . Well here will not work with all hotels, but only with those that are at the tour operator's guarantee. Tours of Sochi Park Hotel and Gorky City confirmed for a few minutes!
By the way on the website of Level Travel online travel agency in the search for tours to all tour operators, there is a special icon "instant confirmation. It is very convenient to navigate to them, especially when booking a last minute tour. That way you won't miss the last seats on the flights and choose a hotel that has exactly the seats for the dates you want.
3 ✅ If there is no force majeure, everything on the tour runs smoothly. Biblio Globus has a huge tourist flow, and without well-organized processes – flights, transfers, tourist service on site – it would be simply impossible to function.
4 ✅❗ The tour operator Biblio Globus showed its best side during the next tourism crisis, associated with the cancellation of flights and tours due to sanctions in 2022:
– Makes refunds for failed tours. Yes, it takes a long time to review applications, but the result is important (most other tour operators do not make refunds in cash, and some do not even allow to transfer the deposit to open destinations);
– They were the first to put in place the charter flights to Egypt and Turkey under sanctions. Now their tours are the most profitable in price and it is easy to transfer the deposit from the cancelled tour.
What tourists do not like – negative reviews on Biblio Globus :
1 ✳ Complaints about the hotels on the tour: poor cleaning and room conditions, check-in lines, charges for early check-in or late check-out, food complaints, deposit and the need to provide certificates at some hotels.
Well, let's be honest, all hotels are different and we choose in the end. It's not even the price, because there are good cheap accommodation options, as well as bad expensive hotels. Do not neglect reading reviews, even if the photos of the hotel look perfect. And write a review of the hotel yourself when you get back from a trip!
I would like to separately note the need to pay for early check-in and late check-out. This is not the fault of the tour operator, it's hotel policy, fixed check-in and check-out time. Even if you are not going through a tour operator's travel package, but you booked a hotel on the same website, you would probably be asked to pay extra for the opportunity to check in early or to stay longer on the day of departure. But of course it's nice when the hotel is able to give you this time for free (usually when traveling off-season).

2 ✳ Lost days due to flight changes and rescheduled flights. Biblio Globus has several flights a day, and the booking only shows preliminary departure times. It is only a few days before the tour actually starts, that these flights are scheduled and the tickets are issued. This is usually true for flights from Moscow and St. Petersburg. From the regions there is often only one flight a day, and you can still be guided by the time of departure when you book your tour.
The tour operator has a paid service for flight specification. With it you can fix a specific convenient tour flight when you need to leave, for example, in the evening (after work) or in the morning (so as not to lose a day off). The price of the service, in our opinion, overstated: in foreign directions 30 euros per person or in Russia 1,500 rubles.
I personally have never made out the specifics. I just try not to have anything planned on the day of departure, and I do not get upset even at a late departure. Anyway because of flight it's hard to call this day a good rest day.
But if the tour is short – for a few days, then the transfer of flight times of course can severely cut down on vacation days. In this case, consider booking a tour with specification of flights.
3 ✳ Complaints about transfers, guides and excursions from Biblio Globus. The reviews scold the guides for imposing excursions, complain that the hotel guides do not help to solve problems arising in the hotel.
Transfer Biblio Globus / bgoperator.ru
We have only taken tours from the tour operator a couple of times. And yes, they are of very average quality (this is not only about Biblio Globus, but also about other tour operators). Now I have a peculiar rule – I always check the prices for individual tours (believe me, such a tour can never compare with the group). If individual tours seem expensive, just rent a car (recently here) and make your own route, sometimes get a good audio guide.
4 ✳ Obsolete official website of the tour operator. The official website of tour operator Biblioglobus really inconvenient. Find the best dates of tours is difficult, but it is easy to make a mistake when booking (judging by reviews).
Some people complain that if you have questions it is difficult to get through to the staff reservations. We buy tours through trusted travel agencies working with Biblio Globus. Their support is better and more responsive, they call for all important questions themselves, you can contact even after-hours and weekends.
5 ✳ Fines for cancellations and FPZ. All this is not only with Biblio Globus, but with all other tour operators. Once you've booked and confirmed your tour, you probably won't be able to cancel it without penalties.
At Biblio Globus the penalty for early cancellation of the tour (a month or more) is about 20 euros per person, the rest you have to return. If you cancel the tour before departure, the tour operator is likely to put the FPL (actually incurred costs) of 100%. But even if they say about the 100% penalty, we still advise to write to the tour operator an application for minimization. Some part of the cost of the tour still can return.
I read about cases where the trip was canceled for very good reasons (serious illness of one of the tourists) and the tour operator went to a meeting, carried out a refund.
I personally always have trip cancellation insurance with my tour. If someone falls ill unexpectedly and it is confirmed by documents, the insurance company will reimburse the cost of the tour. With an ERV policy this insurance would work not only for hospitalization, but also for a sick leave – with children this condition is very convenient. And now, in times of a pandemic, no-departure insurance will help if you test positive for covid before your flight. Read the terms and conditions of travel insurance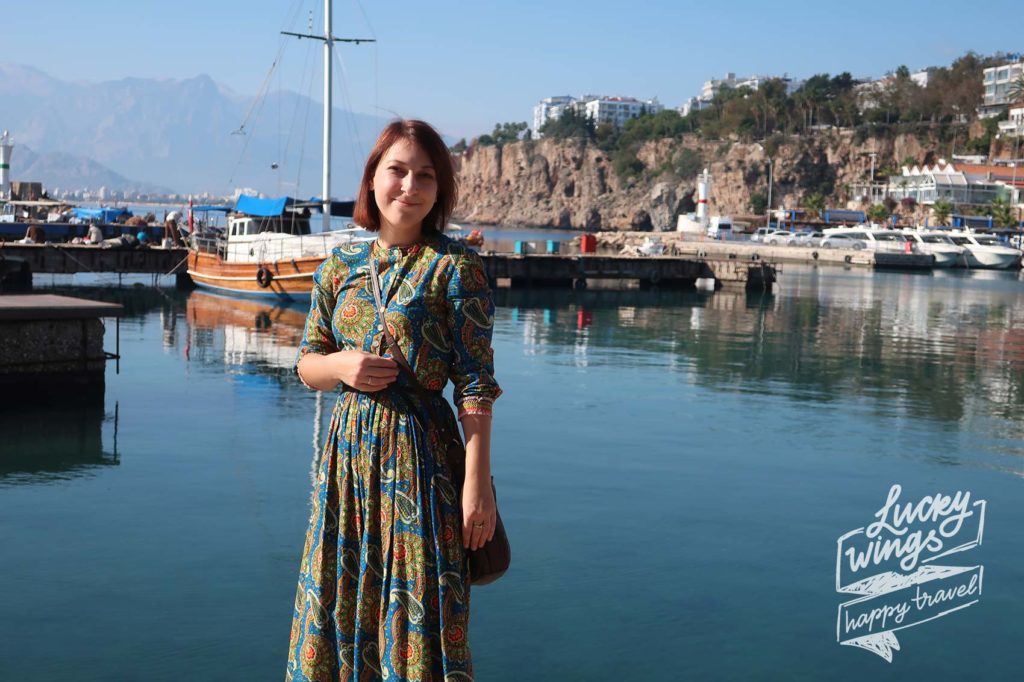 Personal review of Biblio Globus
We flew Biblio Globus a couple of times to Sochi, Cyprus and Turkey. We booked tours in online agencies: we bought tours with such prices at Travelate and Level Travel (where we got more discount with a promo code), tours without such prices at Onlinetours (in autumn we spent 1.5 months at Krasnaya Polyana in Gorki Gorod apartments for 20 thousand rubles!
Honestly, I have nothing to complain about. Flights – ok (all departures were from different regions, they did not change flights, no delays), transfers – ok (yes, sometimes we had to wait for the lost tourists with the whole bus, but it did not depend on a tour operator, it happened with Intourist and Pegasus), accommodation – ok (except for lines at Sochi Park Hotel and Gorky City).
Huge Biblio Globus hotels do not always manage to do minor room repairs. We did not change rooms, but we saw that some people came with complaints to the reception with a request to move to another room.
We always go to meetings with guides, but purely to sit/listen. Sometimes it is useful just to know the prices of excursions, to clarify information about the return transfer and to take a phone number just in case. We took 2 excursions in Turkey from Biblio Globus – to the Dinosaur Park (basically just entrance tickets) and a trip to Demre-Mira-Kekova. From the trip to Demre on the whole there were good impressions, but the tour seemed too long, well, and driving into "their" stores is always unpleasant to me.
By the way, in the same trip we took an individual tour on Tripster – walk around the area Kaleici in Antalya (caught a good discount). We remained very satisfied, the whole tour was filled with unusual and hidden sights, about which we ourselves would have never known.
There is another story about excursions. In Cyprus, all tours from the tour operator at once seemed well very expensive. But we again took one – in all the beauties of the island, for 200 euros for three people (in the end we did not like it, not worth the money uniquely). I wanted to go by boat to the Blue Lagoon near Cavo Greco, but we are not millionaires. Leaving the hotel on the beach in Protaras, I learned that there is a pier with boats and great excursions for 15 euros – and showed Famagusta, and told about all the attractions along the coast, and gave a good swim in the blue waters at Kavo Greco.
But still thanks to Biblio Globus ❤ Thanks to them I understood that there is a sense in package tours too. Before the baby was born we were independent travelers, and we treated package tours almost with disdain. Now I understand what a mistake it was and what stereotypical thinking.
We went on our first trip after the birth of our son by habit – we flew to Sochi for 2 weeks in October 2015. We stayed for a week in Krasnaya Polyana (Gorky Gorod) and a week in a rented apartment. In 2018 we flew to Sochi again, also off-season, but already with a tour from Biblio Globus for only 15 thousand rubles for all with tickets, transfers, accommodation and breakfasts in a hotel.
Now we like tours for the direct charter flights, transfers and favorable prices. Now if there are tours for a destination we are interested in, we will fly only tours. In this case, taking the car on the spot or dealing with public transport, you can have time to see all the most interesting things and not to linger only on the beach at the hotel.
Where better to buy tours from Biblio Globus online – reviews and tips