Cyprus: Shopping, Food and Internet in Paphos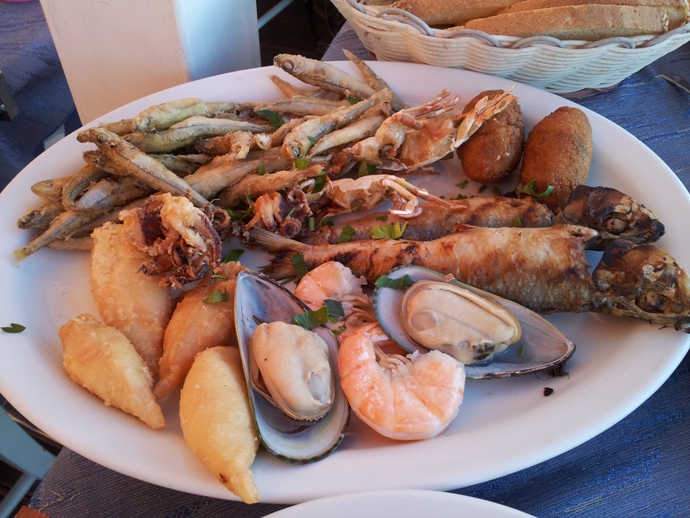 Food and internet in Paphos are closely connected. Every self-respecting coffee shop in Cyprus makes sure that its visitors are welcomed and enticed by the signs "Free WiFi".
There are no problems with free Wi-Fi in Paphos, the Internet is available at hotels and cafes on the seafront. In many cafes and restaurants Wi-Fi is locked, but some establishments generously give the Internet to all comers. Not far from such cafes, as a rule, in the evenings there are flocks of lovers of freebies, tucked into their gadgets.
Let's list the cafes on the seafront, giving free internet in Paphos:
Bachus Free Wifi – wide range and consistent signal on the waterfront at Bachus Cafe.
Captain's Bistro and Captain's Bistro-5G – great signal, wide range, but sometimes the connection breaks. To get full access to the internet, you have to do a Facebook check-in.
Mbania F.B login 2.4 G – an excellent Wi-Fi restaurant-café bar Ta Mpania. It is suggested to evaluate their work in Facebook, only then full access to the Internet is provided.
Poseidonas – due to the popularity of the cafe and the large number of visitors low speed internet access.
And, of course, how without McDonald's in Cyprus – Wi-Fi there, as usual, is free.
A few more points of free internet in Paphos, Cyprus:
PrimeTel-Kings Avenue Mall – Wi-Fi in Kings Avenue Mall, which is located at the intersection of Tombs of the Kings Avenue and Apoustolou Pavlou Avenue. The best wifi in Paphos, you can talk in Scype.
Cytanet-Costa Coffee – Costa Coffee is on the second floor of Kings Avenue Mall. To access the network, you just need to press the button that you are supposedly a visitor to this cafe. Wi-Fi is available outside at the entrance to the mall.
Begonia Gardens Center – wide range. The center is across from Kings Avenue Mall on Apoustolou Pavlou Avenue. You have to go to their website to access the internet. It catches on the benches outside Kings Avenue Mall.
FreeMayfair is the free Wi-Fi at the Mayfair Hotel. The signal is not very good, to say the least. It catches by the entrance, on the right side if you are facing the hotel entrance.
Linksys – The Wi-Fi is close to the Mayfair, by the small grocery market on Agapinoros street.
Savvas optical shop2 – The Savvas optician store on Apostle Paul Avenue, which is located opposite the Paphos bus station, Kato Pafos (Harbor), has WiFi. It is also good in a small park in front of it.
And of course, Wi-Fi at Larnaca Airport – MTN_WiFi. Just click on MTN and you will be in luck!
An option for those who don't want to depend on other people's internet in Paphos is the quite cheap mobile internet from MTN in Cyprus (MTN Mobile Broadband – for laptops and tablets). The minimum package is 2,52 euros per month for 20 MB. The MTN PayAsYouGo SIM card costs around €7.5 and you will have €5 on your account. More information: www.mtn.com.cy/ru/mobileinternetplans/ and www.mtn.com.cy/ru/mobilebroadbandplans/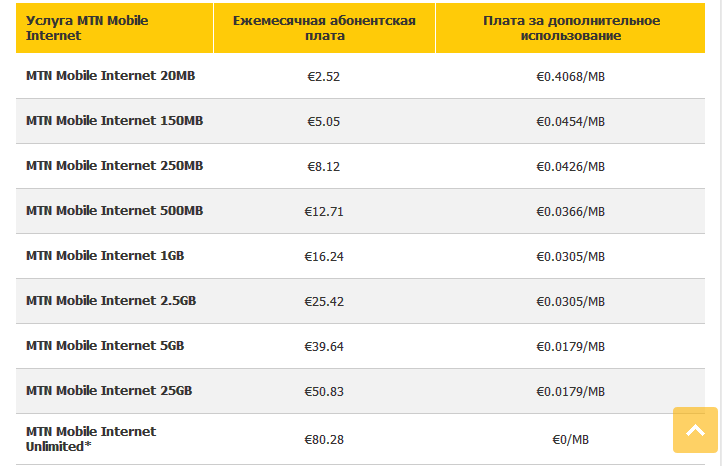 This is the way to save money on the internet in Paphos. The information is based on personal experience, compiled and systematized specifically for the readers of make-trip.ru.
Where to look for cheap tickets? The best way to do this is with the Aviasales and Skyscanner search engines. To find the best price, check with both and see tickets for different dates. Read also the instructions on how to search for cheap airline tickets correctly.
Food in Paphos
It's a well-known rule: eat where the locals eat. In Paphos, it works the same way as everywhere else. Prices almost double on the waterfront, where all tourists flock, so be careful.
What to try in Paphos? Traditionally recommend:
Meze meat and fish – an assortment of 20-30 dishes. On all menus it is written: an order for a minimum of two people. The meze costs 15 to 20 euros. Served with Greek salad, french fries, bread, and a variety of sauces;
Kleftiko – lamb pieces baked with spices;
dolmades – minced meat and rice wrapped in grapevine leaves;
souvla and souvlaki – pieces of meat on skewers similar to our shashlik and pork or chicken;
moussaka – tender casserole with eggplant, zucchini and minced meat in béchamel sauce;
Stifado – beef stew;
Seafood: deep-fried calamari, shrimp, mussels, octopus, oysters.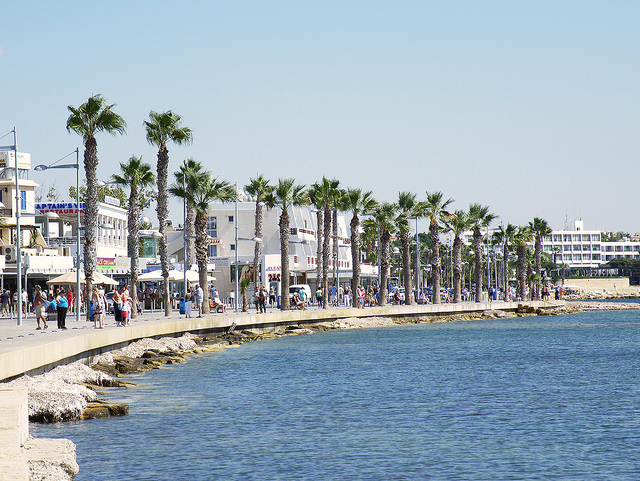 (photo © Aris Tsag / flickr.com)
Drinks in Paphos
First of all Cyprus is famous, of course, for its wines. The famous "Kommandaria" has been known since the Middle Ages! You can also try other famous Cypriot wines such as Saint Pantelemon, Othello, Aphrodite, Olimpus, Thisby, etc.
We also advise you to try "Zivania" – a traditional strong alcoholic drink (45-49 degrees), similar to chacha. It is made of pressed grapes. There is also red "Zivania", which is infused with honey and herbs. "Zivania" and "Kommandaria" are often brought from Cyprus by tourists as a gift to family and friends. In addition, popular is the anise vodka "Uzo" (40 degrees).
Cyprus coffee is served in small cups with a glass of cold water in the Turkish manner. In tourist cafes it costs about 2-2,5 euros.
Extremely popular frappe – cold coffee drink with froth and ice. It costs from 2 euros.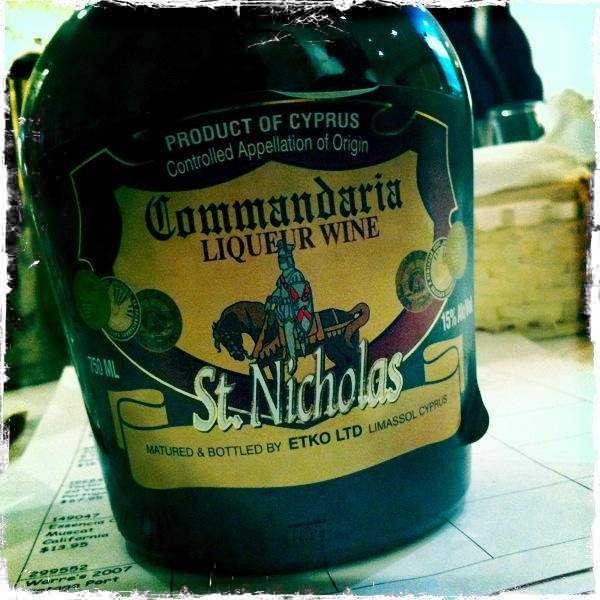 (Photo: Greencolander / flickr.com)
Cafes and restaurants in Paphos
For tasty, cheap food in Pafos, head inland and try the wonderful Tyrimos (address: 71 Agapinoros) and Mandra Tavern (behind KFC, turn off Poseidonos Avenue at Dionysou) for fresh seafood. Also try Ocean Bascet (address: Poseidonos Avenue, next to the Avanti Hotel), you will be very pleased. Ocean Bascet is popular with Cypriots and tourists alike, so you better make a reservation. On Apostle Paul Avenue, there is Café Gennadios and Pizzeria Sardegna, which in the evenings attracts many visitors with the aromas of savoukas.
Shopping in Paphos
Many people (locals and tourists alike) buy their groceries at the Papantoniou supermarket. One of them is close to the port and the bus station – from Apostle Paul Avenue you must turn to Lidos street. Papantoniou is a budget supermarket and has probably the most reasonable prices for food in Paphos! Just to compare, a 0,5 l bottle of Adonis water costs 19 euro cents while the exact same bottle on the waterfront costs 1,5 euro. You can buy drinking water by the case here, for which there are discounts.
Ayia Napa is considered the most youth resort in Cyprus: according to reviews, it is noisy, fun, lots of discos and nightclubs. Although some tourists think this opinion is stereotypical, however, in most cases, it is true. Most of the entertainment nightlife is on Bar Street. However, all this is true for the high season.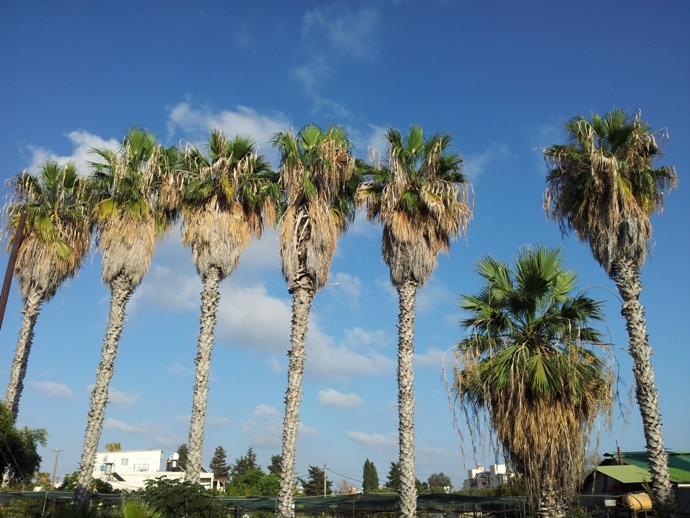 There is an amusement park and history lovers can visit the ancient monastery-museum. Popular beach in Ayia Napa – Nissi – white sand, clear water, with the onset of dusk turns into an open air disco. For a family vacation, the best beach is Grishniy Bay.
Protaras
Close to the bustling Ayia Napa there is a small resort of Protaras – judging by reviews it is one of the quietest places in Cyprus and is suitable for a quiet family holiday: there are good sandy beaches and beautiful bays, a local natural attraction – Cape Greco. The beach at Fig Tree Bay is considered the best in Protaras and is the most famous.
In the town there is an ancient church, a lot of restaurants, cafes and stores, fountain shows and an oceanarium with a zoo, playgrounds, amusement rides, very close – noisy Ayia Napa. On the mountain there is a wishing tree, the locals and tourists make a wish and tie a ribbon to make it come true.
Paphos
The homeland of Aphrodite is a cozy tourist town, which has earned excellent reviews and sincere love of vacationers. There are many restaurants on the coast, including fish restaurants. The beaches are mostly rocky and stony, sandy few, the most popular beach is Coral Bay.
Paphos is home to many of the island's main historical and natural attractions: the tombs of the Kings, the excavations of Paphos, the bathing place of Aphrodite, the bay of Petra tou Romiou, the National Park Reserve Akamas and others. According to reviews, you can perfectly combine a beach holiday and cultural leisure in Paphos, however, and the prices are appropriate.
(photo © disparkys / flickr.com)
Larnaca
A nice quiet place, this resort is famous for its shallow sea and smooth bottom. Larnaca is considered an economical resort, although some tourists found it a bit pricey. There is a luna park, a zoo, a lot of cafes.
There are ancient buildings, Christian temples, a palm embankment, a few kilometers – the most ancient monastery on the island Stavrovuni. The Church of St. Lazarus is very popular among tourists. Nearby is a village Lefkara, which has long been famous for lace weaving and handmade silverware.
Limassol
The town has a beautiful promenade and an ancient fortress, beaches – gray volcanic sand and stones. The city itself can be seen in 2-3 days, but from here it is convenient to drive to the sights, as the resort has an ideal location.
Some tourists were struck by the complete absence of street names and house numbers in Limassol and the illumination of buildings in the evening.
According to tourists' reviews, holiday in Tunisia is no worse than Cyprus.
To summarize: according to reviews, in 2022 it is worth to go to Ayia Napa and Protaras for beach recreation (the best beaches in Cyprus are there, tourists think), for cultural and sightseeing – to Paphos (in the first place), Limassol and Larnaca, and for entertainment and loud parties – to Ayia Napa.
Reviews of vacations with children in Cyprus
The best place to buy is the Golden Triangle, consisting of the three central streets of Paphos. Here you will find stores of economy and luxury brands. Holidaymakers can buy clothes from famous designers. The youth boutique "Pink Woman" sells good and affordable items. A stylish collection of clothes can be purchased at "Max Mara", "Mark & Spencer", "Zara", "Fabula Boutique". In the Italian chain "Ovs" during sales huge discounts up to 80% are available. Attractive prices are waiting in Paphos outlet stores, for example, in the department store "Debenhams", where at the end of the season favorite brands ("Calvin Klein", "Dior", "Guess", "Clinique", etc.) are sold at a discount of 60-70%. There are also boutiques and stores in the resort area that sell souvenirs, leather clothing, appliances, drinks, sweets, and beachwear. Keep in mind that prices in the beach area are much higher than in the center. The greatest variety of goods are represented in large shopping malls, such as Kings Avenue Mall, City Shop. The city market sells a variety of memorable trinkets, handmade goods of local craftsmen, leather goods, fruits, vegetables, seafood, spices.
Grocery Shops of Paphos
You can buy products at low prices in supermarkets, and the lowest prices in "Papantoniou", which is located near the bus station. Some products here are 5-7 times cheaper than on the waterfront. There are often promotions in the stores. The most favorite sweet among holidaymakers is lukum.
Children's stores
At the resort you can find inexpensive children's clothing of good quality. The most popular stores – "Cartoons", "Debenems", "Ecco", "Next" and others.
Duty-free
Prices in duty-free shops are quite high and the range is poor. Among the goods: alcohol, souvenirs, sweets and cosmetics.
What to bring from Cyprus (Paphos)
Here is a list of the best things to take with you from Cyprus:
Wine (from 5 euros per bottle)
Haloumi cheese which you can grill, add to salads, soups, and eat with wine.
Sweets – lukum, marmalade, honey.