Food Prices in Barcelona
Planning a trip to the capital of Catalonia? Here's an overview of food prices in Barcelona in 2022. What to try from the local cuisine? Store and Catalan fast food prices. What's important to know about cafes and restaurants. Tips on how to save money on food.
Content:
Food prices in cafes and restaurants in Barcelona – 2022
The cost of food depends on the location of the restaurant and cafe. If the establishment is at a crossroads or near tourist attractions, prices are higher. Just a 5-10 minute walk away is sure to find a place where you will be fed 10-20% cheaper.
What are the prices of food in Barcelona? Breakfast is usually a coffee with a croissant or a sandwich for 2 €. A continental breakfast, as Europeans are accustomed to, costs 5-8€. For a meal in a budget restaurant for one you pay between 15 and 25€. A "menu of the day" is cheaper – €10-12 per person.
Here are the prices for food in cafes and restaurants in Barcelona in 2022:
gazpacho – 2-4€
clam chowder – 3-7 €
paella – 7-10€
cheese plate – 13-14€
Catalan sausages – 9€
pasta – 8€
Catalan stew – 13€
mussels – 5-8€
grilled octopus – 14€
freshly squeezed juice – 3,2 € to 3,5 €
Sangria, 1 litre – €11-12.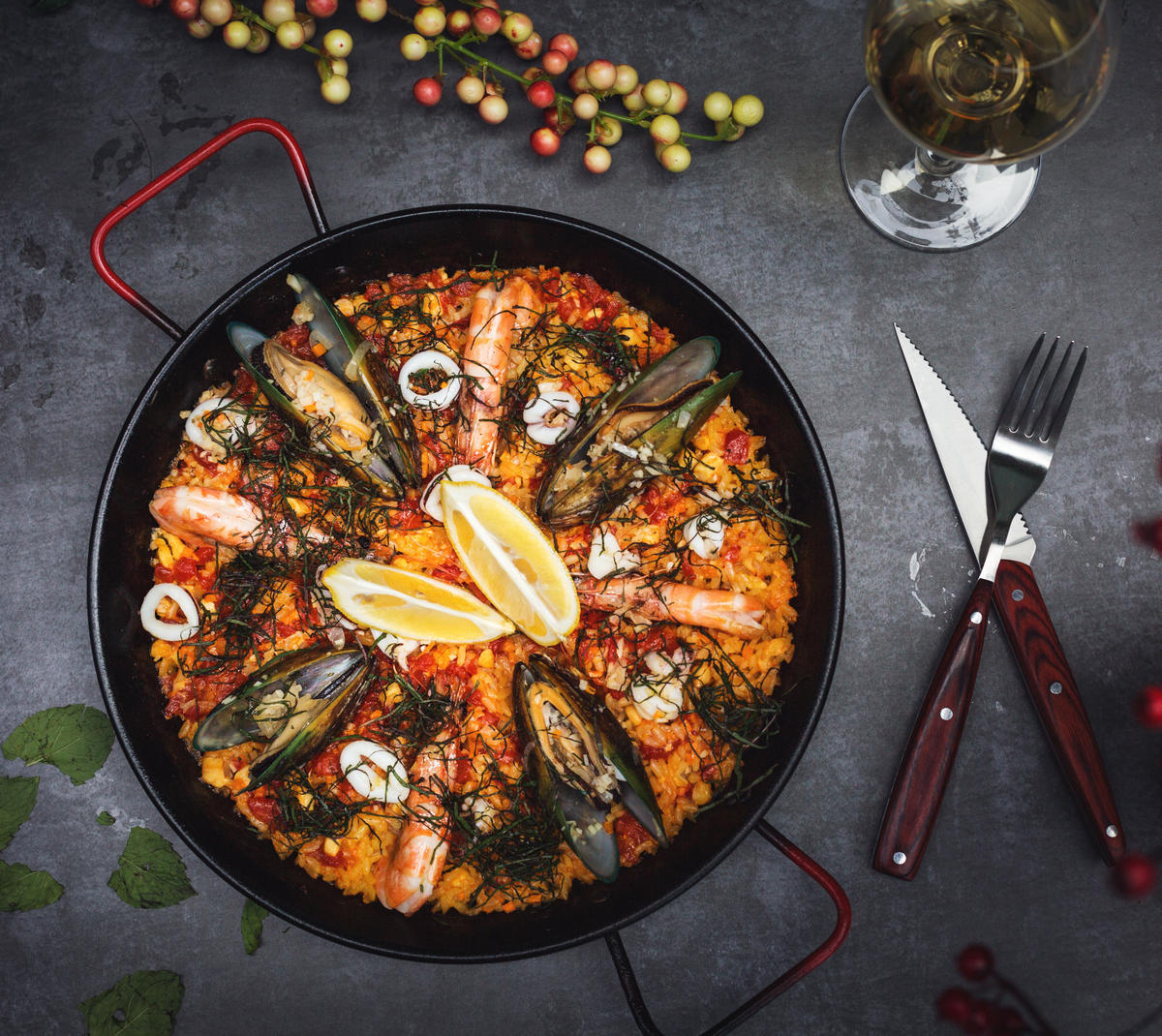 Seafood paella (Photo: unsplash.com / @steven__chan)
Prices for alcohol and drinks
The weather in Spain is hot, so the national cuisine pays a lot of attention to drinks. Catalans drink a lot of coffee. The most popular espresso costs 1,5 €, cappuccino – 2 € and latte – 1,2 €. There are also their own varieties: café cortado – espresso with a drop of milk and café bombón – coffee with condensed milk at the bottom of the glass.
Sangria, Basque apple cider, cava, light white wine Txacoli and vermouth are popular in Barcelona. On a sweltering day, the Tinto de verano, a cool, iced wine drink, quenches your thirst well – 1,5€ a glass. At the bars you can enjoy a beer – serveza . A small 0,2L glass costs 1€, a pint (570ml) from 3€, and 1L costs 8€.
The prices of alcoholic drinks in stores in Barcelona in 2022 are very attractive! A liter of sangria costs 2-3€ and sherry from 8€. A bottle of beer 0,33 l – from 0,5 €. The price of wine varies a lot, from 1,5 € up to 20 €!
Tinto de verano is a light alcoholic drink that cools well in the heat. It's in the middle. (Photo: unsplash.com / @jonathanborba)
Grocery prices in Barcelona – 2022
In the Catalan capital, three popular Spanish chains – Mercadona, Dia and Carrefour – hold the lead in terms of prices, variety and quality of products. Mercadona stores in the city are more than 180.
Tourists like to buy fresh fruit, vegetables, fish and seafood in the markets, where the locals shop. The most famous markets are Boquería, Santa Caterina, Honey Market, Barceloneta and San Antoni.
Here are the prices of food in stores in Barcelona in 2022:
baguette – from 0,5€
Milk, 1 l – 0,8€
cheese, 200g – from 1 €
jamon serrano, 125g – 1.5-2€
dessert flan – 1 to 3 €
can of olives – 0,75€
fruit juice, 1 l – from 1€
Drinking water, 5 l – 0,46 €.
In Barcelona it's better to buy fresh seafood in the supermarket and cook it yourself if you have a kitchen. They are cheaper than in Russia: 1 kg of shrimps – only 9-12 €, 0,5 kg of squids – 3,7 €, and mussels – from 2 € altogether!
Some fruits are not expensive: bananas 0,8 €, oranges 1 €, grapefruit 1,25 €. Vegetables: cucumbers 0,9 €, tomatoes from 1,4 €.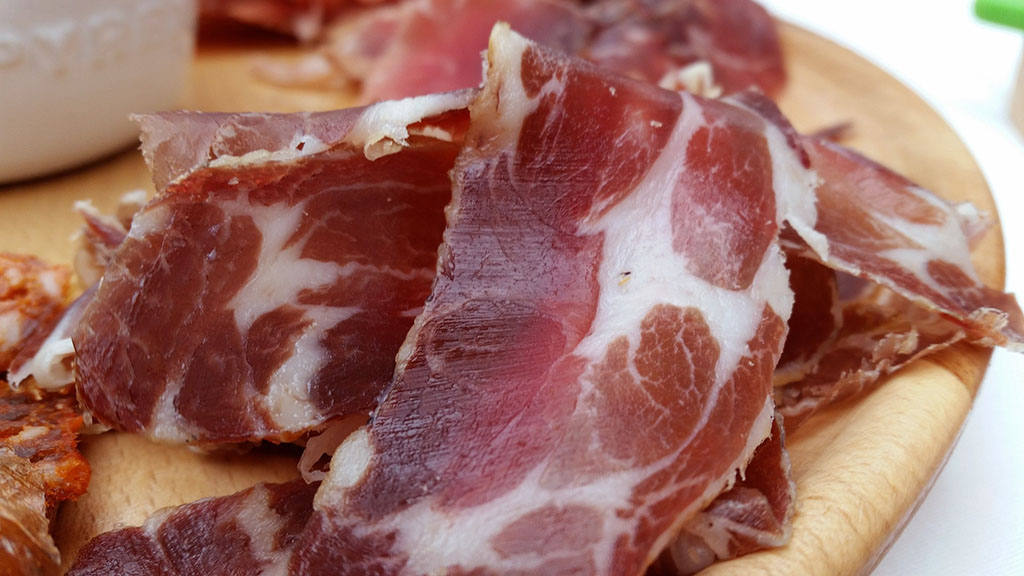 Jamón serrano (Photo: silentlinestudio / pixabay.com)
Catalan fast food
There are many McDonald's, KFC, Subway, Burger King restaurants in Barcelona. A set of a sandwich with chicken and vegetables, French fries and a soft drink costs 5-8 €.
However, Barcelona residents and tourists prefer the traditional Catalan fast food – you can find it at Pans and Company . They outwardly resemble McDonald's, but there they bake their own bread and cook from natural products. A set with a drink costs 3,9 €.
So, street food prices in Barcelona in 2022. Many Catalans have breakfast with coffee and churros . These are fried custard dough sticks that are eaten by dipping them in sugar or chocolate. Churros with chocolate cost from 3,5 €.
Another popular dish in Barcelona are pinchos – little sandwiches with a skewer and various fillings. They cost about 2-3€.
There are tapas bars in the city where they offer hearty tapas snacks. Two prices are often listed on the menu. Small tapas cost 2-7€, and raciones – large portions of tapas – from 10€. Perfect when you're really hungry! A plate of tapas Platos Combinados is 8-18€. These plates are good for a group of friends because everyone can try different appetizers. Some places don't have a menu, but all the tapas options are displayed under glass at the bar. Point to the dish you like and it will be served to you.
Top popular excursions in Barcelona: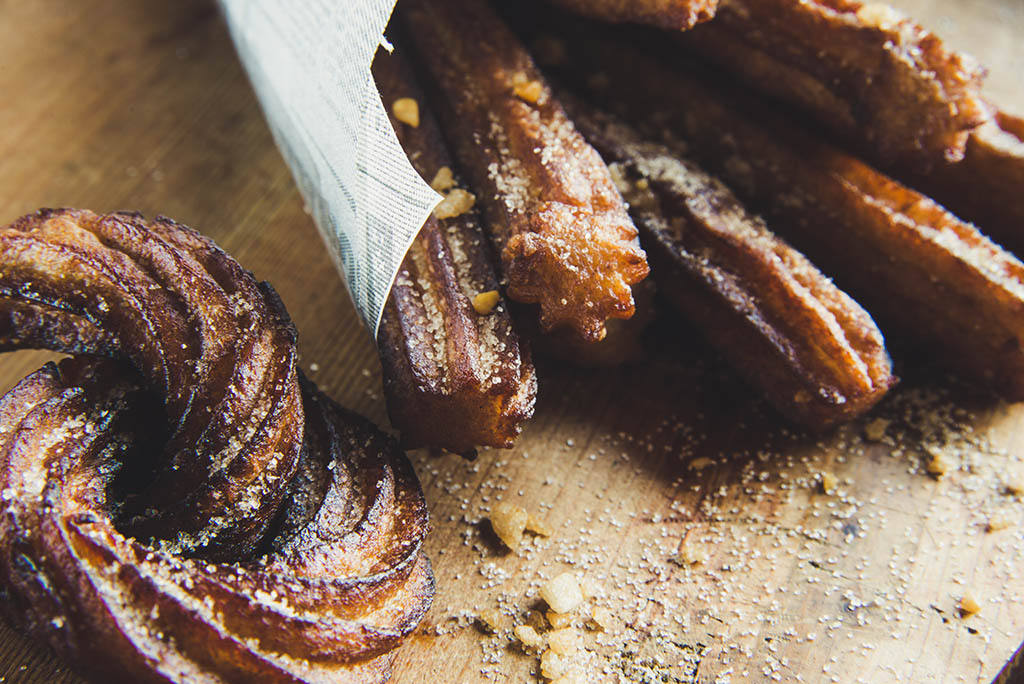 Churros – fried custard dough pastries (Photo: unsplash.com / @huibscholten)
What to try in Barcelona
The cuisine of Catalonia belongs to the Mediterranean, but has its own traditions. Here they use a lot of sea fish, seafood, love to cook meatballs and sausages.
What to try in Barcelona? Let's list the most popular dishes:
paella – a dish of saffron-tinted rice with fish fillets and seafood cocktail
escudella – hearty soup with meat and vegetables.
Aioli – tender sauce made of garlic, lemon juice and olive oil
calçote – green onions cooked on coals
Catalan rabbit in sauce with snails
baked cod
Pa amb Tomaquèt – bread with Catalan tomatoes
beans with butifarra sausage
escalivade – baked eggplants with tomatoes, sweet peppers and onions
Crema Catalana – a dessert that resembles a French crème brûlée.
Clams (Photo: unsplash.com / @adriensala)
What's important to know
Summer in Spain is hot. The siesta starts at 2 p.m. and lasts about three hours. Most stores, benches and cafes are closed during this time. If you get hungry, grab some fast food or something at the supermarket.
When choosing a table in a restaurant, note that a seat on the terrace is more expensive than a half-empty room. For the opportunity to eat out you will have to pay 10% more to the bill.
Meals in Catalonia are usually ordered gradually. Appetizers first, then the main course, and then – desserts. If you order everything at once, be prepared for a dish that won't arrive on time. Service in Barcelona is slow. Be patient and wait while the chefs prepare the food.
Do not try to pay immediately after ordering. According to the Catalans, food can't be rushed. Take a break, have a chat with friends, enjoy your meal, and only then ask for the bill at la cuenta.
Prices for food in Barcelona
Tipping is 10% of the order. They are usually included in the bill. If you do not see a charge on the receipt, but want to thank the staff, leave cash.
Almost all supermarkets and markets are closed on Sundays. To buy groceries, go to small stores, Caprabo chain stores, or OpenCor supermarkets.
During religious holidays, some stores operate on a different schedule or are sometimes closed altogether.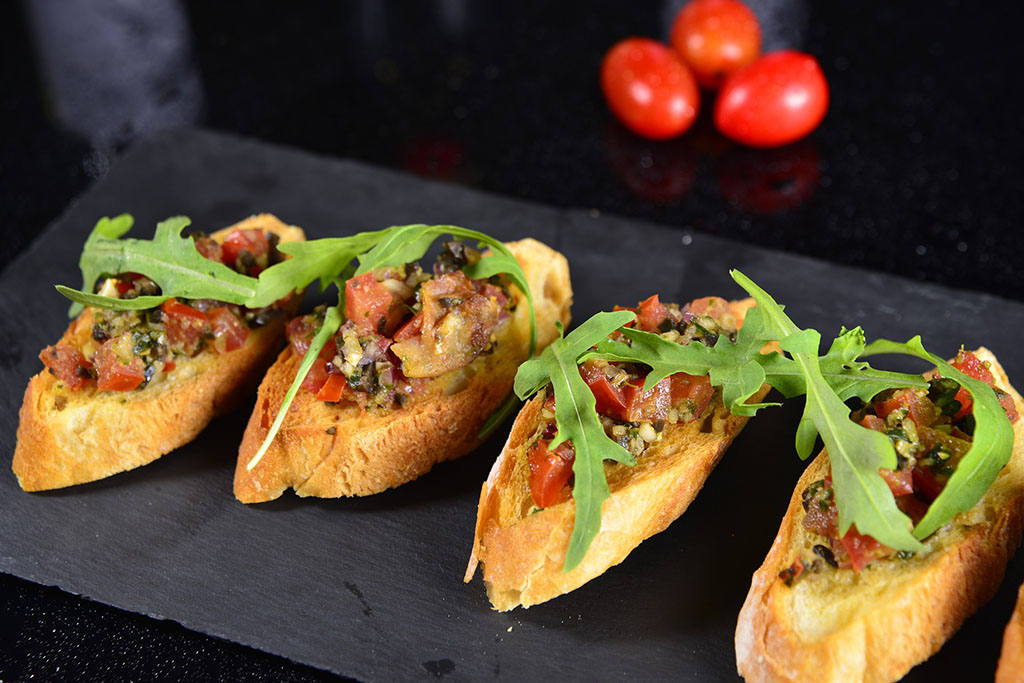 Tapas in the form of sandwiches (Photo: Pix3853 / pixabay.com)
How to save money on food in Barcelona
In front of any café or restaurant are boards with menus and prices. Choose the right establishment for your money without going inside.
We recommend the budget restaurants: Xeroga at 1 Carrer Parc, The Benedict bar-bistro at Carrer den Gignas, the Wokto Walk buffet restaurant at 95 La Rambla.
On Wednesdays and Sundays, cheap snacks for 1€ are offered at the beer houses 100 sandwiches – 100 montaditos.
Look for the menú del día (menu of the day). It's like our business lunches – lunches with two or three courses and a drink. They're usually offered from 12:00 to 16:00. However, the prices for such food in Barcelona are higher than in Moscow. A set of gazpacho, paella and a glass of sangria will cost 8-12 €.
In any supermarket there are departments with ready meals. A pint of gazpacho costs 1,6€, a chopped salad 1,5-2€, paella 3,75€, two sandwiches 2€. Everything will be heated for free in the microwaves at the checkout.
Prices in Barcelona 2022
When preparing for a trip to Barcelona, one of the most important things is to plan for the costs to come. How much will it cost to stay, eat and have fun in the city? This article will try to answer this question.
Barcelona is a very popular destination with both our compatriots and travelers from all over the world, and at any time of the year. And this popularity continues to grow rapidly. And with it continue to grow and prices for rent.
Of course, the seasonal factor plays a big role in the pricing. During the summer months Barcelona and its surroundings are transformed into resorts with magnificent sandy beaches and at this time the cost of housing increases significantly. This must be taken into account.
Another important factor is the proximity to the historic center of the city. Read more about the districts of Barcelona in a separate article.
So what are the average hotel rates in Barcelona?
The cost of a double room in a modest hotel or hostel, near the center, will cost 60-75 euros. Bathroom and toilet are likely to be shared on the floor. It is possible to find options with breakfast included.
Starting from 75-80 euros you can find options for classic double rooms in 2 or 3 star hotels.
Those who are interested in primarily beach vacation should pay attention to hotels, located close to the sea, on the first line. Such hotels in Barcelona often have at least 4 stars. The cost of living in a double room in a hotel starts at 95-100 euros.
Planning to stay in Barcelona for a long period (a week or more) is better to rent an apartment. This is much more convenient, besides you can save a lot on food by cooking in your own kitchen. The cost of renting an apartment in Barcelona near the center, on the site airbnb, on average, about 65-70 euros.
Meals (cafes, restaurants, etc.)
As always, the cost of food depends on your preferences, desire and ability to save. You can confine yourself to fast food and snacks, or you can eat at a restaurant every day.
Fast-food: hamburger + potato + cola – 5-6 euros, sandwich – 3-4 euros.
Cafes and restaurants Coffee+croissant 1,5-2 euros, coffee+sandwich 2,5-4 euros, omelette 3,5 euros
Traditional dishes of Barcelona:
Paella from 9 euros (in an average restaurant, for example, on Paral-lel Avenue or the Eixample district) to 17 euros (in places with large crowds of tourists, such as the Gothic Quarter or the waterfront). One portion of paella can easily be taken for two.
Tapas (local snacks): olives 2 euros, potatos bravos 2,5-3,5 euros, mussels 6-7 euros, shrimp 8-10 euros.
Drinks:
A pitcher of sangria 11-14 euros
A glass of wine from 1,5 euro, beer (0,33 l) – 2-3 euro, 0,5 l beer – 4-6 euro
coffee 1-1,5 euro, coke 1,5-2,5 euro
cocktails (mojitos, etc.) 4-7 euros.
You can read more about Barcelona cuisine here.
In general, lunch or dinner for two in Barcelona will cost 20-25 euros. You can read more about prices on the example of the menu of one of the many restaurants in Barcelona, below in the photo.
Prices in stores and supermarkets
Those who have decided to stay in an apartment and cook food on their own should know the prices in supermarkets in Barcelona.
Fruits
Vegetables
Drinks
Alcohol
Meat, sausage, etc.
Yogurts
Chips
Hygiene products
Most sightseeing is free. Of the paid:
Admission to the Sagrada Familia Cathedral – 15 euros Viewing platform at the Columbus Monument – 4.5 euros The Old Port cable car – 11 euros one way, 16.5 euros round trip Spanish Village – 12 euros Park Güell – 8.5 euros
A single ride ticket costs 2,20 Euros Many tourists use the T-10 pass (10 rides) for 10,20 Euros A single day ticket costs 8,60 Euros A Bus Touristic bus is 28 Euros for 1 day, 39 for 2 days. Click here for more information.
Read more about Barcelona public transport and ticket types in the article Barcelona Transport.
Magnets 1-2 euros
Excursions in Barcelona
The cost of a classic sightseeing tour in Barcelona starts from 15-20 euros per person. Of course you can pick up or more unusual and interesting excursions: gastronomic (acquaintance with the cuisine of Barcelona), individual tours with a personal Russian-speaking guide, etc.
How much does the trip to Barcelona cost?
To summarize. Based on the above, it is possible to say that an average tourist in Barcelona should have about 30-40 euros (not including hotel or apartment accommodation).