An overview of food prices in supermarkets in Paris
Supermarkets in the French capital are guided by the purchasing power of area residents. There is a general rule in Paris: on the periphery of the city, hypermarkets offer lower prices than in the center. Even in the same chain – Carrefour and Carrefour-City – the cost of the product is very different.
At the same time, products are more expensive in stores all over France than in Russia. This is often written about by users of the LiveJournal site: for example, tutuskania and jeteraconte.
| | | |
| --- | --- | --- |
| Groceries and catering | Price in euro | Price in rubles |
| Dinner for 1 at a cheap restaurant | 15 € | 1390 ₽ |
| Lunch for 2 at a mid-range restaurant | 60 € | 5530 ₽ |
| McMeal at McDonald's | 9 € | 830 ₽ |
| Cappuccino at a coffee shop | 3,77 € | 348 ₽ |
| Milk (1 liter) | 1,13 € | 104 ₽ |
| Loaf of fresh white bread (500 g) | 2,03 € | 187 ₽ |
| White rice (1 kg) | 2,04 € | 188 ₽ |
| Chicken eggs (10 eggs) | 3,82 € | 382 ₽ |
| Local cheese (1 kg) | 18,33 € | 1690 ₽ |
| Chicken fillet (1 kg) | 12,7 € | 1170 ₽ |
| Beef ham (1 kg) | 20,14 € | 1860 ₽ |
| Apples (1 kg) | 2,6 € | 214 ₽ |
| Bananas (1 kg) | 2,0 € | 155 ₽ |
| Oranges (1 kg) | 2,6 € | 240 ₽ |
| Tomatoes (1 kg) | 3,4 € | 314 ₽ |
| Potatoes (1 kg) | 1,9 € | 175 ₽ |
| Onions (1 kg) | 2,2 € | 203 ₽ |
| Lettuce (1 head) | 1,4 € | 130 ₽ |
| Water (1.5 l) | 0,9 € | 83 ₽ |
| Bottle of Wine | 8 € | 738 ₽ |
| Local beer (0.5 l) | 1,9 € | 175 ₽ |
| Imported beer (0.33 l) | 2,6 € | 240 ₽ |
| Cigarettes (20 pieces) | 10,5 € | 970 ₽ |
What do tourists who plan to eat in cafes and restaurants need to know? The same cup of coffee costs 1.5 or even twice as much depending on whether you drink it at the bar or on the summer terrace. This rule does not apply in the world chains (McDonald's, etc.).
↑ Supermarkets and hypermarkets
In Paris you can find food in small self-service stores. Because of the small sales area the selection there is modest. The prices are also "bite".
The cheapest store in the city center is ED, which is now called Dia. You can buy a baguette there for 0.5 euros (46 rubles). But the choice of products there is quite modest. Again, you will definitely find a few types of cheese and wine there.
The most popular chain among Parisians is Leader Price. Prices are at the level of Dia, but the choice is richer. The store buys products from manufacturers, saves on advertising and reduces packaging costs. Cheeses and sausages can be bought for 2 € (184 roubles) for 200 grams, bread for 0,6 € (55 roubles).
Do not underestimate typical for the center of Paris Carrefour-City, Franprix and Monoprix. The latter chain is more expensive than other supermarkets by about 20%, but it is good with flexible price policy, "happy hours" and impressive discounts on fruits and vegetables and some products at the end of the day. You can also buy ready-made sandwiches, salads, and half-finished products.
On the outskirts of Paris, in the so-called "Zones de Commerce" are the giants Leclerc, Intermarché, Auchan, Euromarché, Carrefour, Super U. There are also representatives of pan-European chains: Lidl and Aldi. Here both the budget buyer and the sophisticated gourmet will find everything he wants. The hardships of driving to the outskirts and back are fully compensated for by low prices and an abundant selection of products.
Leclerc. It focuses mainly on the "middle class". Meat and fish products, fruits and vegetables, milk, yoghurts, cheeses – products of quite a rich assortment, fresh and safe. This chain is distinguished by the fact that it sells many of its own products, including fresh and frozen foods, beverages, alcohol, and household chemicals. Prices are usually 10% less than in Carrefour, as the Leclerc chain buys products from manufacturers in large quantities. There are periods of sales. Among the promotions are popular "2 products for 1 price" or "3 for the price of 2".
Intermarché, a chain owned by Les Mousquetaires, has the lowest possible prices (about 15% below the average price) and fresh produce, including herbs and fruit. But the selection here is usually smaller.
Auchan. There is always an excellent selection of wines – about 80 pages of titles, as well as cheeses, sausages and dairy products. Auchan's meat and dairy products are organic. Products are placed on the shelves intelligently. The cheap price segment is at the bottom, the expensive segment at the top. This hypermarket has special corners with exotic food for the French – Arabic, Asian, etc. Look for items with bright red or yellow price tags – they are sold at a discount. The only disadvantage of this hypermarket is not quite good quality of fresh fruits and vegetables. You have to buy them in specialized shops or markets.
Super U. This supermarket chain is actually a giant cooperative. It also buys products directly from the producer. A baguette costs 0,4 € (37 p.), cheeses from 1,5 € (138 p.), beer 0,6 € (55 p.) per half liter, ham 5 € (360 p.) per kilo. You shouldn't be afraid of buying cheap wine. A bottle or tetrapack for 1,5-2 € per liter (140-185 rubbles) is quite a decent drink and you can taste the local production.
↑ How much does it cost to eat in a cafe?
Street Cuisine. Along with shawarma and hot dogs as we are used to, in Paris you can find a network of special booths with carts under the sign Crêperie, where they sell crepes and gaufres. The first dish is crepes (without toppings 2.5 € (230 rubles)), and the second – waffles (the same price). With filling, syrup or cream such a snack will cost a little bit more. You can choose unsweetened stuffing.
Ethnic cafes. If you are a budget tourist, you should pay attention to the Chinese, Vietnamese and Moroccan cuisine. For example, Café Miznon in the Marais area. Falafel (chickpea patties), saigonki (fried pancakes with stuffing) and other delicacies with a drink will cost you an average of 5 € (460 rubles). Not only migrants, but also French students dine there.
Bistros. The popular bistros are Brioche Dorée and Paul. The average bill for a dinner at the latter is 10-20 € (without alcohol). That's 920 to 1840 roubles. A glass of wine costs from 3 € (with the fact that it is poured from the bottle, the price of which in the supermarket is 2 €). Here you have to choose the "menu of the day" – it costs cheaper.
Fast food chains. Along with the global ranges, such as McDonald's or KFC, there is a national counterpart in France – Quick. But the choice of dishes there is quite standard: burgers, fries, Cola, Fanta or Sprite. From national features we can single out croissants in the morning menu and a cheese plate. Regulars in this fast-food restaurant are tourists and students; clerks who satisfy their hunger during the lunch break are not spared either. The average bill for a menu at Quick will cost you 7-8 € (640-740 rub.).
Budget cafes. In addition to the huge number of small establishments with terraces, there are also chains of "standard food" cafes in Paris. They have their own specialization. The most popular chain in Paris is Hippopotamus. There you will find a large selection of dishes from any meat, including game. The average bill (without alcohol) in such places will be 20-30 euros (1840-2770 rubles). White collar diners like to dine here. The place offers business lunches and happy hours.
↑ Expensive cafes and restaurants
Atmospheric cafes. Establishments near tourist attractions are very expensive. The reward is a nice view of the Eiffel Tower or Notre Dame Cathedral. There are also establishments that honor the memory of famous regulars. For example, Café de Flore on Boulevard Saint-Germain 172 was frequented by Sartre, Apollinaire, Picasso, and other members of the creative bohemia. But the price of the dish here is comparable with restaurants (40-50 € – 3700-4600 rub). The cuisine is typically French, with a large choice of cheeses and wines.
Restaurants. A small mid-range restaurant increases its prices twice as much as a cafe. On Boulevard Saint Martin there is a cozy little place called "La Petite Rose des Sables". Rich Parisians dine there and in the evenings it gets more crowded. The restaurant specializes on the French national cuisine. Average bill is 60-70 € (5500-6500 rub.).
Famous restaurants of Paris. Gourmets can enjoy the refinements of haute cuisine in fine establishments with rich interiors. The well-touted restaurant Fouquet's on the Champs-Elysees would cost from 70 to 120 € (6500-1110 rubles) for a dinner. This is an elite institution, where you can not get without a reservation.
Yandex Travel is the service where I now book accommodation before travelling in Russia and abroad: hotels, inns, hostels and apartments. Options can be filtered by budget, location, rating and other parameters. You can pay for reservations with Russian cards, including MIR . As an alternative to Booking and Airbnb.
Prices in Paris
Home Europe Europe France Paris Paris prices
What and how much does it cost in Paris (France)?
All prices in rubles are current at the time of viewing (recalculated in local currency at the Central Bank exchange rate as of 9/11/2022).

3 stars hotels in 2022-2023
Pink Line – the average price for a room in three-star hotels in Paris in the specified month.
Turquoise Line – the minimum found price for a room in Paris for the whole specified month.
Hotel prices are for guidance – prices may vary depending on the day of the week and the specific hotel. And we are working to improve the calculation methodology
Please check targets for your specific dates at a particular hotel.
Hotel Prices

How to make your trip easier
We have made a convenient, beautiful and free app for iOS, which has all the information that is on the website, but is always available without internet.
And also offline maps, which will always help you find a cafe or an attraction nearby. No matter where you are in the world.
Wait a minute. Going to Paris?





Flight prices to Paris
A good helper.
Want to have all the information about prices in the world and Paris always at your fingertips? We recommend installing our app, which in addition to prices also has a lot of interesting things – airports, what to try, interesting places and, of course, detailed offline maps of the whole world.
General prices of Paris.
| | |
| --- | --- |
| Regular lunch for one: | 805 rubles $13.67 |
| Dinner for two with wine: | 3,688 rubles $62.64 |
| Bigmack + fries + Coke | 536 rubles. |
| Local beer 0.5l: | 402 rubles. |
| Cup of cappuccino: | 242 rubles. |
| Coke 0.33l: | 223 rubles. |
| Mineral water 0.33l: | 143 rubles. |
| Pack of Marlboro: | 469 rubles. |
| | |
| --- | --- |
| Fitness pass: | 4,056 rubles. |
| Cinema ticket: | 730 rubles. |
| Levis jeans: | 5,670 rubles. |
| Dress at Zara / H&M: | 2,571 rubles. |
| Nike sneakers: | 6,539 rubles. |
| | |
| --- | --- |
| Average salary | 168,009 rubles: $2852.93 |
| 1 room in the center in the month. | 79 511 rub. |
| 3 rooms in the suburbs per month | 114,023 rub. |
| Single trip (public transport) | 120 rubles $2.05 |
| Monthly transportation pass. | 4,695 rubles. |
| Petrol, 1 liter | 100 rubles $1.71 |
| New Kia Ceed | 1 224 080 rub. |
Reviews from social networks
" Sacré Coeur (Cathedral of the Sacred Heart of Christ) is one of the main in France. Place of pilgrimage of many believers. The cathedral was built 40 years (with the construction of strengthened Montmartre Hill, he is the highest point in Paris). Admission is free, but it turns out that for 5€ you can visit the crypt and dome, I haven't been yet, does anyone want to go next week? "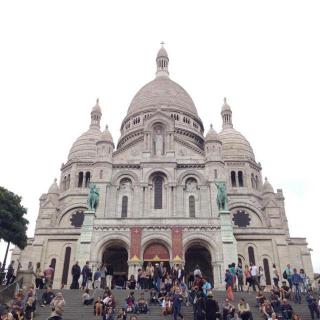 " Usefulness post. So, wherever you're going – for cheap airfare go JUST WAY . You just can't find cheaper tickets. It's a search through a bunch of agencies and airlines, and you pick the best of the deals. Convenient.
Already bought a ticket? Great, then run to download the citywalks.me app, which will allow you anywhere in the world to quickly and easily navigate the area.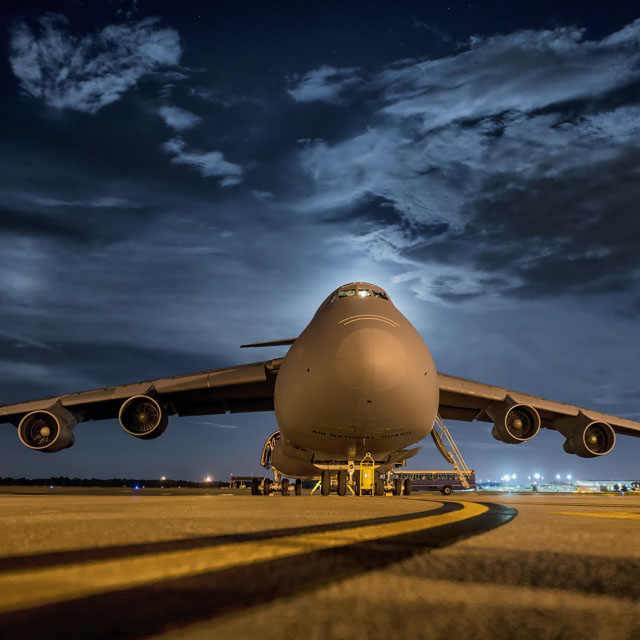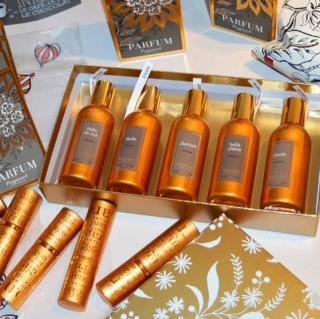 " The illuminated Arc de Triomphe is beautiful. It's true! There are a lot of people near it at night. But to pay 10€ to visit it, I stung my heart out.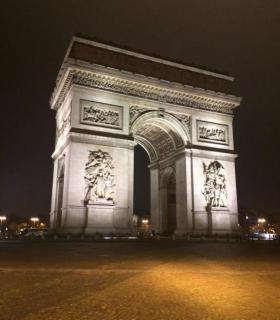 "Disney Park is a huge number of souvenir stores, where the prices are exorbitant, and the quality mostly leaves a lot to be desired! But it's all done so beautifully, and with music.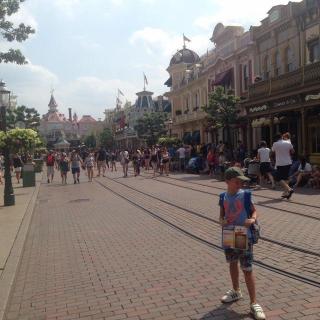 "If you're wondering where else to climb up and look at the city, then you'll have to go to the Arc de Triomphe. There are no queues like at the Eiffel Tower, the view is all over the city and in all directions. On normal days it costs €9.5, but today it's free✌️ "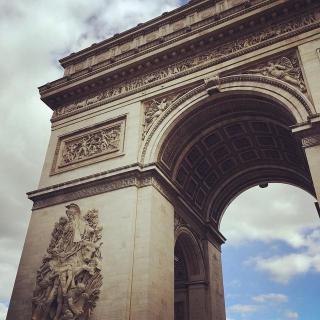 " Half an hour of happiness for €3.5 in the Luxembourg Garden. Ship, stick, fountain – and you run around pushing your sailboat from board to board. "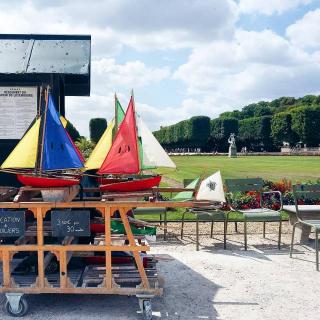 "Visited this place, thought something interesting you can buy from the antique or retro. But the price tag from 70-100 euros from the start made me change my mind. It's more of a big antiques store than a flea market. "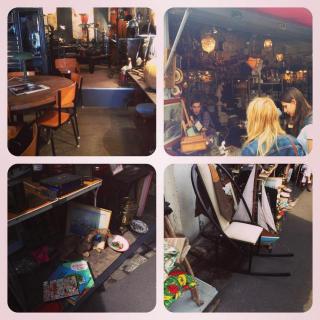 " A bicycle rickshaw and its crew are at your service. For only 50€ per hour he will take you for a ride around the most famous Parisian sights. "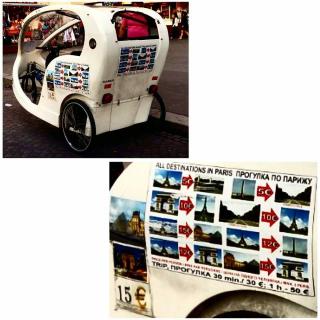 " Cabaret Moulin Rouge. Rumor has it that there are cool shows going on inside, but whether or not that's true no one knows, because there's such a thing as a homeland. um, I mean budget. But the block itself is replete with sex shop signs, live shows, and a totally alarming zapping for 2 euros. By the way, we sat down a few meters away and a random Arab immediately offered to buy herbs.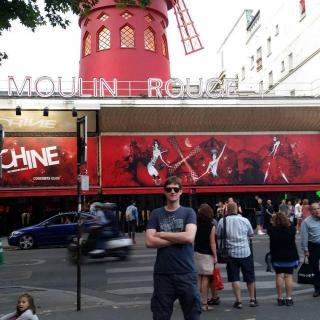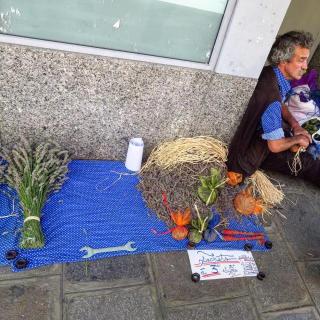 "By the way, there are still four days of summer sales in Paris. Who has not spent all the money – go to the outlet, discounts are really tangible. Bought myself a dress for 40 €. I'll post it sometime. "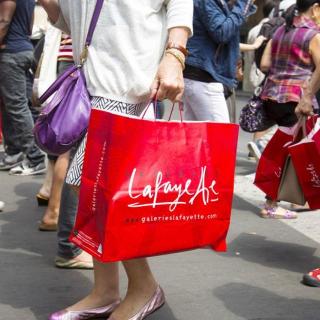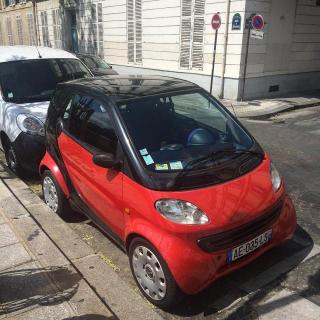 " Lovely for you in the tape. Louvre. If it's crowded, it's at the Joconde. It's a nightmare: nothing to breathe, filthy, crowded with immigrants, prices don't even bite, it's mind-blowing, the food sucks. Let's see how Normandy does over the last ten years. "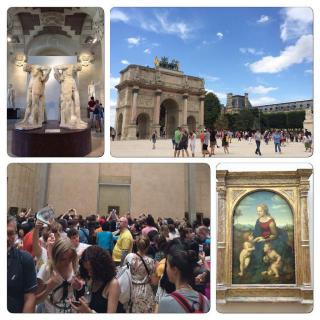 " In Paris, the parking lot under the train station was pre-purchased. St Lazare Paris. About 30€ for 3 days. In comparison, near the hotel the night is 24€. Paris is not very fond of parking. Melon in Europe rests in a multi-level parking lot. Her hotel there is as good as ours. "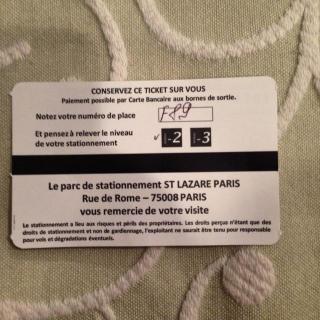 " The inner courtyard of the museum. And that's only a third of the photo. I am very impressed by the organization of spaces in Paris. In any museum you can buy products with the logo of the museum visited, books, magazines, etc. In addition you get a free map of the room (in any museum, even a tiny one). Audioguide for a fee of 2 € to 5 €. The most striking thing was the ubiquitous cafes in the exhibition areas. You came to enjoy art, satisfied your hunger and then continued to re-cultivate. Well, in this case also combining. Excellent conditions for the preservation of paintings, sufficiently ventilated rooms for a large number of visitors. "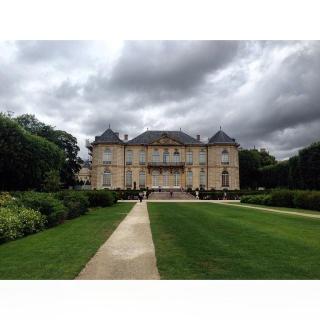 " The view from our window today. Hello, Paris. Why? 69€ in the center of the city. It's clean. Works for us))) "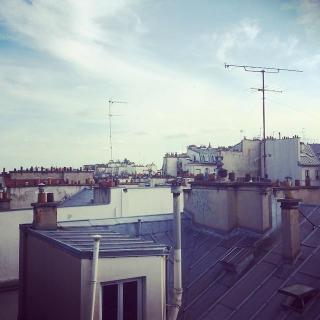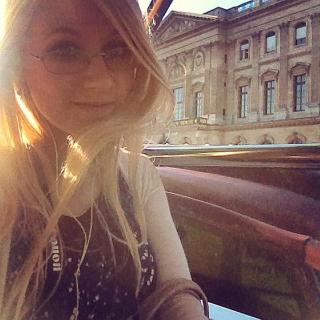 "We were honestly standing in line for 2 hours, in the freezing wind, paying 22,5 € for tickets to go up for 10 minutes. I would not go there a second time. "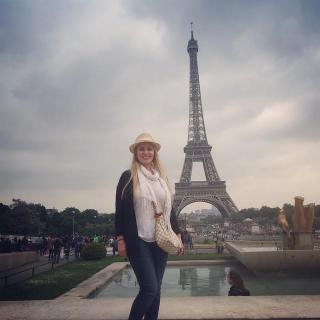 "It's rainy and gloomy in Paris today, but that doesn't stop us from enjoying everything around☺️ just don't buy umbrellas from the Arabs)) our unparalleled pink umbrella for 5€ broke after 10 minutes. )) and I was already dreaming about walking around Moscow with it…) and the food. what great food here ☺️ and the people. so beautiful "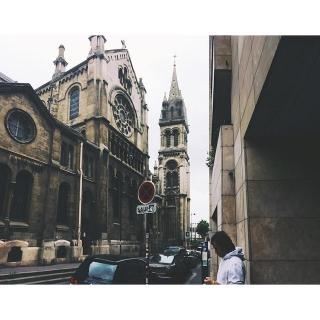 " The cab from the airport to almost the center, where we live, took half an hour and 45 euros. Seemed like a normal price for all that pile of stuff and two normally napped kids after the flight. They had enough energy for a long walk around town afterwards as well. "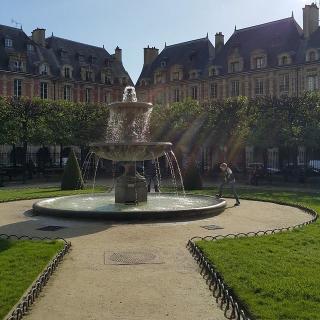 Paris prices
The cheapest meal in Paris (as a meal for one) starts at a price of 805 rubles, although some establishments can go up to 1,005 rubles. Dinner with wine (or similar alcohol) for two is from 3,353 rubles to 4,024 rubles, with an average city check of 3,688 rubles.
Fans of McDonald's burgers (or other fast food restaurants like KFC or Burger King) can get a set of fries for about 469 rubles. You can enjoy a cup of coffee in the morning for 201 rubles, although the price of an average cappuccino can be as low as 268 rubles.
An average one-way trip on public transport (metro, streetcar, or similar) costs an average of 114 rubles, and the same price for a cab is 521 rubles. Examples give an idea of the general level of prices for transport in Paris, but the specific price of the trip depends on the type of transport and the distance (or duration).
It is possible to take a "beer in the room" from the store at the rate of 83 rubles for a bottle, a small can of coke for 167 rubles. Cigarettes in Paris are expensive and cost about 469 rubles for a pack of Marlboro.