Why tourists choose Phu Quoc?


Maroona
Leaning back in a hammock, watching the gentle waves, basking in the rays of the Vietnamese sun, you may wonder why so many people still don't know about Phu Quoc Island. Of course, because it is not as much discussed in the press as the islands of Thailand, and maybe it will not even offer you in the tour company, which you will contact before starting your vacation. And why not – with wild jungle, squeaky white sand and clear azure waters, this island of 600 square kilometers is more than suitable for the picture of paradise, which you probably drew in your head.
The island, which is shaped like South America, is 65 kilometers off the southwestern coast of Vietnam and only 15 kilometers from the coast of Cambodia, which, incidentally, used to own this piece of paradise.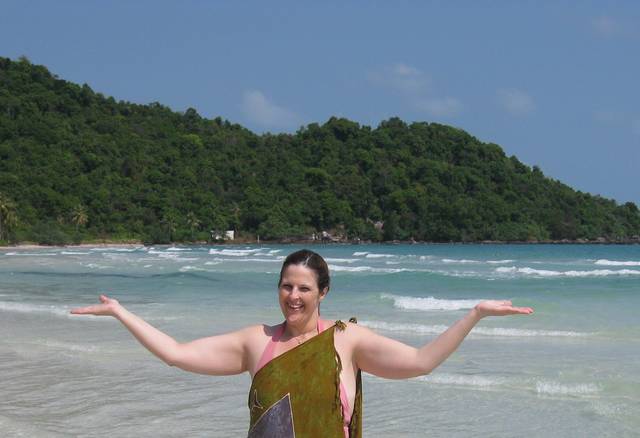 Although the continuous beach line (120 kilometers) stretches along almost the entire length of the west coast of the island, only a small fraction of the beaches are prepared for the rest of tourists. That is, the island, we can say, semi-wild.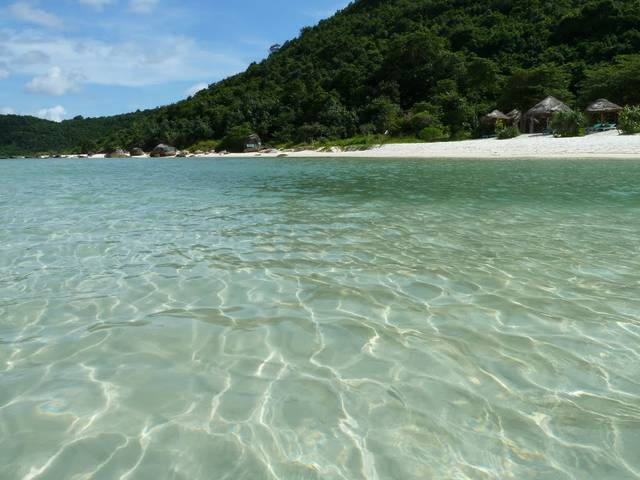 Those who have been to many islands in Southeast Asia (which themselves are just amazing), will still be impressed with Fukuok. The combination of isolated and deserted beaches and the thriving, small but still cleanest and nicest main town of Duong Dong makes Phu Quoc a rare find indeed.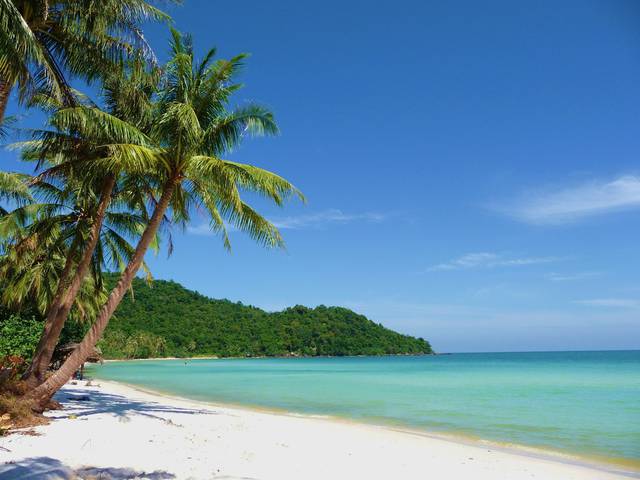 Given the ease of access (a 20-minute flight from Ratze or an hour from Saigon, but you can also take a ferry from Ratze or Hong Chong – also relatively short), this amazing island remains underdeveloped and, one might say, untouched. However, the Vietnamese government has huge plans for the island – they want to make it a tourist attraction with many hotels and entertainment centers. So far, these plans remain unrealized, and hopefully will remain only on paper for the foreseeable future.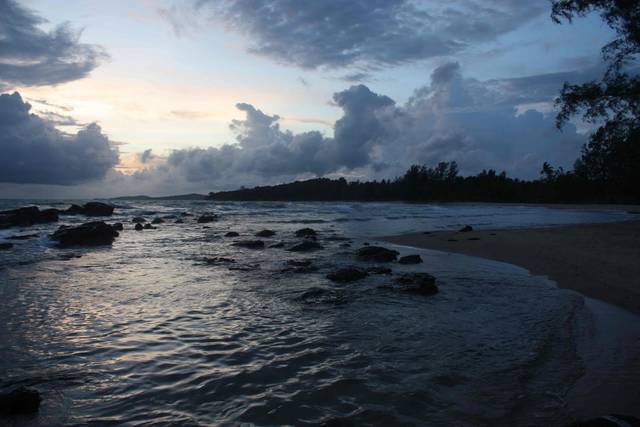 The island has something for everyone – and it really does! Surrounded by over a dozen bays and beaches, with yellow sand and streaks of dazzling white sand, with a scattering of small islets off the south coast (which are wonderful, especially for diving), with damp jungle and several fishing villages – in general, the island has plenty of beautiful places that will make you wish your vacation was endless.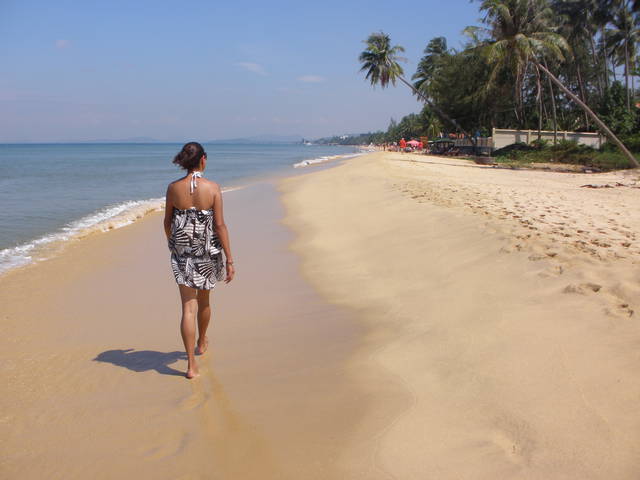 The best beach, according to many, is Long Beach, Long Beach on the west coast of the island. With a few bars, it is comfortable and quiet at the same time. And endless. True, the sand there is a little rougher, but it does not upset anyone at all. Also, this empty beach can be a little dirty with the trash, which the sea brings – but it's not cans, slips, paper, and the typical "sea" garbage – wood and seaweed, although sometimes a couple of plastic bottles swim in. But mostly the water is very clean, very warm and calm, especially in the morning.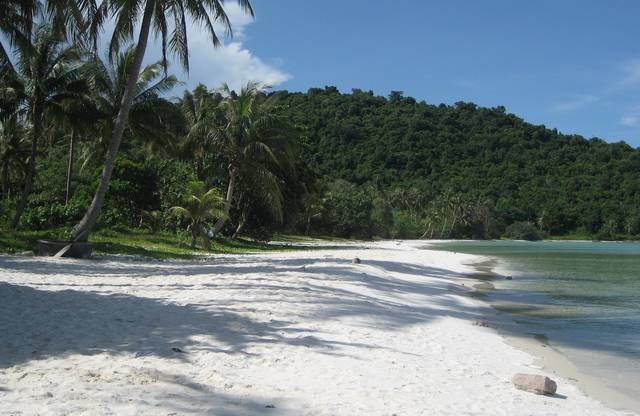 In the south of the island you will find Sao Beach – a beautiful beach with fine white sand and calm waters. People there, strangely enough, are few, in spite of the massive restaurants. However, Sao Beach is not very convenient to get to because of bad roads, so a miserable 30 kilometers can be a misery.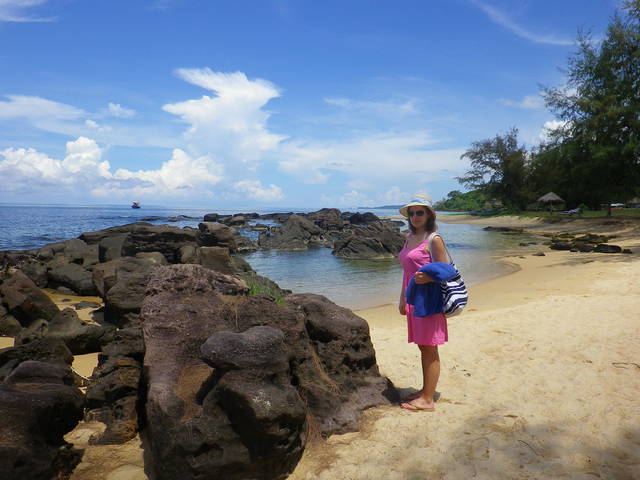 Beach Ong Lang Beachon the west shore is very private and romantic. There are a couple of seafood restaurants, and a couple of bungalows – just a romantic boutique! Moreover, the bungalows are on a gentle hill, and there is a coconut grove nearby. Just a few minutes walk and you will find Bo Resort, followed by a 5-kilometer empty beach, without a single bungalow or bar, and most often without people.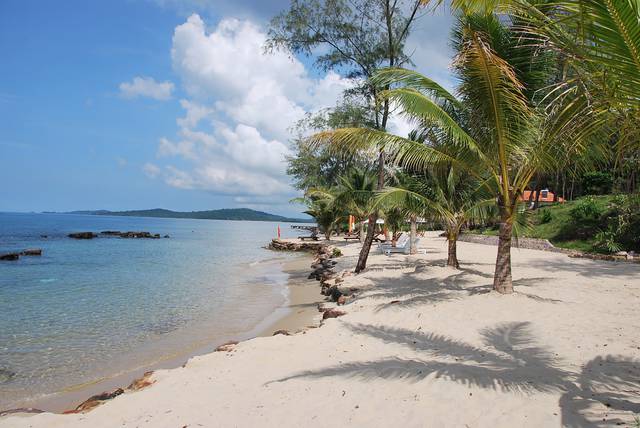 Accommodation options in Fukuoka cover the full spectrum for all budgets. From backpacker guesthouses to rather unusual and beachfront resorts and hotels. But you won't find the luxury hotels you might expect here. But it is not necessary – with such beauty of nature!
It is worth to note that the tourist infrastructure here is also not so good, for example, there is no ideal service, the roads are not ideal either. The beaches here, though paradise, but in some places, the entrance to the sea is simply unbearable. From sports – diving and snorkeling (there are diving-centers), but other kinds of sports are not particularly developed. Well and to lie on the beach and relax to the ends of the hair – the best place, and, it can be done almost all year round, except for October, when the rainy season begins. There are no tsunamis, no violent waves, and no sharks (if anyone cares about that in the first place). So, most guests arriving on the island do nothing but make the daily trek: bungalow-beach-restaurant-beach-bungalow-and so on for the rest of the vacation. So if you like that kind of vacation, welcome to Fukuok.
In contrast to Thailand, accommodation options are of a different standard. There are few bungalows as such, and mainly, brick and stone chalets and something like that. And the hotels are bigger. Sometimes it can be quite difficult to book a room, but during the rainy season you won't have any problems.
If you don't want to be lazy, rent a bike and a map – there is a lot to explore and admire. The beaches are the best on the south end of town. Some beaches on the island are private and belong to the hotels, the rest are free to visit. You can also stop by the pearl plantation. sea pearl plantation – for the joy of the ladies. About how the pearl grows in the shell – there you will be shown clearly, and it's very impressive. You can buy something at the same time, though do not count on low prices.
Also, unlike the islands of Thailand, Fukuoka has a very limited selection of bars and clubs. There are a couple of places where you can drink beer at night, but with a very high probability, you'll be alone.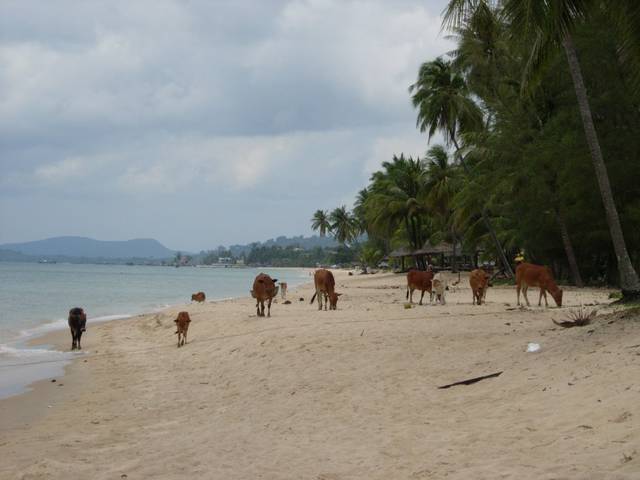 In general, the pluses of the island – a great climate, gorgeous secluded beaches, few tourists, cheap accommodation, romantic views. The best place for honeymoon honeymooners, perhaps! And what pictures you get!
The most active tourists leave Fukuok for dessert – as a final stop in Vietnam before going home, and then get upset that a couple of nights on the island – just not enough. So, make sure ahead of time that you can afford to spend enough time on Phu Quoc.
Why go to Phu Quoc
The island of Phu Quoc is just becoming a tourist center, comparable to the Thai Phuket or Indonesian Bali. Now Phu Quoc is picking up speed, and soon things may change dramatically, but for now it's a great place for vacationing with kids, wintering, working and business. And I'll tell you why.
Pros
Climate
Fukuoka has a great climate. Even during the rainy season, it's not bad, but the best time is from December to May. Just when in Russia the winter is fierce, here the summer is mild. Unlike in Phuket, it is not stuffy here. The air is dry and very sunny. From January to March we almost do not turn on the air conditioner, there is no such a need, even on the contrary – at night it can be cool and sleep comfortably under a thin blanket. But it's even great. During the day it is sunny and hot, and in the evening you can sit on the veranda in a sweatshirt and make meat on the grill. Compared to other tropics in Vietnam, the climate is more temperate, and since Fukuoka has no marshy deltas, and the island is well ventilated, there is no humidity, which is inherent in the jungle. Read my detailed article about the weather in Fukuoka in different seasons, and when it is better to go on vacation – read about the climate on the island.
Groceries
On the costs of living we will talk below, but now about the food. The food on Fukuoka is excellent, despite the fact that a lot of imported. Only black pepper is grown commercially on the island, but fresh vegetables, fruits, and fish are always available on the market. Raw eaters and vegetarians will like the island, you can always find: dense tomatoes, two dozen kinds of greens, potatoes, beets, zucchini, cucumbers, various cabbage and a dozen unknown plants, the appearance of resembling turnips and radishes. It is more difficult with fruits: they are almost all imported, but the prices do not bite. There are a lot of mangoes, coconuts, different sorts of bananas and mandarins, exotic papaya, persimmon, sappodilla, jackfruit and others. The familiar apples, pears and grapes are imported from China. Look for prices of popular products in this section.
Beaches
Fukuoka has 140 kilometers of beaches, we can say that the entire island is one big beach. But you should not swim everywhere, the reason for this garbage, but the minuses of Fukuoka I'll write below, now only about the positive aspects. The beaches are sandy, with a smooth slope to the water, if there are waves on the west coast, there are none on the east – very convenient. We visited a half dozen beaches and made our rating of the best. Read more about the beaches of Fukuoka in this article.
Low prices
This is probably the main reason to choose Vietnam, where prices at popular resorts have not yet broken even with the rapid growth of the dollar against the ruble. On Fukuoka can live quite well for two people spending a month for a modest $ 1,000 – $ 1,200. I wrote a small financial report, where I took apart the spending in January and February 2018.Be sure to post it in the column "About Life". You can relate your expectations and our expenses to understand what to expect. During a tourist vacation, of course, there are more expenses than during the winter: we have to visit all the excursions, try all the delicacies, and buy souvenirs. We smeared these activities for half a year. I also recommend that you familiarize yourself with the prices of food in local stores, especially alcohol. Some products are twice cheaper, such as vegetables, fruit, fish, and those that are imported from abroad at the same price as in Russia. In general, read the post.
Work and business
Vietnam is the leader among Asian countries in attracting investment. If you go to Saigon, you see that it is one big construction site, even the smog smells of money. In Phu Quoc, too, big capital has come in, the whole western part of the coast is being developed. If you take the road from Ant Hoi to Zuong Dong along the Paris Highway, you can see the scale of construction. There are kilometers of hotels, apartments, offices, and cottages being built. And all this business needs staff. If your English is good and you want to work, it's no problem to find a job. We met a dozen people who are either working or have started a business on the island. Cafes and bars, liquor stores, laundromats, a hotel – that's what the guys are opening.
Wintering and with kids.
On the one hand, Fukuok is ideal for holidays with children. Good beaches with shallow bottoms, natural products, modern European medical center, a huge amusement park. But some moms say it is boring and there is not enough infrastructure: no large park for walking and playgrounds. But this industry is also beginning to develop. Several children's centers have appeared, there are services of Russian- and English-speaking nurses. In any case, those who vacation here with the whole family remain very satisfied. Our friends Zhenya and Masha came for a month with their two sons – 2 and 6 years old. The older got rid of atopic dermatitis, which tortured in St. Petersburg. More information about Fukuok for children read in future articles: there will be a list of children's stores, pharmacies, an overview of the hospital, nanny contacts and other useful information.
Buying real estate
Here everything is more complicated. In Vietnam, in 2015, a new Housing Code came into force, under which the rules of buying land and real estate have become stricter, but more transparent. As soon as I write an article – be sure to post it, stay tuned for updates.
Disadvantages of Fukuoka
Every barrel of honey has a spoon of tint, there is no ideal places, and Fukuok is no exception. True, the existing advantages more than offset the disadvantages of Fukuok.
Infrastructure
Very little has not yet been developed. The main roads are paved, but if you pull off to the side you will get on the gravel, and to many attractions, such as the beach with starfish and others can only get so. The flip side of the tourist boom is the constant construction in many areas. Not that it would interfere, but it is necessary to choose carefully a hotel or a house, so as not to be a neighbor of the brigade with perforators.
Population
In Fukuoka five years ago there were only 100,000 people, for example Bali has 4 million, and the size of the island is similar! The population is now close to 200,000, and this growth has been prompted by the development of tourism. They say that there are crooks and thefts, but we have not come across them and hopefully we won't. Read about how to be cheated in Vietnam in this selection of scams.
Entertainment and shopping
Phu Quoc has a lot to look forward to. The island has a huge number of bars, cafes and restaurants, there is a gym, karaoke and massage parlors. But if you live in the city, and not in one of the fashionable resorts like Wynperl, Marriot or Shell, what would entertain without going to eat – you need to work hard. There's no movie theater or big mall in town. For those who came for 10 -15 days it is not a problem: there are enough sights to see. But those who are used to the rhythm of the big city in a month or two may get bored, it all depends on your requirements. About nightlife, entertainment and activities on the island, read in future articles
Price Increase.
Yes – yes, price increases. Those who came here in 2016 say that the prices of many necessary things have risen. So in 2016 renting a motorcycle cost 90,000 to 100,000 per day, in 2018 the standard tax is already 150,000. The cost of renting cabins and bungalows has gone up, especially in places popular with foreigners like Long Beach and Ong Lang. We are lucky, we rent a bungalow with a large room and bathroom with a small kitchen for VND4 million a month (less than $200).
Garbage
Many Asian cultures are indifferent to trash, but with local Vietnamese it has become a trademark. Several beaches are not even worth going to, as the locals have fouled it to the point of obscenity. The city and tourist spots are cleaned up, but the wild beaches leave a lot to be desired. With the development of tourism, local managers will understand the importance of cleaning and things will get better. The more so that the luxury hotels and resorts clean their territory. A selection of the 7 best beaches on the island can be found in this article.
Instead of the conclusion
Fukuok is a very promising place for business and tourism, and with each year is becoming more and more attractive to both vacationers and winterers. Come, you are welcome here!