Rest in Georgia in July
In mid-summer, the Georgian resorts are hot. The air in the mountains smells of Alpine herbs, and on the coast – the sea, strong coffee and freshly baked bread – puri. Find out what the weather is like in Georgia in July and if you should go on vacation in 2022.
Content:
Air temperature.
Georgia receives a lot of tourists in July. Everyone wants to relax by the sea and get a tan! The beautiful sunny weather is relaxing and enjoyable. Add to this the traditional Georgian hospitality, delicious food, and great wine, and you know why so many people are drawn to Georgia.
The days are long and sunny. The July sun is very active and it is not hard to get burnt! Be sure to sunbathe in the morning and evening hours, and be sure to use sunscreen with a high degree of protection. Learn how to get a nice tan at the sea.
Air temperature by day and night in July:
| | | |
| --- | --- | --- |
| Resort | t day | No. of rainy days |
| Tbilisi | +28°С | 1 |
| Batumi | +24°С | 2 |
| Borjomi | +22°С | 4 |
| Kutaisi | +25°С | 1 |
| Gudauri | +24°С | 5 |
Victor: "I was in Batumi in July. The weather was +25 . +27°С. It rained a couple of days, and then the temperature dropped to +22°С. The nights are a little bit cool, very nice walks in the evenings, when the temperature is +20 . +22°С".
Alexandra Vilnova: "July in Tbilisi is the most comfortable period of summer. It is sunny, warm and dry. It may be hot towards the end of the month".
Water temperature
The coastline of Georgia stretches along the Black Sea for 308 km. The water temperature at all resorts is about the same. In July in Georgia the sea warms up to +25. +26°С.
On the coast there are pebble beaches, sandy beaches and even beaches with curative magnetic sand. According to tourists, the cleanest sea water in the village of Sarpi, on the border with Turkey.
The water temperature in July:
| | |
| --- | --- |
| When | water temperature |
| Beginning of July | +23°С |
| Middle of July | +25°С |
| End of July | +26°С |
Igor Posokhin: "Magnetite is a sandy beach with magnetic sand. For swimming with children – an ideal place, it's definitely worth visiting! The black sand is very unusual.
Inga: "We had a lot of swimming, the water was very comfortable, somewhere around +26 ° C. We had a good weather and sunny weather during the whole trip. Good weather accompanied us during the whole vacation.
How to dress for the weather
Summer heat can only be endured in light beach wear. Stock up on shorts, sundresses, dresses, tops and shirts with short sleeves. Put sunglasses, light hats, sandals and beach shoes in your luggage. For a vacation at seaside resorts in Georgia, this is enough.
For evening walks by the sea grab a sweater, and for day trips to the mountains – a raincoat and windbreaker. In Gudauri at night time it may get cold up to +5. +6°С. If you plan to spend your vacation in the mountains, take a jacket and trekking boots.
Sweetlips55: "Almost constantly went in a dress, as it was 30 degrees hot.
Precipitation and Hurricanes
According to tourist reviews, the weather in Georgia in July is beautiful. Adjara is the wettest region of this country. In Batumi, 19 days are sunny, and the rest – with variable cloudiness. It rains for 2-3 days and you get less than 40mm of rainfall per month. After the rains the temperature drops a little, so vacationers enjoy the freshness.
In July in Georgia, the sea is calm, storms are infrequent. Excellent conditions for swimming, sea walks and fishing!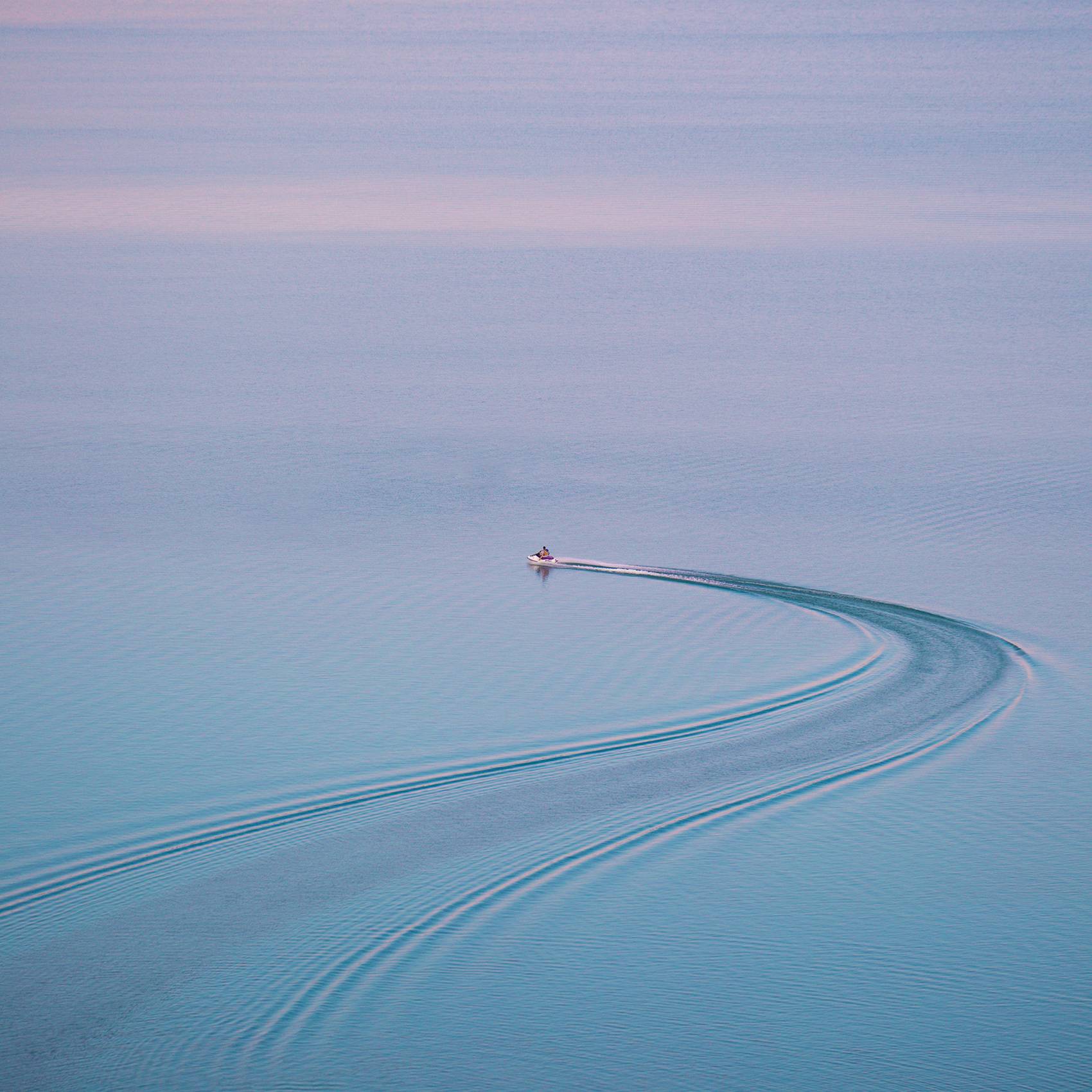 Quiet and calm Tbilisi reservoir (Photo: @vruyr / unsplash.com)
Prices for vacations in Georgia in July 2022
Rumguru – hotels with discounts.
Since the summer of 2019, direct flights from Russia to Georgia have been canceled. Tourists have to change flights. It is more convenient to fly via Minsk or Istanbul to the seaside resorts of Batumi and the surrounding area. Round-trip tickets from Moscow start at 19500 rubles.
Renting a house in July 2022 in Georgia is not expensive. For double room in a guesthouse or budget hotel you will pay only 600-900 rubles per night. A room in a 3* hotel costs from 1000 rubles. Apartments with a kitchen on the first line to the sea in Batumi in July will cost from 1000 to 1800 rubles.
Check out the current prices for accommodation in Georgia in July:
| | |
| --- | --- |
| Tbilisi | Find accommodation → |
| Batumi | Find accommodation → |
| Borjomi | Find accommodation → |
| Kutaisi | Find accommodation → |
| Gudauri | Find accommodation → |
Holidays with children in July
Georgia is an interesting country for a trip with a child. A trip to the ancient Sakartvelo is bathing in the warm sea, walking along the coast and excursions. Although there are no all-inclusive hotels, animation and large water parks, holidays in Georgia with children like active tourists.
If you come to Tbilisi, see the ancient fortress Narikala with the whole family. During a vacation at sea, plan excursions to the fortress of Gonio and Petra. With older children, go up to the observation points in the mountains and visit the national parks of Georgia.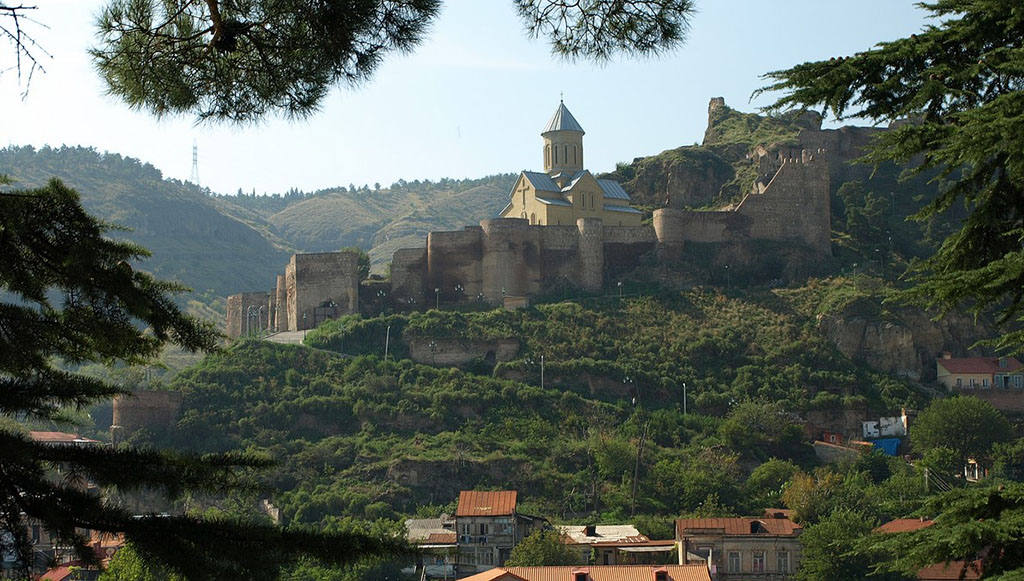 The Narikala fortress complex in Old Tbilisi (Photo: varfolomeev / flickr.com)
Is it worth to spend July in Georgia?
Summer weather provides an opportunity to enjoy the sunny warmth, beach vacation and beautiful Georgian nature. In July in Georgia, it is nice to hike in the mountains, go on wine tours, and see ancient temples and fortresses. In mid-summer, Georgian markets are bursting with inexpensive fruits and berries.
The main disadvantage of vacationing in Georgia in July 2022 is the hot weather. Not everyone is prepared to endure the summer heat and high humidity. However, this country is not homogeneous in terms of climatic conditions. If you're sick of the heat in Batumi or Tbilisi, go to the mountains – Borjomi. There is always a fresh breeze and a few degrees cooler.
Georgia in July – Leisure and weather
We tell on Tour-Calendar how comfortable it is to rest on the Black Sea coast in July in Georgia, whether the sea is warmed up, what the prices in the middle of summer and whether there are too many vacationers. Also you can find out if it is worth to go on vacation in the mountains and in the capital of Georgia – Tbilisi.
July weather in Georgia
The weather in Georgia in July is ideal for anyone who loves a varied holiday: from sightseeing tours to unity with nature in the mountains, from learning about the original Georgian culture to relaxing on the local beaches.
The weather in Tbilisi in mid-summer can already be hot. By the way, you may need sunscreen and light clothing: during the day it can be up to +30 ° C and above. There is almost no precipitation. It's cooler at night: +15. +16 ° C – a pleasant contrast to the midday heat.
The mountains, as it usually happens, are not afraid of heat. Daytime temperature in the increasingly popular Gudauri is +19 … +23 °С. For hiking to the summits you will need more or less warm clothes and autumn shoes: at nights it's cold up to +5. +7 ° C, sometimes as low as 0 ° C. Precipitation occurs, so an umbrella may also come in handy. In Bakuriani it is a bit warmer and there is less rainfall.
The weather in Batumi and all along the seaside is quite hot: up to +28. +30 ° C, and the water temperature is already usually excellent for swimming.
Warm and sunny in June in Kutaisi and Tskaltubo with its famous among tourists karst caves.
What to do in Georgia in July?
Everyone loves July in Georgia: lovers of lounging by the sea on the beach, connoisseurs of active pastime, those who like to go on excursions and sightseeing.
Beach Holiday
The Black Sea in Georgia in July is usually quite warm – +21. +24 °С. The vacation and vacations are in full swing and everyone wants to go to the beaches, so you have to fight for a place in the sun in some places. And there are a lot of holidaymakers both on city equipped, and on some wild beaches.
Note that the Black Sea at the resorts of Georgia is not at all shallow and the depth drops relatively quickly (a couple of meters can be deep), which is not very convenient for families with children. Where to go in Georgia on a beach holiday in July? Batumi – the most comfortable resort with a lot of entertainment, but also with the disadvantages of a big city: a lot of vacationers, the water is not as clean as in smaller resorts like Kobuleti, Gonio, Ureki or Kvariati. Read more about the best beaches and resorts in Georgia.
Mountain vacations
In July, the mountains are sunny and not hot – a great way to improve your health. If you have a desire, you can take a course of treatment in the local health centers. The most famous balneological resort of Georgia – Borjomi – is situated surrounded by pine forests in the valley of the river Kura. Its major therapeutic factors are the healing climate and mineral water.
At the ski resort Bakuriani in July is very quiet and peaceful. Winter ski elevators turn into romantic excursion vehicles, and mountain slopes into places for hiking
Let's pay attention to the peculiarity of summer weather in the mountainous areas – big temperature differences up to 15-25 degrees, cloudiness and frequent rains are possible.
Entertainment and excursions
Georgia is a real mecca for active travelers. There are sights all around: right in the resorts, near them and in general away from the places where most tourists spend their holidays. But even if you're not a fan of long trips, there will be something interesting nearby, especially in Tbilisi and Batumi.
If you want to see something special, you have to leave the resorts. You can visit Samtskhe-Javakheti, where one of the oldest Georgian fortresses Khertvisi and Vardzia cave monastery is located. Also interesting is cave city Uplistsikhi, which emerged in the second-first millennium BC. You can go to Tusheti, which was the filming site of the movie "Mimino, or go to Dmanisi, where the remains of the "man of Georgia" were discovered.
Fruit in Georgia in July
In July the strawberries, sweet cherries, strawberries leave, and pears, plums, apples, figs, peaches, apricots appear – it is high time to eat ripe and juicy fruits and get enough vitamins!