Holidays in Georgia in winter – 2022: prices, where to go and tips
Winter vacations in Georgia, and why not! Georgian winter is much warmer than in Moscow. There are more sunny days. The purest mountain air is healing for the body and for the soul. And the thermal springs and therapeutic mud can be used all year round.
Winter Weather in Georgia
The weather in December is quite warm, in Tbilisi and Batumi about +12 °C. At night there can be frosts. The sea is already cold, the water temperature drops to +8 °C. In the mountains of Gudauri the daytime temperature is around -4 °C.
In January and February in Gudauri the average monthly temperature is already -6 °C during the day and -9 °C at night. To the delight of fans of winter sports, a lot of snow falls. On the coast during this time, life is quiet, and the daytime temperature stays around +10 °C.
Things to do on holiday in January
It's peak ski season in the mountains. The ski resorts have great hotels and pistes for all skill levels.
If you're not a fan of skiing, it's worth visiting Tbilisi and take part in the Alilo Carnival. The parade participants walk through the center of the city and collect gifts from all comers (fruits, toys, souvenirs, various items). After the procession, they are distributed to orphanages and hospitals. You can go on a gastronomic journey and eat traditional cuisine in restaurants.
How to get to Georgia from Moscow
There are several options to get to Georgia in the winter. Let's look at the two most realistic:
The easiest way to get to Georgia is by plane. Flights from Moscow fly to Tbilisi, Kutaisi and Batumi. The direct flight Moscow-Tbilisi with Ural Airlines takes 2 hours and 30 minutes and costs from 10200 rubles round trip.
Using a plane and a car. The flight Moscow – Vladikavkaz. You can still find tickets for 3260 rubles with luggage for a round-trip flight. Flights are operated by the low-cost airline "Pobeda". Closer to the New Year, the cost of the flight will increase several times.
Find airline tickets:
Next, there are three options to choose from:
By car with hitchhikers from the website Bla Bla Car . The cost of a car to Tbilisi is about 500 rubles.
Cab – from 1500 rubles. We recommend using Kiwitaxi, the service will be especially relevant after a long flight with tired children, a large group of friends, heavy luggage. After booking you will be waiting at the airport with a sign with your name on it without delay.
By shuttle company "TransCaucasus". It departs at 7 am, you will need to spend the night in Vladikavkaz. The ticket costs 800 roubles. You will spend almost 5 hours on the road.
The Vladikavkaz airport is the closest to Tbilisi. The way from Sochi through Abkhazia is not safe, if at all possible. Moving by bus or train from Moscow is also possible, but will take a lot of time and money.
Where to go for a winter vacation in Georgia
Winter Georgia attracts ski resorts and balneal resorts. Here tend to lovers of mountain climbing, romance and artists. On the Black Sea coast go family couples.
Recreation at ski resorts
Where to vacation in Georgia in the winter depends on your preferences. But when it comes to the question of where to vacation in Georgia for skiing, you can confidently advise a few best places. Three ski resorts: Bakuriani, Gudauri and Khatsvali, are known not only in the state. Here are good slopes, and recreation prices are lower than in similar resorts in southern Russia.
Prices for ski holidays in Georgia start from 78550 rubles for a tour for two in a 3-star hotel. Accommodation for 7 nights.
In Gudauri. Interesting design of the hotel, in all rooms – panoramic windows. There is a rope road nearby. The hotel has a bar and restaurant with European and Georgian cuisine. It is not allowed to bring pets to the hotel. A small hotel in Gudauri. The cost of the tour for two people is 89670 rubles. Modern hotel with a large terrace and mountain view. Tourists note the cozy rooms and quality service. The restaurant serves local and European cuisine. The cost of the tour with accommodation and breakfast in this hotel starts from 106281 rubles for two. The modern interior of the hotel, a lot of entertainment. Free Wi – Fi. Nearby is a ropeway.
Tours to Georgia from Moscow
Tour operators offer several types of winter tours:
With recreation at the seaside.
Health tours to the mountains and mineral springs. At your service mineral springs Borjomi and Sairme, thermal waters Tskhaltubo and Akhaltsikhe and magnetic sands of Ureki.
Tours to visit the capital of Georgia.
The cost of recreation in Georgia for two people for the winter starts with 35712 rubles. This is if you buy a tour for 7 nights with accommodation in a good hotel 3 * by the sea in Batumi (Iberia Hotel). In the city itself there is a water park, dolphinarium and a lot of entertainment. Such tours are suitable for active and family vacation. It is better to book the tour in advance. During the New Year holidays the prices will rise sharply.
Mountainous area in Gudauri
Prices for vacations in Georgia in winter 2022
You may want to plan your vacation in Georgia by yourself. This is quite possible. You can book a hotel or apartment on the popular website Booking.com. You can eat at cafes or groceries from the store ( from the market).
Rent a house
The minimum price for accommodation, during the New Year holidays, in the mountain resort Kazbegi in the guest house Tower. A room for two for 7 nights will cost you 16461 rubles. The price includes an airport shuttle, free Wi-Fi and parking. The front desk works 24 hours a day.
During the same period, you can book a hotel at the seaside from 39534 rubles per room. For example, at Divan Suites Batumi 5*. This is a new hotel in the center of Batumi, one of the best on the coast. The hotel has a spa, a restaurant of Georgian and Turkish cuisine. The sea is just 5 minutes away on foot.
Prices for food
Prices in Georgia for food are quite acceptable, but for some products the cost is higher. For example, dairy products. Simply because few people in Georgia are engaged in raising cows. There are few fish products, and those that are available are expensive.
The cost of products (GEL):
juices (1 liter) – 3.3
bread – from 1
dairy products – from 3
cheese (1 kg) – 10.8
sausage (1 kg) – 12.8
eggs (10 units) – 3.15
oatmeal (0.5 kg) – 2.35
cookie (100 g) – 1
sunflower oil (1 liter) – 3
ice cream – from 0.6
vegetables (1 kg) – 1
grapes (1 kg) – 7.5
oranges (1 kg) – 3
wine – 6.8
How much it costs to eat in a cafe:
Meat dishes – 3.6 – 6
Chicken or mushroom dishes – 3.6 – 4.6
Salads – 2.7 – 4.3
Khachapuri – 3.05
French fries – 2.7
Coffee – 2.1
Tea – 1.5
Juices – 2.6
For one GEL you have to pay approximately 24 rubles at the time of publication.
The Road to the Mountains
Entertainment and things to see
Winter in Georgia is mild and sunny. It can hardly interfere with your vacation or cancel a tasting of Georgian cuisine. Tasting wine or Georgian cheese can be a separate topic in your trip.
You can make a whole list when planning your itinerary:
Tbilisi . It is worth a walk through the Old Town, learning about the history of Tiflis and taking the cable car up to the Narikala fortress. Visit Abanotubani, the miraculous sulfur baths, ride the Tbilisi cable car and visit the Mtatsminda amusement park. All the best places in Tbilisi.
Truso . A gorge with many volcanic lakes, geysers and mineral springs. Among the mountain villages on the background of glaciers rise mysterious towers of ancient Svans. Here you can have a picnic and taste the local beer.
Georgian Military Road . The road passes through the chain of Caucasus mountains and gorges through the Cross Pass, past the former residence of the Princes of Aragvet – Ananuri complex, bypassing the temples and medieval towers above Lake Zhinvali.
The ancient capital of Mtskheta . Worth an excursion to the city-museum of Mtskheta and the medieval castle of Anauri. The road will pass along the Caucasus Range and the mountain river Aragvi.
Caucasus ridge
Sighnaghi . A small cozy town in the Alazani Valley. The first Georgian winery appeared here.
Gergeti . It is worth a pilgrimage trip to the ancient temple in Gergeti, climbing to a height of 2170 meters. The temple overlooks the valley of the Terek River.
Uplistsikhe . This is the center of paganism of pre-Christian Georgia – Uplistsikhe cave city.
Chiatura . A small town with a network of free cable cars in the gorge of the Quirila River. On one of the cliffs – the inaccessible monastery of Katsakhi.
Kazbek Peak . Journey on mountain roads to the foot of one of the highest peaks of the Caucasus. The height of the peak is 5047 meters above sea level.
Borjomi and the fortress of Akhaltsikhe . Worth visiting this resort town in the Borjomi Gorge, the birthplace of the mineral water of the same name.
Vardzija. There is an 8-storey cave city of 600 rooms, which was built in the times of queen Tamara. There is a hot spring nearby.
Ushguli. This is the highest mountain village in Europe. The Svan community is located 46 km from Mestia. From there you can take a hiking route to Shkhara glacier and Laptar pass.
A complete list of all the main and interesting places in Georgia in our separate review with photos and descriptions. If you are used to sightseeing with excursions, we recommend to use author programs, which will be most informative for you and your children, all offers and prices can be viewed on Tripster.ru.
My name is Sergei, and I work as a guide in various cities in Europe, Asia, eastern Russia, also work as a manager in a large travel agency. During his travels, I experienced a lot of emotions, learned useful information about rest and prices, saw unique places, which I hasten to share on the pages of my blog about tourism.
How to rest in Georgia in winter: 10 ideas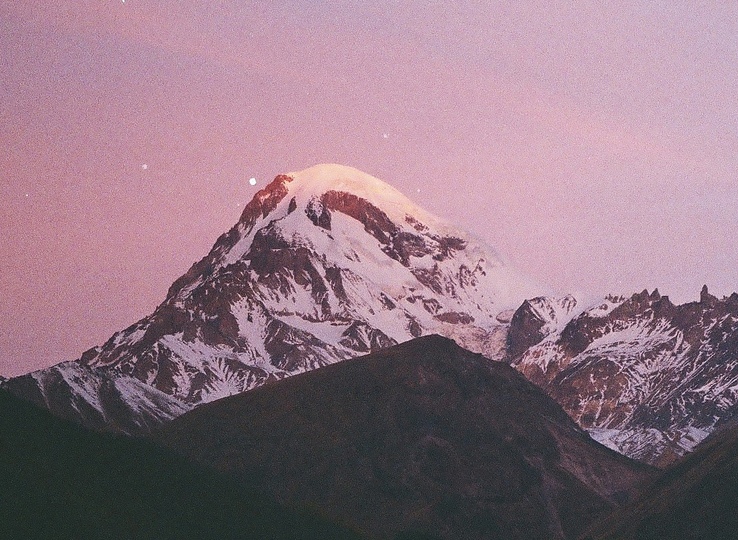 Ideas on how to vacation in Georgia in the winter months – where to go, what to see and what to do. Prices for winter 2021-2022. Weather in December, January and February. Reviews of tourists about the country.
In winter Georgia is quite warm: the seaside areas have a mild subtropical climate, temperatures rarely drop below freezing, while the mountains are snowy and humid. At this time, you can't rest on the coast, but you can visit the ancient cave cities and numerous temples, parks and botanical gardens, museums and wineries. And if you want some winter fun with skiing and sledging, you can go to one of the popular ski resorts in Georgia, and in the evenings treat yourself to delicious khinkali and other Georgian delicacies.
Exchange rate: 1 Georgian lari (GEL) ≈ 19 RUB.
Content:
Prices in Georgia in winter 2021-2022
Approximate prices for hotels, food, tours and excursions in Georgia in winter:
The cost of living in a 3* hotel in Tbilisi costs from 2500 rubles. You can rent an apartment from 2000 rubles per day.
A good lunch costs 10-15 lari (230-350 rubles).
Bake at the street 1,5-2 GEL (35-45 rubles).
Excursions 25-50 lari (550-1100 rubles).
Entrance tickets to museums and caves from 6 to 15 lari (130-350 rubles).
Tours to Georgia in winter can be bought from 40 thousand rubles for two people for 7 nights. Look for them on Level.Travel.
See how much hotels in Georgia cost in 2022:
| | | |
| --- | --- | --- |
| Type | Price per day (in rubles) | Example |
| Guest house in Batumi | from $20 | Gonio guest house |
| Guest house in the center of Tbilisi | from 23 $ | Old District |
| 3* Hotel with breakfasts in the center of Tbilisi | from $50 | New Metekhi 3* |
| Hotel 3* by the sea in Batumi | from $40 | Hotel Pervaya Liniya 3* |
| 5* Hotel by the Sea in Batumi | from 90 $ | JRW Welmond Hotel & Casino 5* |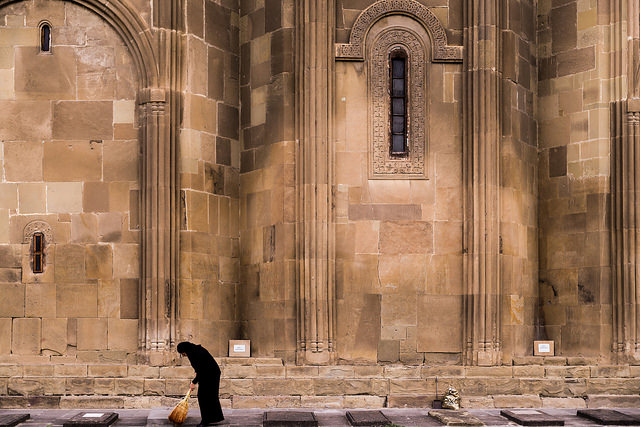 (Photo: Stefano Bolognini / flickr.com / License CC BY-SA 2.0)
Weather in Georgia in December, January and February
In winter in Georgia, of course, it is warmer than in Russia. Snow is not frequent, mostly it is only in the mountains. Average temperature in Tbilisi is +3 in December and February and +2°C in January. Usually the daytime temperature is around +5. 7°C during the day and can drop to zero at night. From time to time it can rain and there can be freezing winds.
Going on a trip to Georgia in winter is definitely worthwhile to take a good jacket and a hat. It is also recommended to clarify when booking a hotel, whether it has heating.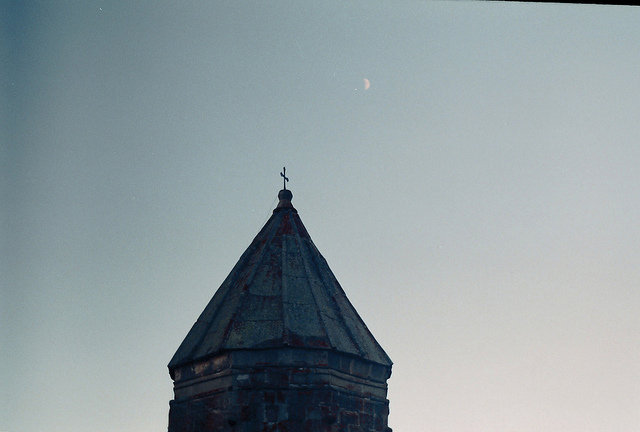 (Photo: sergi2190 / flickr.com / CC BY-NC 2.0 license)
Where to go in Georgia in Winter
Tbilisi
Those traveling to Georgia for the first time should definitely visit its capital city. Tbilisi is good at any time of the year – ancient temples look quite unusual in company with the latest futuristic constructions. Usually tourists see the Cathedral of the Holy Trinity, the church on a rock above the Kura River and the monument to King Vakhtang I Gorgasali in the Metekhi district.
If you are lucky with the weather, you can walk in the Rike Park, admire the glass Peace Bridge and the equally original state Theater of Music and Drama. Drive to the statue of the Mother of Kartli and see the Narikala Fortress, or climb to the observation deck.
Zion Cathedral in Tbilisi. Photo: Diego_Delso / flickr.com.
2. Mtskheta
For lovers of churches and monasteries, we recommend on a winter vacation in Georgia to visit the ancient town of Mtskheta, which is located near Tbilisi. It has no equal in the country for the number of religious temples. The heart of the city is the Svetitskhoveli Cathedral, built in the 11th century. On the outskirts of Mtskheta there is a temple Jari, Nichbisi fortress, monasteries and ancient settlement Armazi with an observation deck, where you can see the city and the confluence of the rivers Kura and Aragvi. Nearby is the Chateau Mukhrani winery.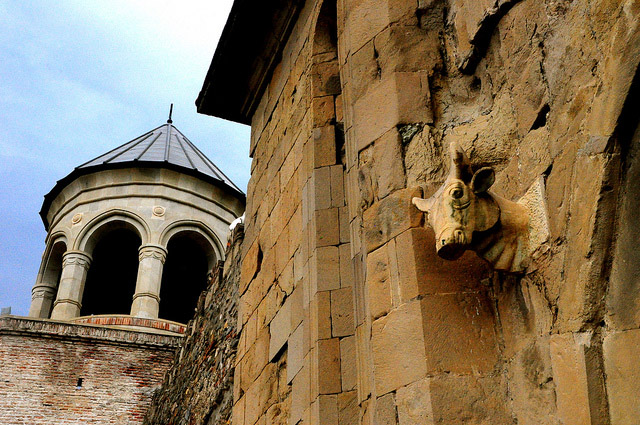 (Photo: Panegyrics of Granovetter / flickr.com / License CC BY-SA 2.0)
3. Caves near Kutaisi
While vacationing in Georgia, be sure to go to Prometheus Karst Cave (Kumistavi) – you can get there from the city of Kutaisi. In winter the cave is open from 10 to 17, except Mondays. From its territory you can see Mount Khvamli, where Prometheus was chained. For visitors there are 15 tour areas with a total length of 1060 m. The original lighting makes the cave even more mysterious. At 10 km from Kutaisi is another group of caves – Sataplia. Here there is a pavilion with footprints of dinosaurs. It is open from 10 to 17, except Tuesday.
4. Kakheti – wineries and the city of love
Kakheti is very convenient to visit from Tbilisi, in one day you can see the main sights of the region. Of special interest is the small town of Sighnaghi, an example of Georgian-Italian architecture. Small neat houses, narrow streets, paving stones on the roads, and beautiful views of the Alazan valley. It has become a favorite place for all romantics and lovers, and the town is especially nice in the evening.
Wine lovers can visit famous wineries and wine cellars of Kakheti. The richest winemaking region is Alazani valley. You can buy a special tasting tour or go on your own.
(Photo: unsplash.com / @anastsiia_voiten)
5. Medieval cave town of Vardzia
This is a cave city-monastery located 100 km from Borjomi. The main part of the complex was built during the time of George III and Queen Tamara, in the 12-13th centuries. There are 600 objects – temples, baths, refectories – everything that survived the earthquake and the damage caused by the Turkish and Iranian invaders.
The city once had a population of 20 thousand people, all the buildings are made inside the mountain, towering over the bank of the river Kura at the level of an 8-storey building. In the center of Vardzia is the main temple of the city – the Church of the Assumption, painted with ancient frescoes. At the end of the 80s of the last century the monastery became active again.
Attention: the complex is located in the mountains, so in winter the access roads may be difficult. In addition, some sites may be closed to the public for the safety of tourists. In winter, there are few visitors, so the walk will be very interesting.
Atmospheric video about the Vardzia caves:
What to see and do in Georgia in winter
Winter vacations in Georgia are varied: you can have fun sightseeing, skiing, drinking mineral water, taking sulfur baths, walking through gardens and parks, buying souvenirs at the markets, and discovering new Georgian dishes. But we should probably start with the capital.
1. Visit the famous sulfur baths in Tbilisi
It is a sin to visit Tbilisi and the famous sulfur baths, the water of which comes from natural springs. There are similar springs in Italy and some other European countries. In Tbilisi treatments cost from 30 to 150 GEL per hour – separate rooms, general bath – 3 GEL. You can order a massage.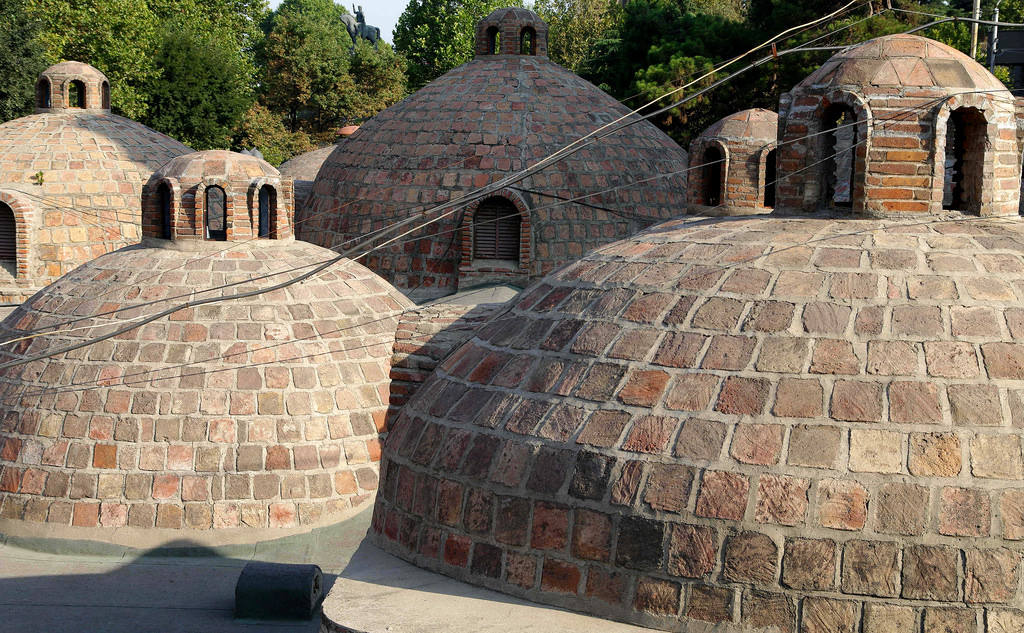 Sulfur baths in Tbilisi. Photo: Andrea Kirkby / flickr.com.
2. Take a gastronomic tour
What would a vacation in Georgia be without exploring the local cuisine? Khinkali, khachapuri, kebab and other Georgian dishes will not leave any gourmet indifferent. In winter, a caloric meal will come in handy, not to mention the pleasure you get from the taste and aroma of dishes.
You can order a special gourmet tour with tastings, a professional master class from the chef and a real Georgian feast. If the goal is to have a good and delicious meal, you can simply go to one of the establishments. Inexpensive decent cafes can be found on Rustaveli Avenue in Tbilisi. Just do not order too much: Georgians are generous people, and their portions are very large.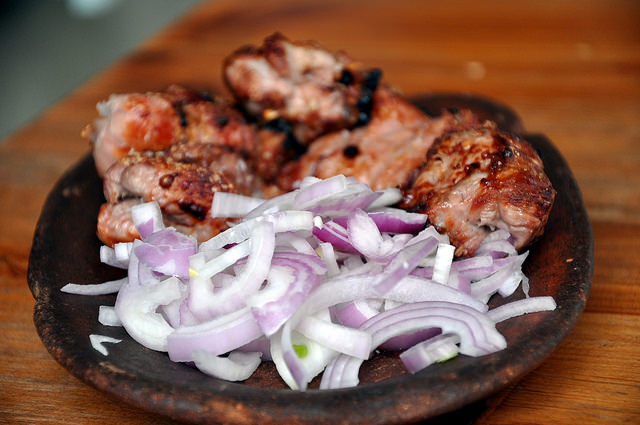 (Photo: maxlethal2010 / flickr.com / CC BY-SA 2.0 license)
3. drink the mineral water in Borjomi
The famous balneological Georgian resort Borjomi, located in the Borjomi Gorge on the banks of the Kura River, is a must see on vacation in Georgia not only in summer but also in winter. Mineral water from local springs is the No. 1 export commodity. In addition, from here it is convenient to visit the historic monuments – the Romanov Palace, the fortress of Rabat and the cave city of Vardzia. From Borjomi you can easily and quickly get to the nearest ski resort Bakuriani.
4. Go skiing
One of the main attractions among tourists on vacation in Georgia in winter is skiing. There are several ski resorts in the country, but the most popular are Bakuriani resort, near Borjomi, and Guaduri, 120 km from Tbilisi. Guaduri is a young resort, the prices here are affordable, but the infrastructure is underdeveloped, and it is more suitable for undemanding youth.
Family tourists are advised to visit more comfortable Bakuriani – there are pistes for beginners and professionals, infrastructure is also well-developed, one can go skiing, snowboarding, skating, sledging. From Borjomi is convenient to get there by "kukushka" – so the locals call the narrow gauge railway.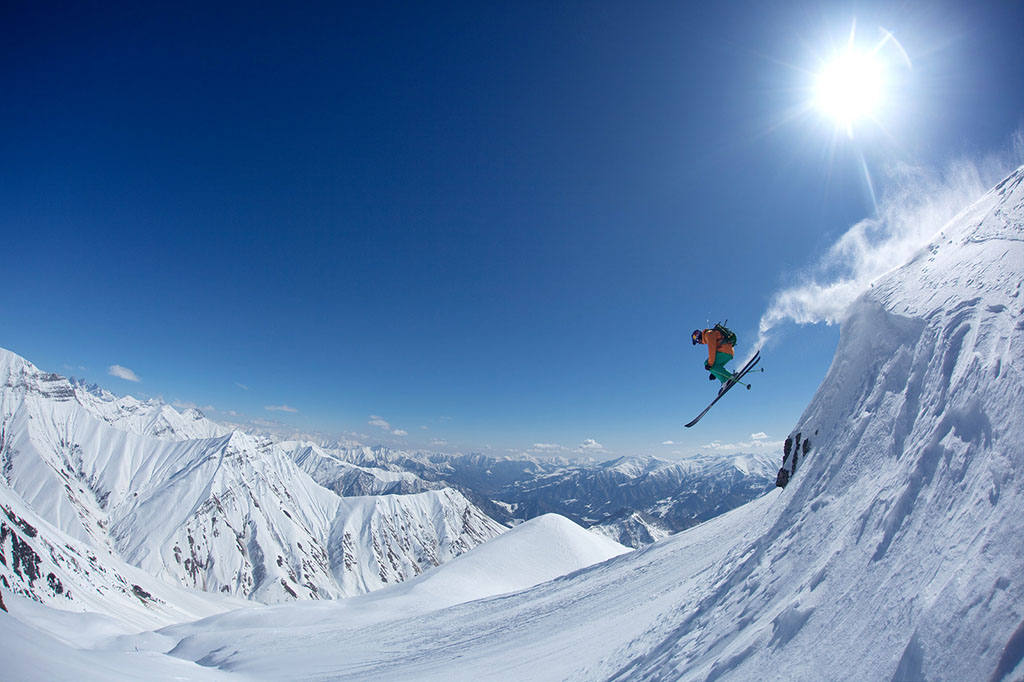 Gudauri ski resort. Photo: Georgia Made by Characters / flickr.com.
5. Visit the best Georgian wineries
Here, the choice of places to go is very rich – Georgia has as many grape varieties as France. One of Georgia's best wineries, Chateau Mukhrani, is located on the former estate of Princes Bagration-Mukhrani in the Mtskheta region. There's also a 19th-century mansion and you can visit the ancient wine cellars, as well as take a walk through the modern factory and taste the plant's products.
You can go on your own or buy a guided tour. The wine tasting at this winery is from 30 GEL per person and 65 GEL with dinner. You can buy any wine you like. The visit is convenient to combine with a visit to Mukhrana Fortress, which is 1,5 km from the factory or Tsilkan Temple, which is located a little further.
However, if you have already formed some own preferences, it is better to visit the place whose products you like. In addition, in the tourist areas of Tbilisi there are wine houses, where you can taste drinks for free.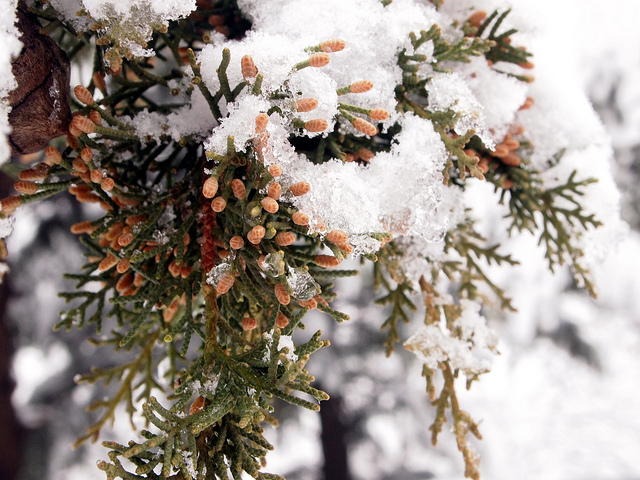 (Photo: DDohler / flickr.com / CC BY 2.0 license)
Tourist reviews of winter holidays in Georgia – 2021-2022
Tourists who vacationed in Georgia last winter expressed their admiration for the local scenery and sights, were captivated by the great food and hospitality of the residents, as well as the pleasant weather. Although in their reviews of Georgia, some shortcomings still noted:
Notorious foreign service has already managed to spoil our travelers, and the lack of regular cleaning in hotel rooms did not please them.
Some were unpleasantly surprised by the prices. For some reason there is an opinion that Georgia is an inexpensive country for a tourist, but in practice it is not quite so.
Too sensitive travelers said that the large number of beggars in the streets of cities made them morally uncomfortable.
Otherwise, Georgia is a hospitable and colorful country, where the winter is warm not only from the sun and wine, but also from the hospitality. And even if the sea is cold, there are so many interesting things to do that you won't be bored on vacation.