Holidays in Goa with children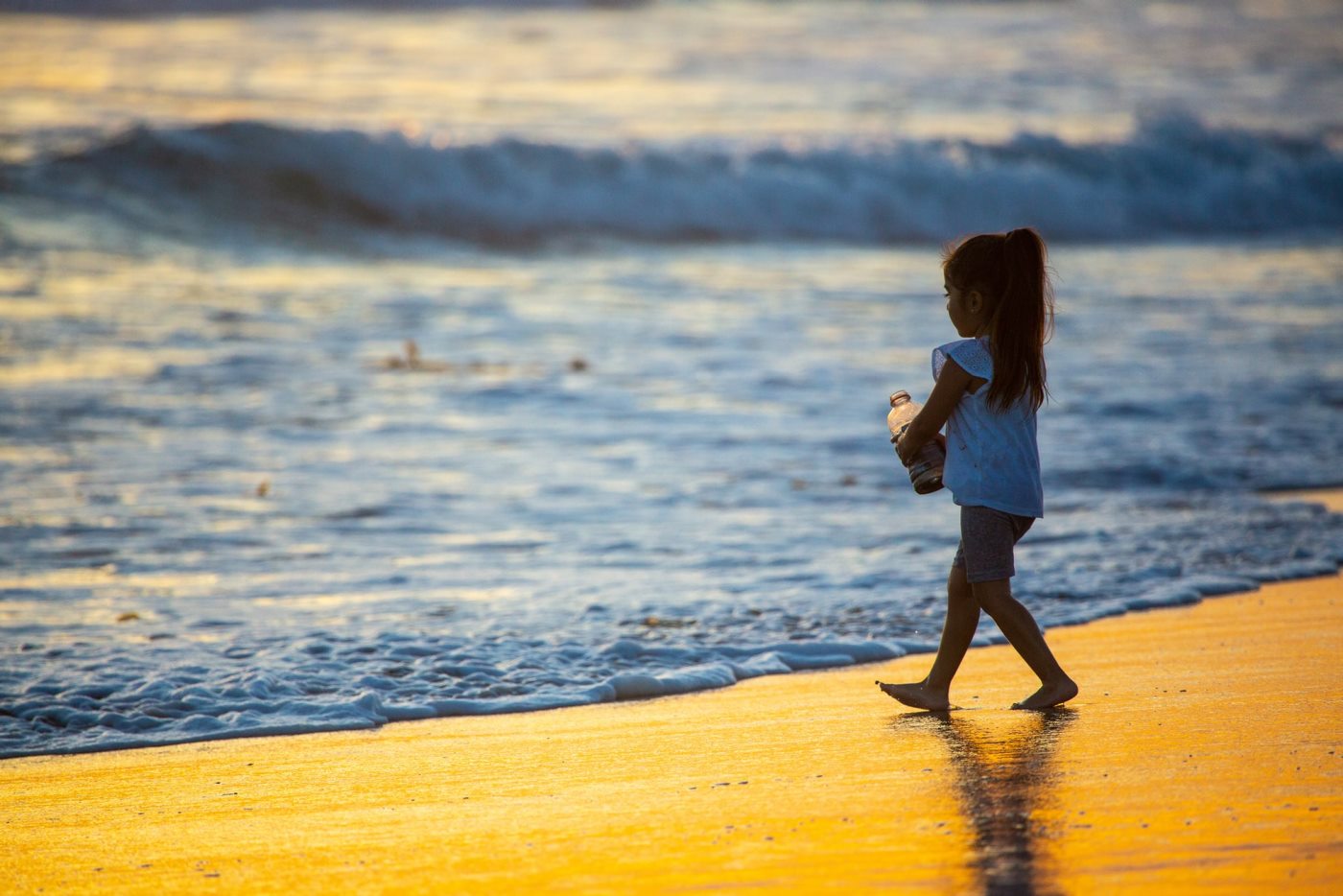 Where's the best place to vacation with kids in Goa in 2022? List of the best resorts, beaches and hotels. Reviews and tips from tourists about vacationing with a child.
Long sandy beaches, warm ocean and ripe fruits – this is the Indian state of Goa. Magical land of unforgettable sunsets and dancing under the coconut palm trees, the birthplace of trance parties and a haven of informal people around the world. But should you rest in Goa with children?
Contents:
Features of vacations in Goa with children
Where it's better. With children is better to rest in the southern part of Goa. That's where the clean beaches and decent hotels with good service, geared for the discerning tourist. There are special sites for children and paddling pools. Some people think that South Goa is too touristy place, which has lost its personality, but I doubt that your children will like to see strange-looking characters, which swarm beaches of North Goa.
However, if the local color does not scare, then the north of the state can have a good rest. True, the hotels here are lower level, and with children is better to rent private houses. For this purpose, suit Ashvem, Mandrem, Morjim, Arambol, whose beaches are considered some of the cleanest and well-groomed on the coast. Find out where to rest in Goa.
What to do. Children can spend all day on the ocean, playing in the sand and catching fish in the clear water. There are no dangerous animals in the coastal waters, though, with the sunset are annoying mosquitoes. Of entertainment – riding an elephant, visiting zoos, nature reserves and water parks. Not far from Pond there is a very beautiful place for walks with a garden and observation decks with many beautiful animals and birds.
Another reserve with monkeys is located in South Goa, near Palolem. And on Charao Island near Panaji, there is a bird park. However, with excursions need to be more careful – the distance is not insignificant, such trips are delayed all day and can tire a child more than entertain. Find out about the best excursions in Goa.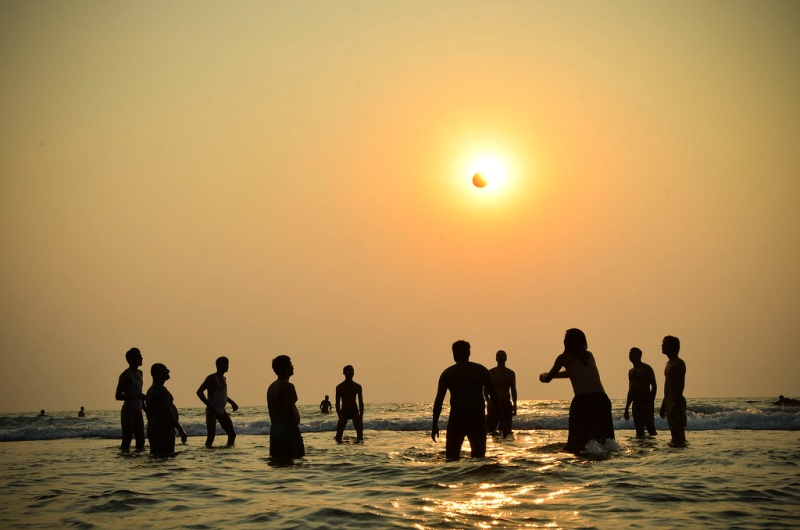 (Photo: Sergi Hill / flickr.com / CC BY-NC-ND license)
When to go
Goa is good to vacation with kids from mid-autumn to late spring. The golden period – calendar winter, at this time the most favorable conditions for beach holidays. There is no rain, the daytime temperature is +30 ° C and above, the water in the sea +28 ° C.
If winter does not suit you, see the weather by month in Goa and choose another time.
Best resorts and beaches for children in Goa
Mandrem
This small village in northern Goa is quiet and well-developed. The coastal area is divided by two rivers, which makes it feel like an island. The beach is full of sheks, yoga centers, and small natural saltwater pools that the kids love to splash in.
Morjim
This village in Goa is called "Indian Rublevka", and the beach – "Moskow Beach", so many Russian-speaking tourists here. According to reviews, a wide sandy beach with a gentle entrance and gradually gaining depth is suitable for the smallest. By the way, in the local sands, turtles lay eggs.
Arambol
Not quite a suitable place for a holiday with children in Goa, given its popularity among informals of all nationalities. However, the coast is large, and there is enough space for everyone. Few hotels, available low-cost bungalows and small houses.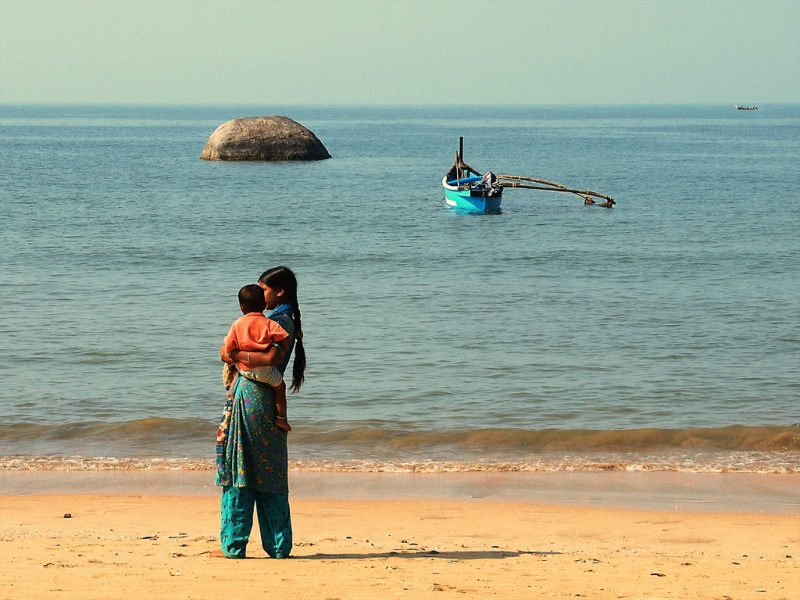 (Photo: – bjornsphoto – / flickr.com / CC BY-NC-ND license)
Palolem
This beach is called the pearl of Goa. Its shape resembles a crescent – a small cozy cove surrounded by palm trees. There are almost never any waves, there is all the beach infrastructure, bars and restaurants.
Colva
A very popular place in the south – with a long coastline and a variety of accommodation options from small bungalows to luxury hotels. The large beach is conventionally divided into several zones: in the center rest locals, left – lovers of solitude, right – lovers of active entertainment.
Benaulim
Benaulim is located just a couple of kilometers from Colva, but has a calmer atmosphere. The main contingent of vacationers – Russian tourists and Europeans of retirement age. There are no noisy clubs, but there are small cafes. Life here begins early and ends too early – by 19:00 all is already closed. The nearest stores and other amenities – in the neighboring villages of Margao and Colva.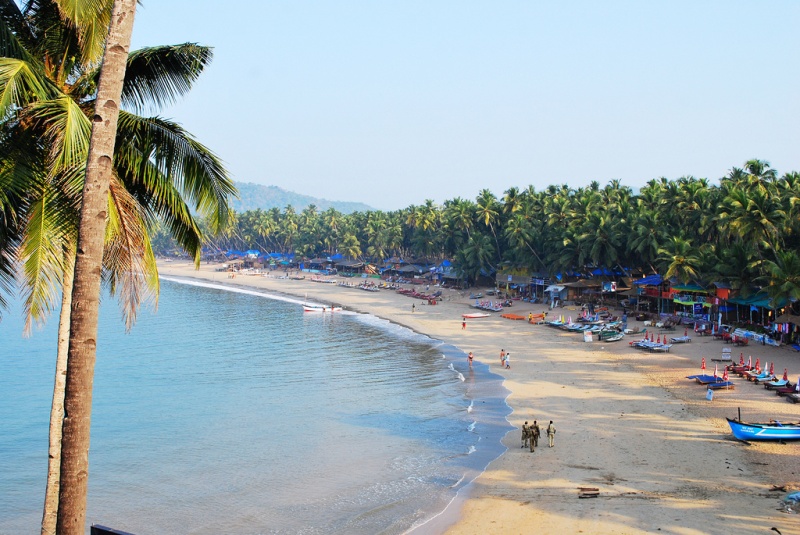 (Photo: Carlos A Zambrano / flickr.com / CC BY-NC-ND license)
Best hotels in Goa for holidays with children – 2022
We have studied tourist reviews and hotel ratings and selected the best 4* and 5* hotels in different resorts in Goa. They are good for a family vacation with kids. The hotels are all-inclusive and have entertainment for children.
Best hotels in Goa for holidays with kids in 2022:
Kenilworth Resort & Spa Goa 5* in Utorda. Search tour →
Dona Sylvia Beach Resort 4* in Kavelossim. Search tour →
Alila Diwa Goa Hotel 5* in Majorda. Search tour →
Heritage Village Club 4* near Arossim Beach. Search tour →
We advise independent travelers to look for hotels in Rumguru. It will help you find the lowest price. Don't know how to use it? Read our tips on how to book a hotel inexpensive.
Search for Last Minute Deals at Level.Travel and Travellata which compare prices from 120 popular tour operators. Want to save? Learn our 7 rules for buying tours online.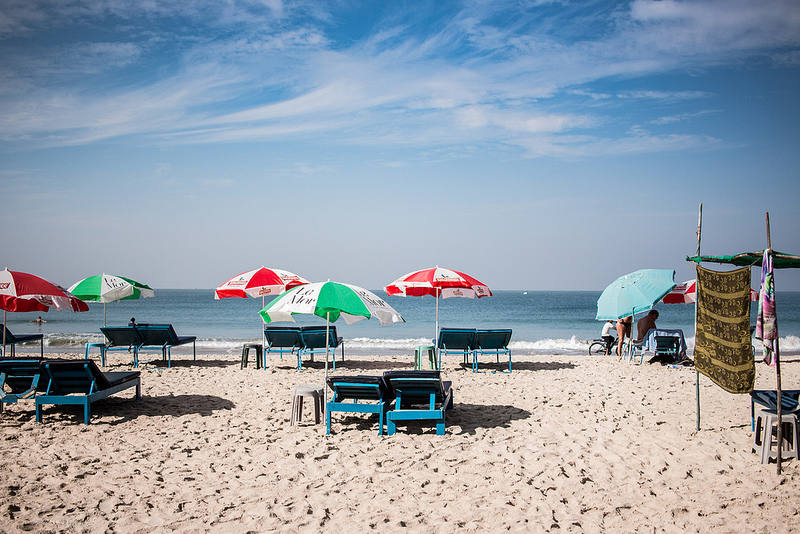 (Photo: fiftynifties / flickr.com / CC BY-NC license)
Tourist reviews and tips
Tourists who have vacationed in Goa with children have left conflicting reviews. What are the good and bad things about Goa?
Tourists like the climate, nature and warm ocean. Do not like the "trash landscapes," total poverty, stoned citizens of all nationalities and stray dogs on the beaches. Well, that's the local specifics, and it's silly to deny the obvious. The only thing we can say: if you want cleanliness, peace and quiet – then you definitely need to the south of the state.
Отдельно стоит вопрос питания детей . Безусловно, индийская кухня в чистом виде с ее экзотическими специями детям не подойдет и, скорее всего, просто не понравится. Но это не повод питаться исключительно омлетами. В Гоа вкусные фрукты, мороженое, выпечка, вкусно готовят морепродукты. Есть баночное питание для малышей, а детская косметика и подгузники представлены в большом ассортименте. Читайте подробнее о еде в Индии >>
On a vacation with children in Goa in 2022, take care of a reserve of water – you need it even to wash the fruit. Do not be afraid of acclimatization, as the climate in Goa is not aggressive. However, because of the new unfamiliar food and the flight you can get an upset stomach. There is no need to panic, just stock up on the standard means in this case, and not too much on fruit. Learn what kind of first aid kit to take on vacation.
If you're worried about hygiene and spicy food, consider Hainan Island in China for a vacation with children.
All about the best beaches for a holiday with a child in Goa 2022
A mild climate, gentle entrance to the sea and low prices for hotel accommodation make Goa one of the favorite places for tourists from Europe and Russia to vacation with children of different ages. The cost of food in the cafes, fruits and babysitting services are also not expensive, and local attractions and an extensive infrastructure for water sports perfectly varied program of family holidays.
Arambol Beach in Goa, sunset
Features of Goa's resort areas
The state of Goa is conventionally divided into three regions: North, South and Central, with Panaji, the capital, located in the center. To decide which beach is best for a family vacation, it is useful to know the peculiarities of the resort areas of the state.
The coast in the south is covered with light yellow or white sand, the water seems very clean and suitable for such a destination as a recreational quiet family vacation. There are few people on the coast, and there are cafes and restaurants with affordable prices.
This part of the state is also famous for its beautiful scenery, exotic vegetation, stunning sunsets and sunrises on the shore. Of the beaches in the south are popular with tourists with children Palolem, Putnam and Agonda.
Note: The Fertilizer Factory (near Velsao) is located in the South. When choosing a resort and beach, it is better to avoid proximity to this enterprise.
The northern part of the state is more suitable for fans of outdoor activities and busy evening life. But places where tourists with children will feel comfortable will also be found in abundance.
The beaches of North Goa are covered with golden, gray and even black sand of volcanic origin. There are more tourists and locals in this part of the state, there are large shopping centers and colorful markets with local goods.
For a family vacation in Northern Goa, the beaches of Ashwem, Candolim, Arambol, Miramar, Mandrem, and Morjim are suitable.
Weather and Seasons on the Coast
Goa has a subequatorial monsoon climate with distinct dry and rainy seasons. The weather and seasons in the north and south are virtually the same.
During the wet season, the air warms from +28 to 30 ° C, and during the dry season, on average, up to + 31 ° C. Water temperature in the coastal zone does not drop below 26 ° C all year round.
The rainy season lasts from June to September, and the dry season from October to April. During the transitional months (October and May) the weather is variable and monsoon showers alternate with quite dry and hot days.
The high season is from November to March, the off-season is October, May April. The low season (from July to August) is not suitable for a beach holiday because of heavy rains and rough sea.
How to choose the best beach for a holiday with a child
Beach in northern Goa
When choosing a beach, you should consider several important criteria, and, first of all – safety (what is the entrance to the water, whether there are strong waves).
It is worth paying attention to whether the beach is clean enough and whether it has a shelter from the scorching sun. Feature of Indian resorts is that they are often located next to the usual village from which animals can come to the beach (and this neighborhood – not the best option for children).
It is also important to have a cafe on the beach with a suitable diet (because Indian cuisine is replete with spices), as well as equipped toilets.
The best option would be a beach with an equipped infrastructure for children: a special play area and a cafe with a menu specifically designed for young visitors.
Best beaches for kids in South Goa
Tourists agree that it is best to vacation with small children (up to 7-8 years) in the southern part of the state. Especially since the prices of accommodation and food are not significantly different,
Palolem – nice sea and golden sand
One of the most well-appointed in the southern part of Goa is Palolem, located 67 km from Dabolim airport.
How to get there
The bus from the airport will have to change trains and, although the trip is cheap (100 – 400 rupees), it is not much fun (about 2 – 2.5 hours, in the absence of traffic).
Tourists with children should book a shuttle service in advance, which will cost 2,000 rupees.
Palolem
Palolem beach area stretches for almost 2 km along the picturesque coastline, where you can find brightly colored bungalows, many palm trees and soft golden sand.
The advantages of this beach for a holiday with a child are obvious: the smooth easy entrance to the water, shallow water depth by the shore, very rarely have waves, as it is located in a bay.
The advantages include a large number of cafes (sheik) on the shore with fresh juices and seafood, near which are equipped with areas with sun beds and awnings. Having bought something in such a cafe you can use a deck chair for free for the rest of the day.
Most guests find that Palolem is ideal for the little ones to learn how to board and swim safely.
The advantage of the beach is also its cleanliness, the availability of changing cabins and toilets (near the cafe).
Nearby entertainment
From the northern end of the beach there are boat rides on a gondola for watching birds and dolphins.
For adults and teens there is a "silent disco" where all visitors dance and listen to music with headphones so as not to disturb others.
What resorts are nearby
Popular with tourists with children are the Art Prive resort hotel and the Abel Cressida bungalows. Hotels and bungalows usually have high-speed wi-fi, cleanliness, air conditioning or a fan. It is better to choose accommodation shaded by trees, which is not very hot during the day in the sun.
Prices for accommodation vary:
in a bungalow – from $8 to $57 per night;
In the gest-house – from $ 8 to $ 57 per day.
The price depends on the facilities and season.
Of the disadvantages of the resort area can be designated its crowdedness. The beach is popular with tourists and locals. But for more privacy you can go farther from the entrance.
Agonda
Agonda
Many travelers from Europe find this beach to be one of the most kid-friendly places. This beach is located 6 km from Palolem.
What is the sand and the entrance to the water
The area of Agonda is covered with white sand. It is a quiet beach, offers fairly simple accommodation, and the sea has just what you need for a quiet surfing (equipment can be rented from hotels, such as Sea Star Resort). The entrance to the water is gentle and long.
The village has many fishing boats, there are resort hotels and bungalows. Bungalows on the beach are more expensive (up to 3000 rupees). Prices range from 1740 rubles (for a room for 4 people).
Right on the beach there are several restaurants serving food for children (pancakes, omelets).
Entertainment .
You can take a fishing boat to watch the dolphins with the whole family.
There are sun loungers and umbrellas on the beach near hotels, restaurants and bungalows.
Putnam is the southernmost beach on the coast
This is the southernmost beach in Goa, not far from the busier Palolem. The season doesn't start until late October, after the beach huts are rebuilt after the monsoon.
Putnam is a great combination of a sparsely populated but reasonably well equipped beach with plenty of restaurants to keep you from getting bored. There are umbrellas and sun loungers.
Putnam
There are several stores along the main beach road (although you have to go to nearby Chaudi/Canacona to use the ATM).
The beach is huge, plenty of room for kids to run and play. The current can be a bit strong.
Entertainment .
It is possible to arrange a dolphin watching excursion by arranging directly with the owner of the boat on the beach.
There are several yoga centers, which both children and adults will enjoy. After all, India is one of the most popular places for yoga enthusiasts.
The price ranges from 2860 rubles for a family room. Popular hotels Sea View Resort, The Palm Trees Resort (with a beautiful green area).
North Goa – recreation and wide beaches
For families with older children we recommend the excellent beaches in the northern part of the state. Here there are a lot of youth hangouts and clubs, you can have fun all the time. For example, at Arambol beach you can take yoga classes during the day and have dancing by the sea in the evening to the accompaniment of drums and guitars.
On the beach Morjim you can meet a large number of Russian-speaking tourists. For them, local restaurants have even adjusted their menus. The beach itself here is very comfortable – wide enough and with a gentle comfortable entrance to the water. Lovers of active recreation can do here kite and windsurfing.
Ashvem Beach
Velvet yellow sand combined with shallow calm waters makes Ashwem beach in North Goa an ideal place for a family vacation with a child.
There are several accommodation options to choose from: hotels, bungalows, gest houses, the beach is not crowded. There aren't many restaurants or clubs, which makes Ashwem relatively quiet and peaceful. Near the beach there are small stores that sell groceries, products for children, beach goods.
The entrance to the sea is gentle and there are no stones in the water. The beach has sun beds (wooden and plastic) under canopies of palm leaves. There are toilets and cabins for changing.
Beach Ashvem.
Of the chequers, Paradise Beach Shack is popular (seafood, snacks, cocktails). The food, which you can ask not to add many spices, is served either in the beach restaurant overlooking the sea or at a table right next to the canopy, which is ideal for parents of sleeping babies.
Entertainment .
In the evening, beach volleyball tournaments are held on the beach. You can also take surfing lessons for 2,500 rupees (1.5 hours). But the boogie board (a special lightweight board on which one lies down and "catch a wave") is more popular.
Where to go
From Ashwem you can go to the Goa Spice Garden, a unique place with many plants that are used in cooking. Children will also benefit from learning a lot about the spices for which India is famous.
Advantages and disadvantages
There are no animals (cows) on Ashwem. There is a trade in beach toys for children. You can see crabs in the coastal area in the morning and evening. Children on this beach like jumping over small waves in shallow water.
Of the disadvantages are the high prices for food compared to other resorts in the North of the state.
Of the hotels is popular Rococco Aswem Resort, which has comfortable accommodation and quite democratic prices.
In a romantic entourage at the request of guests on the green lawn by the beach conduct wedding ceremonies under a beautiful arch at sunset.
Candolim
Candolim beach has also gained many good reviews from tourists from different countries. The coast is covered with soft white sand, on which the small palm groves "tread"
Candolim is a fairly clean beach with a comfortable gentle entrance to the sea. On the beach – beach huts and tourist stores. There are some shops where you can eat with a view of the sea.
Candolim Beach
Where to eat
There is one main street through Candolim, Fort Aguada Road. It has almost everything you need (beach toys, breakfast before you go to the sea, clothes).
Candolim also has a good coffee shop called Vivenda Kafeis and a fish restaurant called Fishermans Cove.
Seafood at the beach cafe -sheki
Near Candolim is a fort to explore. The other popular beaches of North Goa – Baga and Calangute are less than 5 km from this location.
Arambol
About a decade ago, Arambol was an ordinary fishing village. With the construction of the bridge over the river Chapora in 2002, the area began to boom (before the bridge was built this part of Goa could be reached by ferry or by a detour).
Arambol
The central part is not the best place to relax. On the beach of Arambol you need to go in the direction of Mandrem, there are very cozy deserted beaches. Sun loungers usually belong to cafe-shekas, and if you buy water or juice from them, you can use the sun lounger all day.
Entertainment .
Arambol offers guests interesting activities: dancing, massage, yoga, singing, tea ceremonies, performances of "folk circus" and fakirs.
You can try to learn how to play different musical instruments, to dance African or Indian dances.
At sunset, everyone moves to the shore of the ocean, to see off the sun. The legendary "sunset point" is a place in Arambola where a hundred people gather together to spend the sun with songs, dances, to the drumming rhythms of jimbees and other percussion instruments
Miramar
Miramar
Miramar Beach in Goa (or Gaspar Dias Beach) is located near the state capital. The name of the beach translates to "looking out to sea."
This beach in the northern part of the state looks more like a southern beach, thanks to its golden sand and magnificent scenery. Next to the coast, there are exotic casuarina trees, through whose thickets the road to Miramar from Panaji (a distance of 3 km) passes.
Miramar is suitable for families, as there is a small amusement park on the beach. There is a separate play area for children, which is also rare on the beaches of Goa.
A special feature of Miramar is the nearby mouth of the Mandovi River. The shore is covered with yellow fine sand with shells, at the water's edge the sand is light gray. The shallow waters of Miramar Beach are perfect for children (wide, no waves).
The beach is relatively clean, there are umbrellas and sun loungers, cabins for changing.
Morjim
Morjim – one of the favorite vacation spots of Russians in Goa. Tourists from Russia stay in Morjim since the early 2000s. The small village was developing, built hotels, bungalows, cafes and restaurants.
Of the advantages can be called a relative sparseness of the beach: thanks to the fact that it is difficult to get to it.
Morjim stretches for 3 km. The sand on the beach is light and clean. The descent into the water is very gentle and smooth. The shoreline is not wide.
Among the disadvantages of Morjim high prices for accommodation. In South Morjim prices are more democratic.
Beach cafes and restaurants, close until dusk: measures to protect the olive sea turtles. It is because of the turtles that there are few people on the beach.
How to get there and where to stay
From Dabolim airport to Morjim, one arrives first at the Vasco da Gama bus station, then to Panaji, and from there to Morjim.
There are many hotels in Morjim in different categories. Among them are: Sur La Mer; Treebo Turte;Paros by Amarya.
Video tips on choosing a beach in South Goa:
A family vacation on a luxury beach
Goa 2022 beach vacations are a great option for tourists with kids. The natural beauty of Goa, the hospitality of the residents and the creative atmosphere make a visit to the state's resorts a bright and unforgettable holiday.