Holiday in Antalya: my experience and reviews of tourists – 2022
Parsing: tourist reviews of Antalya in 2022, all-inclusive prices and a little from my experience of exploring the city. Plus tips for tourists on what to do.
My experience of a trip to Turkey.
Somewhere in the vastness of Kaleici, still cheerful and full of energy:)
In Antalya I was only 2 days. And that – in the center of old district Kaleici and in the port (I will tell you about everything). I had a holiday in Kemer on tour. I went to the neighboring town on my own by public transportation.
Airport in Antalya.
Useful: you can get change money in lira from ATM Ziraat with MIR card. Cash rubles can be changed too, but the exchange rate is less favorable.
Flight from Moscow: 3-3,5 hours
Airport: Many charter flights land at Antalya Havalimani. The airport is not very large. On arrival you will immediately feel the high level of humidity and stuffiness – take off your jacket if you suddenly put it on.
How to get to Antalya? Immediately near the exit of the airport you will find the tour operator's desk. Look for yours. You will be put on a bus with a group of people and everyone will get to their hotels. It took us about an hour (60 km) to get to Kemer.
If you do not like the air conditioners, tired, and not burning desire to jolt at a public transport with stops – I advise you to take a cab to Kiwitaxi. On my second trip, I did so.
How much is an all-inclusive trip to Antalya in 2022?
I always keep track of tour prices on 3 aggregators:
They are handy, visually clear and by typing in your filters, you can find the cheapest trips with a flight (at the same time and look at the hotel rating). The main thing is to check all at once, so you won't miss any interesting ones.
So, how much is a vacation in Turkey in 2022 (tours to Antalya, flight from Moscow)? These prices are per person and per couple, including food all inclusive.
| | | |
| --- | --- | --- |
| for 7 days | for 10 days | for 14 days |
| from 39 000 rubles | from 65 000 rubles | from 68 000 rubles |
Staying under the same criteria in a good 5 stars will cost from 40 000 rubles for 7 days. If you take the system Fortuna, you can save another 10-30% of the cost.
Weather in Antalya – when is better to rest?
The Mediterranean Sea of Antalya (Turkey) promises a mild rainy winter and hot long summer. The warmest month is August, when the maximum temperature is +34 ° C and the sea gets as warm as +29.5 ° C. January is the coldest and most uncomfortable, averaging +12.5°C. It is also the rainiest and windiest.
The beach season starts in April and ends in November. You can swim from the second half of May to mid-November.
The average temperature of the water and the air in Antalya (°C)
Spring
Summer
Autumn
Winter
air temperature
21,3
33,1
25,5
14
t of water
18,9
27,6
25,4
18,3
Reviews about rest in Antalya suggest that it is better to go to the resort is not in summer (although you can in June), and in spring or autumn, the velvet season – in May, September, October. Bathing at this time is still comfortable. But in July and August, too hot, the heat. Although, who is used to it.
Still confused: Antalya or Alanya?
Prices for holidays – 2022
Yes, yes, shopped, that's not all! Shopaholism – can not be cured.
So how much did my vacation in Antalya cost? Prices for an all-inclusive trip started at 39,000 rubles. Now the same (I look at Travelate) – it's not in season and in a medium-sized four stars.
Now let's talk about prices in Antalya in 2022 for "pocket money".
Currency exchange. Liras will be more convenient to pay in transportation and more profitable in the market. So we go to the local post office (yellow sign) and change dollars. You can also change offices, but it seemed to me more reliable. The address of the ptt bank is: Yeşilbahçe Mah. 34/4, 07160 Muratpaşa
Food. You can sunbathe on the beach and rest by the pool all year round. But if you get tired of the hotel menu, here are the approximate prices in cafes/restaurants in lira in Antalya in 2022:
Kebab
15
Ekmek
11
Lentil soup
10
Tea
5
Blackberry wine
50
Bottle of beer
15
Average bill for two people ≈ 120-150 liras ($ 12)
Shopping. Oh, my favorite:) Turkey – one solid bazaar and shopping malls. I updated there a whole closet, quality and inexpensive. So as not to be unsubstantiated: 2 pairs of jeans (190 + 95 lire stock), a shirt (60 lire), lightweight sneakers (50 lire) and shoes (leather!) – 247 lire.
| | |
| --- | --- |
| | Z.U. In Antalya, I shopped in the MarkAntalya shopping center at Tahilpazari Mahallesi, Kazim Ozalp Caddesi, No:84 | Muratpasa. |
How much money to take in Turkey, I counted in a separate article.
Beaches in Antalya – which one to choose?
The sandy beaches of Antalya are not very peculiar, but still there are. They include Lara, Kundu and Mermerli.
The beach with coarse sand. There are both private closed, and free municipal beach (umbrellas and sun loungers for a fee). The beach is equipped with everything you need: toilets, showers and changing rooms. Judging by the reviews, locals like to spend time here.
I do not advise to go to Kunda with children. The coast and sea here are more suitable for experienced swimmers and diving fans. The depth in some places begins quite suddenly and sharply, and in the southern part of the bathing is forbidden (the rocks). The beach is covered with sand, when entering the sea you can come across small pebbles.
To get to Mermerli, you have to go down on foot or by elevator to the old port. If you stand facing the sea and go left for about 5 minutes, you will see a restaurant. Through it you pass to the stairs. Below is the beach itself, sandy. The entrance fee is 40 lira (a deck chair and an umbrella are included).
The sea in Mermerli is clean, transparent, near people swim fish (take a mask). There are small stores and a snack bar on the territory.
Another not bad and no less popular beaches in Antalya:
Konyaalti starts from Beach Park and stretches to the new port. The beach has fine and coarse pebbles. The entrance to the sea is shallow, but quickly begins to deep (literally after a couple of meters). There is a free zone for visits, and there is a paid – with sun beds.
Near a small park with rides, between him and the beach stretches embankment. In the season there are a lot of tourists here because of the abundance of hotels on the beach.
Adalar is more than 2 kilometers from the city center and is surrounded by cliffs. The beach itself is a platform between the rocks. To swim in the sea, you have to go down the stone stairs.
One of the most popular tourist beaches in Turkey in the south-west of Antalya. The beach here is sandy and pebbly, more for family gatherings. And next to Olympos park. You can get there by any bus from Antalya to Kemer (8-9 liras one way), or by renting a car.
Transport
The ancient tramways are still going around the city! There are modern ones, of course. But these are nicer.
The transport system in Antalya is very useful for both traveling and crossing the state border. With it will be much easier to navigate in the schedule of routes and stops in the city.
So, in Antalya there are:
✓ Buses and streetcars.
| | |
| --- | --- |
| | It is not possible to pay in cash, you have to buy a transport card (7.5 liras). The points of sale are marked with the sign "Yukleme noktasi". You can also find them in the app ↑. The card can be filled up at special vending machines at bus stops. The cost per ride is 3,2 lira. |
✓ Metro (3,2 lira).
To the other resorts there are buses, you just need to get to the railway station (or in Turkish Otogar).
✓ Ferry. Goes from the center of Antalya to Kemer and back (from 7 am, the last from Kemer leaves at 21:30) – 15 lira.
Shuttles and car rentals in Antalya are also common. For example, if you need to get from the hotel to the airport (more than 1-2 people).
The best hotels in Antalya
Looked through a lot of hotels, videos and reviews of tourists about Turkey. I allocated for myself (and you) the top 7 with the title "best hotels in Antalya" . Prices are listed for 7 nights for two people.
5* Adalya Elite Lara Hotel The hotel area is small and well-groomed, around bananas, oranges, pomegranates and different flowers. There are several pools, one for adults, two for children, and a waterslide. There is a lunapark (with electric car, Ferris wheel and trampoline) and animation, in the evenings the show. Cost of the tour: from 80 000 rubles
5* Club Hotel Sera Of the minuses: the size of the hotel modest and the furniture in the lobby do not hurt to update, the beach is dirty. From pluses the rest: near a stop of public transport, within walking distance of the museum of sand figures, in a restaurant with live music. Food varied: meat, chicken and seafood, fruit, lots of greens and pastries. Cost of the tour: from 68 000 rubles
5* Porto Bello Hotel Resort & Spa Consists of several buildings, including "Kemer" overlooking the sea and mountains and "Antalya" – the pool and animation. The buffet: grilled trout and dorado, tuna, kebab, shrimps, mussels, manty, spiced fried potatoes, rice, pilaf, and much more. Of fruit: watermelons, pears, peaches, melons. Cost of the tour: from 59 000 rubles
5* Trendy Lara The hotel is fresh and comfortable with a large green area. Rooms with good soundproofing. Several swimming pools, there is also sea water heated (in the off season), its water park for children (10 +). The boats take you to the beach – unusual. For lunch and dinner, several types of meat and fish, vegetables, fruits, pasta, cereals, cheeses, pastries, some seafood (mussels, squid, shrimp). Cost of the tour: from 81 000 rubles
5* Sealife Family Resort Hotel City hotel on the 1st line, near the seafront. Three swimming pools, children's playground, shows in the evenings. The restaurant has a zone for kids and a dietary table. Every evening there is a children's disco. Exit to the beach through a tunnel. The shore – pebble, clean, the entrance to the water is gentle, but almost immediately there is depth. With children be careful. Cost of the tour: from 56 000 rubles
Tuvana Tuvana 4* – This is a hotel in the center of Antalya Old City for a European holiday (ie, without all included). Such an authentic place (due to the location and interior) and with good service. Rooms are small, but cozy. Of the whole area: one pool and garden. The beach is Mermerli 5 minutes from the hotel. Cost of the tour: from 56 000 rubles (breakfast+dinner)
| | |
| --- | --- |
| | Read carefully: last ↑ a good overnight stay for young adventurers and romantics. Contraindicated for families with children and fans of all-inclusive comfort. |
Attractions
Introductions: Antalya + reviews 2021-2022. What to see in the city itself?
In my opinion, the Old Town is a must-see. It is an amazingly beautiful place, combining narrow streets, tiled roofs, bazaar, cafes and restaurants. There is also a nearby view of the port of Antalya . In addition, + the main attractions of Antalya can be fit into the following list :
Hadrian's Gate.
Republic Square
The Archaeological Museum (Open daily from 8:30 to 19:00, entrance 36 lire) Address: Konyaalti Cad. No: 88
Singing Fountains (near the gates to Kaleici)
The Lower Duden Waterfall with a park.
Kursunlu Falls
Konyaalti park and promenade
Since I was just passing through, I only had time to see the center of Antalya with the old city, the square and the gates. I plan to go back and see the rest of the places. A little dream is to see Duden.
The resort of Antalya is famous for water activities: banana boat, rafting ($75), diving (≈$50). You can rent a bike for $15.
Excursion Reviews
Where to go from Antalya? Prices and reviews for 2022.
There are plenty of places to spend time and experience the history/scenery of the country from the resort. There's plenty of time. Tourists recommend:
*Cost indicated per 1 person group guided tour
Demre-Mira-Kekova – $20
Chirali coast and Chimaera mountain (there near Olympos) – $20
Fazelis (I join) – better to go alone by dolmush, the entrance is 30 lira
Side
To the ropeway to Tahtali or to Goyniuk Canyon if you are interested in mountains
Pamukkale and Ephesus (although Marmaris or Bodrum are closer to them).
You do not want to build a route yourself? Some of these excursions are on Tripster and Sputnik8, conducted by local residents and guides.
Rest with children
But holidays in Antalya with children can be interesting, both in the hotel and outside of it. Families with children in the entertainment program I recommend to include:
Aqualand Waterpark – open from May to October 15, from 10:00 to 17:00 (children 7-12 years – $15, adults – $30) Address: Meltem Mh., Dumlupınar Blv. Konyaaltı Koruluğu, 07030 Muratpaşa
Dolphinland (children from 3 to 12 years old – 50 liras, adults – 70 liras). In the same place as the water park. The performance is twice a day: at 11 o'clock and at 14:30.
Antalya Zoo (Admission: 10 liras)
Sandland Open Air Sand Sculpture Museum (open hours: from May till November 15 09.30-23:00, the entrance fee is 25-30 liras).
| | |
| --- | --- |
| | Parents. I hope you understand yourself that when choosing a hotel you should consider such moments as the presence of a children's menu, paddlers, animation, mini-club and that the beach was not through the busy road. I will not teach the scientist:) |
Tourist reviews of holidays in Antalya
This is me (with a young man) tired to go back to the hotel by… dolmusha:) / And here we are already at the airport, waiting for our plane
What are the reviews of tourists – did they like Antalya in 2021-2022?
Antalya: a recipe for a great vacation
Our tips on how to have a good vacation in the resort metropolis, and tourist reviews.
We have prepared this guide with the support of the service of unusual excursions Tripster. There we easily found experienced guides who helped make our vacation in Turkey vivid, and had an incredible experience from the locals. Thank you Tripster for the experience!
Content:
Impressions of the resort.
Antalya is surprisingly very clean and well maintained. I was expecting to see a rambunctious tourist town a la Anapa, but this is a European-Turkish resort and everything here is neat, tidy and beautiful. There are nice parks, a cozy harbor, historical buildings. It's good that my stereotype is shattered!
Antalya is such a convenient and versatile resort that it's amazing. It is a resort metropolis, here every tourist without exception can find a vacation to his liking and interest! The old town of Kaleici is for those who like narrow streets with cozy cafes, antiques and oriental flavor. The Lara district is popular with families because it has a lot of big hotels and a sandy beach. The Kepez area has the popular Düden waterfalls, a zoo and large shopping malls, and Konyaalti is generally a resort in a resort with good beaches and developed infrastructure. Usually it is here where our compatriots come.
Read what reviews tourists leave about rest in Antalya:
MonSherAlbina: "The cleanest streets, pleasant landscapes. The city of bronze sun and tropical greenery. The hazy mountains on the horizon are a delight to look at, and the streets are lined with well-nourished furry cats and kind dogs. It's a case where the depth of the sea, and the beauty of the mountains, and on the background of modern high-rise with incredible views are shabby villages with a frantic history.
The old town consists of cozy hotels, cafes, bars and stores. A restaurant street with umbrellas in the center of Antalya.
How to get to Antalya
Vacationing in Antalya is convenient because the airport is right outside the city. See ticket prices on Aviasales.
Most tourists fly to Antalya on a trip, and the transfer to the hotel is already included in the price – it's most convenient. If you are an independent tourist, it's easy to get to the center of the resort: there are express streetcars and buses. Find out how to get from the airport to Antalya.
If you want more comfort, book a cab or an individual transfer. In Turkey we book transfers on three websites: Intui.travel, Gettransfer.com or Kiwitaxi.ru – compare prices for the desired date and choose the most convenient and inexpensive. With an individual transfer you can save a few hours of vacation, especially on the last day of vacation not to leave for the airport too early.
What hotels to stay in
The choice of accommodation at the resort is unimaginably huge! There are great resort hotels by the beaches in Lara and Konyaalti, nice Ottoman style guesthouses and mansions in Kaleici, and regular city hotels in the downtown area.
From personal experience we can recommend two hotels in Antalya. For a family or just a beach romantic vacation, look out for the Aska Lara Resort & Spa 5*. He has a sandy beach, water park, spa, a large tennis court, "all inclusive". We had the most pleasant memories of the hotel!
For those in Antalya renting a car and sightseeing in the surrounding area, we recommend Sare Suites Downtown in the bedroom community. It is such a cozy and clean apartment that I didn't want to leave. We chose these apartments because they have good reviews, have parking, easy access from the highway, and Kaleici is about a 30 minute walk.
If you are planning a holiday in Antalya in the high season, book a hotel a few months before the trip. And you can also save a lot if you come to Antalya in the off-season, at the beginning or end of the season. For example, at the end of April we paid half as much for a 5* hotel as we did in summer.
Check out what all-inclusive hotels in Antalya tourists consider the best:
Look for a hotel in advance on Hotelluk. That way you can choose the best accommodation based on tourist reviews. We also buy tours only online at services Travelata and Level.Travel – they quickly find the most profitable trip, plus you can read reviews on the sites.
Every year new hotels open in Turkey. If you like to live in rooms with modern technology and new furniture, in rooms where no one has been before you – then you urgently need to read about new hotels in Turkey.
Conclusion: book a hotel in advance, and buy cheap tickets at proven online services. If you want to save money or stay in a great hotel inexpensive, rest in the off-season, at the beginning or end of high season. For a beach holiday, settle in Lara or Konyaalti.
Our hotel Aska Lara Resort & Spa 5*. Our hotel Sare Suites Downtown.
Where to swim in Antalya
The coast of the resort almost entirely consists of good sand and pebble beaches. Imagine – for cleanliness and quality of service more than 160 beaches in Antalya awarded the blue flag! Tourists leave only positive reviews about the beaches. Of course, the beaches are clean, there are toilets, showers, umbrellas and sun loungers, cafes and bars are nearby, there is entertainment and comfortable hotels by the sea. Almost all beaches are free. If you do not want to pay for a deck chair, you can safely arrange with the towel.
Lara, in my opinion, the most comfortable beach. Spacious, with yellow sand, you can safely enter the water, even children.
Konyaalti beach is sandy and pebble and loved by tourists, but it has a rather sharp entrance, so the water is often come out almost on your knees. I advise you to wear aqua shoes.
When we were walking in the harbor, we came across a very cinematic beach Mermerli with a cafe, where the sun beds at high tide are in the water. I had never seen anything like this before and I fell in love with this beach immediately!
I will not list all the beaches here, just read our article on the best beaches in Antalya.
Conclusion: Lara – the most comfortable beach, Mermerli – to feel like a hero of a French movie.
Mir2010: "The water is from bright blue to light turquoise, the shore is dotted with colored pebbles. The beach in Konyaalti is one of the best in Antalya, very clean and atmospheric. Since there are not many hotels in the area and a lot of sunbathers, it is the locals who are interested in cleanliness). I am impressed, I recommend this area to everyone."
Mermerli beach in Antalya – one love! Lara Beach. Konyaalti beach. In this photo from the drone you can clearly see how quickly the depths begin.
Is it expensive to relax in Antalya?
Antalya is a fairly budget resort. I think the hotels in Antalya are a little more expensive than in Alanya. And we did not notice a big difference in prices for food, transportation and tours in 2022, compared with other resorts in Turkey. Everywhere can be adjusted rest according to your budget!
Here's how tourists talk about the prices in Antalya:
Sstojkova: "National food is insanely delicious and not expensive at all. For example, a huge kebab cost 110 rubles for our money. The legendary kebab ekmek is 10-12 liras. Lentil soup in a cafe 3-5 lira per plate. Mussels with rice 1 lira apiece. Alcohol in Turkey is not cheap. A bottle of beer cost 8 lira. Wine from 35-45 and above.
Leparda777: "I advise you to eat in Antalya. For a week of rest – ate delicious, nourishing, walked, swam, went up to the observation points, drove around Antalya freely by bus, spent 25,000 rubles for everything."
The old city of Kaleici in Antalya has beautiful streets with cozy restaurants and cafes.
What to see
Antalya has a nice old town – Kaleici. It consists entirely of cozy hotels, cafes, bars and stores. There we walked through the narrow streets, admired the old buildings, looked at the oriental carpets in the shops, looked at the mosques and minarets, and at the end we passed through the beautiful Hadrian's Gate. If you look closely, you can see ancient tracks of carts and horses on the sidewalk below them!
Take the stairs from Kaleici down to the port. Excursion ships depart from here, and people are actively encouraged to take a stroll. From below you can see the fortress wall. And then there are a lot of the cutest cats, which patiently await the catch of fishermen.
Be sure to visit the Lower Dyuden waterfall, which falls directly into the sea. There is always a rainbow next to it.
Take a ride on the retro streetcar, which is called nostalgia. It goes from archeological museum through city center and many points of interest to Zerdalilik stop.
What else to see and do:
Aquarium and Terrarium.
Lookout points and beautiful parks.
Museums: Archeological Museum, Ethnographic Museum, Maritime Museum, and Toy Museum.
Singing fountains.
Cableway to Tahtali.
Boat trip.
From Antalya visit the ruins of the ancient cities of Perge, Termessos, Aspendos, Phaselis, and Olympos, the Karain Cave. You can get there with a tour, a cab or a rented car. As far as I know, it's complicated with public transportation. On excursions read below.
Conclusion: A whole vacation is not enough to see everything in Antalya and its surroundings! We will have to go back.
Take a look at our Antalya sightseeing guide to plan your itinerary.
There are deep wagon tracks under Hadrian's Gate. The amphitheater of the impregnable city of Termessos, which Alexander the Great himself could not take! The lower Duden waterfall.
What excursions to take
Antalya is good not only for beach holidays and just living, but also in terms of excursions. There are a lot of interesting sights, plus it is convenient to go from here to Pamukkale and Cappadocia. As a consequence, there are plenty of excursions in and out of Antalya!
Since we had a rental car, we drove around the area on our own. And then we decided to take a couple of excursions around the city. On our favorite service Tripster, which collected author tours, we chose a tour of the Old City of Antalya, a yacht ride to the paradise island of Suluada, and a quest excursion to the archaeological museum. We were guided by the reviews and we did not go wrong – the excursions were very fascinating, we can safely recommend!
Read our review about the walk in Kaleici in the company of a glorious guide Nikita and learn about the best excursions in Antalya.
Although we knew Antalya well, we took an individual tour of Kaleici. The guided walk exceeded all expectations! Just look at that spotless clear water near Suluada Island!
Where to rent a car
If you have the right, desire and time, rent a car for a couple or three days and see the sights around Antalya on your own. It is very easy! The roads in Turkey are excellent, the rules are ordinary, the police are kind, and the driving style of the locals is quite adequate. And it's also advantageous if you're vacationing with a family or a company – it's cheaper than taking a cab. Read our tips for renting a car in Turkey.
We booked a car on the Localrent website and were completely satisfied. We rented a car to drive along the Aegean and Mediterranean coasts and to see Cappadocia and Pamukkale. Near Antalya we visited the antique cities of Termessos, Aspendos and Perge on our own. We had lots of impressions!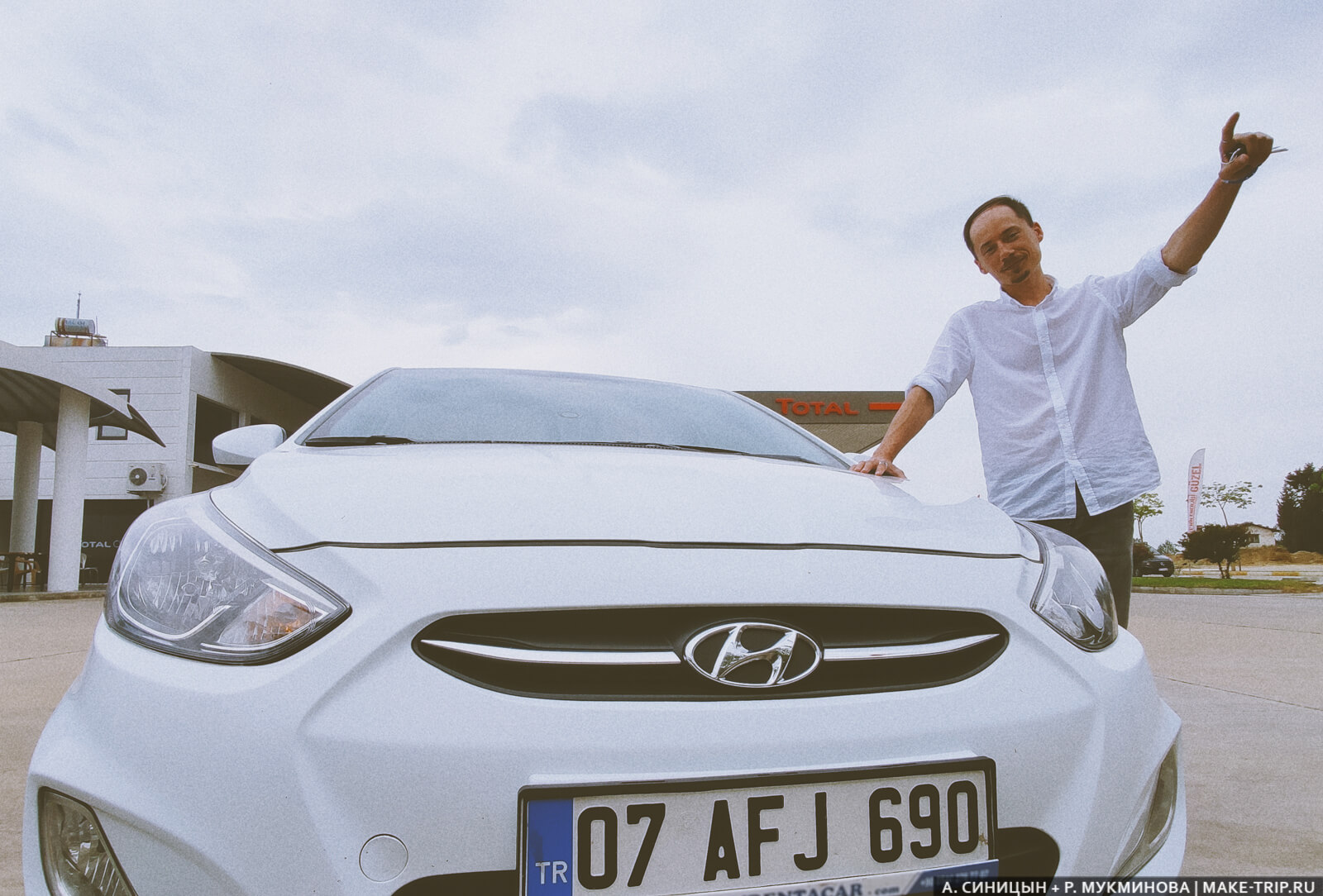 In Antalya we rented a car to drive along the Aegean and Mediterranean coasts, and to see Cappadocia and Pamukkale.
Should we go with children?
Antalya is predominantly sandy, so it's safe to come with children. Moreover, the entrance to the water on sandy beaches is gentle, and there are no strong waves. Holidays with a child is best in June and September, when there is no intense heat. In May and October, choose hotels with heated pools.
Antalya has a lot of family hotels, aimed at children – with animation, babysitters, playgrounds and rooms, water slides and children's pools. There are so many that you just can't choose! We recommend Aska Lara Resort & Spa 5*, where we stayed: it has a large water park and a bunch of children's activities.
According to tourist reviews for 2021, some people think the resort is big and noisy. However, a lot of entertainment makes up for it. With children of preschool age, settle in suburban hotels – there is not so noisy. The resort has Aqualand and Dedeman water parks for children, an aquarium, a zoo, the Aktur Park amusement park, and the Mini City park of miniatures.
Well and a big plus is the proximity to the airport, especially for parents with toddlers. Learn more about holidays in Antalya with children.
Conclusion: come with children, you will love it! You have to choose a comfortable hotel.
Water park hotel Aska Lara Resort & Spa 5 *.
When to visit
In Antalya, a warm, dry climate, so the heat even in high summer is easier to endure than in Kemer – we experienced it ourselves! The difference is surprising: the sensation Kemer – a greenhouse, and Antalya – a dry sauna, although they are not far from each other.
The beach season begins in May and lasts until mid-October. Holidays are most comfortable in May-June and September-October. In May, it's still cool to swim, because the water in the sea is +18. +20 ° C, but in June is already quite good.
The hottest time is August, at this time to go to Antalya is not advised: +36 ° C air in the shade, +29 ° C sea water. In November the weather is capricious, but, according to reviews, some people are lucky and during the whole vacation there are only 1-2 cloudy and cool days. See when it's better to rest in Antalya.
Conclusion: in my opinion, June and September are ideal months for comfortable bathing and excursions without suffering from the hot sun.
Vetla: "We were at the end of September, for 10 days there was not a single cloud in the sky, the temperature was over 35 degrees. Beautiful sea with huge waves, sandy shore, huge fish swimming right underfoot."
A view of Mermerli beach. At the beginning of June, people are already swimming here.
Our verdict
Antalya manages to please almost everyone, because everyone finds something to their liking. It is impossible to get bored in Antalya! You will find a place even if you are a hardened introvert and want peace and quiet – you just need to choose the right hotel away from the noisy center.
By the way, about the noise and bustle – perhaps it's the only complaint to the city. Though with what to compare, of course – many write in reviews that it is very quiet. We too found Antalya very quiet for such a major resort. It's not night Pattaya for sure!
In general, if you want comfortably and inexpensively rest, see a lot of interesting sights, good shopping and get acquainted with Turkish cuisine, you are welcome to Antalya!