Arkhipo-Osipovka – resort for family holidays
Arkhipo-Osipovka is a great resort for children. It is obvious that they tried to make the settlement maximally attractive for family tourists. But it will be rather boring for holidaymakers without children in Arkhipo-Osipovka. Find out if you need to go on vacation to Arkhipo-Osipovka and what are the prices in the resort in 2022.
– Private sector in Arkhipo-Osipovka. – Hotels and hotels in Arkhipo-Osipovka.
Contents:
How does the resort look like
Arkhipo-Osipovka, or Arkhipka – a typical resort village in the Krasnodar region, where all life is concentrated at the seafront. You can find all the attributes of a southern resort: a wide quay, a sea of entertainments, cafes, stalls with beer, chebureks and ice-cream, a water park, dolphinarium and so on. Almost everything is intended for children, as in Anapa, and we were bored in the village.
There is a huge square near the Central Beach, where almost all the attractions are concentrated. I remember that I first came to Arkhipka after sunset and was amazed: everything sparkled with lights, there was music and children's laughter from everywhere. After years, Arkhipo-Osipovka has not changed so much – there are still many family tourists and children's entertainment, but it has become more well-kept and clean.
The settlement is usual, there is no beautiful architecture and any outstanding sights. Is that the beach is picturesquely sandwiched between two mountains Camel and Hedgehog, and next flowing green rivers Vulan and Teshebes.
The street which leads to the sea. This is how the beach and the mountain "Hedgehog" look like. And this is the embankment. Wide and generally not bad, but also not beautiful. The seafront in Gelendzhik, Kabardinka and Imeretinka is better! On the seafront is a piling up of everything. There is no harmony. What a beauty! Ferris wheel, attractions and half-naked bodies outside the beach are inherent to any resort in the south of Russia.
Prices for housing in Arkhipo-Osipovka
I have the impression that Arkhipo-Osipovka is one big private sector. Almost everything is guest houses of different shapes and sizes, so there is enough accommodation for holidaymakers. There are not so many high-rise buildings, and you can rent an apartment in them. Among the guest houses stand out the stylish Artemis and Villa Sofiya with its two swimming pools.
Search for accommodation in the private sector on Search.ru is a convenient and reliable service with real photos and reviews of tourists. You can rent an apartment, a room, or a house directly from the owners. Do not think you can easily rent an accommodation when you arrive at the station, as they usually offer overpriced apartments in uncomfortable areas with minimum amenities. Book your accommodation 2-3 months before your trip.
There are not many hotels, there are several star hotels: "Roza Vetrov" 3*, "Roza Vetrov novaya" 3*, "Argo" 2*. Parents with children will especially like in the hotel and entertainment center "Albatross" 3*, where you can live on "all inclusive", use swimming pools, rides and water slides. Look for hotels on the service Hotelluk – it will be more reliable and profitable, because it looks for discounts on different sites. Learn how to book a hotel cheaper.
So, here are the prices for holidays in Arkhipo-Osipovka in the middle of summer 2022 (room for two or three per day):
| | |
| --- | --- |
| Type of housing | Price for two persons |
| Apartments | from 1 500 ₽ |
| Guest houses | from 800 ₽ |
| 3* HOTEL with breakfast | from 5,300 ₽ |
Near Arkhipo-Osipovka, to the west, there is a large pine forest with amazingly clean air. There are many campsites there. If you have your own car, I advise to stay for two-three days in a camping, for example, we stopped in "Coon". The facilities are pretty much the same everywhere – there's parking, tents, drinking water, toilets, and showers on the gated grounds. The average price is 300 ₽ per day per adult and 200 ₽ per child from 4 to 12 years. Some ask to pay separately for a car.
Warning. During our extensive audit of resorts in southern Russia, we found that local hoteliers often cheat vacationers by buying positive reviews on travel sites, including Bucking. So read the reviews carefully before booking, especially the negative ones – they will tell you a lot of interesting things. Also see how their hosts respond to criticism: if they are rude, sarcastic, and hit on the tourist, then feel free to pass by. We advise to book accommodation in advance, rather than look for it on the spot, otherwise you will get a mediocre version, and even overpay.
Albatross Hotel 3*: "A lot of children's pools with different depths. Water slides and entertainment, cheerful animators, children's club. For parents with children it is a godsend." Vitaly.
Sanatorium Arhipo-Osipovka 2*: "Advantages – comfortable rooms, chic balconies, nature, beneficial shade on the territory and on the way to the beach. Secured a place in the dining room for each camper. Ilya.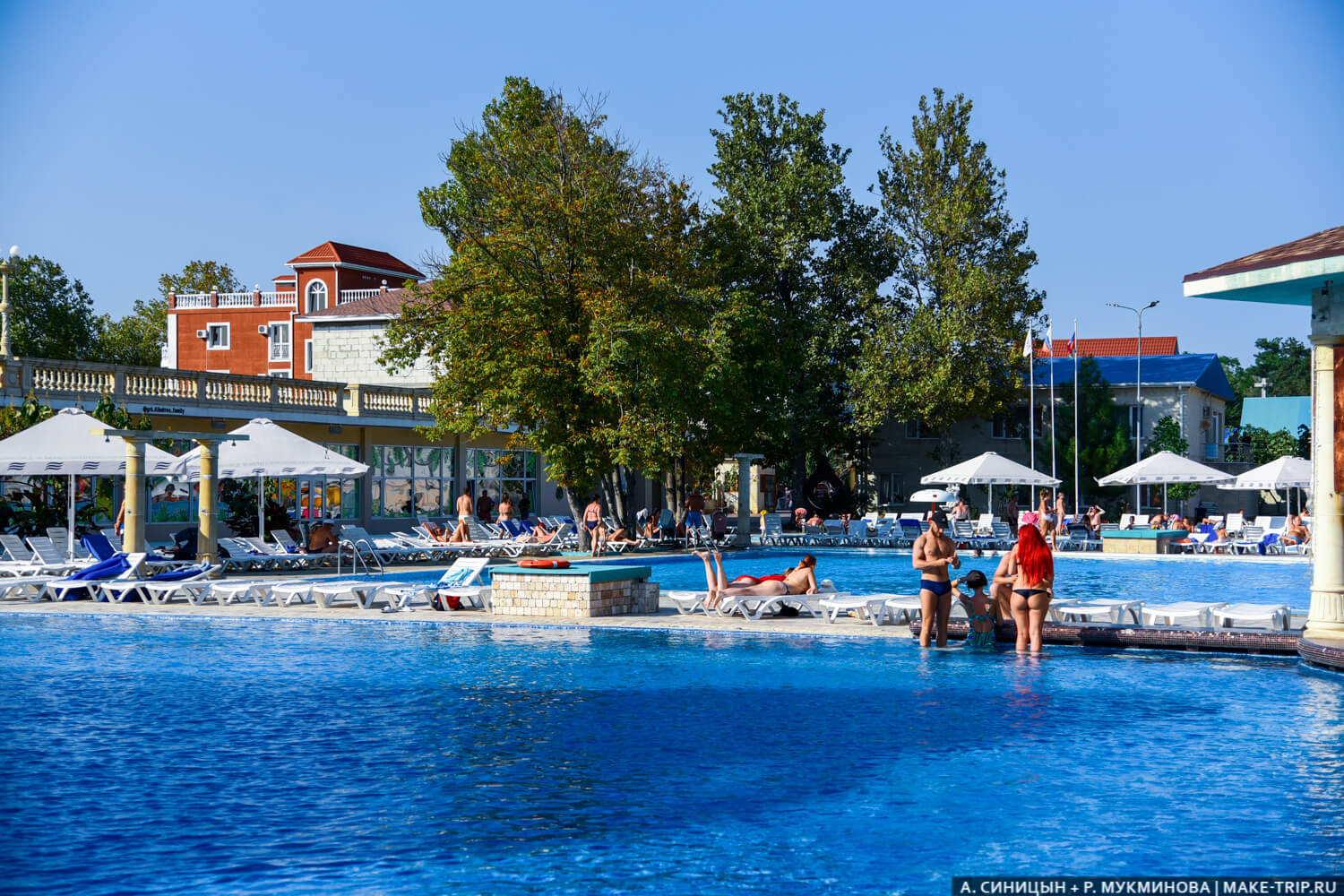 This is the territory of "Albatross" – the hotel and entertainment center. If you live in the hotel, all the slides and pools are free. However, you can just buy a season ticket for the day.
Best Hotels Arkhipo-Osipovka
Prices for food in 2022
There are many dining rooms in Arkhipo-Osipovka, where prices are as everywhere – 200-300 ₽ per person. But these places have low rating. Most of all tourists like the dining room "Gluttony", where in the summer at lunchtime there are even queues. It is located in Pionersky lane, 2B – you will have to walk from the sea.
In cafes, pizzerias and places with Asian cuisine the price tag is higher – from 500 ₽. Very many reviews and a high rating at the cafe-dining room "Tornado" – there reasonable prices and quite tasty food. In the daytime it is a quiet canteen, and in the evening – a loud restaurant with a disco, DJ and live music, so it's to your liking. Many people like it, but some people are very noisy.
Maria: "Just from the heart of the place. I recommend it. Dining room "Glutton" – it's not on the shore, so it is known only to the old-timers. Very tasty, various. And that you understand – for three (me, husband and child), we dined at most 500r. A full lunch – portions are large.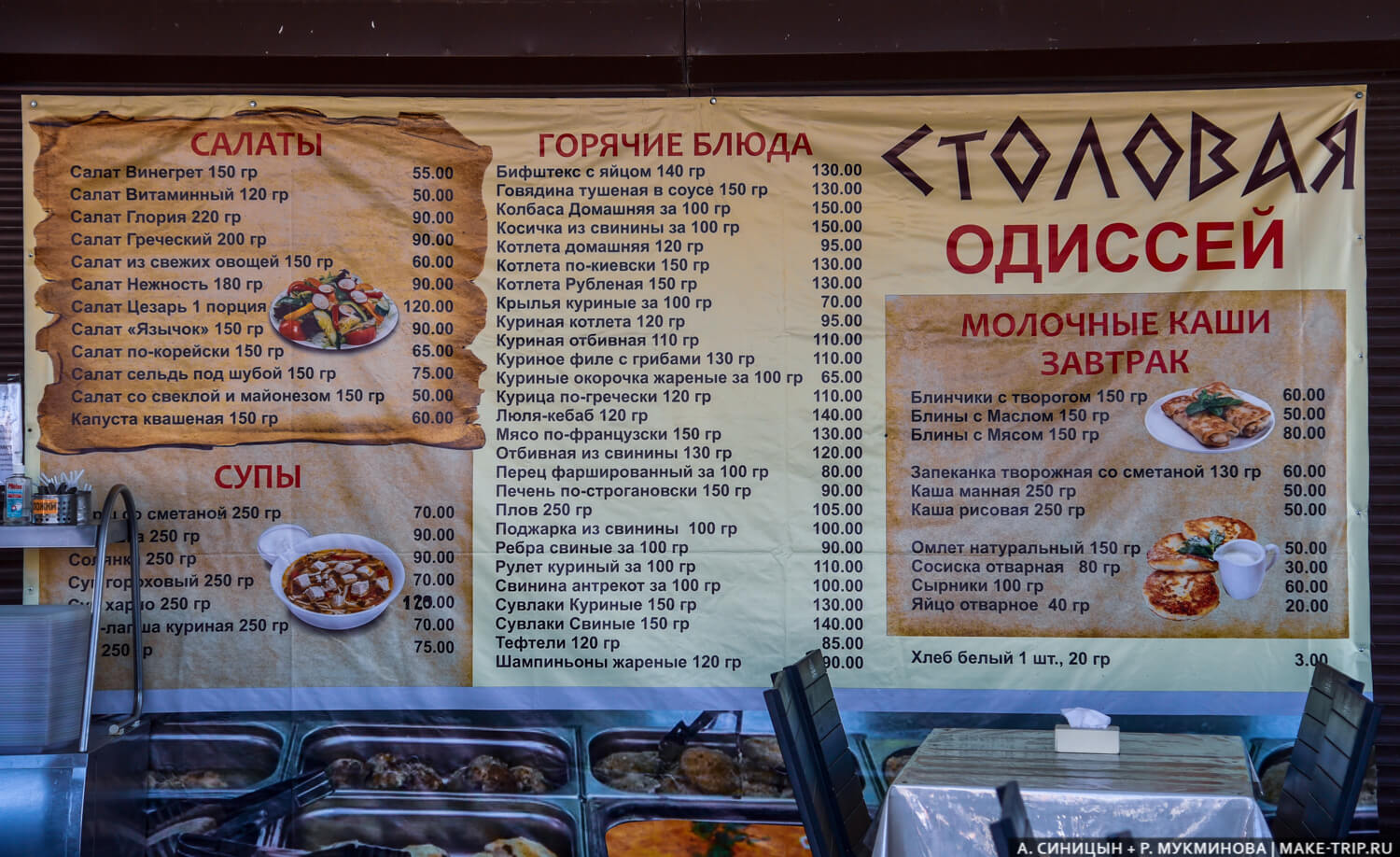 Prices in the dining room "Odyssey".
Beaches and the sea
Beaches of the settlement pebble, only at the edge of the water there is some sand and crumb shell. The entrance to the water is shallow and the sea bottom is sandy – convenient for those who can not swim or who came with a child.
The central beach stretches along the seafront. It is the busiest, even in September there are a lot of people. It has everything: toilets, showers, changing rooms, deck chairs and awnings, wooden decking, water entertainment.
The water in the morning is quite clean, but the more people come to the beach, the murkier it becomes. Unlike Kabardinka where the water is almost always crystal clear, in Arkhipka it is often muddy.
To the west of the Central beach there are beaches of health resorts. There are two more equipped beaches near the mouth of the rivers Vulan and Teshebs, and look for wild beaches near the mountain Camel.
Rina Ivanchenko: "In front of the beach there are lockers where you can leave your things. A brilliant idea, in my opinion".
The sea on the Central Beach in Arkhipo-Osipovka is not as clean as in Kabardinka. View of the beach from the pier. The beach is pebbly, with sandy areas. Entrance to the water is sandy. The beach is comfortable, everything is. You can rent a deck chair or spread your own towel.
How not to pick up an infection at sea
Intestinal infections – this is a really big problem of southern resorts. Rotavirus and norovirus are more often caught by children and become seriously ill, but adults also suffer from it. Be sure to pack a medical kit on vacation and do not forget the MHI policy. Young children should always be vaccinated against rotavirus.
In order not to catch an intestinal infection in the Black Sea (in fact at any sea, even abroad), you must follow the basic rules of hygiene:
Do not swallow seawater.
Thoroughly wash fruits, vegetables and hands before eating. Wash with running water or bottled water, not in the sea!
Drink bottled or boiled water.
Do not buy food from street vendors.
Do not take perishable goods to the beach.
If you cook yourself, watch for hygiene and well cook and fry products.
Make sure children do not put stones, sand, earth, and dirty hands in their mouths.
Excursions and Entertainment
How do tourists have fun? They walk along the embankment and the big green park, which belongs to the sanatorium "Arkhipo-Osipovka", visit cafes and restaurants, have fun in the water park, go to the Museum of Bread and Wine and to Mikhailovskoe fortification.
In the vicinity of the resort, where the campsites, you can find dolmens – we arranged a hike to one of them. Go up to the Left Cape and admire the view from the observation deck.
You can have a tour to the Teshebsky and Plisetsky waterfalls, the Melnichnaya Slit, the Pshada river valley, and the dolmens on the Zhane river. From Arkhipo-Osipovka it is easy to take a trip to Gelendzhik, Kabardinka, Abrau-Durso and Novorossiysk.
Quite near is a stunningly beautiful Inal Bay. A view from the observation deck on it is simply gorgeous! And a little further there is a secluded and little-known Blue Bay with turquoise water.
"Pill" is a popular entertainment at our resorts. The Museum of Cosmonautics is also interesting for adults. Tourists stroll along the embankment in the evenings. Dolmen, which we found in the outskirts of Arkhipo-Osipovka. On our way we saw vines and traces of wild boars.
Rest with children in Arkhipo-Osipovka
Arkhipo-Osipovka is a completely children's resort, almost like Anapa. There are so many attractions for children that it is amazing! Go with the child to the amusement park "Malibu" and Luna Park (they are quite near), dolphinarium, Museum of Cosmonautics, "House upside down", water park Goodzone, crocodile farm and a theme park dinosaurs.
Listen, at the dinosaur park the reptiles are so alive and make such natural growls that even I was impressed. Kids, I think, will love it, especially at the age when they are interested in dinosaurs.
And, of course, the GRK "Albatross" is a good choice for a child. You can buy a ticket for the whole day and enjoy the pools and slides.
The dinosaur park has 16 exhibits. They are just like live ones! Kids will love it for sure. A ticket for adults costs 400 ₽, for children it is 300 ₽. There is a small park "Malibu" with water slides in Arkhipka. It is located right by the beach, on the main square. Entrance for the whole day costs 500 ₽, for half a day – 400 ₽, and for 1 hour – 300 ₽.
When it's best to relax
The beach season lasts from late May to early October. Most of all holidaymakers in Arkhipo-Osipovka are in summer, but this is also the hottest time of the year. See for yourself if you can stand the temperature of +30 … +35 °С! It is better to come to the beach before 11:00 and after 15:00. The sea is warmed up to +25 … +26 ° C, so it is comfortable to swim.
In my opinion, in Arkhipo-Osipovka it is better to come in the velvet season, when it is already not so hot. About it other tourists write in responses. In the beginning of September the weather is absolutely summery, but by the end of the month the air cools to +23 … +24 ° C, and the sea water to +22 ° C.
It seems that it's the end of September, but there are a lot of tourists.
5 reasons to have a rest in Arkhipo-Osipovka
Most people like Arkhipka. They write in the reviews that this is not a bad place for a budget holiday by the sea. Mostly people come to the resort with children – there are all conditions for them. Here are the arguments in favor of tourists in Arkhipo-Osipovka in 2022:
Developed village with everything a tourist needs.
Low prices – you'll have a rest cheaper than in Sochi or Gelendzhik.
A lot of entertainment for children, and adults have something to do.
Well-equipped beaches and a wide promenade.
If you have your own car, I advise to stay in one of the campsites next door – there are pine forests, wild beaches, dolmens and a minimum of people.
Natalia: "The central beach is crowded, so we moved across the river to a freer beach. The child really liked to ride on catamarans.
Arhipka is the developed tourist settlement. I don't understand how I got to Karkhipka.
Six reasons not to have a rest in Arkhipo-Osipovka
The sea and the beach are not as clean as in small seaside villages. The water is cleaner in neighboring Kabardinka, Inal and Blue Bay.
There are not many interesting places in the resort and the surrounding area.
The beach is pebble, but with an admixture of sand. If you do not like pebbles, read where in the Krasnodar region there are sandy beaches.
In the summer there are too many people.
Not very convenient to get to – you can only get by cab or bus.
First of all, this is still a resort for family tourists with children. The rest will be a bit boring.
Olga Lyalina: "When I came there, I thought that all the resorts of the Krasnodar Territory have closed, and vacationers out of despair decided to come here.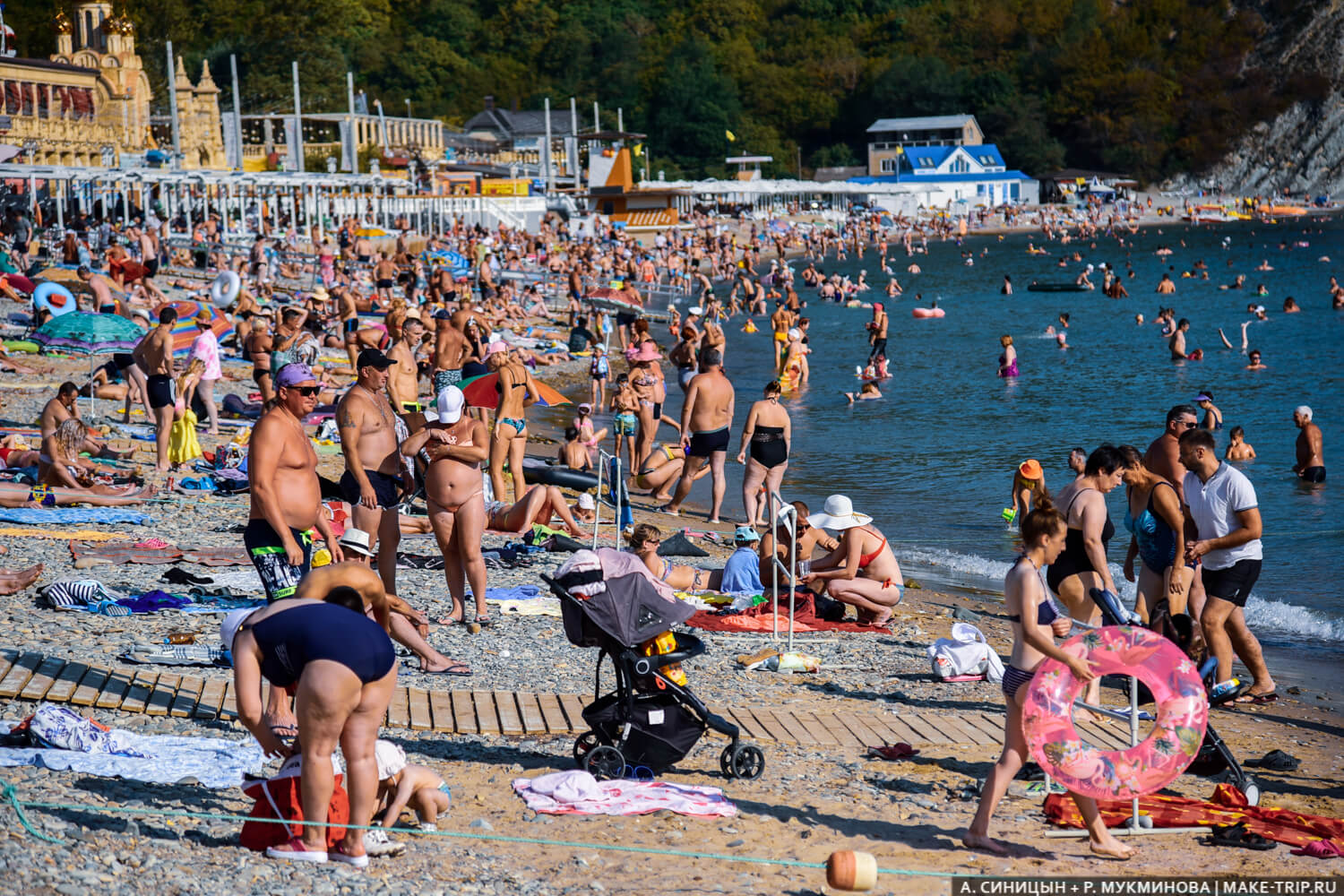 Arkhipka is a popular resort, and the locals come here too. It is better to holiday in June or September to avoid the crowds of tourists. Although we took this photo in September: as you can see the beach is overcrowded.
Conclusions: is it worth to have a rest in Arkhipo-Osipovka?
To be honest, I have not been impressed with the settlement – I doubt that I would go to Arkhipo-Osipovka to rest. It is crowded, noisy, ugly and has no interesting sights. From nearby resorts I would prefer Kabardinka or Gelendzhik. But family tourists with children will like it here: the sea of pleasures for children, and the prices are not high.
The sea in the season is a bit muddy, for clean water you have to swim farther away. On a beach it is impossible to push through, and to lie against other people is unpleasant.
Here that is really cool in Arkhipo-Osipovka is a pine wood, where it is pleasant to live in a camping and to fall asleep under noise of pines. We spent there a few days in a tent: walking to the dolmen and forest museum, running from bats, breathing pine scents, swimming on a wild beach, barbecue and play poker in the evenings. Soulful! Find out where to relax with a tent at the Black Sea.
If Arkhipo-Osipovka did not impress you either, consider other resorts of southern Russia: Gelendzhik, Anapa, Kabardinka, Divnomorskoye.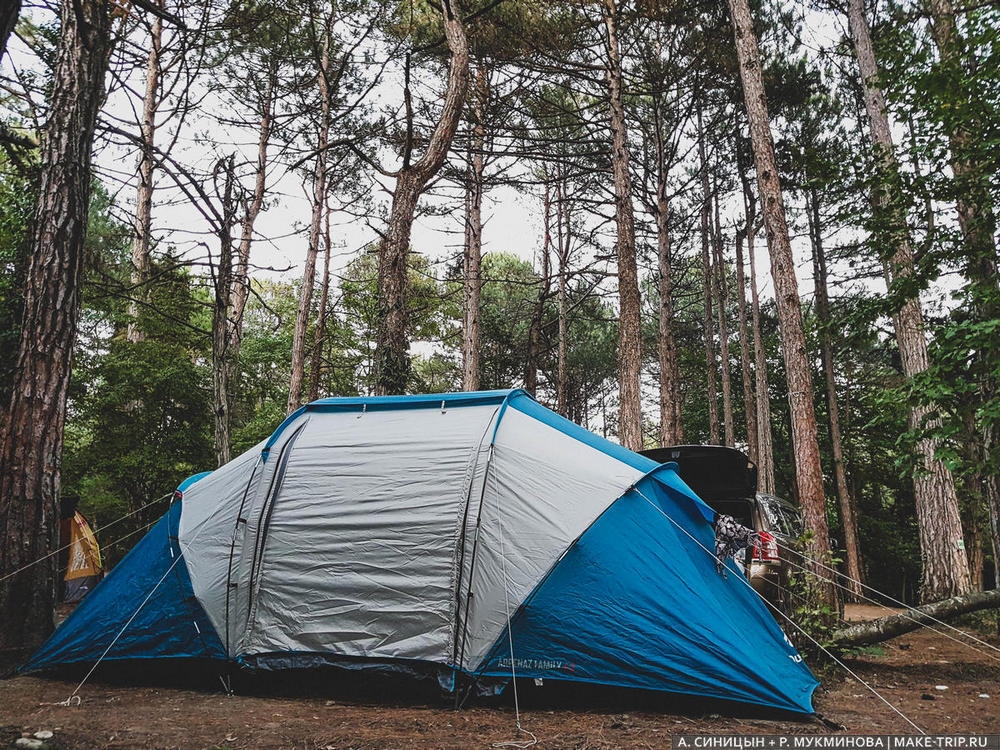 Near Arkhipo-Osipovka there are wonderful pine forests, where a lot of campsites.
Krasnodar Territory. Arkhipo-Osipovka – reviews
In July 2019 my husband took me to the sea for the first time. We were choosing where to go.The choice fell to Arkhipo-Osipovka. Well first of all it is the closest to us. We decided not to risk with a small child, we didn't know how he will bear the road. We left Voronezh region at 22 o'clock, we arrived at 9 o'clock in the morning. Had 1 stop in Rostov. The child, 4 years old, well tolerated the trip, he did not understand it, slept in his bed. And here I am, of course, exhausted, well, I'm not used to such long journeys (although people go farther). And so about housing. Lodging rent is not a problem, at every step and every fence signs, it all depends on the financial capacity. We chose a guest house 20 minutes walk from the sea. For 1400 for three people. To the room itself have no claims, very comfortable, inside a bed and a sofa double, closet, table and chairs, fridge, well, and a bathroom. We considered it inexpensive. But later of course decided that it was necessary to settle closer to the sea. Brought a bag with a towel, an umbrella, a refrigerator bag, in general it was hard to carry it all. Secondly, it was a beach holiday. As I have already written we have a fridge bag and it saves the family budget. You can buy food, beer at any chain store, which is already cheaper than on the beach and spend the entire day on the beach, thinking about nothing, not running anywhere. Umbrella was your own. Sun lounger not expensive for the whole day, 100 rubles. The third – the sea. Here I was disappointed. Pebble beach. That then I saw that people buy rubber slippers and swim in them, but I did not know about it. I knocked my feet all over. While in the sea, you have to walk 30 metres to the sand scratched in the blood all, the wave knocked down, I have a child yet, so he did not miss. I had a baby, I had to walk 30 metres to the sand, it bruised the blood, I had to walk to get it out of the way. Waves to me too did not like, plavsh, plavsh and has covered you, but it I think everywhere so. And here on a pebble underfoot will not agree more. Fourth: the excursion. Went to the waterfalls. 22 km on the mountain road on the open UAZ. For this I was not ready, inside poured water from the mountain stream. But good that the child was not frightened, on the contrary, he laughed, my husband was happy, and I realized that, at least, there will be something to remember. We took beautiful pictures. Still there was a bath, an opportunity to ride a horse, wine tasting, cafe. The cost of the tour 1200 people, gave 2400 for me and my husband, a child for free. In general, the tour delight, I recommend everyone. Fifth: evening leisure. Went to the center of attractions for a ride, bought souvenirs, ate kebab, in general all was banal. But it is rest. Here I want to write here about wine. I do not recommend to buy and carry home draft in 1,5 liters bottles of wine. Fermented, which means it is not wine, but rubbish. Sixth: the water park. Super place for children and adults, I had a lot of fun swimming there, no waves, it was comfortable to go in and out. We went for a ride on the slides, delight. Well and seventh – is the most disgusting memoir about this rest it is a dining room "the Eating Elephant". More unsanitary place I did not see, food disgusting. Is located near aquapark. Have ordered there food, meat in general, on taste has appeared disgusting, have eaten some slices and have decided not to poison any more to itself, but nevertheless have got poisoned, vomiting, diarrhea. I wouldn't recommend this place to anyone. There's a "Obzhoroka" across the street – it's very tasty and people are standing in line right outside. We bought cottage cheese casserole there for breakfast more than once, tasty as at home. In general I would give 4 as a rest.
Advantages:
Warm Not been raining Lots of entertainment.
Noisy Lots of people.
We vacationed in July. Bright, friendly, WINNING town!) at every step souvenirs, there is a huge amusement park, a huge number of cafes and one hotel. Rest cheap, budget. It took us two days to get from Ryazan. Affects the abundance of greenery! Paradise.
Advantages:
Beautiful nature, a place to relax with children.
A lot of people, high prices for housing.
I've been to Arkhipo-Osipovka for the first and last time. The village itself is quite nice, with well-developed infrastructure. Everything is provided for recreation with children. But there are a lot of people everywhere and always. On the beach you can not turn around without hitting anyone. In the sea you bump into people all the time. On the seafront, too, not to push through.
This summer in June my cousin persuaded me to go to the sea with the child.She took tickets from St-Petersburg on June, 20.I never go to the sea in June, as the sea is still cold.She went to Arkhipo-Osipovka.I have only childish impressions of Arkhipo-Osipovka. I remember the scorching sun as got from the campsite to the sea very long, then descended the stairs in a thousand steps))) as it seemed to me in my childhood. I remember the sea itself vaguely, only how we crossed the river on a rubber mattress, the river flowed into the sea) I remember dolphins. In the forum someone asked a question and a local answered that June in Arhipka is the most unpredictable month, a month of storms and whirlwinds as he said. But the sister came and there was no way out, the son had never been to the sea and wanted to spend time with the children.
At sea we stayed for 4 days. All this time the sea was very dirty. Honestly speaking, I have never seen such dirty water as there in that period, although I have enough of my life traveled along the Black Sea coast. The water was icy. I immediately realized that we just swim with my son will not be in such water, but children loved to play on the beach. And I thought that it was cool that my little boy will breathe the sea air. The beach (central) is rocky, fine pebbles, not too many people in June, the sun was moderate and yet the child burned.It was bought a bunch of tools in the coastal pharmacy, and they all failed, caused allergies.Recommended johnsonovskii cream, but I found it there.I bought and panthenol, and even a means for women with a filter 35 for the face. The beach was clean and modern, surrounded by different cafes, one of them we decided to have lunch, there was plenty of people there and we bought some meat and salad with pilaf, on the second day I fed my baby with this meat there and my sister gave me a pie. We drank milk koktel. Suddenly the vomiting started in the evening, which lasted for days in the child. I packed a bunch of medicines from home. I called our doctor, on her advice began to give her furazolidone, plus smecta, and motilium. It was difficult to reach the ambulance. Nobody knew the number. Then I called to Gelendzhik, automatically, and gave the number of Arkhipka. They said we would arrive, but not soon. 40 minutes later a doctor came, who gave antiemetic injections, and left. But later the hostess's grandmother said that all who come here get sick, and she herself got sick with vomiting. As a virus it floats here in the air, she said. We only drank bottled water or boiled it, but we washed dishes with regular water.
The house where we rented rooms on the Internet had a very civil appearance. But the next day after arrival I was electrocuted from the closet. As it turned out there is a built-in dishwasher and there is no grounding.piercing well! Hostess Irina did not bother to warn me and others about it.I even felt bad with his heart! And if a child took her.Irina referred to the fact that she hung a towel on the handle and then it did not beat, and here it is someone removed.Well logical! Someone washed hands and decided to wipe!
In the house a huge staircase without any railing, lacquered and the review in front of it is not covered by anything on the second floor. Very dangerous for children.
In the yard despite the beautiful garden mass of metal structures dangerous for children.
And on the fourth day in our room the window fell down. Right on the bed! A huge frame with glass! Thank God he saved my child and he was not sitting there at that moment!
My advice. If you go on vacation be careful with lodging. Do not look for on the Internet. It is better to look at the place and choose the right one. It can be super clean and modern, but done tat-tat-tat, as in my case, when the window-frame was not even fixed anything! I can say with certainty that this was the worst "vacation" of my life, we went home with relief, and the cab driver was driving to the bus saying that he himself was not swimming here, and went further away, as there is only mud and a breeding ground for infections.
Good day to all! Something a long time ago I have not written reviews, and so it will begin! Rest in the village Arkhipo-Osipovka at us was, rather, not prolonged! I pre-called the owner of the guest house Lyudmila and booked a room on the "zero" floor suite! The hostess welcomed us very well and checked into the room, everywhere was clean and comfortable! The guest house was 500 meters from the sea along the main avenue. We swam, sunbathed and had a great rest for three days! In the evening the promenade begins to wake up in a completely different image. It not only becomes crowded, but the whole transforms in the bright lights of the night. A variety of attractions will allow you to enjoy the game. All of them are in working order and waiting for their visitors. There is a huge water park and a lot (almost at every step) of canteens in the resort village. All Arkhipo – Osipovka is buried in greenery and mountains. There are different walks on boats, catamarans, hot air balloon rides and even fishing trips.
Well, and the minus one and very important – card payment is accepted almost nowhere! Somewhere in some places there are online transfers, but basically everywhere you pay in cash. There is a constant line of 8-20 people at the ATM. And at the time we needed to withdraw money, the ATM only gave out 5k bills.
Thank you all for stopping by! Have a great vacation and enjoy your weekdays!
Advantages:
The beach is clean. Canteen on the beach price-quality. deck chairs under the roof. Sberbank, Pyatrochka, magnet, rolls to go.
Paid sun loungers and public toilets. A lot of incomprehensible fast food outlets, poisoned gyros. Boring
We vacationed with a child and sister in July 2018g in the village. archipo-osipovka. got in a very bad time, all days was rain and storm((( the sea was very dirty, muddy, almost did not bathe Lodging us advised friends, many good words were spoken, but housing was bad in my opinion, not the first line, on the street shkol'naya, 73a, never again will stop there and do not advise anyone! The staff is friendly, but cleaning a nikokuщий in number, a smell of dampness, rain knocked on a roof so that every minute waited that it will collapse will not sustain this pressure, the kitchen general-well as kitchen, a small table and one chair, a place almost no, ate in number. The option certainly is not the most expensive 1500r a day per room, but there are better options at the same price, we were two adults and a child under one year. To the sea 10 minutes But to the settlement not especially liked, is with what to compare. On the Black Sea coast there are other more beautiful places of rest I would not go there any more, neither with children nor without. Over the beach, unfortunately, did not go on the stroller does not pass (Near the beach were very good dining room, the toilet – soap, paper, mirror, clean and tasty, not once poisoned), the child perepapaloshek only black bread, by the way, oooch very tasty. The average price for lunch for two 400 rubles. Nourishing. You can pay by card. Staff polite and fast If you pay for sun beds, you can hide from the sun and rain For children from about two years old near the beach there is a play area – a pool with toys, shallow. There is also a pool where you can swim in bowls, from about 5 years old. There is nothing for the very little ones. A lot of incomprehensible fast food outlets, where without gloves they work, where they take money and with the same hands they spin a shawarma or the same gyros, where the products without a fridge are kept. My sister and I bought "gyros", we fell for the unfamiliar name. The price was 150 rubbish, pita bread, French fries, mayonnaise sauce, or something else, I do not know – we did not finish it, threw it away and besides we were poisoned. Do not repeat our mistakes, eat in cafes, canteens. The pluses are more than the minuses, but the opinion has not changed.
Advantages:
Beach, food, infrastructure.
Vacation in July 2019 This is not a village, but a collective farm of pure water. The beach – jammed under traffic, the entrance to the sea – you can break a leg. We found one beach normal, paid, 50 r hour, 300 r day, clean, comfortable, on the right side of the village, go only by car, beach small stones bulk, people a little less than on the central. It from pluses. Food – to the amateur, was poisoned only once, after that all vacation was afraid of something to eat, all quay "smells" chebureks and shawarma. I found 2 ATM, in Sber a turn about 15 minutes, the Kuban credit around the corner from Sber without a turn, but not always works. In stores, cafes, pharmacies, and, in principle, everywhere, the cards do not take, in some there is a translation of Sberbank online (later found a pizzeria, a pharmacy in the center and a shop on the waterfront with a terminal. ) On day 5 found a normal place to eat – on the waterfront "breeze", edible, tasty, inexpensive, not afraid to eat)))) More found on the reviews of pizzeria, in the center of the village of Pizza Rolls, pizza bearable, azurite much worse, despite the advertising. On the seafront as usual divorce with monkeys – do not be fooled. On roads the drivers aggressive, is not organized movement of bathers to the sea and back, neither paths, nor fencings, on road go, because there is nowhere else. In general, bad impressions from rest. Not for this day behind a wheel to suffer, that not worth it.
Advantages:
There are places to go and things to see.
I came for the first time in 2012 and did not regret it. The village is quiet, well-groomed. Every resident of the resort village monitors its condition. There is somewhere to go and what to see. Every year there is something new (I have been going 6 times, so I noticed). Would recommend.
Advantages:
The very beneficial effects of the salt water and sea air. There is a wild entertainment with contests and rides on the promenade in the evening.
A huge number of people, you can earn claustrophobia, and if you have it go further.
Have decided to go with the wife on the sea, on own domestic car. Well, in order to get exactly decided to move to the nearest resort on the Black Sea Arhipo-Osipoka (we are from Rostov-on-Don, and the distance to Arkhipka 400 km). In general we overcame all the excitement and traffic jams during the trip and after 6 hours we arrived at our destination. The smell of salt water and freshness of the sea lifted our spirits higher and higher. When we went down to the beach, I realized that swimming would not be pleasant, as there was no free space on the beach. At one square meter had 3 or 4 vacationers, as in the viral clips about Chinese beaches))). Those seats that were freed leaving holidaymakers immediately occupied by others. The people just a lot. Apparently not everyone wants to go on toward Sochi and stopped in the first town on the coast. If you have decided to go here to have a rest, be prepared for crowds on the coast and everywhere in the settlement. From myself I will say, to take a place on the shingle by the sea come to him by 07:00, otherwise you just have to stand and look at the sea.
We came with my husband in the resort village Arkhipo-Osipovka in August 2016. We took a cab from Krasnodar airport. Difficulties began immediately in the road, which goes through the mountains and where someone thought to arrange in the holiday season to repair the road. You understand, 4 hours on a mountain serpentine in the heat of 30 in a stuffy car – not the best start) But if it would stop there … Our hotel was almost on the outskirts of the village, to the nearest restaurant or cafe walk about 20 minutes, and back and up the hill (under the scorching sun and on a full stomach). To the sea a little over a kilometer, but walks a car.
I will say at once – EVERYTHING is VERY BORING! For two weeks it took about 30 thousand for food alone. Perhaps, we are two suckers who simply do not know how to save, but we kind of did not luxuriate, fed moderately enough, the more so in such heat is especial it would not be desirable) Walking into the sea uncomfortable, a beach pebble – to go barefoot painfully. The sea is dirty. And to people – as herrings in a barrel, each arrival on a beach began with searches though any place where it is possible to crush. There is a rent of chaise lounges, but to pay 200 r for all day when on a beach we spent only couple of hours in the evening, when a heat a little goes down, somehow it would not be desirable.
Besides the beach, the village is full of attractions for the whole family – water park, dolphinarium, contact zoo, oceanarium, terrarium, crocodile farm, museum of bread and wine, attractions. We went to the dolphinarium and the zoo ourselves – we loved it. The dolphins and harbor seals perform at the dolphinarium, the ticket price was 700-800 rubles. At the zoo you can see rabbits, goats, raccoons, a raccoon dog, foxes, ferrets, chinchillas and something else) there are free guided tours, you can hold and take pictures with the animals, and in the end offer to buy magnets with those photos. This part of the vacation we quite liked) But everything is very expensive, expensive and expensive again.
And the last thing, for which, in fact, I started to write this review. Don't ever, ever take pictures on the waterfront with animals! Do not repeat my mistake. During the week we watched a girl and two men with a raccoon and monkeys on the central beach promenade offering to take pictures for everyone. We really wanted a picture with the raccoon, but we forgot the money, or we left our phone at home with a good camera. One "beautiful" day we were walking along the promenade and saw them again. I slowed down and tugged my husband's hand, saying, "Let's try it. Anyway, it was my mistake. This trio, noticing my reaction, immediately flew up to us and literally sat all the animals on us at once. To our conviction that we need a picture only with a raccoon, there was no reaction. By the way, when we asked about the price they said "200 rubles. What followed was a series of photos of us with monkeys climbing on top of us and a raccoon biting me. I also had to literally run away from these men, who wanted to take more pictures of me separately with these monkeys. And at the end we were given the final amount – 2800 p! To our round eyes and indignation was the answer: "Some pictures with three animals. At our attempt to solve the problem peacefully and offer to erase the photos from your phone and leave, we were told "Yes, at least drown your phone, you have to pay for our work. After 10 minutes of persuasion and shouting, we did give the money, because we did not want to fight or run away from the two healthy Caucasian men. The impression of rest after that was spoiled completely. By the way, photos all have turned out unsuccessful from what even more offensive … We console ourselves that it is only money.
In general, if you decide to go there, be very careful and plan everything carefully.