Bolshoi Utrish – a protected, but cramped resort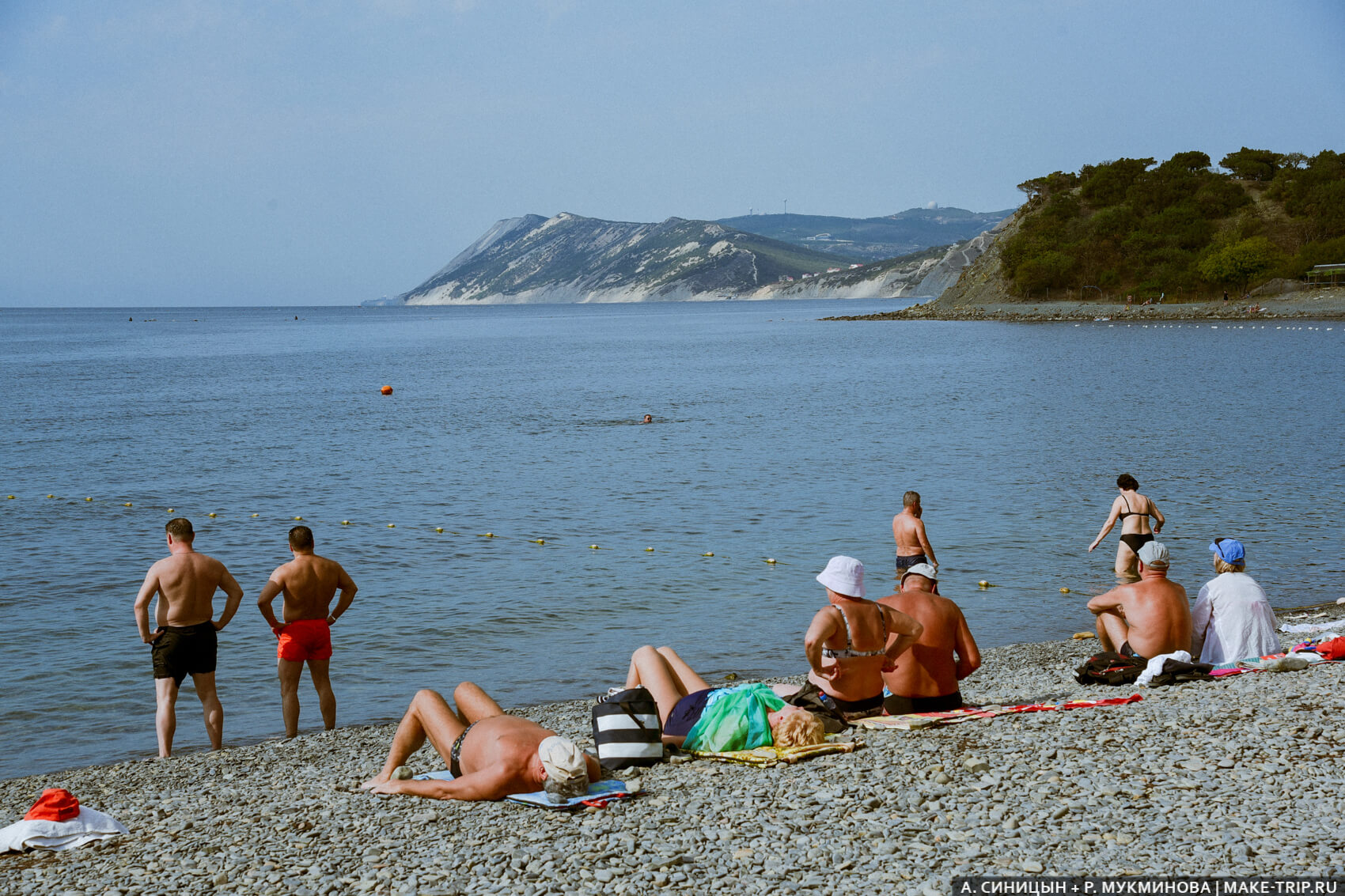 Of all the places on the Black Sea coast, Bolshoi Utrish is the most protected. However, not everyone likes this micro-resort. We personally went there to conduct an independent examination and honestly tell you about the village and the conditions of recreation in it. Learn about the pros and cons of Bolshoi Utrish!
Content:
How does the resort look like
I have been to Bolshoi Utrish twice. The first time we arrived in high season, and I saw the resort only from the car window. We arrived, walked around the streets in search of free places at least in paid parking, found nothing and left.
On our second trip we were luckier. We arrived in late September, parked in a paid parking lot for 100 ₽ per hour and went to explore the tiny village, which is considered one of the cleanest and quietest in the area – a protected area, after all!
Bolshoi Utrish turned out to be a quiet and chamber village with picturesque views, dolphinarium in the open sea, lighthouse, juniper bushes, relaxed beach atmosphere and clear water. I'm not a connoisseur of beach leisure, but even I wanted to stay here for a while and bathe.
The nearest neighbor of the resort is Sukko. Compared to it, Bolshoi Utrish is more intimate and simple. It seems that only locals come here to rest for 1-2 days. There are no discos, night clubs, rows of shops and typical tourist attractions, such as ubiquitous upside-down houses. There are no audio commercials, and nothing to get in the way of relaxation.
The resort is only being developed and ennobled. Already built the embankment and equipped beach "Utrish" on the other side of the spit, but there are still many remnants of shabby Soviet buildings or rusty fixtures sticking out of the water. There are still no pharmacies, banks and ATMs – you have to go to Sukko for that.
Latailes: "The place is not for a permanent vacation, but just for a day trip. You will not see the luster and luxury. This is a very simple, in some ways "gray" place. But the air here is gorgeous and the sea is clean.
Soundspeed F: "The beautiful place, however in a season because of the huge influx of holiday-makers is absolutely not comfortable. You can not find a place to park the car. Even in paid parking lots.
Central beach in Bolshoi Utrish Water is clean! We even saw dolphins from the pier. Bolshoi Utrish at the end of September is not as busy as in July and August. The resort is located in a nature reserve, and it is surrounded by picturesque mountains with juniper bushes and pistachio.
Is it expensive to have a rest in 2022?
There is not much lodging in Bolshoi Utrish, and prices go up during the season. In 2022 double rooms in guesthouses and at the recreation center "Sea Gulf" cost 2200-2500 ₽ per night. In the hotel "Fort Utrish" rooms cost at least 6000 ₽ per night. According to reviews of vacationers in 2021, the guest house "Sunny Utrish" is good, the rooms there cost from 3900 ₽. Private sector is slightly cheaper – a room for two with private bathroom and toilet is 1400-2000 ₽. Look for lodging in Bolshoi Utrish on Yandex.Travel and Ostrovka.
Entertainment . 10 minutes on a jet ski costs 1500 ₽, "banana" and "pill" – 500 ₽, catamaran – 1000 ₽ per hour, boat trip – 350 ₽ per hour per person.
The price of tickets to the dolphinarium was frankly shocking – 1000 ₽! And the evening show was 1300 ₽. After the show you can swim with the dolphins: 1 lap – ₽ 2000, 3 laps – 4000 ₽. Photos and videos cost another ₽100.
Rent on the beach . A sun lounger for the day costs 300 ₽, and an umbrella with a sun lounger costs 800 ₽.
Food. There are few cafes, restaurants, and diners at the resort, but they offer seafood and fish. The most expensive and prestigious restaurant with a view of the sea is "Fort Utrish" with an average check of ₽ 2000. In the very center is not so expensive cafe "Laguna", where the average check – from 300 ₽.
Also near the dolphinarium there is a canteen "Home Cooking", but the atmosphere there is not so good.
Fresh oysters and mussels are available in the café of the yacht club "Zmeinka" on the lake Zmeinoye. As you enter the village, turn right at the sign "Oysters". Coordinates of the oyster farm: 44.76477, 37.387396.
The nearest supermarkets are only in Sukko and Anapa. That's where everyone goes, because the products in the only store are expensive.
Alexander M67: "The prices in the stores are breakage. For example, 1.5 liters of local beer – 180 rubles, canned food – 120 rubles, peleshki – 270 rubles. We went to "Magnit" to buy products in Anapa. Everything is expensive on the beach – a cheburek is 80 rubles, 0,5 liter of beer – 100 rubles, boiled corn – 100 rubles on the cob.
Sea walks and catamaran rentals are popular in Bolshoi Utrish. We looked into the dining room near the dolphinarium, but we did not dare to eat there. Prices in the dining room, as you can see, are usual.
Beaches and sea in Bolshoi Utrish
Beaches, unlike Anapa, pebble. There are three of them: two beaches are located on the sides of the spit, and one – near the lighthouse. Water everywhere is amazingly clear, you can see every pebble. We even saw dolphins from the shore!
The beach on the right of the spit is called Central. It is clean and neat. Almost everywhere entering the sea is normal, but in some places there are large slippery stones, so take aqua shoes. Infrastructure is minimal: umbrellas, deck chairs, inflatable slides, catamarans, changing rooms, stalls, sauna and an expensive restaurant "Fort Utrish". From this beach you can climb up to the observation deck.
The beach "Utrish" on the left of the spit is more modern and comfortable, with a small promenade, awnings, umbrellas, sun loungers, changing rooms, wooden decking and a toilet for 20 ₽. The central part was cleared of stones, and the entrance to the water there is comfortable and safe. Where the awnings end, however, there are many large slippery stones, so enter the water only in rubber slippers, or you will hurt your feet.
The wild beach near the lighthouse is popular with underwater hunters and freedivers. On wild beaches in the direction of Sukko and Small Utrish rest with tents.
According to feedback from vacationers, the beaches in Bolshoi Utrish are narrow, so overcrowded in the summer. When the sea begins to bloom in Anapa, Dzhemete and Vityazev, the number of people at the resort and beaches increases dramatically.
Another disadvantage is the slippery stones in the water and sharp depth, so it is uncomfortable to rest with children.
Petlana: "But the worst thing is the entrance to the sea. The rocks under the water are overgrown with dense vegetation, they are huge and terribly slippery. I struggled to balance, waving my arms and trying not to slip on the stones, but still fell once, bumping painfully on one of these boulders.
Miss Urusova: "The coastal strip is quite narrow, so vacationers lie almost feet in the water. We came with children – so many people that even there is no place to stand. Very sharp entrance to the water, the stones are sharp, slippery. There is no way without special shoes, especially for a child.
These are the pebbles on the beaches at Bolshoi Utrish. Central beach. Beach "Utrish" to the left of the spit is narrower.
How not to catch an infection at sea
Intestinal infections – this is really a big problem of the southern resorts. Children more often catch rotavirus and norovirus and become seriously ill, but adults also suffer from it. Be sure to pack a medical kit on vacation and do not forget the MHI policy. Small children should always be vaccinated against rotavirus.
In order not to catch an intestinal infection in the Black Sea (in fact at any sea, even abroad), you must follow the basic rules of hygiene:
Do not swallow seawater.
Thoroughly wash fruits, vegetables and hands before eating. Wash with running water or bottled water, not in the sea!
Drink bottled or boiled water.
Do not buy food from street vendors.
Do not take perishable goods to the beach.
If you cook yourself, watch for hygiene and well cook and fry products.
Make sure children do not put stones, sand, earth, and dirty hands in their mouths.
Excursions and Entertainment
At first glance, the resort is so quiet and measured life that there is absolutely nothing to do. In fact, you can spend a couple of days here in an interesting and pleasant way without getting bored.
The main attraction is the open-air dolphinarium. A ticket for adults and children over 5 years old costs 1000 ₽ during the day and 1300 ₽ for the evening show.
With kids, go to the Black Sea Learning Center to see fish, look through a microscope, and listen to marine biologists.
According to reviews, boat trips are popular in Bolshoi Utrish. Boats are moored at the moorage of the "Fort Utrish" restaurant. The cost of the trip ranges from about 350 ₽ per hour per person up to 700 ₽ per hour for fishing. You can also rent a boat from the main pier, which is next to the dolphinarium.
If you dreamed to try diving, then there is a dive club in Bolshoi Utrish, where you can even pass the exams. True, it will only be interesting for beginners.
Take up hiking – on the right and left along the coast laid hiking trails, and the views are remarkable. In the direction of Sukko there is Lermontov's pavilion.
Excursions to the African show and knight show in Sukko (this advertisement hangs everywhere!), trips to the mud volcanoes of the Taman Peninsula and the ethno-center "Circassian aul" are popular.
If you have a car, drive yourself to the Cypress Lake in Sukko, walk around Lake Abrau and look at the champagne factory, get acquainted with Anapa. All this can also be seen with a tour – choose them on Tripster:
This is one of the piers where the pleasure boats depart and where the catamarans are parked. The main pier is at the dolphinarium. Here you can book a boat trip. In the village itself there is nothing to see. The lighthouse, a beautiful Soviet mosaic, dolphinarium, Sea Study Center and protected trails – that is all there is to see.
Rest with children
Resting with kids in Bolshoi Utrish is not too comfortable. The approach to the Central Beach is equipped with stairs, but to go down and up with small children and even more strollers – a problem!
Beaches coarse-gravel, and to walk without aquashuzov painful. In water there are big stones, and the depth begins rather close to a coast.
Except for a dolphinarium and an aquarium, entertainments for small is not present. But older children will be interesting.
In our opinion, the Utrish Nature Reserve is a more natural and picturesque place, but there are a lot of people with tents, shashliks and fishing. It's just a picnic, not for walking with kids.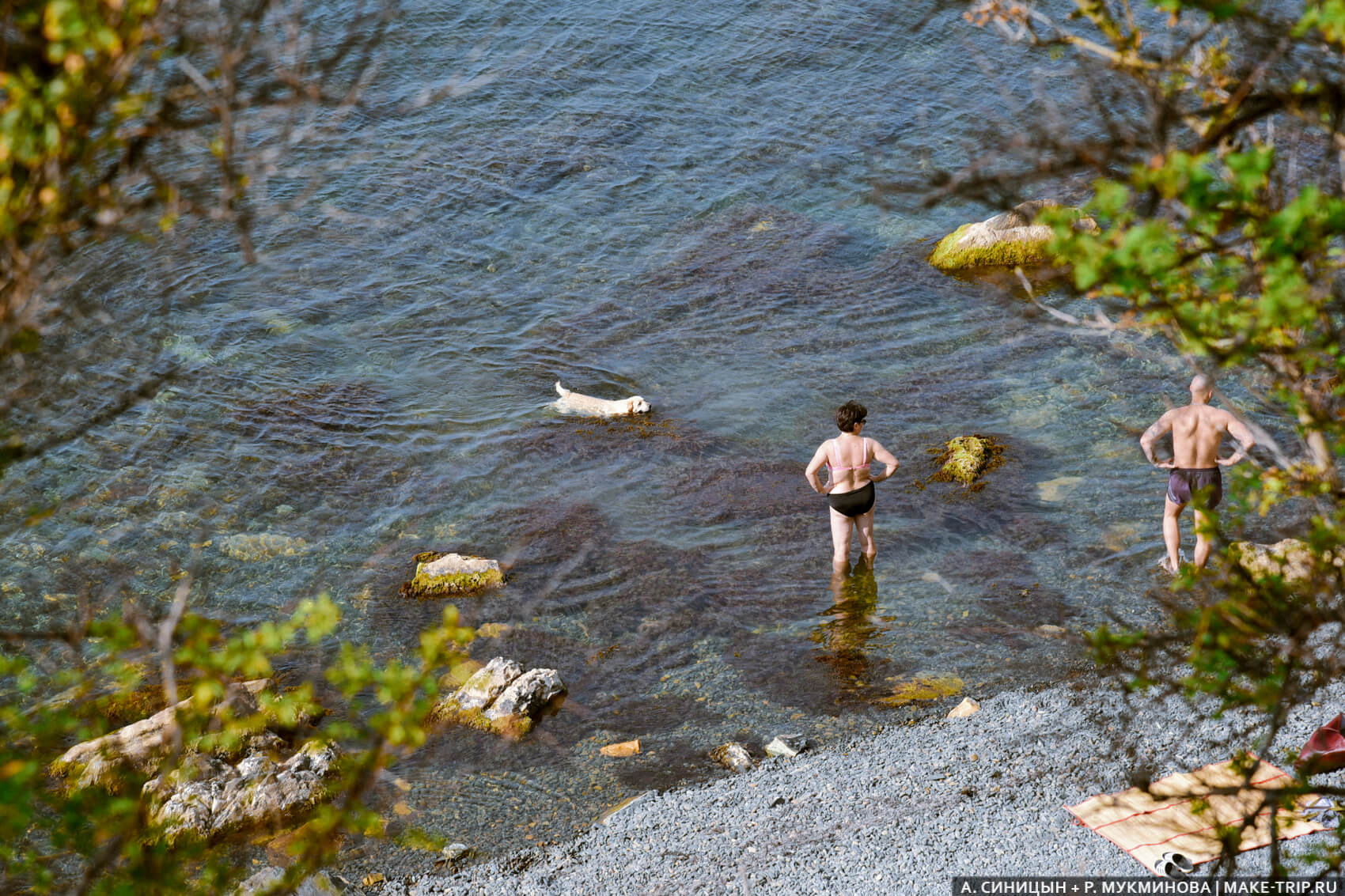 There are large boulders in the water, covered with slippery algae.
When to go
Bathing season at the resort lasts from May to October. The climate in Bolshoi Utrish is not as humid as in Sochi, so even in the 30-degree heat is easier to breathe here.
The most comfortable time for recreation is in June and September, when the sun is not so hot. This time usually come parents with children and tourists in age.
The warmest sea water is in the second half of July and in August, when it gets up to +26 … +27 ° C. But at this time the resort has the most tourists, because in Anapa, Vityazevo and Dzhemete starts blooming sea.
The most comfortable time for recreation is in June and September, when the sun is not so hot. The central beach at the end of September. Few people, quiet and peaceful.
7 reasons to relax in Bolshoi Utrish
Bolshoi Utrish seemed to me very calm at the end of the season – only the Blue Bay is calmer. However, this is not the case in the summertime, so I wouldn't stay here for more than a day or two.
According to the reviews of holidaymakers, the resort comes in handy during the blooming of water in Anapa. Here are the reasons tourists have in favor of rest in Bolshoi Utrish in 2022:
The climate is drier than in Sochi, and the heat is easier to endure.
Clean air with phytoncides of juniper berries, birds' singing, the reserve around.
Transparent water. We even saw dolphins near the shore!
There is no blooming of water.
Quiet rest, because the resort is in a natural cul-de-sac. There is no noise, discos until two in the morning and Caucasian weddings in cafes until morning, as well as taking off planes, passing trains and cars, as in Adler.
For such micro-resort very much entertainments, and not banal: yacht-club, dive-spot, the Center of studying of the Black sea, oysters. You'd think the resort wants to become elite!
There are different beaches – and with a minimal infrastructure, and wild.
If you get bored, you can always easily leave for Anapa.
6 reasons not to rest in Bolshoi Utrish
The fame of a protected place and the modest size of the village has served Bolshoi Utrish poorly. During our investigation the following violations were revealed at the resort:
Bolshoi Utrish – reviews by tourists
Reviews about Bolshoi Utrish, based on personal experience. Pros and cons, personal impressions, what you liked and what you didn't like about the trip. Who should pay attention to this city, whether (Russia) as a place for family or youth recreation. The main attractions and entertainment, what is famous for the city of Bolshoi Utrish. Tips and tips for those who plan to visit the city for the first time.
Bolshoi Utrish is a small and very touristy in the summertime village on the shores of the Black Sea. As it seemed to me, everyone comes here, who did not have enough space in Anapa or they were afraid of the huge number of people there. Or vacationers wanted to be closer to the wildlife that can be found here. In fact, recreation at Utrish is very contrasting and depends on how you used to rest and what you would like to see.
What to do in this town?
In this village you can and need only one thing – to rest on the sea. But that's how, it is your choice. As I am a supporter of rest "savage", then I will describe it from my point of view, and you choose. Most people come to Bolshoi Utrish and see almost the same crowds of people on the beaches, as in any other seaside town in high season. The only difference is that you can rent a little cheaper house here and there will be a feeling of "closeness to nature", as on the horizon and seemingly visible mountains and forests, and the roads in the village without asphalt, and all at home. So if you are interested in how to come to Bolshoi Utrish and relax in the village – you rent a house, go every day to the central beach and eat in expensive tourist cafes on the beach along with a crowd of campers as well. But some come here absolutely not for this beach vanity, and to live away from civilization, but in society as quietly resting people. And they come to the nature reserve Utrish to enjoy the nature, to live in a tent, to cook food over a fire, to sing songs around a common fire and do yoga at dawn. Therefore, my pluses from being on the Utrish will only apply to holiday wilderness.
Pros:
Nature. It's amazing. In addition to the Black Sea, which you see every day, you can live in an amazing mozhevella and pistachio forest. Vacationers there try to cause as little harm to nature as possible – all garbage is collected in a special place, where it is then removed. People try not to cut trees for bonfires and collect them in the forest. The forests are immense and there is enough wood for everybody. For drinking water you also have to go to the forest – to the waterfall if you live on the first or second lagoon, or to the spring in the forest, if you live on the third or fourth. A plus of the waterfall – you can wash there as a shower in fresh, not salty sea water.
The community of holidaymakers. Most often you get there not by accident, but because you heard from someone about the place and decided to try what it's like to vacation wilderness. Everyone permanently living on the lagoons (and there are some who live there for several years), know each other, and those who come every summer also know each other by sight. But whether everyone knows each other or not, it is necessary to greet everyone you see with the unwavering "good morning." The phrase is written on many of the rocks along the coast, and can be heard at any time of day. They say it when they meet you at night in the woods or early in the morning on the beach, it replaces a good day, an evening, and generally a great conversation starter. It creates a sense of community and a very friendly atmosphere.
Self-organization . There are no bosses or keepers. Aside from the gamekeepers who protect the nature, of course. But otherwise, everyone lives on an equal footing and as if they feel their responsibilities to nature. For example, they try not to throw anything out in the woods. At the entrance to the lagoons there are bulletin boards where vacationers write what they can share with others. My friend and I went to a yoga class led by other people in a clearing in the woods. Everything was free, of course. There were also shelves for free book exchanges and for things you didn't need but might be useful to someone else. When we left, we left left some leftover food there that might be useful to someone else.
Infrastructure, as ridiculous as it sounds about wild recreation. But everyone knew when the boat was coming and you could go to the mainland for groceries, or where to go for drinking water. There were always enough places to stay in the woods for everyone. There are only four lagoons and they are all different. But they differ not in nature, but more in the mood and the type of recreation of the people who live there. In the first and second usually stay those who are too lazy to go further and more convenient to be closer to town to walk or drive to get alcohol and groceries. I remind you that there are no stores at Utrish. On the third and fourth (which is called the "blue rope" because you have to go up from the beach to the forest on it) stops more nudists and families. But, nevertheless, at each lagoon in the evenings gathers a common bonfire, where everyone sings songs, tells stories, plays music and dances together.
Nudism . Here almost everyone not only swims, but also lives without clothes. And everyone is absolutely used to it, there are not those same stares that see you off at city beaches, even if you are there in a swimsuit.
Cons:
If you don't know how to cook over a campfire, carry liters of drinking water through the woods, and pitch a tent, you might have a hard time at first. The first time I made a fire after the rain, it took me an hour. But then when I did, I felt like a super person.
There is no medical or any other kind of help. You depend on yourself and the people around you.
Cell phone service is only "on the balconies" – high parts of the coast, which you have to walk to on purpose.
If you do not have friends or acquaintances among the regular holidaymakers, you may at first not understand how things work here and by what rules people live. But there are almost no rules, except that everyone enjoys recreation and do not interfere with the lives of others.
There are wild animals in the woods, and you sometimes have to fall asleep to the howling of jackals, and always hang your food in the trees to hide it from the raccoons.
You will have a hard time if you are not used to nudism.
When is the best time to go?
The most time for recreation and swimming, of course, is summer. But the sea begins to warm up from May, and in September it's still warm, but not as hot as in summer, and a lot less holidaymakers. So if you like big noisy companies on the beach, you should come in summer. And if you want a quiet, secluded vacation in nature, then later or earlier.
What is the best way to get there?
To get to the reserve, you must first come to Anapa (by plane, train or bus), and from there 20 km to the village of Bolshoi Utrish by bus or cab, or slightly further to the Little Utrish. You should come with a tent, sleeping bags and dishes for the campfire. Also buy food for the entire time of life in the reserve in Anapa, because in the village there is no place and it is expensive. From both settlements there is a boat from morning till sunset. On it you can sail to any of the lagoons, if you have already decided which one you will live in. You can walk to them on the shore, but it will not be fast, as the coast is stony. You may walk along the shore only after 19:00 and before 7:00 a.m. until the gamekeepers guarding the reserve stand on the shore and patrol the coast by cutters.