Svetlogorsk: vacation tips
The former Rauschen is a good place to get away from the hustle and bustle and to heal. Learn from tourist reviews about rest and treatment in Svetlogorsk, what kind of sea, beaches, prices and what you can do there.
Contents:
Impressions of the resort
Picturesque Svetlogorsk is called Little Switzerland. The beautiful city, 52 km from Kaliningrad, has centuries of history. Tourists are attracted by clean air, pine forests, a wonderful seaside promenade, interesting monuments and colorful buildings in the style of half-timbered. Many come to Svetlogorsk to improve their health in local resorts and sanatoriums. Prices for lodging, food and entertainment are quite affordable.
The disadvantages of rest on the Baltic is a short holiday season. The sea water is really warm only in August. In reviews of Svetlogorsk tourists note that the city is not too suitable for a beach holiday. The coast is narrow and the entrance to the water in many places is stony.
Karlson4ik: "The central part of Svetlogorsk feels like a big shopping mall with a food court. Behind all the noisy crowds of tourists, stores with amber for every taste and purse, the smells of food – you have to look closely to see the city.
Babygirl7: "The best vacation of my life! The air in Svetlogorsk is very clean. The city is inexpensive, entertainment will be affordable for everyone. You quickly get used to the cool water in the sea.
Alena0208: "Svetlogorsk is considered the city of amber, so 90% of souvenirs with amber. Store windows with souvenirs look especially beautiful in the evening.
The Raushen shopping center in Svetlogorsk. Photo: Go.astro / wikimedia.org / CC BY-SA 4.0.
Is it expensive to relax?
According to tourist reviews, Svetlogorsk is quite a budget-friendly city. In the summer of 2022 a double room in a guesthouse can be rented for 1200-1400 rubles, and in a 3* hotel – from 1700 rubles. Look for hotels in Svetlogorsk on the Hotelluk service.
Prices for food are slightly higher than in Kaliningrad. For a hearty dinner for two in the dining room you'll pay 400-500 rubles, and for dinner in a restaurant without liquor – from 1200 rubles.
The ticket to the Marine Exhibition Center costs 250 rubles, and to the exhibition-museum "The Wheel of History" – 150 rubles. The museum of Svetlogorsk and the exhibition "Catchers of amber" are allowed to visit for free. The price of the walking sightseeing tour around the city – 250 rubles.
Water tower. Photo: Vladimir Bondarevskiy / wikimedia.org / CC BY-SA 4.0
All Inclusive Recreation
Unfortunately, there are no all-inclusive hotels in the Kaliningrad region, but there are tours with full board. During the high season a trip for two people for 7 days with a flight from Moscow costs from 55 000 rubles. The tour package includes a flight, hotel accommodation, breakfasts, lunches and dinners.
In 2022 you can have a rest in Svetlogorsk with meals "full board" only in a hotel pension Wave 4 *. This is a popular family hotel. There is a health center with sauna and Turkish bath, indoor swimming pool and a game room for children.
Rapidograf: "I liked the Wave Hotel in general. Not far from the sea, to the beach – 20 minutes at a leisurely pace, excellent food in the restaurant and not bad bar, beautiful and well-groomed territory, friendly staff.
Treatment in Svetlogorsk
According to reviews, all sanatoriums of Svetlogorsk are multidisciplinary. They treat diseases of the heart and blood vessels, musculoskeletal system, respiratory and gynecological ailments. Sanatoriums and resorts use mineral waters, mud, massage, physiotherapy, exercise therapy and hiking by the sea. Most vacationers like the attitude of staff and treatment. Look for tours to Svetlogorsk on Onlinetours and Level.Travel, or book a holiday with treatment at a specialized site sanatorium.ru.
The best sanatoriums Svetlogorsk, according to reviews and ratings of tourists:
Otradnoye is a sanatorium in a forest park area, 600 meters from the sea. The buildings were built in 1947, and the last reconstruction was in 1998. Tour with full board costs from 60 000 rubles. If you book individually, a double room costs from 2300 to 4000 rubles per day, and three meals a day and treatment are paid separately.
Yantar is a resort hotel of sanatorium type in 5 minutes walk from the sea. A tour for two people for 7 days with three meals a day and no treatment costs from 37,000 rubles.
Amber Beach is a modern sanatorium with a spa center and swimming pool at 450 meters from the beach. In high season a double room with three meals a day without treatment costs 7,700 rubles, and in low season it starts at 4,000 rubles.
Baltika is a boarding house in Svetlogorsk, near the descent to the promenade. In summer months a room for two with three meals a day costs from 8000 rubles.
Irina: "I have the best impressions and memories of my stay at the "Amber Beach" sanatorium. The air is incomparable – the smell of the sea, forest and flowers. A beautiful well-groomed flowered area with lots of benches, a zone of trainers and a playground.
Sugak Yevgenii Borisovich: "We want to share our impressions about the Yantar sanatorium. We were pleasantly surprised by the high level. Comfortable room and convenient location of the treatment unit, well-groomed and beautiful territory, a lot of greenery and flowers, therapeutic meals. Most importantly, friendly and qualified staff. Unfortunately, the Baltic Sea is cold, and the swimming pool in the resort is not.
All Svetlogorsk sanatoriums are multidisciplinary. Photo: markinzone / unsplash.com.
What sea and beaches
According to tourist reviews, the sea in Svetlogorsk is clean, but to recommend this city for a beach holiday can be very conditional. Strong storms eroded the sandy beaches of the resort. Now the coastline is long but very narrow. Here and there are fences for repair works. There are few places with a smooth sandy entrance to the water.
All beach infrastructure – rent of chaise lounges and changing rooms – is concentrated in the center. To swim and sunbathe properly, from Svetlogorsk many vacationers go to Baltiysk, Zelenogradsk and Pionersky.
Sweetbella: "In Svetlogorsk a new promenade was built for the width of the beach. Concrete wall of 1.3 m high promenade completely blocked the view of the sea. No sunbathing, no swimming in the sea. You can just walk back and forth on the heat-hot concrete promenade. There is no shady place. Neither gazebo, nor awning.
The coast line is long, but very narrow. Photo: tjabeljan / flickr.com / CC BY 2.0.
What to do
The new promenade of Svetlogorsk is walked, rollerblades, bicycles and scooters. Climb up to admire the beautiful panorama of the coast from the park. Go down conveniently by steps or by funicular railway – 50 rubles.
According to tourist reviews for 2021, excursions to the Curonian Spit, Kaliningrad, Yantarny, Lake Vishtynetskoe and castles in Kaliningrad region are popular from Svetlogorsk. Visit the Marine Exhibition Center, the Svetlogorsk City Museum and admire the skillfully made model of medieval Königsberg!
Alex Q: "We saw the exhibition "Catchers of Amber". The exhibition shows equipment for amber catching, antique and modern machines for processing the sun stone. The exhibition is in the premises of "Russian amber" store, 11 Gagarina St.".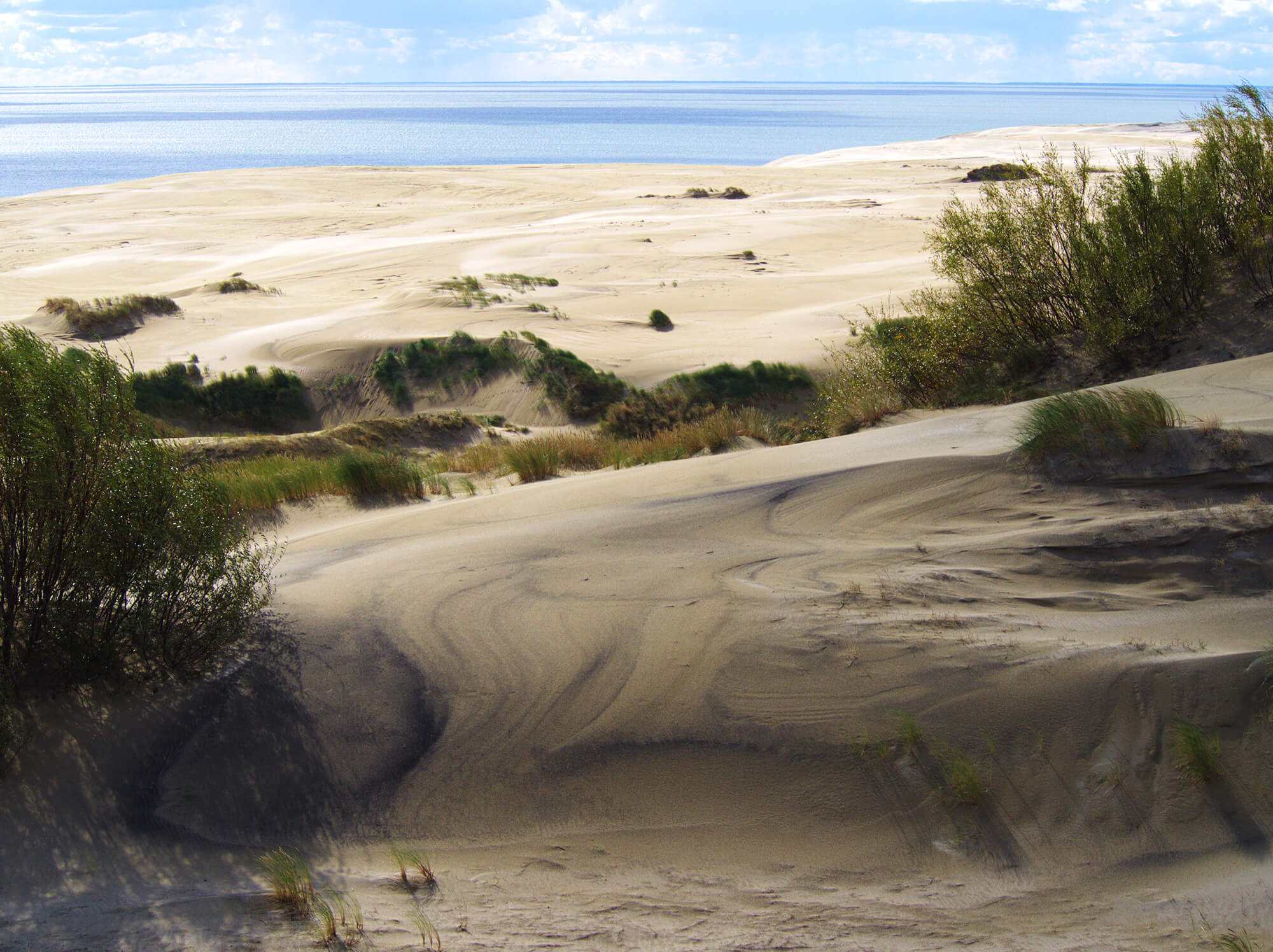 Dunes on the Curonian Spit. Photo: Man77 / wikimedia.org / CC BY-SA 4.0.
When best to go
Svetlogorsk welcomes tourists all year round, but most holidaymakers come in summer. The beach season on the Baltic Sea is short, just from June to late August to early September. The highest temperature of sea water in August, +19. +22°С. Keep in mind that even in summer months there are storms on the Baltic Sea, and the wind blows frequently on the coast.
Varvara Udaltsova: "The weather in August was nice with high temperatures. I got a great tan, even though there weren't as many sunny days as I wanted. The last month of summer was one of the rainiest. Precipitation occurred regularly.
The beach season on the Baltic Sea is short. Photo: Chuprinka83 / wikimedia.org / CC BY-SA 4.0.
Worth the trip
According to reviews, Svetlogorsk is suitable for parents with children, elderly tourists, fans of excursions and anyone who wants to heal. You can stay in a hotel, guest house, sanatorium, boarding house or rent an apartment from locals. Kaliningrad resort is pleasant to walk around. The cozy town is buried in verdure. There are many beautiful houses and museums, cafes with live music and souvenir shops. For beach entertainment it is better to choose Zelenogradsk or Yantarny.
The city of Svetlogorsk is a wonderful city with a memorable atmosphere, but it is not too intended for beach leisure. It's more for those who want to distract themselves from their thoughts and forget a little in an atmosphere of serenity. I am sure that in Svetlogorsk you can rest forgetting about everything".
Honestly about Svetlogorsk. Reviews of tourists and prices for recreation – 2022
Kaliningrad, too untwisted direction. My husband and I went to Kaliningrad region in the summer, on a voucher with treatment. The voucher was fully paid by us, without any benefits, unless you count the 20% cashback.
Sanatorium AZIMUT Zdorovje Yantar 3 * in Svetlogorsk, 10 days 80 000 rubles. Flight and lodging. Meals for breakfast, lunch and dinner, plus a set of medical procedures. The presence of sanatorium card is a prerequisite for a stay in the sanatorium.
We did not expect anything supernatural from the conditions of residence, here everything as stated.
POTENTIAL COURT We vacationed in Svetlogorsk in August 2022. Svetlogorsk is a very shabby resort with no infrastructure for recreation. BEACHES : Narrow, on the edges of the center. At the entrance to the beach is a stinking dump. Very few changing rooms, no plank paths along the beach, so you will walk on the sand. But unlike the beach at Amber someone thought to arrange a foot rinse. It's certainly good, but could put a few showers combined with a path that would not
Thank you, we stayed at Hoffman house last year and we liked it very much. We had a wonderful stay at Hoffmann's lodge last year and love it. Very polite staff attitude. Highly recommend!
Beach vacation in Svetlogorsk: unprecedented heat, warm sea, amazing hotel, but poor organization of excursions I vacationed in Svetlogorsk, and in general on the Baltic Sea several times, but such a warm sea has never been here! We had a rest here at the end of July and till the beginning of August, the weather was capricious, the rains, wind and heat alternated one another within a few days, but the sea got warm during very hot July. Among all Russian Baltic cities, it seems to me that Svetlogorsk is the most cozy and homely.
The hotel we were advised in the agency, called Grand Palace Hotel 5 *. There's a big choice of hotels in the city, there's a great choice.
I too had a rest in Svetlogorsk in July 2020, on the tour I will not agree, we took a cheap tour in a booth near the station and two hours flew by unnoticed and informative, the guide was just on top, the tour was on foot, we learned a lot about Svetlogorsk and were very pleased. Many went by themselves, to have a rest well, but once the sun shone and in half an hour poured as from a bucket of cold showers, soaked to the skin and got sick, the hospital did not take, though were obliged, but it was not before debauches searched where to be treated, passed on sanatoriums, A young lady listened and concluded that the body had been stressed, protected itself, and I lost my voice. The treatment was prescribed correctly and after 3 days I went to the right place. I thanked my doctor for being a competent and young specialist. That's the way it is in the Baltics, it's not predictable, be prepared for anything. But in general I agree with the author,
To treat and relieve stress.
Svetlogorsk is the best city for the soul! In other reviews of Svetlogorsk I came across the idea a couple of times that Svetlogorsk is the pearl of the Baltic Sea. My husband and I agreed that the city looks more like amber, and it's not because this stone is sold in great abundance in small and unobtrusive market stalls here. But because it is multifaceted, soulful and warm, and its sunsets are the color of amber! The city itself is small, but it can be divided into several areas: Lower Svetlogorsk with its very beautiful lake and park.
swim and sunbathe on the beach
To treat and relieve stress.
have a rest individually
do active recreation
have a wedding or celebrate its anniversary
rest for the elderly.
visit interesting events
take pictures all in a row
Vacations in Svetlogorsk 2020 We vacationed in Svetlogorsk in August 2020. I spend my vacation with my family in Russia for the first time. My family arrived at the airport in Kaliningrad, we flew with Ural Airlines, tickets cost 17,000 rubles for a family of three. From the airport immediately decided to go to Svetlogorsk, without a sightseeing tour of Kaliningrad, tired. A cab from the airport cost 950 rubles. For 40 minutes of the trip, our cab driver Paul introduced us, gave us a little tour, gave advice on excursions, advised which days it is better to go to
Svetlogorsk, the perfect place for a budget and relaxing holiday I love Kaliningrad and the region. The second time I come to these regions to rest and improve health, the first time was in the season, in August, on a voucher settled in Svetlogorsk military sanatorium. I flew to the airport Khrabrovo, from there to the resort by cab 1000 rubles. It is cheaper to get through Kaliningrad by public transport, but you have to make a long detour. If you come by train to Kaliningrad, from Yuzhny station there is an electric train and bus 118 to Svetlogorsk. Depart frequently. A good location,
To treat and relieve stress.
If you're a tourist interested in beauty, you can't come in here. If you're not a hotel guest, you won't see a thing there, no tapestries, no paintings. Only with us there is bound to sit babka-tserber and just so will not let in to see. The area around is beautiful. It's like in the song, how beautiful this world is – look away from the fence. When will we learn to be nice and polite to any visitor. Maybe after seeing the house, we would stay there next time. In your comments, please write so, admission for guests only. So that people with children do not come here after standing next to the house.
Excuse me, but you can just walk into any hotel and see what's so beautiful inside? I personally have not seen such hotels. Everywhere, or pay money and move in, or pass by. By the way, before my first visit, I went and politely asked to see what the hotel (or rather guest house) is. And – oh my god – I was shown a standard room and dining room and told everything I wanted to know.
Walking in Svetlogorsk I have been living in Kaliningrad region for about three years. I do not always get to leave the region on vacation, so I have to look for a vacation here. Svetlogorsk is my favorite resort town in the Kaliningrad region. The last time I was in Svetlogorsk a year ago. It is better to walk around Svetlogorsk on foot, leaving the car on Kaliningrad Prospect at a paid parking lot near the lake Tikhoye. There you can also take a ride on a boat, catamaran, walk around the lake and take pictures under the "Arch of Love. If
To treat and relieve stress.
have a wedding or celebrate its anniversary
rest for the elderly.
visit interesting events
take pictures all in a row
Was here in May 2018. Wonderful place! The resort town is clean, well-groomed, buried in the greenery, especially liked the tall pines. The air is clean, pine and sea. With weather lucky. I got a sunbathing, and in a downpour was not in vain, because I had to go to the cafe "Fisherman's House" on the seashore, I liked the kitchen, I took a royal soup and pike-perch in mushroom sauce. Cooked quickly and tasty, pike-perch not dry. And the place is great. I recommend it. Many villas in the city are still German built and there are modern, very beautiful. There are small parks. The area is mountainous, so you go up the street, then down the other. There are several descents to the sea, one of them is a funicular (50 rubles, 20 rubles for pensioners). I took some goat's milk there, got ill with milk, don't recommend taking milk, but I liked apple juice. The lake is gorgeous, quiet, near a small forest, there is a sidewalk around the lake, you can swim in a boat. I don't like that Kaliningrad avenue is overloaded with traffic, you can breathe with exhaust when you walk along it, and there are a lot of sanatoriums and hotels on it. I can't stay in one of our cafes, because they are expensive and not very popular. Cafe a lot on Lenina str., beer, fish, music in the evening. In the afternoon went to the pump room to drink mineral water, look the schedule, not always works. And what the Baltic sea, and a light sand! The beach is small, we walked along the coast, after a small storm looked for amber. In general, I liked it. I advise.