How much money to take in Tunisia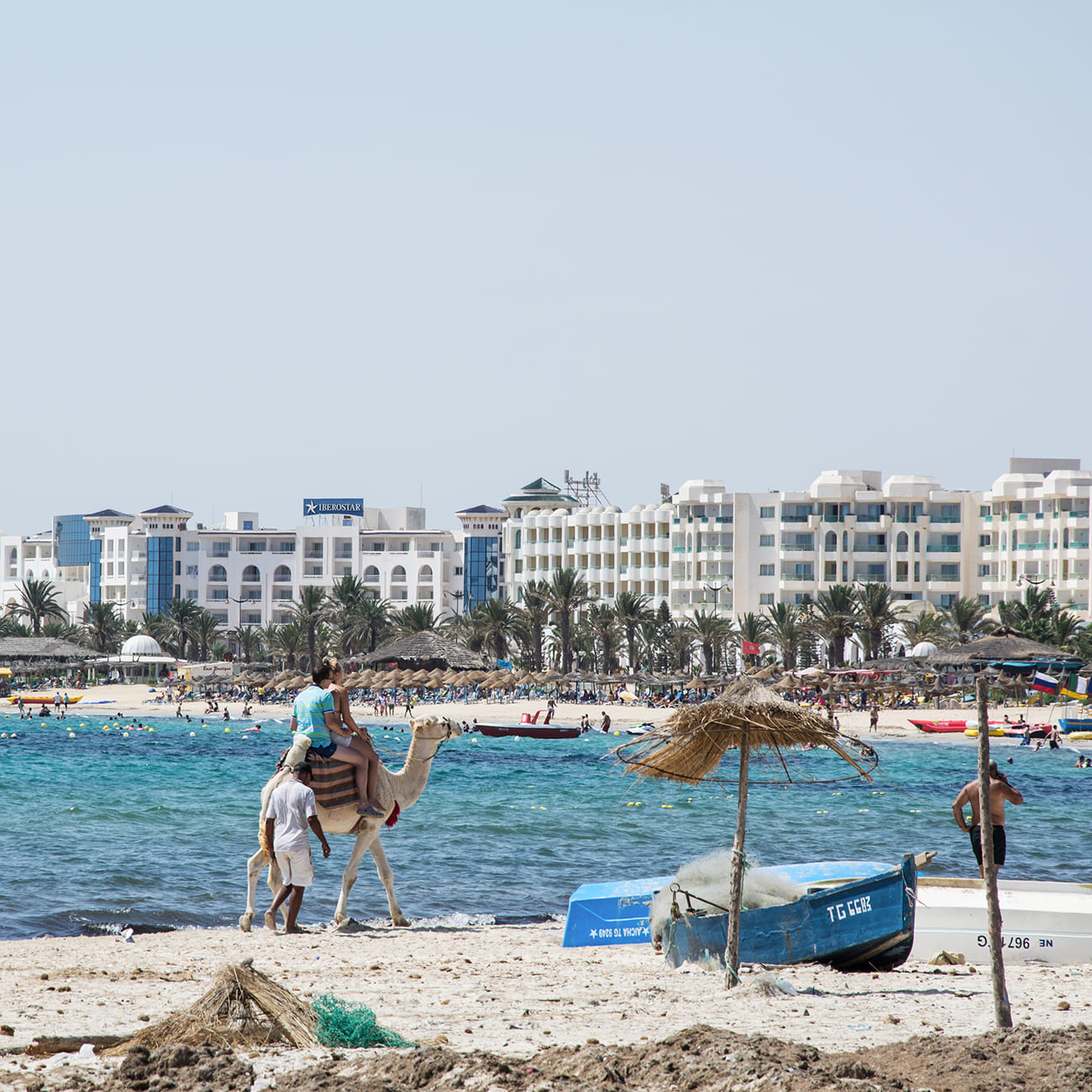 Even those who came to rest in Tunisia all-inclusive, expect to spend on unplanned snacks, excursions, entertainment and souvenirs. Find out how much money you need for a budget, comfortable and luxurious vacation in Tunisia for 10 days in 2022.
Contents:
Food
Exchange rate: 1 Tunisian dinar (TND) ≈ 18 rubles.
Most tourists come to Tunisia on "all inclusive", and the need for additional food is almost absent – except that holidaymakers buy drinks and snacks and on the beach or sightseeing and sometimes get out in the evenings in cafes and restaurants. Soft drinks in Tunisian resorts are as in Russia: 1.5 liters of drinking water – 0,6-0,7 TND, a liter of juice – 2-3 TND. Find out how much an all-inclusive holiday in Tunisia costs.
Food at cafes for locals and street food is inexpensive. Sweet bambaluni doughnuts sell for 1 TND, a hearty brik with meat or fish for 3 TND, a slice of pizza for 2-4 TND, and coffee for 0.5 TND. If you eat at inexpensive local establishments, you'll spend 15-25 TND a day.
Tunisian restaurants won't empty your wallet much either. Salads, appetizers, shakshuka eggs and pastries cost 3-4 TND, main course 8-12 TND, and drinks 2-4 TND. For three meals a day in restaurants you have enough for 50-60 TND.
If you buy groceries and convenience foods in stores, you can eat for 10-15 TND per day. This is the cheapest option, but of course no one does that – you come to Tunisia to relax, not to live economically.
Salads, appetizers, shakshuka eggs and pastries cost 3-4 TND. Photo: cyclonebill / flickr.com. Half of Tunisia's wines are rosé, a third are reds, and the rest are whites. Photo: jacalynbeales / unsplash.com.
Excursions and entertainment
Admission to water parks in 2022 will cost 25-50 TND. How much money do you need in Tunisia for other activities? A boat ride is 85 TND, a catamaran ride is 10 TND, paragliding is 25-40 TND, and a ticket to the zoo is 30-50 TND.
Prices for popular tours in Tunisia:
Resort sightseeing tour – from 115 TND
Carthage, Sidi Bou Said and Tunis – 130 TND
El Djem – 72 TND
Frigia Zoo and Zulu show – 108 TND
boat trip on a pirate ship – 60 TND
ATV ride – 50 TND
Sahara for two days – 335-360 TND.
To save money, some tourists drive to the sights themselves: the entrance ticket to Carthage costs 10 TND, the Archaeological Museum in Sousse – 10 TND, Ribat Fortress in Monastir – 7 TND, Bardo Museum of Antiquities – 11 TND.
In Tunisia there are no discount cards and you can't save money! But the country has many interesting places where you can go absolutely free: Sidi Bou Said, the clock tower – the Tunisian Big Ben, El Griba synagogue on the island of Djerba and the musical fountains of El Kantaoui.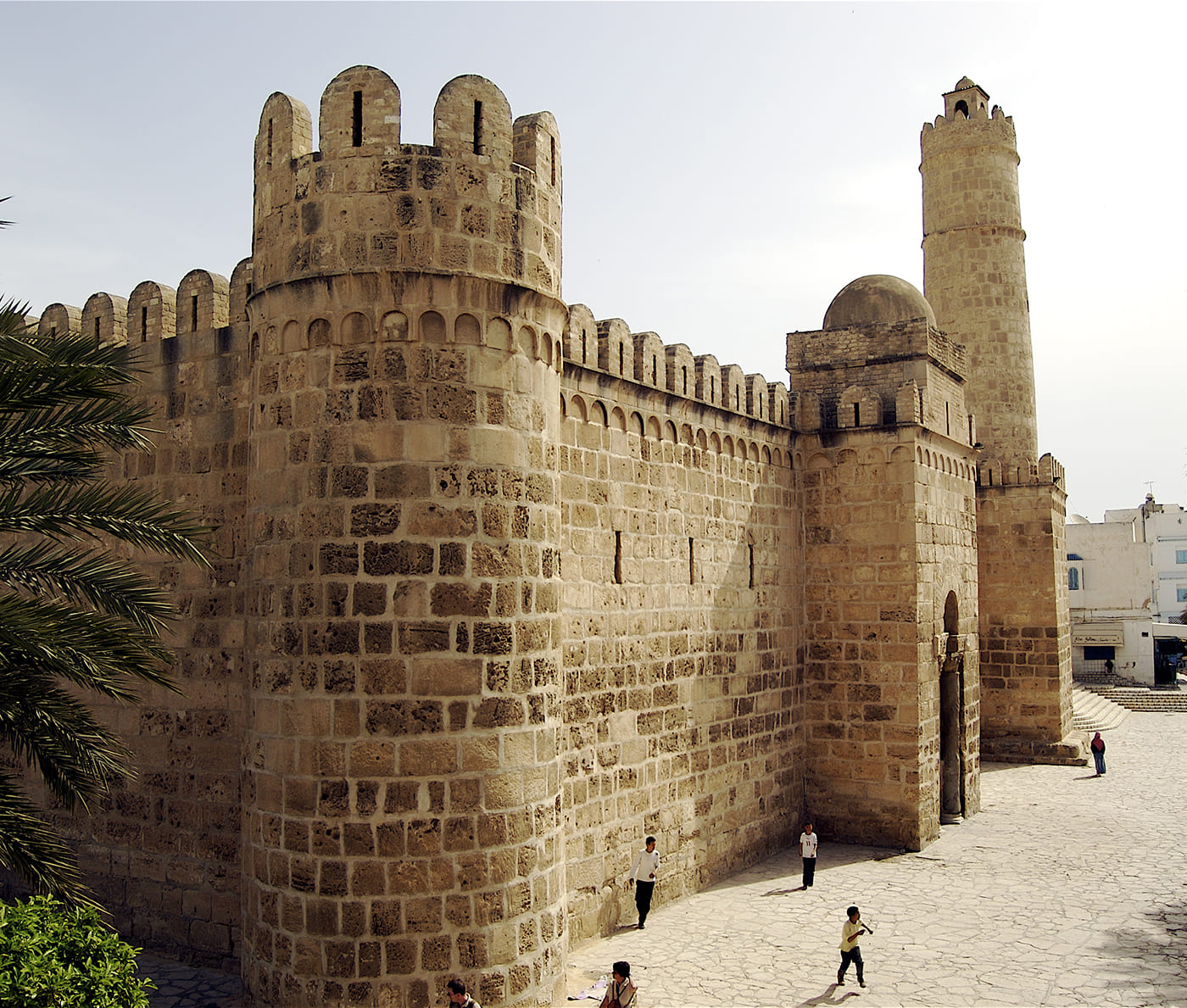 Ribat Fortress in Sousse. Photo: MarianOne / wikimedia.org / CC BY-NC-ND 2.0.
Shopping and souvenirs
How much money to take in Tunisia for shopping and what to buy? Souvenirs are inexpensive. Tourists willingly take tunics – national dresses with embroidery, handmade ceramic dishes, wallets and bags made of leather. Clothes made of cotton and linen cost from 20 TND and ceramics from 10 TND per item.
Popular items include beautiful olive wood handicrafts, Tunisian wine, sweet halwa with pistachios, local spice harissa and spices such as red pepper, turmeric, nutmeg and saffron. Olive oil costs 15-20 TND per 1 liter, and delicious Tunisian dates are 10-15 TND per 1 kg. If you want to save money, be sure to haggle!
karamelina3: "As for the quality of leather goods, it is, to put it mildly, so-so. But the prices are very cheap – a purse will cost you from 3 dinars and a bag from 15 dinars. Special attention to spices. They are sold by the weight: 100g from 3 dinars.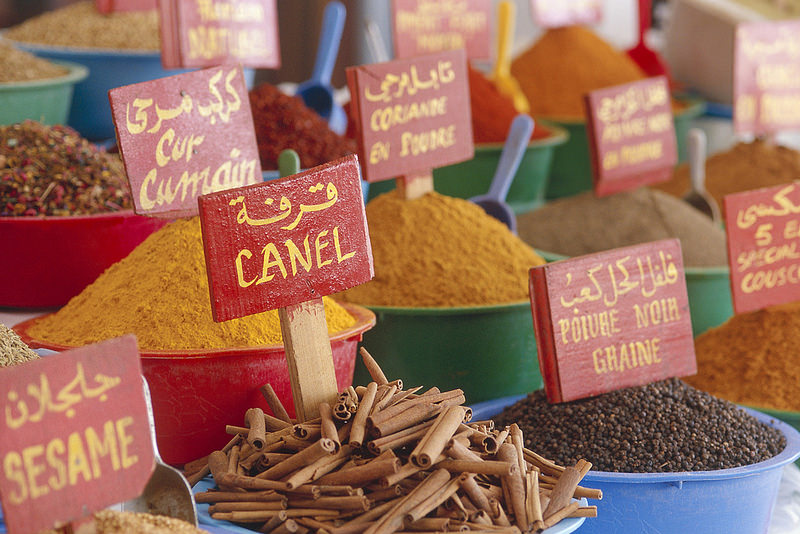 Spice market in Tunisia (Photo: Club Med UK / flickr.com)
Transport
Local transport is inexpensive. Tourists hardly ever take buses, because without knowledge of the language it is difficult to understand the schedule and route map. The marshrutkas, on the contrary, are convenient. A trip on them costs only 1-2 TND.
Intercity transport is cheap. Tickets for the Metro Sahel train cost from 1 TND and the bus from Tunis to Hammamet is 3.9 TND.
Cabs are inexpensive, too. You'll pay 0.54 TND to get into a car, and 0.5 TND per kilometer. By rule, cab drivers must drive with meters, but they refuse to include meters for short distances. Usually, trips within the resort cost 3-6 TND.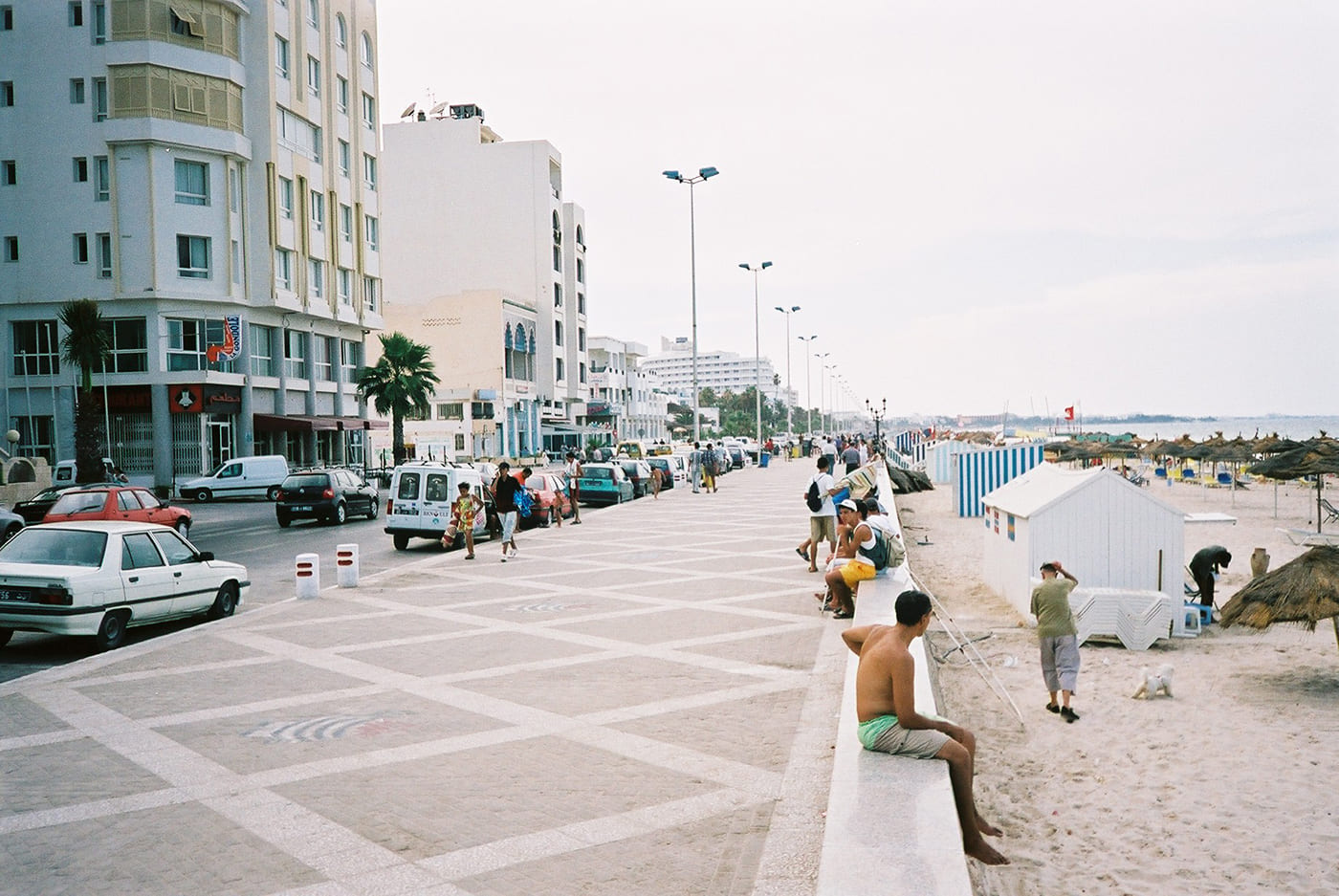 Cabs in Tunisia are inexpensive. You'll pay 0.54 TND to get into a car and 0.5 TND per kilometer. The promenade in Sousse. Photo: Mister No / wikimedia.org / CC BY 3.0.
Conclusion: how much money to take to Tunisia
For an inexpensive vacation for one person for 10 days, take $150: food – $50, tours and entertainment – $70, shopping and souvenirs – $20, shuttles, buses and trains – $10.
If you want to have a comfortable holiday, take $300 per person: meals – $100, 2 tours – $120, shopping and souvenirs – $60, shuttle buses + 3 cab rides – $20.
How much money do you need in Tunisia in 2022 to relax 100%? For a luxury vacation, take $600 per person: meals $150, 2 excursions + a trip to the Sahara $250, shopping and souvenirs $150, daily cab rides $50.
Traveller's notes: "In addition to the cost of the trip, we spent about $650 more in Tunisia. In all, our vacation totaled a little over $180,000. By comparison, two years ago we spent exactly the same amount of money in the Crimea for the same two weeks.
July_27: "From the excursions we ordered only a two-day trip to the Sahara with overnight stay, as it would have been problematic to organize it by ourselves – $200 for two. Meals in Tunisia seemed inexpensive to us, we also did not spend much money on shopping.
Which currency to use when traveling to Tunisia in 2022?
The northern part of Africa is home to the Republic of Tunisia with its Atlas Mountains, savannahs, and deserts. For travelers to decide what to bring with them (cash or cards), you need to consider the country's global monetary and trade relations and what the currency in Tunisia (dinar TND) is.
What currency is better to bring to Tunisia
Since Tunisia attracts tourists from all over the world, monetary relations in the country are well developed. According to current legislation, payment for services and goods in the republic is made in TND. Foreign citizens can take dollars or euros with them and exchange them for local money when they come to Tunisia.
To pay for goods or services in Tunisia, you need dinars. Guides and hotel staff can be tipped in USD, EUR. The Russian ruble is of interest to locals in Tunisia only as a souvenir. Dollars and euros are convertible currency around the world, so there is no problem with them. But going on a tour you should take into account some peculiarities of local resorts.
Where to exchange currency for local money
In the whole territory of Tunisia exchange rates are almost the same. By law, the minimum amount to be exchanged should be 10 TND. At the rate (mid July 2022) is about $3.5 or 180 rubles. Banks, exchange offices, and Tunisian post offices are engaged in the sale of dinars.
Other places and ways to exchange currency:
When making money transactions at banks in Tunisia, it is recommended to take into account that on holidays, which fall in July and August, as well as during Ramadan (about 90% of the local population practice Islam), branches are open only on weekdays from 8.00 to 11.30.
Working hours of the exchange offices:
Monday-Thursday from 8 a.m. to 4:30 p.m., lunch from 12 p.m. to 2 p.m.
On Friday, there is a break from 12.00 to 13.00.
You can use the services of the post office, which works according to the following schedule:
For tourists, plus currency exchange in hotels and airport in Tunisia is open 24 hours. In the resort area it is more difficult to buy dinars because of the large queues. To save time, people often turn to private individuals for help.
Local bankers advise to be wary of such transactions for the following reasons:
High risk of buying counterfeit bills.
Participants are held administratively or criminally liable (up to imprisonment).
Lack of opportunity to get a receipt of the operation.
When buying Tunisian dinars it is necessary to keep in mind that there are several types of bills and coins. They differ in year of issue, size and color. When selling TND, private individuals often deceive tourists, giving them bills of smaller denomination, and may set a rate not very favorable for the vacationer.
Why you definitely need a currency exchange receipt in Tunisia
Before flying home, it is advisable to check how many TNDs are left. They need to be exchanged for euros or dollars. It is forbidden by law to take local money out of Tunisia.
Therefore, when selling national currency an employee of a bank, exchange office, post office gives a receipt. It should be presented when carrying out a reverse operation with dinars.
If a tourist can not officially confirm a previously conducted transaction, he will be denied the exchange of the remaining TND to another currency.
If they are found during the inspection, they will be confiscated by the customs officials. Reverse exchange of euros and dollars is possible only at the exchange offices at the airport upon presentation of the receipt of the primary transaction. Tunisian TND are not accepted at duty free, only dollars and euros.
What currency to pay in Tunisia
In every city in Tunisia, purchases are paid in Tunisian dinars. If you go to the resort areas you may pay in USD or EUR at the hotel or with a guide.
The city of Tabarka in Tunisia is considered a major tourist center, located near Algeria (about 20 kilometers from it). Therefore, in the border area you can buy some goods for USD, EUR, Tunisian and Algerian dinars. Because of its location on the Mediterranean coast, beautiful scenery, healing climate, locals and tourists consider Tabarka the best resort town in the country and often book a tour here.
However, there is a high probability of being cheated when exchanging currency from individuals. Despite the abundance of exchange offices in order to avoid trouble, it is recommended to go to the branches of the Bank of Tunisia, and take bills of all denominations.
Excursions to Djerba, Sousse, Hammamet, Monastir, Mahdia will also require extra money. An extra dollar will not hurt. Resorts accept tourists from all over the world. Exchange transactions are made at points in banks or train stations. Local currency dealers will be waiting by the tourist buses, in the markets, near the beaches, and their offers can sometimes seem intrusive.
Important: Before you pay for the tour, we advise you to get acquainted with the weather in Tunisia. It depends on it, if most of the vacation will pass on the beach, or it is better to go on trips at a chosen time of year to see the sights.
Many hotels initially offer several packages. They may include: preferential accommodation, transfers, entertainment, if guests come on holidays, tours. Package tours in Tunisia can be purchased at level.travel.
Exchange rate of the Tunisian dinar against the ruble
For the year the cross-rate of the Tunisian dinar to the Russian ruble is as follows: 10 RU ≈ 0.48 TND. The Belarusian ruble is more difficult to be exchanged for the national currency. In July, according to financial analysts, the rate will be within 1 BYN ≈ 0.9 TND. It is better to exchange cash for dollars in advance.
You can roughly estimate the amount required for the rest and thus avoid unpleasant communication with the Tunisian crooks. Any traveler knows in advance how much it will cost his room at the hotel, sightseeing tour. Such information is published on the sites of hotel complexes. Finding a currency exchange will also not be a problem, many hotels have their exchange offices. Only not everywhere you can exchange rubles.
Calculator of Tunisian dinars
Cashless payment
In Tunisia bank cards are used for shopping in stores, paying for services in hotels and restaurants. ATMs are located in every city. It is better to have coins for tips.
Cash withdrawals are subject to a $2 withdrawal fee. A conversion fee is charged separately. The exchange rate is floating, as it is all over the world.
Financiers say it is more profitable to exchange cash in currency than to withdraw money from the following cards:
Visa Card Interpayment.
MasterCard.
American Express.
Before flying to Tunisia, it is recommended to find out from your bank branch whether the card is accepted abroad. If not, then take currency with you in advance. In any case it is worth to study the place where the tour is booked. In a trip, there are often unexpected turns, which must be anticipated before leaving for a foreign country.
For example, for Russian citizens, there is unpleasant information – the card system "MIR" in Tunisia is not served. The same applies to visa, mastercard cards issued for Russian banks. For this reason, Russians need to carry cash or cards from banks in other countries.
Please note: You can buy excursions on Tripster or Sputnik8, where Russians can pay with Russian cards.
When should you exchange your currency for dinars?
It is better to arrive in Tunisia with dinars after presenting a bank transaction receipt at the customs. You should also have U.S. dollars or euros. If you can not buy Tunisian TND in your country, you can do it at the airport upon arrival. The bulk of the U.S. USD or EUR is recommended to change in a bank, as advised by experienced travelers in their comments. The vacation will become much more pleasant if you know about all the pitfalls, which the official media channels do not always like to mention.