Prices in Spain – 2022: food, tours, rent
We tell you about the prices of holidays in Spain in 2022: how much it costs to eat in restaurants and groceries in supermarkets, what the cost of excursions, tours, transport rent and much more.
At the end of the article we summarize to find out when a vacation in Spain is cheapest.
All prices are current at the time the article was updated and may change over time:
Did you know? If you have a delayed or canceled flight, you can get up to 600€ (even if it was a few years ago). We covered this in the article Flight Delay Compensation – read on to find out how to get a payout from the airline.
How much does it cost to fly to Spain
Throughout 2022, the price of an air ticket from Moscow to Barcelona ranges from 11,000 to 18,000 rubles.
The cheapest round trip tickets are in spring, fall and winter (8000-10000 rubles). In high season, from June to August the prices for flights to Spain go up significantly:
connecting flights – from 11000-13000 rubles
direct flight – from 13000-16000 rubles
The cheapest tickets for low-cost flights from Estonia to Barcelona are usually less than 100 Euros.
Find the current cost of flights to Barcelona using the calendar below:
Prices in Spain for food – 2022
How much does it cost to eat out
Dining at a cheap restaurant in Barcelona in 2022 costs from 11 euros per person. A dinner for two at a mid-priced restaurant costs about 40 euros.
A lunch combo at McDonald's is only 7 euros.
Approximate prices for drinks in restaurants in Barcelona:
| | | |
| --- | --- | --- |
| Drink | Price in euros | Price in rubles |
| Local beer (0,5 l) | 2,50€ | 191 ₽ |
| Imported beer (0,33 l) | 3,00€ | 230 ₽ |
| Cappuccino | 1,70€ | 130 ₽ |
| Can of Pepsi / Coke (0,33 l) | 1,73€ | 132 ₽ |
| Water (0,33 l) | 1,11€ | 85 ₽ |
As an example of real prices, the menu at Acces restaurant in Barcelona, which tourists in their reviews call one of the best in the city (ranked 20th out of 8044 by TripAdvisor):
green salad with chestnuts and pumpkin – 11€
Vegetable toast with smoked sardines, hollandaise mustard, tomatoes – 13€
fried fish with mashed potatoes, broccoli and ham broth – 17€
Catalan-style stuffed chicken with apricots and prunes – 16 €
ravioli with spinach and cheese, dried tomatoes and walnuts in caramel – €13
roasted vegetables – 4€
potato wedges – 4€
vanilla ice cream with chocolate – 7€
set dinner (aperitif, 4 course and 2 desserts) – €55 per person
See the site of the restaurant for the full menu with prices and descriptions.
Photo: paella in a Spanish restaurant © meineresterampe
Prices for food in supermarkets
If you're going to Europe for a long time, it's cheaper to buy food in stores rather than eating in cafes. The most popular chain supermarkets in Spain are Carrefour, Caprabo, Mercadona, Lidl.
Approximate food prices in supermarkets in Barcelona in 2022:
| | | |
| --- | --- | --- |
| Name | Price in euros | Price in rubles |
| Milk (1 L) | 0,81 € | 62 ₽ |
| Cheese, 1 kg | 10,58 € | 810 ₽ |
| Fresh bread, 500 grams | 1,27 € | 97 ₽ |
| White rice (1 kg) | 0,91 € | 70 ₽ |
| Eggs (12 pieces) | 1,96 € | 150 ₽ |
| Chicken fillet, 1 kg | 5,96 € | 456 ₽ |
| Bottle of water (1.5 l) | 0,60 € | 46 ₽ |
| Local beer (0,5 l) | 0,99 € | 75 ₽ |
| Imported beer (0,33 l) | 1,44 € | 110 ₽ |
| Marlboro cigarettes | 5,00 € | 383₽ |
| Tomatoes (1 kg) | 1,61 € | 123 ₽ |
| Onions (1 kg) | 0,98 € | 74 ₽ |
| Potatoes (1 kg) | 1,02 € | 77 ₽ |
| Cucumbers (1 kg) | 1,80 € | 138 ₽ |
| Fresh carrots (1 kg) | 0,88 € | 67 ₽ |
A video with the prices in one of the supermarkets in Spain:
Cost of alcohol.
a bottle of wine (0.75 liters) in a supermarket – from 3€ (230 rubles)
a bottle of wine in a bar or restaurant – 15-25 € (1150 – 1910 rubles)
a glass of wine in a bar – 3 to 4 € (230 to 306 roubles)
local beer (0,33 l.) – 0,75 € (57 roubles)
a pitcher of Sangria wine on the beach – 14€ (1070 roubles)
a liter of beer on the beach – 10,65 € (815 roubles)
Fruit prices
Fruit prices in Barcelona supermarkets:
| | | |
| --- | --- | --- |
| Name | Price in Euros (per 1 kg) | Price in rubles |
| Apples | 1,71 € | 131 ₽ |
| Bananas | 1,55 € | 119 ₽ |
| Pears | 2 € | 153₽ |
| Oranges | 1 € | 76 ₽ |
| Kiwis | 2 € | 153 ₽ |
| Fruit slices (300 g) | 4 € | 306 ₽ |
| Melon (1 piece) | 4 € | 306 ₽ |
| Strawberries | 8 € | 612 ₽ |
Clothing prices
The best place to shop in Barcelona is not in specific supermarkets, but in certain streets, such as Passeig de Gracia, La Diagonal, La Rambla, Riera Baixa and Carrer de Pelai.
Significant discounts in Barcelona can be caught twice a year – from January 7 to March 6 (winter sales) and from July 1 to August 31 (summer sale period). The closer the end of the sale season, the higher the discounts (up to 70%).
How much does clothing cost in Barcelona in 2022:
A regular shirt or top – from 10€
Jeans (Levis 501 or similar) from €50.
20€ for a summer dress.
Brand name sneakers (Reebok, Adidas, Nike) – about 80€
suede skirt – from € 30
leather jacket – from € 150
Leather handbag – from 100 €
Barcelona tours and attractions
Sightseeing tours
Prices for the most popular sightseeing tours in Barcelona in 2022
– from 15€ – from 35€
Guided tour of the Salvador Dali Theatre and Girona Museum – 70€
Guell Park tour – from 25€
Gothic quarter and Ramblas tour – 15 €
Sightseeing tour of the Sagrada Familia – from 34 € – from 49 € per person (group) and from 165 € for 1-4 people (individual)
Most sightseeing tours (from both agencies and private guides) can be found on the Tripster and Sputnik8 websites.
Sightseeing
If you want to visit the sights of Barcelona on your own. Ticket prices for adults:
Dali Museum – 10€
Sagrada Familia – 2,5€
Sant Miquel del Frai monastery – 8€
Various Gaudí's creations: Casa Milà – 20,5 €, Palau del Guell – 8 €, Sagrada Familia – 15 €, Casa Batlló – 20 €
Other attractions
How much does it cost to go out and about in Barcelona?
Barcelona Aquarium – 7€
Zoo – 20€ (children's ticket – 12€)
Children's theme park – 30€ (all rides) or 13€ (some of the rides)
Interactive science museum – 3€ (admission to the planetarium is charged separately – 4€)
On a side note: To avoid queues at the ticket office during high season, you can buy tickets with fast entrance to attractions in Barcelona on the Getyourguide website.
Photo: Cathedral in Mallorca © Lgon
Transport in Barcelona
All modes of transportation are available in Barcelona, so you won't have any problems getting around the city (and beyond).
Barcelona has a single ticket for all public transport: bus, streetcar and metro.
The cost of such a ticket is 2,15 euros. You can buy it either at one of the many kiosks evenly distributed throughout the city or directly from the bus driver.
A ticket with a limited number of trips has a rule called "1 hour and 15 minutes". For example, if you take the bus to the place you want to go to and then take the subway for 1 hour and 15 minutes, it counts as one trip, so you only pay for one trip, not two. The only condition is that trips must be made on different types of transport: if you take one bus to another, it will count as two trips.
You can also buy a ticket for 10 trips for only 10.3 euros or outright Hola BCN pass for 2-5 days, which costs 14-15 euros and gives the right to an unlimited number of trips and transfers (buses, subway, streetcars and commuter trains).
Photo: one of the streets of Barcelona © Walkerssk
Buses, streetcars and metro
As mentioned above, there is a single ticket for all forms of public transport.
Buses run from 5:30 to 22:30, the subway from 5:00 to 24:00 (and even longer at weekends).
In addition, there are tourist buses in Barcelona. Ticket prices:
1 day – 23 euros.
for 2 days – 30 euros
There are 3 routes of tourist buses in the city. They run every day from 9:00 to 20:00. The ticket allows you to get on any tourist bus at any stop an unlimited number of times during the day.
Cab
The cost of getting into a cab is about 2.5 euros, then about 1 euro per kilometer.
A transfer from the airport of Barcelona to the city center will cost approximately 30-40 euros.
Cost of a cab between cities (cost per car, 4 people):
Bicycle hire
The average price to rent a bicycle in Spain in 2022 is 7€ per day. If you are interested in guided tours by bicycle, this pleasure will cost about 30 euros for a 3-4 hour tour.
Cable car and cable car
The funicular to the top of Mount Tibidabo costs about 4 euros.
The cable car to the Montjuïc hill is 9 euros. During the ride there is a great view of the city from a height of about 70 meters.
Rent a car
In Spain, many tourists prefer to rent a car to explore the sights of Barcelona and its surroundings on their own.
Prices are quite reasonable:
a small car (Fiat Panda, Ford Ka) – from 8 euros per day.
Medium cars (Opel Astra, Opel Corsa) from 20 euros per day
minivans – from 60 euros per day.
All prices are quoted without additional costs such as child seats or special insurance. The longer the rental period, the lower the daily costs.
Advice: in the airport of Barcelona to rent a car is 2-3 times cheaper than in the city center. More information can be found in the article Rent a car in Spain.
Prices for accommodation in Spain
Hotels and hotels
A night in an inexpensive hotel (2 to 3 stars) costs from 60 to 150 euros per person. For example, at Hotel California (2 stars) in Barcelona you can spend a night for 65 euros, and a night in the most popular three-star hotel Flor Parks will cost 145 euros.
How to find a cheap accommodation in Spain? To search for hotels, try Booking, and to search for apartments and flats directly from the owners – Airbnb (at the link – 2100 rubles discount for the first booking).
Hotels in the 4-5 stars offer rooms for 100-200 euros per person. In Condes de Barcelona (4 stars) you can stay for 170 euros per person, and in Apartaments-Hotel Hispanos 7 Suiza (5 stars) the room costs 205 euros per night.
Photo: Hotel Guadalmina Spa & Golf Resort © Bert Kaufmann
Rent an apartment
A small 1-bedroom apartment in the center of Barcelona costs about 750 euros per month. The same apartment outside the city center will cost 550 euros per month.
Apartments with 2-3 bedrooms cost from 1200 euros per month in the city center and from 900 euros outside.
To search for private apartments and apartments in any city of Spain is convenient through Airbnb (the link – 2100rub discount for the first booking).
The prices for the tours to Spain from Moscow
It is recommended to search for tours to Spain through sites Travelata and Level.Travel. They compare the cost of tours at different tour operators, allowing you to find the most inexpensive tours.
The cost of standard tours
A standard tour for 7 days with a stay in a 2-3 star hotel in the summer of 2022 costs from 24000 rubles per person. For example, a stay at Villa Garbi in Costa Brava (3 stars, 350 meters to the beach, breakfast and dinner) will cost 61400 rubles for two people.
A similar tour with accommodation in the hotel 4-5 stars costs from 35000 rubles per person.
A 7-day trip to Spain to the Helios Lloret 4* hotel on the coast of Lloret de Mar costs 72000 rubles for 2 people, and the Mare Nostrum Mediterranean Palace in the Canary Islands (5 stars, 1 line) – 120000 rubles for 2 tourists.
Spain, rest 2022: all-inclusive prices
Tour "all inclusive" for 7 days with accommodation in a 2-3 star hotel costs tourists about 35000-50000 rubles per person. For example, a holiday of 7 days in a good, according to tourist reviews, the hotel Canarios Park on Mallorca costs 70900 rubles for 2 people.
Prices for all inclusive tours to Spain in hotels 4-5 stars start from 40000 rubles per person. For example, a tour of 7 days in the hotel Riu Buena Vista 4 * in Tenerife costs 125000 rubles for two people.
Prices for holidays in Spain with a flight of 10 days is about one and a half times more expensive.
Discounted Tours
If you have not planned recreation in advance, look for last minute tours. Sometimes a package of 7 days in a three-star hotel near the sea can be found at a price of 12,000 rubles per person. It may be cheaper further away from the sea.
When is the cheapest vacation?
In 2022 in Spain, it is cheaper to rest at any time except for the three months of summer. From March to May and from September to October the prices for accommodation and entertainment in the country are lower, but the rest at this time is not so good.
If you intend to go shopping, it is best to come to Spain and Barcelona in late August, when the tourist season comes to an end, and discounts on clothing and accessories reach 70%.
How much money to take in Spain in 2022
It is better to go to Spain with euros in your pocket, despite the fact that it is possible to live in the country with dollars and various other currencies. Local banks charge a decent commission for their services, you can lose a lot of money on conversion.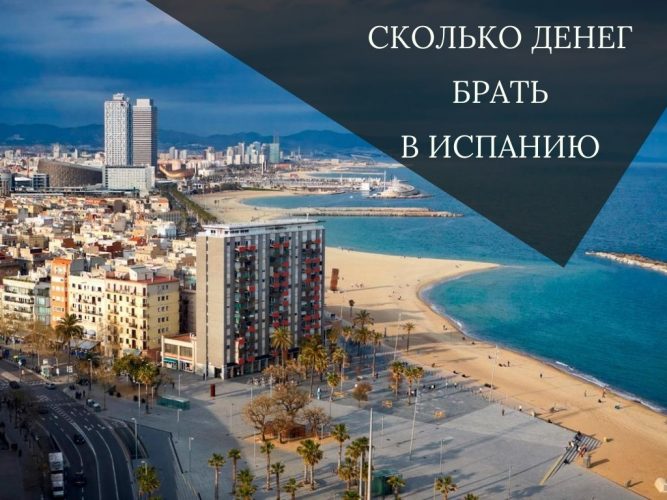 The necessary amount of money
Experienced recommend to have at least 50 euros a day per person. If you want to go for a week, for example, besides the amount for travel and accommodation you need to have at least 350 euros in reserve. For a married couple the amount is doubled.
In fact, if you avoid unreasonable spending, then even a frugal holiday in Spain can be very comfortable. Here it is important to consider the types of expenses.
Usually they are as follows:
road and lodging;
food;
excursions;
shopping;
buying souvenirs;
other, including incidental, expenses (e.g., renting a car or paying for a visit to the beach).
Travel and lodging
Usually, round-trip airfare and hotel accommodation are included in the price of the trip. It also covers the cost of visas and travel insurance.
It turns out that, at best, breakfasts are also paid in advance, so you can make a discount on food: the cost of one meal will be crossed out of the total budget of the trip.
We advise to watch an expert video: Where is the best place to rent an accommodation in Barcelona for tourists in 2022.
Nutrition
Everyone's taste habits are different, so this expenditure item can vary from two dozen euros to infinity.
In an inexpensive cafe you can eat pretty budget. Breakfast in the form of a cup of coffee with a sandwich or croissant will cost 3 euros.
For lunch you need to put more money: business lunch or buffet costs from 8 to 12 euros.
You can get such a check only from 12 to 16 o'clock, when there is a siesta. On the menu you should be guided by the inscription Menu del dia.
Fast food for lunch can cost from 5 to 7 euros, for burgers and fries you must go to McDonald's, KFS, of which there are many in Spain, or local snack bars Latuca or WOK TO WOLK.
National food is sold in the network 100 montadios. You can eat in a Chinese restaurant, but you will have to pay as for a complex dinner.
For pretentious tourists, good lunches are offered in stylish and upscale restaurants. One hot meal there costs at least 15 euros.
A dinner for two with a glass of wine and three courses will cost on average 50 dollars. And this is an establishment with average prices, much more expensive will be a trip to a Michelin-starred restaurant.
For comparison, a liter of unpretentious dry wine in a store will cost a couple of Euros, in a restaurant it will be asked for 10 times more.
You can save money by buying food and snacks in supermarkets.
For example, in the center of Barcelona popular products are quite inexpensive:
tomatoes – from 2 euros;
Potatoes and cucumbers – from 1 euro;
Baguettes from 0,5 euros, bread from 1 euro;
Lemonade 0,33 liter – about 0,5 euro;
A bottle of water – from 15 cents;
juice – from 1 euro;
milk – from 0,5 euro;
yoghurts – from 2 euros for 4 pieces.
In general, most products popular among Russian tourists cost 1-2 euros. For example, a bag of rice or pasta, eggs, fruit or a bottle of beer. Even cheaper products can be found in Spanish markets.
It should be borne in mind that food and the whole stay in Barcelona is more expensive than in other cities.
Therefore, beach vacation is better to plan in smaller communities. It will cost less and its quality will be higher.
See the video: What the prices of food in the stores and cafes of Barcelona and Mallorca.
Sightseeing tours
Quite a lot of money in Spain is spent on sightseeing and excursions.
The exact amount needed is difficult to calculate. It depends on the saturation of the program and the remoteness of the museums. If you need a transfer, the price will be higher by an order of magnitude.
Excursions can be planned as a very expensive, as well as low cost.
For example, the entrance to the cathedral will ask to pay a maximum of 5 euros, the museum will cost 6-8 euros.
For connoisseurs who are planning to visit the famous mansion of Barcelona – Casa Batlló, it is necessary to set aside 22,5 euros for an adult visitor and 19,5 euros for a minor. Children under 7 years old are not charged.
What else to visit:
The Barcelona Oceanarium – from 20 euros per person;
Flamenco show or Spanish Night – from 30 euros;
Temple Sagrada Familia – from 16 euros;
Park Port Aventura – from 55 euros;
A cable car ride on the mountain Montjuïc – from 16,5 euros;
Mount Tibidabo with a panoramic view of the Catalan capital – from 20 euros (including funicular and rides);
See in the video: how to get to the mountain Tibidabo by blue streetcar.
Spanish Village – from 22,5 euros;
Montserrat Monastery – from 30 euros.
Boris Sokolov's walk through the Gothic Quarter in Barcelona.
Photos from excursions
Boris Sokolov, owner and head of the VisaSam.ru project, on a tour of the Sagrada Familia Cathedral, Mount Tibidabo, and Park Guell.