Register with one of the popular services or with Email.
Not a member yet? Sign up
Alcohol on a Cruise
Alcohol on a cruise is quite expensive. The average price of a cocktail in a bar is 6-8 euros. The cost of an inexpensive bottle of wine in a restaurant – from 20 euros. For example, you can see the bar menu of the ship MSC DIvina. What are some ways to save money on alcohol on a cruise?
Wine packages
A wine package is a set of specially selected bottles of wine that you buy in advance and that you have enough for the entire cruise. Since you buy them "in bulk," their cost is lower than if you take them on the ship individually. The package usually includes 4 to 6 bottles of wine. You can drink them at dinner or lunch, you can take the unfinished bottle with you to your cabin or you can leave it on the table and then the waiter will bring it to the next dinner. In general, you can do with them as you please – it's your wine that you paid for. Such packages may also include mineral water. The approximate price of such a package is $80-160 . Some companies also offer coffee or "beer" packages. If you can't do without your daily cup of coffee, you may be interested in this. Check your cruise company's website for details on these packages, their contents and prices.
Bringing your own alcohol on board
It's not a bad idea to buy inexpensive alcohol at a supermarket on land and sneak it on board. But bringing alcohol on board is strictly prohibited by all cruise companies. Exceptions are made occasionally, e.g. Princess, Celebrity allow you to carry 2 bottles of wine at the embarkation port.
If you try to bring it, it will be taken away, put in a separate storage and given back only at the moment of disembarkation. The same goes for alcohol bought at the Duty Free stores on board. No one will let you drink it on the ship, you will get it only after the cruise is over. Such rules are understandable – otherwise no one would buy alcohol in the bars.
And yet, despite all these prohibitions, sneak alcohol on board is quite possible. Trying is not a torture, in the worst case they will simply take it away and give it to you on disembarkation. The most effective way to sneak it – put it in the luggage, which is handed over at the port of embarkation, previously pouring from glass bottles into plastic bottles. Do not abuse the quantity. 1-2 liter bottles of Pepsi can pass unnoticed, but you do not need to stuff your suitcase with them. Be prepared for the fact that if alcohol is discovered, your luggage will be detained and you will have to go to the front desk, as the bottles can only be opened and removed in your presence. I've also been able to sneak alcohol in intermediate ports as well, it all depends on the specific people in the security guard shift. If your ship's card is marked with an All Inclusive package icon, security is more lenient on sneaking in.
All Inclusive Cruise Packages or All Inclusive
Allow you to save significantly on alcohol and beverages on board. They usually include:
Alcoholic beverages except premium brands. Cocktails, draft beer, a few wines, spirits.
Non-alcoholic beverages. Mineral water, coffee, bottled juices, sometimes freshly squeezed juices.
Ice cream
Only premium drinks and cocktails based on them are not included, such as Hennessy cognac, Remy Martin, expensive whiskey and rum. But there are also "Premium" drink packages that contain premium drinks. They also usually include the contents of the minibar in the cabin. The price of premium packages is about 2 times the regular price.
How does it work? You order a cocktail at the bar, they bring you the cocktail and a check with a zero amount to sign. I advise you to make sure that the amount on the check is exactly zero, as not all drinks on board are included in the package. But all the drinks not included in the All Inclusive are marked in the bar menu with a special asterisk, so it is quite difficult to make a mistake. But it is possible, especially after 5-6 cocktails:)
The cost of the All inclusive package is calculated based on the duration of the cruise. The company sets price per day, and if your cruise lasts for 7 days, then the daily cost should be multiplied by 7. At the same time you cannot buy an All Inclusive package for 2 or 3 days, the package is bought only for the entire cruise, and the Italian companies (MSC, Costa) offer it for all persons staying in the cabin. That is, if there are two of you in the cabin, the package must be paid by both of you. If you have children with you, you need to buy a special children's package.
Example of calculation for Costa. An all-inclusive package costs €23.5. For children €15. For a 7-day cruise the cost per person would be €164.5. If there are two of you in your cabin, you will need to pay €329. If you have two children with you, another €2*15*7=210. The total for four people is €539. Of course, it is not a small amount, even comparable to the cost of the cruise.
On the other hand you can give an approximate calculation of the costs per person on the cruise:
Two coffees – espresso and cappuccino. €1.5 and €2.5
Two glasses of wine at dinner at €5 (usually very small).
Two cocktails in the evening. €7 each.
Bottle of water €3.
That makes €31. Already more than the price for the daily package. And I didn't even include juices, chocolate bar or ice cream. And a lot of people don't limit themselves to two cocktails a day on vacation, let's face it. Also note that every purchase on the cruise is subject to a 15% service charge. When you use an "All Inclusive" package you do not pay the service charge.
Of course, it is all up to you individually whether buying such a package is beneficial to you. But in general, MSC Cruises and Costa offer good prices for All Inclusive packages, unlike other companies. For example, at NCL the cost of the package is around $50 per person, per day, and here you really need to try hard to justify buying such a package, but at least you do not have to take this package for all passengers.
How not to spend too much on a cruise: 5 rules for a smuggler
Learn how to save money on a cruise! Five simple tips from my personal experience.
You'll spend a lot of money if you splurge on extra services aboard the liner. I'll tell you about cheaper alternatives.
1. Stock up on alcohol.
Let's start with the main thing – alcohol!
A cruise is a vacation and a holiday, so without alcohol you are unlikely to last. Even I, a person rather cold to alcohol, on the first day of the cruise was tempted and took a bottle of wine. And then six more.
By the way, on Costa liners drinks cost absolutely adequate money, not more expensive than in a normal bar or restaurant on land: a glass of wine, a can of beer or a cocktail – from 5 €, a bottle of wine – from 20 €. Prices are normal, but in the store is still three times cheaper. But it's prohibited to bring your own alcohol on board. Scared? Now relax: a little contraband is acceptable. We bought in every port and brought on board a can of beer and a bottle of water. No questions at the inspection: we are all human beings, everyone understands everything. The main thing is to observe the measure. Wine from the stores, we did not take the risk of bringing, believing that the large glass bottle at the inspection will certainly cause questions. But once in Tenerife we took a bottle of wine after the bag check in duty free: it amounted to 9 € compared to 25 € on board.
If contraband is not your level, or, more likely, you've already drunk it all, look for discounts in bars and restaurants, or alcohol packages (cheaper in bulk). We took a package of 6 bottles of wine and 7 bottles of water for 110€.
By the way, if the restaurant you didn't finish a bottle of wine, do not worry – it will be saved for you until the next evening. We drank every bottle in two evenings.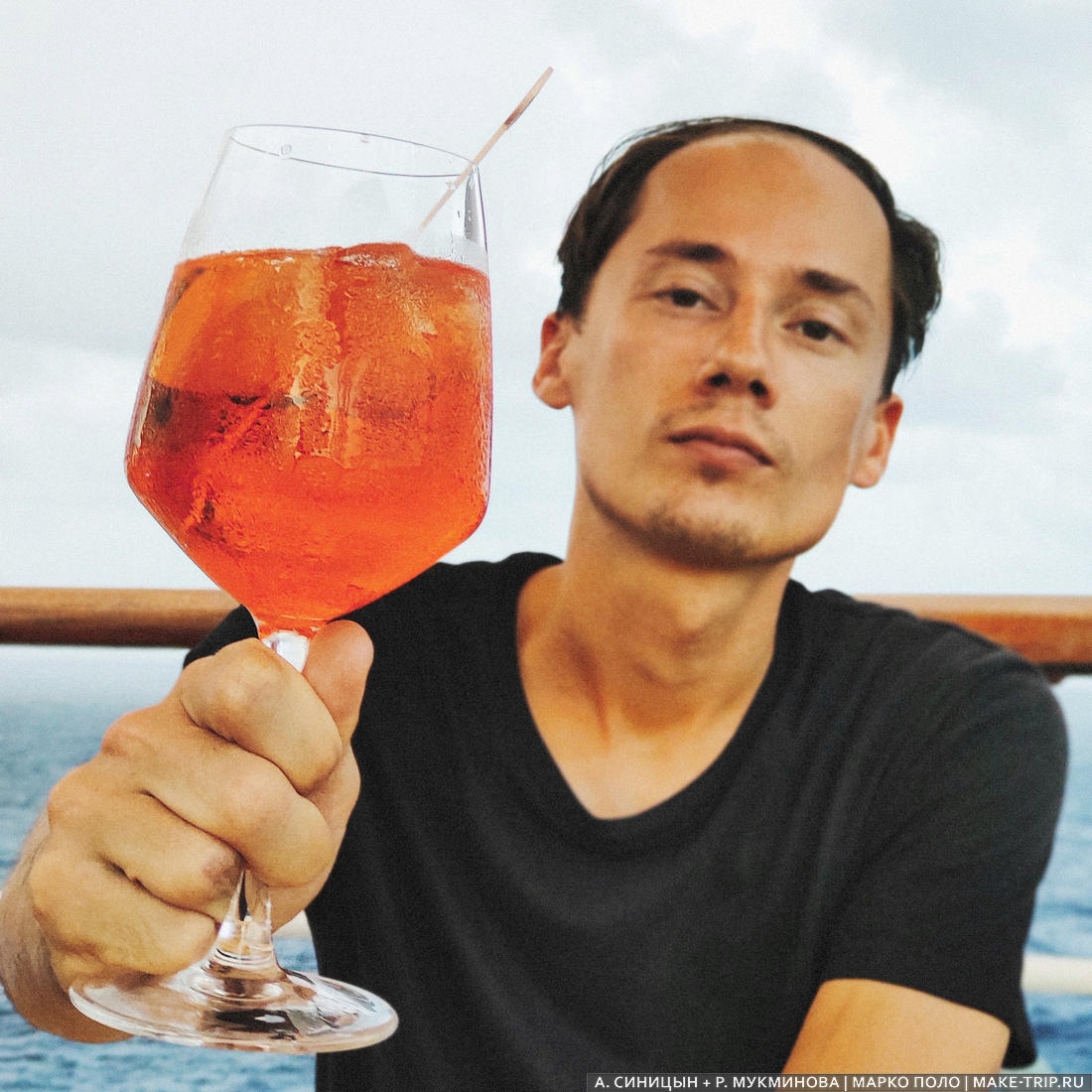 At the bar on the open deck of the liner. At first we planned to abstain from alcohol on the cruise, but we snapped on the first night.
2. Stock up on water.
Water in the buffet is free, but in the restaurant and minibar of the cabin it is paid: 3€ per liter. It's officially forbidden to take bottled water in the buffet, but people don't recognize these rules and quietly pour. You can also bring water from sushi in reasonable quantities.
3. Forget about the Internet.
On board it's a crap how expensive! Just forget about it while you're at sea, connect to the network on land: through your operator or look for wi-fi. I got 4 GB of free internet on a premium card MasterCard from Tinkoff, so at all stops I could work and communicate with home peacefully. At sea I rested in offline mode.
I got a cold on the liner and had to buy internet access to contact my insurance company. I chose the cheapest option: 5€ for one day access to social networks + 3€ for the first activation of the Internet. These costs were reimbursed to me by my insurance along with my medical expenses. I have free insurance from Tinkoff – I recommend it.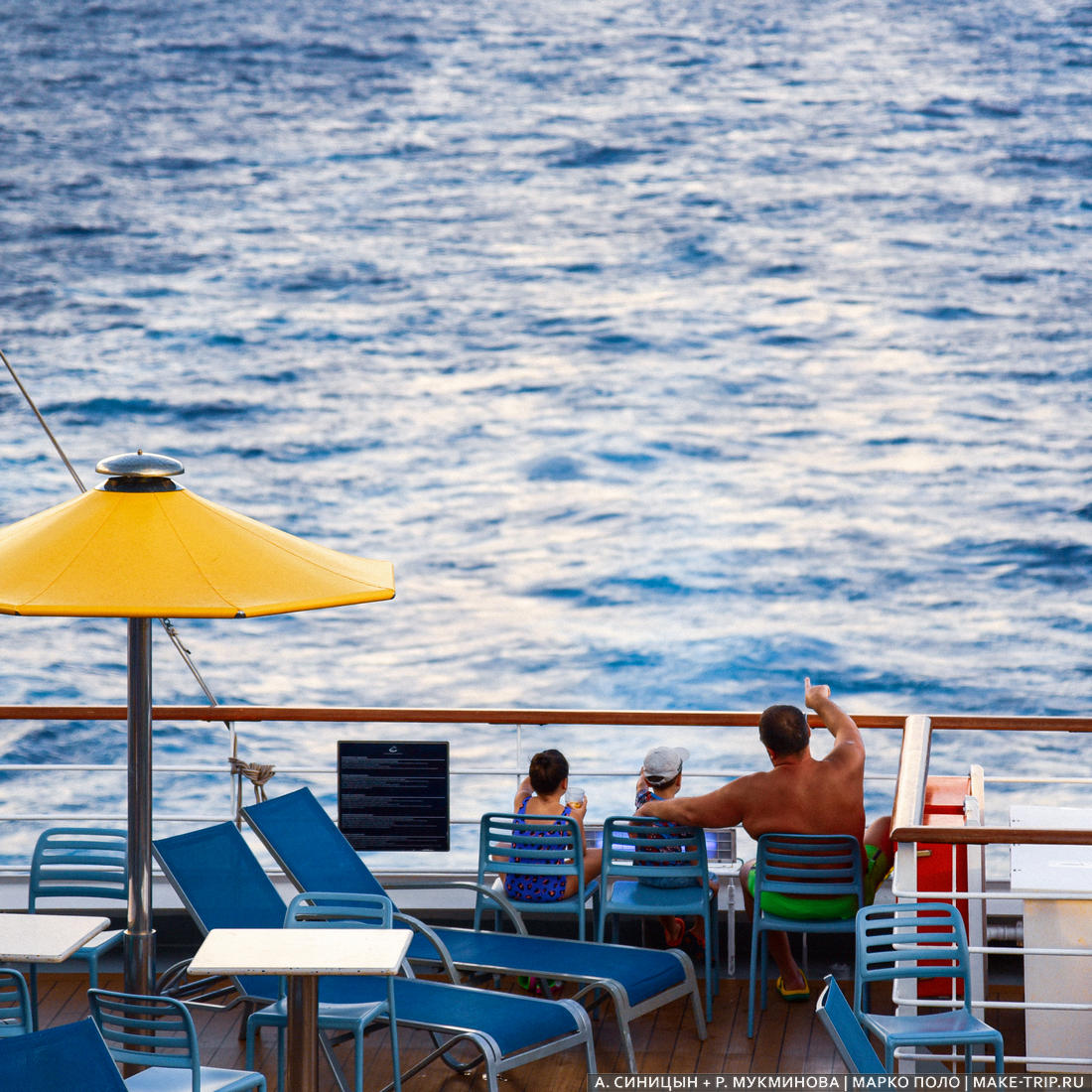 Instead of sitting on the internet, sit better on the open decks of the liner and enjoy the sea voyage.
4. Do not buy their excursions.
Everyone knows that the most expensive excursions on vacation are from tour operators. It's the same on a cruise. Organize your own excursion at the stopover points, you're not little kids, for God's sake. If you like excursions, book them yourself on Tripster – and the choice is greater, and the prices are lower.
Transfer from the cruise terminal to the city center from the cruise company is also always 2-3 times more expensive than the local carriers. It is often possible to walk to the center.
We visited Marseille, Barcelona, Tenerife, Barbados, Martinique and Guadeloupe on the cruise. We went everywhere on our own, but in Martinique and Guadeloupe we rented a car and had a good ride.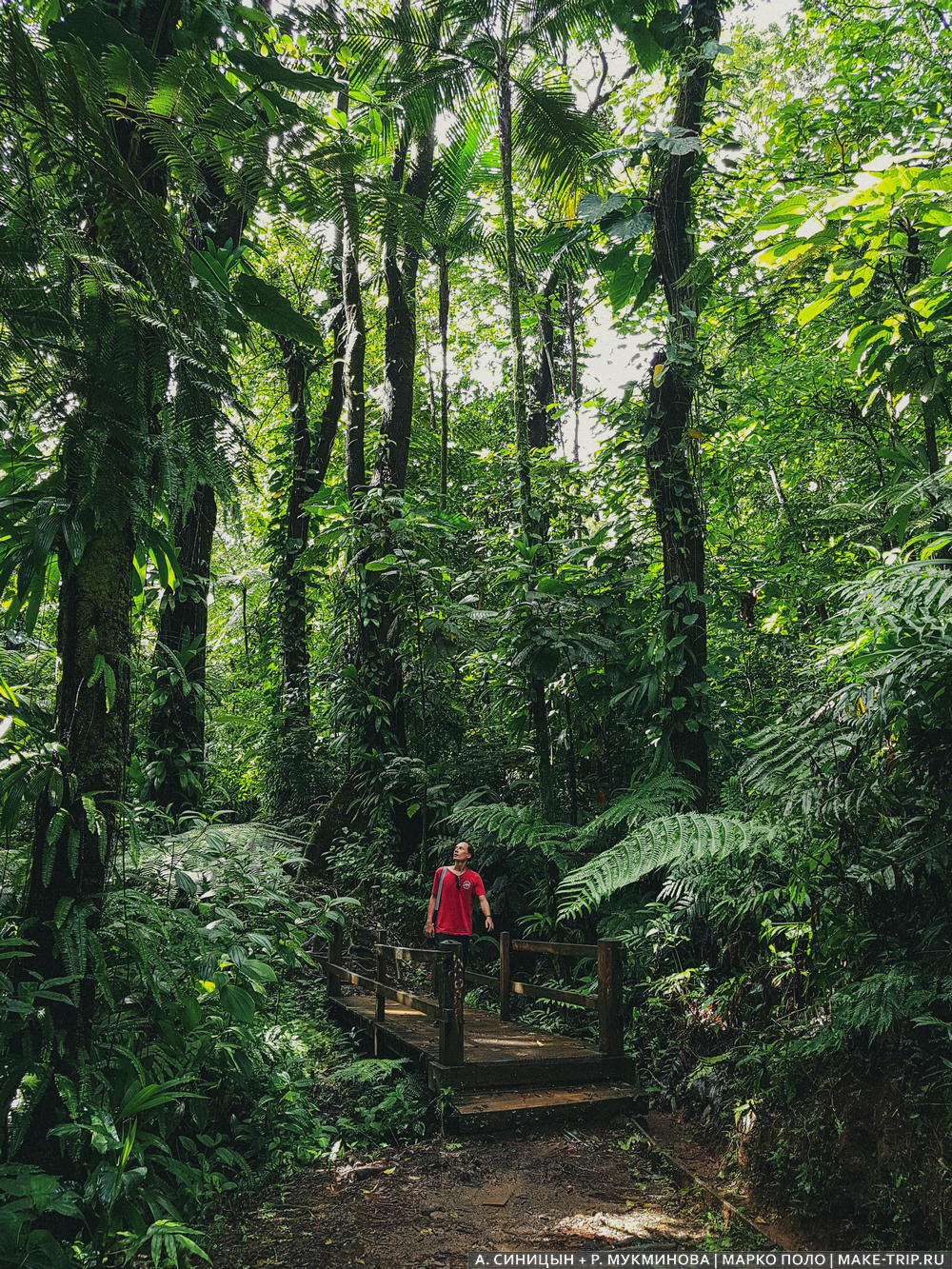 Jurassic Park on the island of Guadeloupe. Walking to Corbett Falls.
5. Do your own laundry.
Don't use the onboard laundry service – they charge from 3€ per item. Just take T-shirts, shirts and underwear to spare, and small items can be washed in the sink, a rope for drying is available in each cabin.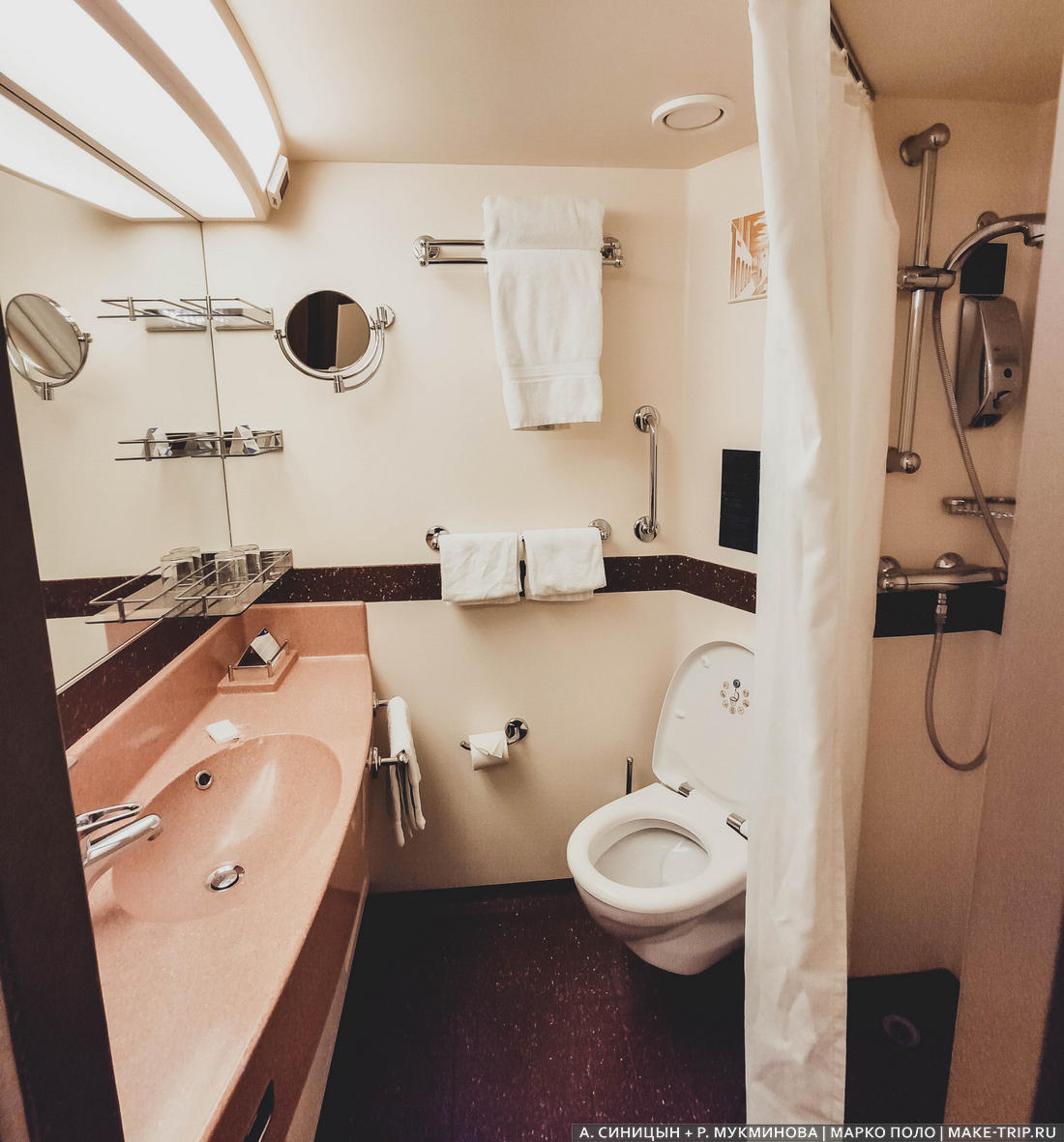 The bathroom in the Costa Favolosa liner's stateroom. It's easy to wash things in the sink, and a drying rope is available in the shower stateroom.