How to get from Istanbul to Cappadocia: 3 current ways
If you are thinking about going from Istanbul to Cappadocia, how to get to one of the most popular attractions in Turkey will be your burning question. There are several ways to get to the site from the metropolis. The fastest and most convenient of them, of course, will be by air. In addition, you can always get to the place by rental car or by intercity bus. The choice is yours, well, we in turn will give you detailed information on all three options for an independent trip to Cappadocia.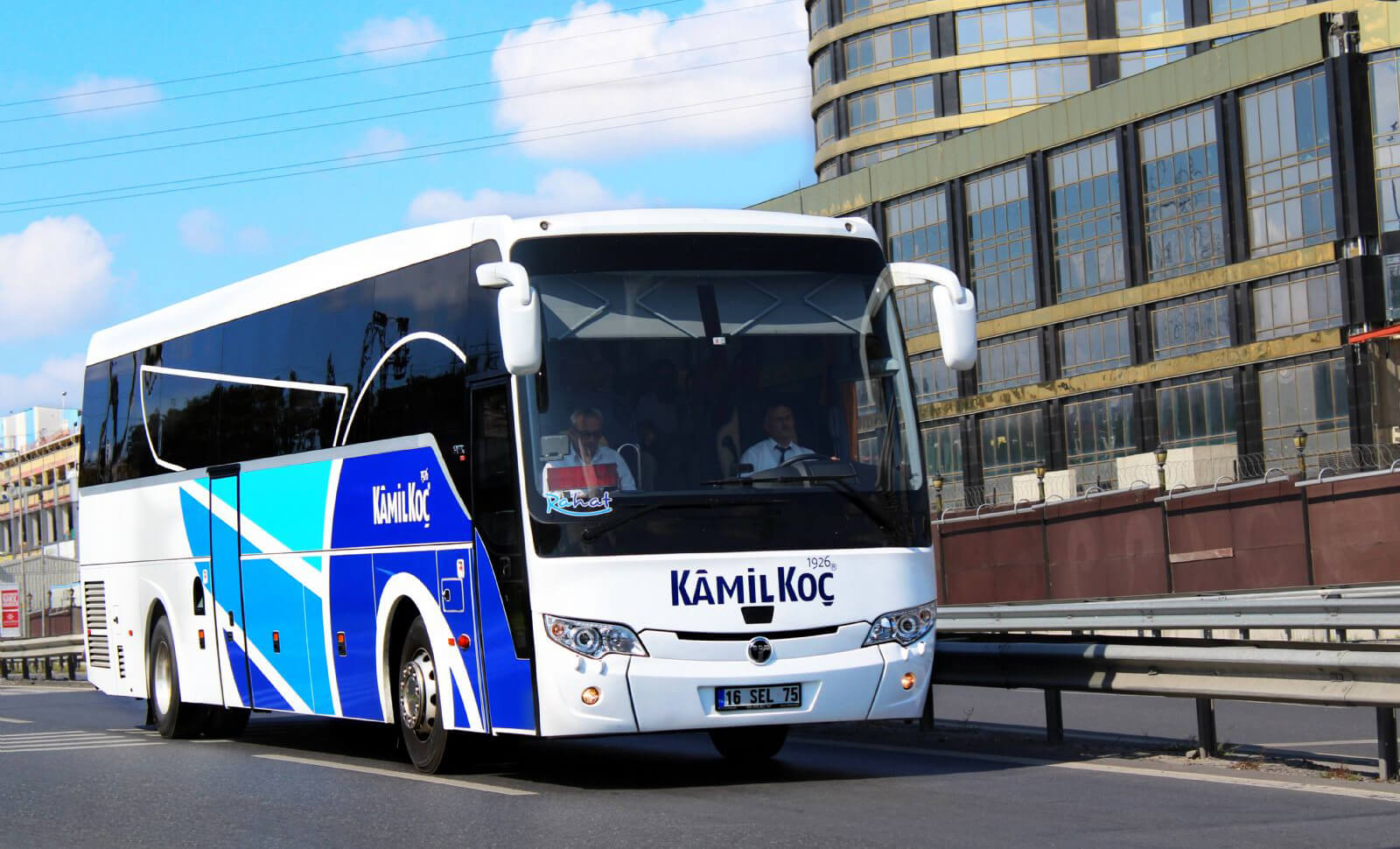 By Airplane
If you are puzzled by the question of how to get to Cappadocia in Turkey, you should know that the easiest way to get to the place will be from Istanbul. The nearest settlement to the site is the village of Goreme, so when looking at the map and the formation of the route, it is worth focusing on this object. Obviously, there is no airport in the village itself, but there are two airports nearby. One is located in the town of Nevshehir approximately 40 kilometers west of Cappadocia; the second one is in the town of Kayseri, 77 kilometers east of the site.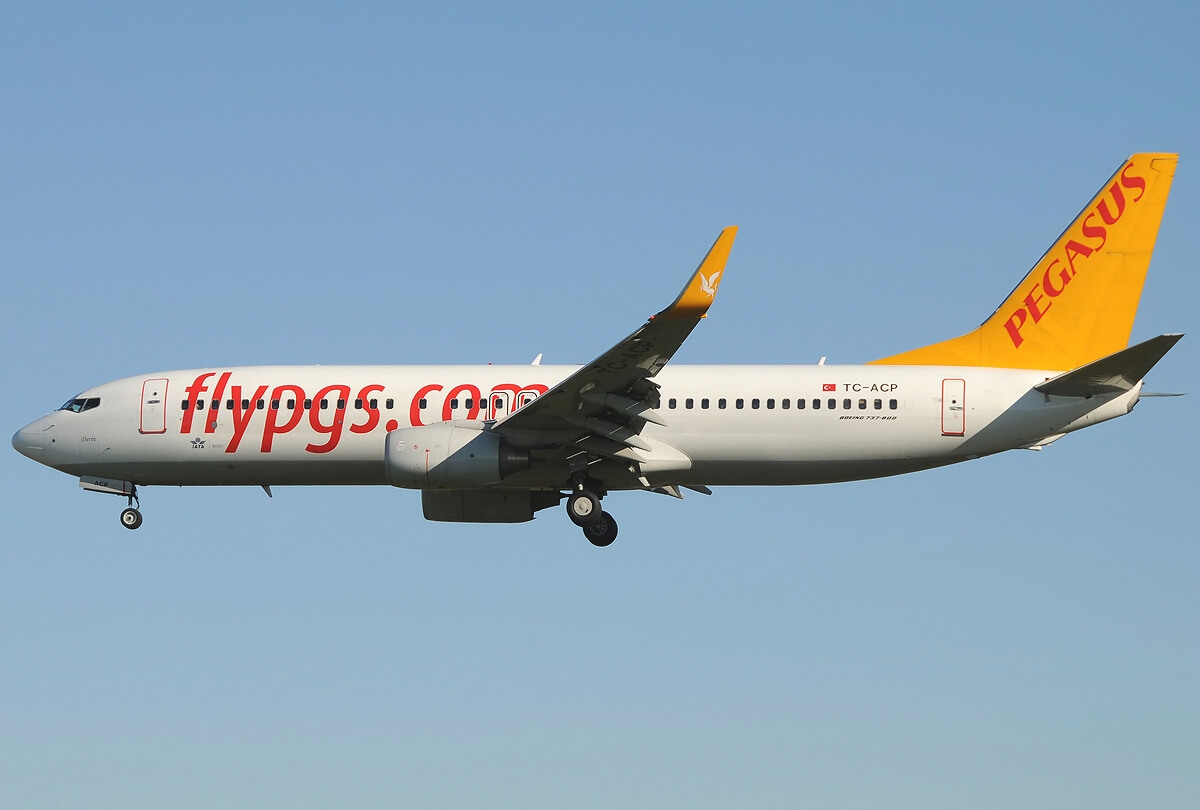 How to get to Cappadocia from Istanbul? You can do it by plane through the city of Kayseri. Today flights between Istanbul and Kayseri are operated by three Turkish airlines: Turkish Airlines, Pegasus Airlines and Anadolu Jet. The first company flies from Ataturk Airport, which is located in the European part of the city, the second and third – from Sabiha Gokcen Airport, which is located in the Asian part of the city. To get to any of them is not difficult by subway.
A ticket to Istanbul-Kayseri with Turkish airlines costs 100-140 TL one way depending on the time of departure. Pegasus Airlines has a one way price of 110-130 TL. Anadolu Jet will charge you 100 TL for a ticket to Cappadocia. Travel time on all three carriers does not exceed 80-90 minutes.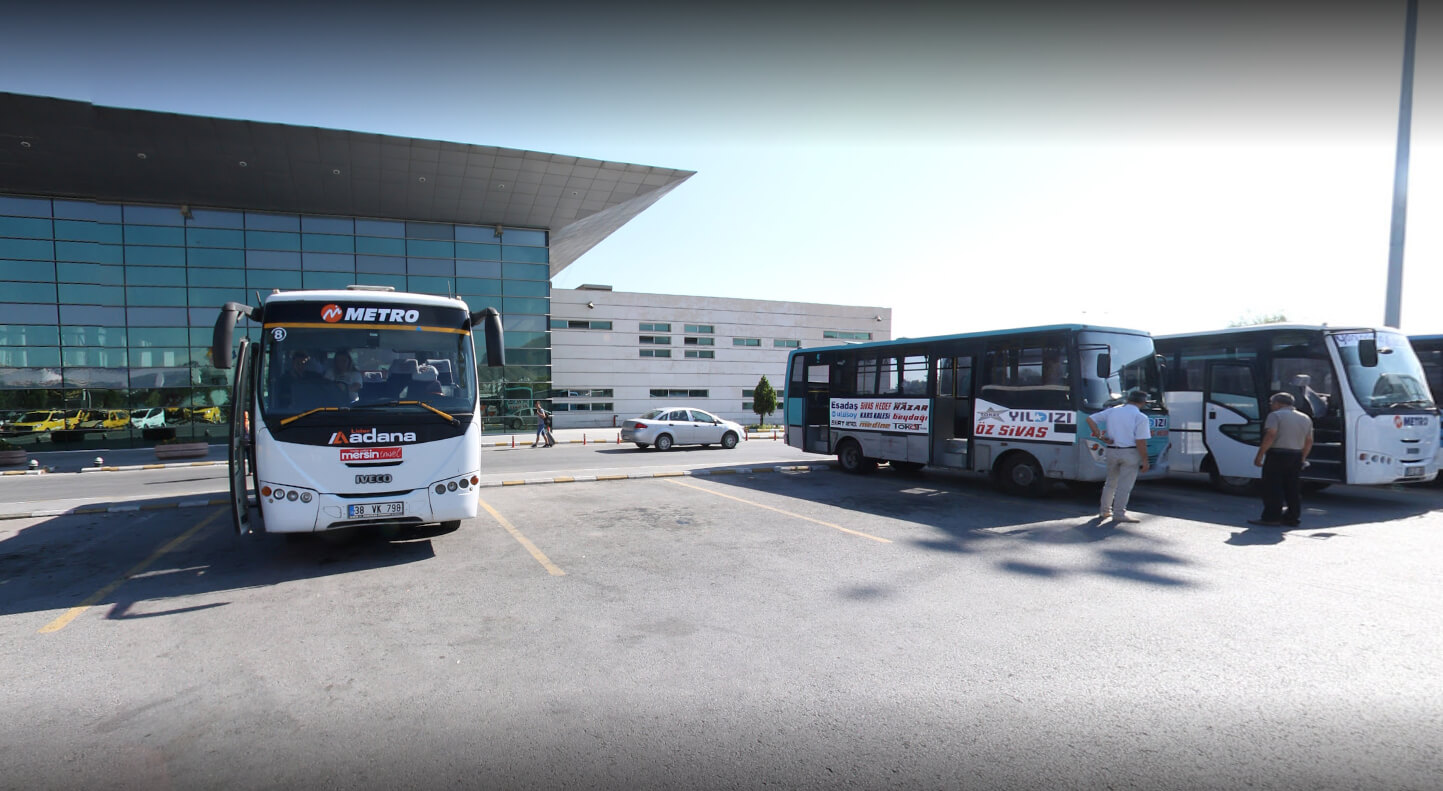 Kayseri Otogarı
Now let's look at how to get to Cappadocia from Kayseri airport. First, you need to get to Kayseri Otogarı Central Bus Station. To do this, when you arrive from Istanbul, you need to find the Havaş bus stand near the exit of the terminal. From there you can get to the city center at one to two hour intervals. The fare is 12 TL. When you are in the center of Kayseri, the bus stops right at the bus station where you need to get off.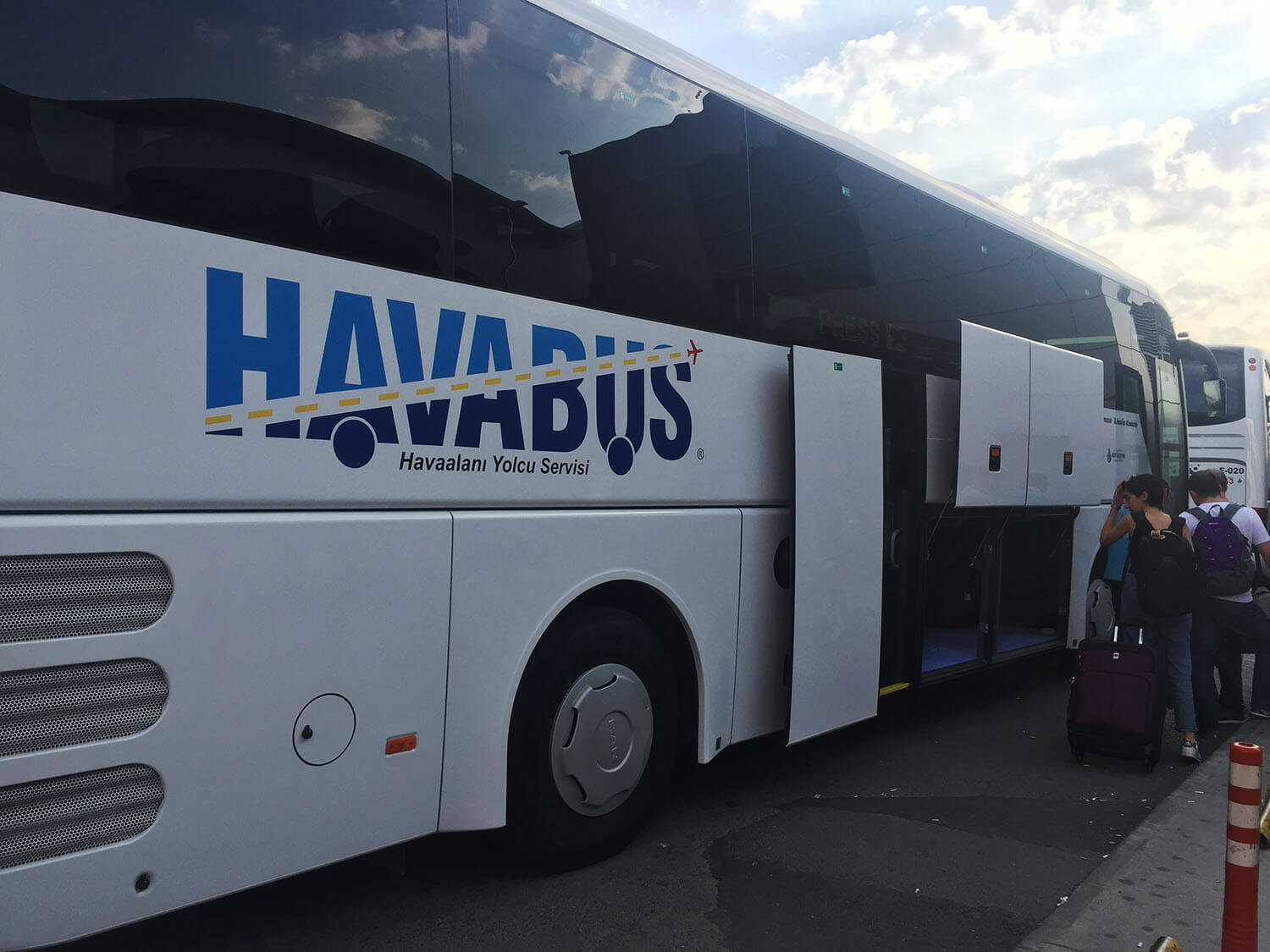 There are six buses a day from the central city bus station to the village of Göreme:
The fare is 20 TL and the travel time takes about 1 hour. In Göreme, the bus arrives at the local bus station, from where you can safely take a cab to your hotel.
However, it is worth noting that by using public transportation, you will only save 3 TL. A taxi transfer from Kayseri airport to Cappadocia is only 35 TL per person. You can book a private car at your hotel or on the relevant websites (the two addresses below).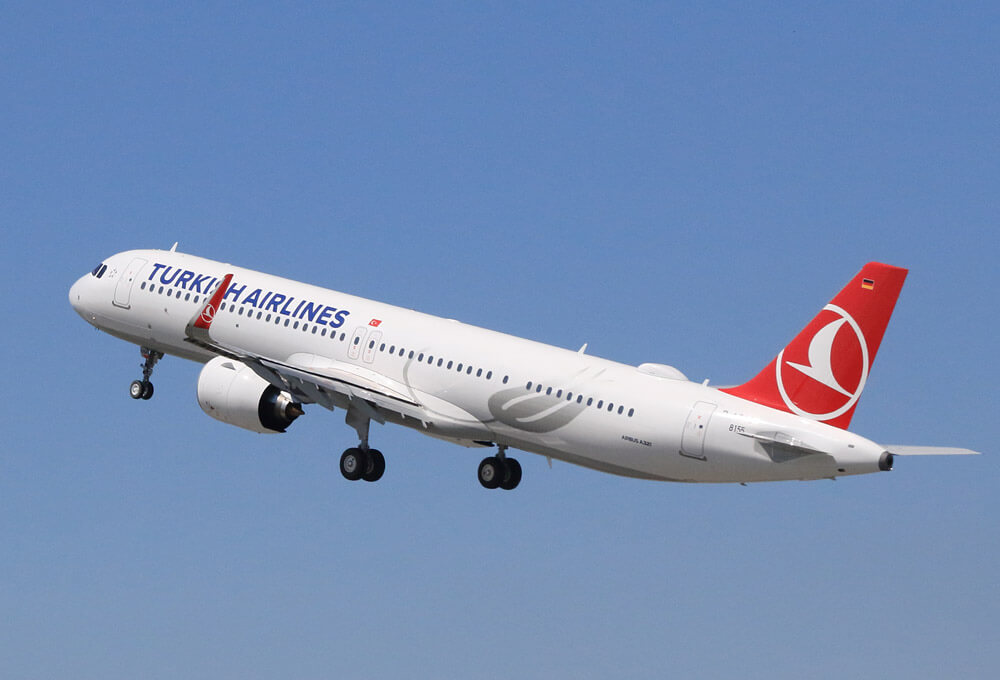 If you are looking for the best way to get to Cappadocia, you should not overlook such a place as Nevşehir. Every day there are several direct flights from Istanbul to the city. Most of the flights are operated by Turkish airlines, departing from both Ataturk and Sabiha Gokcen airports. A one-way ticket costs 120-140 TL and takes 70-90 minutes.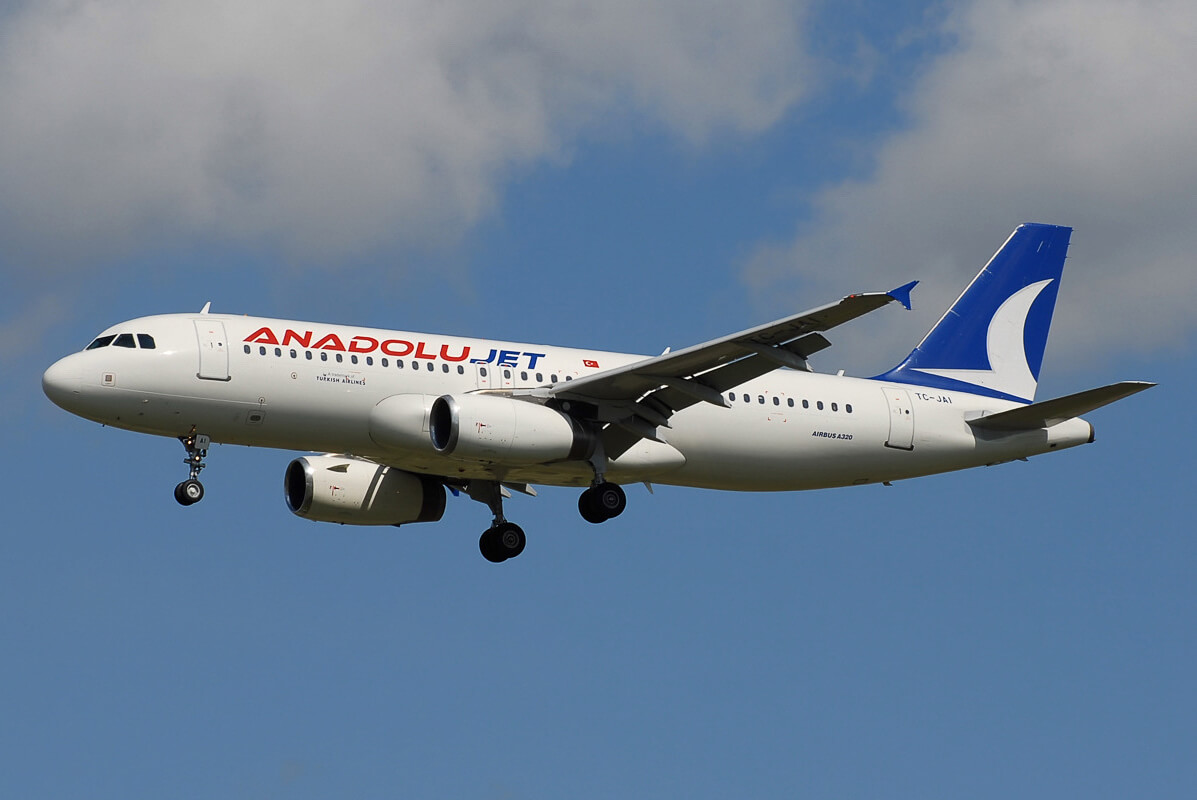 Anadolu Jet also offers one flight per day (except Saturdays and Mondays). Departures take place from Sabiha Gokcen Air Harbor. The ticket price ranges from 100-140 TL and the duration of the flight is on average 70 minutes.
Now how to get to Cappadocia on your own from Nevshehir Airport. To do this you need to find the stop where the dolmusha that goes to the city center arrives after arriving from Istanbul. It is worth noting that the road is not a short one and takes about 30 km. The fare is 15 TL. The bus will take you to the city bus station and from there you can go to Cappadocia. The distance from the center of Nevşehir to the village of Göreme is only 10 km and the fare is 5 TL.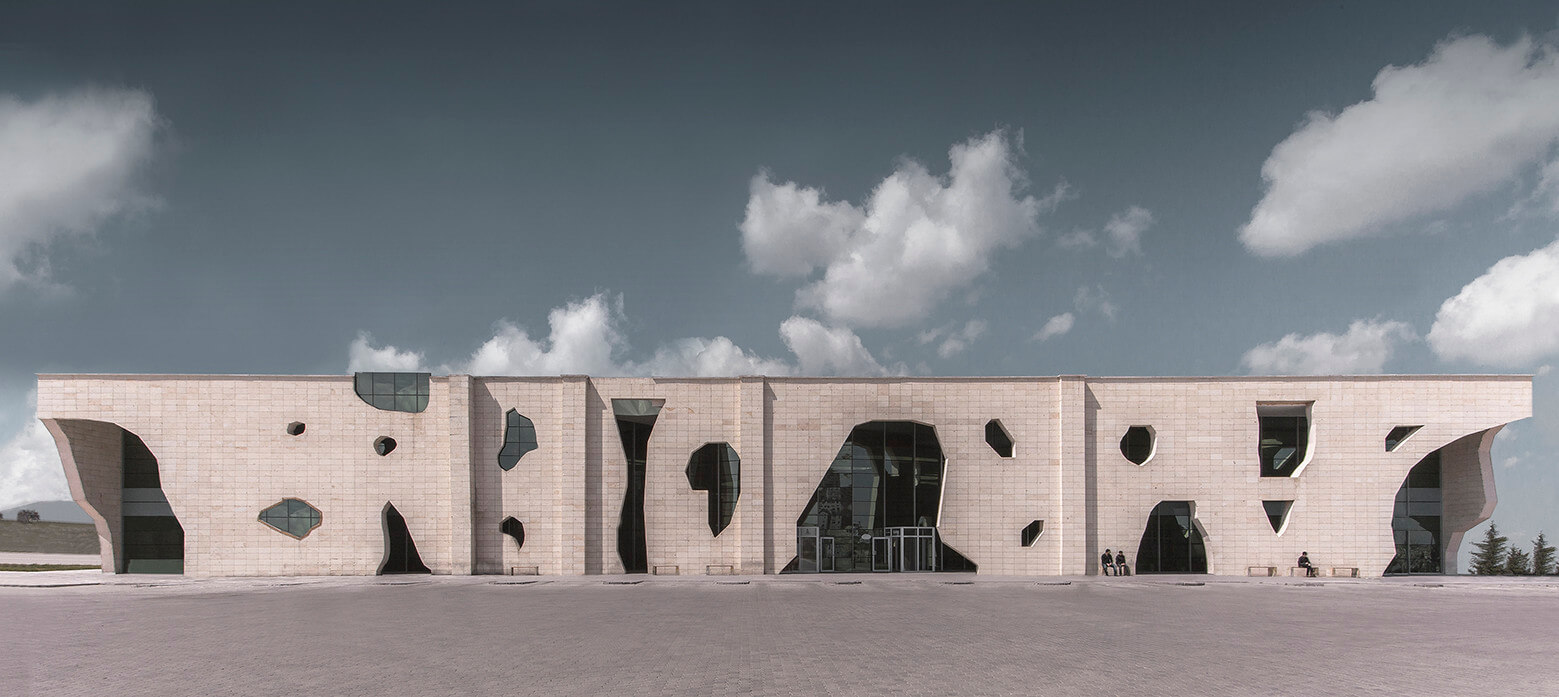 Nevşehir Bus Station
If you don't want to use public transportation, you can take a transfer by booking a car through your hotel or independently on numerous websites. A trip from Nevşehir Airport to Cappadocia in a private car costs 30 TL per person. The price difference between a transfer and public transport is only 10 TL, so it makes sense to save time and take a private trip. You can book a car for example here argeus.com/airport-transfers or here www.heliostransfer.com/en.
By car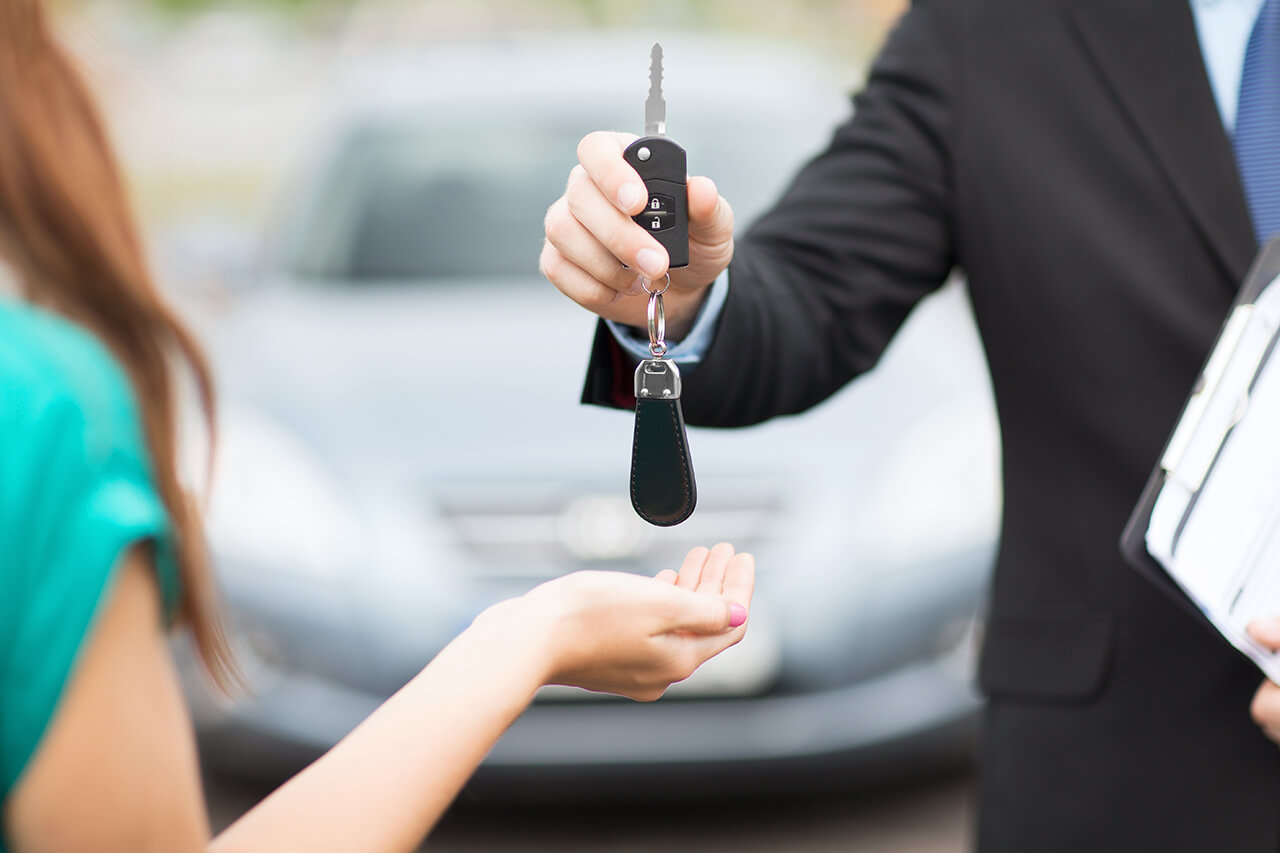 This paragraph of the article is for those who want to know how to get to Cappadocia from Istanbul in Turkey by car. The distance from the metropolis to the village of Goreme is 760 km, and on average the road takes 8 to 9 hours. You can rent a car directly at the airport in Istanbul: the price for an economy car starts at 80 TL per day.
A liter of gasoline in Turkey in November 2018 costs 6.30 TL. To cover a distance of 760 km you will need about 45 liters of gasoline, which is about 290 TL. Plus 290 TL for the return trip, for a total of 580 TL you will spend on gasoline alone. Add 240 TL for renting the most budget car for three days to this total, and you end up with 820 TL for your return trip to Cappadocia.
Clearly, it's only profitable to go by yourself by car if your group consists of 4-5 people. Otherwise, it will be more economical to get to Cappadocia even by plane, taking into account the transfer costs.
By bus
How to get from Istanbul to Cappadocia by bus? It is quite easy to do this by using the services of transport companies that operate intercity flights throughout the country. Buses in Turkey are quite comfortable: each seat is equipped with a TV screen and a power outlet, and there is Wi-Fi in the cabin. During the entire trip you are served by a steward, offering tea, coffee, juices, water, as well as snacks. Drivers make small stops every 2-3 hours at city bus stations, during which you can visit the restroom. There are also half-hour stops for lunch and dinner.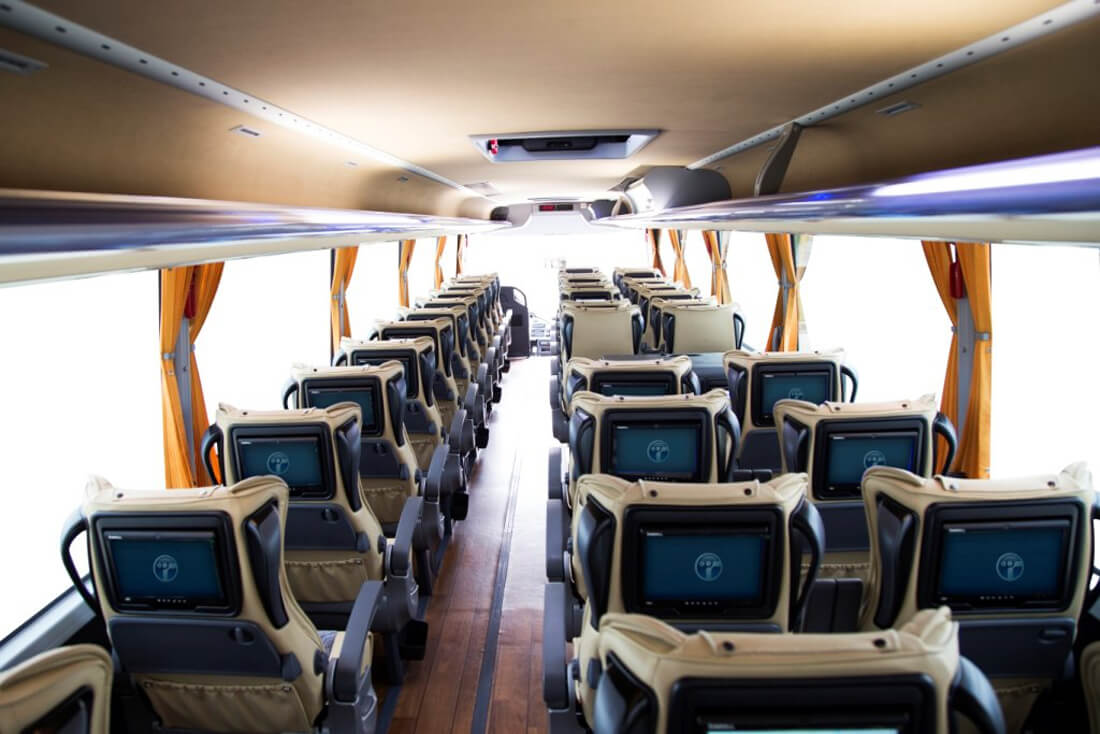 There are several large companies in Turkey, which offer trips to the direction we are interested in. How much to drive from Istanbul to Cappadocia by bus, where to buy a ticket, and at what price, we review each company below in detail.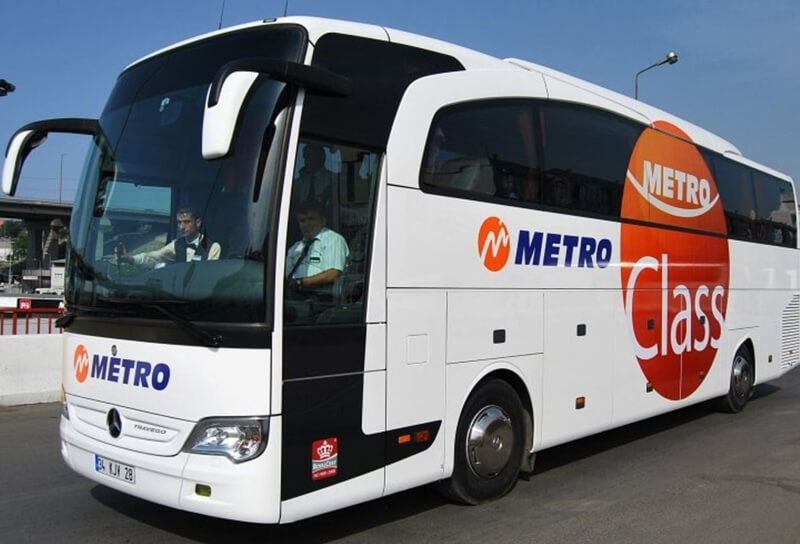 Transport to Goreme village departs daily from Esenler Otogarı Bus Station, located in the European part of Istanbul. There are only 4 trips per day: in the morning at 08:00 and 08:20 and in the evening at 22:00 and 22:20. The cost is 110 TL. It takes 11 hours to reach your destination. Tourists usually buy tickets at the bus station ticket office or on the official website www.metroturizm.com.tr/.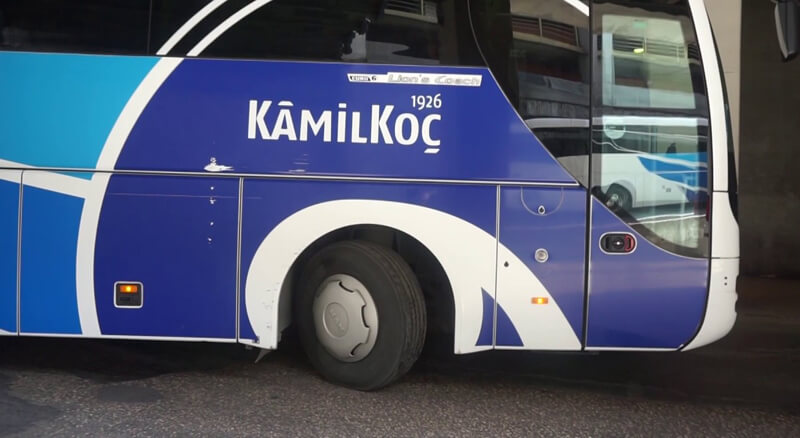 There are three Istanbul-Cappadocia buses departing from Esenler Otogarı Station every day at 05:00, 20:00 and 23:31. The ticket price is 110 TL and the journey takes 12 hours. Pay at the ticket office at Esenler Otogarı or buy your ticket online at https://www.kamilkoc.com.tr/.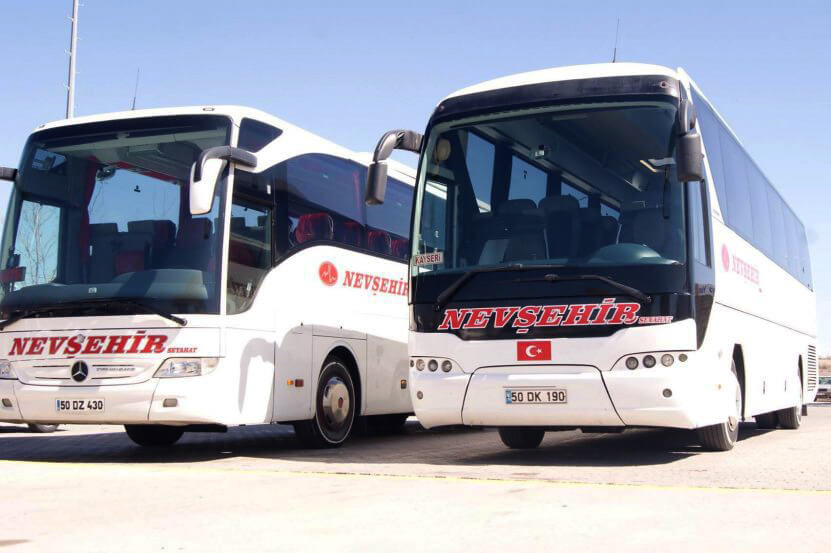 Nevşehir Seyahat operates two daily trips to Cappadocia from Esenler Otogarı Bus Station. Both trips start in the evening: at 20:30 and 22:00. The fare is 110 TL. It will take 12 hours and 15 minutes to get there. You can buy a ticket at the ticket office of the station or on the website nevsehirlirlerseyahat.com.tr/.
Now you know how to get to Cappadocia by bus. And to make your journey without problems, use the recommendations below.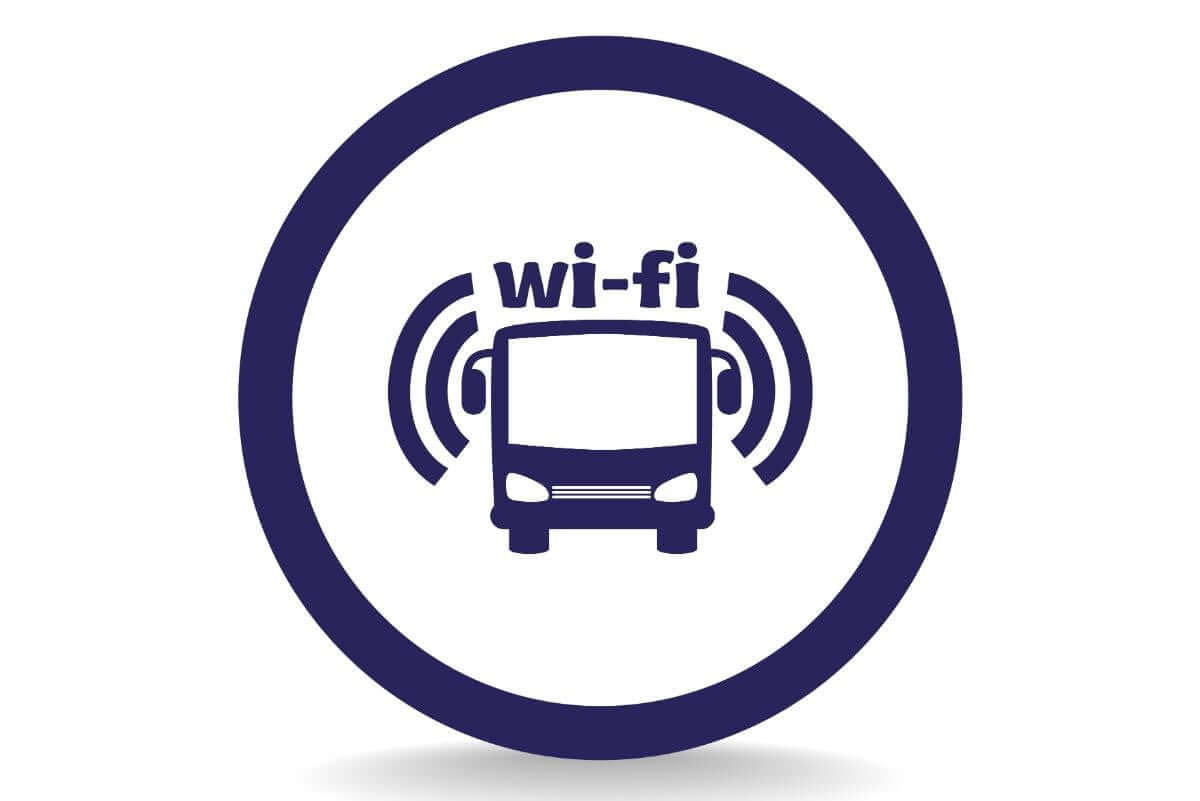 When buying a ticket, keep in mind that in Turkey it is customary to seat men and women separately. So if you are traveling as a couple, be sure to clarify this information at the ticket office.
It happens that at the station at the same time stop several identical buses of the same company. In order not to get lost, it is important to remember the number of your transport.
Most intercity flights in Turkey provide free Wi-Fi, the password to which you can ask the steward. In general, all questions you have during the trip should be asked to the steward, not the driver.
Before leaving the cabin during a stop, be sure to ask about the duration of the stop. Sometimes it does not last more than a minute.
You can buy tickets on the official websites of the companies, but if for some reason the payment on your card does not pass, try to repeat the operation on the website www.neredennereye.com.
Conclusion
If you are traveling from Istanbul to Cappadocia, how to get to the site and how much it will cost will surely be your first questions. We hope that our article has given you comprehensive information about an independent trip to a popular tourist attraction in Turkey, and you will be able to organize an unforgettable trip.
Author: Catherine Unal
Updated: 24 Aug, 2022 If you are planning a trip to the Dutch capital, be sure to…
Updated: 15 Jan, 2019 The Archaeological Museum of Istanbul is one of the most important…
Updated: 31 Dec, 2018 The Blue Mosque, Istanbul's first most important mosque,…
All ways to get from Istanbul to Cappadocia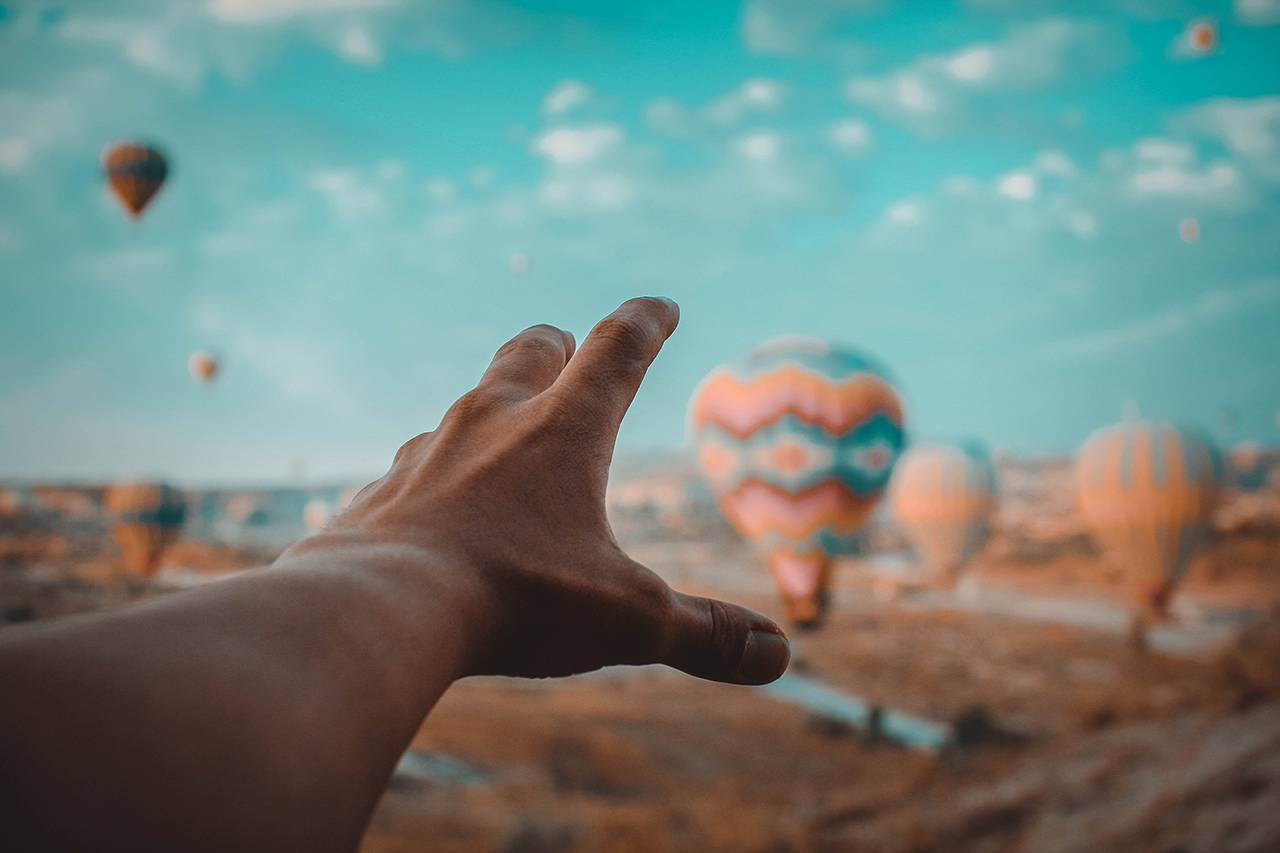 Cappadocia is a fabulous place in Turkey! After noisy Istanbul you feel like you're on another planet, where nature has created together with people a bizarre landscape. Cappadocia – this flight in balloons at dawn, romantic cave hotels, walking among the unusual cliffs. Intrigued? Then find out how to get from Istanbul to Cappadocia!
I believe that everyone should visit Cappadocia at least once. We went to this wonderful region on our own by rented car and made sure that it really is as beautiful as they say. So, choose your own way and go to Cappadocia!
Attention! To plan an independent route, it is important to know that the region of Cappadocia unites 4 cities: Kayseri, Nigde, Nevşehir and Aksaray. Goreme National Park, where the famous rocks are located, is located closer to Nevshehir.
Contents:
Excursions from Istanbul to Cappadocia
The most comfortable way to travel from Istanbul to fantastic Cappadocia is to take an all-inclusive tour. Just do not take a day tour, because in such a short time you just do not have time to enjoy all the beauty of the place. Plus, it's worth it to see the cliffs in different lighting.
A two-day tour is usually enough for tourists, because they have time to see the most beautiful places in Northern and Southern Cappadocia, stay in a cave hotel and, if desired, fly in a balloon.
Check out this tour from Istanbul to Cappadocia for 2 days – it has great reviews and the price includes almost everything: tour from Istanbul to Cappadocia on Tripster for 358€.
There are interesting tours in Russian in Cappadocia itself, too. We took the Green Tour – it's a trip to the remote parts of Southern Cappadocia from Goreme, and we loved it! The Red tour is a tour of the northern part. There are combined walks with elements of the red and green routes, see them just below. Learn about the best tours of Cappadocia.
But the most coveted tour for tourists is a dream flight in a hot air balloon over Cappadocia. It costs from 57 € per person and lasts 1.5 hours. The reviews are all enthusiastic! If you want to fly, be sure to book in advance.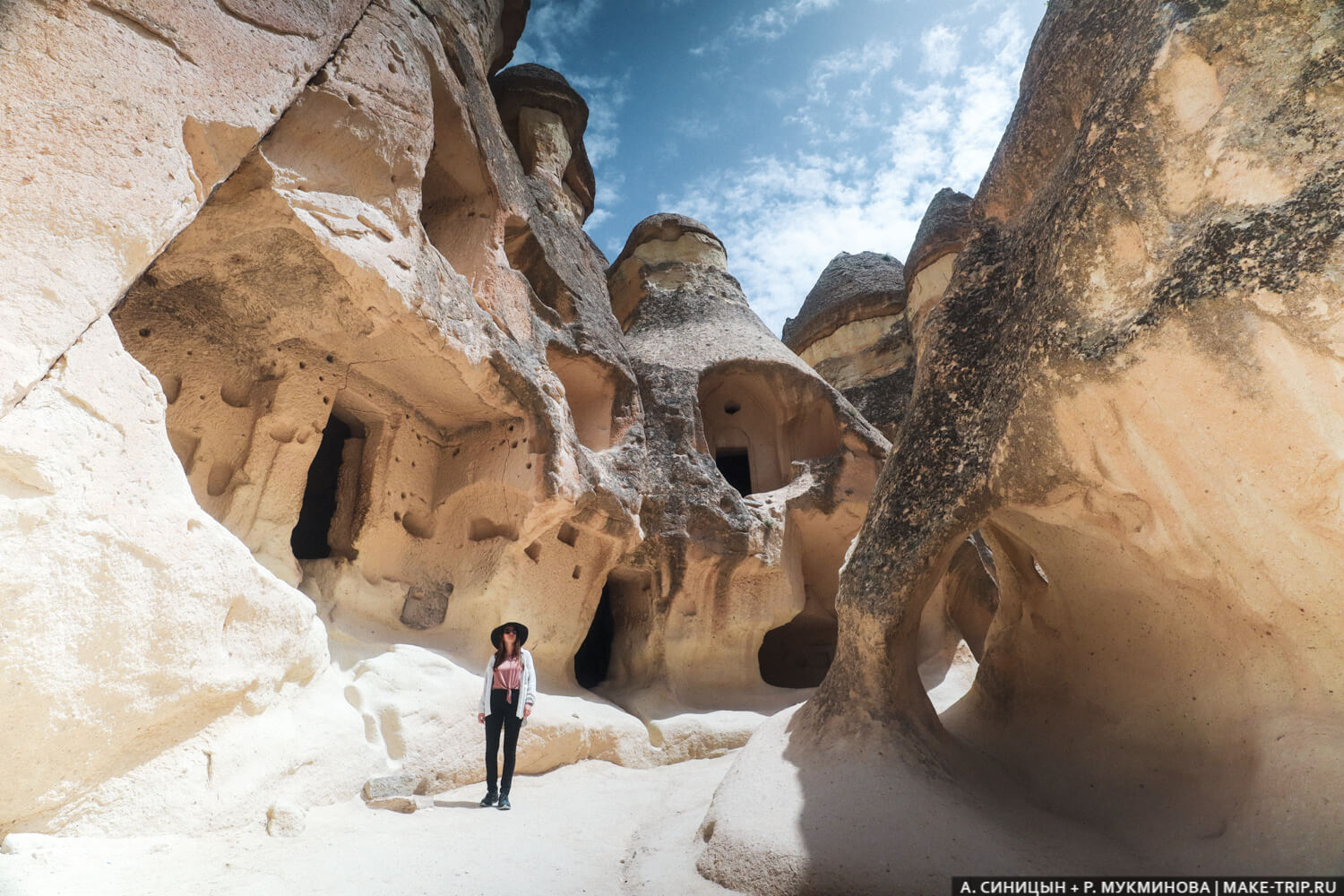 This is me admiring the famous fairy chimneys in Cappadocia.
Plane from Istanbul to Cappadocia
Airplane is the fastest and most convenient way to get from Istanbul to Cappadocia. Take tickets to either Kayseri (ASR) or Nevşehir (NAV) airports. The flight lasts 1 hour and 20 minutes.
Take off from both Istanbul airports with Turkish Airlines and low-cost Anadolu Jet and Pegasus Airlines. Tickets start at 5,000 rubles roundtrip on Aviasails. Book them in advance!
Transfer to Göreme . After the flight you need to get to Göreme. If you've arrived in Kayseri , get off at the Havaş bus stop by the terminal exit. Buses to Goreme go every 1-2 hours. The trip takes about an hour and the ticket costs 12 liras. A cab or private transfer from Kayseri airport to Göreme costs from 400 liras (40 euros).
If you land in Nevşehir, get off at the dolmushi bus stop in the terminal. For 15 lira you will be taken to the bus station in the city center. There you can buy a ticket to Goreme and in 20 minutes the bus will bring you to your destination. A cab or private transfer from Nevşehir Airport to Göreme will cost you 500 lira (50 euros).
If you don't want to take a public shuttle with transfers, book a transfer to your hotel. We book our transfers at one of these sites: Intui.travel, Gettransfer.com or Kiwitaxi.ru. First we go to each one, compare prices and choose the most convenient and inexpensive one. The best prices are usually on the first site.
The cheapest and at the same time most convenient way to get to Goreme from both airports is to book a group transfer by Mercedes minibus for 8 euros per person. The trip takes 50 minutes or an hour and a half depending on the airport of arrival.
Cappadocia in winter. Photo: unsplash.com / @anastasiayilmaz.
How to get by bus from Istanbul to Cappadocia
The intercity bus is the most popular way to get from Istanbul to Cappadocia. It is about three times cheaper than flying by plane, but much longer. Buses travel the distance of 800 kilometers in 12 hours or more, so it is more convenient to take a night flight.
Here is the bus schedule to Cappadocia of three carriers.
Nevşehir Seyahat buses leave for Nevşehir at 20:30 and 20:45. The ticket costs 80 liras.
Kamil Koç buses go from Istanbul to Kayseri at 0:15, 10:00, 11:30, 15:00, 18:00 and 20:30. The fare is 90 liras. Flights to Nevşehir depart at 5:00, 20:00 and 22:30. The ticket costs 85 liras.
Metroturizm buses go from Istanbul to Nevşehir at 0:25, 10:30, 14:30, 18:00, 19:00, 21:00, 22:00 and 23:00. The fare is 90 liras.
Where to buy a ticket and check the schedule . Locals and tourists buy tickets at the bus station ticket offices. It is convenient to buy tickets online on the Russian-language service Omio. You can also buy them on the websites of carriers Nevşehir Seyahat and Metroturizm, but they are only in Turkish and English.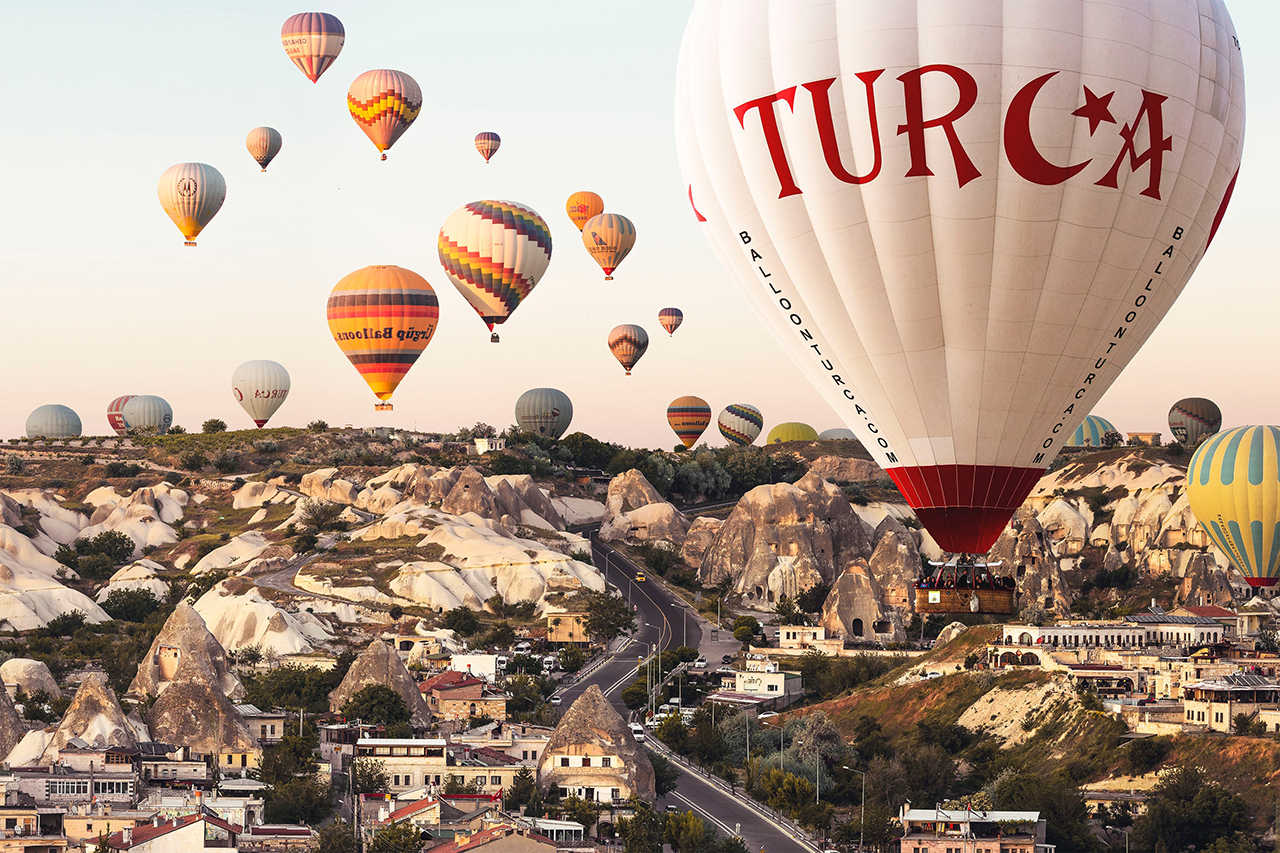 Balloon flights are organized all year round. Photo: unsplash.com / @daniilvnoutchkov.
How to get there by train
This is the most uncomfortable and longest way, we do not recommend it. For several years now, Istanbul's Haydarpaşa Garı train station has been closed, so there are no trains from Istanbul to Cappadocia.
If you absolutely want to go by train, you have to change trains. First, take the YHT express train, plane, or bus to Ankara. Get to the train station in the capital, which is located at Gar Sokak, Altındağ. There you should take the train tickets to Kayseri. There are 5 trips a day and the fare is 52 liras. The trip takes about 6.5 hours. Check the website for exact train schedules and buy tickets online at Omio.
From Kayseri train station go to the bus station, which is a 15-minute walk away. From there, take a bus to Göreme.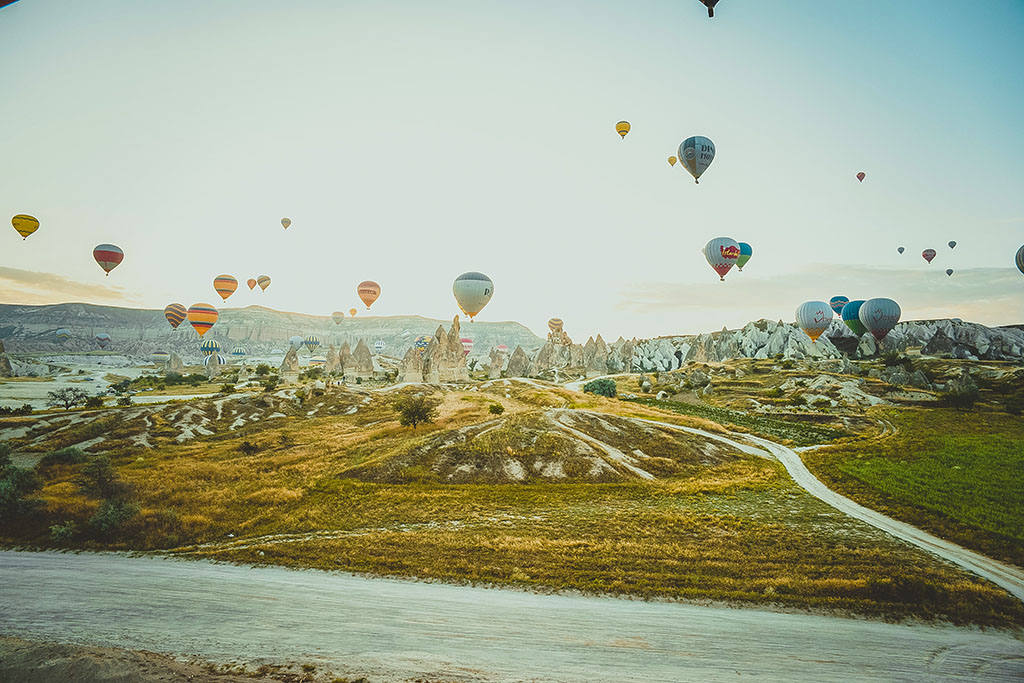 Cappadocia (Photo: unsplash.com / @kennyluoping)
From Istanbul to Cappadocia by car
A trip from Istanbul to Cappadocia by car is good if you are vacationing with your family, with friends, or if you want to arrange a small car trip and diversify your vacation by seeing other interesting places along the way.
We like to travel by car, so we rented a car from the service Localrent and went to explore Cappadocia on our own. For us this is the most pleasant option, because the road is extremely scenic.
Renting a car of economy class is inexpensive – a car costs from 14€ per day. Reliable rental car sites in Turkey and around the world, which we use ourselves and thousands of other tourists: Rentalcars.com (well-known international service) and Localrent.com (Russian service with a very convenient site). They compare the prices of different rental companies, so we can choose a car with the best conditions. You will find cars at a lower price on these sites than directly from the rental companies, because of the wholesale discounts for the services and competition for customers among the renters themselves.
Take into account the cost of fuel – for a one-way trip you will spend about 40 liters. The distance from Istanbul to Goreme Park in Cappadocia is about 733 km, which means you will get by car in about 9 hours without taking into account the stops. Our drive from Antalya took almost the whole daylight hours.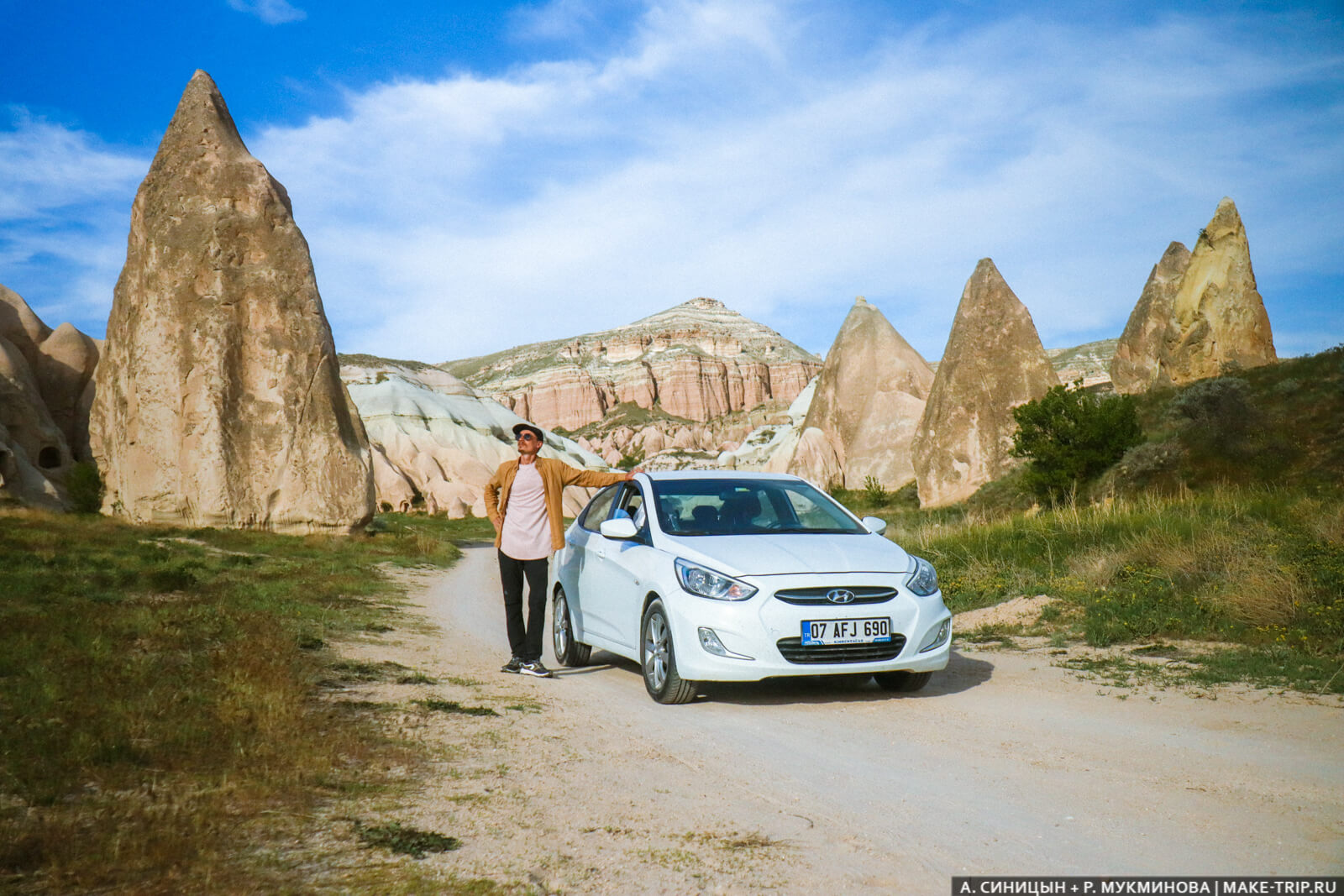 We rented a car in Antalya to go to Cappadocia ourselves. The trip took almost a whole day.
A hitchhiker
If you are young, active and like to socialize, use the popular hitchhiking service BlaBlaCar. Drivers who travel from Istanbul to Cappadocia post daily offers to find passengers. We managed to find a fantastically cheap option – only 73 lira per person.
The best way to get from Istanbul to Cappadocia
The most comfortable option is to take a ready-made tour from Istanbul for 2 days.
The most economical and easy way to get from Istanbul to Cappadocia on your own is by intercity buses. It's a long drive, but you'll see quite a few scenic spots along the way. To save on hotel costs, choose night flights.
A convenient and quick way is to fly. Book your tickets in advance and you won't miss the price!
If you want to have a small auto-trip or are traveling with family or friends, rent a car. Take a route through the cities of Eskisehir and Konya.
Young and outgoing tourists hitchhike and share the cost – it's the cheapest option, but you'll have to communicate with the driver.
Travelling by train is an exotic and complicated option with transfers, we do not recommend using it.