How to get from Prague to Dresden – timetable, prices 2022
How to get from Prague to Dresden (by train, by bus, by plane; with Blablacar and Kiwitaxi services). Ticket prices, train/bus schedules.
Content:
One of the most popular destinations for a day tour from the Czech capital. Therefore, we will tell you in detail how to make it happen, what options are the most interesting and what you need to consider. It should be said at once that this direction is in demand not only among Russian tourists. The very inhabitants of Prague have long fancied it, but only for practical reasons – to go to work.
Germans also like this route. The Czech capital attracts them with cheap beer, the relative freedom and a wide variety of entertainment. So there are a lot of options to get to this German city.
Prague – Dresden: Blablakar
The service does not work so long, but has become really popular. This is due to two reasons: prices, and to Dresden for about 150-300 crowns, and comfort. All the same, the car to get much more convenient than the bus. Very often you can meet drivers who speak Russian, so the road will not be boring. However, there are some disadvantages.
This direction is popular, so cars fill up quickly. In addition, they usually appear at the same or just a few days, which makes it difficult to plan your schedule.
How to travel from Prague to Dresden by train
Rail service between the two cities is quite full of flights. The fact is that it is through Dresden go almost all the trains to Germany, so you only need to pick the right one for the time. From the main station in Prague they leave about every two hours. The first to go is the EN 476 Metropol, which runs from Budapest to Berlin. It arrives at 3:45 and departs at 4:06. In terms of cost, it is one of the most expensive options at 692 kronor. But you will be there by 6:00 in the morning.
We recommend considering the EC 178 Alois Negrelli train. It is an express train that departs at 6:28 and will be in Dresden by 8:43. It fits the timing because you arrive just in time for the opening of the museums and entertainment venues, but other than that, the ticket price is only 239 kroner. The next train to this German city is at 8:28 and every two hours (10:28, 12:28, 14:28, 16:28, 18:28). Tickets will cost 372 kronor.
Prague – Dresden: bus lines
Buses are very popular in the Czech Republic. There are several carriers on this route. In principle, their conditions are very similar, and the level of service does not differ. All trips start from the main Prague bus station Florenc and go to the Dresden hub Hauptbahnhof.
Eurolines takes you to Dresden three times a day. Tourists who do not like to lose time, fit two morning flights – at 6:30 and 9:00. The third flight is an evening bus that leaves at 18:00. You will have to spend a little less than two hours on the road. The carrier offers a choice of two tariffs: promo and economy. The main difference between them is the opportunity to change tickets "economy" in case of need. If you book it in advance, "economy" will cost 300 kroner, but the "promo" package – 250-290 kroner, depending on occupancy. And here everyone must decide for himself whether the option of exchanging the ticket is worth 10-50 CZK.
FlixBus travels to this German city eighteen times a day. Bus departure interval is half an hour to an hour. So you can find a convenient option without any problems. There is a night bus, which departs at 3:30. The ticket price depends very much on the fullness of the bus. Predict it is difficult, the price determines the carrier, for some flights it is initially a little bit higher. In summer, when there are more tourists, it is better to buy it at least a month in advance. The minimum price is 12 euros and the maximum is 25 euros.
Student Agency (or RegioJet) goes to Dresden a little less often – only 8 times. The schedule of flights is as follows: 3:30, 6:30, 8:30, 9:30, 10:30. 12:30, 15:30 и 18:00. The ticket will cost from 295 to 550 crowns. The rule "the earlier you buy, the cheaper" – works here, too.
Choose a particular option, based on the purpose of the trip and the time you plan to stay in Dresden. Many of those who are going to make a kind of day tour from Prague, focus on night flights. Obviously, you can devote a few more hours to the city that way. But if you have booked a hotel and are going to stay in Germany for a period, then you should not hurry. The Germans are punctual and check into the room at twelve sharp. In this case, it is ideal to leave Prague at 8-9 am.
How much does transfer/taxi from Kiwi
Another original option to get to Dresden from Prague is to order a cab. To put it bluntly, the way is not budget-friendly. However, you will be surprised, but on the website of the carrier Kivitaxi it ranks at the top (in the summer period, this demand sometimes exceeds the supply – there are no free cars).
The price of a question – from 112 euros (if it is a hatchback / sedan) to 150 (if the minivan to 7 seats). This is clearly cheaper than air travel, and the travel time is only two hours – no check-in and boarding, from the door of the house or hotel to the center of Dresden.
Transfer order form (and a price estimate):
Who might be comfortable ordering a cab? Probably those with bulky luggage, children or elderly relatives, you name it. And, of course, passengers who like comfort – no need to travel with things at the station, waiting for a flight, sitting in cramped seats (do not forget that most bus carriers – low-cost, and therefore save on free space).
What to do in Dresden
It all depends on how long you're coming for. But, even if you get out for one day, which is quite feasible, since the way even in the most difficult version takes 2.5 hours, the choice of various sights will be huge. A sensible step is to book a sightseeing tour of Dresden and spend two hours to walk around the city with a knowledgeable person. Or simply make a plan of places of interest, all of which are centrally located.
Dresdner Residenzschloss. Or residence palace. One of the oldest buildings in the city. It used to be a castle, but it was rebuilt several times and acquired a more civilized appearance. Next to it are the panels "Procession of Princes" and the Cholera Fountain.
Zwinger. A palace and park complex, which is interesting both in itself and by the fact that the best museums of the city are located here. First of all, this is the Dresden Art Gallery, which is also known as the Gallery of the Old Masters. There is also the Kunstkammer, porcelain museum and so on.
Semper Opera. Performances at the opera are given in the evenings, so it is unlikely to visit them, but you can take a tour and see the building itself and its interiors.
Frauenkirche. The church is interesting first of all observation deck, which offers great views even in cloudy weather.
Cathedral. The largest church in Saxony, where you can listen to the organ and the boys' choir.
Brühl's Terrace. The promenade along the Elbe, which was once a fortress wall. Here you can not only take good pictures, but also have a bite to eat.
It is often advised to check out the Bastai National Park in Saxon Switzerland, but it is better to go there on purpose. It is in itself full of attractions and it is logical to allocate for them a day. And, getting there, you don't need to stop in Dresden.
Excursions in Dresden at the best prices
The most worthwhile excursions in Dresden are itineraries from locals. They are created by creative people who know and love the city. Guides will tell you where to spend your free time and how to save money. All tours are conducted in Russian.
How to get from Dresden to Prague
Before we tell you what options are available for the return trip, it is necessary to warn that it is best to take tickets in the Czech Republic or on Czech sites. Although this country is part of the European Union along with Germany, but the Germans often ask two or three times more for the same route. First of all it concerns trains. For example, even the cheapest flight in the Czech Republic will cost 372 crowns or 14.5 euros. While special offers in Germany will cost 19.9 euros and a standard ticket will cost 35 euros.
Train station in Dresden (near the center) With bus carriers, the minimum price does not change, but it is less common, but the maximum price can reach 800 crowns against 550 in the Czech Republic.
Train. Express EC 179 Alois Negrelli, which we have already mentioned, passes Dresden at 18:56 and already at 19:08 goes to Prague. The cost is still 239 CZK. The other trains leave with the following schedule: 7:08, 9:08, 11:08, 13:08, 15:08, 17:08, 19:08, 21:08. In general, the fare is 372 kronor.
Buses. The situation with buses is similar. Eurolines has its three trips distributed to 10:00, 17:30 and 21:30. FlixBus has two night runs at 2:05 and 4:45. In the morning the buses start at 6:25 and finish at 9:35. Student Agency puts the night trip at 4:45, though does not send it every day, you need to clarify at the time of ordering. And in the morning starts at 9:45, the last bus is at 21:45. Prices are in line with Prague.
The only thing that does not make sense for such a tour is a plane. First of all, there is no direct flight connection, and to fly through Zurich, when there is only 150 km between the cities, is somehow strange. Another problem is the cost of the flight. Even promotional tickets rarely fall below 150 euros, which makes this mode of transport is just golden.
How to get from Prague to Dresden – all ways
Learn how to get from Prague to Dresden on your own. We tell you about prices, timetables, stop names and excursions from Prague to Dresden. Which way is more convenient and cheaper? We advise how to save money.
Look for author interesting excursions on Sputnik and Tripster sites. Individual and group, without crowds of tourists and in Russian.
How to get from Prague to Dresden by bus
The distance between Prague and Dresden – only 147 km, so the easiest, fastest and cheapest way to get from Prague to Dresden on your own is a bus. Travel time – from 1 hour 45 minutes to 2.5 hours. Buses are very comfortable: there is free Wi-Fi, air conditioning, toilets and outlets.
Stops . Buses leave from the main bus station in Prague. It can be reached by metro – get off at ÚAN Florenc Praha station. The end point of the route is Dresden Main Station (stop Dresden Hbf). It is also near the metro station, which is called Hauptbahnhof.
Timetable . Buses on the route Prague – Dresden run at intervals of 1-1,5 hours from 3:30 to 23:00. See the current schedule on the iDNES.cz website.
Where to buy tickets for buses Prague – Dresden. Buy in advance at the Omio service or at the following carriers' websites: Eurolines, Student Agency, Leo Express, RegioJet, FlixBus and Touring Bohemia. You can also buy a ticket at the bus station, but it is not guaranteed that there will be seats. The price of a ticket for a bus from Prague to Dresden ranges from CZK 269 to CZK 535.
Download your ticket to your phone, or better yet, print it out to show it to the conductor. In a new city, it's not always easy to navigate and find where the right bus departs from, so arrive at the bus station 30-40 minutes before departure.
How to save money . For the trip to Dresden and back, get your tickets in the Czech Republic. They cost twice as much in Germany. FlixBus has the lowest prices. If you buy in advance, you can save a little in price.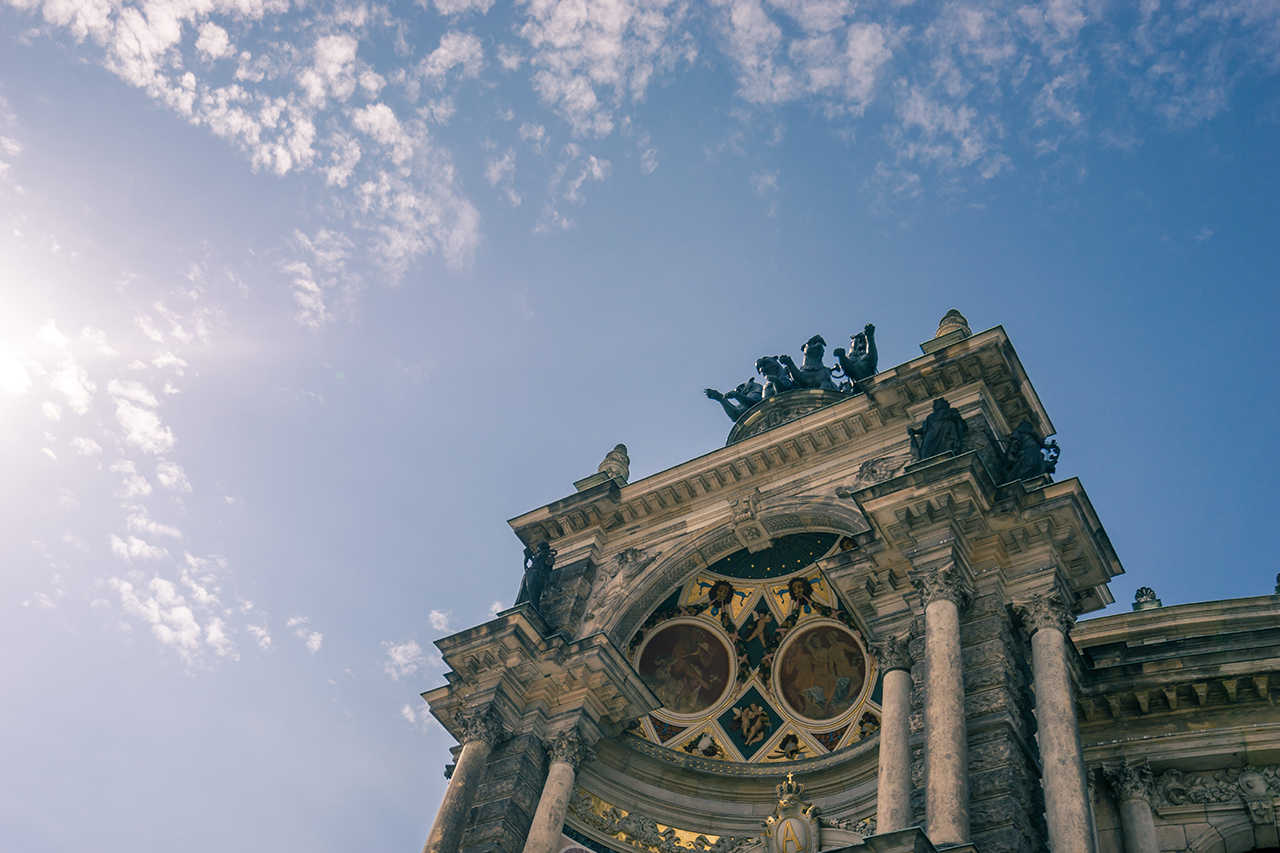 Dresden State Opera (Photo: unsplash.com / @usinglight)
How to get by train from Prague to Dresden
The railroad between the two cities winds through beautiful places. On the way you will admire the banks of the Elbe and the mountain spurs.
Prague – Dresden train schedule. Trains run from 4:00 to 18:30 with intervals of 2-2.5 hours from the main station in Prague – Praha hlavní nádraží to the main station in Dresden – Dresden Hbf. Trip with fast trains EuroCity takes about 2 hours, and with transfers longer. See the České dráhy website for detailed timetables.
Where to buy train ticket Prague – Dresden. Buy on the service Omio – it is very convenient and in Russian. After payment, the ticket will come to your email. You only have to download it to your phone, print it out and you can go! The cost is 535-960 CZK. You can also buy tickets at the railway station in Prague and on the official website of the Czech Railways.
How to save money . It's cheaper to go in a second class carriage. To avoid spending money on a hotel, get to Dresden by night train. Another option to save money is to buy a ticket to the border town of Decin, take the local train to Bad Schandau, and there take the train to Dresden. The transfers are short, but the trip will cost about half as much.
Traffic lights in Dresden (Photo: unsplash.com / @usinglight)
Excursions from Prague to Dresden
A not bad way to get from Prague to Dresden is to join a tour. For example, there is a convenient one-day bus tour that lasts 10-11 hours. The price is 30€ per person.
Book this tour in advance on the service Sputnik.
On the way, the guide will tell you about local sights and give you a sightseeing tour of Dresden. Tourists are given 4 hours free time to visit the world famous Old Masters Gallery and shopping.
On the tour you do not have to worry about transportation and the route. The bus picks you up in the morning at Wenceslas Square in Prague and brings you back in the evening. The disadvantage is one – any tour from Prague to Dresden is strictly limited in time. Acquaintance with the famous city lasts only 5-6 hours. This is not enough to get a complete picture of Dresden.
Cab Prague – Dresden
Older travelers, tourists who came to the Czech Republic with family, friends and have a lot of luggage, use cab services. On KiwiTaxi, an economy car from Prague Airport to Dresden costs 3,300-3,600 CZK (128-140€). A roomy cab for 4-6 passengers costs from 4100 CZK (160€).
How to save money . Find hitchhikers and you'll pay less.
Rent a car
If you want to travel from Prague to Dresden and see other sights in Germany, rent a car. The price of a compact car is €30 per day, medium cars €30-50, luxury cars €55-120 and SUVs €68-89. Car rentals will charge a deductible of €300-600 or more – it all depends on the class of the car.
The fastest way is along the E55 highway, but there are also more scenic options for the road. A trip from Prague to Dresden and back in a rental car is profitable. A rental car costs 28-30€ per day and gas costs about 20€. That is 2 times cheaper than a cab. Get behind the wheel, choose a comfortable driving pace and make stops at places you like!
How to save money . Renting a car for a longer period of time is more profitable. The rental price for a week starts at 80€.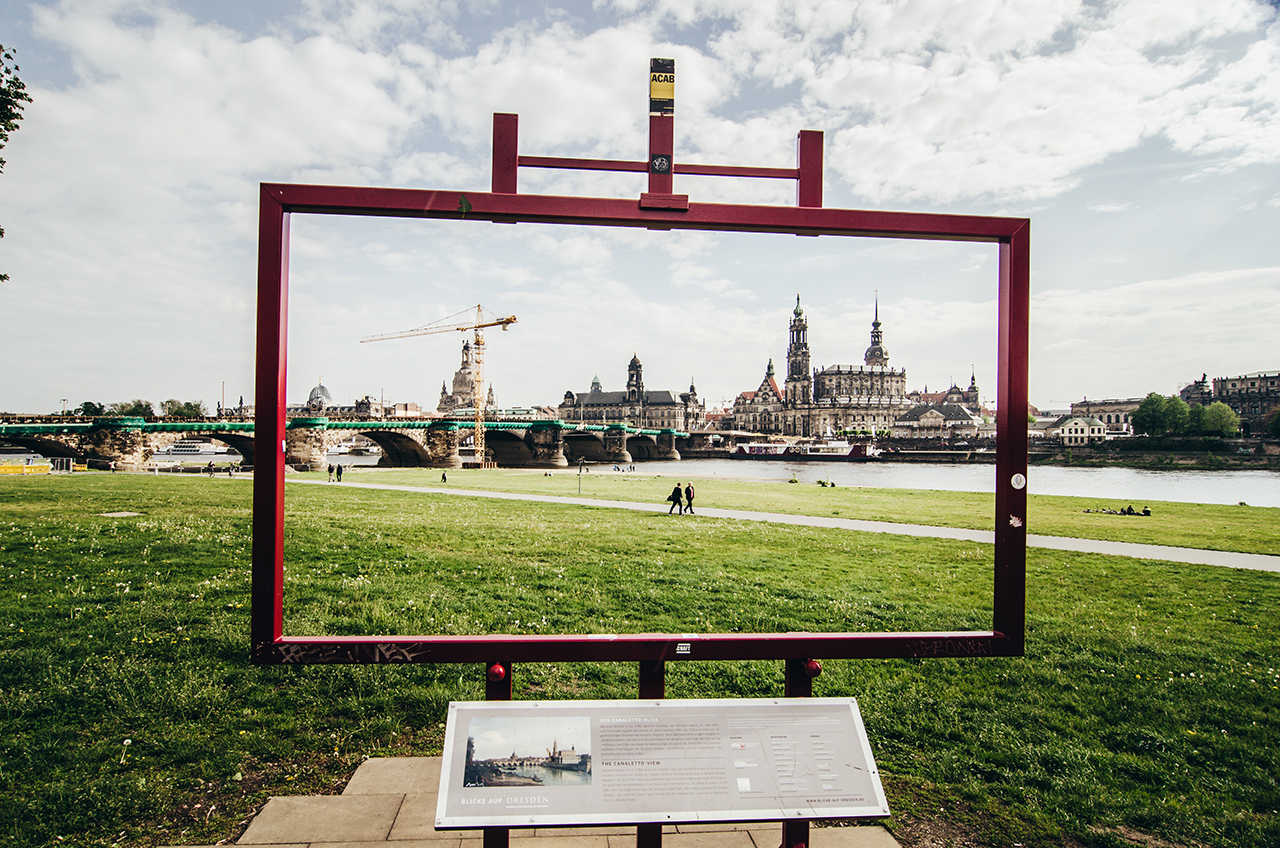 Dresden (Photo: unsplash.com / @radkovsky)
The best way to get from Prague to Dresden
The most cost-effective way is by shuttle bus. Such a trip is half the price of the train. However, at night buses do not run.
The railroad is suitable for those who like comfort and care about safety. Traveling by train, you relax and enjoy the beautiful scenery.
A tour from Prague to Dresden will suit anyone who does not like to look for schedules and public transport stops. Keep in mind that tours with a Russian-speaking guide are not held every day, but 3-4 times a week.
Travelers who want to get from Prague to Dresden with maximum comfort, take a cab. The road will not tire, but for the convenience will have to pay a lot of money.
If you like to drive and appreciate the freedom of movement, choose to rent a car to travel from Prague to Dresden. So you will see not only the city, but also the sights in the surrounding area. There are also disadvantages: you will have to adapt to the local traffic rules, find parking lots and solve problems if an accident happens.
How to get there: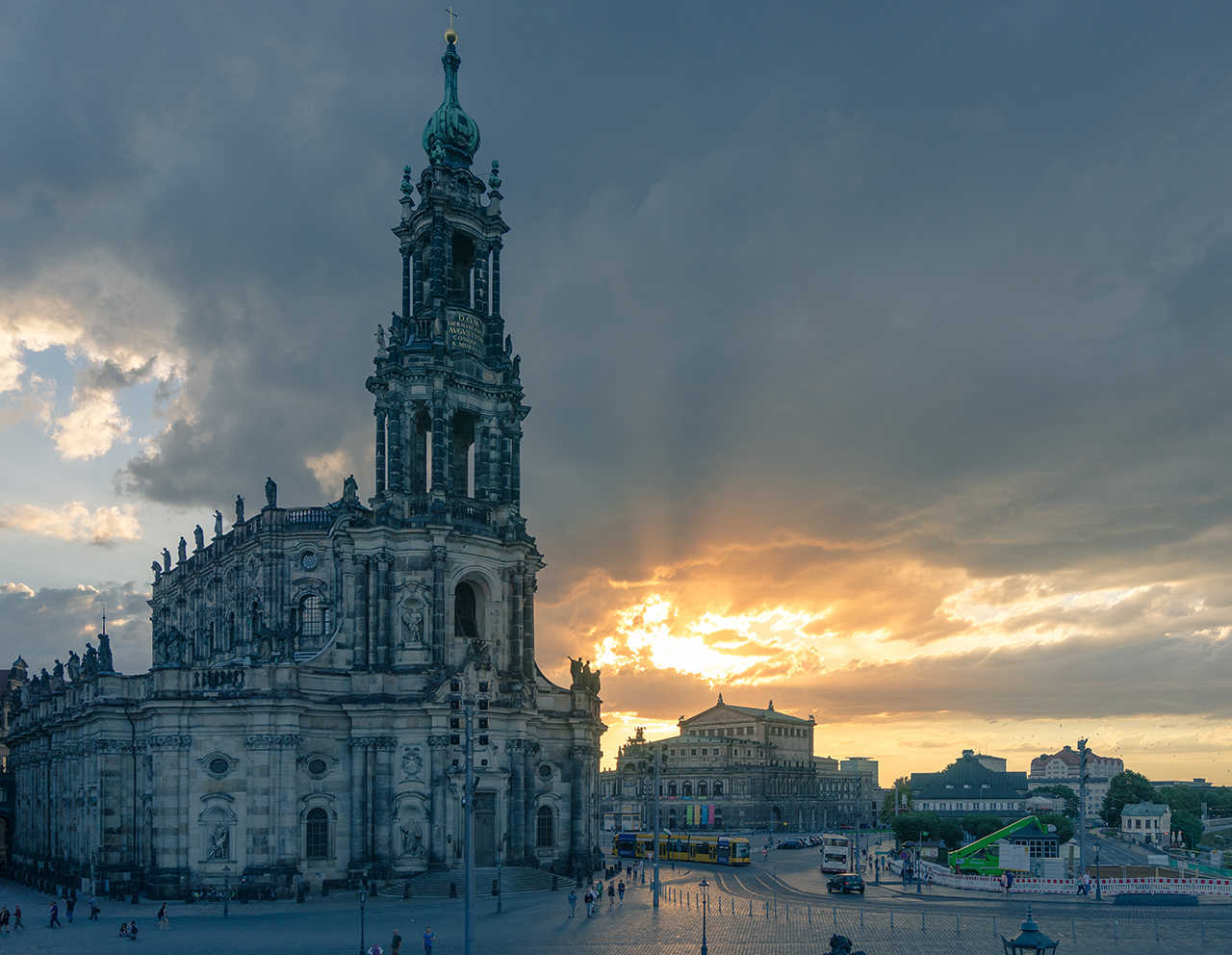 Hofkirche Catholic Church in Dresden (Photo: unsplash.com / @usinglight)