How to travel cheaply to Europe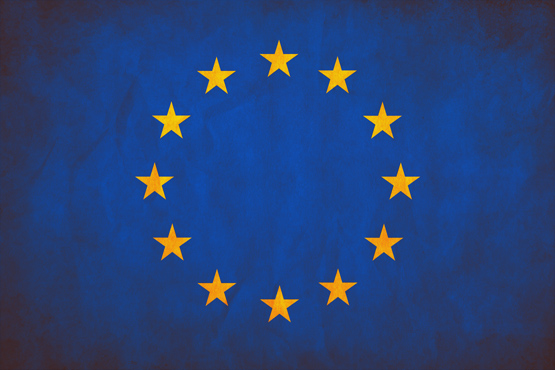 There are a thousand different ways to get to Europe. But there are some special schemes that will minimize your transportation costs when traveling to Schengen countries. This article will tell you how to travel cheaply to Europe .
All of the following options for getting to Europe are designed for those who want to save money when traveling to Europe. When traveling to European countries, the most expensive point for Russians is usually crossing the border of the European Union. It is often possible to move within the EU for mere pennies, but flights from Russia to Europe are traditionally not the cheapest.
The essence of the described schemes – to help you get to the EU territory with minimum transportation costs, and then everyone is building your own route.
Look for low-cost airline tickets either on the official websites of airlines, or on the metasearch engine Skyscanner – it searches many airlines at once, which is very convenient.
Want to fly for free? Collect miles from all airlines with the All Airlines card.
Contents:
1. low-cost airlines in Europe.
European low-cost airlines have an absolute leader – Ryanair, which, alas, does not yet fly to Russian cities (but probably will connect St. Petersburg and Dublin in the near future). However, some low-cost carriers do fly to the largest Russian cities. Among them there are EasyJet and AirBaltic. The first flies only from Moscow, connecting it only with London or Manchester. But from there it is possible to fly virtually anywhere in Europe, as well as in Morocco, Egypt, Turkey and Israel. AirBaltic, in turn, flies from Moscow, Kaliningrad and St. Petersburg (even from Tashkent!) with transit in Riga. Ticket prices for these airlines, usually start at 80-100 euros. If you catch promotions and sales, you can find even cheaper.
(Click to enlarge the image: right click + open the image in a new tab).
In 2013 another low-cost airline, WizzAir, reached Moscow. It connected Moscow with Budapest, where you can fly for only 30 euros if you buy a ticket a couple of months before departure. And from the Hungarian capital you can easily fly anywhere in Europe.
Be sure to read our article about low-cost airlines here.
Where is safe and secure? Check out our list of the safest countries in the world – we compared countries by natural disasters, wars and terrorism, peacefulness and attitude to tourists.
2. How to travel cheaply to Europe via Lithuania
From two Lithuanian cities – Kaunas and Vilnius – you can easily and cheaply, using Ryanair services, fly to anywhere in Europe, which is why this scheme is so popular among Russian travelers. Also from Vilnius to other European cities (there is even a direct flight to Tel Aviv) takes another low-cost airline – WizzAir.
To Vilnius and Kaunas you can get from Moscow and St. Petersburg by buses Ecolines and Simple Express. Again, if you keep track of promotions by subscribing to their newsletter, you can get tickets for less than 1,000 rubles.
From St. Petersburg to Vilnius you can get by train. To save additional money, you should buy a ticket not to the Lithuanian capital, but to Nesterov (Kaliningrad region), and then just get off in Vilnius, without reaching Nesterov – a saving of about 40%.
Another option is to take a train from Moscow to Minsk, and from the Belarusian capital to Vilnius you can get by train or bus.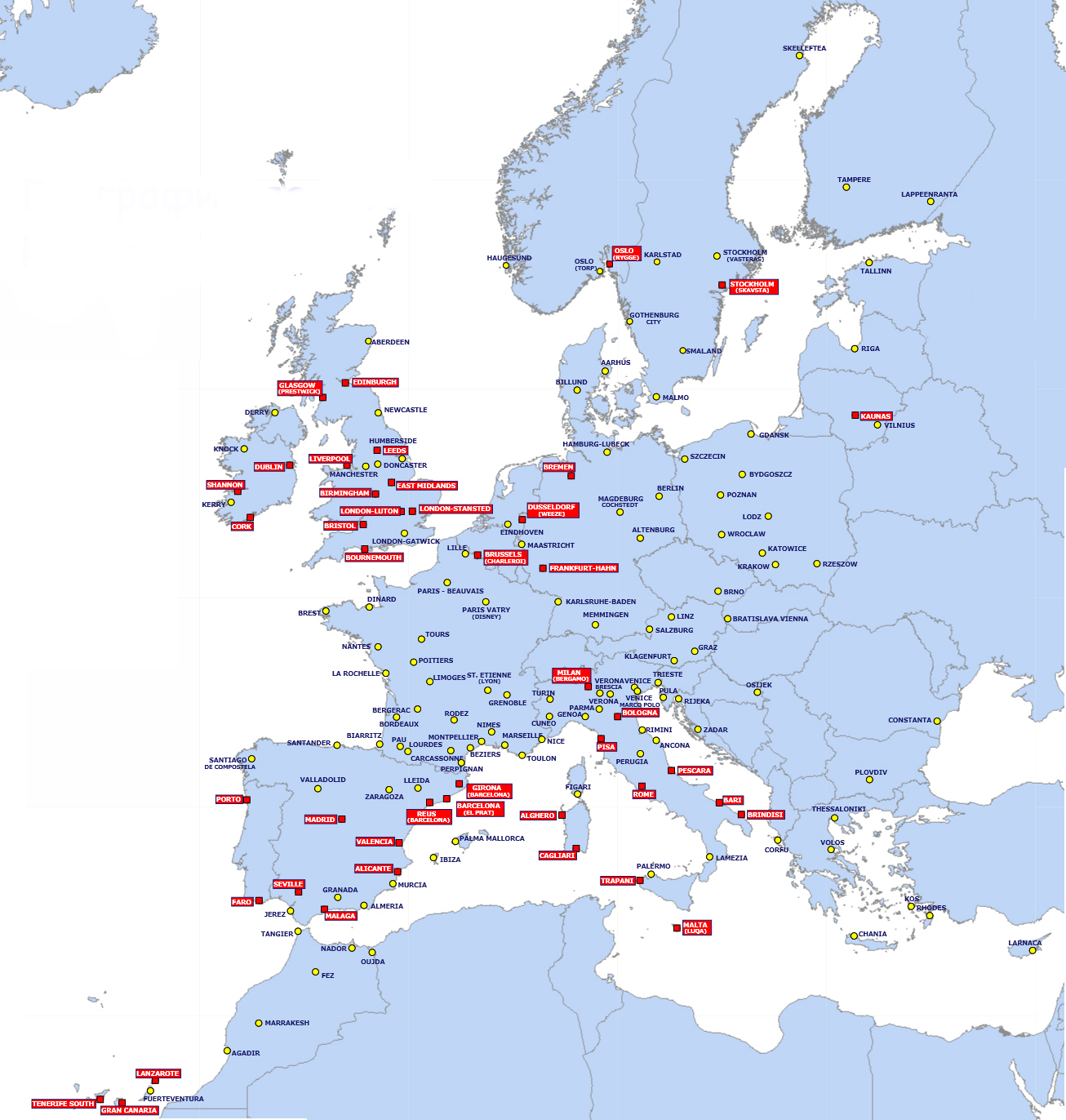 (Bigger image: right click + open the image in a new tab)
Buses No. 1, 2, shuttle buses and electric trains are available to get from the center of Vilnius to the airport.
From Kaunas you can get to the airport by bus No. 29 and minibus No. 120. Also from Kaunas airport there are express buses directly to Vilnius, Klaipeda and Riga.
3. Cheap to Europe via Latvia
In a similar way – by train or bus – you can also get to Riga. Here again there are Ryanair and WizzAir, which will take you to Rome, Milan, Oslo, Bremen and many other European cities for 20-40 euros.
The above-mentioned carrier AirBaltic, though represented in three Russian cities, but sometimes flying directly from Riga will be cheaper. Moreover, there are no transfers and tedious waiting at the airport.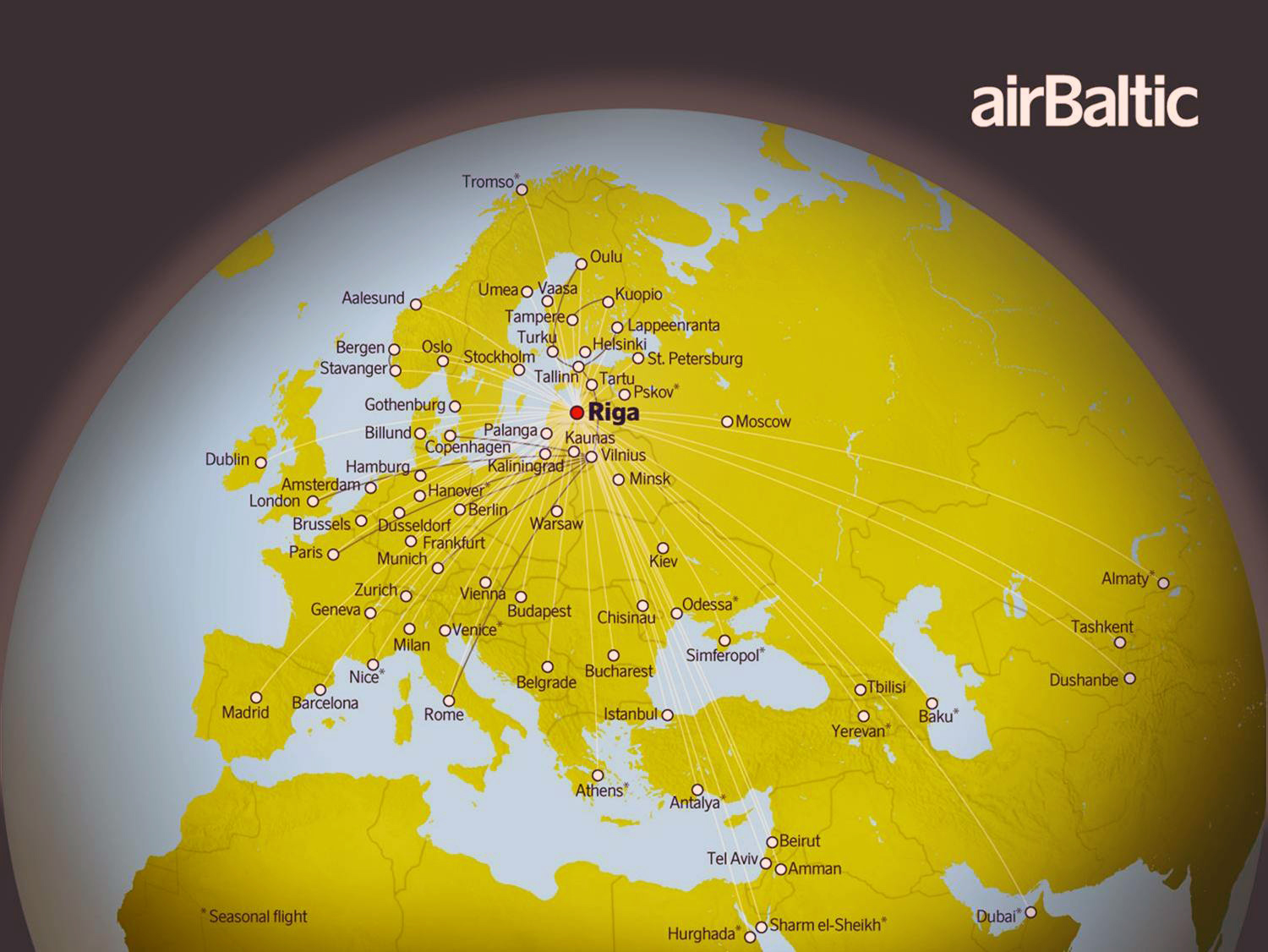 (Click to enlarge the image: right click + open the image in a new tab).
You can get to Riga cheaply by buses Ecolines and Simple Express from St.-Petersburg, Moscow and Kaliningrad. Look for promotions – sometimes tickets are given for just 119 rubles! It is a little bit more expensive to go to Latvia by train: a parlor ticket costs about 3 000 rubles.
Bus 22 connects the airport and the center of Riga (the fare is 40 rubles).
4. To Europe via Finland
From a small Finnish city Lappeenranta by Ryanair you can fly to Milan (Bergamo), Dusseldorf and Barcelona (Girona). If necessary, in these cities, you can make a connection and fly somewhere else.
To get from St. Petersburg to Lappeenranta can be several ways:
1. Flight by bus from the bus station in St. Petersburg. Also from Lappeenranta runs regular buses to St. Petersburg and Vyborg. The ticket costs about 30 euros.
2. By high-speed train "Allegro". It runs 4 times a day from St. Petersburg to Helsinki, with a stop in Vainikkala (from Vainikkala to Lappeenranta about 30 km – and then takes a minibus to the bus and railway station in Lappeenranta, one-way ticket costs 7 euros). The ticket from St. Petersburg to Vainikkala is about 50 euros (the earliest train is half price).
3. With buses shopping tours, which go to Lappeenranta daily. The price is about 1000 rubles.
How to travel cheaply. 5 necessary tips
Using these schemes, you can travel around Europe extremely budget-friendly and get to your desired destination for a few tens of euros.
Here is an example of traveling to Amsterdam. From Riga you can fly to the Dutch city of Eindhoven for 30 euros (WizzAir) if you buy a ticket a couple of months before the trip. It's very easy to get to Riga from Kaliningrad, St. Petersburg, Moscow, Minsk and Baltic cities by LuxExpress or SimpleExpress with cheap tickets for 10-20 euro. And we have already written about how to get from Eindhoven to Amsterdam (it would cost about 20 euros).
In addition, you can come up with an immeasurable number of other routes for inexpensive independent travel in Europe. Keep an eye out for cheap tickets on make-trip and traveling will be easier.
Going to Europe cheap: 10 low-cost travel tips

The material about the urgent: how to travel cheaply, if the euro is jumping, and with it the prices in rubles?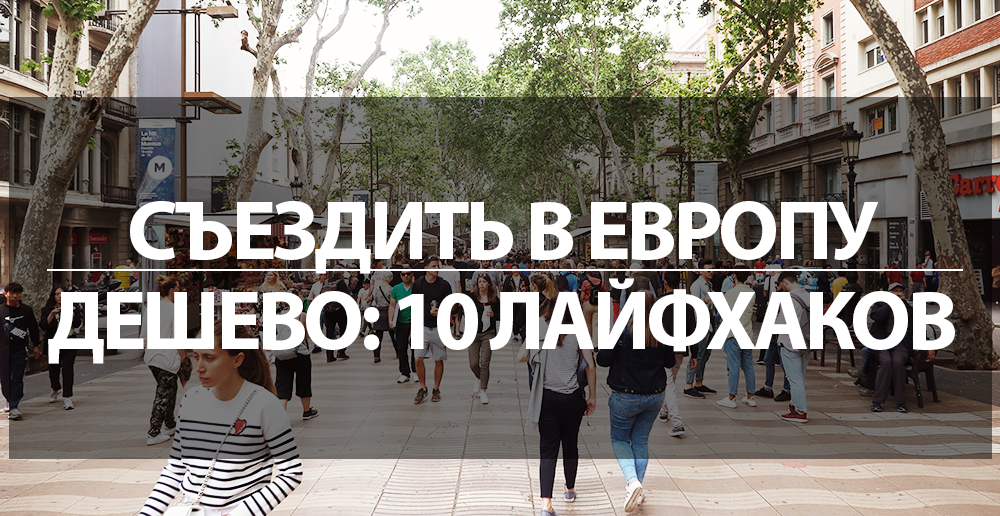 I've been thinking and thinking about how to make it more accessible, and I've come up with it! For me – the owner of five Schengen visas – these secrets of saving money in Europe are obvious, but for a beginner in the travel business, probably not.
Therefore it was decided to take a friend of Dmitry, who has not seen abroad, but really wants and seems to be even preparing, to find out his algorithm of travel arrangements and, based on the results, to direct the direction of the desired direction, explaining at the same time the announced tips and you, the reader.
Update in 2022: We published this article before the pivotal events, when travel suddenly became more difficult and expensive. Now entering and staying in Europe is already possible (for example, there are direct flights to Budapest). About the rules of entry we have a big article, which we try to update in time. The main besthack for Europe now is to enter closed countries through open ones, as well as mass tourism to Hungary
And lastly: we're here, of course, about Europe, but in case you're interested in New York or Dubai on a budget?
1. Decide how to vacation cheaper – on your own or by tour
– So the plan is to visit Europe on the cheap. Will you go on a tour or "collect" the trip yourself? – By yourself, of course. That's 100% more profitable!
Explanation: so, but not so. Most EU countries are indeed smarter to visit on your own. But:
If you plan to fly to one country,
Spain, Greece, Cyprus or Bulgaria,
and the goal is a vacation by the sea,
then the tour will come out more budget. Truth, tested by me more than once! Even to see the same Barcelona, it is cheaper to take a trip, for example, in Pineda de Mar and a few rides in the city by train than to arrange a self-tour of the capital.
The Czech Republic stands apart. This is not a "sea" country does not fit into the above rule, but the amount of tour operators still set fabulous – from 30,000 rubles for two people for 7 days.
Budget countries for travel in Europe
In all other cases, the cheapest Europe = independent travel + correctly chosen direction. A few days ago there was published an article about 7 superexpensive countries in Europe, I recommend reading it! For starters: it's Poland, Romania, Hungary and…
Street in Barcelona – Sagrada Familia – Quay (Nudist Beach)
2. looking for cheap tours.
– Wait, have you seen the prices at the travel agencies? Where will they find me such a penny Czech Republic? – I did, that's why I switched to online aggregators.
Explanation: Tourists level "pro" catch cheap tours to Europe, and to any "package" country, with the help of special services such as:
They are able to find an interesting option, because they analyze the database of more than 120 tour operators. It is simple and convenient: just tick the boxes on the necessary filters, checked the available offers, studied the reviews, photos, made the payment, received the documents by mail – and all without crawling out of the house It's all easy and comfortable.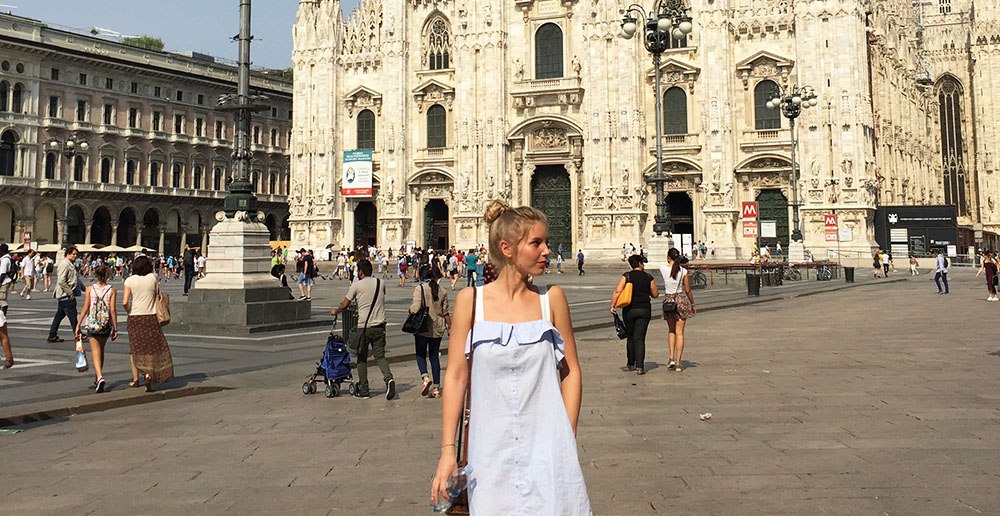 Our trip to Italy (Milan)
3. bank cards for travel
– Saving money abroad can also be done with a card. Have you considered any bank offers? – Honestly, haven't thought about it at all.
Пояснение: а зря, бюджетное путешествие, как по мне, начинается с кэшбека – от брони авиабилетов и до трат в кафе. Возврат средств – реальными деньгами – доходит до 7-10% с каждой покупки. Подробнее в отдельной статье – лучшие карты для путешественника >> или снятие налички за границей >>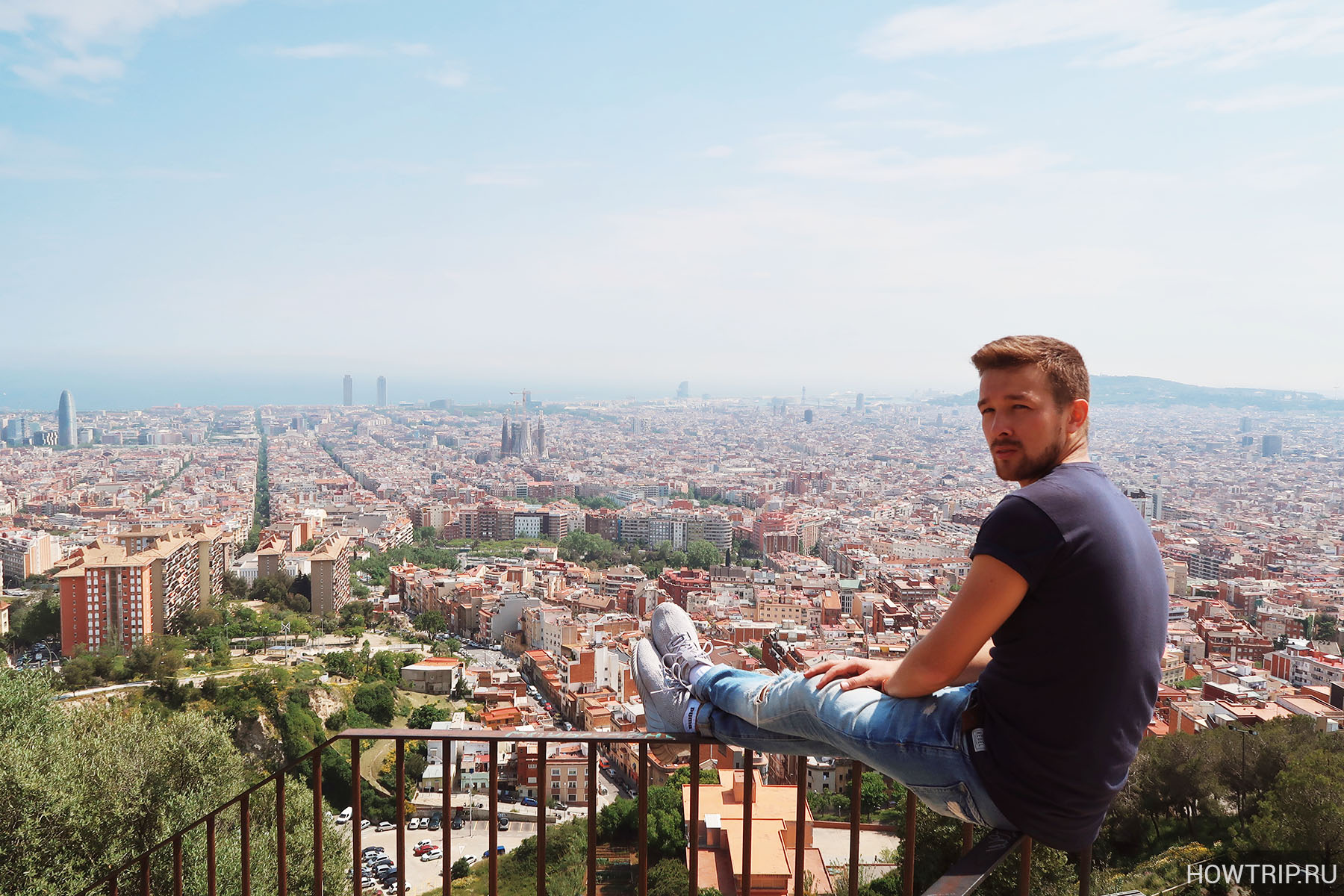 Bunker viewpoint in Barcelona – high and free
4. Budget airlines (low-cost carriers)
– I thought you were going to Paris, right? How's the ticket search going? – I'm monitoring flights, I still have three months to go… but it's not so profitable to fly from Moscow.
Explanation: Inexpensive and comfortable is very rare, so you have to sacrifice something. You probably know that the cheapest airfare is through Europe. True backpackers fond of budget airlines (low-cost) – Ryanair, Wizzair, Vueling, etc.: once in the Eurozone, you can travel around it at all.
How to get out of Russia without much loss? The main destinations are Vilnius, Riga, Helsinki, Tallinn.
From Moscow: Nesterovsky train (≈1500 rubles), buses Ecolines, Luxexpress (≈3500 rubles), for hardliners – Blablacar (≈1500 rubles).
From St. Petersburg: by buses Ecolines, Luxexpress (≈1500 rubles), a minibus to Helsinki (≈1000 rubles)
From the regions: more complicated, but chip flights are also available, for example, Kazan-Budapest for 6000 rubles
And another rule: buy tickets in advance – it always works. To get a cheap ride to Europe for the May holidays, I snagged a ticket back in September, and what! Moscow-Oslo for 3500 .
A street in Bergen, Norway – we went up on foot in 1.5 hours to the observation deck (you can use the expensive cable car)
The right services to find airline tickets
Everyone knows where to look for tickets – on the major aggregators, but not everyone makes full use of their capabilities.
Skyscanner is a great function for selecting destinations depending on the point of departure. I often use it and win (as with Norway). Typing in the "where from" departure city, and the "where" – the mysterious "anywhere," and there they are – the most delicious options for your dates
Aviasales – has a low price calendar, and finds slightly more deals. Handy for finding round-trip tickets: cost is lower than on Skyscanner
Coffee and Croissant in Paris – our favorite cafe is Eric Kayser
5. Travelling with hand luggage
– Okay, let's say I fly to Paris from Vilnius on a low-cost airline. But plus an extra charge for luggage? – Are you sure it's necessary?
Explanation: yes, lowcosters allow only hand luggage for free – that's the "payback" for low prices. But cheap journeys are not only made with a backpack behind the back. It can be and a standard suitcase 55 x 40 x 20 + not too stuffed backpack (read the terms of transportation) – is not enough, even if you're going for 2-3 weeks? Well, the issue of liquids is easily solved with travel kits.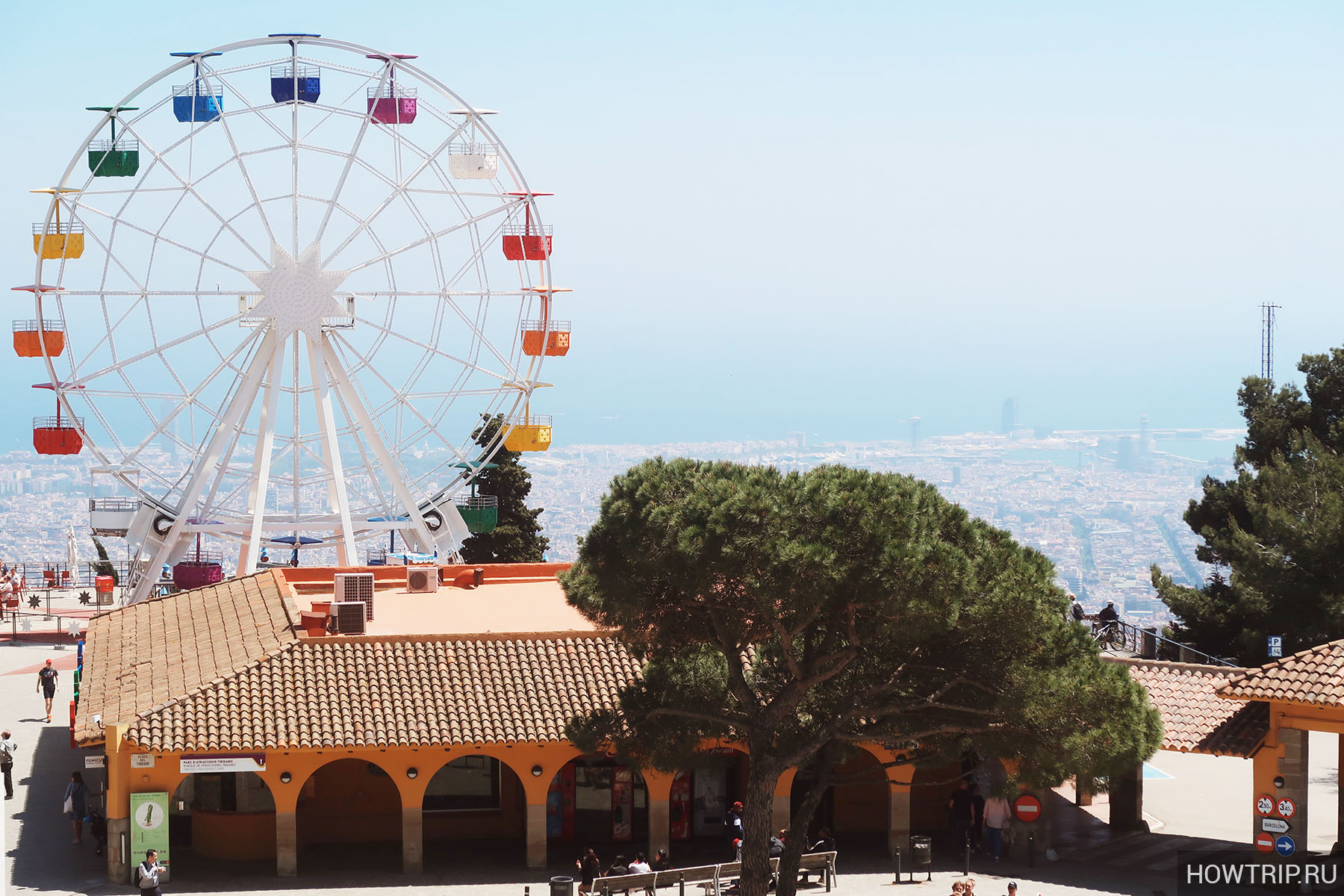 Viewpoint Tibidabo, Barcelona
6. Booking the right accommodation
– The next step is lodging. What's your action? – Bucking is definitely here, it's on everyone's radar.
Explanation: Bucking is good, but the best search engine is RoomGuru, which monitors databases of both Bucking and Agoda, and a dozen other systems. Hotels, motels, and hostels – it's all here. Choosing a cheap accommodation in Europe, pay attention to hostels. In Asia somewhere they are worth avoiding, but in the West they are quite decent.
Do you want authenticity and immersion in a foreign way of life and culture? Rent an apartment/room/home on Airbnb! The service is very good for long trips or groups of 3 or more. Here's a detailed review-instruction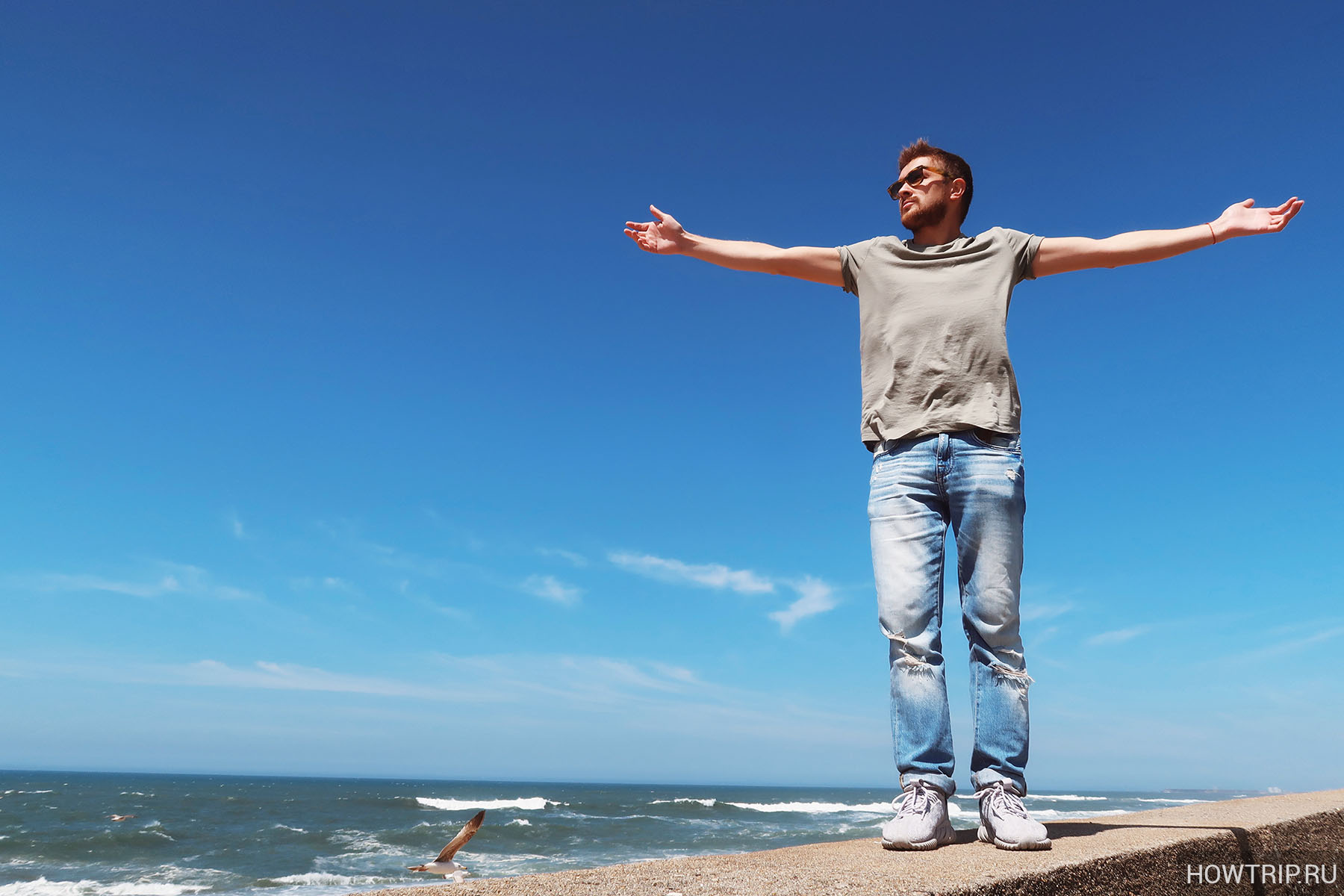 The Atlantic Ocean in Porto, Portugal.
7. Schengen visa on your own
– Will they give me a Schengen visa? The agency offered to take out non-delivery insurance. – Wait, what agency?
Explanation: If you live in Moscow / St. Petersburg, going to the intermediary, when there is a consulate nearby – just blasphemy and a violation of the code of budget tourism! In the regions you should not go to an agency, but to an authorized visa center. Get the documents yourself and don't forget the photo ↓
Schengen visa processing:
8. Cheap moving tours + saving on hotel expenses
– How else to travel cheaply in Europe? You've mentioned that you can also "get around"…
Explanation: When the purse can not control the plane, can help the aforementioned Blablacar – drivers often declare an adequate price. For example, 12 euros for the Berlin-Prague route.
Another option – I warn you, for some uncomfortable – night buses (Flixbus, etc.) and trains: you move to another country and save money on the hotel.
9. Pay attention to the airport.
– Okay-okay, then I take Vilnius-Paris. – Attention! The pitfall!
Explanation: Some unscrupulous airlines (and inattentive tourists) turn a cheap vacation into a costly one detail – generalization of the city of arrival. For example, you see Paris in the ticket, but you don't notice BVA airport in brackets. And to ply from the BVA to the capital – about an hour by car for 20 euros (my case)! So turn on the meticulous paranoid and look around with a magnifying glass .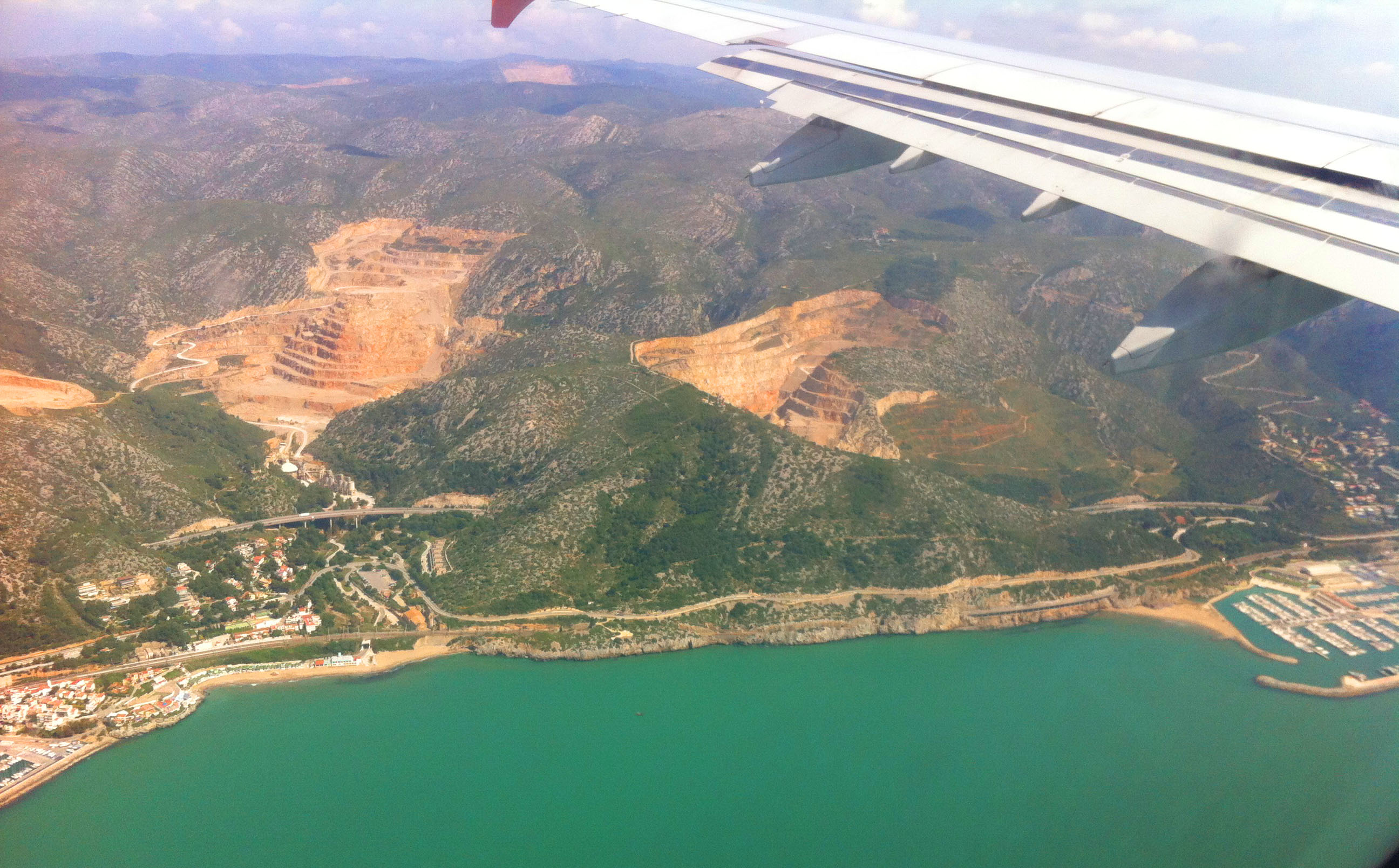 This is the view you get when you approach Barcelona airport.
10. Discounts and deals on tours and tickets
Промокоды на туры — приятная скидка в 1-3% на Onlinetours, срабатывающая при переходе по ссылке >>
Last Minute Tours – check the Travel section of Level.Travel for the best deals
Charters – allow you to fly to Europe cheaply, literally for a pittance (Barcelona for 6000 round trip? :)). Aggregators do not always find them, so ↓
Subscribe – namely to our channel Howtrip | Lowcost, where similar promotions are periodically published
To Europe cheap – tips
And this is Athens! I can't limit myself to banal considerations about flights/transfers/lodging, and so I'll throw in some more tips on how to spend a vacation in Europe cheap.
Питание: да-да, ищи еду в заведениях для местных, вот только вопрос, а их – заведения – как найти? Ответ: в приложении Трипадвизор – сортируй по «вкусно и недорого» (а вот доп 12 крутых travel-приложений >>)
Sightseeing: forget about paid tours and pay attention to the guide on the Free Walking Tour, which is organized in any city in Europe. Here will help and Airbnb – the site has "Impressions" – residents arrange all sorts of interesting things, and you can join for a n- amount of money.
Transport: read in advance about travel cards, they're a great way to save your euro (as in Barcelona). Or you can save money by joining a company and renting an inexpensive car (like it happened to me in Spain).
Mobile telephony: this is, without a doubt, DrimSim – a universally profitable SIM card in almost any country (in Europe for sure). At the link, both you and I get 7 euros to the account – a kind of win-win:)
Security: look at the official list. Unfortunately, the safest countries are also the most expensive.
Total: I've outlined all I have in the anamnesis of my inexpensive trips, and if you, the reader, have your own "European" tips, let me know in the comments, I'll definitely add to the article!
Bonus to those who finish reading As inspiration, we publish articles about "what to see in the city of N". Some we write ourselves, some we give to our friends, who have just returned from a trip to the city N (but make sure to check for reliability and interest). At the moment, we have:
Copying materials is permitted only with the obligatory indication of a direct, active and open for indexing hyperlink to howtrip.ru.