Rest in Montenegro. To summarize the country or as I relaxed in Montenegro
Montenegro…is a beautiful country, which I discovered a few years ago. Now I do not remember exactly how it began this discovery, but I can say that once before this foreign country was completely unknown to me and any reference to it simply did not tell me anything. On the other hand, like many people at the time, I associated Yugoslavia (if we're talking about the former country in general) with bombings, poverty and who knows what else. What kind of vacation is there in Montenegro?! No, sorry, I'd rather go to the Black Sea, Turkey, Egypt or back home to swim in the swampcalled "lake Pestroe" (here everyone will put his lake or river). What then influenced my sudden choice in favor of Montenegro?
I was going to this country for 3 years, but only in 2017 for the first time went there for 8 days. In this publication I will try to show photos from almost all places of Montenegro (the official international name of Montenegro), where I was, and more or less briefly write a review of Montenegro: about my impressions of the holiday, the best photos of attractions, etc.
Looking ahead, I will say – everything was awesome! And considering that the holiday in Montenegro I made completely independently, without resorting to the services of travel agencies, it gave me such an unreal confidence in myself that next year in 2018 I went there again alone and not for a week, and for 22 days!
Rest in Montenegro on their own without a travel agency. Instructions: how, what, where and how much.
Perhaps I am now reading those who have never been in Montenegro, but planning to spend a holiday in this wonderful country. Here I will describe my personal experience, how I made a plan for the trip, what nuances I took into account, what information on the Net I relied on, and everything in this spirit. But I am sure I am read by those who have been to Montenegro at least once and probably want to go there again :-). I understand! I always think about that country myself, though it would seem, What, there are no other women? Are there no other countries and places on this planet? But no, love is like that… I have dreams when you are in Montenegro again, as if you had never left it, and you often wonder if you should not consider Montenegro for permanent residence?
But I digress. So, how did I plan a vacation in Montenegro on their own without a travel agent (for both of my trips plan and action algorithm is the same). Especially it will be useful to newcomers, who have never flown anywhere, never booked anything – I will describe everything thoroughly on the site, so stay tuned!
Montenegro: a plan for an independent vacation
Choosing what time of year I will go on vacation to Montenegro. I chose October. And I advise you to September-October. Why? There are many reasons for this, I will describe in the following articles. As they say: there is no time to explain, just remember and that's it!
The choice of the city of Montenegro for a vacation. Who is going to this country for the first time, I recommend not to sweat it and choose Budva. Both times I lived there. The city is not the best and at the same time the best. Why so? I will explain everything later. Intrigue, intrigue!
I bought airline tickets. Aviasales (I have a site here you can buy, which I did), Skyscanner or Ozon – look there, and here, and here. The year before last I bought cheaper airline tickets (and flew three planes: Chelyabinsk-Moscow-Belgrade-Tivat, i.e. through Serbia), and last year I did not try to save on the plane and took a flight with S7 (s-Savan). I flew from Omsk to Moscow, and then took a direct flight Moscow-Tivat. More about this and many other things I will write separately on this site!
I booked an apartment. This is the highest priority along with the previous item. I chose apartments in both cases on the website Airbnb through the appropriate Android-application (you can also use a computer, laptop). I chose for the first trip a nice cozy apartment in Budva, which I'll show you again, for very little money for Europe – 15 euros per day.
The next no less important point: registration of insurance. I strongly advise not to forget on this point, because there is little that may happen during the holidays. Moreover, the insurance must be with the so-called Class Assistance and without a deductible. It costs more than the usual one, but, as they say in Papua New Guinea, it is necessary!
I read a lot of information on Montenegro, based on the notorious Vinsky forum, thematic groups on VKontakte and personal blogs of Russian speakers living in Montenegro. One of these blogs: Sasha0404, google this nickname and there you will find everything. Not advertising, she (Sasha – not him, but it) did not promise me any money. Just really, she is an expert on Montenegro, and I learned a lot from her!
Cash (for food, souvenirs, gifts home, trips within the country, excursions and other entertainment). How much cash do you need for Montenegro? A complicated question, but I'll simplify it, because I'm describing personal experience, right? First, you have to take euros, no dollars! Only euros. Secondly, take cash for 50 euros. I heard that the cops may pick on the 100-euro bills. How true it is, I do not know personally, but I reinsured and took only 50-euro bills and less (20, 10). And speaking of the amount, I took 450 euros for 8 days of vacation (I ended up bringing home 150 euros of that money), and when flying for 22 days – 750 euros (again, did not spend and brought home 110 euros).
Positive cheerfulness and confidence. A very important point, without him nowhere.
So, in summary: book flights, apartments, buy a good insurance, prepare money in cash in euros, read literature information on the Internet about holidays in Montenegro, charge a positive attitude. Of course, the jitters, the excitement before a trip always is and will be. But just take it as a given. We are not robots, we are humans. It is normal to be nervous.
Holidays in Montenegro: how I relaxed, what I saw. Montenegrin beaches (Budva, Becici, Petrovac, Kamenovo)
In general, Montenegro, if you dig deeper, is not the most ideal country for a beach holiday. First of all, it is a country for excursions in the mountains, to various attractions. It is a country with centuries-old history, with kind-hearted people who respect our Russian brother (and sister), a country with excellent cuisine (pleskavitsy, lamb from under the sack, burek and many others), a country with a good climate (especially in spring and autumn it is wonderful) and some feeling of Europe (in the best sense of the word, because geopolitics has tried hard lately over something).
Ah yes, the beaches of Montenegro are also good! Although not everywhere are sandy, but is it so important? I realized that no, when I first swam in the Adriatic Sea on one of the fine pebble beaches. By the way, the water in the Adriatic is very clean! And just feel comfortable: both in the water and on land.
During both trips (2017 and 2018) I saw a lot of interesting things in this small but very remote country: I lived in Budva and explored this relatively small resort city along and across. Also visited many cities in the country: Tivat, Kotor, Herceg Novi, Bar, Petrovac, Becici, Rafailovichi, Sveti Stefan and the capital city Podgorica. I swam on the beaches of the Budvan Riviera in Budva, Becici, Petrovac and Sveti Stefan, including the beaches with the cleanest water: Kamenovo and Mogren.
In this article I have tried to briefly describe my holiday in Montenegro, accompanied by personal photos from the trip. Think of it as writing in the style of "How I spent summer autumn". But in the near future on my site about this resort country there will be other publications, and there will be more useful information and more drive! So, stay tuned, subscribe to me, including in the group VKontakte, and I will try my best to show you a lot of interesting things about Montenegro. Bye bye!
How to have a holiday on your own in Montenegro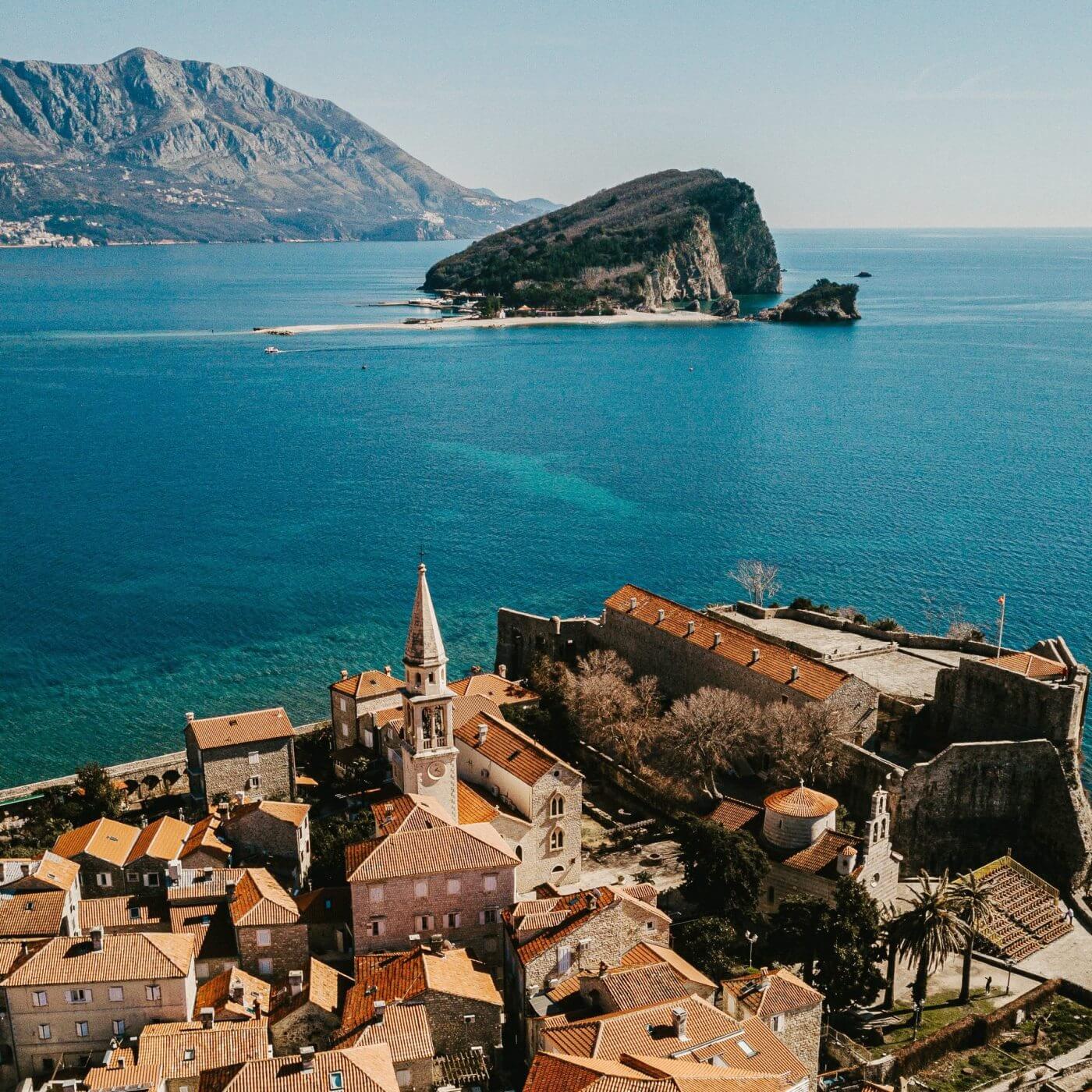 Plan a trip to Montenegro by yourself! We answer the main questions: how to go inexpensive, what documents are needed, what the prices for food and hotels in 2022, and what to see.
Exchange rate: 1 euro ≈ 57 RUB.
Sometimes a vacation in a tour is cheaper than traveling on your own. Check the prices on travel services Travelata and Level.Travel – they will find the best deals among different tour operators. Learn how to buy a tour cheaper.
Contents:
Documents for a trip to Montenegro
An independent vacation in Montenegro is very easy to implement – to begin with, you don't need a visa for Russians if the duration of the trip does not exceed 30 consecutive days . You can stay a total of not more than 90 days in a semester. All documents for a trip to Montenegro – it is only a passport, which must be valid for 90 days after leaving the country, and that's all. Find out where else Russians can go without a visa.
If the period of stay is more than a month, you need to make a visa to Montenegro in advance. You have to apply not earlier than one month before the trip. The documents are standard: a copy of the passport, completed questionnaire and application form, hotel booking confirmation (or rental agreement or property ownership confirmation), copy of air tickets booking, certificate of employment or bank statement (the amount is 20 € per day per person), two color photos. The visa fee is 62 € for adults and 32 € for children up to 14 years old.
If you plan to stay out of the hotel, make sure to register at the offices of the Tourism Organization of Montenegro within 24 hours. The exception is Budva, there within 72 hours. You can also do this at the police department in the department for foreigners. At accommodation in resorts and hotels administration registers residents independently (payment – up to 0,80€ per day per person). If you do not register you may be fined 200€ if you leave the country.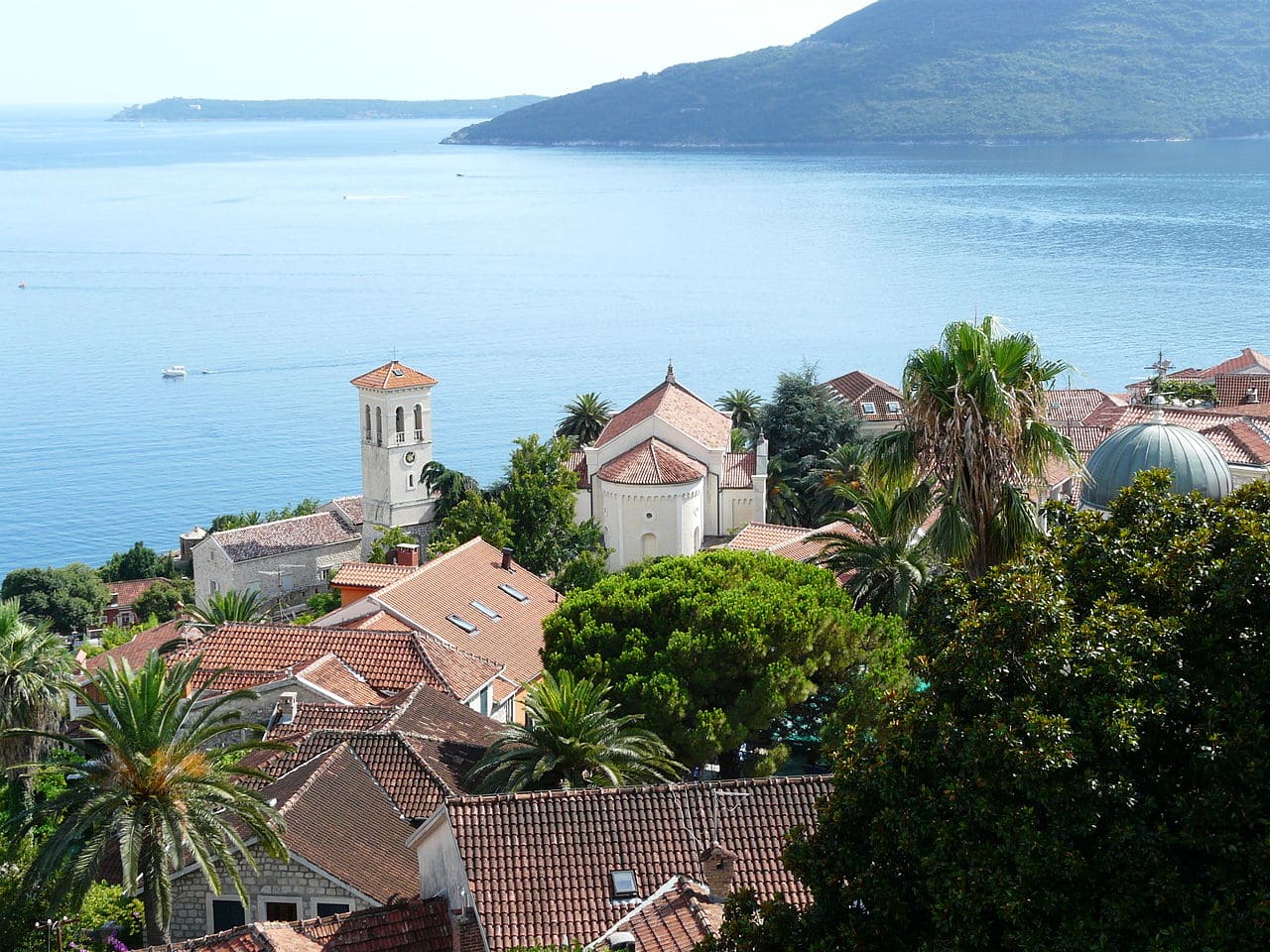 View of Herceg Novi from the fortress. Photo: BélaBéla / commons.wikimedia.org / License CC-BY-SA-3.0.
Insurance
Travel insurance policy is not included in the list of required documents for travel to Montenegro, but we advise you to insure your health. The policy costs from 300 rubles per week.
Take out insurance online at the sites Compare.ru or Cherehapa – they compare prices from all major insurance companies. You can choose a policy by the parameters you want and the best price.
How to get there
The easiest way to Montenegro is by plane . The cheapest way is to fly from Moscow: in summer 2022 tickets to Tivat and Podgorica cost from 10,000 rubles. From St. Petersburg is more expensive – from 13000 rubles for a round trip flight. From other regions tickets cost from 20000 rubles round trip, so sometimes it is more profitable to buy a tour – it may even be cheaper than the flight. But in the summer and fall there are inexpensive charter flights.
Look from what cities in Russia you can get cheap flights to Montenegro:
Another popular way to go to Montenegro on your own is a trip by car . You will need the following documents: driving license, car registration certificate, insurance ("green card"), hotel reservation, travel route, passport with Schengen visa. A visa is required to travel through the European countries that are part of the Schengen area.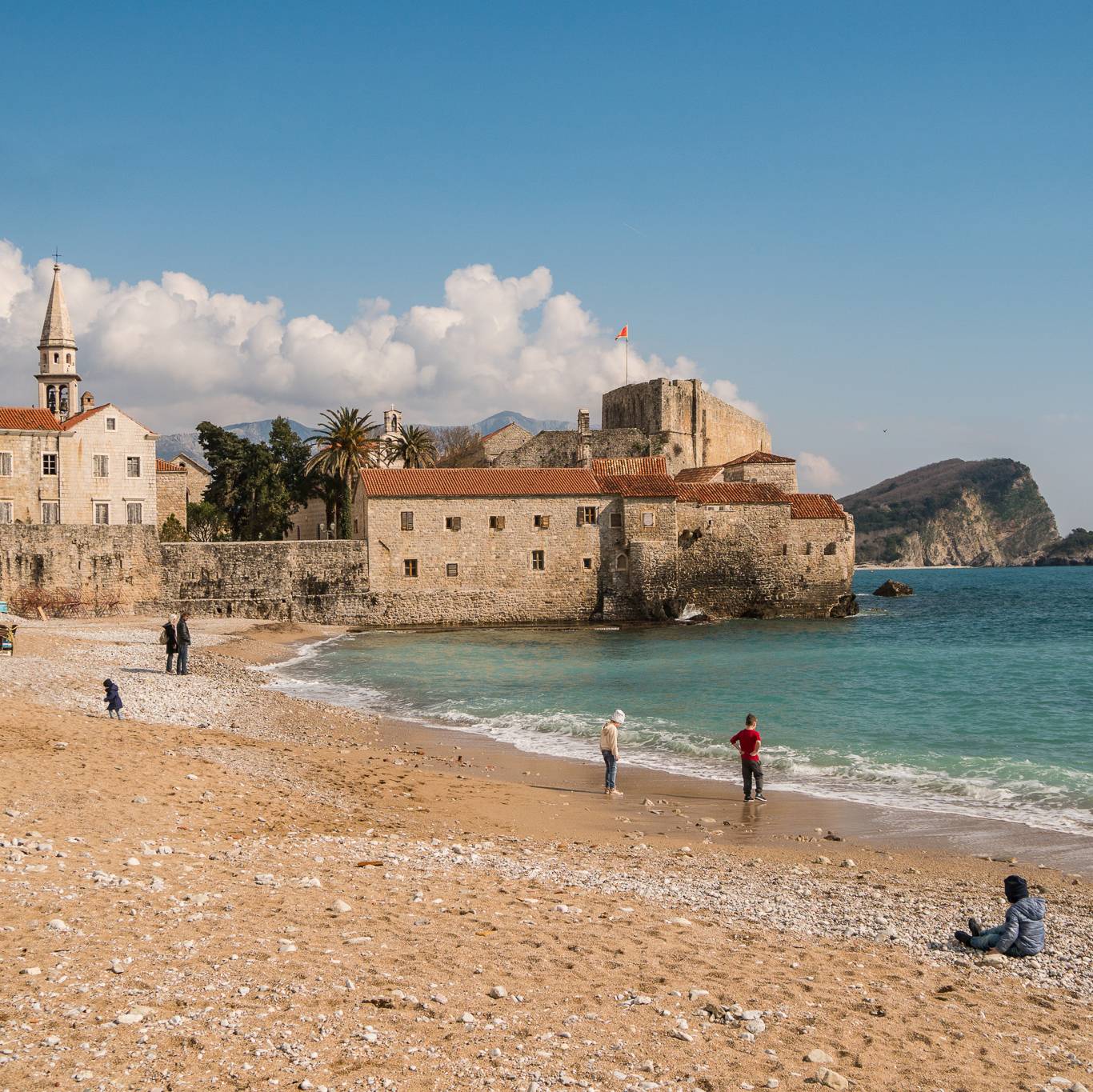 Old Budva. Photo: Casal Partiu Oficial / flickr.com.
Where to live
Thanks to reasonable prices for accommodation, an independent trip to Montenegro in 2022 turns out to be inexpensive. Montenegro has traditionally ranked as one of the cheapest European countries, along with Romania, Poland, Bulgaria, and others.
Hotels. Book a hotel in Montenegro on Ostrovok.ru by yourself. It is cheaper to live in small resort towns, but on the developed resorts, such as Budva and St. Stefan, accommodation is quite expensive. Standard hotel room in Bar – from 20 €, in Zabljak – from 14 €, in Ulcinj – from 16 €, in Sutomore – from 18 €.
Private accommodation. Montenegro's resorts have a wide choice of apartments, houses and villas – ideal for independent travellers, as there is a kitchen. Apartments or studios in Budva can be found from 30 €, in the resort of Sveti Stefan from 40 €.
Note – when talking about accommodation in Sveti Stefan, I am referring to the eponymous village near the island. Accommodation directly on the island of Sveti Stefan is expensive (from 500-700 € per day), as the island itself is one luxury hotel Aman Resorts.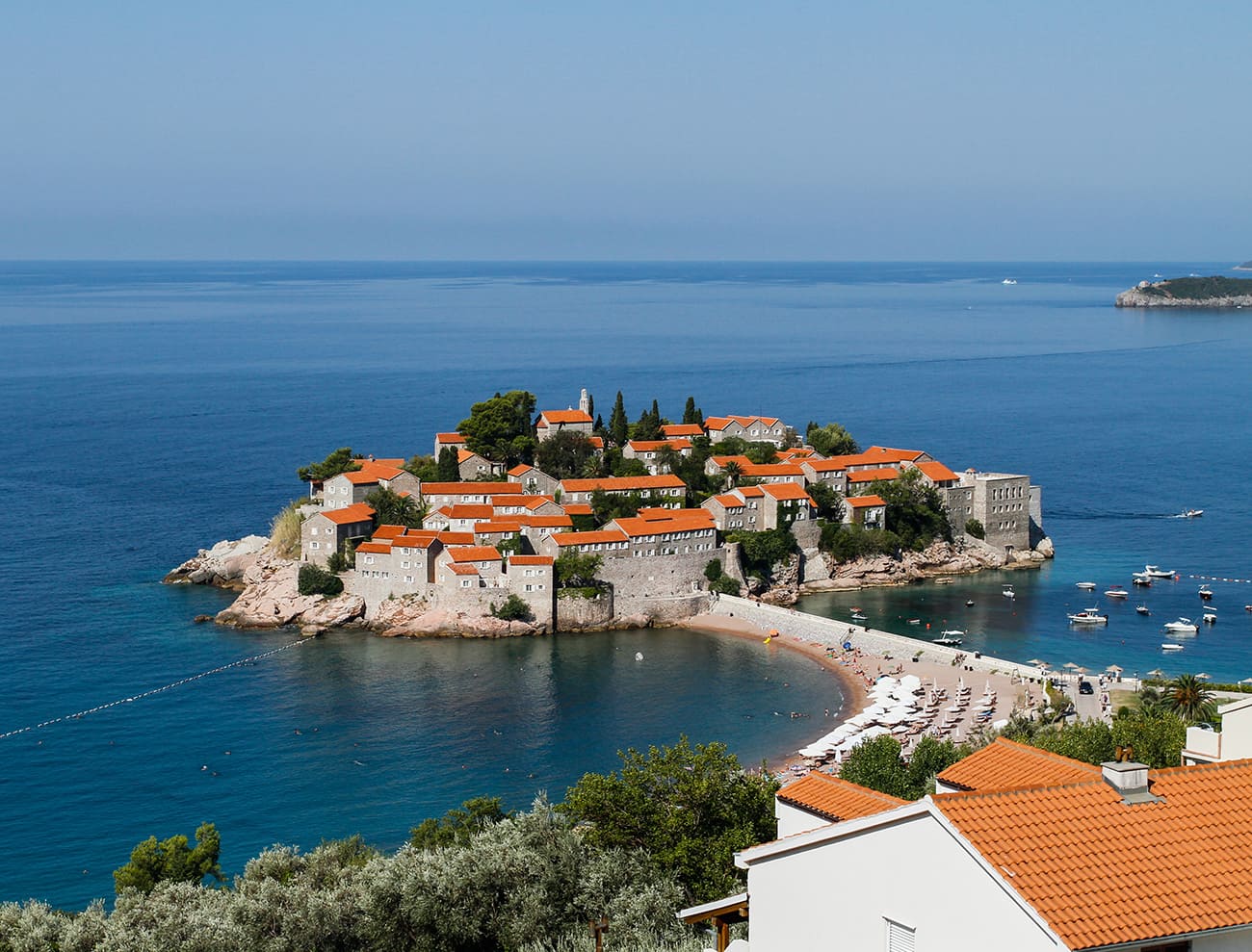 The island of Sveti Stefan. Photo: nakedst / flickr.com / License CC BY-NC-ND 2.0.
Food prices
For an inexpensive trip to Montenegro, avoid the hyped tourist restaurants and cafes. Look for local establishments. A meal at a cheap restaurant costs from 5 €, a three-course dinner for two at a more expensive restaurant will cost 40 €. Local bar beers (0,5 l) start at €2,20 and cappuccinos at an average of €1,75.
If you rent an apartment with a kitchen and cook by yourself, you can eat in Montenegro on a budget.
In our article 5 cheapest countries in Europe, we calculated that a day in Montenegro you can spend about 45€ per person – that's accommodation in a cheap hotel, meals in restaurants for locals and transportation costs.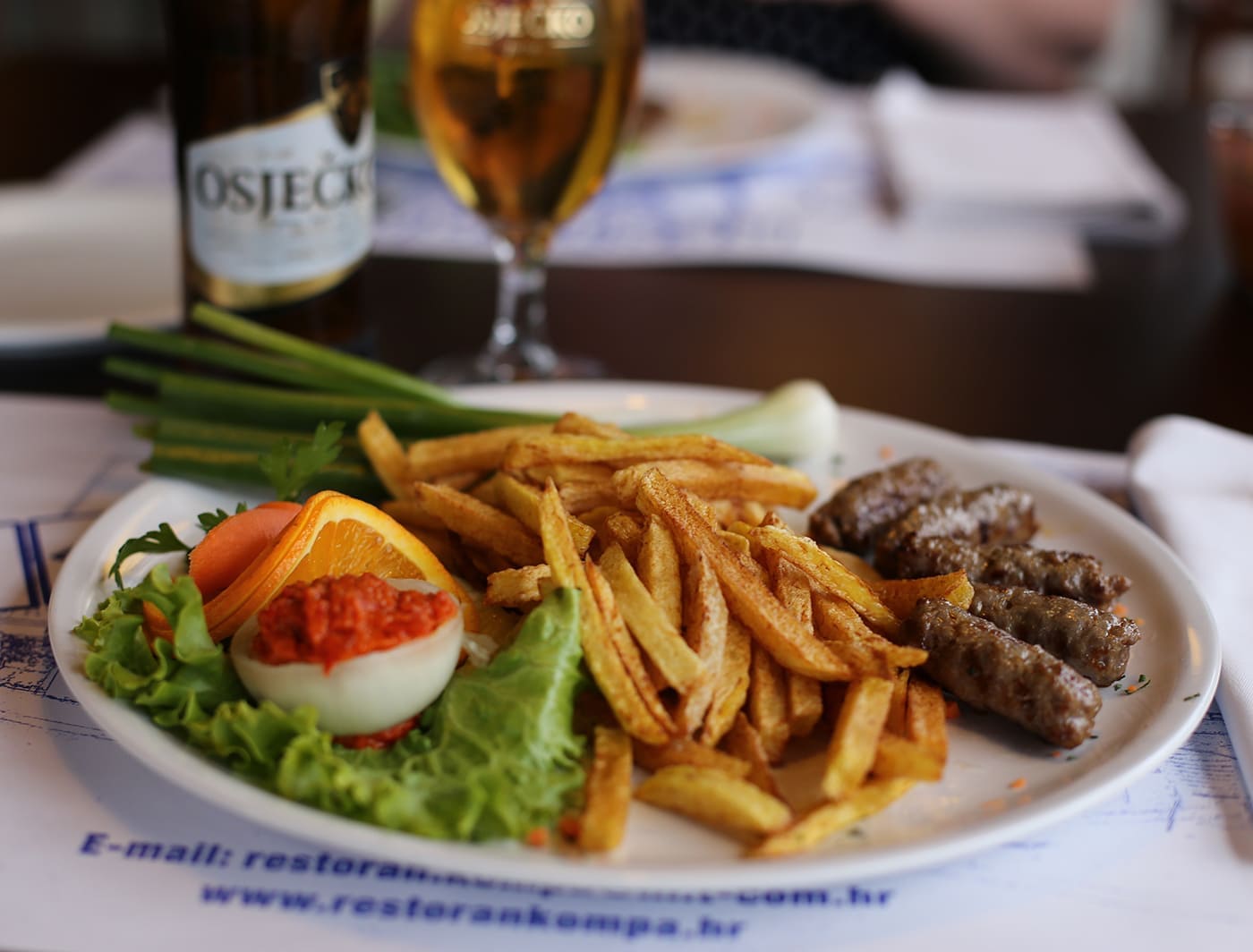 Cevapcici with side dishes in a restaurant. Photo: Misalalic / wikimedia.org / CC BY-SA 4.0.
What to see
The land of canyons is full of sights – you have to try hard to have time to visit as many places as possible during a self-guided trip to Montenegro.
The pearl of Montenegro is called the Budva Riviera – a beautiful stretch of coast with excellent beaches from Budva to Petrovac. It is there most often visited by tourists. The most popular resorts are Sveti Stefan and Budva.
Another striking point of attraction for tourists is the picturesque Bay of Kotor, on whose shores are located resorts of Tivat, Kotor, Igalo, Perast and Herceg Novi. The bay is not inferior in its beauty to the Budva Riviera, and at times it is even superior. It is quiet and peaceful, and it is good to relax with children.
Also during a vacation in Montenegro we suggest visiting Lake Skadar, the canyons of rivers, the national parks Durmitor and Biogradska Gora.
Rent a car to visit all the most interesting places of Montenegro by yourself. At Localrent.com you can rent a car from 11€ per day. Learn how to rent a car in Montenegro.
If you do not know how to drive, take a tour . Look for them on the Tripster website – there are unique author tours that will show the country from a new angle.
See where else you can go: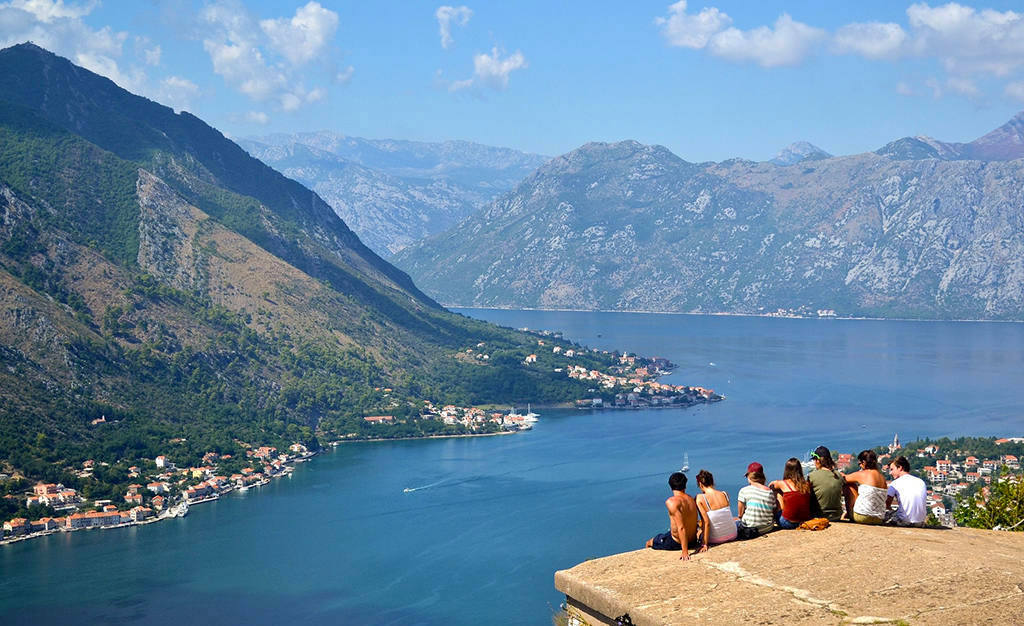 A magical view of the Bay of Kotor (Photo: yakovlevmax0 / pixabay.com)