Independent travel to the Czech Republic
Plan an independent trip to the Czech Republic! We tell you how to go on a trip in 2022: where to go, what to see, how to save money, how to get a visa, what to try.
The Czech Republic is accepting tourists from Russia. For convenience, we give pre-departure prices for travel and flights. Information about visas and flights may not be up to date now, please check official resources. Take a look at the list of open countries.
Content:
How to get to Czech Republic on your own
Ticket prices are per person round trip in high season.
The most convenient way to fly from Russia to Prague – there are many flights. If you need to go to other cities, you can easily get from the capital by bus or train.
The cheapest way to fly to the Czech Republic is from Moscow – tickets cost from 10 thousand rubles with a connection, and a direct flight from 14 thousand. The prices for tickets from St. Petersburg are higher – from 13 thousand rubles for a direct flight, but without baggage (airBaltic).
Flights from the regions are expensive. Relatively inexpensive to fly from Kaliningrad and Kazan – from 13,000 rubles, and from Rostov, Yekaterinburg and Samara – from 15,000.
Look for tickets on Aviasales – they compare prices of all airlines. Learn the secrets of finding inexpensive airline tickets.
If you can't find inexpensive tickets, buy a tour – sometimes it's more profitable than an independent trip. For example, a tour to Prague for two from Moscow for 6 nights costs from 40 thousand rubles. And the price includes tickets, accommodation, meals, and transfers. Look for tours on the services of Level.Travel and Travelate.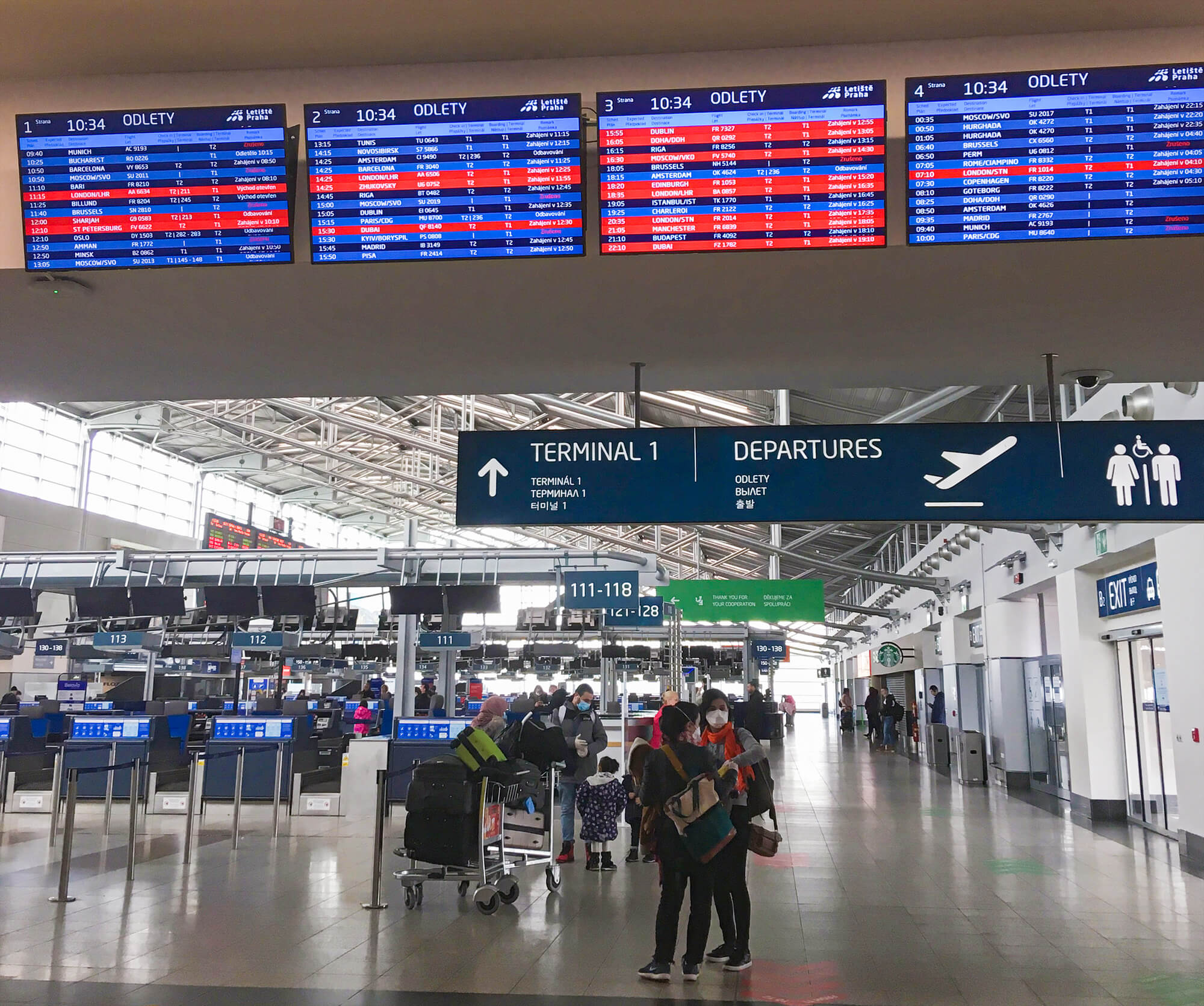 Prague airport. Photo: lobanova.kawaika.yandex.ru / Depositphotos.com.
Visa for Czech Republic
To travel to the Czech Republic you need a Schengen visa. Get it yourself is simple – gather the standard package of documents and submit them beforehand. The main thing is to have confirmed hotel and ticket reservations, insurance and enough money on your account.
Do not forget about the insurance! It will save you costs in case of emergency – find it at Compare.ru or Cherehapa. The price starts from 300 rubles per week.
Transport in Czech Republic
Intercity transport
Trains. Czech Republic has a dense network of railroads. The main center is Prague, there are several railway stations. From the main station (Praha Hlavní Nádraží) – trains to Czech cities and other countries. We went from there to Kutna Hora. From station Nádraží Holešovice also go trains to European cities, and from Masarykovo nadraží – mostly to Czech cities. The ticket from Prague to Karlovy Vary costs 160 CZK (second class). Calculate the cost of the ticket.
If you are interested in traveling from Prague to European cities, we advise you to read how to get to Vienna and how to get to Berlin.
Prague main station. Photo: gonzalobell / Depositphotos.com.
Buses. Bus and train stations are also subway stations, which makes traveling easier. The bus stations have the same name as the metro stations: Holesovice (Nadrazi Holesovice), Black Bridge (Cerny most), Roztyly, Zlicin. The most popular stations are Florenc and Roztyly. Florenc station serves many international flights, we went from there to Vienna. Calculate the fare.
You can travel cheaply on your own in the Czech Republic on the Student Agency buses and Eurolines. For example, a ticket from Prague to Karlovy Vary costs from 130 CZK. You can buy it online. It is not necessary to print it out, you can just download it to your phone and show it to the driver.
You can independently organize a trip between the cities of the Czech Republic, Europe or just around Prague on the website of IDOS. The search engine shows all possible ways of travel.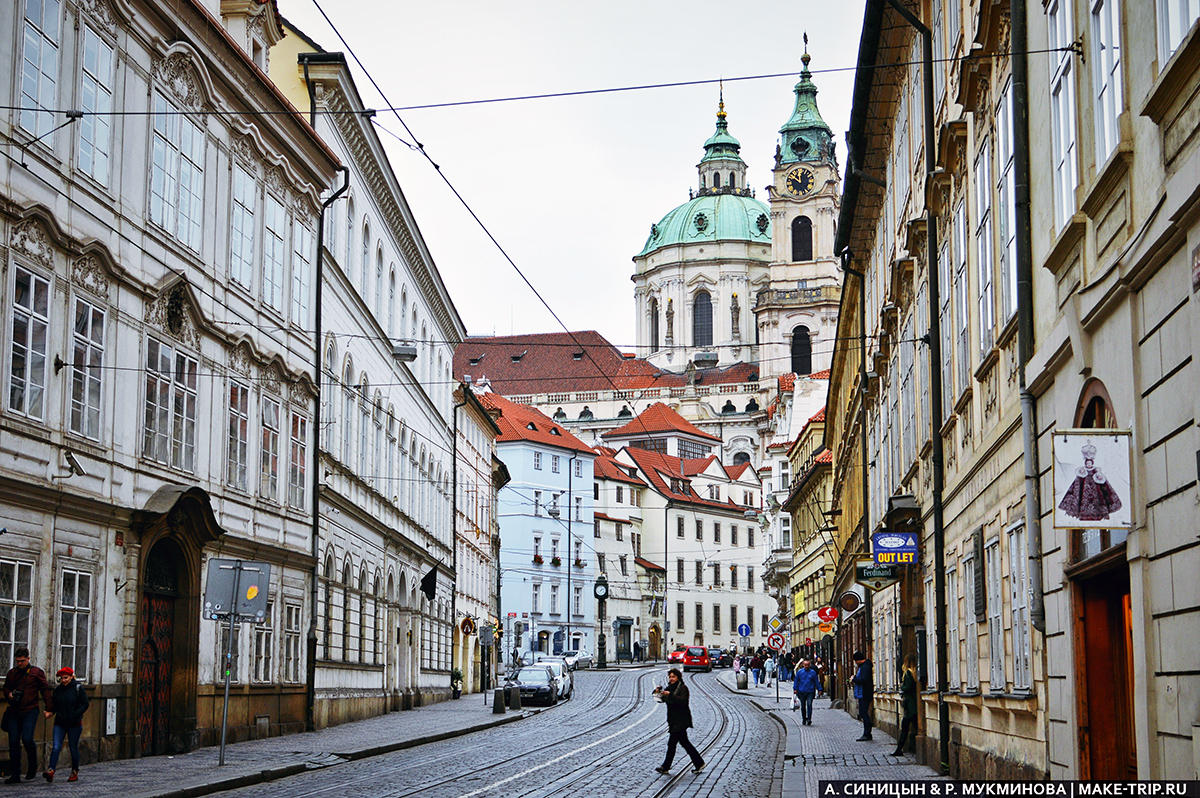 Malá Strana District in Prague
Transport in Prague
The main modes of transportation in Prague are subways, buses and streetcars.
Streetcars and buses run even at night – they have separate timetables on dark blue signs at the stops. Night transport runs from 0:30 to 4:30. Subway hours are from 5:00 to 24:00. The diagrams of day and night transport routes, as well as the subway plan can be downloaded for free on the website of the Prague Transport Company in excellent quality.
Prague has a unified system of tickets for 30 and 90 minutes, 24 and 72 hours, etc. They are valid for all transport. The validity of the ticket begins when you activate it – you need to stamp it once at the entrance. To find out the cost of tickets, go to the website of the transport company.
You can buy tickets from ticket machines at some subway stations and bus stops, from ticket booths, newsstands and tobacconist's shops, and by SMS. Read more about buying a ticket via SMS at www.smsjizdenka.cz.
Please note the streetcar route No. 22 – it skirts the National Theater and goes to the subway stations Staroměstská and Malostranská, and further on to Belvedere and Prague Castle. Also interesting is the historic streetcar number 91 (or nostalgic streetcar), whose history dates back to 1920. It will take you past important places in the center of Prague. The streetcar runs on weekends from 12 till 18 hours, leaves every hour from Vozovna Střešovice depot and goes through the center of the capital. Wonderful views!
Prague. Photo: AlexGukBO / Depositphotos.com.
Hotels and apartments in Czech Republic
An independent trip to the Czech Republic will be successful if you choose the right accommodation. The first impression of the country depends on it, because it's so nice to come back to a warm and cozy room or apartment.
Where to find and book a hotel in the Czech Republic on your own? We advise service Rumguru – it will find hotels with discounts. Here are the main rules of hotel search.
Remember that in the high season hotels get more expensive. Book them better 3-4 months in advance, so you will find the best option at a good price. Peak time is summer and New Year holidays.
If you want to live in the Czech Republic as a local, book an apartment or a room. Lots of great options on Booking.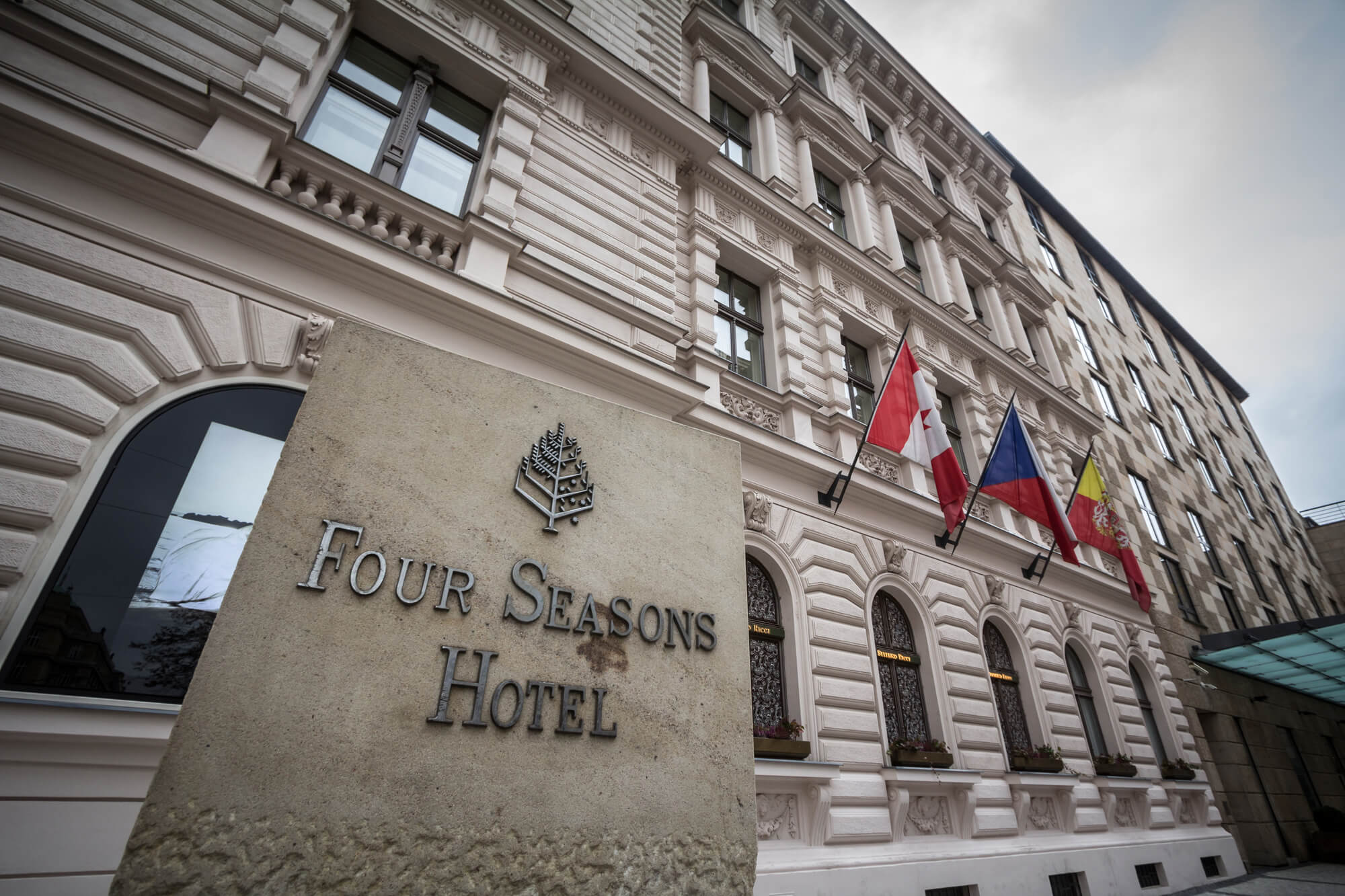 Four Seasons Hotel in Prague. Photo: BalkansCat / Depositphotos.com.
What to see in the Czech Republic on your own
Search for interesting excursions on Tripster. Individual and group, without crowds of tourists and in Russian.
So, if you are going to make an independent trip to the Czech Republic, we advise you first of all to get acquainted with Prague, which has earned the love of millions of people. However, the number of attractions off the charts in other cities of the country.
Prague
Prague is one big attraction. It takes more than a day to walk around them all. However, if you are going on an independent trip to the Czech Republic, do not forget to pay attention to other cities in the country.
The Old Town is the most famous district. Typically, tourists begin their acquaintance with the city exactly from Old Town Square, where there is a monument to Jan Hus, the City Hall with the astronomical clock and the Týn Church. In the neighborhood there is the Jewish Quarter.
Next, visit Prague Castle. There towers over the whole city St. Vitus Cathedral – a beautiful example of Gothic, its stained glass lancet windows will pierce the heart of anyone.
You will walk on the medieval Charles Bridge more than once – it connects the historic Stare Mesto and Malá Strana districts. It was the royal road. The bridge is decorated with 30 sculptures of saints.
On the other side of Vlatva, visit Vysehrad Fortress and admire the roofs of the city. The fortress has the Basilica of St. Peter and Paul, the Visegrad Cemetery and the Rotunda of St. Martin. Also stroll through Malá Strana, which is famous for its many palaces and temples, narrow streets and colorful houses.
Prague – the city is crowded with tourists. Most of them in summer and during the New Year holidays. We advise to be mentally prepared for so many people.
Useful selection: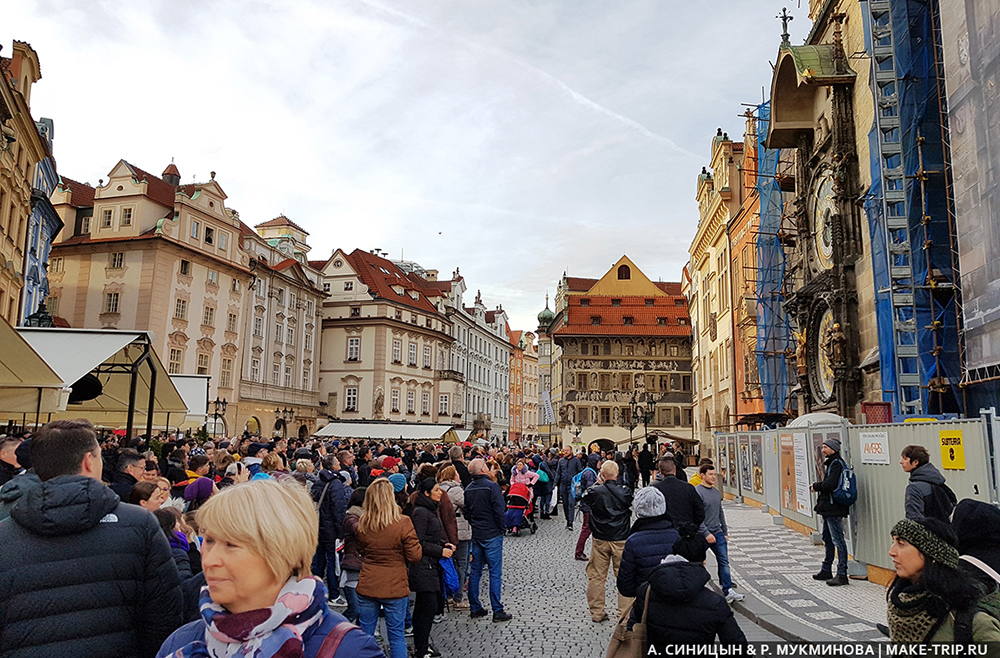 Crowds of tourists at the Astronomical Clock in Prague
Must see places in Brno, the former capital of Moravia: St. Jakub's Church with a bone depository, St. John's Church, Gothic St. Peter and Paul's Cathedral, Spilberk, Veveří and Slavkov Castles where the Battle of Austerlitz took place, Capuchin and Augustinian Monastery and many others. Brno has many art galleries and universities.
Pardubice
Making an independent journey through the Czech Republic, you should visit Pardubice – a city-reserve that has preserved many architectural monuments of the 16th century. The dominant 59 meters high Green Tower is situated in the center of the city. There are also many old mansions.
Kutna Hora
Kutná Hora is famous for the Kostnice in Sedlec (Chapel of All Saints), which a nameless friar paved with the remains of over forty thousand people. The desire to see this amazing creation of human hands burns many tourists. Another famous monument of Gothic architecture is the St. Barbara's Cathedral. Get there early in the morning and most importantly, on your own to avoid the crowds.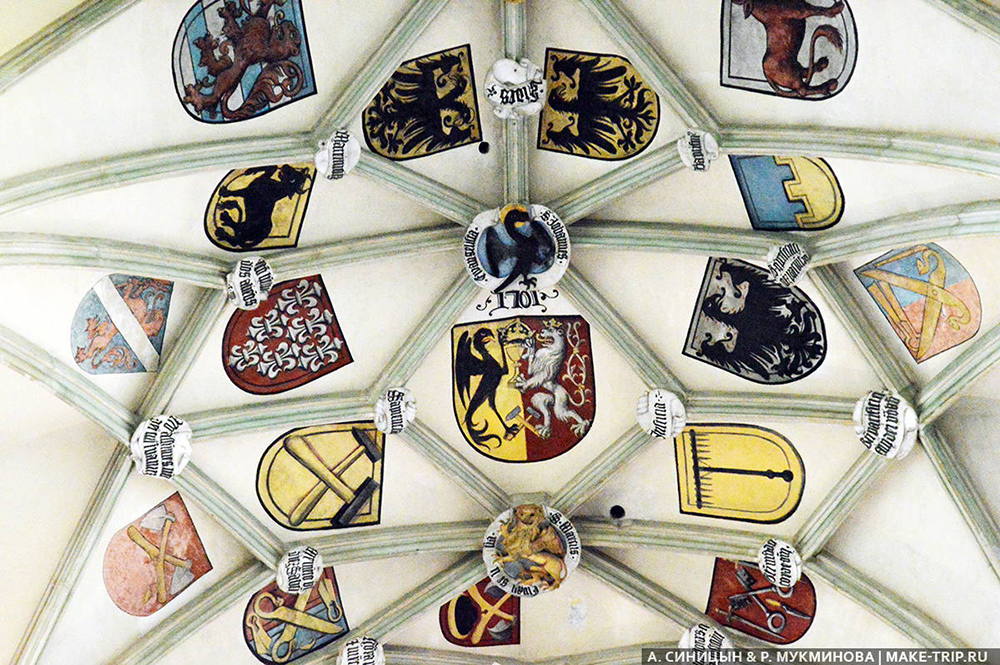 St. Barbara's Cathedral in Kutna Hora
Good advice for gourmands: Check out the Czech Republic's many culinary specialties.
Travelling to the Czech Republic on your own is a great way to go on a gastronomic tour! Here's what to try on your trip:
Baked pork knuckle, served with side dishes and sauces. It goes especially well with beer. The portions are large, so do not overestimate your strength.
As an alternative to pork knuckle you can have baked pork with gravy, stewed cabbage, and dumplings. In general, a huge number of dishes are made of pork in Czech Republic: roasted pork ribs in honey, grilled pork, pork rolls, pork goulash, pork steak and pork schnitzel, etc. Lamb and beef are present, but in smaller quantities.
Game and poultry dishes are also common: pheasant breasts, hare pâté, roasted partridges, foie gras, roasted geese, ducks, pheasants, etc.
Beer snacks are very popular in the Czech Republic: these are the so-called utopenci – spicy pickled speckles, usually consumed after a couple of beers, and hermelin – soft cheese with white mold (can be fried, baked and pickled).
Poletki – a variety of soups. There are a lot of them: mushroom, onion, garlic, potato, and vegetable soups. There are also exotic for us soups: beer soup and bread soup, for example. And of course, soup made of rumen – the national dish, which used to be cooked by the poor.
Dumplings – a boiled product of dough or potatoes. They can be a separate dish – with a filling (sweet or not), or can be served as a side dish to a meat dish with thick sauces – omelets – or added to the soup.
Drinks: Be sure to have a mug or two of the world-famous Czech beer and try the no less famous "Plumovica" and "Becherovka".
A variety of desserts: strudels, cakes, ice-cream, pancakes, rolls, waffles and, of course, trdlo – vanilla dough rolled in sugar. These are delicious!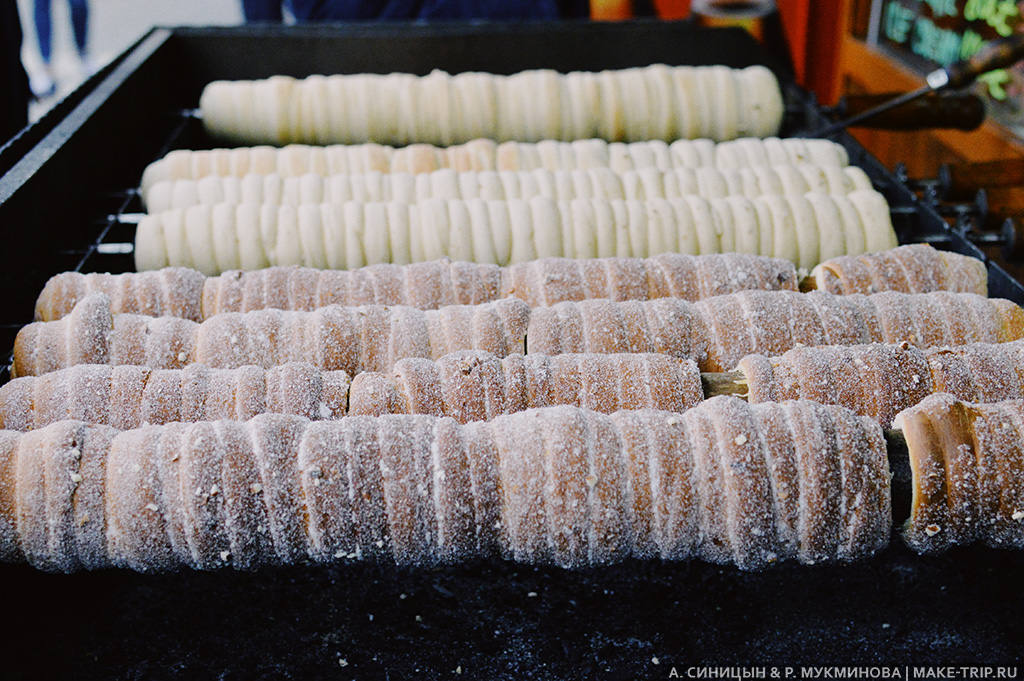 Street trdelnky.
What to bring from the Czech Republic
As a rule, the search for gifts on a trip is not the most pleasant part of it. We want to spend our time exploring cities, not walking around tourist shops. While traveling around the Czech Republic on your own, combine business with pleasure – look for original, unusual gifts. Your loved ones will be pleased if you bring them:
bijouterie (Jablonec nad Nisou – the birthplace of Swarovski);
Bohemian crystal, famous all over the world (Moser factory);
Pomegranate jewelry, which was loved by Catherine the Great herself (you should buy it at official Granat Turnov stores);
handmade paper;
hats from the factory "Tonak";
beer, Becherovka, Slivovica, and Fernet;
Karlovy Vary wafers – wafers;
ecologically pure Karlovy Vary cosmetics and Bohemi cosmetics;
porcelain products;
a unique handmade smoking pipe;
A plush Mole, a character from a famous Czech cartoon, and souvenirs with his image;
antiques.
Czech healing spas
Karlovy Vary is the most famous and expensive Czech spa resort. Twelve hot springs come to the surface here. The resort specializes on treatment of diseases of Gastrointestinal tract and musculoskeletal apparatus, as well as metabolism.
People usually come here for treatment and rest as part of a tour, but you can also visit the resort if you go to the Czech Republic on your own. This is a cozy little town, which you can walk around in a couple of hours. In Karlovy Vary it is worth a look at the Old Castle, churches and church, as well as the postal yard and the main post office building. Outside the city you can take a funicular ride, visit Loket Castle and the ruins of Engelsburg, and take a walk in the woods – there are 21 routes for the sick. Read how to get to Karlovy Vary.
Jáchymov and Mariánské Lázně are suitable for people suffering from respiratory and musculoskeletal system diseases. Jachymov is the first spa resort in the world and in the Czech Republic in particular with radon springs. It is a quiet and tranquil town, contributing to the restoration of spiritual and physical harmony. Besides bathing you can also visit the summer palace, the palace park from the 16th century and the glacial caves, or climb the Klínovec hill.
Mariánské Lázně – the second most popular spa in the Czech Republic, there are about 40 healing springs. The town is also famous for the church of the Assumption of the Virgin Mary with 33 steps, which symbolize the years of Christ's life, the Anglican Church, the Evangelical Church and the Orthodox Church of St. Vladimir. In the vicinity of the town there are nature reserves Kladská and Smrádech, through which ecological trails run.
Františkovy Lázně specializes in the treatment of gynecological and urogenital diseases, there are 21 springs. As in other towns, there are many attractions: The spa resort, despite the developed infrastructure, has preserved the appearance of a town from the beginning of the twentieth century.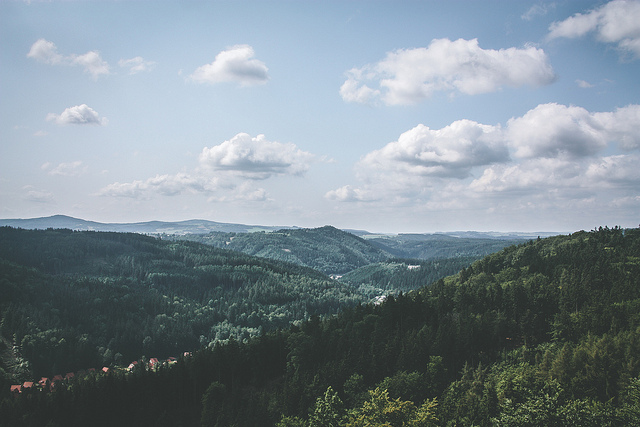 Karlovy Vary. Photo: Yael Gripich / flickr.com.
Ski resorts in the Czech Republic
The winter Czech Republic is no less interesting to tourists than at other times of the year. Ski resorts in the Czech Republic – a worthy alternative to Western European, despite the medium-altitude mountains. Their undoubted advantage is the location: many centers are close to or in protected areas.
Some of the most popular ski resorts in the Czech Republic are located in the Giant Mountains, where the highest point of the country, Sněžka, is situated at a height of 1602 meters. These are such resorts as Pec pod Sněžkou, Špindlerův Mlýn, Jánské Lázně, Harrachov, Karpach, Šklarská Poreba and others. The resorts are very picturesque: mountain slopes are covered with pine and fir forests, the source of the Elbe River. Snow lies here from November to May.
The second largest mountain range Jeseníky is as popular as the Giant Mountains. Despite the density of tourist routes and ski slopes, there are also unexplored corners – for example, the Richlebskie Mountains do not have a developed tourist infrastructure. The highest point is Praděd (1491 m).
In general, the Jeseníky area is considered one of the most promising regions: you can treat yourself here, which is much cheaper than in Karlovy Vary, and engage in active sports, whether it is mountain skiing, biking or hiking. It is not spared the sights and beauty of nature – it is clearly worth going here not as part of a tour group. If you travel through the Czech Republic on your own, we certainly recommend visiting Jeseníky.
The view from Bald Mountain. Photo: CzechR / flickr.com.
The Šumava Mountains with the highest point of 1,378 meters (Mt. Plechy) are also not neglected by travelers. As in Jeseníky, recreation is varied and nature is gorgeous.
The Moravian-Silesian Beskids is a picturesque massif with the highest peak Lysa Góra (1323 m). Developed infrastructure, good service. Favourite places for tourists are Pustevni, Javorivy, Bila, Solan. Lovers of winter sports Bila has perfect slopes and descents of varying difficulty.
Ore Mountains with the top of Klinovec (1244 meters) are not so popular among tourists, but also have a lot to offer: ski resorts (Bozhi Dar and Klinovec), thermal springs, and attractions.
Zelena Ruda ski resort. Photo: vladvitek / Depositphotos.com.
Prices in Czech Republic and Prague – 2022: food, tours, trips
We tell you about the prices of holidays in the Czech Republic and Prague in 2022. How much does it cost to eat, tours, transportation, what is the cost of tours and trips to Prague, prices for housing and rent.
A general idea of the prices of basic goods and tourist services will allow to calculate the approximate cost of a holiday in Prague in 2022 and to understand how much money to take with you in the Czech Republic.
All prices are current at the time of publication and may change.
Currency in the Czech Republic is the krona:
1 krone ~ 3.4 roubles
1 euro ~ 26 crowns
How much it costs to get to Czech Republic
In 2022 you can get to Prague by plane and by train. The cost of tickets depends on the chosen mode of transport.
Plane
A direct flight from Moscow to Prague and back costs 9000-12000 rubles. Most expensively are tickets for the high season (from May to September), and also during the New Year and Christmas holidays. In October, November and January to April tickets prices are minimal.
Flights from other Russian cities are more expensive:
from St. Petersburg – 12000-15000 rubles
From Krasnodar: 17,000-21,000 rubles
From Yekaterinburg: 16000-18000 rubles.
from Novosibirsk – 19000-30000 rubles
Tip: Prices for airline tickets to Prague from Russia are convenient with the help of websites Skyscanner and Aviasales. They compare flight prices from different companies, clearly showing the cheapest options.
Train
You can get to the Czech Republic by "Vltava" train, running between Moscow and Prague. A round-trip ticket in a standard four-bed compartment costs 26000-30000 rubles, and in a comfortable two-bed luxury compartment – 42000-48000 rubles.
One can buy train tickets online – for example on Tutu.ru or on RZD site.
Prices for transport
All municipal transport in Prague is united into a single system. Therefore in 2022 one ticket is valid for any transport – metro, bus, streetcar – up to the funicular on Petřín Hill.
You do not pay for the distance from one point to another, but for the time spent on the trip. Within the paid time you can travel on any public transport without restrictions.
The cost of transportation in Prague in 2022:
30 minutes of travel cost 24 kronor (73 rubles)
90 minutes – 32 kronor (98 ruble)
24 hours – 110 CZK (338 RUB)
3 days – 310 CZK (953 RUB)
1 month – 670 CZK (2061 RUB)
If you are planning to stay in the Czech capital for several days and will move around the city a lot, it makes sense to buy a pass for 1-3 days. Firstly it will quickly pay for itself, and secondly, will give you the opportunity to go anywhere and as long as you like with any number of transfers.
Read more about prices and routes in the article about Public transport in Prague.
Rent a car
Renting a good car in Prague in 2022 costs about 21-30 CZK (64-92 RUB) per day. This is the price for a car with automatic transmission, insurance and a vignette for travel on Czech toll roads.
The cost depends on the make and class of the car, whether it is equipped with auxiliary devices (for example, a navigator), and the rental period (the longer – the cheaper).
Petrol prices in the Czech Republic in 2022 – an average of 33.27 kronor per liter (102.35 rubles). Current fuel prices can always be seen here.
The cost of parking in Prague ranges from 10 to 80 CZK per hour (30-250 rubles). Parking on the outskirts is cheaper than in the center, and in some places there is no charge from 20:00 to 8:00. Some hotels have their own free parking lots.
The cost of renting a car from different companies is convenient to compare through the service Myrentacar – so you can find the cheapest options.
Tours in Prague – 2022
The cost of tours to Prague usually includes a flight, hotel accommodation, airport transfers, insurance and meals of your choice.
Approximate prices for a tour to the Czech Republic in 2022 (per person):
The cost of tours to 3-star hotels starts from 19800 rubles for 3 nights. For this price you can settle down, for example, in Hotel Juno (5 km from the center, breakfast), and for 23400 rubles – settle down in Fortuna West (9,5 km from the center, breakfast).
A four star hotel tour costs about 30000 rubles. For example, a tour to Hotel Olympik (4 km to the center, breakfast) costs 25200 rubles, and to Hotel Roma (450 m, breakfast) – 39300 rubles.
A 3 day tour to a five star hotel can cost from 47000 to 700000 rubles. If you want to go to the Occidental Praha Wilson (a stone's throw from the heart of Prague, breakfast) for 50000 rubles and a package to the Hotel Paris Prague (600 meters from the center, breakfast) costs 63300 rubles.
If you buy a package for two people, the prices may be a little less.
For example, look at the prices on tours to Prague for two people (the same hotels):
Hotel Juno – 39900 rubles;
Fortuna West – 41800 rubles;
Hotel Olympik – 41600 rubles;
Hotel Roma – 56800 rubles;
Occidental Praha Wilson – Br5500;
Hotel Paris Prague – RUB 90950.
You can find an inexpensive trip yourself through Travelata or Level.travel – they compare the prices of trips to the Czech Republic in different tour operators, finding the most favorable options.
View of Charles Bridge and Prague Castle © Anthony DELANOIX / unsplash.com
Sanatoriums with medical treatment
In 2022 the price of a weeklong stay in a therapeutic spa resort in the Czech Republic can vary from 58500 rubles (Esplanada Sanatorium in Karlovy Vary) to 225900 rubles (Grand Hotel Pupp there).
Complete information about the prices of sanatoriums in the Czech Republic with treatment, accommodation conditions and the orientation of each of the spas can be found here.
The cost of housing
During an independent trip to the Czech Republic you can stay either in a hotel or rent an apartment. You can see the cost of hotels through Hotellook, and private apartments through Airbnb.
Hotels
At the height of the tourist season (May-September), three-star hotels on the outskirts of Prague cost from 2,200 rubles per night (for example, Hotel Wolf) or 5,000 rubles for options located closer to the center (Pragapart).
In the hotel 4 stars you can stay at a price of 3000-7000 rubles per night. For example, good reviews of tourists gets Hotel Aida (from 3100 rubles per night).
Five-star hotels in Prague cost from 6,000 rubles. For example, the price of accommodation in the popular Hilton Prague Hotel starts from 6700 rubles per day, and in the Hotel King David Prague – from 8700 rubles.
During low season prices for accommodation in Prague are significantly reduced – by 20-50%.
Daily rent
To search for apartments and flats in Prague, it's convenient to use the service Airbnb – on it the owners themselves post proposals for rent. You can rent an apartment for 2-3 days as well as for a few weeks or a month.
Lodging in the historic center of Prague and in new districts with luxury homes (Districts 1, 2, 4, 6) is more expensive, and the apartments on the outskirts (districts 11, 12, 16, 17, 20, 21, 22) are cheaper.
Small apartments for 1-2 guests can be rented for 2000 rubles per day. The cost of an apartment with a great view of the Vltava River for a company of 3-4 people starts from 10000 rubles per day.
You can get a discount of 2100 rubles for the first booking if you register on Airbnb through our link.
View from the window of an apartment rented through Airbnb © Sahar Mann / unsplash.com
Food Prices
Prague has many supermarkets, cafes, restaurants, eateries and beer gardens. Food and grocery prices in the Czech Republic are comparable to Russian prices, but they may be overpriced in tourist spots.
Supermarkets
The most popular chain stores and supermarkets in Prague are Billa, Albert, Globus, Tesco, Kayfland. There is a farmers market with fresh dairy products, meat, honey, vegetables and fruits on Tylovo náměstí.
Food prices in Prague in 2022:
| | | |
| --- | --- | --- |
| Name | Prices in CZK | Cost in rubles |
| Milk (1 liter) | 14-25 CZK | 42-75 ₽ |
| Sour cream (250 g) | 25-28 Kč | 75-84 ₽ |
| Eden cheese (200 g) | 26-30 ₽ | 78-90 ₽ |
| Kefir (500 ml) | 18 ₽ | 54 ₽ |
| Cottage cheese (230 g) | 20 Kč | 60 ₽ |
| Yoghurt | 8 Kč | 24 ₽ |
| Butter (250 g) | 22 Kč | 66 ₽ |
| Sunflower oil (1 L) | 50 Kč | 150 ₽ |
| Mayonnaise (420 g) | 24 Kč | 72 ₽ |
| Ketchup (500 ml) | 27 Kč | 81 ₽ |
| Bread (500 g) | 10-21 Kč | 30-61 ₽ |
| Rice (1 kg) | 33 Kč | 99 ₽ |
| Buckwheat (1 kg) | 32 Kč | 96 ₽ |
| Eggs (12 pieces) | 30-40 ₽ | 90-120 ₽ |
| Chicken fillet (1 kg) | 110-137 Kč | 330-412 ₽ |
| Beef, mutton (1 kg) | from 220 Kč | from 661 ₽ |
| Pork (1 kg) | from 150 Kč | from 451 ₽ |
| Ham (1 kg) | 200 KZh | 601 ₽ |
| Sausages (1 kg) | 80-150 CZK | 240-451 ₽ |
| Champignons (1 kg) | 65 Kč | 195 ₽ |
| Water (1.5 l) | 12 Kč | 36 ₽ |
| Chocolate (100g bar) | 13-21 Kč | 39-63 ₽ |
| Lace Chips (150 g) | 40 Kč | 120 ₽ |
| Coca-cola bottle (500 ml) | 26 ₽ | 78 ₽ |
| Juice (1 liter) | 35 Kč | 105 ₽ |
| Jacobs instant coffee (200 g) | 160 Kč | 481 ₽ |
| Baby food (vegetable, fruit, meat puree) | 16-39 Kč | 48-117 ₽ |
| Cigarettes | 90-100 ₽ cigarettes | 270-300 ₽ |
How much fruit costs in Prague (prices per 1 kg):
oranges – from 20-34 CZK
bananas – 20-30 CZK
mandarins – from 19-20 CZK
pears – 40 crowns
apples – 20-29 crowns
lemons – 45 crowns
strawberries – 60 crowns
pineapples – 60 EEK (for 1 pc)
Prices for vegetables in Czech supermarkets – 2022 (per 1 kg):
tomatoes – 30-41 crowns
cucumbers – 20 crowns
potatoes – 15 crowns
beet – 35 crowns
cabbage – 14 crowns
onions – 14 kronor
green onions (per bundle) – 10 kroner
Video with prices in supermarkets in Prague in 2022:
Cafes and restaurants
Prices in cafes and restaurants in Prague can vary noticeably. To avoid overpaying for food, avoid establishments near sights – the cost of food in them is unjustifiably overpriced. Do not be lazy to turn from a busy square to a quiet street and you may well find a cafe with excellent food and moderate cost of food.
How much does it cost to eat at a cafe in Prague in 2022?
| | | |
| --- | --- | --- |
| Soup | 30 CZK | 90 ₽ |
| Beef knuckle (1 kg) | 350 Kč | 1052 ₽ |
| Salad | from 50 Kč | from 150 ₽ |
| Cheese platter | 130 Kč | 394 ₽ |
| Chicken dish | from 60 Kč | from 180 ₽ |
| Fish dishes | from 80 Kč | from 240 ₽ |
| Cupcake | 50-60 ₽ | 150-180 ₽ |
| Coffee | 40-60 Kč | 120-180 ₽ |
Average prices for a meal in Prague – 2022:
breakfast – 70-140 K CZK (215-430 rubles)
lunch or business lunch – 200 CZK (615 RUR)
dinner – 250 CZK
Do not forget about the tip, which is traditionally 5-10% of the order amount. Unless, of course, they are already included in the bill, which is customary in some restaurants.
How much is a snack on the street:
trdelnik (a traditional pastry on a spit) – 60-70 kronor
kebab – 89-100 kroner
dumplings and sausages 12 to 40 kronor
apple puff pastry 15 kroner
sandwich – 17-20 EEK
potato dumplings 60-100 crowns
ice cream (1 ball) – 30 kronor
coffee – 20-40 crowns
Alcohol
Beer prices in the Czech Republic in 2022 are low. For example, a classic Velkopopovicky Kozel costs only 11 crowns (33 roubles), a bittersweet Budevicky Budvar – from 15,5 crowns (47 roubles) per can, and Pilsner Urquell – 83 crowns (251 roubles).
By the way, in Czech beer houses the choice of dishes is not as diverse as in cafes, but the prices are much lower. Therefore, many tourists prefer to dine in pubs, combining the good with the cheap.
The cost of other alcoholic beverages in Prague is about the same as in Russia:
Hanacka vodka (500 ml) – 120 crowns (364 rubles);
Bechterovka liqueur (500 ml) – 180 CZK (546 RUR);
Fernet liqueur (1 liter) – 250-270 crowns (750-820 rubles);
Slivovice (500 ml) – 180-400 crowns (546 roubles-1,200 roubles);
Wine (750ml) – from 70 CZK per bottle (RUB 212).
One of the cafes in the center of Prague © pxhere.com
Excursions and attractions
Excursions
Approximate prices for excursions in Prague – 2022:
Introductory walks around Prague (including by boat or segway) – 20 to 45 euros per person;
Creative quests with a mystical twist – from 20 euros per person;
gastronomic tours with tastings of beer, wine, and sweets – 23-40 euros
Walks with photo session in small groups – from 80 euros;
Organized visit of the Prague Castle – from 10 euros;
A romantic flight over Prague for two – 280 euros.
Read more in the article: Prices for tours in Prague in 2022
Trips to other cities
The cost of tours from Prague to other cities is determined by their remoteness from the capital and the program of the trip. To visit Karlovy Vary, for example, you can for 26 euros, and Cesky Krumlov – for 33 euros per person.
Many tours can be booked online in advance. To find a group tour, use the site Sputnik8, and to select individual walks with a guide – Tripster service.
Sightseeing
The cost of admission tickets for the main sights of Prague:
Petřín Tower – 120 crowns (369 rubles);
Charles Bridge Museum – 170 crowns (522 rubles);
Týn Church – 25 CZK (76 rubles);
Tower under the clock of the City Hall – 250 crowns (769 rubles);
Jewish Museum – 330-550 CZK (1,015-1,700 rubles);
Alphonse Mucha Museum – 250 crowns (769 rubles);
Franz Kafka Museum – 200 crowns (615 rubles);
Wax Museum – 160 EEK (490 rubles);
National Gallery – 300 EEK (RUB 922);
Žižkov TV Tower with observation deck – 180 CZK (550 rub).
Some attractions in Prague can be visited for free – for example, Charles Bridge, Dancing House, some locations of Prague Castle.
Tower next to the Charles Bridge © Matthew Cramblett / unsplash.com
Other attractions
Prices for visits to other interesting places in Prague:
Prague Zoo – 200 crowns (615 rubles);
Aquarium – 280 CZK (860 rub);
Water park – from 719 CZK (2200 rub);
Park entertainment for children and adults Beckiland – 190 CZK (580 rubles);
800-meter bobsled run Prosek – 60 crowns (180 rubles);
Beer SPA from 1,600 to 8,000 crowns (4,900 to 24,600 rubles).
Everywhere except Beer SPA, there are discounts for children and pensioners.
How much clothes costs in Czech Republic
Prices for clothes and shoes in the Czech Republic are noticeably lower than in Russia:
Levis jeans cost 1,500-2,000 crowns (4,500-6,000 rubles);
A men's cotton shirt costs 250-300 CZK (800-900 rubles);
Summer dress – 780 crowns (2300 rubles);
Skirt – 150-400 CZK (500-1200 rubles)
Down jacket – 1600-2000 CZK (5000-6000 rubles)
Boots – from 150 crowns (450 rubles);
A pair of men's leather shoes – 2,170 crowns (2,600 rubles);
A pair of boots – from 500 EEK (1500 roubles)
A pair of Nike sneakers – 1,700 crowns (5,300 rubles).
The lowest prices for clothes in the Czech Republic are in January. The fact is that after the Christmas and New Year holidays, stores arrange sales of the remaining items at very low prices.
In addition, in the spring and summer in Prague you can bargain (with a discount of 50-70%) to buy branded goods (F & F, H & M, Mango, Zara, Adidas, Levi's, Mexx, Puma) from the winter collections.
How much money to bring
How much a tourist will cost for a three-day vacation in the Czech Republic – 2022, taking into account the lower and upper price range: