How much does it cost to live in Bali in 2022?
This article will not be about a tourist trip to the island. Because tourists, on average, spend 3 times as much money on entertainment, sightseeing, and living the high life.
And I want to talk about the cost of wintering on the island or living in the country for a long time. First, so you can also see the local attractions and visit a lot of beautiful places, but without the rush, without forcing events. Secondly, because I myself did not come to Bali as a tourist and was planning to stay here for an indefinite period, and, therefore, was not just looking for a hotel for the night, and a comfortable villa for the whole family, where all the infrastructure will be within walking distance.
In fact, they are almost indistinguishable from the Russian list. But we will start counting the cost from the move itself, so you can see all the costs and be fully prepared for life on the island.
So, the list of major expense items includes:
Flight to the country.
Visa registration and renewal
Insurance for the duration of stay
Housing
Transportation
Communications
Food
These are some of the expenses you won't miss if you decide to stay in Bali for a while.
If you're going with children, you'll need to pay for a babysitter who will look after your child and help you with household chores.
This, too, is worth mentioning right away, so that you have an idea not only about the prices in the country, but also about the quality of life in general.
The local currency in Bali is the Indonesian rupiah.
Right now its exchange rate is:
1 dollar = 14,875 rupiah.
1 ruble = 250 rupiah.
If you allow me, in this article I will present all figures in dollars, because Bali is a dollar zone.
Right now there are no direct flights from Moscow. This may change soon, because in June the leaders of the two countries discussed the resumption of direct flights from Moscow to the island of Bali.
So far this has not happened, everyone is flying via connections through several countries.
The most optimal route, which I have found so far, is as follows:
Fly from Moscow to transit to Istanbul, and from Istanbul to Denpasar airport. The luggage can then be sent directly to the final flight.
Prices for September 2022.
In the meantime, let's establish that the best flight option will cost an average of 162,000 rubles.
Yes, this option is much more expensive than what you can find. But this cost is justified by the following factors: no need for additional visas, no need to get a vaccine against covid a particular company, to translate certificates, to sit in quarantine for two weeks. You can also accidentally buy a ticket on which only representatives of the country or people with a residence permit can fly. I'll tell you about this in the next article, if you are interested in the topic of choosing a ticket.
For now, let's establish that the best option for a flight will cost an average of 162,000 rubles.
The first thing I would like to point out in this matter is that the Indonesian authorities are doing everything to simplify the procedure for finding foreigners, because they are interested in the inflow of foreign capital into a healthy growing economy of the country. Everything they declare is confirmed by their deeds.
Since May 30, 2022, Indonesian authorities expanded the list of states whose citizens can come to the country by obtaining a visa on arrival. Russia, Ukraine and Belarus are among them.
What does it mean for you?
You can fly to Bali and buy a tourist stamp at the airport for 35 dollars. We paste it into your passport and you can stay for 2 months with this visa. The visa has an extension option: you can extend your stay 2 times for 2 months each. Visa extension will cost $185.
If at the time when the tourist visa and all its extensions are over, you feel that six months is not enough for you, you can go shopping, for example, in Singapore. By doing so, you will fly/arrive to Indonesia and can stay in the country again on a tourist visa.
If you want to stay for a longer period, then apply for a work visa Kitas. On it you can stay on the island for 2 years. It can also be extended for 2 years.
After two years of stay on the island issue a visa Kitap. It is issued for 5 years.
Kitas and Kitap visa is the first step to obtaining a residence permit for residence in Indonesia.
Let me say right away that insurance is not on the list of required documents for tourists and visa extenders. But it will save you from unplanned and large medical expenses if something suddenly happens.
That's why I've taken into account the mandatory insurance limit, with which you will feel more confident in the country.
The cost of the mandatory insurance limit today is up to $1,500 per year.
Here I decided to look at a few options and show you real examples of villas that you can rent for a long time.
I chose all the prices and pictures on the boqing and they are up to date as of August 2022. Here will be options with monthly payment in three options – a room in the complex (apartments), a budget villa segment and a segment for comfortable living.
Bali: all about food and prices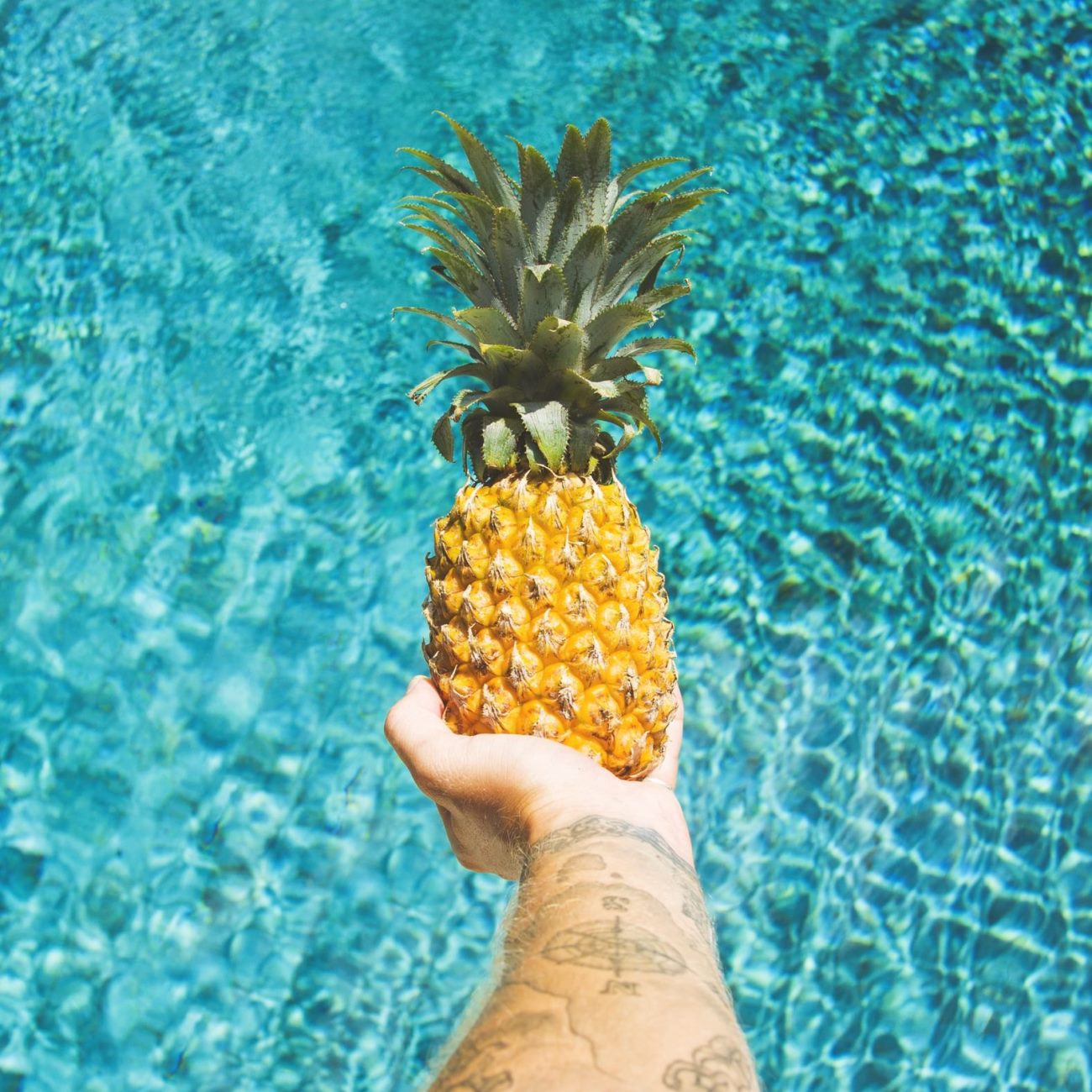 Here's a look at Bali's food, liquor, fruit and grocery prices in 2022. For those planning to live on the island paradise, a calculation of how much it costs to live in Bali per month. Sharing tips!
We made a HUGE guide for those who want to know EVERYTHING about food prices in Bali. It's almost like a dissertation! Read it and you'll know Balinese prices better than Russian prices.
Exchange rate: 10 000 Indonesian Rupiah (IDR) ≈ 37 RUB.
For clarity we substituted bulky zeros with K denotation – it's thousands of rupiahs.
Contents:
Food in Bali: what to try
Nasi Goreng. Nasi goreng – fried rice with vegetables, crispy krupuk chips and a fried egg. Nasi goreng is the head of everything, the main dish in Indonesia. It comes with chicken (Ayam), special with kebabs (Special), vegetarian, and seafood. Surprisingly, we have been eating Nasi Goreng for months and we are not bored with it at all!
Mie Goreng. Mie goreng is fried noodles. Everything is the same as the nasi goreng. I don't like this type of noodle because it reminds me of Rollton. Better try kwetiau goreng (kwetiau) – these are fried noodles like pad thai.
Nasi Campur. I call nasi campur "set rice" because it comes with different toppings of your choice if it's a buffet, or the chef's choice if it's a cafe menu item.
Rendang is meat stewed in a spicy coconut sauce. There is Tuna Rendang with tuna, Jackfruit Rendang with jackfruit, etc. Tuna is divine, we recommend it!
Gado-Gado. Gado-Gado is a warm vegetable salad with an incredible peanut sauce. The composition can vary according to the chef's taste: tofu, tempeh, boiled egg, soy sprouts, chips, corn, etc.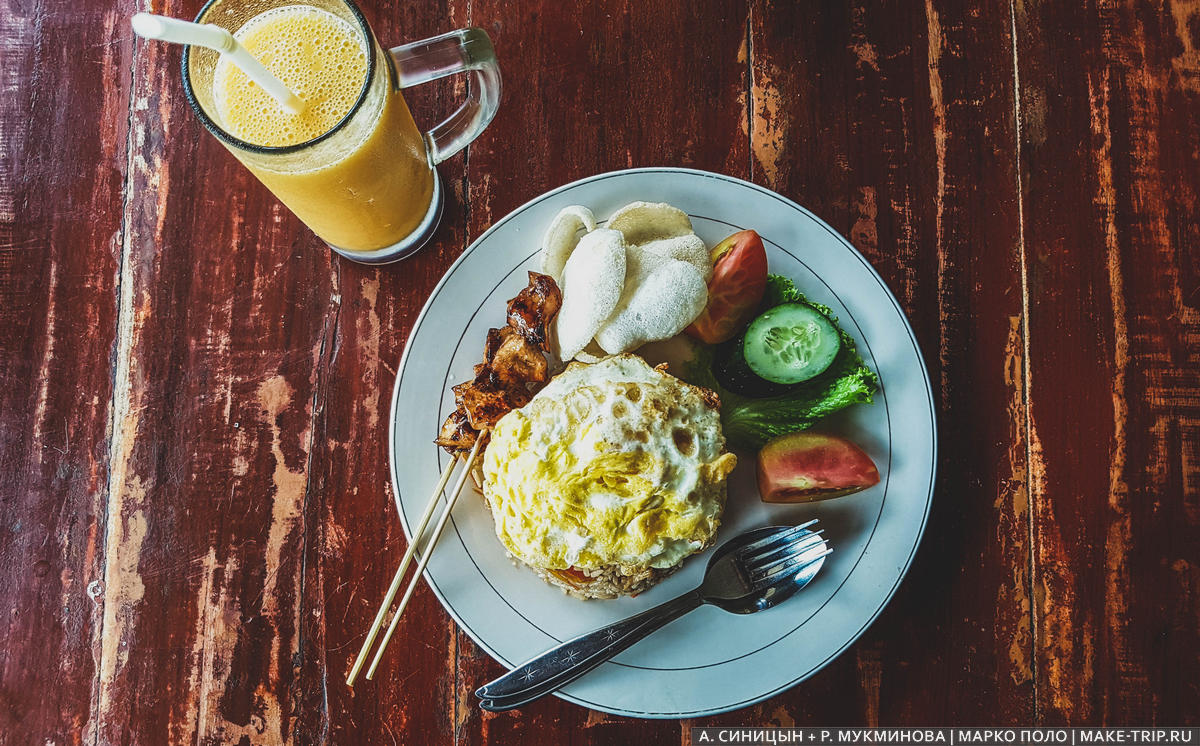 Nasi goren is a staple dish in Indonesia.
Sate. Satee – mini kebabs on skewers. It may be chicken, pork, or beef. Usually served with peanut sauce.
Cap-Cay. Cap-Cay is a weird Chinese dish! Lots of different veggies in a sour cream, sometimes with seafood. Did not like it.
Bakso. Bakso soup is a popular roadside food because you don't have to cook it. All the ingredients are simply poured in broth. It doesn't taste that good, but if you want a quick snack that is hot and cheap on the road, it works
The ingredients are pressed rice, noodles, vegetables and meatballs, supposedly chicken, but the taste is not identified as chicken. If it says Ayam it should be chicken, Ikan it should be fish.
Soto Ayam. Soto Ayam is a soup with pieces of chicken, eggs, noodles, and vegetables, sometimes nasty pressed rice.
Bubur. Pudding with coconut milk or cream of black rice. Tasty, but wouldn't eat it a second time – plain rice porridge, quite bland.
Pisang Goreng. Fried bananas in batter, sometimes served with an ice cream scoop. Nourishing, sweet, and hot!
Roasted bananas are a hearty and delicious dessert. Usually served with an ice cream scoop.
Prices for food in Bali cafes – 2022
White man = bag of money. This rule works almost everywhere in Southeast Asia, including Bali. The fact that Bali is cheap is already a myth. Yes, it used to be cheap. Now the island is spoiled by tourists, and for foreigners the prices are very high, although not yet so in the hinterland. So budget a decent amount for food – the cost of living in Bali is not low. A striking example: durian at the market in Ubud is sold for 50-100K depending on the degree of insolence of the seller. And in the north of Bali, we used to buy the same size durian for 20-25K.
Prices in Bali restaurants
Here it is clear – everything is expensive. Unpretentious main dishes usually cost from 140K (from $10), and that's the minimum. Seafood and meat are more expensive.
Tip. Do not go to expensive restaurants, especially in hotels. You came to Bali, so try the local food in an inexpensive authentic Varunga – it's the same or better. In Ubud, for example, there are a lot of good cafes, including European dishes. We deliberately do not eat in soulless and pathos restaurants. It's much nicer to go to the varung for three tables, which belongs to a nice Balinese family, don't you agree? It's homey and cozy, and the staff are genuinely happy to see every visitor – you can feel it.
This is what the varung looks like for the locals: simple interior, oilcloth on the table, bahasa menu hangs on the wall, and the staff does not know English. We stopped on the way to Agung Volcano. This is what a varung looks like for foreigners: nice interior, nice furniture, menu in English.
Prices for food in cafe varungas in Bali
If you want to live on a budget in Bali, look for warung cafes. However, they come in all shapes and sizes, from cheap for locals to more expensive for tourists.
Warungas for locals are immediately recognizable: simple interior, food behind a glass counter, a little unkempt. The staff hardly speaks English, there is not always even a menu. But it is cheap! They usually serve two or three national dishes: nasi goren – fried rice, mi goren – fried noodles, and variations of them with meat. There are cafes that specialize in one dish. For example, near the lakes in the north of Bali, there are many varungas with Bakso Ayam soup.
Tip. If you want to travel around the island, learn or write down the names of the main dishes and numbers in Bahasa, the Indonesian language. You know, the locals are happy as children when they hear from a foreigner native speech! Just for the smiles it is worth learning a few phrases
Plus it helps to save money on food when you travel.
Bali food prices in 2022 in varungas for locals:
Nasi goren with vegetables (fried rice) – 10-15K
nasi goren with meat – 25-30K
mi goren with vegetables (fried noodles) – 10-15K
mi goren with meat – 25-30K
baxo aiyam soup – 15K
fresh juices – 5-10K
coconut – 10-15K (on the road found for 5K).
In Warungs for foreigners pleasant interior, wooden furniture, closed kitchen, extensive menu in English, staff also knows the language. Quiet music is played, lanterns are lit – in general, everything is done to suit the tastes of foreigners. There's a gradation in prices: there are inexpensive, medium, fancy cheesy more expensive, etc.
Tip. The litmus test is the prices of nasi goren and mi goren. Normally these meat dishes are 20-25K, and if it's higher than 50K, then the owner is a fabulous greedy. Once we walked into a roadside unkempt varung by Lake Buyan, and they handed us a menu for foreigners where the nasi goren with meat cost 80K!
Food prices in Bali in 2022 at varungas for tourists (inexpensive to medium):
Nasi goren / mi goren with vegetables or chicken – 20-25K
Nasi goren / mi goren with chicken – 30-40K
Nasi kampur – 20-30K
Chicken with pesto sauce – 30K
Soups (Soto aiyam, pumpkin or tomato) – 15-25K
Salads (gado gado, Balinese, Greek) – 20-25K
Rendang with tuna – 30K
Curry with chicken – 30K
Omelets – 15-20K
Meat / fish kebabs with rice – 20-30K
Fresh juices – 10-30K.
The cafe does not only prepare national dishes amazingly! This chicken pesto is my favorite. In the varungas for foreigners, feel free to try everything!
The desserts on the island are pretty monotonous, but tasty and hearty. If you are not too hungry, fried bananas or banana caramel can replace a full meal. We advise not to repeat our mistake – order them after the main meal. Balinese can easily bring dessert first! Here are the prices:
Traditional black rice pudding – from 12K
Banana split, from 15K
Pancake with sauce or toppings – from 12K
Banana caramel – 17K
Fruit salad – 15-30K
Fried bananas – 15K
Note that some establishments have a service charge – usually 5-15%.
Look for Bali tours at MyBaliTrips.com. Here are the most popular ones:
Black rice and coconut cream dessert.
Bali Food Prices – 2022
To calculate how much it costs to live in Bali, you need to know the prices of food. You're not going to eat three meals a day at a cafe, are you? Usually tourists who live on the island for a long time cook at least breakfast at home – it saves money.
Food prices in supermarkets in Bali are very common. Some products are cheap and some are more expensive than in Russia: milk, yogurt, cheeses, alcohol, chocolate.
In the big supermarkets like Coco Mart and Carrefour, there is a wide range. It is advantageous to buy fruits and vegetables, fresh juices, pastries.
Food prices in Bali in 2022 in the supermarket Coco Mart:
yogurt (glass) – 9K
imported milk (1 l) – 30K
potatoes (kg) – 21K
tomatoes – 6-10K
shrimps (kg) – 187K
cookies – 7-15K
fresh juice – 8K
bottled juice (0,5 l) – 14-15K
peanut – 10K
fresh eggs (10 eggs) – 18,5K
banana muffins and other pastries – 6-15K
In small stores by the roadside like Indomart and Alfamart we only bought water. They have all sorts of little things: juices, yogurts, milk, bread, cookies, chips, and beer snacks.
– pick the best! : photos, descriptions, tips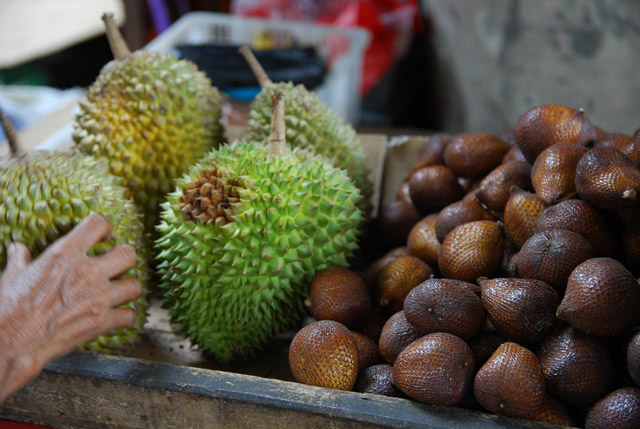 Durian and Salak. Salak in Bali is different from salak in other SEA countries – it is smooth and thornless. It tastes sweeter and the flesh is firmer. Photo: avlxyz / flickr.com.
Fruit Prices in Bali
In supermarkets and street stalls in Bali, we bought fruit at these prices (per kg in 2022):
Pitahaya – 15K.
Melon – 20-26.5K
Marquesas – 45-47K
Rambutans – 18K
Pineapple (backing) – 28.5K
Salak Bali – 20-22K
Carambola – 20K
Bananas (kg) – 23K
Watermelon (kg) – 20K
Mangosteen – 20-35K
Small durian 10-40K (10-15K – roadside, 40K – market)
Large Durian – 25-60K (20-25K – roadside, 60-100K – market)
Papaya – 7-15K
Mango – 25-50K, in season – 10-15K
Coconut (pcs) – 10-15K
Vanilla – 35K
The fruit is cheaper at the stalls by the road. For example, we used to buy a medium sized durian for 20-25k. Once we found a durian paradise – a pickup truck with fruit right by the road! Farmers were knocking durians off the trees and sold us a few.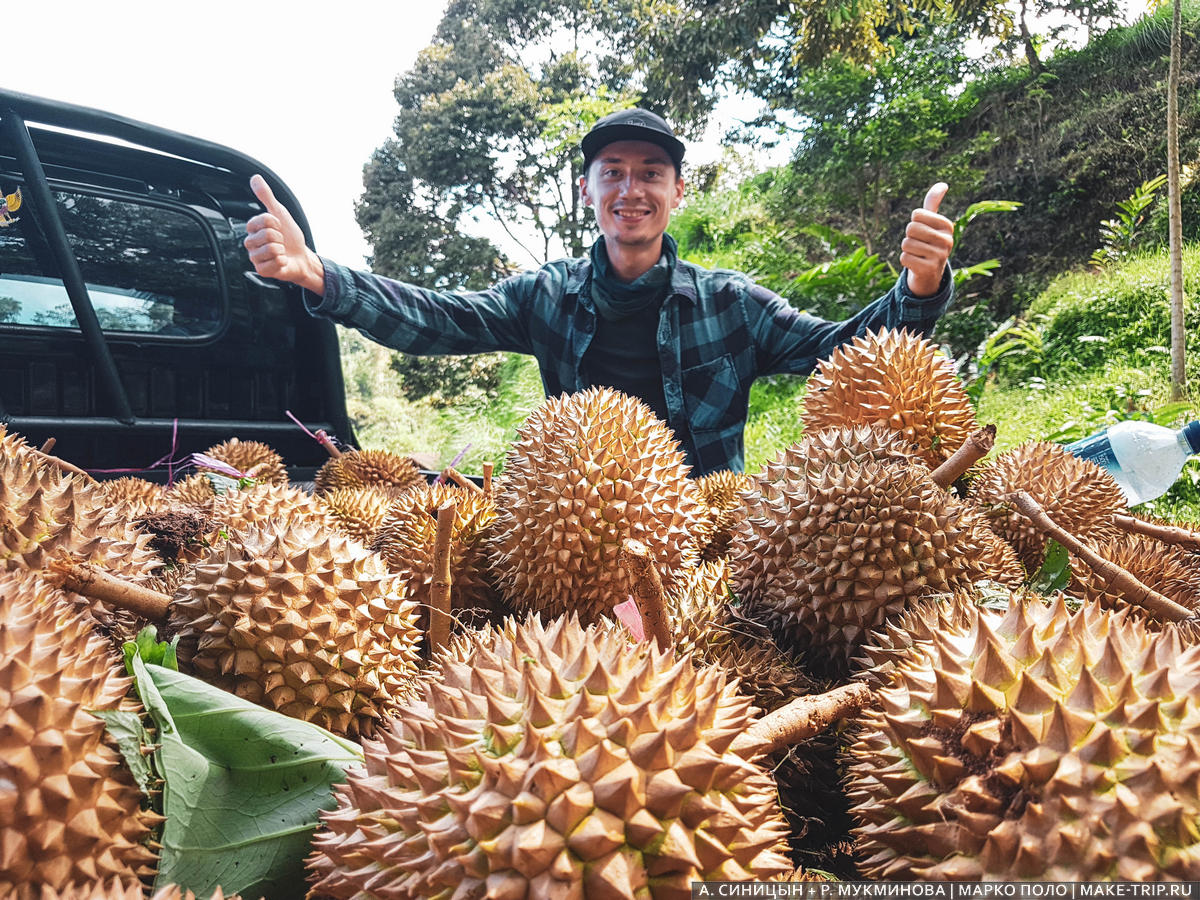 Durian Paradise. Stumbled upon a farmer's pickup truck with amazingly delicious and ripe durians – just off the branch!
The cost depends on the season and the variety of fruit. For example, it was out of season for mango, marquise and durian, so they were expensive. Prices can vary – how much someone overcharges
Learn more about all the tropical fruits of SEA: when in season, how to choose, what they taste like.
Point of view. We buy fruit almost always in supermarkets – it saves time and nerves. No need to haggle until the pulse, pour sweat on the stuffy market and make sure they were not cheated. We do not like hagglers at the market and we have had negative experiences with them. The prices in the store are acceptable to us, and during promotions they are even lower than market prices. If you are gambling and know how to haggle, buy fruit at the market – it will be a little cheaper than in the store.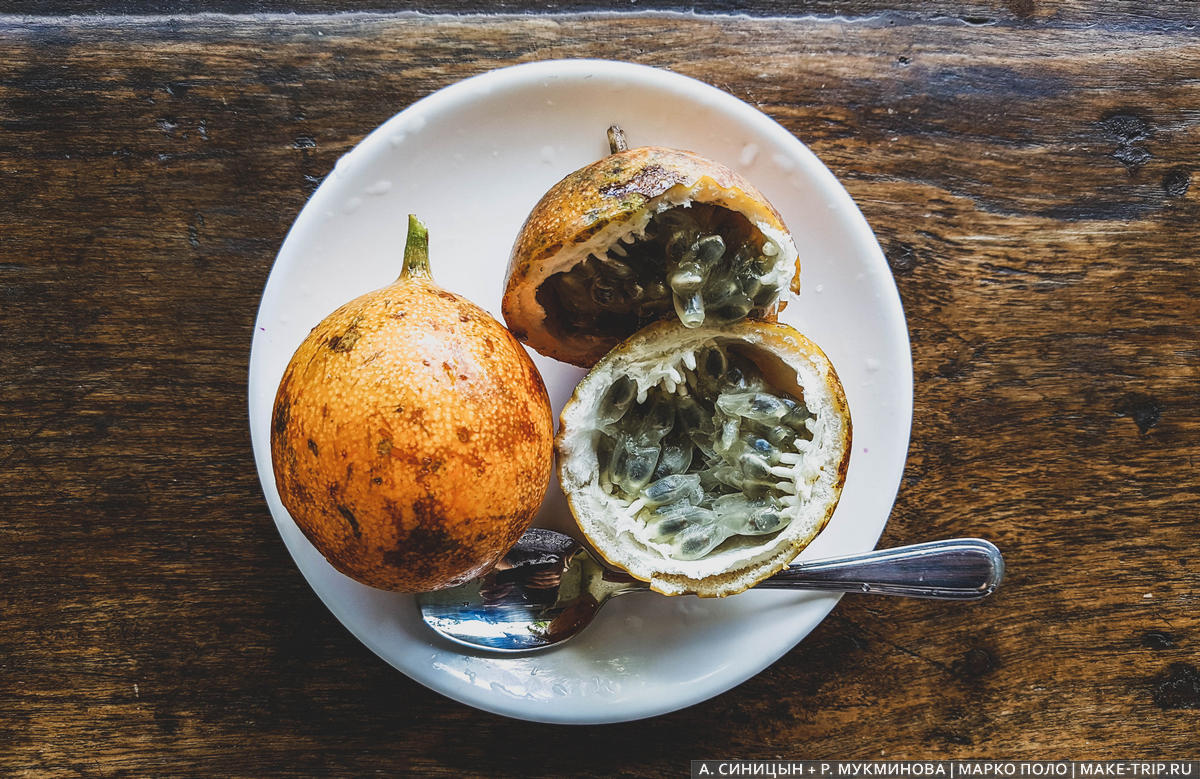 Marquesa is a type of passion fruit. It is sweet, large, with crunchy seeds. It ripens in the winter, but it was also sold almost everywhere in the spring, only more expensive.
The prices of alcohol and drinks in Bali – 2022
Alcohol. The most popular beer with foreigners in Bali – "Bintang" (Bintang). Many people add to it the epithet "favorite", but we did not like it – piss piss, like in Vietnam (lovers of "Bintang" forgive me). If we wanted a beer, we took a Guinness.
Here are the prices of alcohol in Bali in 2022:
Guinness beer (0.3L) – 28K
Bintang (0.3l) in the store: 18K
Bintang" beer (0.6 liters) in a cafe – from 35K
alcoholic cocktails in cafe – 70-85K
palm wine Arak in cafe – 10-17K
rice wine Brem in cafe – 10-17K
wine local Hatten or Two Islands costs 200K on average (sometimes you can buy it for 150K)
Aussie wine averages 400K.
Other drinks. In the resorts everything is more expensive. In the north of the island, we bought the same freshes three to four times cheaper! Of course, the stall in the village will not make some fancy banana, but the juice from the vani fruit is just as good and costs only 5000 rupees.
Prices for drinks and juices in cafes and street stalls in the resorts:
Milkshakes – 30-35K.
Freshly squeezed juices 12-30K
Fresh Juices on the street – 15-20K
Smoothies / Lassi – 24-30K
Balinese coffee – 5-12K
Coconut on the street or in a cafe – 10-15K.
How much does it cost to live in Bali per month. Our budget
So how much does it cost to live in Bali for a month (in terms of food)? With these prices and a fairly modest diet, you can manage $400 for two people, if a little chic, up to $500-600.
The cost of living in Bali per month. Our food and lodging expenses (for two people):
| | |
| --- | --- |
| Cafe | 334$ |
| Fruit and Freshies | 87$ |
| Groceries and drinks | 28$ |
| Beer | 21$ |
| Hotels | 744$ |
| Total for food | 470$ |
| Food + lodging | 1214$ |
Total spending on food: $470 for two people. That is 15,000 ₽ per person. Or 500 ₽ per day per person – so it already seems like pennies!
Indeed, it's not much, considering that we only ate in cafes, ate lots of fruit (including expensive ones), and didn't have a single day without juices. But everything is learned by comparison! In Vietnam, we spent $ 250 for a month – almost half as much for the same appetites.
Read about the prices of accommodation, transportation, visa, attractions – in the article "How much does it cost to vacation in Bali".
Check out how much it costs to live in Bali:
| | | |
| --- | --- | --- |
| Type | Price per day | Example |
| Bed in a hostel in Kuta | from $7 | Gong Corner Homestay |
| A hostel on the beach in Kuta | from 9$ | Rena Segara House 2* |
| A decent hotel in Seminyak | from 25$ | The Atanaya Hotel Bali 3* |
| Villa / Bungalow in Seminyak | from $45 | Disini Villa |
| 5* Hotel | from $50 | Sienna Villas Seminyak Hotel 5* |
| Villa with private pool | from 100$ | Villa Eight |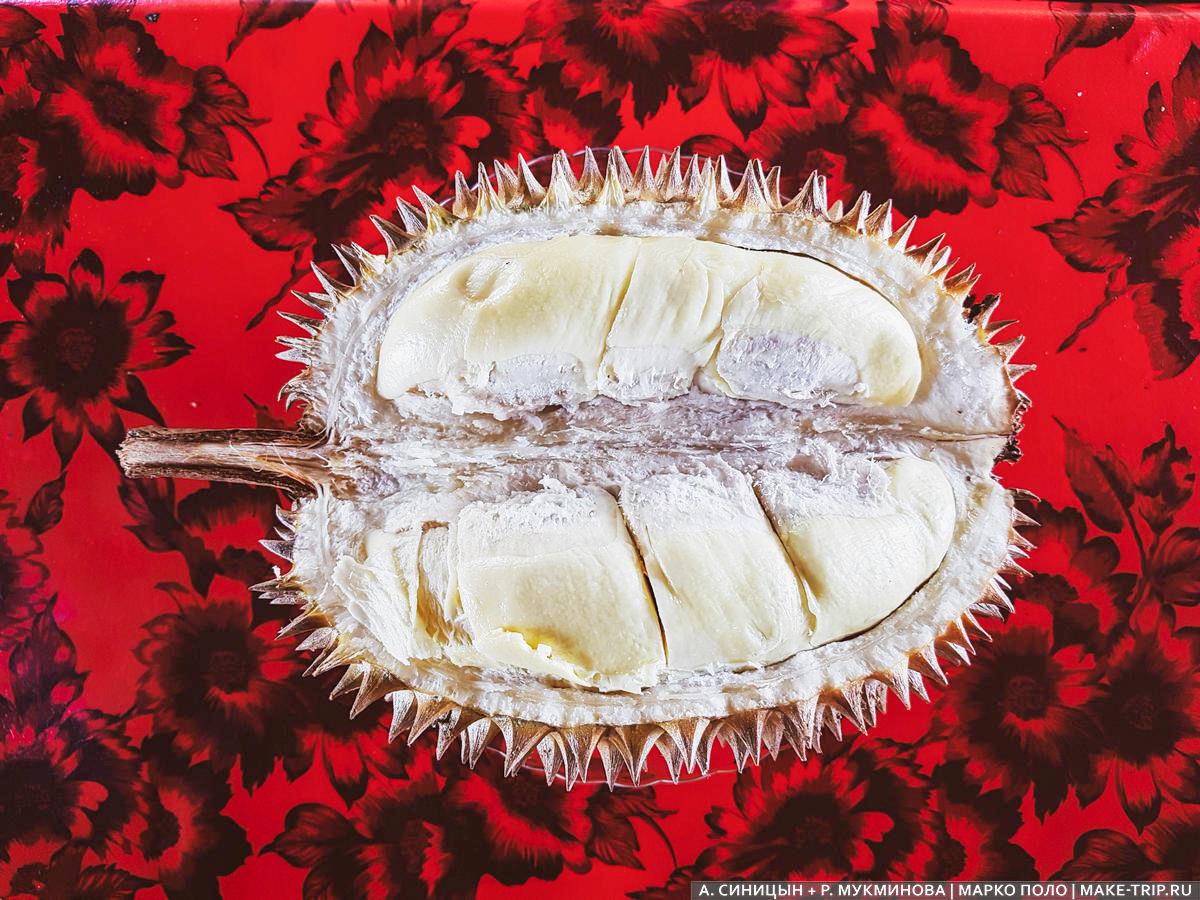 Durian is the king of fruits and our favorite food in Bali.
Conclusions: is Bali cheap or expensive?
We lived in Bali for exactly one month. We did not cook anything by ourselves, we ate at varungas designed for tourists, because there are no truly local establishments in popular resorts at all.
Bali is an incredibly touristy place. The entire island serves millions of holidaymakers – a huge industry we have never seen anywhere else in Asia.
We were fed breakfast in the hotels, and when we lived in a villa, we started the day with fruit. We ate lunch and dinner only in cafes. We had a kitchen everywhere, but why do we need one when there is so much delicious and varied food around?
The average check for two people for 2-3 meals and 1-2 juice/coconut was $6-10 depending on the price level of the establishment and our hunger. That's not cheap: In Vietnam, Thailand, Malaysia, and other Indonesian islands, we spend half as much on a meal.
But Bali has advantages:
All cafes are clean, tidy and pleasant. No cockroaches, garbage on the floor, flies, or other trappings of cheap Asian eateries. Any princess will like it.
Balinese are connoisseurs of beauty, harmony and tranquility. Almost all cafes they decorate with paintings, carved furniture, lamps – it is cozy and pleasant to dine in such an interior. Quiet national music is often played, which is relaxing. No TVs and noisy companies. Good!
A great variety of dishes. Tourists – people are spoiled and demanding, few of them are ready to eat only rice for weeks. Therefore, every cafe in Bali offers dishes from different cuisines: Indonesian, Italian, Mexican and others. The food will never bore you.
You can conclude that Bali's value for money is excellent. For a little money you can get a lot of good things: a delicious and varied food, an abundance of fruits and juices, as well as cheap villas and nice hotels. Come on!