Where to celebrate New Year in Russia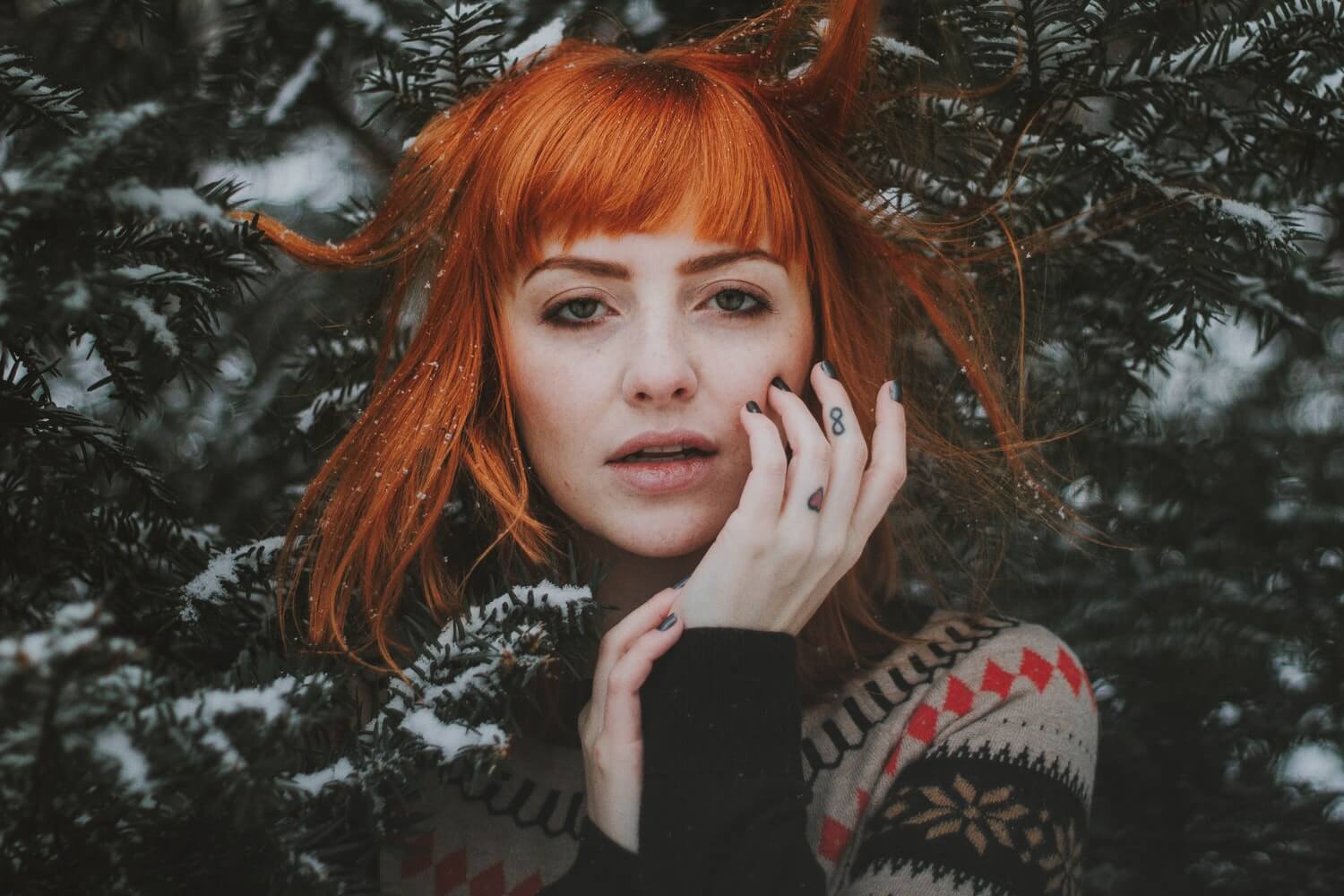 7 places in Russia where you can go to celebrate New Year's Eve 2022. Useful information on each destination: the cost of the flight, accommodation and New Year's Eve dinner in a restaurant.
Contents:
Karelia
It is necessary to go to Karelia to celebrate New Year 2022 for all fans of outdoor activities and unspoiled nature of the north of Russia. There are many things to do here: winter fishing, sledding and dog sledding, excursions. Learn how to have a good rest in Karelia in winter.
How to meet. Rent a cottage or a house at the recreation center and spend New Year's Eve with your loved ones. You can stay in town and go to a restaurant. On New Year's Eve, take a tour – there are many attractions in Karelia. Read more about how to celebrate the New Year in Karelia.
Weather. On New Year in Karelia (and in December in general) usually it is -5. -7°C, but sometimes there are thaws and frosts. Winter is snowy and mild. Humidity in this region is high and windy, so the cold is hard to bear. It is advisable to be well insulated before the trip.
Average prices on New Year's Eve per person:
| | |
| --- | --- |
| A compartment ticket from Moscow | 2 500 ₽ |
| Airfare to Petrozavodsk and back | 8 000 ₽ |
| Tour with accommodation and sightseeing, but without tickets | 13 000 ₽ |
| New Year banquet | 6 000 ₽ |
| A room in a nice hotel or vacation home | 2 000 ₽ |
In winter, tourists prefer to rent a cottage or house at a recreation center. Photo: heftiba / unsplash.com. Frozen waterfall in winter in Karelia. Photo: GrinPhoto / Depositphotos.com.
If you want a warm New Year in Russia, come to Sochi. Someone will say that there is nothing to do there in winter. Do not believe it! You will enjoy strolling through the deserted resort, explore the arboretum, go on excursions, admire the winter sea and enjoy relatively warm sunny days in the middle of winter. It's also worth going to ski resorts to go skiing or just to admire the snow-capped mountain peaks. Find out what else you can do in Sochi in winter.
How to meet. On the night of December 31 to January 1, you can walk around the city center and watch the fireworks or have dinner in a restaurant. Many hotels offer a holiday program and banquet. We advise to choose a hotel with a heated pool and spa services to properly relax. Read more about how to celebrate the New Year in Sochi.
Weather. The air during the day can get as warm as +15°C, but at night the temperature drops to +5°C. Snowfall is extremely rare, and if it happens, you will be lucky enough to see the powdered palm trees.
Average prices on New Year's Eve per person:
| | |
| --- | --- |
| Airfare Moscow ↔ Adler | 10 000 ₽ |
| Tour from Moscow | 15 000 ₽ |
| New Year banquet | 4 000 ₽ |
| 4* hotel room | 3 000 ₽ |
Animators at "Sochi Park" on New Year's Eve. Photo: IvanVislov / Depositphotos.com. New Year Salute in Sochi. Photo: Sivenkov / Depositphotos.com.
Krasnaya Polyana.
A great way to cheer up is to go to the mountains on New Year's Eve 2022. Russia's most popular ski resorts are in Krasnaya Polyana. They are European-tidy and resemble alpine villages. Even if you do not like skiing, it is worth a vacation in the mountains for the clean air, beautiful scenery and cozy hotels.
How to meet. During the day, walk and admire the views, ride the cable car, ski, sled, snowmobile or snowboard. In the evening, relax in the hotel – many offer sauna and spa services. After the holiday, go to Sochi or visit local attractions.
Weather. Winter in Krasnaya Polyana is mild with many sunny days. By the end of December, a lot of snow falls. The temperature in December, 0. -5 ° C.
The price of the question. Round trip flight Moscow-Sochi during New Year vacations costs from 10 thousand rubles. Accommodation prices for New Year – 2022 start from 5000 rubles for two people. Search for hotels at a discount on Hotelluk.
Krasnaya Polyana in winter. Photo: tetrakiss / unsplash.com. The total length of trails – 102 km. Photo: irinabal18 / depositphotos.com.
Veliky Ustyug.
If your child believes in Santa Claus and the Snow Maiden, go to Veliky Ustyug. This is one of the most popular destinations for the New Year in Russia among holidaymakers with children.
How to meet. Visit Ded Moroz's Votchina and the city residence. New Year's Eve is usually met in restaurants. And during the vacations, tourists walk around the city, admire the architecture, go on excursions and go skiing and tubing. Read more about celebrating New Year's Eve in Veliky Ustyug.
Weather. Winter is long and snowy. Temperatures drop to -5. -15°С. There are no strong winds.
The price of a question. Popular tours for 3-5 days from Moscow and St. Petersburg – they cost about 20-25 thousand rubles per person. If you want to get to Ustyug either by car or by train to Kotlas, you can get there by bus. You can reserve a hotel room or rent an apartment from 1500 rubles per day. To rent a cottage costs from 5000 rubles. Look hotels with discounts on Hotelluk.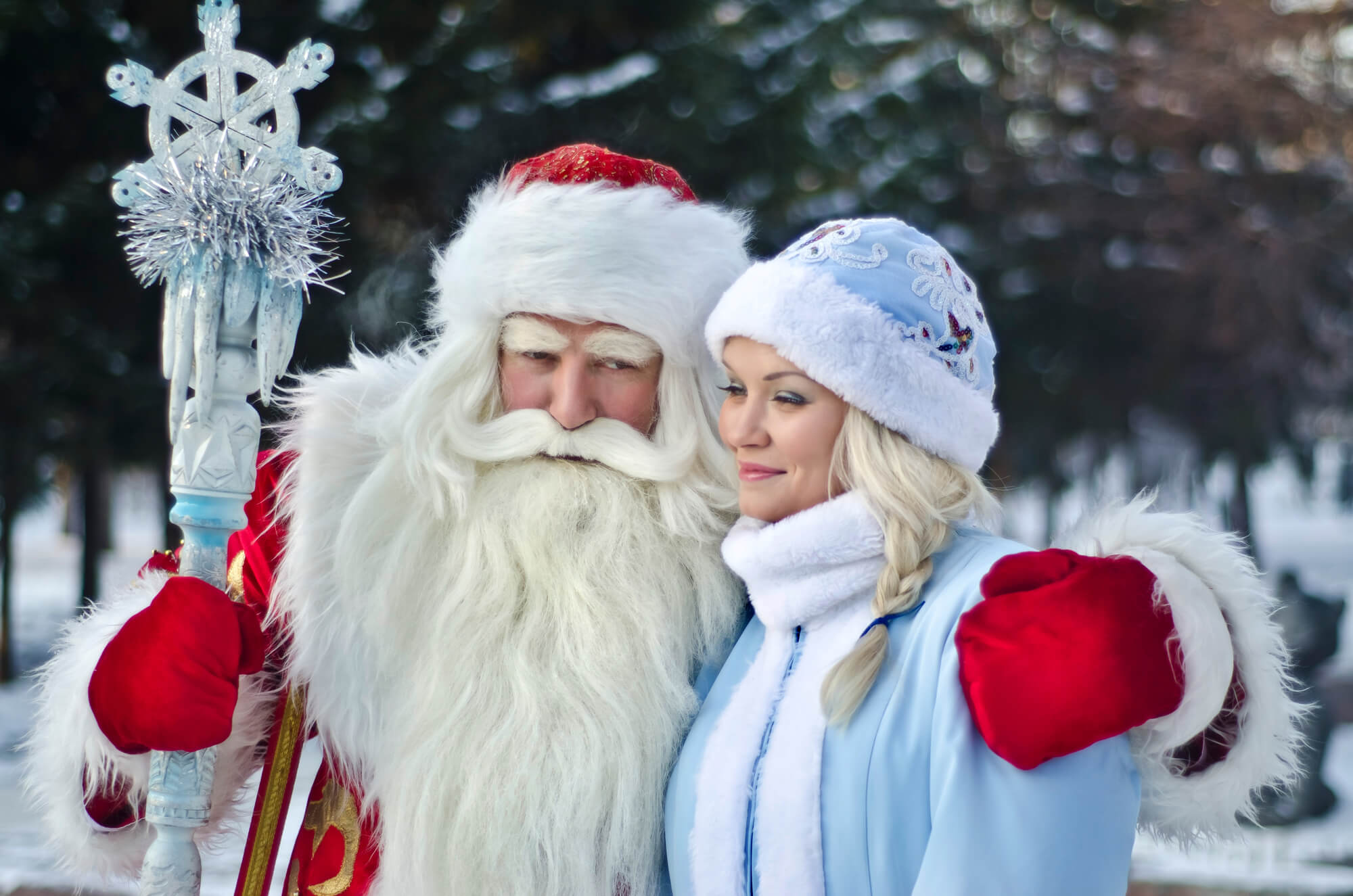 People come to Veliky Ustyug to meet Santa Claus. Photo: Sergo221972 / Depositphotos.com.
Who said that the Crimea is only a summer destination? Many go to the peninsula and in winter.
How to celebrate. Most tourists meet the New Year in a hotel, restaurant or on the seafront. Yalta is the New Year's capital of Crimea, and all the entertainment is concentrated there. If you're looking for snow, go to Ai-Petri and Chatyr-Dag. Read more about how to celebrate the New Year in the Crimea.
Weather. On average it's +5°C on the coast. The weather can change, it can sometimes rain. But snow and frosts are a rarity. Learn more about the weather in the Crimea in winter.
Average prices on New Year's Eve per person:
| | |
| --- | --- |
| Airfare to and from Simferopol | 7 000 ₽ |
| Tours from Moscow to Yalta | 12 000 ₽ |
| New Year banquet | 3 000 ₽ |
| 4* hotel room | 2 000 ₽ |
The ruins of the ancient Greek city of Chersonesos in Sevastopol in the snow. Photo: tycoon / Depositphotos.com.
Kazan
Don't know where to go on New Year's Eve – 2022 in Russia? Feel free to go to the capital of Tatarstan. Take a stroll through interesting routes in Kazan and try the local cuisine.
How to celebrate. Spend New Year's Eve in a restaurant of national cuisine, trying the local unusual dishes: sweet pie gubadiya, pirozhki echpochmak, honey chak-chak and hearty kystybiy. Find out where to eat tasty and inexpensive food. On vacation, go to the Riviera water park. With children, go to the residence of the local Santa Claus, who is called Kysh Babai, and the Snow Maiden – Kar Kyzy. It is located in the village of Yana Kyrlai. Read more about how to celebrate the New Year in Kazan.
Weather. Winter is moderately cold. Daytime temperatures in December average -3. -11°С. There are days with plus temperatures, and sometimes it goes down to -25 ° C.
Average prices on New Year's Eve per person:
| | |
| --- | --- |
| Round-trip airfare. | 5 000 ₽ |
| 4* hotel room | 2 000 ₽ |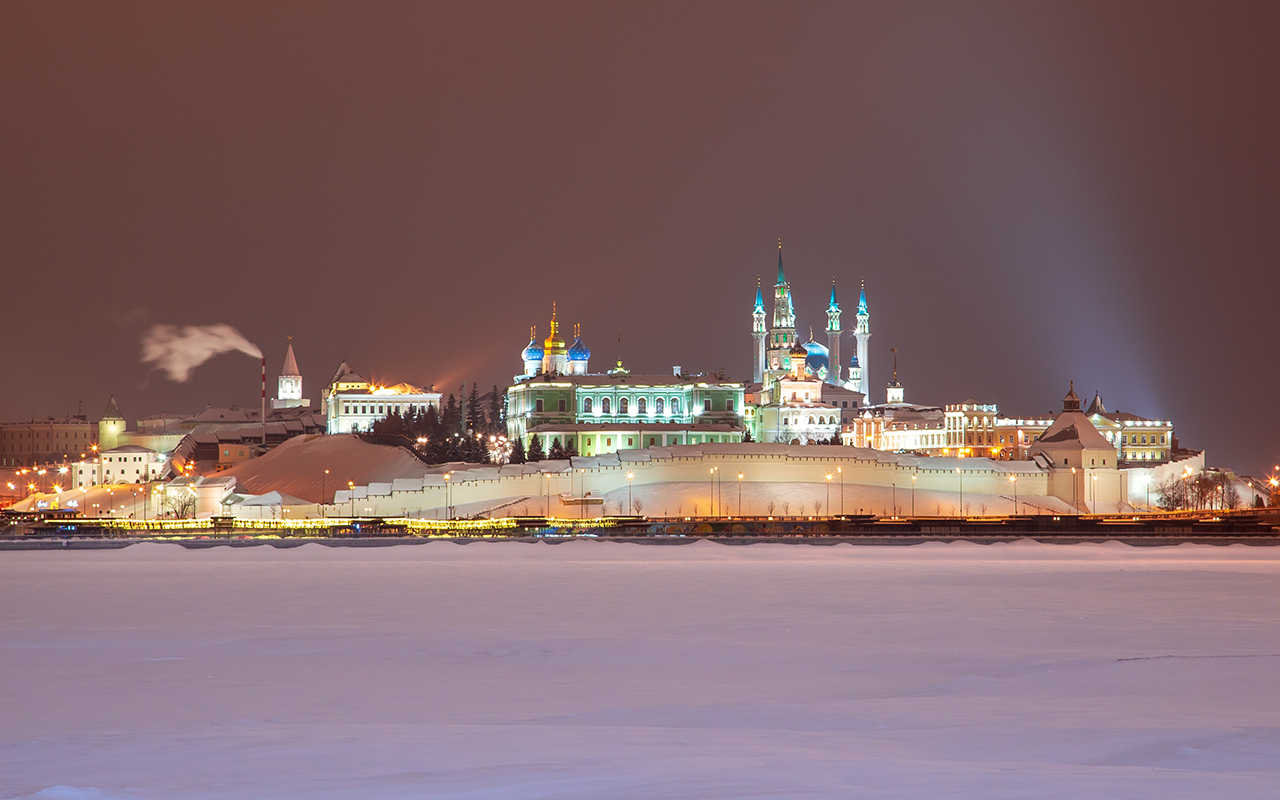 Kazan Kremlin in winter. Photo: @ikocs / unsplash.com.
Kaliningrad
Head to Kaliningrad for a glimpse of a slice of Europe in Russia and the rugged Baltic Sea. True, European grooming is preserved only in the center of the city. Kaliningrad has always been considered special – get to know it better and bring amber as a gift to your loved ones. Find out what tourists think of Kaliningrad.
How to meet. In a restaurant – for example, "Nesselbeck", stylized as a medieval castle. Romantics rent a cottage outside the city and celebrate in silence and solitude.
Weather. At the end of December it is warm, from -5°C to +3°C. It often rains or snows. It's rather wet and windy, so you should take care about warm windproof clothes. Read more about rest in Kaliningrad in winter.
The question is what does it cost? The plane tickets from Moscow and back cost from 7500 rubles. Look for cheap tickets on Aviasales. New Year's dinner costs from 2000 rubles per person (the cost depends on the status of the restaurant). Banquets are organized by restaurants at large hotels or resorts. A double room in a hotel in the historic part of the city costs from 4000 rubles (for example Ibis). See where to stay in Kaliningrad for cheap.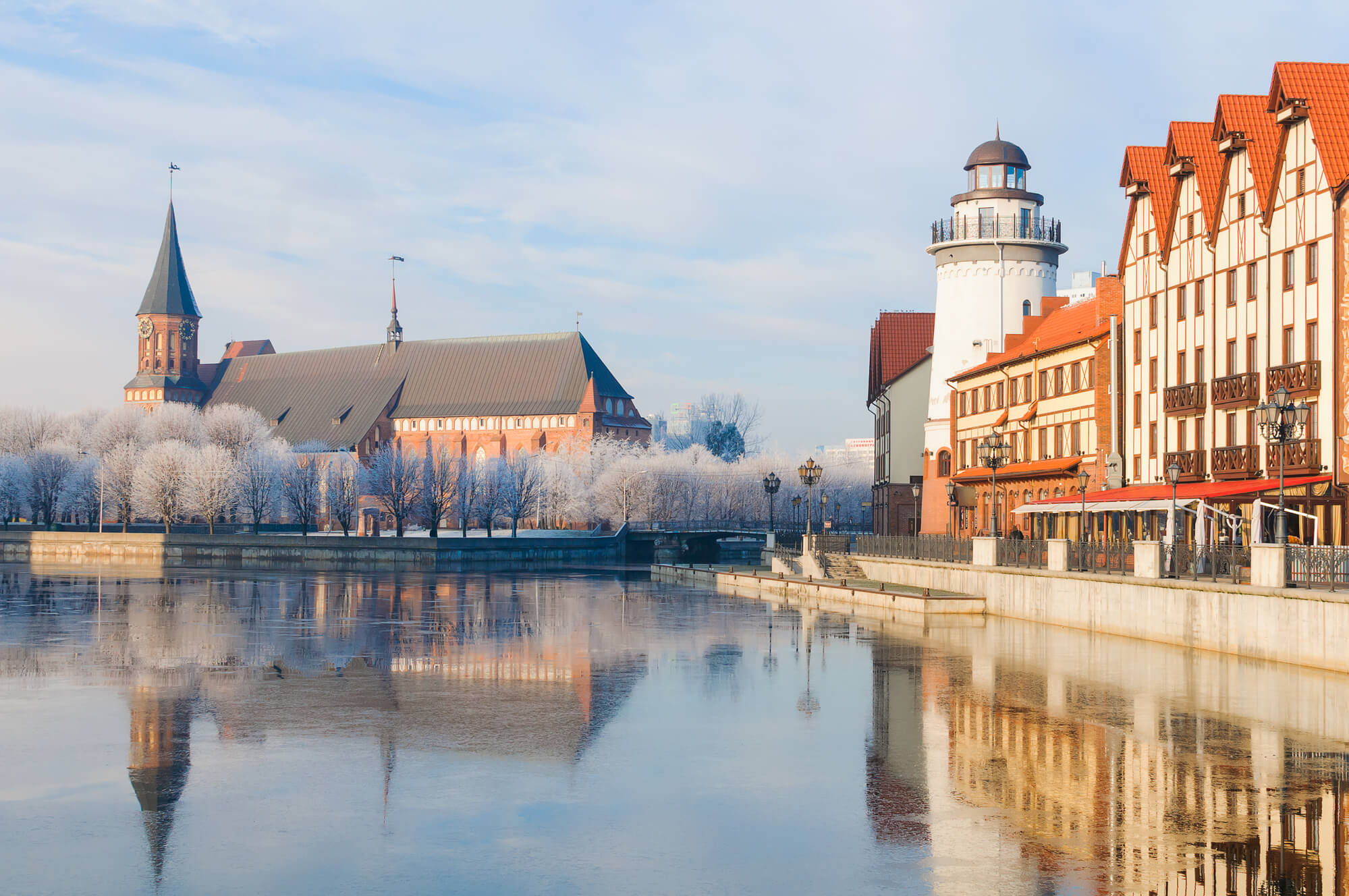 The Fish Village and the Cathedral in Kaliningrad in winter. Photo: gl0ck / Depositphotos.com.
Where to go on New Year's Eve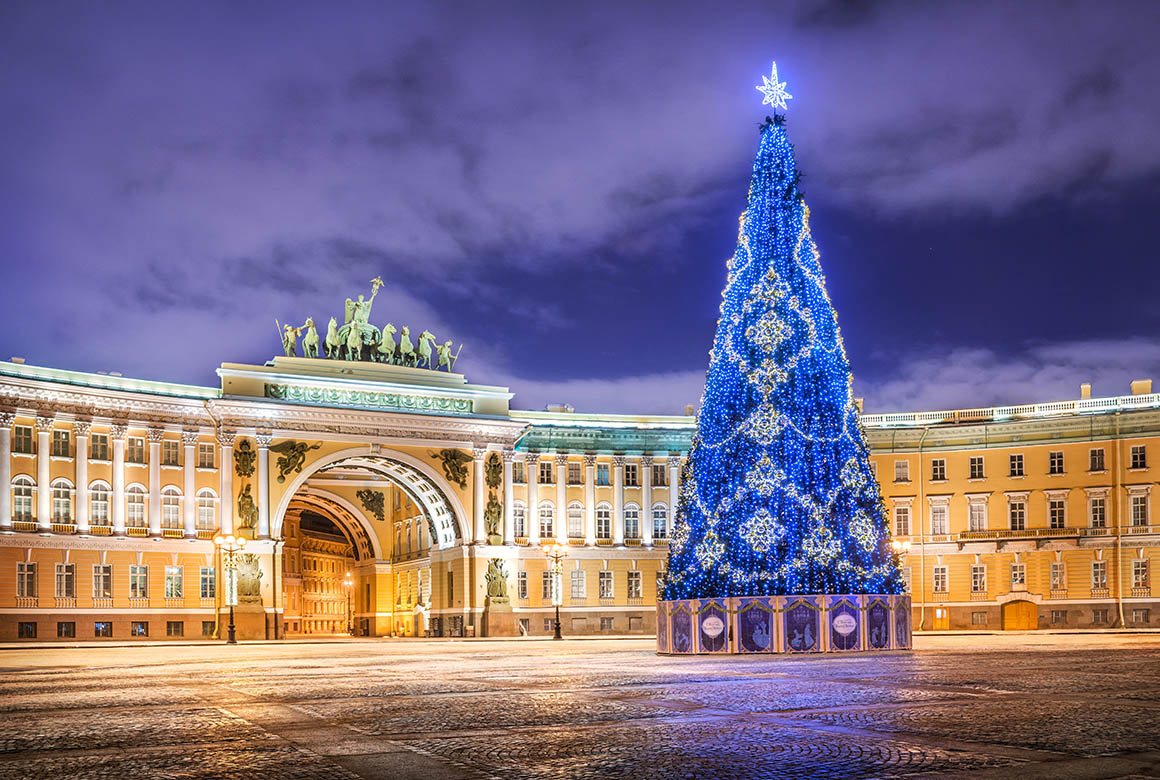 No matter how much time remains until the New Year and Christmas holidays, you need to plan your holiday and book accommodation now. See where to go on the New Year inexpensive and where you can really have fun.
Saint Petersburg
Why go: New Year in St. Petersburg is celebrated in style. You won't find such lights, fireworks and laser shows in the provinces. Nevsky Prospect becomes pedestrian, New Year's Eve fairs work, and Palace Square erupts as brightly as if another revolution has begun there.
Like the weather: the winter vacations can be lightly frosty to -10 ° C, or it can be around zero. Either way, it's best to keep warm to protect yourself from the winds from the Gulf of Finland.
What to do: Watch the daily light shows at Dvortsovaya Square, relax on Nevsky and be amazed by the variety of illuminations, visit museums with discounts for children and walk around other famous places in St. Petersburg.
Moscow
Why you should go: the country's main Christmas tree on Red Square, Christmas fairs, colorful fireworks, and large-scale festivities – Moscow is a great place to spend New Year's Eve with your family. Both adults and small children will be happy in the capital.
What about the weather: in late December – early January in the capital is quite comfortable: a small minus during the day, and a little colder at night. Sometimes there are thaws with rain.
Have fun: first of all, go to the Red Square and feel at the center of national celebrations, along with a ride on the skating rink and shopping at the fair. Folk festivals are also held in other places: Gorky Park, VDNH, and Poklonnaya Hill. There are performances for children on Pushkin Square and on Tsvetnoy Boulevard. If you get tired of the noise, you can go to one of the many parks in Moscow.
Read also: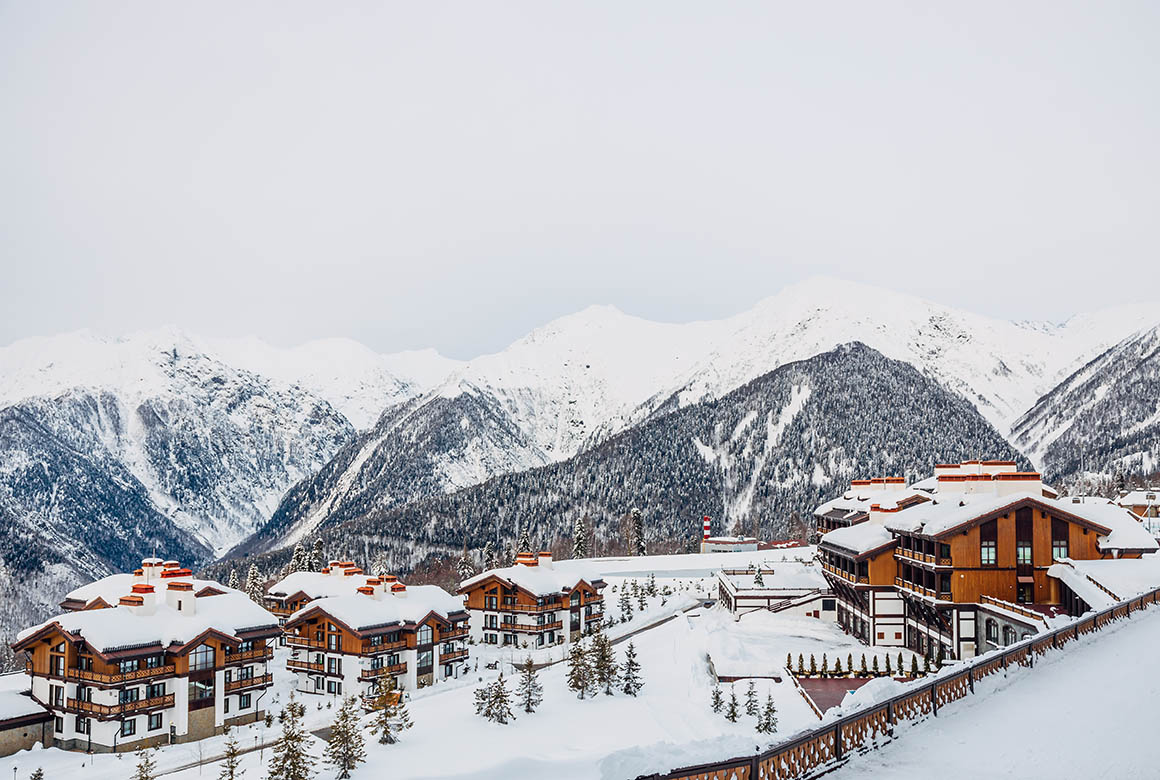 Why to go: here you can relax, enjoying the fresh air and relative warmth, and if you want, go skiing in Krasnaya Polyana.
Weather on holidays: it's warm and humid in Sochi because the sea, which cools down not so quickly, and the mountains, which prevent the winds. Daytime on the coast is about +5 … +10 ° C, in Krasnaya Polyana from +2 ° to -5 ° C.
What to do: The main action takes place in the port, on the South Pier Square. Fireworks as good as those from the Olympics go up in the sky. And walking through the city parks and streets, you can understand that the Christmas trees between the palm trees and cypresses – it's great. If you celebrate the New Year with children, go to "Sochi-Park", which is modestly called the local Disneyland.
Kazan
Why go: to see how Russian and Tatar traditions merge into one – the New Year.
What's the weather like: winters in the Volga region may be uneven, but on New Year's Eve there are usually no surprises, and the temperature stays between -5 … -10°С.
What to do: Go to the main Christmas tree in the Millennium Park, where you can also skate and buy souvenirs. Near the Eriyat Puppet Theater The ice town works near the Eriyat Puppet Theater. Of course, it is worth a walk on Bauman Street and the Kremlin, which is incredibly beautifully illuminated.
We recommend: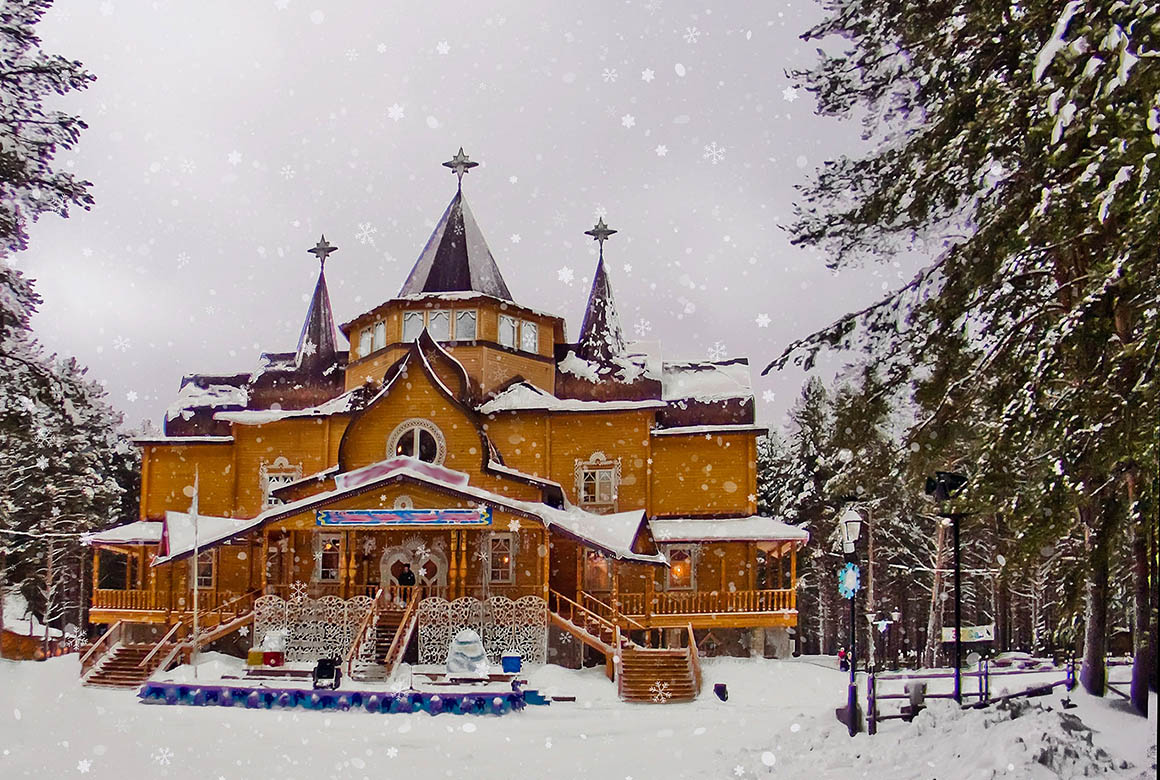 Veliky Ustyug.
Why go: check out the residence of the country's main Santa Claus, which was built legally, so no one took pictures of it from drones.
What about the weather: winters here are frosty, reaching -20 ° C, but is that an obstacle for those who want to get into the New Year's fairy tale?
What to do: Country residence of the grandfather with a real, not glued beard is located about 30 minutes from the city, on the Soviet avenue. The house is built in a beautiful forest, there are also attractions, and excursions to the world of Russian fairy tales are arranged for children. Of course, there are entertainment programs and New Year's performances. In addition to the estate, you can also enjoy the town itself, full of merchant mansions and ancient temples.
Veliky Ustyug is quite popular with tourists, so we advise you to make an early reservation for the New Year 2022.
Ski resorts
Why is it worth the trip: you can celebrate the holiday and do sports. And the atmosphere at resorts is calmer than in big cities with their hustle and bustle. These places are some of the best for New Year's Eve.
Where to go: Sheregesh, Kirovsk, Dombai.
Which resort to choose: the most well-appointed resort is Sheregesh in the Kemerovo region. It offers 15 trails with any level of complexity. The snow does not stick together, which will especially appeal to freeriders.
Dombai is located in the Caucasus Mountains, in Karachay-Cherkessia. The local mountain valley is so beautiful that it brings pleasure not only from skiing, but also from contemplating the neighboring mountains, forests and gorges. The slopes here are varied and suitable for skiers of different levels.
Kirovsk base is situated within the city of the same name in Murmansk region. The slopes are well-groomed and the elevators are new. Here you can not only spend time on the slopes, but also go into town to celebrate the New Year there properly.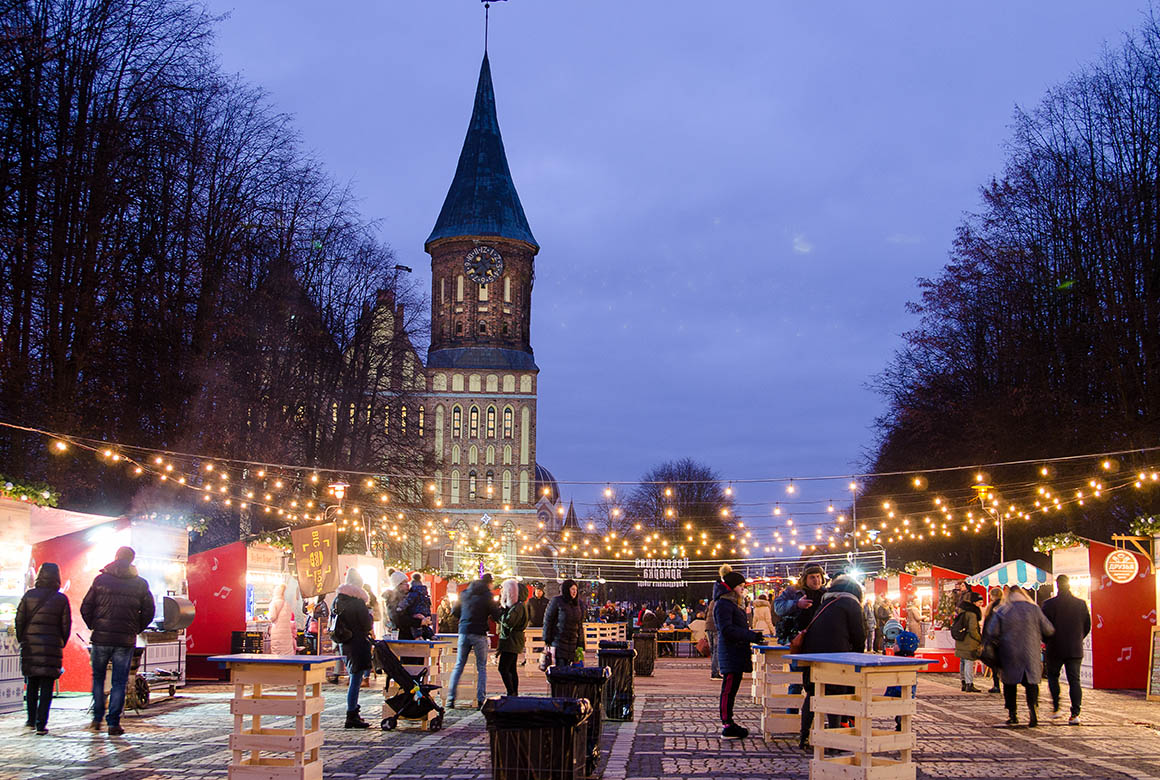 Kaliningrad
Why to go: to be in a festive atmosphere against the backdrop of ancient architecture in the European style.
What's the weather like: quite warm, about zero degrees Celsius, it may snow or rain. There is a breeze, so bring warm clothes.
How to have fun: the main festive events are held in Victory Square: concerts, New Year's performances, fireworks, fairs. However, this is not even the main thing, because in Kaliningrad there are a scattering of interesting places. No matter how much fun you have celebrating New Year's Eve, be sure to go to the Cathedral, where the Kant Museum is located. It's also worth passing through the various gates: the Royal, Brandenburg, and Zachheim. And you can hardly pass by the Amber Museum, which exhibits will be a match for any Christmas garland.
Minsk
Why to go: comfortable weather, inexpensive vacation, no visa required for Russians in Belarus, and though the streets are fun, but calm.
How is the weather: no severe frosts, mostly from -5 to +5 °С.
What to do: Go for a walk in the central districts and squares, which are literally flooded with festive lights. Especially beautiful is the illuminated building of the National Library. The New Year tree is on Oktyabrskaya Square. There you can also walk through the glowing balls, buy souvenirs and eat something delicious and warm.
Where to go on New Year's Eve with children? As an option – Nesvizh and Mir, which amaze with ancient castles. After a walk in the fresh air, we suggest eating hot homemade sausages and, of course, potatoes. You can go to Belovezhskaya Pushcha – there lives Belarusian Santa Claus, who entertains children as much as he can.
We recommend: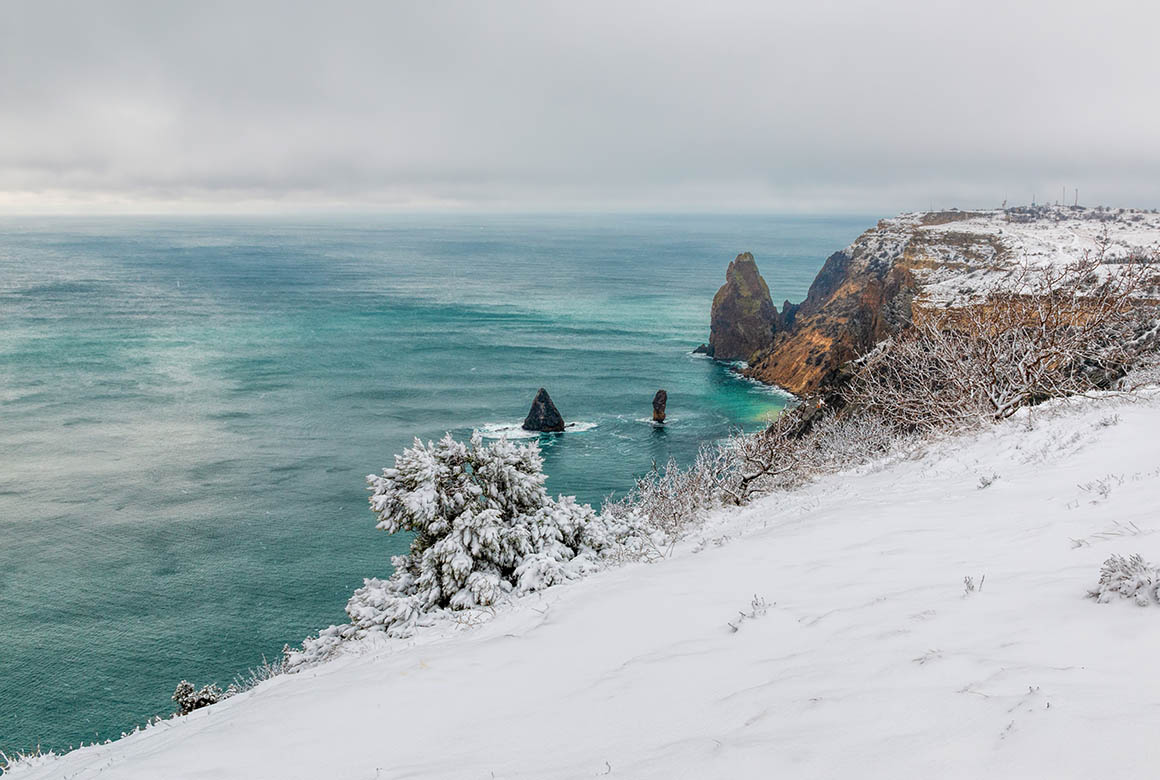 New Year's Eve 2022 by the sea
Why go: it's a good chance to escape from winter – to a place where it's warm.
How is the weather: it is unlikely to swim on the Russian coast, but it is quite possible to take a walk in warm and comfortable weather.
The best place to have a rest is the Crimea, where there are two seas – the Black Sea and the Sea of Azov. You can get to the peninsula by any means: by plane, by train, by car.
In the Crimea it rarely gets below 0 ° C, and the local beauty and excursions do not go anywhere even in winter. Across the peninsula New Year is celebrated with the same sweep as in the rest of Russia. For example, on the embankment of Yalta they put up a Christmas tree, hold concerts and light fireworks.
You can go a little further – to Georgia. New Year's holidays here are also celebrated widely, outside the window is even warmer, and the table is unsurpassed Georgian cuisine.
Altai
Why is it worth to go: to feel the amazing atmosphere of calm and the energy of an extraordinary nature.
How is the weather: you can have light frosts around -10°C, but there are also real colds.
What to do: in Altai you can recharge your energy for the whole next year. Tourists usually book tours to the New Year, which the locals call Chaga Bayram, or White Festival. You can meet it traditionally (with Russian sweating, horseback riding and sleigh rides, games in the snow and a New Year's banquet), as well as extremely (for example, go to the mountains).
In Altai is also located ski resort Belokurikha. Here you can celebrate the New Year with your friends. The total length of the tracks at the resort is about 7 kilometers, and they are all surrounded by beautiful pine trees.