Where and how to celebrate the New Year in Karelia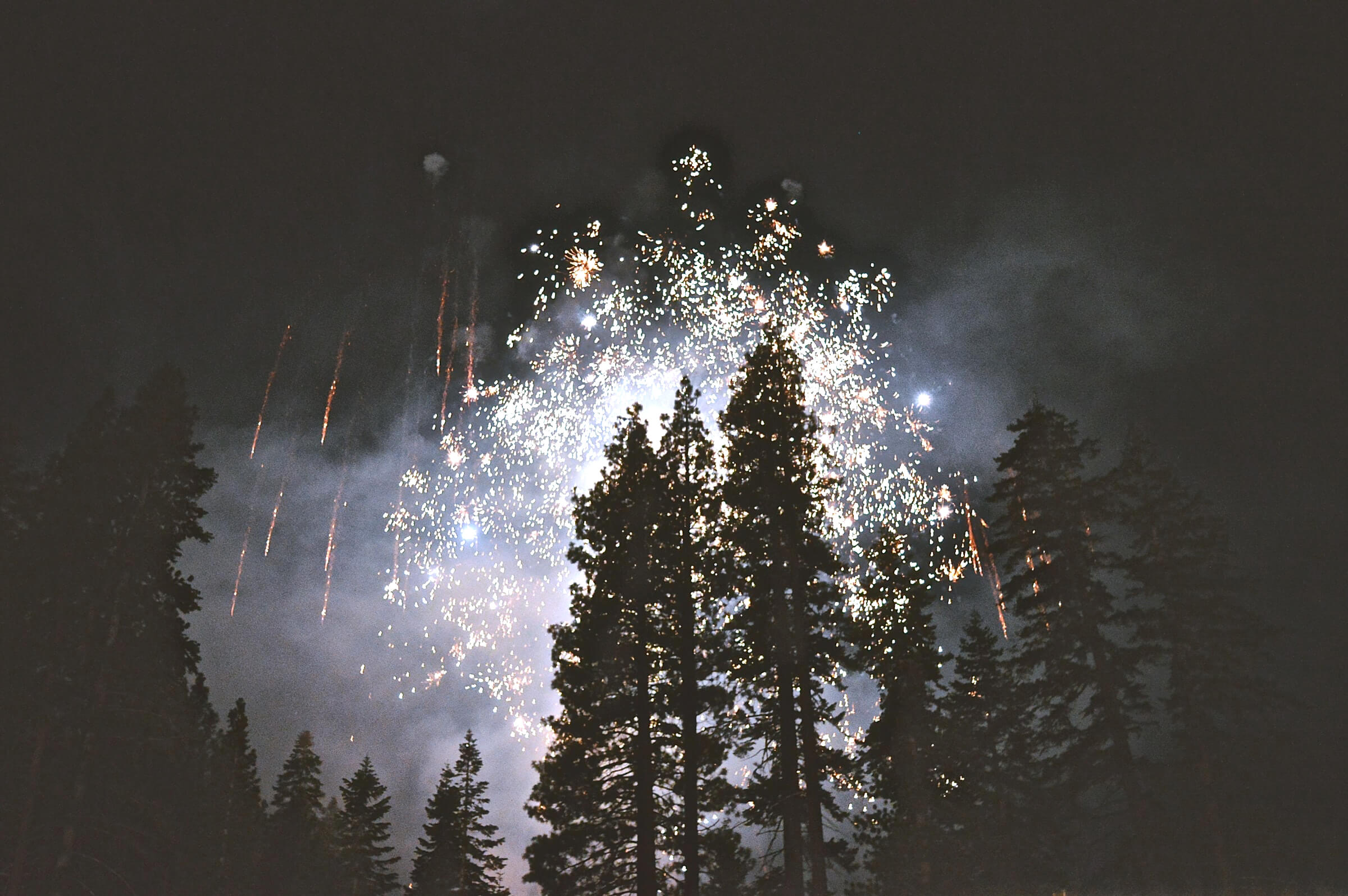 The crunch of snow, mild frost, clean air and winter fun welcomes tourists to Karelia on New Year's Eve. We tell you how to spend New Year vacations in 2023 in the republic.
Content:
How to celebrate the New Year in Karelia
If you want to celebrate the New Year in Karelia, with family or friends, rent a cottage or settle in the country recreation center. Quiet and calm, nature and clean air, winter entertainment and tea drinking near the fireplace or sitting after a hot sauna – it's an option for those who want to relax and spend time mentally. You can usually celebrate the New Year at the cottage, at the recreation center or by booking a table at a restaurant.
A room in a hotel in Petrozavodsk or Sortavala will suit you if you want to go sightseeing during the New Year vacations. From the cities is convenient to go to the mountain park Ruskeala and Kivach waterfall, and with children – to visit Santa Claus and the Huskies. You can celebrate New Year's Eve in a restaurant.
New Year's tour in Karelia is chosen if they want something special. For example, to meet the holiday on the shores of Lake Ladoga, or organize a fun holiday for the whole family. The tour is convenient because there is no need to plan anything. A good selection of tours you will find on the website of the local tour operator Alem-tour. Usually tours last 3-4 days.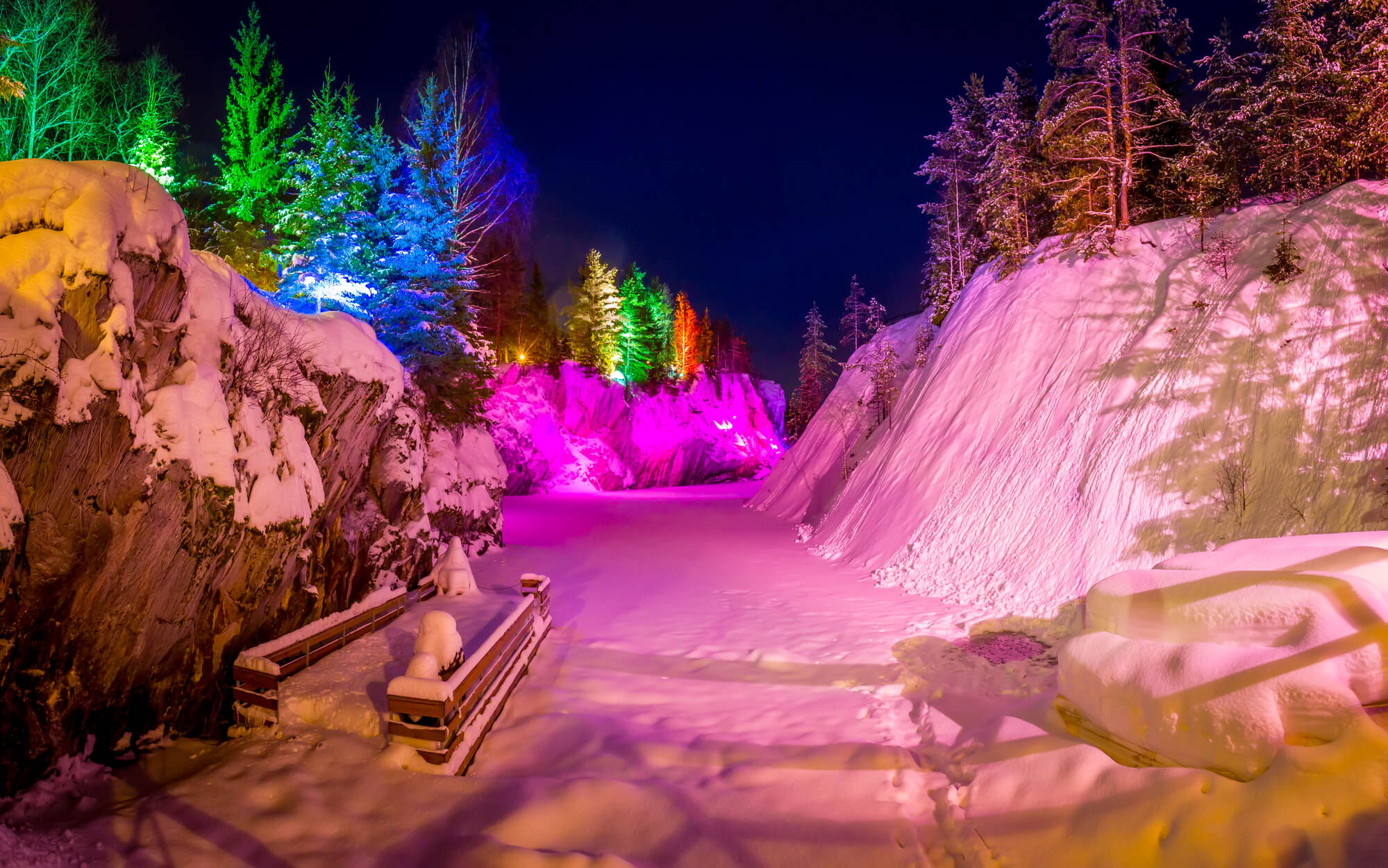 In Ruskeala in the evenings include artistic lighting. Photo: Depositphotos.com.
Weather in Karelia in winter
Winter in Karelia is most real, with snow and frosts, but capricious and changeable. As a rule, the temperature in January during the day is -10. In January the temperature during the daytime is -10 -15°C, but may fall down to -30°C. In lowlands and near lakes it is always a little bit colder than at higher altitudes. The warmest area is Sortavala.
The daylight hours are short, only from 10 am till 15 pm. You should dress in layers: thermal underwear, fleece and windproof jacket.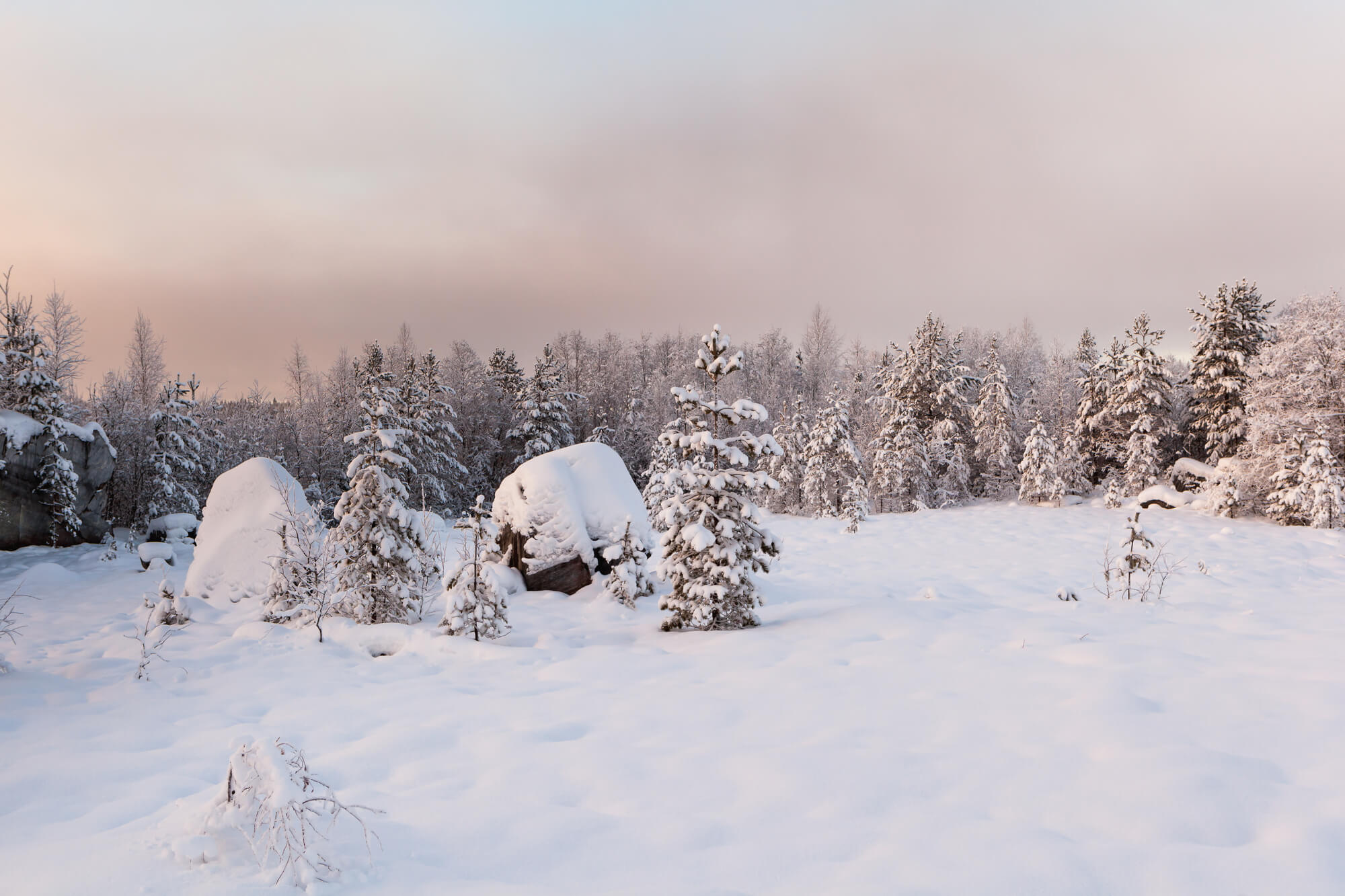 Winter in Karelia is a real winter, with snow and frosts. Photo: Depositphotos.com.
Prices in Karelia for the New Year 2023
Prices for housing. In Petrozavodsk or Sortavala, a double room in a decent hotel or apartment costs from 3000 to 7000 ₽ per night. Nice and trendy country hotels "Dacha Wintera" or "Point on the Map" cost from 10,000 ₽ per night. You can rent a house or cottage in Karelia for New Year from 7000 ₽. The price depends on the size of the house, the comfort level and the area. More often you can rent a cottage for 5-10 people during New Year holidays for 15000-40000 ₽ per day.
Remember that New Year's Eve housing prices go up, and good options are sold out quickly, so book several months before the holiday. We advise to look for cottages and hotels at Hotelluk and Yandex.Travel.
Food prices : dine at a budget cafe for 700-1000 ₽ for two, at a higher level establishment for 2000 ₽. Dinner at a good restaurant with alcoholic beverages will cost ₽ 4000-5000 ₽ for two. The price of a banquet for New Year's Eve 2023 is in the neighborhood of ₽5,000 per person.
Prices for excursions are very different. Sightseeing tours in Petrozavodsk cost from 1500 ₽, a trip to the Huskies – from 2500 ₽, and to visit the Karelian Santa Claus – 5000 ₽. Excursions to the nature, for example, to the waterfall Kivach and the Ruskeala Mountain Park – 4000-7000 ₽, depending on the program. I advise to look for excursions on our favorite service Tripster.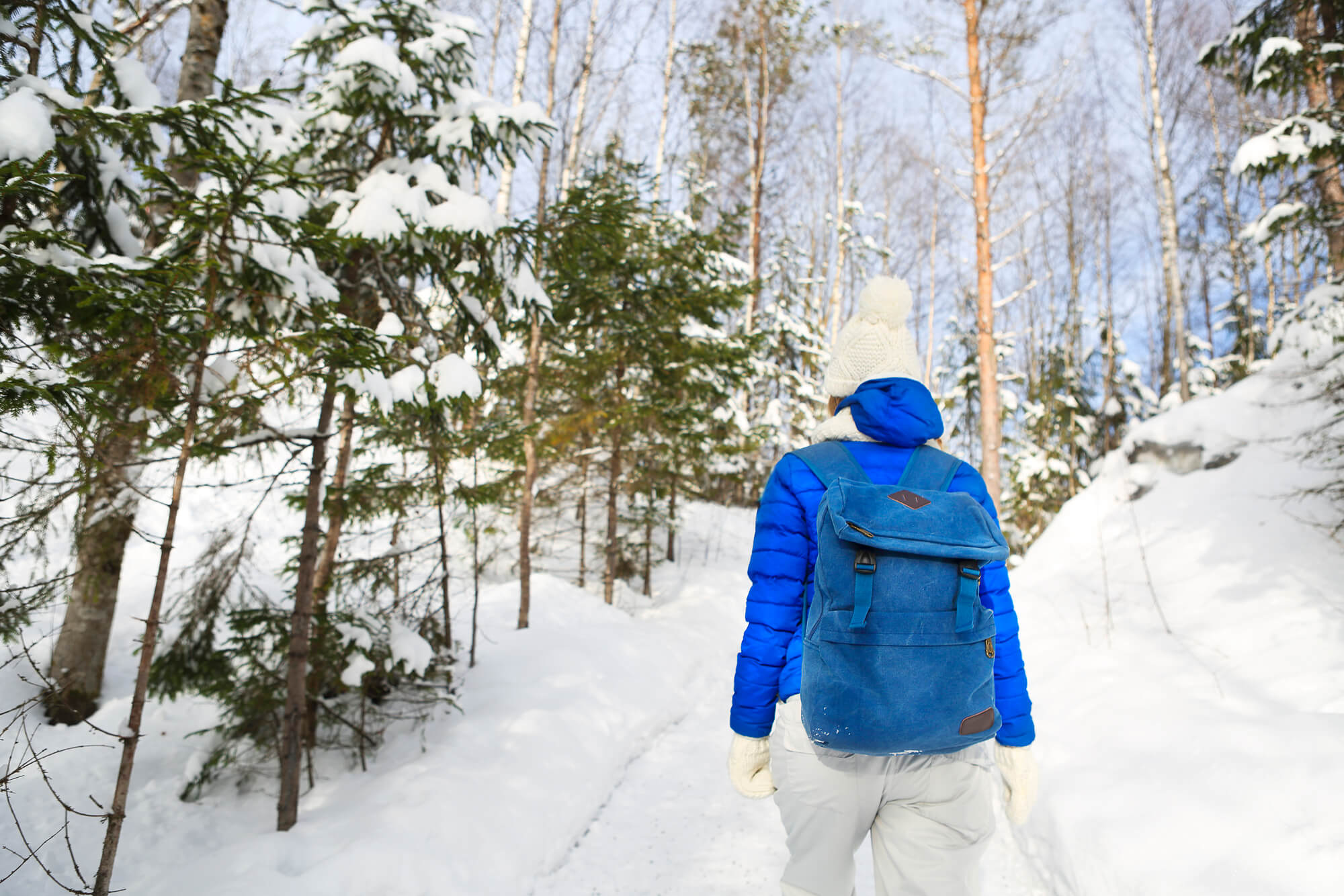 Winter walk in Karelia. Photo: Depositphotos.com.
Bases and hotels in Karelia in the New Year 2023
To celebrate the New Year 2023 in Karelia successfully, take care of your accommodation in advance, because the right hotel or recreation center determines the mood. I have chosen several beautiful and comfortable options, with excellent reviews of tourists. I searched all the lodging on services Hotelluk and Yandex.Travel. If these options are already booked, look for similar ones there.
This is not the whole list of accommodations. We have a separate article devoted to inexpensive vacation rentals in Karelia. In it you can find a decent option with a good price-quality ratio.
Verkhovye Hotel
Many tourists come to the Verkhovye hotel, because it has everything to organize recreation in Karelia. The hotel is a 20-minute drive from Petrozavodsk. Townhouses are fully equipped, with a kitchenette, a separate entrance with its own veranda and free guarded parking. On territory there is a cafe, a small children's playground, a Russian banya – you can be steamed by birch or oak brooms, near an open summer pool and a gazebo. The hotel has an excursion bureau – excursions to Kizhi Island, Ruskeala Canyon, Valaam, Kivach waterfall, Marcial waters, and Girvas volcano are especially popular.
Recreation center "Bear Corner".
Do you want to celebrate the New Year 2023 in the forests of Karelia, in silence and solitude? This camping site on the river bank is an excellent choice. It is very quiet, beautiful and clean, you can eat at a local restaurant. The houses are a bit brutal, made of logs, but cozy and warm. A house for 6 people on New Year's Eve costs ₽35,000 per night.
Sorola Village Park Hotel
A very beautiful and stylish hotel is ideal for the New Year in Karelia. It is located on the shore of Lake Ladoga. According to tourist reviews, this is a good place for a family vacation. There are both rooms and separate houses with panoramic windows and an open-air hot tub! Rooms in winter cost from 7,000 ₽, simple cabins from 9,000 ₽, and a 2-bedroom house with hot tub from 19,000 ₽.
Hotel Cosmos.
A 4* hotel with a classic interior on Petrozavodsk's waterfront. It is convenient to stay here if you want to go on excursions a lot and see the sights of the city. The cost of accommodation for two on New Year's Eve is from 8500 ₽.
Unusual accommodation
If you want unusual, rent a house on the water. Such accommodations cost from 15,000 to 25,000 ₽ per night, depending on the area. Especially cozy in the houseboat "Our House Karelia". And a very special experience can be had by staying at the Mineral Museum in the shungite room. New Year's Eve at the museum costs ₽108,000. By comparison, on normal days you can stay for ₽22,000 per night.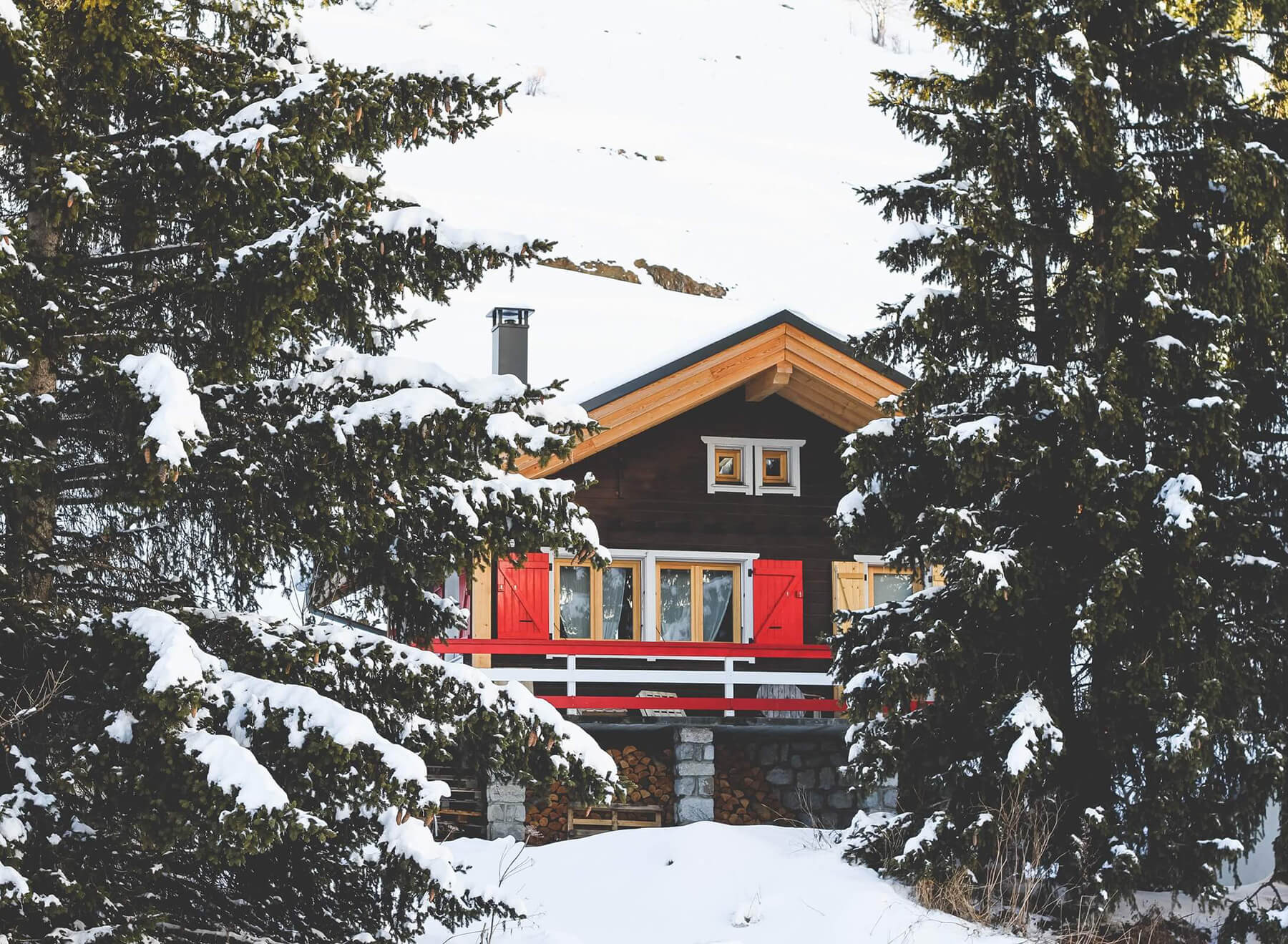 In winter, tourists prefer to rent a cottage or house at the recreation center. Photo: heftiba / unsplash.com.
Reviews of vacations in Karelia in the New Year
According to reviews of tourists vacationing in Karelia in the New Year, there are problems with the organization of excursions, food, room heating and other annoying little things. Hence the conclusion: you need to choose a cottage or recreation center carefully, reading the reviews and figuring out the various household details. It's New Year's Eve after all, and I'd like to get as much pleasure for my money, by the way, not a small one.
Those tourists who were lucky with the organization of the rest, were very satisfied with their trip: clean air, which is so good and easy to sleep, new and delicious food, a lot of interesting places and new experiences. Karelia is magnificent, and it is simply impossible not to fall in love with it.
Yulia: "The scenery is really fabulous, nature is the best artist, and we were also lucky because it was a beautiful winter, so I could not stop admiring the beauty of the winter forest the whole way".
Julia: "And for those who are still thinking whether to go or not in winter, I would definitely recommend to go to see the fabulous nature, to breathe fresh air, to relax from the bustle. Besides, in Karelia there is very interesting architecture, houses in the center of Sortavala are old, wooden, mostly two-storey".
Where else to celebrate the New Year: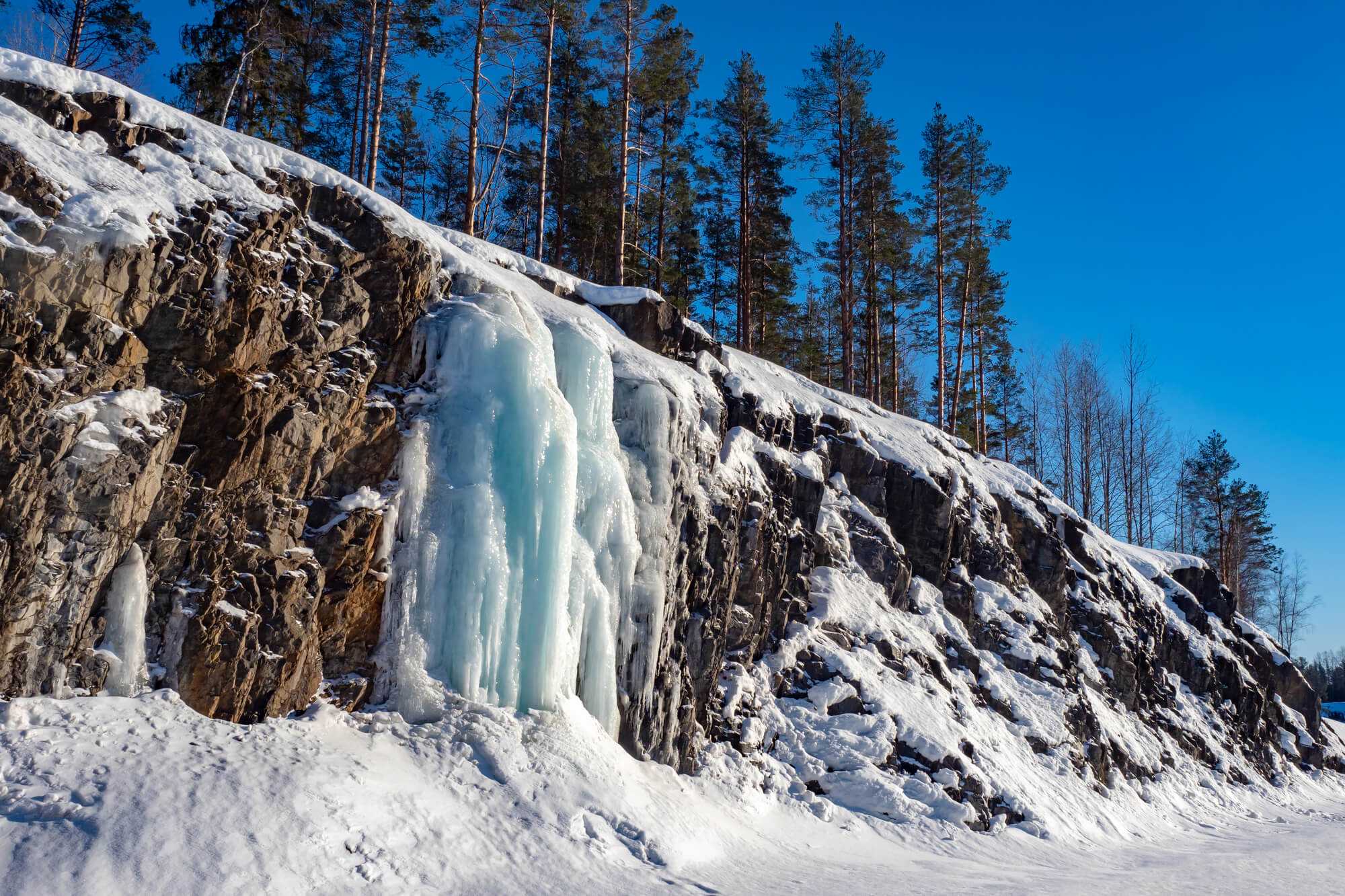 Frozen waterfall in Karelia. Photo: Depositphotos.com.
Hotels and resorts in Karelia for New Year 2023
What hotels or recreation base to choose for New Year's Eve in Karelia? You can consider budget hotels with a New Year program in Petrozavodsk. The main festivities are usually held at the Christmas tree on Kirov Square. Do not forget to take pictures against the backdrop of the frozen Onega Lake on the embankment of Petrozavodsk, go skiing at the ski center "Yalgora" and stop by to visit the "Winter Grandfather" Talvi Ukko at his residence near the village of Chalna.
In Sortavala and its suburbs there is a wide choice of recreation facilities. In the city itself you can take part in the celebration of the New Year at the main Christmas tree, visit Vakkosalmi park, and get acquainted with the architecture of the Northern Art Nouveau. Be sure to include a trip to the mountain park Ruskeala, it looks especially fabulous in winter, with colorful lighting on the background of snow-white drifts.

Holiday dinner with congratulations from Ded Moroz and the Snow Maiden, gifts, outdoor games and fireworks are also organized at the camping sites. Check-in for the New Year is usually part of a package tour for 3-4 nights. The main entertainment in winter at the ski resorts is skiing in the snow-covered forest, rides on the Finnish sleigh, tours on snowmobiles and quad bikes, ice fishing, various sightseeing tours. There is no time to be bored!
Winter Karelia is attractive and interesting in its own way. You will see frozen waterfalls and lakes, Girvas volcano, snowy Kizhi, Valaam, Vottovaara mountain and many other sights, and New Year vacations are a perfect opportunity to experience everything with your own eyes! An experienced guide will help to compose and implement a program. Also on New Year and Christmas holidays travel agencies offer themed tours to celebrate the New Year in the Karelian style, visiting the top places and fully immersed in the ethnic culture of local people.
The weather in Karelia is very changeable. The average temperature in December is -6-9°C. This is the warmest winter month. In January it becomes much colder, but there are also clear sunny days. In most of the resorts and hotels in Karelia the temperature can be much lower than in cities and towns, so you should buy warm clothes like thermal underwear and windproof jacket.
In Karelia in winter the snow falls a lot, its thickness can reach more than 1,5 meters. To move through the deep snow at the camping sites there are always special snowshoes so that you can easily walk through the surroundings. It's worth noting that it starts to get dark after 3 pm, so plan your leisure time before nightfall.
Park-hotel "Winter's Dacha".
Where is it: Sortavala, Tarulinna village (on the map)
During the New Year holidays in "Winter's Dacha" you will find yourself in a Karelian winter fairy tale – snowy forest, fairytale characters, Santa Claus and the most real reindeer – Dasha. For hotel guests on December 31 will be a celebratory dinner with an exclusive menu from the chef, and after – games in the open air.
At the guests' disposal:
A hotel complex with 22 rooms with a balcony, townhouses, cottages. View of Ladoga Lake / forest.
Restaurant with modern Karelian cuisine, lobby bar.
Bath complex – hammam, alpine and Finnish sauna, terrace with Jacuzzi, massage room, sauna with steaming services.
Arboretum, rope park, eco trail.
Rental of sports equipment – skis,
Gustav Winter Museum.
Riding on snowmobiles, quad bikes, buggies.
For children – playground, scooters, trolleys, rollerblades, bicycles, board games.
The hotel earned rave reviews from holidaymakers. I liked everything – the restaurant, the location, the views, the organization of leisure, the work of the hotel staff and waiters.
Book an accommodation in the park-hotel Dacha Winter:
Hotels "Point on the map"
Where is the location: Sortavala district, Kaalamsky rural settlement, Ryuttu village (on the map), Olonets district, Vidlitsa village (on the map).
Calmness of the winter forest, squeak of snow under your feet, snowy smooth surface of the lake and lights of New Year garlands on the windows covered with hoarfrost – this is not a fairy tale, but the New Year in the hotels "Points on the map".
Festive events are planned in the hotels in Sortavala and Vidlitsa. The program is under development, but it is already possible to book rooms. Room rates include breakfast, New Year's Eve festivities, brunch, animation and parking space.
At the guests' disposal:
In Sortavala – 3 hotel complexes with Standard rooms; in Vidlitsa – 15 hotel studios with a terrace and a sauna.
Cafe.
Barbecue gazebo, picnic area (only at the hotel in Sortavala).
Panoramic sauna in Sortavala, sauna in cottages in Vidlitsa.
Active recreation center – rent of transport and sporting goods.
Badminton, Nordic walking, volleyball, kayaking.
ATV tours.
Fishing (fishing tackle can be rented).
Free parking.
Reviews about all the hotels of the chain "Point on the map" are positive. Guests like the location, the feeling of unity with nature, the living conditions, the attitude of the staff. The territory is large, there is a place to go for a walk, skiing, tubing.
Booking hotel rooms in Sortavala:
Book hotel accommodation in Vidlitsa:
Ladoga Estate
Where is it located: Sortavala, Nijemelyankhovi, Ozernaya str. 1, on the shore of Lake Ladoga (on the map)
The Ladoga homestead has prepared the program of New Year's Eve 2023 in the style of "Chicago". Guests are advised to choose appropriate outfits to blend into the atmosphere of the Chicago mafia and gambling. On stage that night there will be dancing and singing groups, guests can practice shooting at the shooting gallery, learn how to roll a cigar at the master class and taste scotch. Kids will not be bored either. Throughout the evening they will be entertained by an animator, arranging games and contests with prizes.
A busy program is provided in the farmstead for all Christmas holidays from December 31 to January 8.
At the guests' disposal:
Two-story cottages with kitchens, terraces, barbecue area; cottages on the shore with a Finnish sauna.
Restaurant with a lounge area (Northern Ladoga cuisine).
Barbecue area;
Bathhouse complex – 2 steam rooms, vat, terrace with chargrill.
Bowling, water activities, rent of sports equipment, aero-sledges.
Squirrel vault, sanctuary.
Workshops, game room, children's playground.
Organization of excursions, fishing, helicopter rides, transfers and much more.
The guests were satisfied with the service and organization of leisure in the Ladoga homestead. Catering at the highest level, hot baths, a good children's center, nature, peace and comfort – on all points the hotel received the highest marks.
Book a stay at the Ladoga Estate:
Park-hotel Sorola Village
Where is it located: Lahdenpohsky area, village Miinalskoe, Sorola v. 1902, on the coast of Lake Ladoga (on the map)
In the park-hotel there are two holiday tariffs – the New Year's Eve 31-04.01 and the New Year's vacations 04.01-09.01. A banquet with a musical program, the appearance of Santa Claus and the Snow Maiden and fireworks are planned.
At the guests' disposal:
Cottage with panoramic terrace for a couple, family, with two bedrooms, for a large company; hotel.
The houses are equipped with a fireplace, sauna, Jacuzzi, kitchen with refrigerator, microwave, dishwasher. There are dishes, a hairdryer, towels.
Author's restaurant "Skala", lobby bar, food delivery to the room.
Breakfasts are included.
Mangal area and barbecue set in each cottage.
Riding on snowmobiles, skis, downhill, snowmobiles.
Mountain biking, rock climbing, horseback riding, fishing, Nordic walking.
Boat and boat rent.
What guests liked – cleanliness in houses and territory, clean tap water, gas, equipping houses excellent, has everything, in a restaurant delicious food, but the price tag is high.
What to pay attention to – unpaved road to the hotel, weak wi-fi, saunas are only in the cottages.
Book accommodation in park-hotel Sorola Village:
Country Club Denisov Cape
Where is it: Pryazhinsky district, v. Alekka, on the shore of the lake Syamozero (on the map)
During the Christmas vacations at the recreation center children will be entertained by professional entertainers, adults will have master classes, in the recreation center it will be possible to arrange family showing of good New Year's fairy tales.
The program of New Year's supper includes refreshments, dances, greetings from Santa Claus and fireworks. And the next day everyone will be able to take a ride on the Finnish sleigh, visit the Sámi village, a reindeer farm, a dog kennel and go to visit the Karelian Santa Claus.
Entertainments and excursions are planned for every day from December 31 to January 3.
At the guests' disposal:
7 cottages with a capacity of 4-8 people, rooms in the main building.
Restaurant (2 halls for banquets and conferences).
Wood-fired sauna.
BBQ arbors, shashlyk tent.
Fishing, horseback riding.
ATV, snowmobile and jeep safaris, paintball, laser tag, water transport rentals, table tennis, billiards, karaoke.
Workshops, walks around the area with an audio guide.
Rope-town, board games, game consoles, kiddie-ball and much more.
Individual transfer.
What did holidaymakers like – suitable for recreation with children, a wide range of entertainment for holidaymakers of all ages, nice evening to sit by the fireplace, beautiful nature, well-groomed terrtory, easy access.
What to pay attention to – there is no possibility of cooking your own food.
To book accommodation in the country club "Denisov cape":
Recreation base "Marcial Springs"
Where is it: Kondopozhsky area, v. Utuki (on the map)
A New Year's tour to Karelia with accommodation at the recreation camp "Marcial Keys" includes tours, interactive programs, sitting for a cup of tea in a Saami chum with Santa Claus himself, folk festivals, a New Year's banquet and fireworks.
At the guests' disposal:
Rooms of different sizes (2-7 people), cottages.
Cafe with a made-to-order menu.
Wood-fired Russian bathhouse.
Gazebo, barbecues.
Children's playground, play corner in cafe.
Rental of bicycles, kite-scooters, boats.
Table tennis, badminton, Frisbee.
ATV rides, snowmobiles, skis, skates.
Fishing.
Free wi-fi in the cafe.
Free parking.
The place is very beautiful, the staff is friendly, the food in the cafe is delicious, the room is equipped with everything you need, including appliances. The car can be left in the parking lot for free.
Uncomfortable that the rooms have no internet, garbage bags, cleaning, and also the hearing is very strong.
Book accommodation at the recreation center "Marcial Keys":
Country Club Lamberg
Where is it located: Lumberberg p. 44, near Lake Ladoga (on the map)
In the country club you can celebrate the New Year in the New Year's tour. The cost of the tour includes accommodation in rooms or cottages, breakfasts, a banquet with a program, fireworks, a visit to the skating rink.
At the guests' disposal:
Hotel for 6 rooms, 13 cottages.
Karelian-Finnish cuisine restaurant with a summer terrace overlooking the bay.
Finnish sauna, Turkish bath, Jacuzzi, font, floating sauna.
Barbecue area with barbecue.
Rental bicycles, water skis, boats, snowmobiles, skates.
Sports ground.
Billiard.
Chum.
Free parking.
Guests liked the cottages and the view of the lake – beautiful at any time of year; breakfasts and knowledgeable staff. The area is well maintained, but small. The road to the hotel is unpaved, but decent. Tourists were satisfied with the rest in the country club "Lamberg".
Book accommodation in country club Lamberg:
Recreation base "Black Rocks".
Where is it: Sortavala, Kirkkolahti, on the shore of the Janisjärvi Lake (on the map)
On December 31 there is a matinee for children and a gala dinner with a show program in the country house. In the evening on January 1 guests are invited to a concert of live music.
New Year's package includes lodging, breakfasts, banquet, gazebo and barbecue rentals, parking, children's playroom and admission to the zoo.
At the guests' disposal:
Hotel "Atlantic", eco-hotel, 9 cottages with a capacity of 6-14 people.
Restaurant.
Sports complex – jacuzzi, swimming pool, sauna, gym.
Russian bath with a font, sauna on the cape, sauna complex – bath, Jacuzzi with a panoramic view, hammam, massage room, steaming service.
Barbecue area, gazebo.
Trolling fishing, hunting.
Water skiing, sapsurfing, jet skis and other water activities.
Bicycles, scooters, roller skates, tennis, billiards, volleyball, air hockey, snowmobiles.
Skiing, ice skating, snowmobiles, vintage cars, safari through the woods, excursions.
Playroom, playground, zoo, special menu.
What did holidaymakers like – very comfortable well-equipped cottages, a lot of entertainment, staff smiling and attentive, good food in the restaurant and cafe.
What you should pay attention to – poor noise isolation in the rooms, in the sauna must be booked in advance, not all mobile operators have good signal.
Book an accommodation at the Black Rocks recreation center:
Hotel-club Gardarika
Where is the location: Värtsilä, km 7 of the road Värtsilä-Suistamo, near the lake Janisjärvi (on the map)
In the country club Gardarika you can spend New Year in a cheerful and active way. There are a lot of possibilities for outdoor recreation – excursions, snowmobile tours, skiing, skating, snow and ice slides, ice fishing and much more. The festive banquet with contests, prizes and a program from the host will take place in the restaurant.
The price of the New Year's package includes accommodation, meals and a festive banquet.