What to choose Pattaya or Phuket?
Pattaya or Phuket… Which of these resorts to choose? Very often this question is asked by those who have never been to Thailand. Well, this choice is very important and it must be done correctly in order to get the most out of the rest and not to regret the money spent.
So where better to stay, in Phuket or Pattaya? There is no single answer, it all depends on what you want, for what you are going: for the clean sea, an opportunity to see the sights of Thailand and learn more about the East, to party to the full and taste exotic delights. The answer to the question of where to go will be different for each category of tourists. Below we will examine in detail, point by point, all the advantages and disadvantages of Pattaya and Phuket, recommend where best to go those or other travelers.
Read also other comparisons of resorts:
Climate
Here the championship is clearly for Pattaya. This resort in our opinion has the best climate in Thailand. During the dry season from November to April, the rainfall is 1-2 times a month, and go no more than half an hour. The rest of the time the sun shines, which is so you miss the fall and winter in Russia. During the rainy season in Thailand, from May to October, rainfall is only a couple of times a week (can go a week, and then a week do not go), and then small. True, the sky is often obscured by clouds and the sun will not always cheer you up. But this is the rainy season, the rest of Thailand (including Phuket) is much worse.
In Phuket during the dry season the rainfall is 1-2 times a week, and in the "wet" can be every day for an hour or more (read more about the climate of Phuket). Although it doesn't happen year to year and once it may be a couple of rainy days a week, but the fact remains that in terms of weather better Pattaya than Phuket. But if we consider the purity of the air, everything is just the opposite.
Another minus in Phuket in the low season can be high waves and dangerous currents. We must be sure to watch the warning red flags on the coast.
Ecology
Half of Phuket is occupied by forests, and in Pattaya there are not even parks where you can breathe clean air. Of course, the pollution is not as bad as in Bangkok or Moscow, but still, in terms of ecology, Phuket is better than Pattaya.
This factor is probably the most important when choosing a place to stay – after all, we're flying thousands of miles just to swim and sunbathe, and then see the sights, learn about Thai cuisine or buy souvenirs.
So, if we consider where the best in terms of the sea, it would certainly be Phuket.
In Pattaya is not the sea, but the name, the purity of the water is one of the worst in Thailand. Although if you compare it with some Russian resorts, it can be called pretty good. The main beach offers a huge number of motorized water activities, which naturally affect the purity of the sea. Plus the crowd of tourists, and the Thais themselves throw in the water not to understand what – bags, fruit remnants, paper. More or less normally on the neighboring beaches – Jomtien and Wongamat.
But Phuket is much cleaner, especially where there are no crowds of tourists. And on Patong, the most popular tourist beach, the sea is much better than in Pattaya. And on the southern beaches in general, you can see the fish swimming near the shore.
So that you do not lose the desire to go to Pattaya, note that close to the resort there are a few islands (such as Ko Lan), where the water is very clean. On Ko Lan you can take a ferry every day for 30 baht (one way, travel time 45 minutes). If you want, you can even spend your entire vacation there, as there are hotels and hostels (eg, we lived in Xanadu Beach Resort).
Beaches
Here again, the championship is in Phuket.
In Pattaya there are three main and a few secondary (small) beaches. In Phuket are a lot more beaches, in addition, they are wider. With such a variety can choose a corner to your liking – there is a quiet and deserted, and there is a noisy and partying. In Pattaya, however, not crowded beaches – everywhere a lot of people.
Sightseeing
But here the island in the Andaman Sea is much lighter than the resort in the Gulf of Thailand. Although there are few interesting places in Pattaya itself, but it is only two hours drive from Bangkok, where the main attractions of Thailand. They will introduce you to the history, culture, religion and architecture of the country in its entirety. Seeing them can take an entire vacation. Plus, it's an easy three-hour drive to Ayutthaya, the old capital of Thailand, which also has a lot to see. If you want you can go for a couple of days in the city of Chiang Mai, which is generally a cultural center of Thailand. There are excursions to Kanchanaburi and other places. The choice is very great.
But Phuket is located "in the background. To get to Bangkok or Ayutthaya take 12-14 hours by bus or you have to fly. The attractions in Phuket are also poor – there are only a couple of old temples, plus waterfalls. Everything else is not very interesting (like Butterfly Farm). And the statue of the Big Buddha was built in the 2000s, and has no historical value. Staying on the island you will only lift the veil of Eastern culture and give the most superficial idea of it.
Thus, in terms of attractions is definitely better to go to Pattaya.
Sightseeing tours you can see for Phuket here and here, for Pattaya here and here.
Phuket is considered one of the most expensive resorts in Thailand in terms of accommodation and cab prices. Of course, there are inexpensive hostels at 400 baht per day or 4000 baht per month, but you have to look for them, and most are not represented on the Internet. And they are all at a distance from the sea (eg, D's Corner & Guesthouse). But with the cab is a complete "bummer" – to get from the beach to the beach can not be less than 300-400 baht. Read also about the prices in Phuket.
The prices in Pattaya are lower for everything – hotels (for example, a cheap hostel in the central part of Pattaya), restaurants, bars, massages, groceries, groceries, entertainment, transportation, rental bikes and cars. That is why tours here are so popular. It is also close to Bangkok, where you can do even more inexpensive shopping. In short, for shopping, it is better to choose Pattaya.
Entertainment
They are available in both resorts, but prices are lower in Pattaya. The main place of entertainment in Pattaya is Walkin Street, which is full of restaurants, nightclubs, discos, bars with girls, Go-Go bars, all kinds of exotic shows (including drag shows).
In Phuket, the main thing is not to make a mistake with the beach, if partying is important to you. It is better to stay in Patong, where there is Bangla Road – an analogue of Wolkin Street. On the other beaches are much quieter, and the southern and northwestern beaches after sunset life is completely dead – there are no discos, no bars, let alone Go-Go bars with the girls.
As for water activities – motorcycles, paragliders, skis, "bananas", etc., they are present on all beaches of Pattaya and on the main beaches of Phuket (except the northwestern).
A large selection of activities in Phuket and Pattaya is available on Klook.
Diving, snorkeling, and fishing
Phuket and its neighboring islands are excellent places for diving, fishing and snorkeling. In Pattaya itself there is no such opportunity at all, and on the islands that are close to it, not such a rich underwater world as in the Andaman Sea (read about diving in Pattaya).
Where is easier to get to.
Basically the same. There are direct flights from major Russian cities (especially in high season) to both resorts. The flight from Moscow to Pattaya takes 9 hours, to Phuket – 9,5 hours. From Novosibirsk it will take 7 hours and 7.5 hours respectively. But in the first case you will have to drive 2 hours from Suvarnabhumi Airport to the beach (if you take a cab); in the second case – from 20 to 50 minutes (depending on the hotel).
By the way, if you prefer to travel in a package tour, you can look for them on the sites Travelata and Level.Travel for the Russian Federation, Misto.Travel for Ukraine.
Pattaya or Phuket: which is better? Our review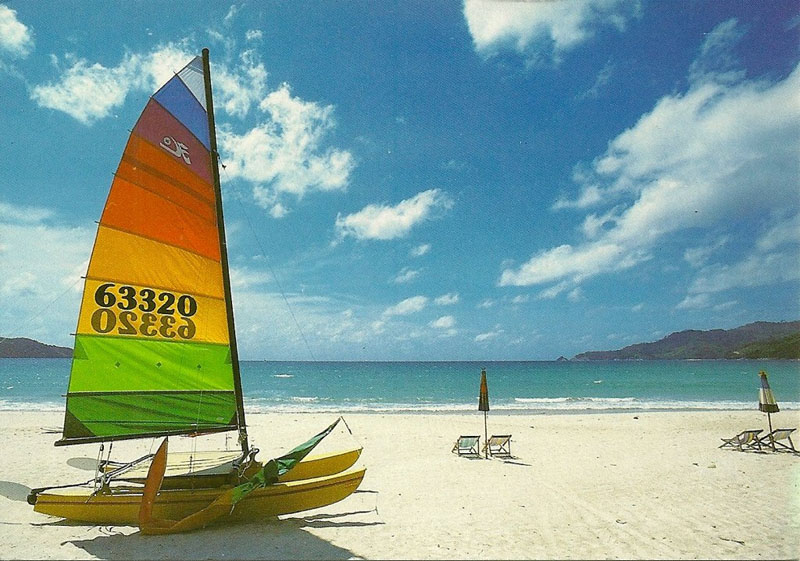 Where is better – in Pattaya or Phuket? We made a big comparison of two major resorts in Thailand by various criteria (sea, beach, hotel and food prices, transportation, flight), wrote a review and made conclusions about where it is better to go to rest.
As of May 1, 2022, Thailand is fully open to vaccinated tourists ("Sputnik V" is recognized). From now on, only unvaccinated travelers are required to have a PCR test before departure. In addition, all tourists must buy insurance and obtain ThailandPass. Tour from Moscow now costs from 120,000 ₽ for two people for 7 nights. Here are the optional prices for stays and flights. Information on flights and other aspects of holidays in Thailand may not be up to date now, check with official resources. Check the list of open countries.
Phuket and Pattaya are the two main resorts of Thailand. Usually tourists choose between them, because few people fly to Krabi or Pangangan. We decided to help our readers with the choice – read it and choose where to vacation.
Our review is based on personal experience – over the past few years we have repeatedly vacationed and lived in these resorts and studied them well. Want to know more about holidays in Thailand? Read our reports and tips.
Prices are given for the high (winter) season.
Exchange rate: 1 Thai Baht (THB) ≈ 1.5 RUB.
What do you want to compare
Pattaya or Phuket: Sea
Phuket. The sea is a million times better than in Pattaya! It is clean, you can see crabs and colorful fish, which are swimming in flocks in shallow water. Diving and snorkeling are widespread. Entrance is almost everywhere flat, which is convenient for tourists with children. The color of the water is rich blue.
Pattaya. The sea is green mud with garbage. You don't want to go in the water. There are a few beaches, where the situation is better – Jomtien, Wong Amat, Pratamnak. For a clean sea need to sail to neighboring islands – Ko Lan, for example. It seems everyone goes there to swim, because in Pattaya tourists sunbathe exclusively. The sea on the island is cleaner, but every day to go there is expensive: to spend 2 hours and 120 baht per day for two on the ferry, plus food, drinks and fruits on the island are more expensive.
The clearest water on Phuket's secluded Kata Noi beach. Jomtien Beach in Pattaya.
Beaches in Phuket and Pattaya: which is better?
Phuket. For a relaxing vacation, go to Phuket – the beaches there are picturesque and clean. Even unloved by tourists Patong beach rehabilitated. This is not a paradise, but the most comfortable place in Phuket for life and recreation. The sand with silversmiths can sing individual dithyrambs.
There are many beaches on the island – you can find the right one. We liked Kata Noi, Nai Harn, Yanui, Banana Beach and Mai Khao.
Pattaya. The beaches of Pattaya we did not like. They are almost all dirty, crowded and noisy. Even if you get a little privacy, you will be overtaken by vendors. The sand is the most common yellow. The central beach is stuffed with paid sun loungers and umbrellas.
The beaches of Ko Lana are very good, we recommend you to go there at least for a day. However, they are occupied by Russian and Chinese tourists, but you can find a secluded place.
Where better beaches, in Pattaya or on Phuket? Our point of view – Phuket is much cleaner and nicer.
When do you want to rest?
Banana Beach in Phuket – small, secluded and beautiful. The beaches in Pattaya are quite busy. It is better to go to the island of Ko Lan.
Attractions in Phuket and Pattaya
Phuket. Attractions in Phuket are mostly natural – numerous idyllic islands, beaches and viewpoints. In addition, there is the Big Buddha, Wat Chalong Temple, Old Town Phuket Town, Soi Bangla and colorful shows and performances. The main attractions are the other islands: Phi Phi, James Bond, Similan, etc. There mostly go with excursions.
Pattaya. It is richer attractions: islands, the Temple of Truth, the elephant village, the floating market, Khao Keo Zoo, Alangkarn Theater, Nong Nuch Tropical Park, etc. Much of this can be seen on a bicycle.
Pattaya is conveniently located – it takes about two hours to get to Bangkok by bus, and this is a place where there is room for lovers of culture! In addition, from Pattaya you can get to Ayutthaya – the ancient capital of the kingdom of Ayutthaya.
Last minute tours in Thailand. Where is cheaper: Pattaya or Phuket?
Tours to Thailand can be very cheap! Often a completed tour package costs like a plane ticket. See examples in our news.
Last minute tours for two persons to Pattaya from Moscow for 7-10 nights during the high season can be found from only 60 thousand rubles! And if you don't know exactly how much you'll save, you'll probably end up spending more than you would otherwise. In summer tours are cheaper. Hot Tours →
Options from St. Petersburg in Pattaya and Phuket are usually from 80-100 thousand rubles.
How to find a really hot tour? Search on the search engines Travelata, Onlinetours and Level.Travel – they will find the best deals among different tour operators. Be sure to check out our 7 rules for buying a tour online – it will help you save money!
Cinematic Janui Beach in Phuket. We don't understand why people take a tour to Pattaya when there is Phuket.
Contingent
Phuket. Chinese couples (girls – necessarily in romantic dresses) and families with children reign supreme here. Hindus in "Rolexes" stroll about, and older Europeans and Americans hit on the go-go girls in the bars. Russians feel at home and try to convey something to the Thais in louder Russian. Perhaps the most Russian-speakers are at popular resorts: Patong, Kata, Karon and Surin.
Паттайя. На курорте преобладают преклонного возраста европейцы и американцы, ищущие горячую подругу на остаток дней каникул. Много молодых и среднего возраста мужчин, привлеченных широтой взглядов местных тружениц и тружеников древнейшей профессии. И — как ни странно — полно российских туристов с детьми, чинно гуляющих по променаду. Где лучший массаж в Паттайе >>
In general, Pattaya is more of a retirement resort, while Phuket is young and middle-aged.
A useful selection: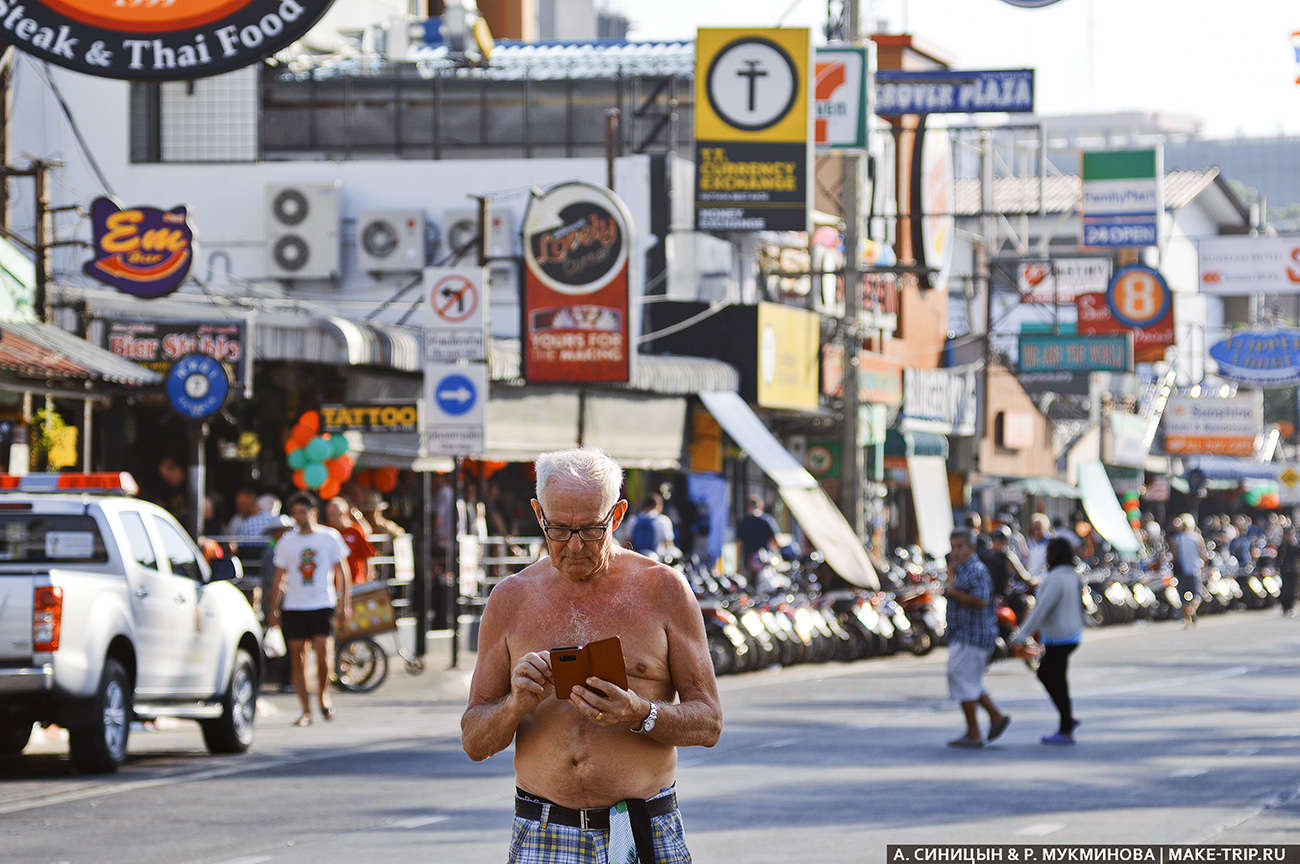 A typical vacationer in Pattaya.
Hotel prices in Pattaya and Phuket: where is cheaper?
Look for hotels on Roomguru.ru – we often use it in our travels. In the examples we provide prices for double room during the beach season. If you want to find a great hotel for a low price, book in advance or stay out of high season.
It is believed that hotels in Phuket are more expensive than in Pattaya. In fact, the prices are about the same . We stayed in Pattaya for $15 a night in much better conditions than in Patong for $18, but it was far from the center and the coast.
Phuket. The most budget accommodation option – hostels. Room rates start at $ 8 per night, but the conditions will be Spartan. On the popular beaches of the island can really find a budget hotel in the range of $ 20 per day. In Patong we liked the hotel YK Patong Resort 3 * with a pool for $ 31 per day in high season – good value for money. By the way, the cheapest room in the famous The Royal Paradise Hotel 4 * is not so expensive – $ 70.
Pattaya. In Pattaya, there are many hotels – from cheap no-name hotels to the expensive and well-known. Cheap hostels near the beach cost from $ 13 a day. In the medium price range we recommend The Pattaya Park 3* for $ 22 per night. For the more expensive, we recommend Siam @ Siam Design 4 * from $ 75 per night. This hotel has a huge number of excellent reviews and rating of "excellent".
Tip: Rent an apartment or villa on Booking.com – it's more fun! Fabulously beautiful villas in Phuket cost from $50. For Pattaya, there's a huge selection of apartments.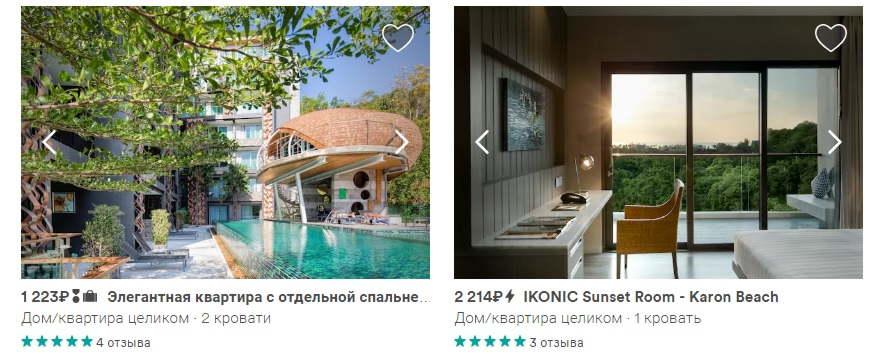 Food and fruit prices
If you choose which is better, Pattaya or Phuket, based on the prices of food, fruit and drinks, preference should go to Pattaya. At the resort, even in tourist establishments, food prices are not off the charts. But in restaurants in Phuket, prices are closer to Moscow. However, even on the island you can eat cheap at local cafes, night markets and pubs.
Pattaya
Phuket (Patong).
Shish kebab at the makashtitsa
From 10 baht/piece.
From 20 baht/piece.
Rice with meat or pad Thai in a makashnitsa
from 40 baht
From 50 baht
Banana pancakes
from 40 baht
From 60 baht
Shakes
From 25 baht
From 40 baht (from 25 baht at the market)
Fruit trays on the street
From 20 baht (depending on the type of fruit)
From 100 baht (any)
Beer in the bar
From 50 baht
From 80 baht
Coconut on the street
from 20 baht
From 50 baht
Tip: Cheap fruits in Pattaya – in street markets and Big C. In Patong – in Big C, night markets and farmer's pickups. Read about the prices of exotic fruits of Thailand.
Useful articles on Phuket: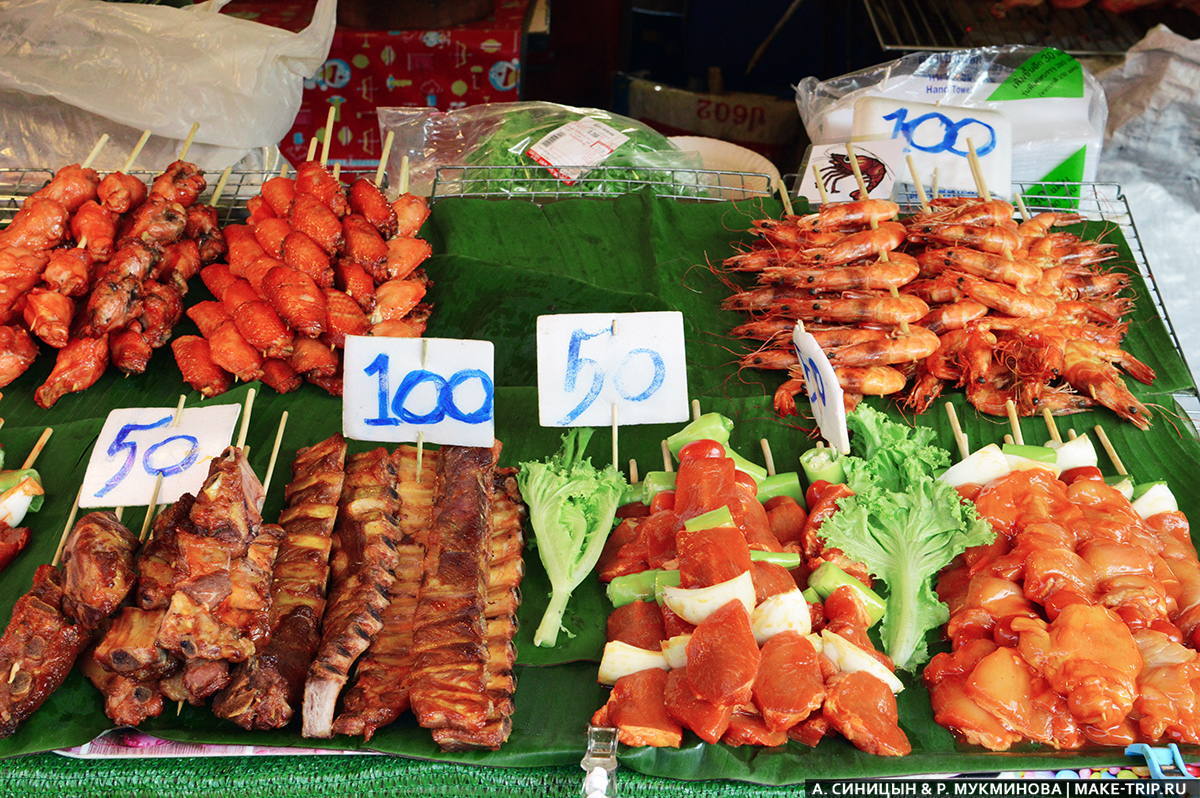 Prices for kebabs at the night market in Patong.
Flights from Russia
From Russian cities you can fly to both Pattaya and Phuket. There are direct and indirect flights. Usually tickets to Bangkok cost a little cheaper than to Phuket (but sometimes it's vice versa).
You can get to Pattaya via Bangkok and from there by low-cost, transfer or bus. There are also direct flights from Siberian cities to Pattaya's Utapao Airport.
From Russian cities.
If you have chosen Pattaya, then read how to fly cheaply to Bangkok.
Looking for cheap tickets to Thailand is convenient with the Aviasales service – by following the link you can see from which cities in Russia are the lowest prices for air tickets to cities in the kingdom.
How to get to Pattaya and Phuket
The easiest way to get from Bangkok to Pattaya is to take a 2-hour bus for 100-120 baht from the East Bus Station (Eckamai), North Bus Station (Mo Chit), or straight from Suvarnabhumi Airport for 120-250 baht. Of course there is a cab – the most comfortable way. From the bus station in Pattaya go only tuk-tuks for 30 baht to the center – they go along Pattaya Beach and take passengers to the hotels. The tuk-tuks leave as they are full.
There are three ways to get from Bangkok to Phuket: by bus from South and North Station (tickets from 600 baht); by train from Bangkok Central Station to Surat Thani (from 300 baht), and then take a bus to Phuket; by plane from Don Miang Airport by lowcost or regular flight from Suvarnabhumi.
From Pattaya to Phuket and vice versa. The trip is 965 km, can be done by plane from Pattaya Airport or all the way by bus (from 900 baht, about 12 hours). However, more often tourists from Pattaya go to Bangkok Suvarnabhumi Airport (120 Baht) to fly to Phuket – we did just that.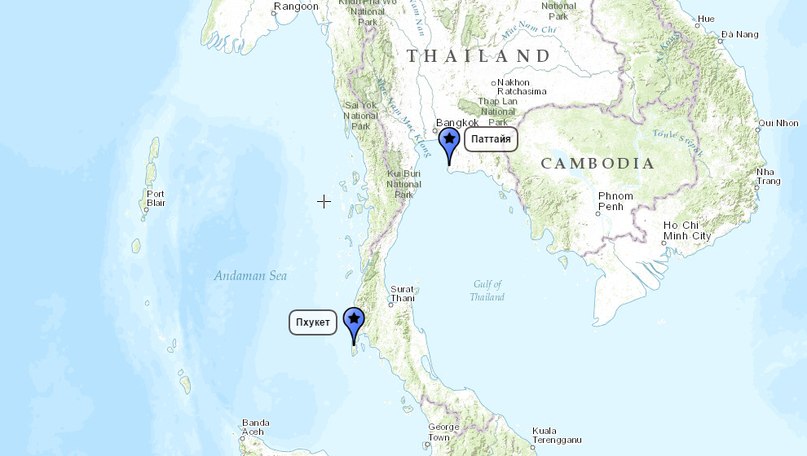 Transport in Pattaya and Phuket
Transport in the resorts is not so good – in our opinion, all unorganized and expensive.
Pattaya. There are local "shuttle" – tuk-tuks, the ticket costs 10 baht. We read in the reviews about Pattaya that sometimes tuk-tuks can be used by some passengers as a cab, and then everyone else is out of luck: The driver will take the passenger, who paid him as a cab, to the route first. From the airport you can take a minibus for 250 baht to your hotel.
Phuket. Tuk-tuks act as a cab, so they are expensive. On the blue buses-songteo you can get to Phuket-town and the major beaches, the price – 30 baht. It is not convenient to get to the islands in Phuket: for this you need to buy a tour at an agency, or first go to Phuket Town, and then to the desired pier.
From Phuket airport to the beaches can be reached by minibus from 180 baht (this is the most convenient way). If you arrive in the morning or afternoon, you can get to Phuket Town by bus for 100 baht, and from there by sunteo for 30 baht. Read more about how to get from Phuket airport.
If you don't want to deal with local transport and change routes, it's safe and easy to take a cab. We used KiwiTaxi on our way from Patong to the airport.