What tourists think about Philippines
Collected tourist reviews of the Philippines, a tropical nation of seven thousand islands. How do they rate the beaches and the sea? What they write about beaches, hotels, weather and excursions. Pros and cons of a vacation in the Philippines in 2022. Tips from vacationers.
The Philippine Islands – one of the most beautiful tropical archipelagos in the world. They are located in Southeast Asia and are washed by the Sulawesi Sea, the South China Sea and the Philippine Sea. There are picturesque mountain landscapes and volcanoes, green rice fields, beautiful sandy beaches. Also you can go surfing and diving on the beautiful coral reefs.
The capital – Manila – is located on the island of Luzon. People come to the conglomeration city to see the colonial architecture, go to museums and visit the Botanical Garden.
Content:
Pros and cons of vacationing in the Philippines
Tourists who have been to the archipelago have left positive reviews about the trip to the Philippines. Tropical islands like everyone who likes to spend time alone with nature, and holidaymakers who do not think of vacation without noisy parties, discos and clubs.
The pros of vacationing in the Philippines in 2022, according to reviews of tourists:
Up to a month Russians do not need a visa.
Affordable prices for holidays.
The warm climate.
Clean sea.
Great opportunities for active tourism and water sports.
Unspoiled nature.
Many national parks.
Delicious exotic cuisine.
Friendly and smiling locals.
Relaxed atmosphere.
Elizaveva: "Filipinos are very simple and good-natured people. A smile is a symbol of a simple Filipino. Always tell you how to get somewhere, tell you and help you".
Cons :
Long and expensive flight.
Typhoons, earthquakes, floods, landslides and volcanic eruptions.
Many Filipinos live poor, so there are beggars on the streets.
Sea urchins in shallow water.
In some supermarkets, visitors are searched at the entrance.
Anna: "Twenty-eight hours on the road and I'm there. After I arrived, I spent 24 hours gaining strength.
Bantayan (Photo: unsplash.com / @roxannedlp)
Reviews of the beaches and sea in the Philippines
The coastline of the Philippine Islands is more than 36,000 kilometers long. There are so many great places to relax by the sea that there are plenty to choose from. According to tourist reviews, at any resort in the Philippines you can find excellent beaches with fine coral sand and comfortable entrance to the sea.
The water has a pleasant blue hue and a comfortable temperature of +26. +30°С. The transparent sea and a rich underwater world attract fans of snorkeling and diving in the Philippines.
SokolnikovY: "White Beach has stunning white, soft, fine-grained, non-heating sand. The water is turquoise, clear and calm. It's the best beach I've ever seen."
White Beach Panorama on Baracay
Philippine Resorts on a Map
Reviews for Best Hotels in the Philippines
Search for last minute tours on Level.Travel and Travelata – they'll find the best deals among different tour operators. Want to save money? Learn 7 rules of buying tours online.
When vacationing in the islands, you can stay in a luxury hotel or rent a cheap bungalow by the sea. Hotels in the Philippines do not have official stars, and these categories are based on subjective assessments of experts. According to tourists, many hotels are actually above the declared level. Only small size of the area prevents to get higher stars.
Cabins in 4-5* hotels often resemble bamboo huts, but inside they are very comfortable. Hotels 1-3* are usually built in the national Filipino style. Even the cheap accommodation has fans or air conditioning. In most hotels staff speaks good English.
Be Resort Mactan 4*. This is a resort hotel with a private sandy beach on Mactan Island. The road to it from the airport takes 15 minutes. Guests appreciate the cozy family rooms and comfortable outdoor pool.
Le Soleil de Boracay 4*. A great option on Boracay Island, this elegant hotel is located 300 meters from the famous White Beach and 100 meters from the D'Mall Boracay. The hotel staff offers diving and windsurfing lessons for guests.
Jpark Island Resort & Waterpark 5*. According to tourist reviews, holidays in the Philippines with children are good in a large spa hotel with a waterpark, which is located in Lapu-Lapu City, opposite the island's capital, Cebu. Guests noted the clean private beach, luxurious rooms and delicious Chinese and Filipino cuisine in the hotel restaurant.
Sav Pacific Cebu Resort 3*. A good budget hotel with a private sandy beach is located in the province of Cebu, east of the island of Makatan. Tourists are taken on sea excursions and for diving on the hotel's own canoe catamaran "bangka".
Sav Pacific Cebu Resort 3* (Photo: booking.com / Sav Pacific Cebu Resort)
Philippine Weather Reviews
Due to the tropical and sub-equatorial climate, the islands can rest all year round. Most of the tourists come from December to May.
The Philippines is characterized by monsoons, but the rainy season varies throughout the islands. According to tourists, in the east of the archipelago, it rains from December to May, while in Cebu province, the seasons are hardly pronounced.
Occasionally there are typhoons in the Pacific Ocean. In the Philippines, natural disasters peak from July to October, but the elements can strike at any time of the year. Typhoons are thought to be less likely from January to April. The island of Mindanao, which is in the southern part of the archipelago, lies outside the "typhoon belt."
Anastasia: I went to Cebu at the end of August. The first three days the weather was fine: the air temperature was +32°C. Then it started raining, but the temperature was higher than usual. Then it rained, but it didn't stop me from swimming, because there was no storm, only a warm wind ruined my hair.
Alina Lifanova: "Visiting attractions in the heat of +34. +36 ° C is a bad idea. It's better to have a closer look at water activities available in March. A huge plus of the month is the absence of storms that interfere with normal snorkeling."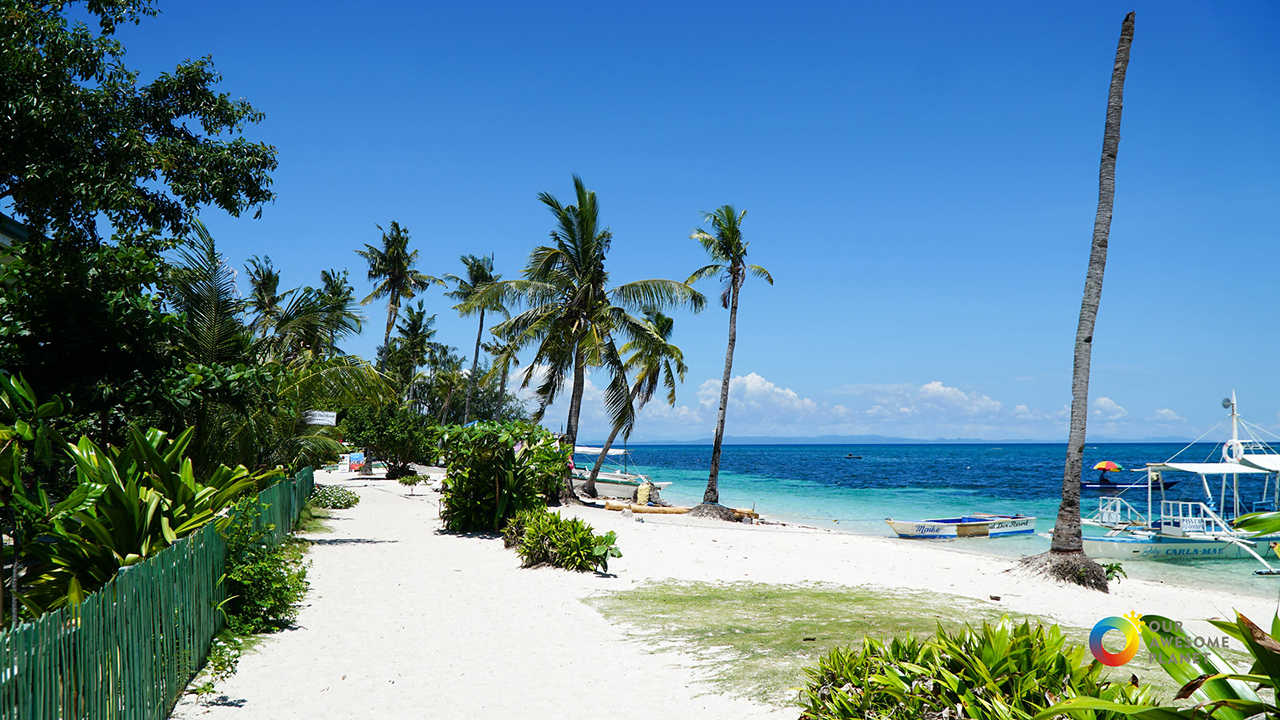 Malapascua, Cebu (Photo: diaz / flickr.com)
Reviews of excursions in the Philippines
Look for author interesting excursions on Sputnik and Tripster. Individual and group, without crowds of tourists and in Russian.
While vacationing in the Philippines in 2022 you can choose tours for all tastes – tours of the capital Manila, travel to national parks, diving, horseback riding tours, ATV trips, boat trips and trekking in the mountains. According to tourist reviews, tours with guides who speak Russian are popular in the Philippines:
Belena: "The Bohol River Extreme Park is located on a mountain and has a spectacular view. There's something to entertain thrill-seekers – bungee jumping, flying over the canyon, etc."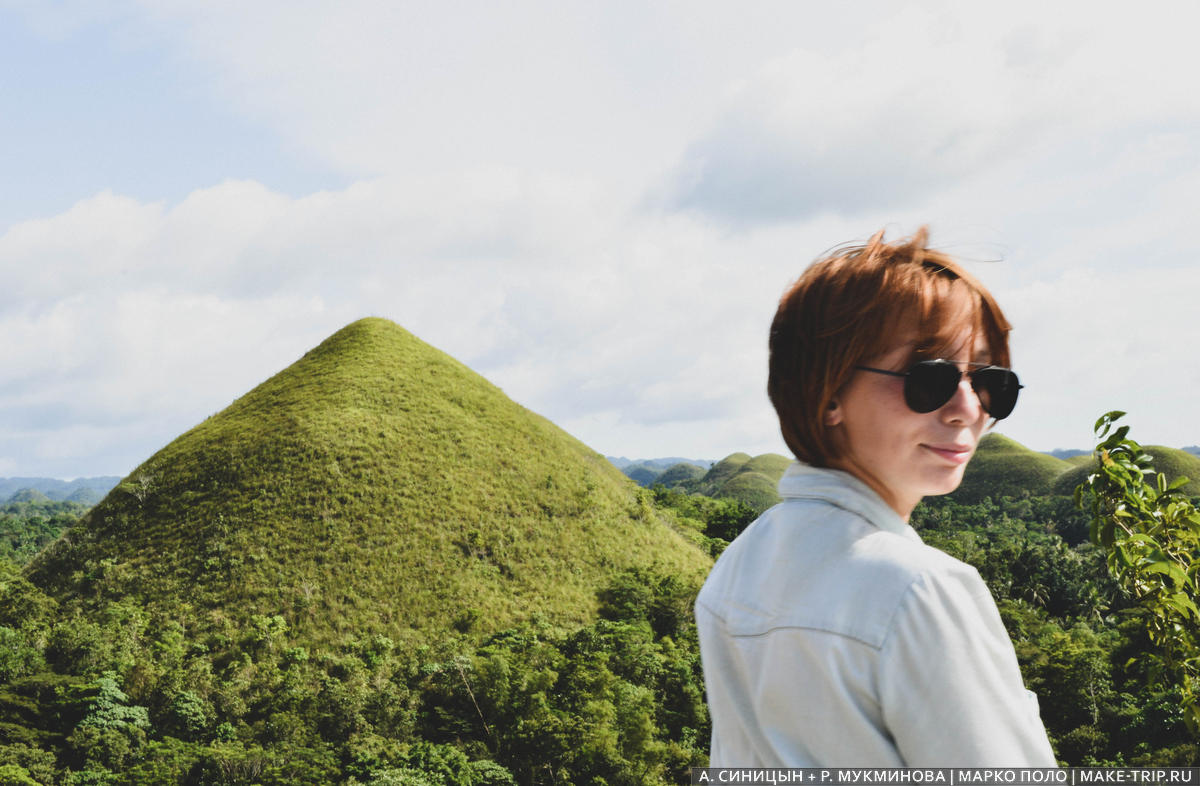 This is us in Bohol: Alexei and Renata saw the chocolate hills and visited the tarsiers.
Tips for vacations in the Philippines
The island archipelago – a real paradise for an active vacation by the warm sea. Each resort is good in its own way. Young people like it on Boracay. Bohol suits fans of water sports, and Cebu attracts luxury beaches and luxury hotels.
IdaMitkova: "This country will not suit fans of static relaxing holiday all-inclusive style Turkey-Egypt. The Philippines is a country for traveling, exploring the unique beauty of nature, not man-made attractions.
In the Sulu Archipelago, the Mindanao Islands and the Zamboanga Peninsula are sometimes religious and ethnic conflicts, so we advise against visiting this part of the Philippines.
Spring in the Philippines is hot. The air temperature is +34. +36 ° C. For a vacation at this time of year, choose picturesque, overgrown with tropical vegetation bays. Excursions are tiresome, but it's nice to swim with flippers and snorkel and scuba dive the coral reefs.
In the bill of the restaurants include 5-10% for service. In addition, it is customary to leave the waiters a few coins from the brought change.
At many Philippine resorts, such as Davao, smoking in public places is prohibited. For violations tourists pay large fines.
Philippines – reviews
I would like to tell you a little about the Philippines. In general and in general. This review will be just super huge. If interested, stock up on popcorn. It's a beautiful country and you'll find everything here: nature, wonderful people and colorful traditions, delicious food, outdoor activities and tons of fun.
Philippines are "different from other" countries in Southeast Asia. And it is not only and not so much due to its geographical location away from the main enclave of the region and the scattering of islands (here they are similar to Indonesia, but still Indonesia has more in common with the rest).
It all started when I was tired of living with the new clothes, surrounded by cynics and weak friends, good friends had left or gotten married. I've decided to change something in my life and start traveling no matter what it takes, even if I'm alone, I'm not afraid, so you understand…
Good day to all, dear readers! Today I would really like to leave my review about our long trip to the Philippines. We have long been hesitant to go to the Philippines, because we heard so many contradictory reviews, but still most of our acquaintances were absolutely delighted.
In the Philippines, we vacationed as a family – me, my husband and two children – in June this year. For the rest we chose two islands – Cebu and Bohol. They were not chosen by chance.
The Philippines is one of the most picturesque countries I have ever been. The flight was more than a day (three changes of plane), the decision to travel was made in consequence of promotion airline "Emirates" selling tickets for 13 thousand dollars round trip to Hong Kong and then by Asian Airlines to Cebu for another 6 thousand dollars…
Hello everyone, in the period of nostalgia for warm sun and sea I will tell you about a very exotic country – the Philippines. Distant corner of the planet, which surprised me very much. And specifically about the resort of Cebu – quite expensive and very beautiful place. The place is really far away.
The Philippines are more than 7,000 islands. There are far fewer popular tourist spots. I'll tell you about the places we've been and who should or shouldn't go there. Coron and El Nido (Palawan Island). Rating: 5 out of 5. These are places for those who go to places where you can enjoy the beauty of nature.
There is an amazing country in Asia, with magnificent nature and wonderful people. This country is still not spoiled by Russian tourism, there are no tour groups, no hotels "all inclusive". I love this country and will never stop loving and admiring it.
This winter, after the new year, the choice of a trip was between Bali and the Philippines. At that time I lived on the island of Taiwan, so the choice fell to the Philippines, as the flight was only 4 hours, no change, and besides for only 6000 rubles.
It's a fantastic country, I liked it. I was there a few months ago. Three weeks of heaven! I flew with Emirates. Good service) I flew to Manila before the new year and stayed at a hotel for 1 night. Flew to sebu island in the afternoon. Great food!!! Tasty little kebabs for 7.
We flew to the Philippines as a family ( 5 people), which is very convenient because you can not stay in a hotel, and rent a house. We flew for a month and therefore had time to visit several islands. First we visited Borokay. White sand beach, waves, sun.
Good day! I want to tell you about our experience of flying in a helicopter! It was in December 2018:) In a local travel agency we bought a helicopter tour!
The country is very interesting and so far untravelled. You can travel richly, using all modes of transport: buses, planes (very convenient, inexpensive and safe), tricycles, boats (for the extreme:-)). The Philippines is beautiful. There is just an incredible concentration of natural beauty.
Even before the trip, during my preparation for the trip I learned that the island of Mactan in the Philippines, where I had planned the tour is known, among other things, that it was there where the great explorer Fernando Magellan was buried and of course, one of the main objectives of this island for me was to visit his …
Since childhood, we got used to the fact that good and quality things must be expensive, the same applies to rest. And up to 28 years I thought so too, or rather was convinced of it.
Philippines, as we know – a paradise for divers, but that does not mean that people like me, that is not able to swim there is nothing to do. Not at all! An excursion to the island of Bohol is proof of that.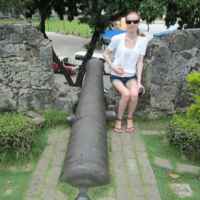 Good afternoon Prehistory. As always, I am writing a review for not the most popular destination for Russian citizens. This island is Cebu and to get to him to spend a lot of time and money. Initially it was advertised to me by my Australian friends and this resort is popular among Australian citizens.
In my review of the Philippines, I have already mentioned the delightful experience of El Nido, which is on the island of Palawan. But I think that this place is worthy of its own story. So, we got here by local bus from Puerto Princesa.
A review of the Philippines – here About beautiful El Nido – here After leaving Palawan, we returned to Luzon. Now our destination was the Pinatubo Volcano. It was thought to be extinct, but as it turned out, in vain.
The sea on Boracay island is the best sea I've ever seen in my life (comparing where I've been: Thailand, Vietnam, seas in Europe)! The white beach is divided into 3 parts:1 station: the sea is shallow, convenient for kids; 2 station: the main traffic and most people here, many cafes; 3 station:…
Good day! I want to share my impressions about my visit to the Manila Ocean Park in Manila City, the capital of the Philippines. We flew to Manila for my son's admission to Adamson University.
Hi all! After returning from the Philippines, I want to share my experiences of visiting an old place in Manila Intramuros, namely Fort Santiago, which is located there.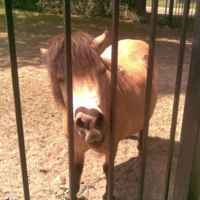 Ukraine. From Kiev to Pochaev. And the rain was pounding in the train window, a good reminder of something. Nice people, beautiful nature. I definitely liked it here!
Good day to you all! I want to share my impressions from visiting Ukraine. There are only pleasant memories left in my mind. To begin with, in this fascinating journey with me went my godmother and my girlfriend. We were to go by train.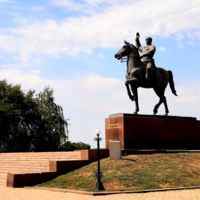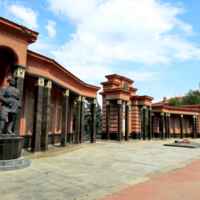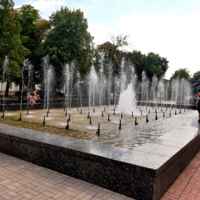 A small humble city that the whole world learned about in 2014. From the humble regional center to the capital of the Republic. Is there life in Lugansk, what to visit in the city, what to bring from the city with you.
Hello! Let me start by saying that I was born in Lugansk region. As a child I've been a few times in Lugansk, and at age of 15 I entered college and moved to Lugansk for good. Since then I consider Lugansk my native city. How not to count? I lived in Lugansk for 11 years!