Vinsky Forum
Hi all! When I was going on this trip, I didn't find much fresh reviews about Fukuoka, so here's a little report. 1. Grab (cab) works. There are motorcycle cab, there are cars. Pay in dong (vd). 2. Tickets for the cable car at the ticket office in the cable car are 540.000 (if growth greater than 140), and 400.000, (if growth less than 140). You can pay by card (I had a visa, NOT rf). There are 4 per day entrance/return intervals. The ticket price includes 2 rides on the island (roller coaster, observation tower – I recommend both). And there's a gorgeous beach with free sun loungers, hammocks, etc. BUT! note that on weekdays, EVERYTHING on the island is open until 5pm, then the employees start chasing everyone to the cable car. The water park seems to be separate, but we need to clarify. (350.000 and 700.000 per ticket) 3. Nora's cafe is a great cafe with vegetarian instagram breakfasts (avocado toast, bowls, ~130,000/portion). LINDA cafe – a cafe where you are always welcome, there is a Russian-speaking menu (lunch for two: 2 dishes and a drink, cost 4. Rent a motobike 120.000/day. We took a Sunlight Bungalow. There's a very nice English-speaking administrator. If you need, there is his number watsap. Gas station on the island, not so much, so I recommend controlling this point, especially if you go somewhere deserted places. And watch carefully to make sure the meter at the gas station is zeroed out before you do. 2/3 of a tank is worth ~ 80,000 vd. 5. Very bad with exchangers. I know one point in winpearl and two in town near the airport. The exchange rate is bad (23,000, 22,500, 22,000 vd per dollar 5-7 July 2022). Exchange offices (USD – vd): 1) this is an approximate address, there's a building that sells tours and has a small "exchange money" sign, 131 Đường Trần Hưng Đạo, Dương Tơ, Phú Quốc, Kiên Giang, Vietnam; 2) the annex next to the coffee shop (10.1907863, 103.9668216) 3) the jewelry store (10.3266076, 103.8612384)
6. You can't pay by card anywhere in town near VinWorld; better to have cash for everything (hotel, food, entertainment, cabs, etc.). 7. For the return trip from Fukuoka VietJet, you can't get an online checkout. Only at the airport. 8. Green Tree Hotel Phu Quoc super hotel. Housekeeping, towel changes, replenishing supplies – every day. Nice family room on the 1st floor (actually – second), 104, with a balcony, the view covers a gorgeous tree. Nearby is a cafe with very democratic prices Paris 66 (scrambled eggs with two eggs 25.000 vd, yogurt with topping and drinks ~ 30.000 vd). To the beach 10-12 minutes, the beach is littered, but not so that straight mountains. Unpleasant, but bearable, especially in front of the hotels (everything is open, walk quietly everywhere, the beach is long); location is convenient, but if not just for beach vacation – you need a bike. 9. StarFish beach, dirt (oooh very bad road with bumps and potholes, puddles, mud, small stones and gravel,~7 km one way), we were the beginning of July – there were no stars, the water is dirty and muddy, fish eateries on the water have two menus: for tourists and locals. We took Spring rolls with shrimps, shrimps are big, tasty, big portion, expensive 150.000vd, and shrimps are not cleaned from intestinal vein… we never ate). 10. In the north (by VinWord) and south (by the cable car) they built chic touristy new quarters-towns imitating Europe. Italian/Spanish style. Very Instagrammable. 11. Entrance to instagram beach (Sunset Sanato Beach Club) costs 100.000vd, beautiful locations, bar inside. If you take the hotel that owns this beach, admission is free.
Overall, I was happy with our 4 day trip. After reading the 2020 reviews I was upset that I bought the tickets, but it's better than I expected. There is still construction going on, but it's a lot less. And there is trash, but like thai and Nha Trang, not just a dump.
Westkam newbie Posts: 21 Registered: 06/23/2017 City: Moscow Thanked (a): 10 times. Thanks: 2 times. Age: 34 Reports: 1 Gender: Female
Re: Phu Quoc, Vietnam, July 2022
sp78 " 09 Jul 2022, 09:55 am.
How are you feeling with the locals? I would say it's a nice place to live. 120,000 for the bike is a good price, just like in the old days. Also got tickets for November. For exchange offices in the city center, there are always jewelry salons – change there. But at the rate of exchange, it is better to change everything at once at Ho Chi Minh Airport. In 2020 m also convinced of this, it is the most profitable rate.
sp78 full member Posts: 356 Photo: 1 Registration: 18.03.2010 City: St. Petersburg Thanked (a): 32 times. Has thanked: 13 times. Age: 47 Countries: 22 Gender: Male
Re: Phu Quoc, Vietnam, July 2022
Westkam " 12 Jul 2022, 22:07
I know about the jewelry stores, but I'll disappoint: they don't change in Phu Quoc at the jewelry stores. Asked in all the ones I came across, but there aren't many there at all.
What about the atmosphere: it's alright, everyone is very hospitable and welcoming to all tourists, they are polite. Didn't have to haggle, so I won't even say anything about that….
Westkam newbie Posts: 21 Registered: 06/23/2017 City: Moscow Thanked (a): 10 times. Thanks: 2 times. Age: 34 Reports: 1 Gender: Female
Re: Phu Quoc, Vietnam, July 2022
sp78 " 12 Jul 2022, 22:57
sp78 full member Posts: 356 Photo: 1 Registration: 18.03.2010 City: St. Petersburg Thanked (a): 32 times. Has thanked: 13 times. Age: 47 Countries: 22 Gender: Male
Re: Phu Quoc, Vietnam, July 2022
AIKIDO " July 13, 2022, 11:15 am.
AIKIDO full member Posts: 331 Photo: 121 Registration: 02.10.2010 City: Far East Thanked (a): 48 times. Thanked: 36 times. Age: 50 Countries: 7 Reports: 4 Paul: Male
Re: Phu Quoc, Vietnam, July 2022
Steame " July 15, 2022, 00:18
Steame Member Posts: 120 Photo: 1 Registered: 07-31/2007 City: Moscow Thanked (a): 3 times. Has thanked: 4 times. Age: 52
Re: Phu Quoc, Vietnam, July 2022
westkam " 23 Jul 2022, 17:17
It is very good to put a photo of a place in Instagram))) often you can see such places in Phu Quoc, they have no historical value but they look very impressive on the photo)) the same is about the dish: try to serve it up effectively, take a picture and post it on Instagram))
Westkam newbie Posts: 21 Registered: 06/23/2017 City: Moscow Thanked (a): 10 times. Thanks: 2 times. Age: 34 Reports: 1 Gender: Female
Fukuoc island: how not to spoil the rest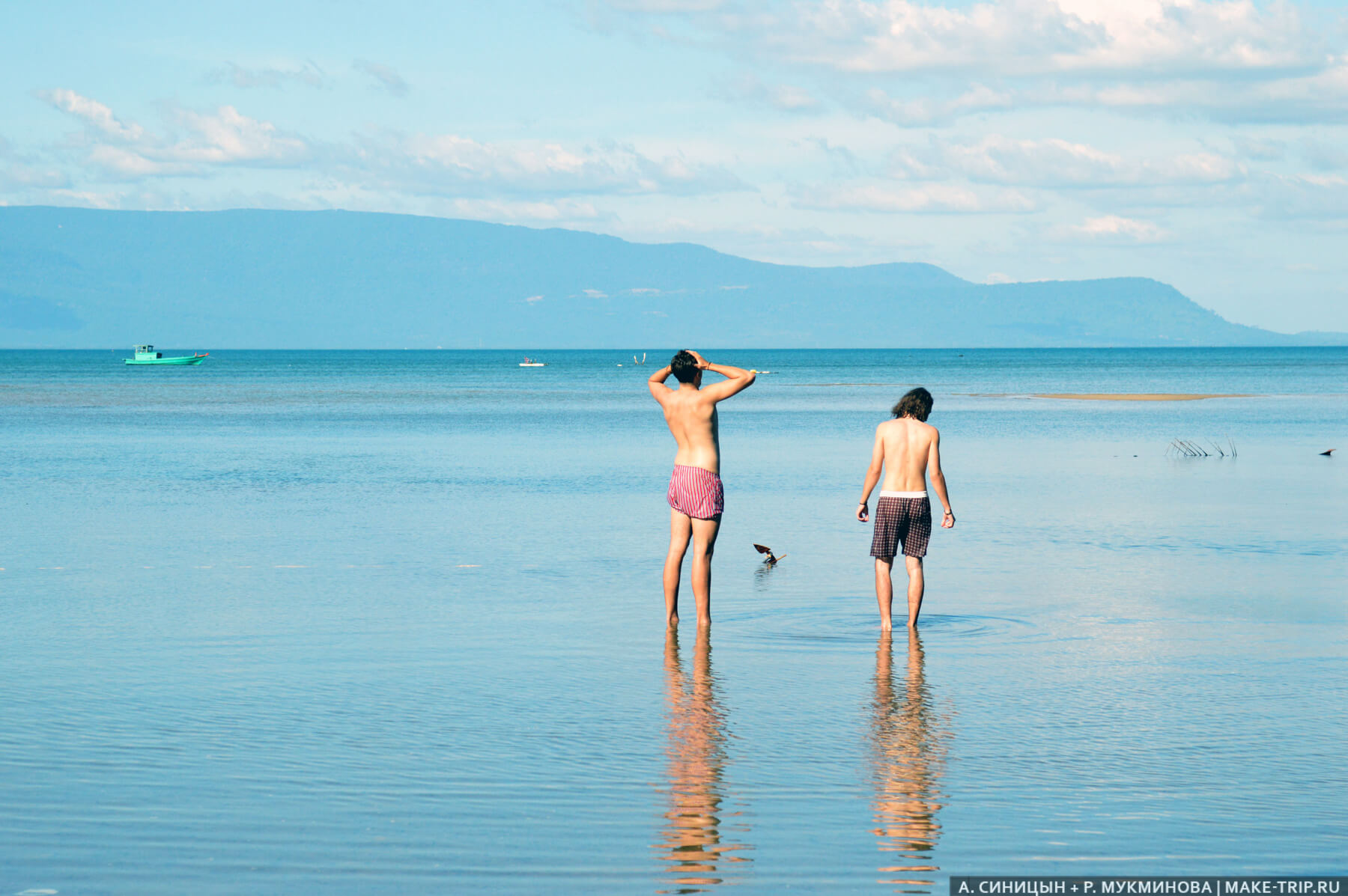 Phu Quoc is a tropical island in the south of Vietnam. It beckons tourists, promising paradise beaches, cheap seafood, beautiful vacation in resorts. Are these promises true? In general, yes. On Fukuoka you can rest well and it is worth a trip. But the island is showing its Vietnamese character – the nuances and reservations may abound, as in the contract of a cunning lawyer. There is no need to give up the rest, just read our review and tips. Warned – is armed.
Our experience . Vietnam is one of our favorite countries. We have come here three times (each time for a few months), traveled through the country, visited all the resorts. Fukuok we also explored extensively: traveled around the island, saw the sights, explored the beaches, rested in different hotels and resorts. We have a story to tell and compare.
Where to find last minute tours? Look for travel services Travelata and Level.Travel – they compare the proposals of 120 tour operators, and find the best price. That way you'll save time and money.
Узнайте также: как покупать туры дешевле >>
Только для наших читателей: скидка 1500₽ на туры во Вьетнам >>
Content: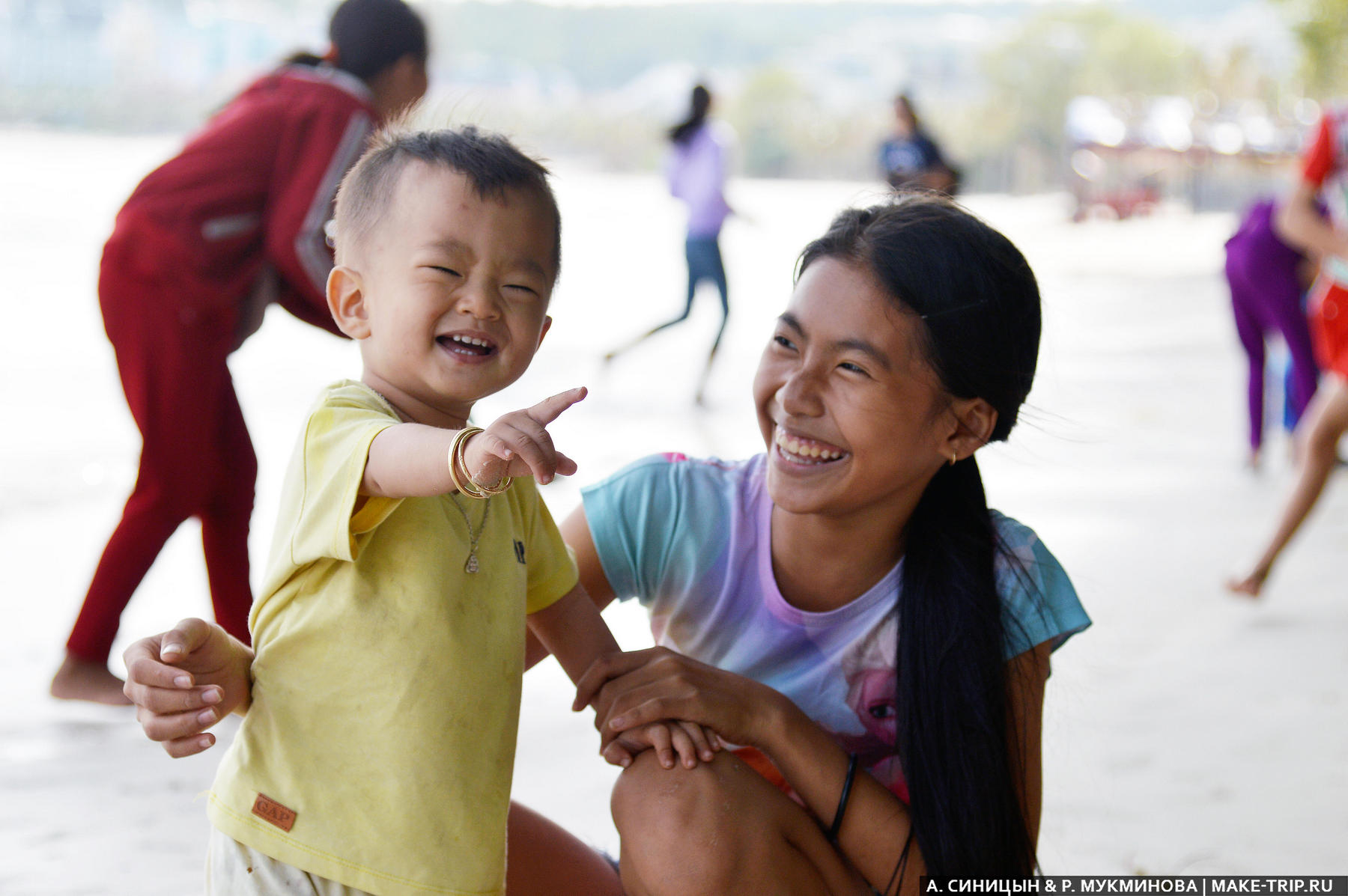 The people of Fukuoka are friendly and cheerful.
What is Fukuok like
Fukuok has an international airport, many hotels and resorts from budget to luxury, an amusement park, dive centers, hundreds of restaurants, cafes and eateries. There is almost no shopping infrastructure.
The island, even in 2022, still retains the atmosphere of seclusion – should go beyond the tourist zone, and you find the jungle, wild beaches, local color. However, Fukuok is actively being built, so in 5-10 years it will not recognize.
Tourists go to Phu Quoc for cheap seafood . Yes, they are here in abundance. But the gifts of the sea can be found at any resort in Vietnam – and prices in Nha Trang and Mui Ne are lower.
Holidays on Phu Quoc is safe in terms of natural disasters, in contrast to the center of Vietnam. The island is protected by a mountain range. Tsunamis do not happen here, typhoons are not rampant. The climate itself is milder, there is no strong heat.
While there is no en masse russification, as in Nha Trang or Mui Ne, so a basic knowledge of English will be useful.
In general, Fukuok makes a mixed impression: he is quiet and calm, but the infrastructure is poorly developed, the prices of Vietnamese standards are high, there are few attractions.
Rush Vem is a picturesque beach with starfish in the north of Fukuoka. The boys are photo lovers.
When is the best time to go to Fukuok? Weather and Seasons – 2022
Almost all year round the temperature remains at the same level: air +29. +31 ° C, water +26. +28°С.
The season for recreation . On Phu Quoc it's better to travel in winter – it's warm and dry. However, from December to April the prices are the highest. The island is especially popular during the New Year. At this time the number of Russian tourists increases significantly. We stayed on Fukuoka in December and January, also welcomed the New Year. Seasons and weather in Vietnam →
The hot season . From April to June it gets hotter, there is not much precipitation yet. Holidays are possible, but not as comfortable as in winter. In reviews, tourists note that from mid-March to May in the sea can be jellyfish.
The rainy season on Fukuoka begins in July, the maximum rainfall in September and October. The rest of the time, the island has favorable conditions for beach holidays, diving and snorkeling.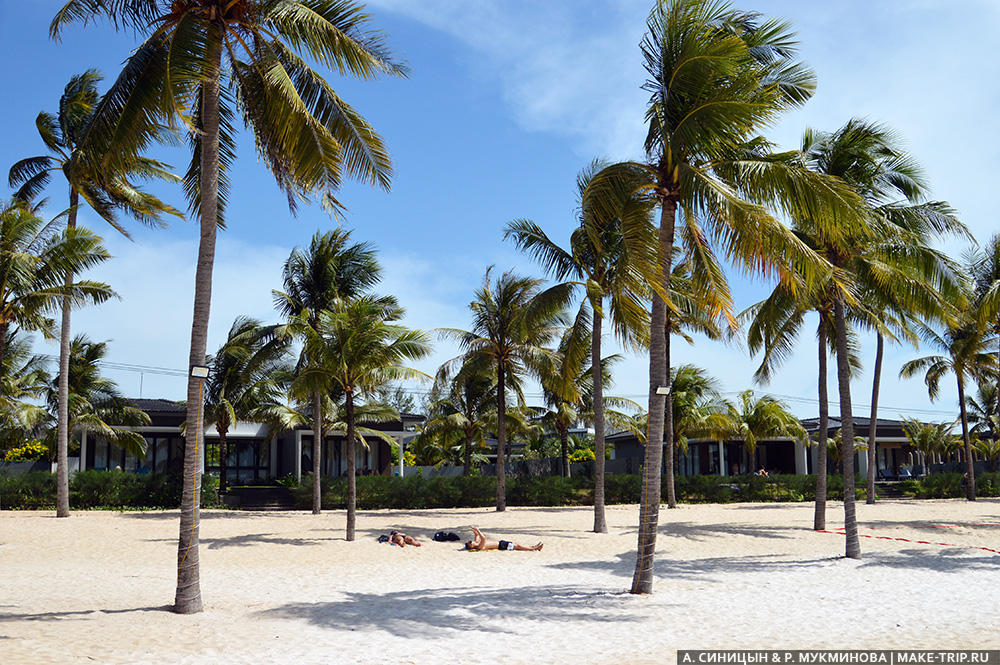 Long Beach is the longest beach on the island.
Fukuoka Beaches
Fukuoka has many beaches, which is what the island is famous for.
Long Beach is the longest and most popular beach in Fukuoka. This is where almost the entire tourist infrastructure of the island is concentrated: hotels, resorts, cafes, restaurants, dive centers. To get to the beach itself is not so easy! All the first line all occupied by expensive resorts and hotels. Let holidaymakers through its territory, they do not want to, we have to wander through the maze in search of access to the sea. From the beach, too, can banish – all the best seats are occupied by sun beds hotels with the first line. The beach, by the way, very narrow and cramped. We recommend choosing other beaches in Fukuoka.
Bai Sao – this beach is considered the best beach in Fukuoka. Beautiful beach with fine floury sand, quite wide. It is located in the southeastern part of the island, and you should take a bicycle or a cab to get there. There are not many hotels here. There are cafes, fruit trays, showers and toilets.
In the northern part of the island, there are several wild and sparsely populated beaches – all with a flat bottom, clear water and perfectly white sand. It is here that the beach with starfish is located. Amazing place – go for sure! There are almost no hotels and resorts, but there are seafood restaurants. Come here for the beauty, solitude and quiet.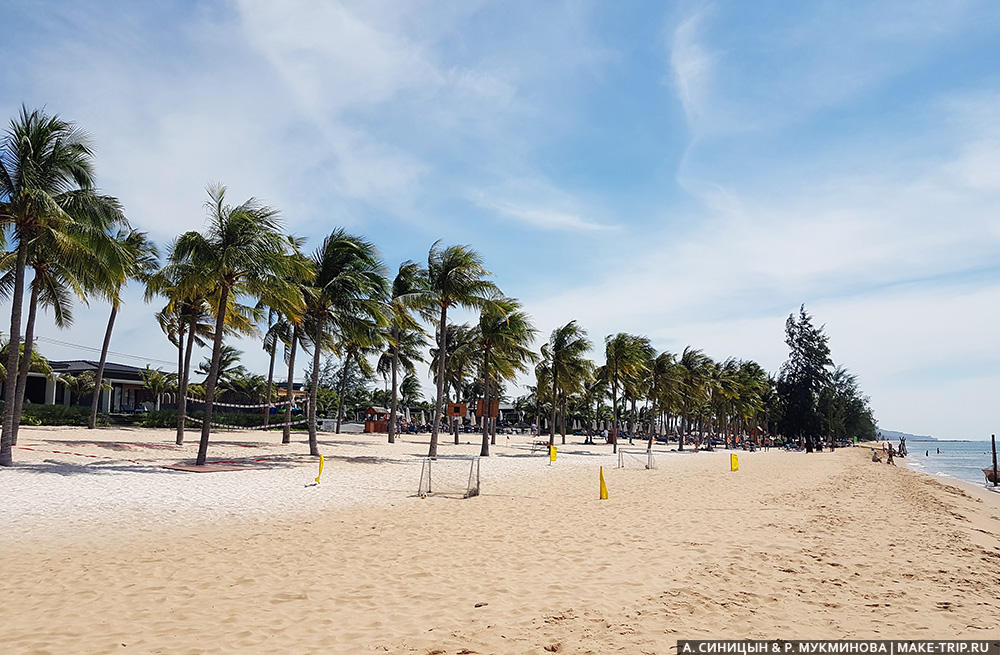 The southern part of Long Beach.
Hotel prices – 2022
The choice of accommodations in Fukuoka is large: there are cheap gesthouses as well as luxury resorts. We like to try out different accommodations, so we have stayed in Fukuoka in a mansion, a hotel, and three resorts.
Hotels in Phu Quoc are more expensive than in other resorts in Vietnam. A decent room will cost from $25 (we recommend Sailing Hotel).
Guesthouses . You can find a cheap room in a guest house for $ 9, but such accommodation is far from the beach. We stayed at the family-run Xuan Anh Guesthouse.
Resorts . The best place to vacation on Fukuoka is in resorts – they are oases of peace and tranquility. Prices are adequate:
We paid $25 for a double cabin at the modest but cozy Cosy Resort.
Good resorts with a pool and breakfast cost from $40. We stayed at Miana Resort and The Hill Resort – recommended.
There are some really cool five-star resorts with luxury villas for $150 a night – for example, The Shells Resort & Spa.
Look for discounted hotels in Rumguru. Here are the ground rules for finding hotels.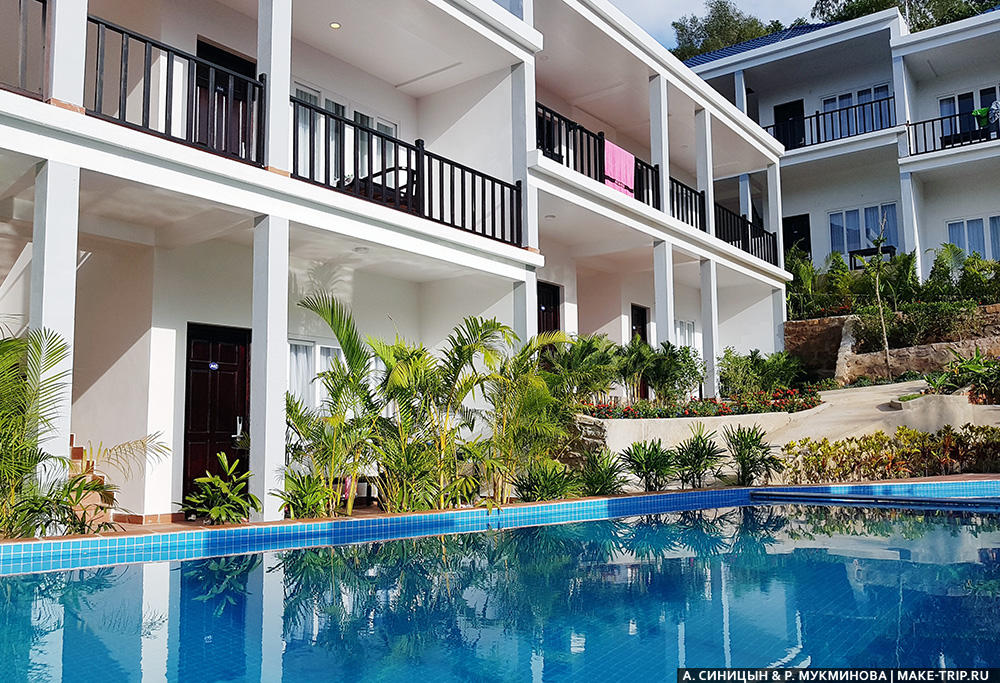 The Hill Resort is a good resort in Fukuoka for $40 a night.
What to see in Fukuoka
Recreation in Fukuoka is mainly beach. There are a few attractions on the island: a large national park, waterfalls, pagodas and temples, an amusement park and safari Winperl, a cable car to the island of Thome, a pearl plantation, coconut prison and plant for the production of fish sauce. The most striking and colorful are the floating village and starfish beach in the north of the island and the port and town of An Thoi in the south.
We recommend renting a motorcycle (VND 150,000 per day) and riding around the island, exploring its attractions. The roads outside the city and tourist area are free – one pleasure to ride! We even celebrated the New Year, riding a bike on the empty roads at night.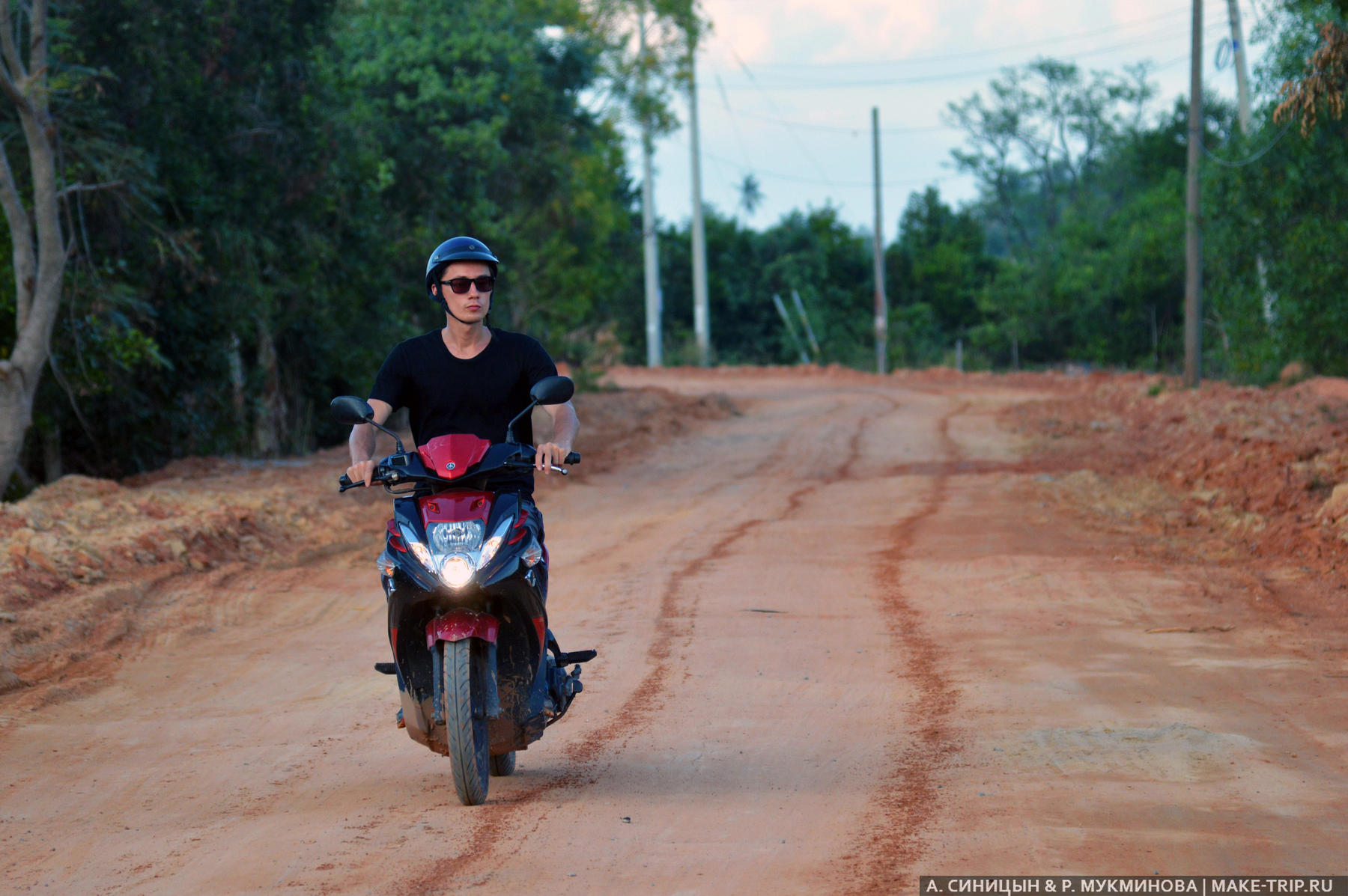 We recommend to rent a bike in Fukuoka, you will see a lot of places with it!
Excursions in Fukuoka in 2022
Wynperl Amusement Park – VND 500,000 ($22).
Safari – VND 600,000 ($27).
Comprehensive program with snorkeling, short fishing, dinner and excursion – from $17.
The same, but with night squid fishing – from $ 30.
Diving: dive from $70, course from $340. Diving in Fukuoka is considered one of the cheapest in the world. An Thoi archipelago (An Thới Islands) is considered a good place for snorkeling and diving.
A two-day tour to neighboring Cambodia and Singapore costs $200-250.
Yachting is not developed, but you can take a boat or pleasure boat ride.
Wedding ceremonies start at $1,000.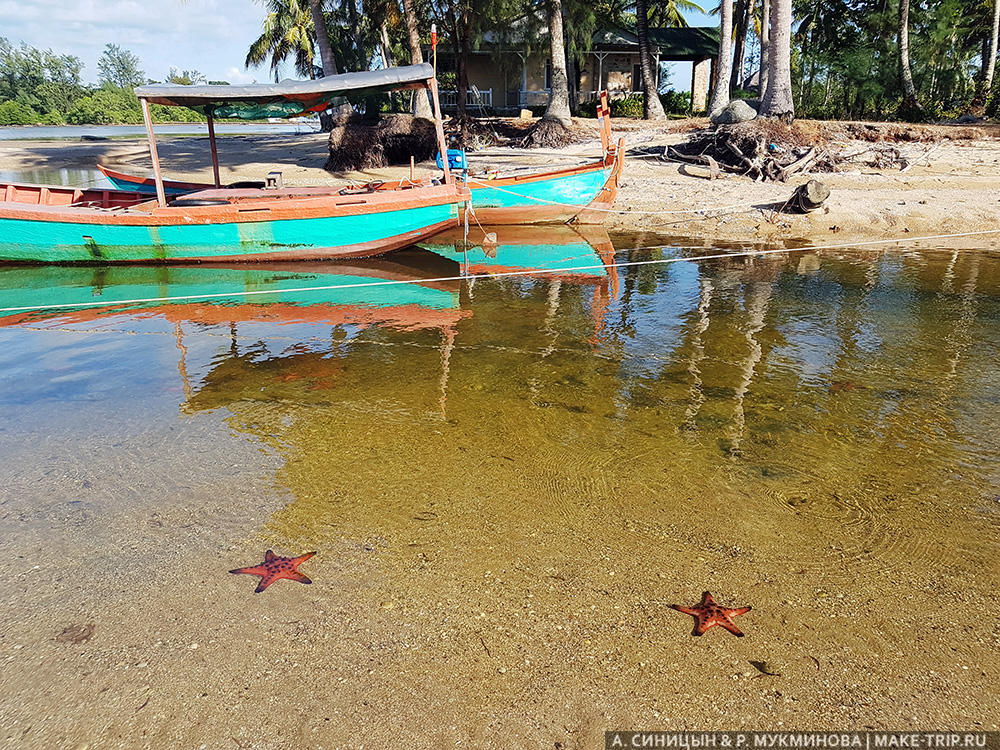 Some northern beaches have starfish.
Food prices are 2022. Is the food good?
The food on Fukuoka is disgusting, and in some tourist cafes is disgusting. This is noted by many tourists in their reviews. As lovers of Vietnamese food, we think the island of Phu Quoc is strongly losing to other Vietnamese resorts in the quality of cuisine.
The food prices are not good either. In Phu Quoc everything is more expensive than on the mainland. Smoothie – from 20 thousand VND, rice with chicken or seafood in the tourist cafe – from 70 thousand portions of fish, squid or shrimp – from 100 thousand in the capital – the city Truong Dong – you can eat cheaper. Read more: the prices of food in Fukuoka →
To eat delicious and inexpensive, avoid tourist establishments and look for places where Vietnamese themselves eat.
The grocery stores in Phu Quoc are very bad. Even the village store in the Russian countryside compared to them will seem like a hypermarket. There are only specific Asian snacks, beer, soda, crackers and other snacks. Fortunately the tropical fruits on the island are all right: a lot of sellers, reasonable prices.
Shopping
There is almost no shopping in Fukuoka, the exception – the small stores and night market. You can buy shower clothes, pearls, coffee, cocoa, local black pepper and souvenirs. For shopping is better to go to Ho Chi Minh City.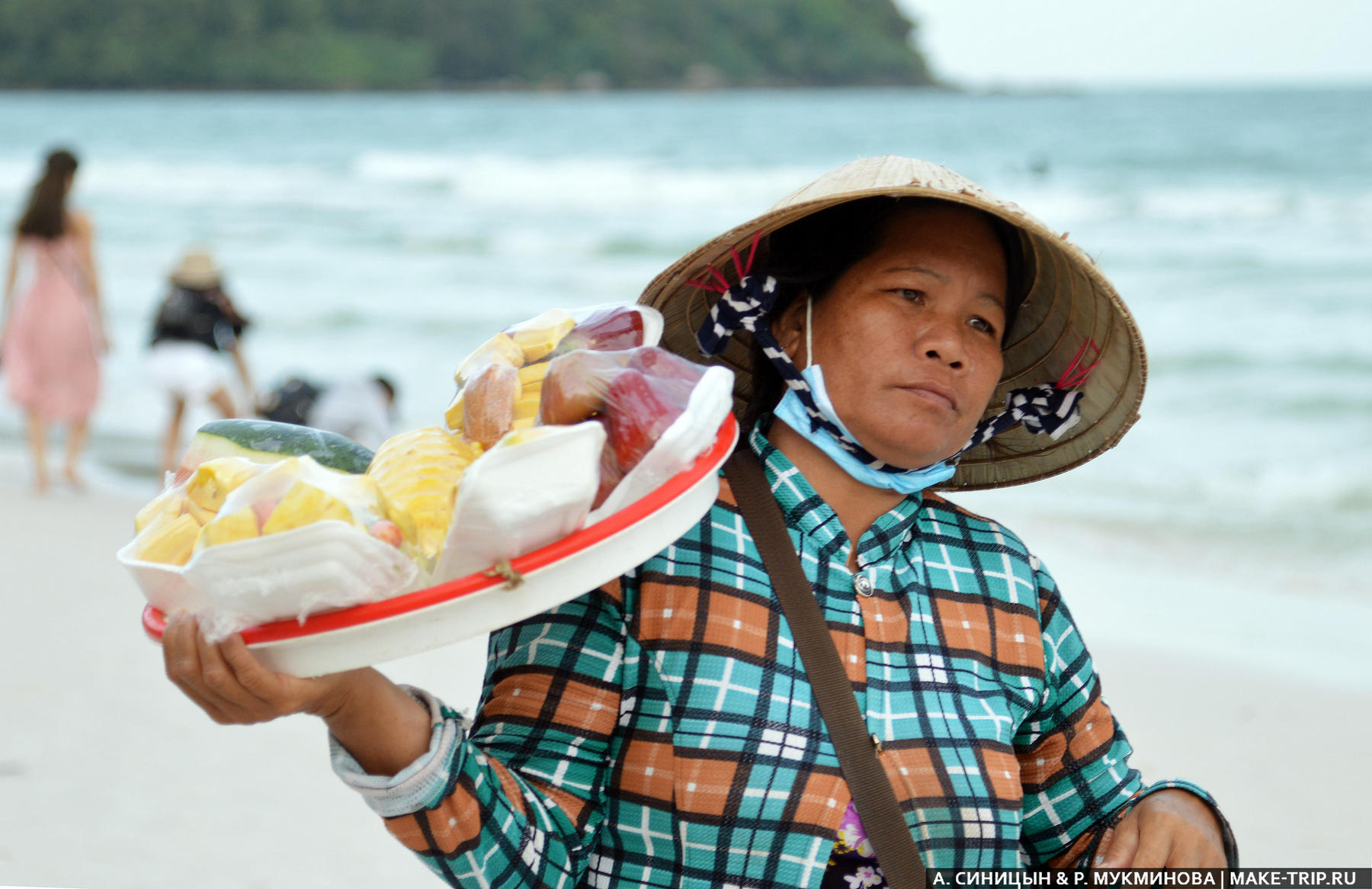 On popular beaches you can buy inexpensive fruit slices from vendors.
Tips for vacations in Fukuoka in 2022
It's best to book your hotel in Fukuoka in advance, especially for New Year's Eve. We planned our trip late and had a modest choice of accommodations.
There is no public transportation on the island. If only free bus to the amusement park "Wynperl" and a regular bus to the village An Thoi. Rent a bike and ride at your pleasure! If driving without rules (and the Vietnamese have never even heard of the rules of the road) is unacceptable to you, use a cab – they are abundant here.
Mosquitoes eat the island mercilessly! Nasty mosquitoes will prevent you from sleeping and bite you at the cafe during dinner. Stock up on fumigators and repellents.
Withdraw money from MB (Military Bank) ATMs – they are the only ones that don't charge commission.
There are no buses from Fukuoka airport, only cabs. However, many hotels and resorts offer free shuttle service – find out when booking.
Do not limit your introduction to Vietnam only to Fukuok. Off the island – all the most interesting: the culture, nature, cuisine, historical sites.
Long Beach faces west, so you can watch beautiful sunsets on the beach.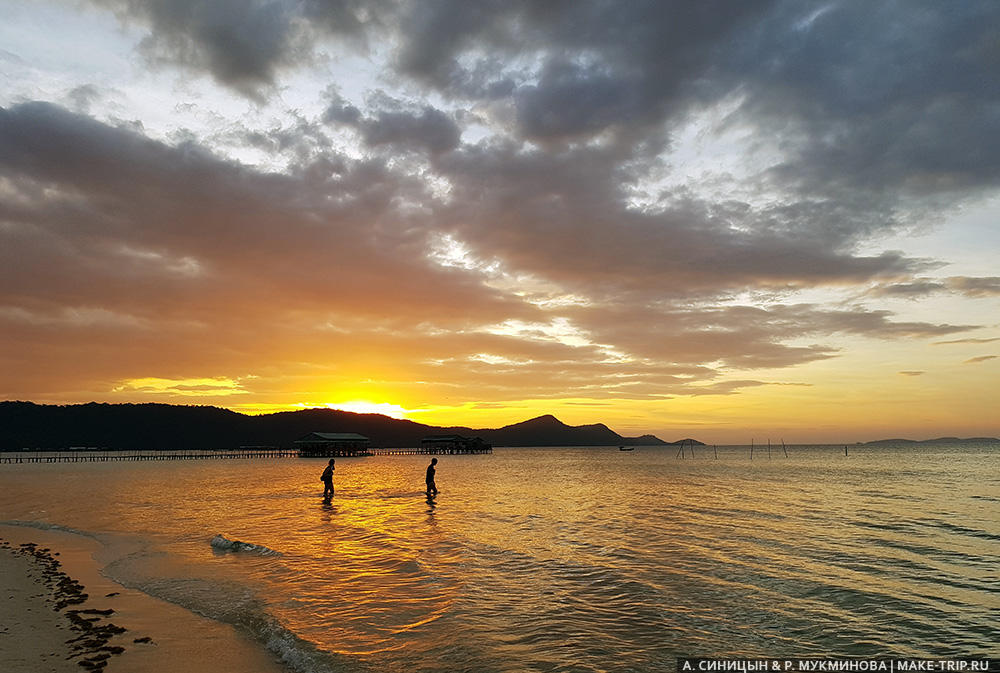 Sunset on secluded Rush Vem Beach.
Cautions
Phu Quoc is a quiet resort . It is a great place for honeymooners, lovers, couples, anyone who wants a quiet holiday. You will not find an active nightlife, shopping and a rich cultural and excursion. But there are beaches without high tides, clean and warm sea, mild climate and a large park of attractions.
The cleanliness of the island is bad – there is a lot of trash, especially outside the tourist zone. Hotels and resorts carefully clean their territory and beaches, but outside the area – a dump. To be fair, we note that the stench, as well as rats and cockroaches on the streets of the island almost none – a rarity for Vietnam.
Construction is carried out everywhere, but the rest of it almost does not interfere.
Картография на острове хромает. Нередко расположение отелей на карте (Google, MAPS.ME, Booking) не соответствует действительности. Будьте внимательны, перепроверяйте информацию. То же касается ресторанов, достопримечательностей и прочих точек на картах OSM. Кстати, отдыхая на Фукуоке в январе, мы чувствовали себя первооткрывателями — пожалуй, мы нанесли на карты OSM добрую половину кафе, ресторанов, фруктовых лавок и других полезных мест. Читайте подробнее про полезные мобильные приложения для путешествий >>