Prices in Norway – 2022 for food, car rentals, hotels. Air ticket prices to Norway.
In Norway, prices are quite high for food, accommodation and more. Some even call them huge. Let's take a closer look at the prices of food in Norway in 2022, how much it costs to rent a car in Norway, hotels, entertainment, plane tickets to Norway.
C 25.08-10.09 action with a cashback of 20% for tours in Russia. You need to register your MIR card and book a tour at Level.Travel (promotional code for 1500 ₽ when buying from 70,000 ₽ – LT-SEPT-RU1) or Travelate (promotional code for 1000 ₽ when buying from 60,000 ₽ – AF1000travelinka). Tour is more profitable, because that way you get cashback for everything – flight, hotel, transfer.
The main reason why tourists put Norway is the beauty of nature, especially along the west coast of the fjord. You can admire the northern beauty almost for free, you do not have to pay for "entry" to the sights, and the main expense on vacation – is airfare, accommodation and food.
Yes, in Norway are indeed high prices for everything, but services and products are of high quality. This is one of the pluses of this country. In Norway, there are almost no shabby budget hotels or hostels, which can be found in most other European cities.
For the high price you get the best and high quality, well-maintained rooms, new furniture, modern design. Plus, many hotels in Norway include in the price breakfast – buffet.
The minimum cost of housing in Norway is 350 kroner ($ 45). That would be a bed in a hostel . Rooms in nice hotels are much more expensive. Of the cheapest food – a sandwich, will cost $7. The cheapest excursion costs 125 euros. The cheapest car rental is 35 euros/day. The minimum amount to carry in Norway per day is 770 kroner ($100).
The exchange rate of Norwegian kroner in 2022 is as follows:
10 kroner (NOK) – $1.13 (USD)
1 krone (NOK) – 8,3 ruble (RUB)
Verification of funds
Norway requires proof of funds before a visa can be obtained. The minimum amount is €1,200. This money can only be confirmed at the time of applying for a visa to Norway. No one will count your money before the trip, but it is worth focusing on this amount – 1200 euros. For comparison, Spain and Greece are asked to confirm at the time of application for a visa 70 euros a day, but not less than 580 euros for the trip.
Norway airline tickets, prices
The easiest way to get to Norway is by plane. From Moscow to Oslo fly Finnair, Nordic. The air tickets to Oslo from Moscow cost 14000 – 15000 rubles. From St.-Petersburg you can fly with Finnair, change planes with Aeroflot and Rossiya. From St. Petersburg tickets to Oslo from St. Petersburg cost 16000-18000 rubles. From Saint-Petersburg it is more profitable to get to Helsinki and Tallinn by bus, and then to fly there by regional airlines for 4000-8000 rubles.
It's more expensive to fly to Norway from the regions. For example, air tickets to Oslo from Novosibirsk cost about 40,000 rubles.
Norway hostels and hotels, prices
Accommodation in Norway is also not cheap. At $ 100 a day to live here is very difficult. For a normal holiday need $ 200-300 dollars a day.
Hostel (bed space) – 300-400 SEK (40-53 $).
Single room in a hostel – 600 CZK ($80) – 480 CZK ($60)
3-star hotel – 720 CZK (90 $)
4-star hotel – 1000 EEK (120$)
In addition, in Norway there are good 5-star hotels of the highest level from 350 $ per night.
Excursions and tickets to museums in Norway in 2022
Admission to the National Gallery is 50 kroner ($6.60). The National Gallery in Oslo is considered the best museum in the country.
Walk to unusual restaurants in the city and get acquainted with Norwegian cuisine – 180 €
On the traces of World War II. Oslo during World War II – 150 €
Oslo – first acquaintance – 125 €
Myths and Legends of Oslo – 149 €
In the Footsteps of Edvard Munch – €280
1000 Years at 1000 Meters – 126 €
Seascapes of Oslo – €180
Unexpected Oslo – 180 €
Train tickets in Norway, prices
Train ticket from Oslo to Bergen (day of travel) – 829 kroner ($109)
Train ticket from Oslo to Bergen (advance purchase) – 249 CZK ($33)
Train ticket from Oslo to Trondheim (day of trip) – 899 kronor ($120)
Train ticket from Oslo to Trondheim (advance purchase) – 249 kronor (33 $)
In Norway it is more advantageous to buy tickets in advance. If you book them at least a month in advance, the cost will be minimal. The closer to the date of travel, the more expensive. Kind of like the new pricing system from Russian Railways. Buying a ticket at the last moment in Norway is not profitable.
Car rental in Norway, prices
Compact and economy cars – 320 kroner (42 $)
Medium-sized cars – 500 SEK ($66)
Full-size cars – 700 kroner (92 $)
Petrol prices per liter in Norway
Diesel – 13 kroner ($1.50)
Gasoline – 15 kroner ($1.80)
For example, the cost of gasoline for a 500 km trip between Oslo and Bergen is $60.
Food prices in Norway in 2022
Norway sells several varieties of bread – wholemeal, with cereals. But there is no black bread like in Russia – "Borodinsky", "Darnitsky". Milk in Norway is sold in cartons of 1 liter and 1.75 liters. Here they do not sell normalized milk over 1%, as we have 2.5%, 3.2%, 6%. But in the supermarket you can buy natural whole milk.
Cheese in Norway deserves special attention, there is a very large selection. There is goat and sheep milk cheese, a very unusual cheese "Brunost" (Brunost) – my favorite brown Norwegian caramelized cheese, "Gudbrandsdalzost" – hard cheese, "Flotemysost" – soft cheese with a sweet flavor of caramel, "Geitost" – another sweet cheese. If you go to the country, be sure to try these cheeses.
Sausage in Norway is usually sold in slices of 100-150 grams. There is no cooked sausage usual for us here, only salami, ham, tongue, and headcheese. But in any store you can buy sausage made of beef, chicken, turkey, lamb, venison and moose. All products are of high quality. For example, to cook 100 grams of smoked sausage uses 140 grams of meat. That is, meat is the main ingredient of the sausage, not some food additives. What are the supermarket prices in Norway in 2022?
Bread – 26-49 kroner.
12 hen eggs – 40-48 kroner
Milk 1l – 18 kroner, 1.75l – 32 kroner
Sour cream 300gr – 13-21 kronor
Kefir 15-20 kroner
Yoghurt 10-25 kroner
Cheese 30-150 kroner
Sausage 10-150 kroner
Chicken fillet 0.5 kg – 68 EEK, 1 kg – 130 EEK
Canned fish 13 kroner
Salmon fillet (fresh) 1 kg – 150 EEK
Salted salmon 300 grams – 350 EEK
Pork 50-100 crowns
Lamb 160 crowns
Ground beef 35 kroner
Beef 200 crowns
Steak Ribeye 400 crowns
Marble beef 500 crowns
Tomatoes 1 kg – 31 kronor
Apples 1 kg – 24 kroner
Potatoes 1 kg – 15 kroner
Jam 30-50 crowns
Instant coffee 35-80 CZK
Coffee beans 30-120 crowns
Tea 20-40 crowns
Beer 0.5 l – 31 kronor
153 kroner for a bottle of red wine
Food Prices in Norway in Restaurants
The prices in cafes and restaurants in Norway deserve special attention. Even locals here do not go to such institutions often, because the prices are high. Mostly, people cook at home or go out.
Lunch at McDonald's (big mac, fries, drink) – 87 kroner ($11.50)
A sandwich at 7-Eleven or Deli de Luca – 50 kronor ($6.50)
Salad at 7-Eleven or Deli de Luca – 50 kronor ($6.50)
Pizza – 190 crowns (25 $)
Deluxe hamburger at TGIFridays – 180 crowns ($24)
Main course at TGIFridays – 120 crowns ($16)
"Fish and Chips – 100 crowns (13 $)
Meat dish in a restaurant – 150 to 200 kronor (20-26 $)
Bottle of Coca Cola (1 liter) – 28 kronor (3,70 $)
Snickers in a vending machine – 20 kronor ($2.60)
Potato chips – 30 kroner (4 USD)
Alcohol prices in Norway in 2022
Beer 0,5l in a restaurant or a bar – 60-90 EEK ($8-12)
Glass of wine or a cocktail – 70 to 120 EEK or ($9-16)
0.5L beer in the supermarket – 24 to 40 crowns ($3.20 to $5.30)
Bottle of wine in the store – 95 crowns ($12.50)
Vodka 0.7l – 265 crowns ($35)
1 L Vodka – 365 kroner ($48).
We've looked at food prices in Norway 2022, hotels in Norway, and car rental prices. Yes, the higher the standard of living in the country, the higher the prices. Norway is different in this regard. In neighboring Sweden is also expensive, and for 100 euros a day you can just exist without extravagances, expensive restaurants and other things. But visiting these northern European countries is worth it! It is fabulously beautiful, modern, and technologically advanced. If you're interested in traveling around the world, sign up for updates at the bottom of the article.
Prices in Norway and ways to save money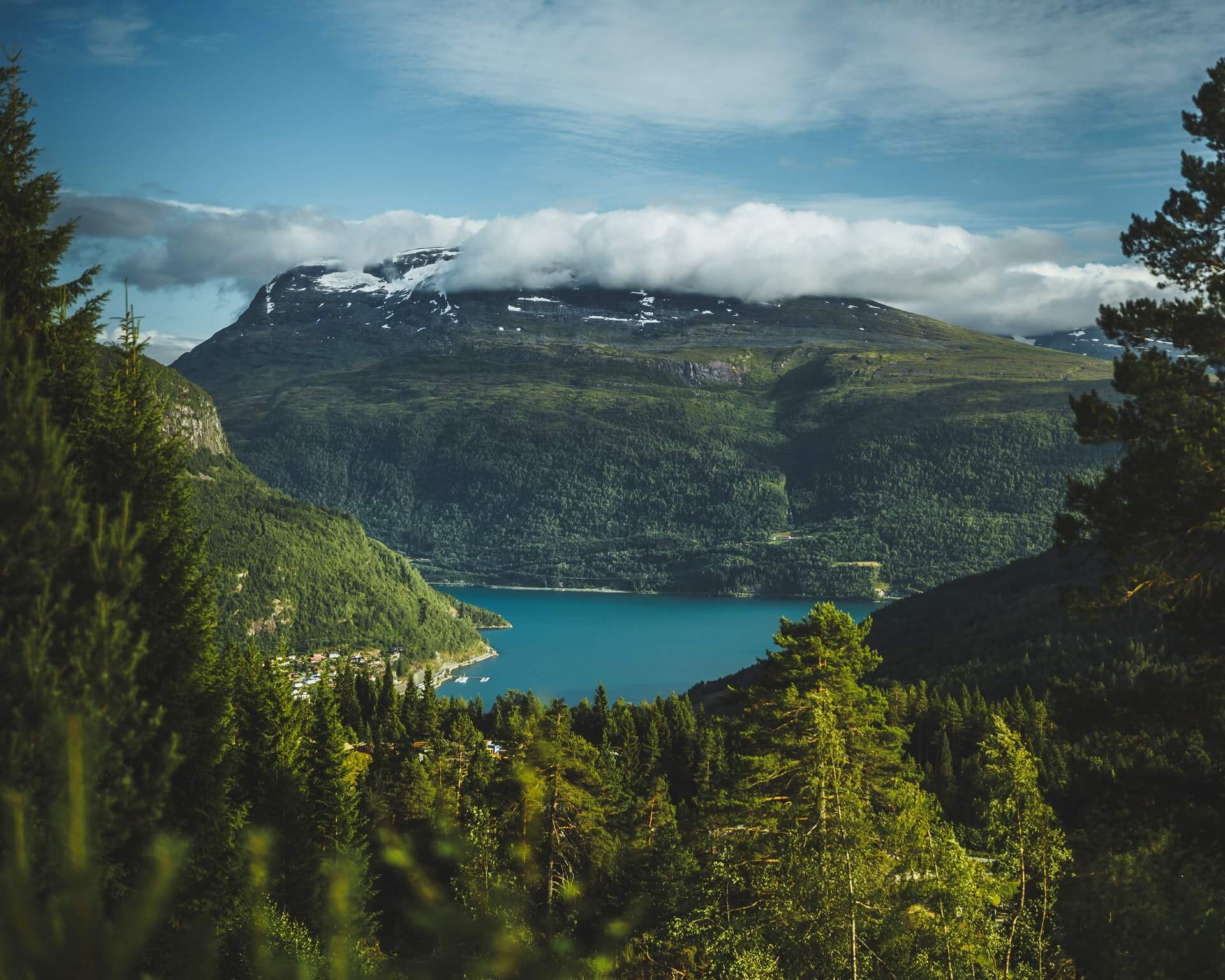 Find out how much it costs to travel to Norway in 2022. We tell you about the prices of tickets, tours, hotels, food, meals, tours, entertainment and transportation. We advise on what you can save on – in incredibly expensive Norway, you can't do without it!
Norway is open for tourists from the Russian Federation. However, due to the pandemic, information about flights and visas may not be up to date, check with official resources. Take a look at the list of open countries.
Currency exchange rate: 10 NOK ≈ 75 RUB.
Contents:
How much the ticket to Norway costs
Where to find cheap tickets? Use the Aviasails search engine – it compares prices of all airlines. Learn the secrets of finding cheap airline tickets.
Plane. Because of the short flight, the prices of tickets to Oslo and back are quite low: from Moscow from 11 thousand rubles, and from St. Petersburg from 12 thousand rubles. The direct flight takes 2.5 hours, with connections – up to 5.5 hours. Other airfields of Norway – Bergen, Spitsbergen and Kirkenes – from Russia take passengers only with one or two connections. Tickets are more expensive – from 12 thousand rubles from Moscow and 14 thousand rubles from St. Petersburg. Price fluctuations during the year are insignificant.
Bus. The Russian Murmansk and the Norwegian city of Kirkenes is divided 223 km. The daily buses and shuttle buses go to Norway. The ticket costs from 950 rubles in both directions. The trip takes about 4 hours.
Don't forget about insurance! It will save you money in case of emergency. You can arrange it at Compare.ru or Cherehapa. The prices start from 300 rubles per week.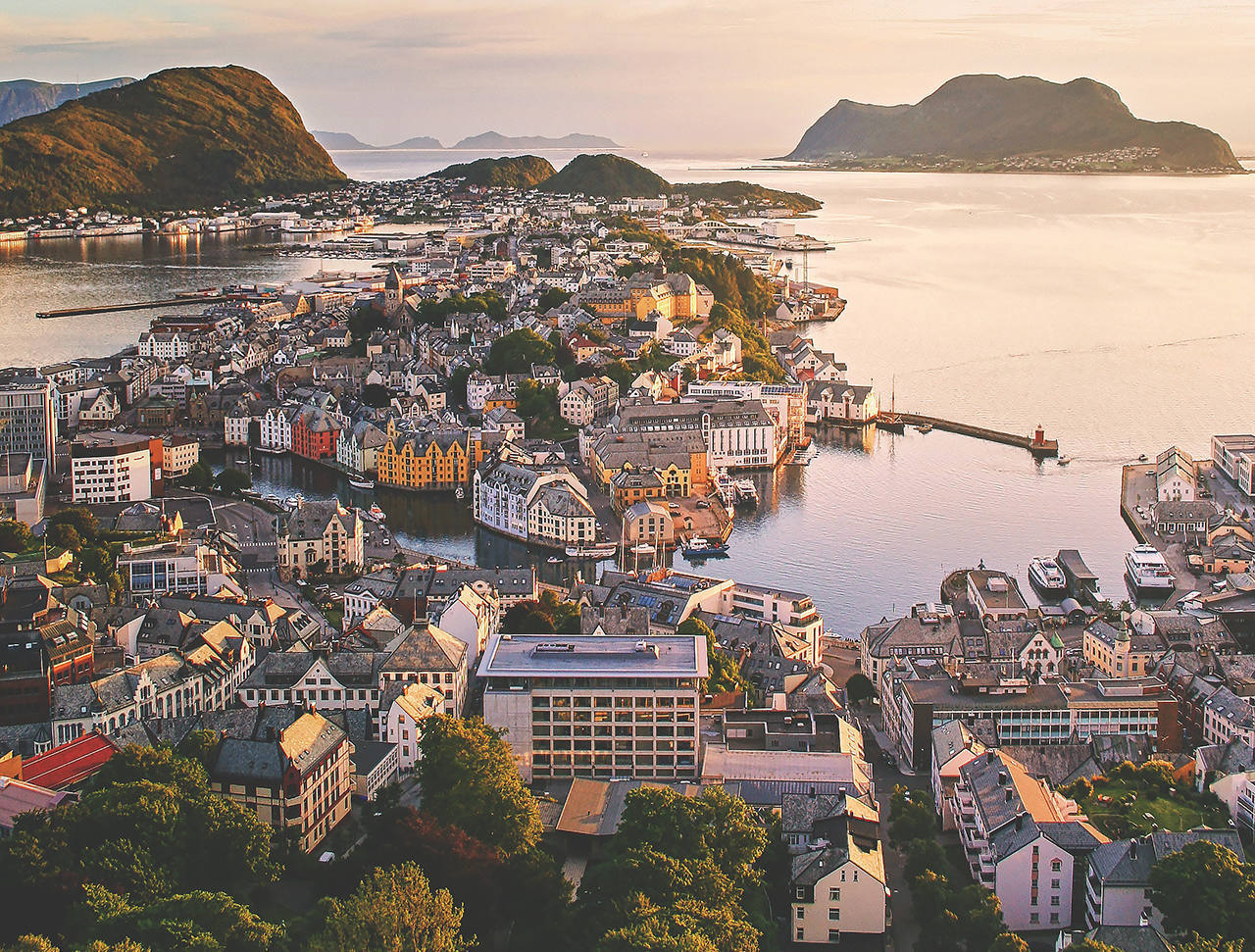 Aalesund. Photo: @lokeland / unsplash.com.
Prices for hotels, apartments and lodges in Norway
Look for hotels with discounts on Hotelluk. Here are the top rules for finding hotels.
There is no need to worry about the seasonality of housing prices in Norway. Tourists come here at any time of year, so the cost of housing almost does not change. Accommodation is not cheap, but has its advantages. Hotels in Norway are clean, new or well renovated. Guests are offered a high level of service. Many places include a buffet-style breakfast in the price.
Prices for double rooms in hotels in Norway:
| | |
| --- | --- |
| Guesthouse | 60€ |
| 2* Hotel | 60€ |
| 3* Hotel | 80€ |
| 4* hotel | 120€ |
| 5* hotel | 185€ |
How much will it cost to rent an apartment in Norway in 2022? A room in a private accommodation rents for 20€, and a separate apartment for 25-30€.
For a company of 4-8 people it is advantageous to rent a cottage. Prices for cozy cottages depend on the size and remoteness from cities and start at 60 € per day. You'll pay 80-100$ for a nice cottage with good furniture, 1-2 bathrooms, a kitchen, a washing machine and a dishwasher.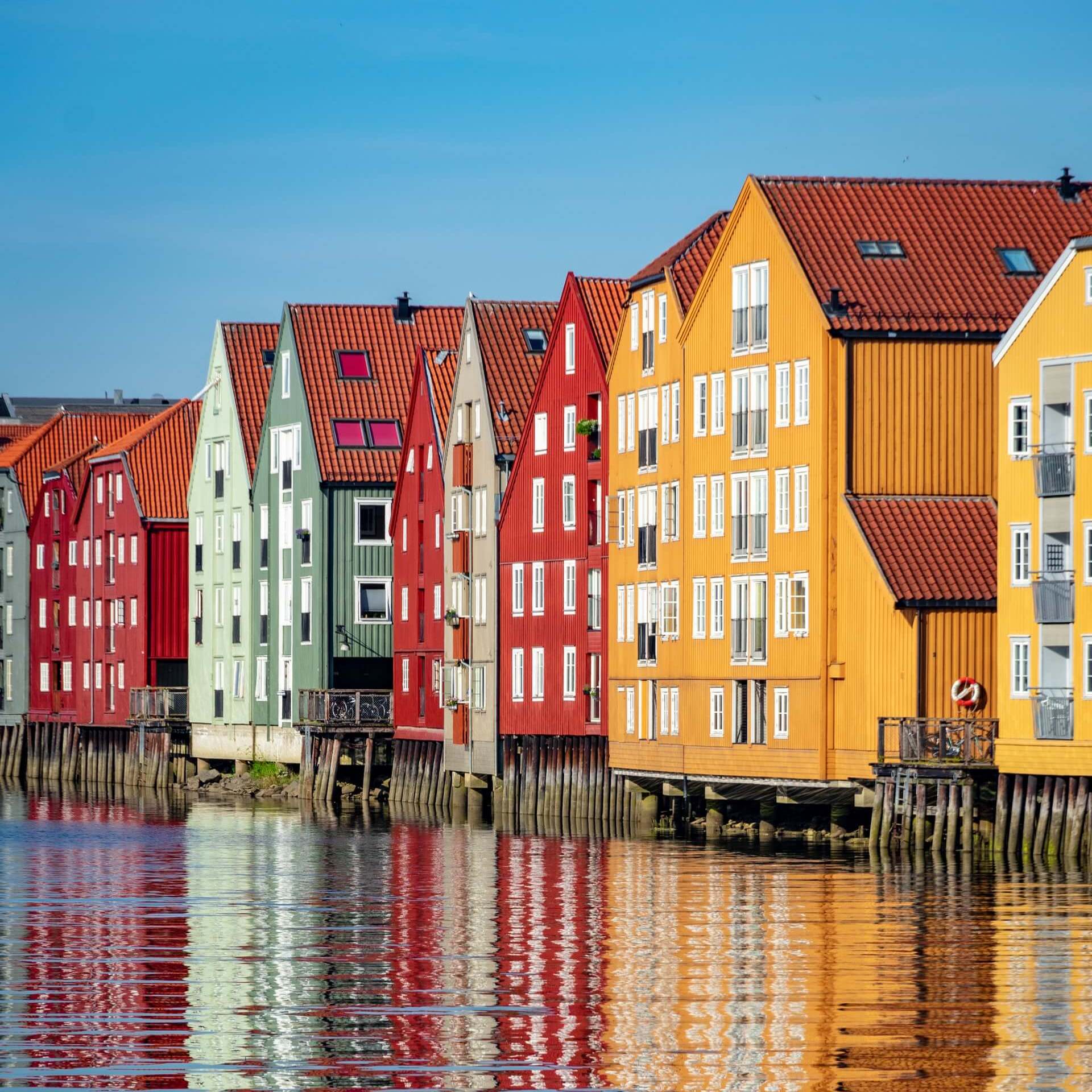 Trondheim. Photo: Sébastien Goldberg / unsplash.com.
Norway tour prices in 2022
Search for last minute tours on Travelata service – it will find the best deals among different tour operators. Do you want to save money? Explore our 7 rules for buying tours online.
To admire the beautiful Norwegian nature for nothing. The prices for a tour to Norway for 7 days for two with a flight from Moscow starts from 84 thousand rubles, and from St. Petersburg – from 86 thousand rubles. The tour includes air tickets, transfer and hotel accommodation at 3* in Oslo.
A useful selection: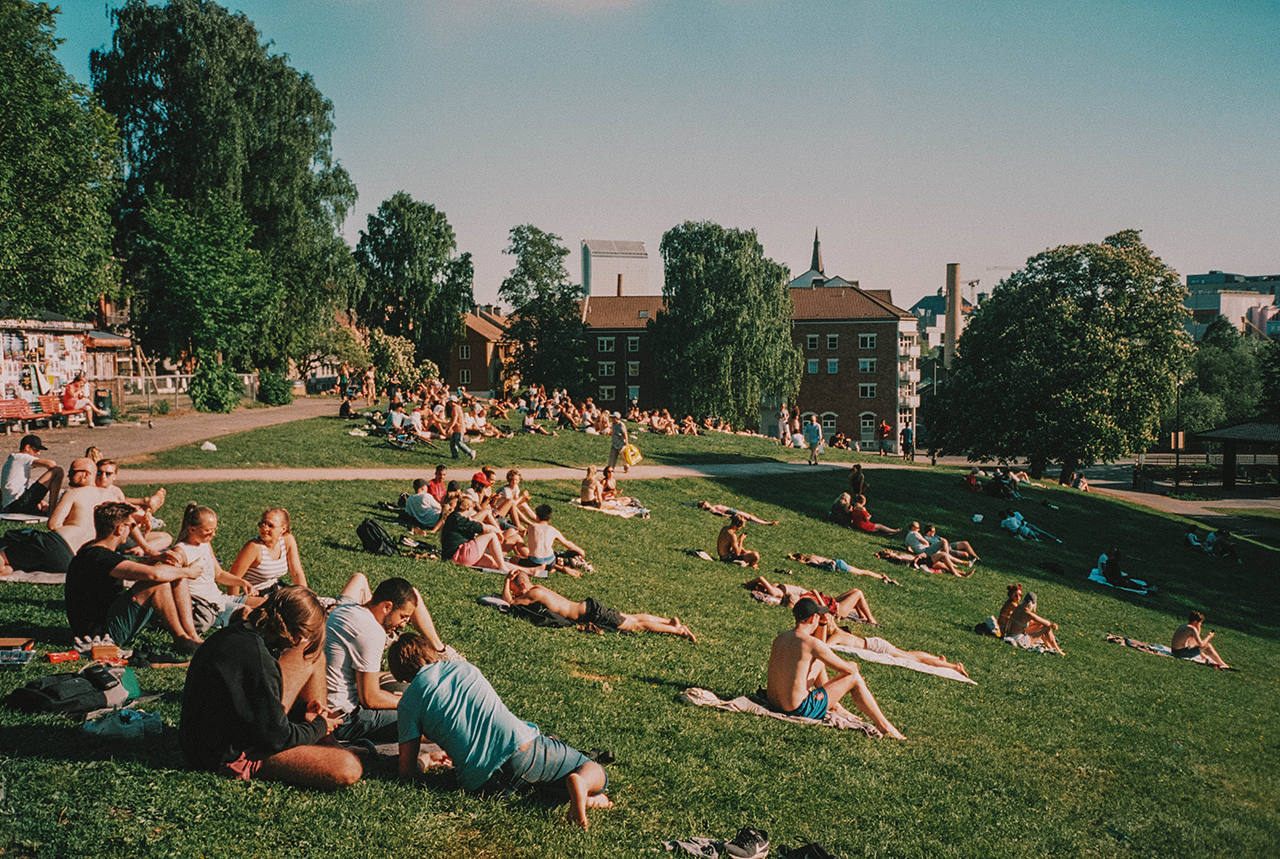 Park in Oslo. Photo: @eskarstein / unsplash.com.
Food prices in Norway – 2022
How much does it cost to eat in Norway? Food, like lodging, is expensive. Breakfast per person in a budget cafe costs 160 NOK, a big mac set at McDonald's – 110 NOK, and lunch at a cheap restaurant, excluding alcoholic beverages – 300-400 NOK.
Food prices in Norwegian cafes and restaurants in 2022
pizza – 190 NOK;
fish soup – 100 NOK;
lasagna – 140 NOK;
seafood salad – 175 NOK;
pasta – 130 NOK;
steak – 150-200 NOK
large hamburger – 180 NOK;
kebab – 60-65 NOK;
fish and chips – 100 NOK;
cappuccino – 37 NOK;
ice cream – 20-25 NOK;
local beer, 0,5 l – 85 NOK;
imported beer, 0.33l – 80 NOK
glass of wine or a cocktail – 70-120 NOK
pepsi or coca-cola, 0.33 l – 27.6 NOK
water, 0.33 l – 23 NOK.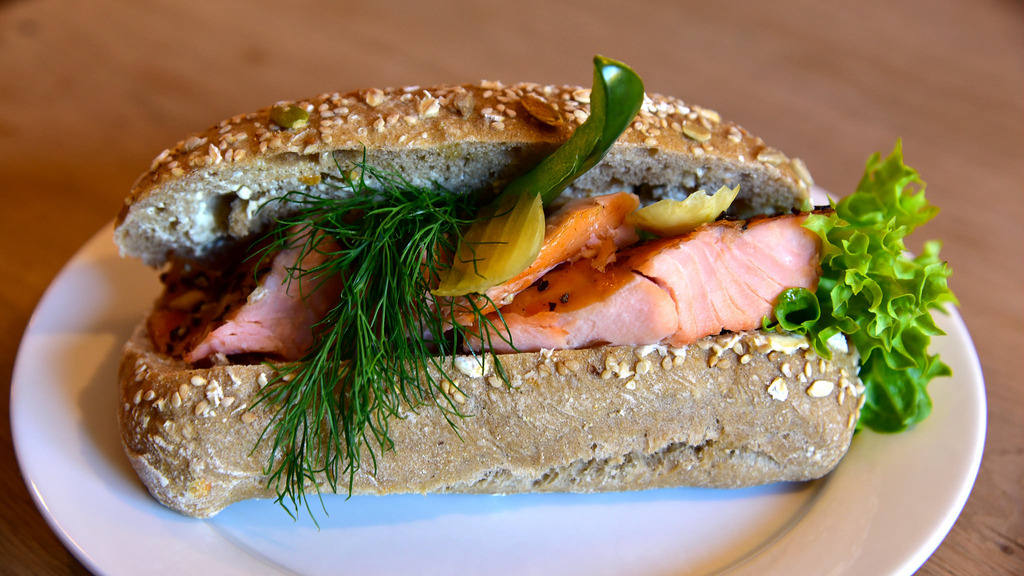 Photo: Larry Lamsa / flickr.com / CC BY 2.0 license.
Food prices in Norway – 2022
If you are staying in an apartment and lodge, it is convenient to cook your own food. Grocery stores carry a huge range of fish, healthy goat's milk cheeses, and easy-to-prepare convenience foods.
The supermarkets often hold promotions with discounts. For example, during them you can buy 1 kg of Norvegia cheese for 60 NOK.
Normal stores sell only soft drinks and beer, and strong drinks are sold in special government stores Vinmonopolet.
Prices for food and drinks in Norway:
bread – 30-50 NOK;
milk, 1 l – 32 NOK;
yogurt – 15-25 NOK;
Extra Virgin olive oil – 84 NOK;
cheese, 1 kg – from 122 NOK
sausage slices, 150g – 50 NOK
ready-made cutlets – 120-125 NOK
beef, 1 kg – 235 NOK
pork, 1 kg – 100 NOK
chicken fillet, 1 kg – 130 NOK
salmon fillet, 1 kg – 150 NOK
smoked salmon, 0,3 kg – 90 NOK
rice, 1 kg – 24 NOK
pasta, 0,5 kg – 20 NOK
eggs, 12 pcs. – 30-50 NOK;
apples, 1 kg – 24 NOK
bananas, 1 kg – 23 NOK
oranges, 1 kg – 22 NOK
potatoes, 1 kg – 22 NOK
carrots – 26 NOK;
tomatoes, 1 kg – 31 NOK
instant coffee – 35-80 NOK
tea – 20-40 NOK;
jam – 30-50 NOK
candy bar, 50g – 20 NOK
bottle of wine, 0,5 l – 150 NOK.
Prices in a grocery store in Norway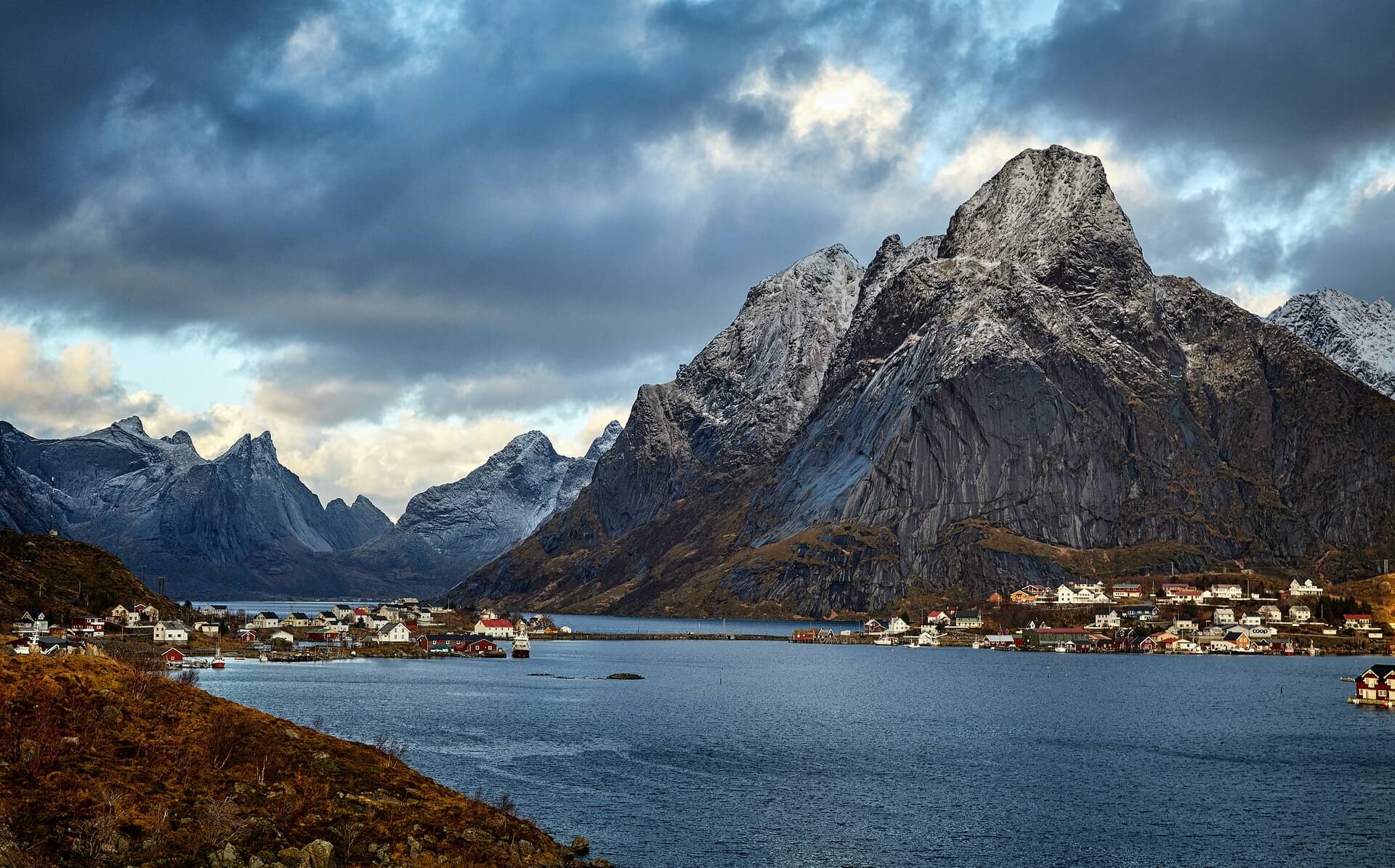 Reine, Lofoten Islands. Photo: Vidar Nordli-Mathisen / unsplash.com
Prices for excursions and entertainment
Look for author interesting excursions on Tripster. Individual and group, without crowds and in Russian.
What can I see on my own in Oslo? Explore the old part of the city and take a boat trip for €13. Popular with tourists are day tours around the country, which cost from 25€. Many people enjoy fishing – for 3 hours it's 50€.
Adult ticket prices for popular museums in Norway:
National Gallery – 50 NOK;
Fram Museum – 100 NOK;
Vigeland Sculpture Museum – 40 NOK;
Museum of Science and Technology – 100 NOK;
Whalers Museum in Sannefjord – 70 NOK.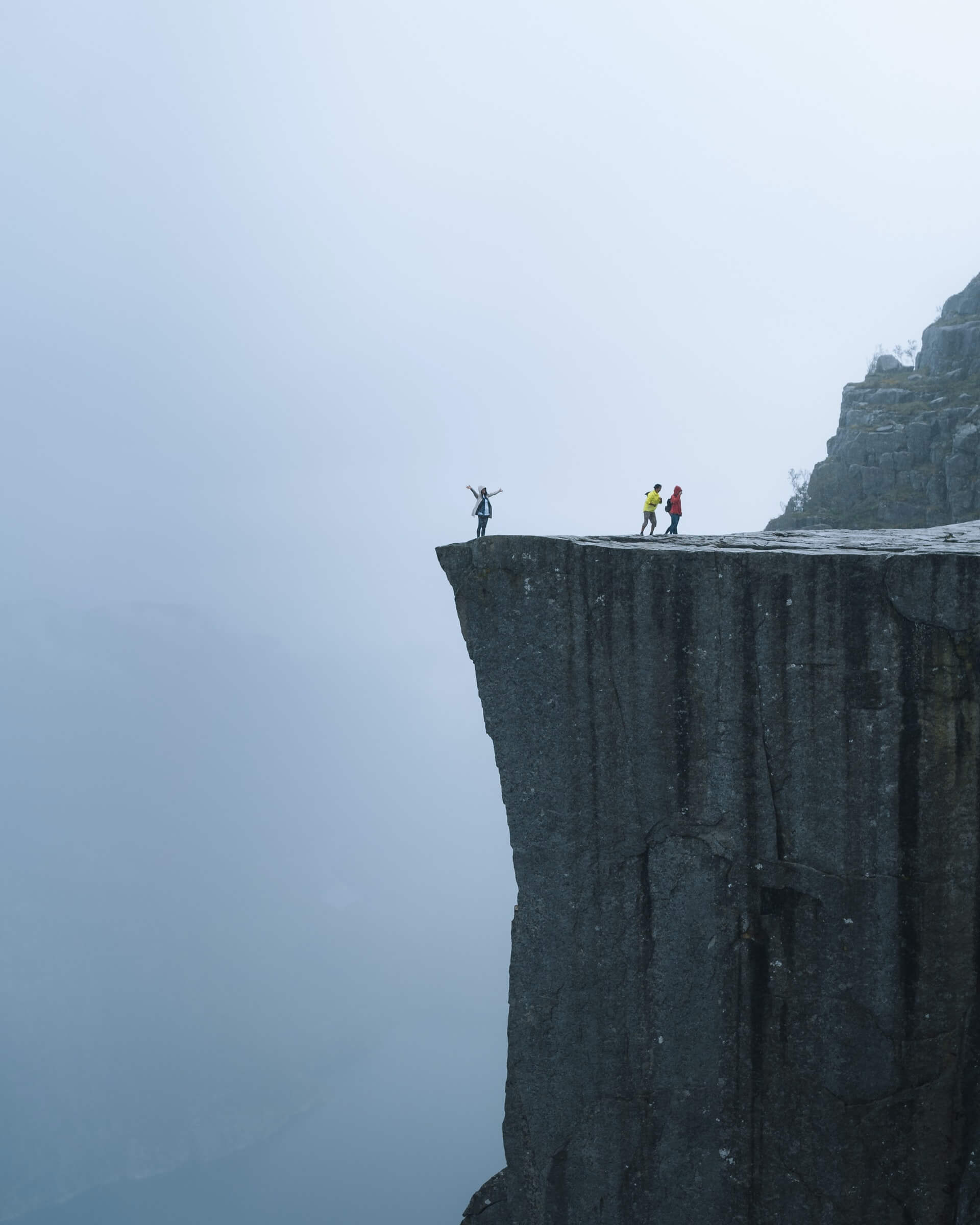 Prekestulen (Preacher's pulpit). Photo: Valdemaras D. / unsplash.com.
Transport prices
Cabs are expensive in Norway . It costs 52 NOK to board a car and 15 NOK to pay for 1 km. The average price of a trip around the city is 250 NOK. For a ride from the airport to the center of Oslo you have to pay 1100-1500 NOK. Shuttle from the airport →
Public transport . If a ticket for the subway, streetcar or bus is purchased in advance, it will cost 35 NOK, if paid at the driver's desk it will cost 55 NOK. A day pass costs 105 NOK and a week pass costs 249 NOK.
Car hire . Small economy cars can be rented for 30-35 NOK per day, mid-range cars for 36-40 NOK, and executive cars and large SUVs for 50-70 NOK. When planning your travel expenses to Norway, keep in mind that 1 liter of gasoline-95 in 2022 costs 15.36 NOK and diesel costs 13 NOK. You will have to pay about 510 NOK for fuel for a trip between Oslo and Bergen. Parking per day will cost 16 NOK.
Rent a car online through Rentalcars.com, you can book in advance and without overpayment.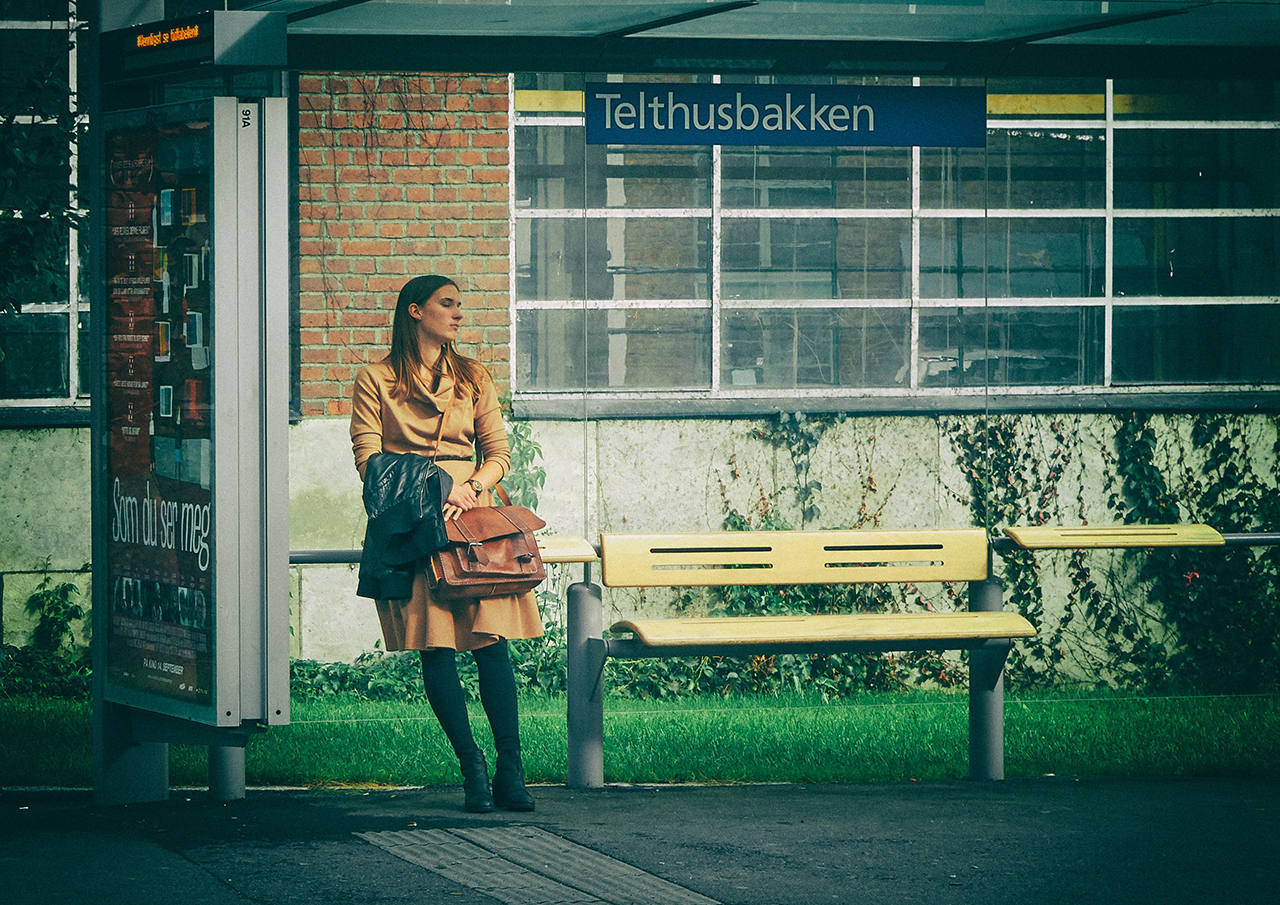 Photo: unsplash.com / @vidarnm.
Tips on how to save money in Norway
Lodging prices are high in Norway . If you're traveling by car, rent lodging on farms – it's cheaper and allows you to spend more time in nature. Another option to save money is to sleep in campsites. There are about a thousand campsites in Norway, so there is always room! The campsites offer accommodation in tents and small houses with facilities. The cost of a cabin for four people is 50-60 €.
For a car trip take a look at the map of Norwegian toll roads. You can find detour options everywhere.
In Norway the prices of food in the Japanese/Asian restaurants Mitsu are low. Here you can choose a hot meal, get sushi and a fresh baguette. Sandwiches, sandwiches and salads are advantageous at 7-Eleven and Deli de Luca chain stores. There they cost 50 NOK each.
If you plan to travel around the country by train, book tickets in advance. If you book a month in advance, the price will be minimal.
From Oslo airport to the city center inexpensive to take the express train . The ticket costs 180 NOK and the trip takes 35 minutes. Another option is to take a shuttle bus for 150 NOK.
In Oslo, it is advantageous to buy a tourist card Oslo Pass . With it you can travel for free on public transport, hiking tours, outdoor swimming pools and more than 30 museums and attractions. The Oslo Pass gives you a discount at the Tusenfryd amusement park, bus tours, concert halls, climbing centers, some restaurants and stores. The card costs 395 NOK for a day, 595 NOK for two days and 745 NOK for three days. For children – half the price.
Oslo is easy to get around by bicycle . Rental for 24 hours will cost 265 NOK. Rental shops are open daily from 9:00 to 21:00.
A useful selection: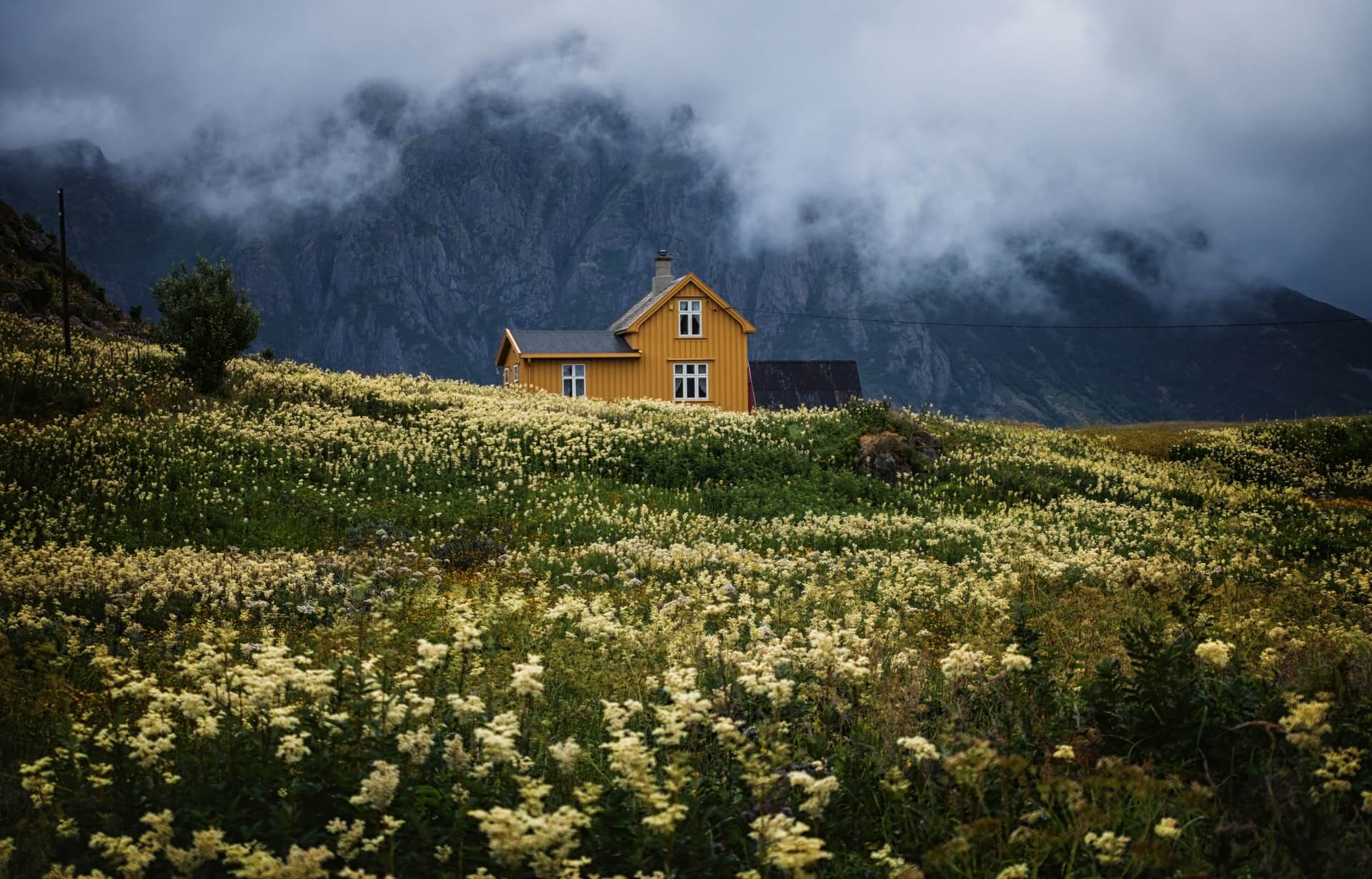 Hovden. Photo: Vidar Nordli-Mathisen / unsplash.com.